Inside Acne Paper, the eclectic window into the Acne Studios universe
As a book celebrating the Swedish label's legendary biannual is launched, editor Thomas Persson runs us through some of its greatest hits.
While fashion houses entering the editorial realm is hardly news today, back in 2005, when the creative hive at Acne Studios published the first issue of Acne Paper, their arrival into the space was among the first of its kind. Rather than an insistently branded brochure, though, the cultishly adored biannual was more of an insight into the ethos of the Swedish luxury label, filtered through prisms of fashion, art, literature and journalism.
"Acne Studios wanted to do a magazine that reflected the spirit of the company, which at that time was a creative collective," notes Thomas Persson, Acne Paper's Editor-in-Chief and Creative Director from its birth to its shuttering in 2014. "A magazine seemed like a natural addition to all the creative projects they were already working on — the beginning of a new publishing arm, if you will."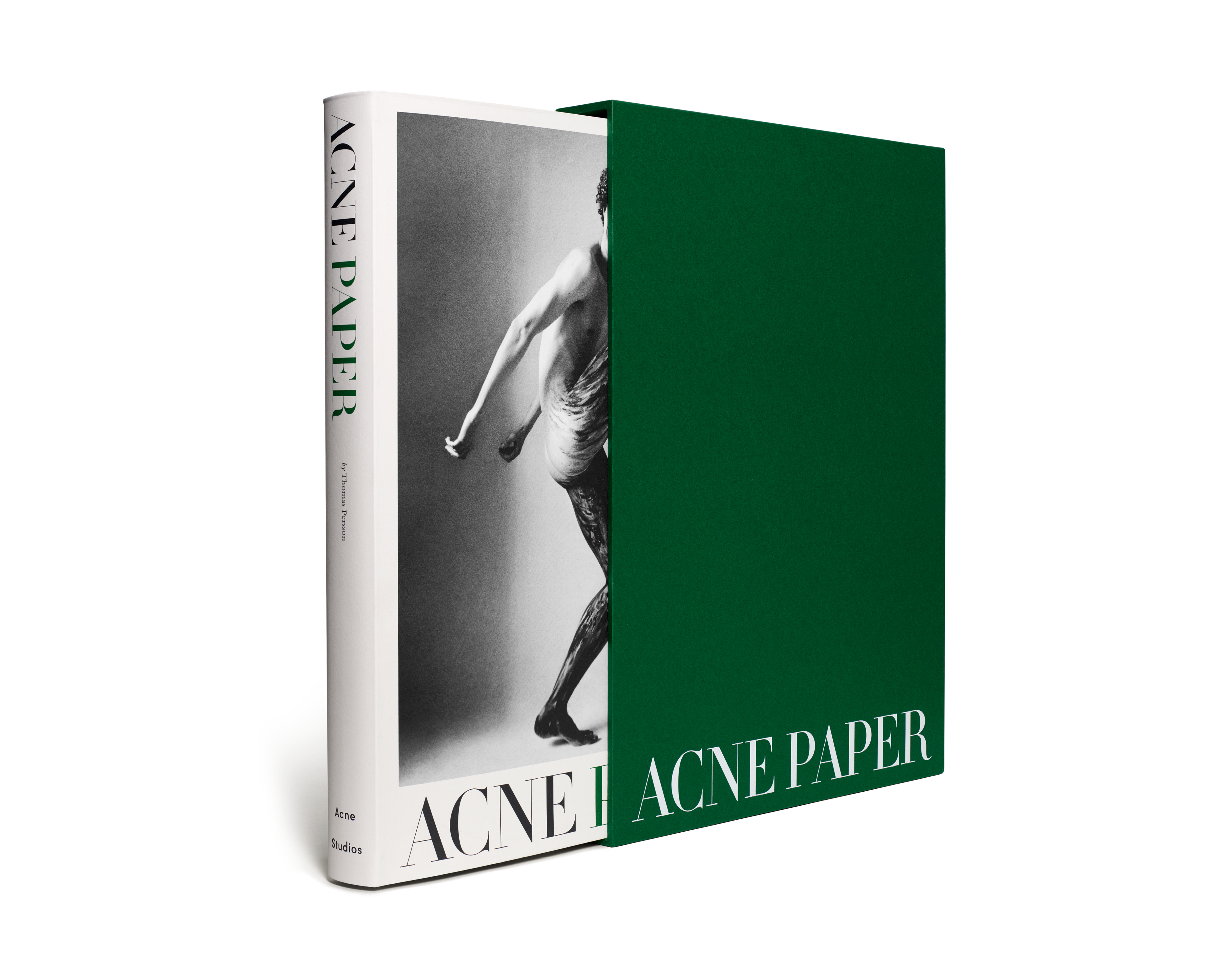 "Our objective was to show the diversity within fashion," adds Jonny Johansson, Acne Studios' founder and Creative Director, "to reflect our brand and our interest in different creative disciplines and creators […] and really to be able to collaborate with inspirational people to us." That's putting it lightly. Over its nine-year run, Acne Paper covered and collaborated with some of the most crucial creative voices around. In its pages, you'll find imagery shot by photographic legends like Irving Penn and Paolo Roversi; early editorials by Jamie Hawkesworth, Sølve Sundsbø and Marie Chaix; and interviews with CSM MA matriarch Louise Wilson, the most fabulous of all New Yorkers, Iris Apfel, and the late couturier, Azzedine Alaïa.
As you'll gather from the list of names, this was a publication that was driven by an astute eclecticism, one that's rarely seen in fashion magazines today. "The world was a very different place when we made Acne Paper. It was before social media really took off, and the world seemed like a much smaller place," Thomas says. "Digital media was in its infancy and perhaps there was an innocence in terms of our editorial choices. It felt very off the radar, just publishing work we loved. It was just very free."
Now, the highlights of Acne Paper's free-minded approach to magazine-making have been collected in a new 568-page coffee table book that celebrates its brimming archive. It also features new essays by Sarah Mower, Vince Aletti and Robin Muir, and a portfolio by photographer Christopher Smith that interprets the 15 themes that the publication explored across its lifetime. If you're reading this from Paris, then you can go and check them out in the flesh at an exhibition commemorating the book's launch at Acne Studios' soon-to-open flagship store on Rue du Faubourg Saint-Honoré until July 10. No worries if you can't make it in person, though — read on to hear more about the stories behind some of the magazine's most iconic moments from Thomas himself.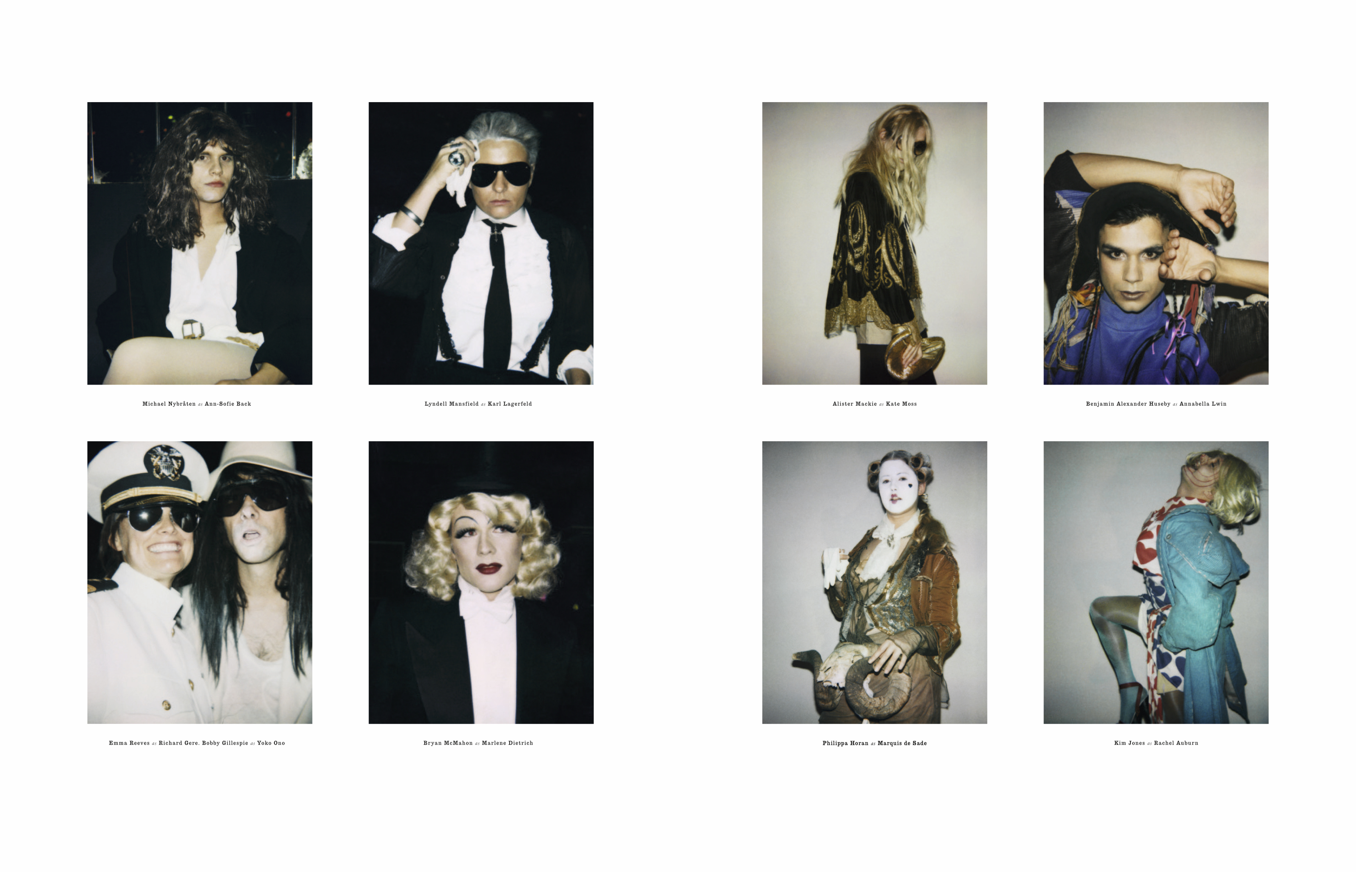 Kim Jones & Alister Mackie's Halloween drag party for Issue 2, 2006
**What's the story behind what is described in the book as "the most bizarre social event of the year"? Did you attend yourself?
**It was my friend Benjamin Alexander Huseby who told me he was going to this costume party in London. I lived in Stockholm at the time and I asked him to please take some pictures. We were working on an issue on Escapism and I have always loved dressing up and think that becoming another character is a kind of escapism — in a frivolous and fun way, admittedly. Maybe bizarre was the wrong word, but it was certainly different and dazzling at the time! I wish I had been there!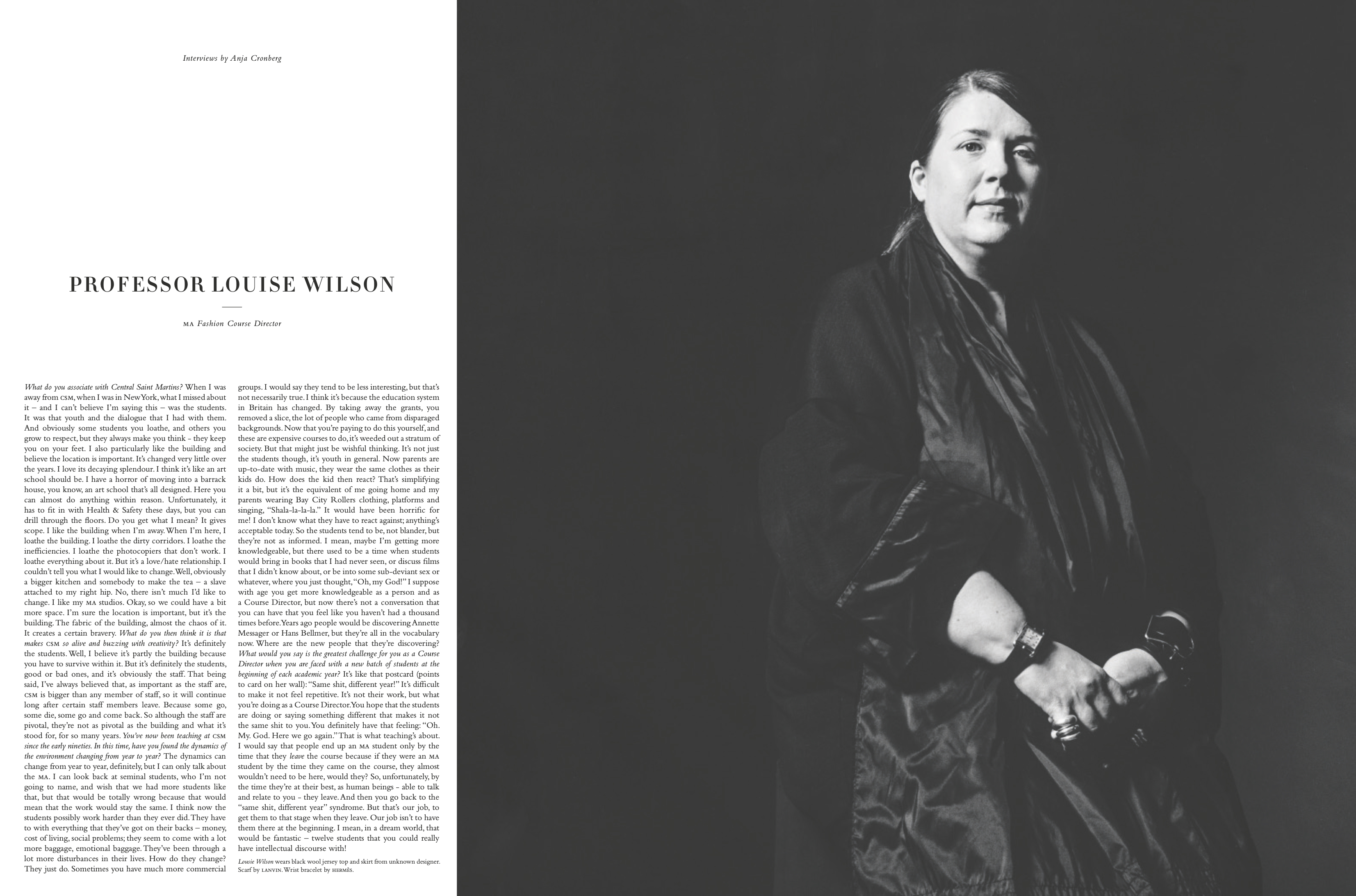 Louise Wilson for Issue 3, 2006
Louise's legacy looms large over fashion today. Why were you keen to include her in this issue, and what does she represent to you?
Louise was my professor at Central Saint Martins and, like so many of her students, I adored her. So when we were doing an issue on Education it was important for me to have her in it. To me, she represents someone who was able to crystallise your talent, make you explore and understand it, and to build it like a muscle. She was an important person in so many people's lives. She was completely unique in the world.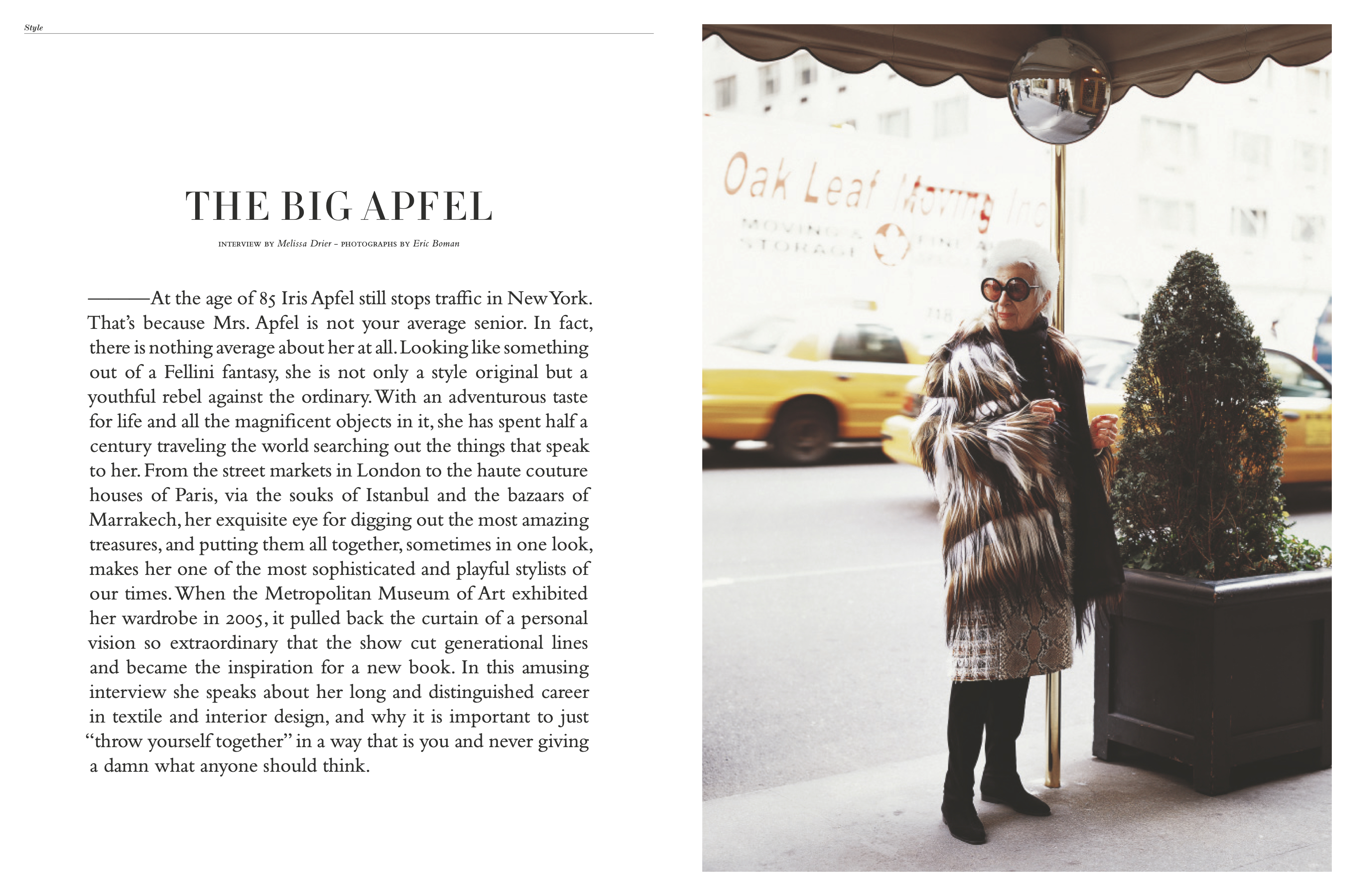 Iris Apfel for Issue 4, 2007
This issue's theme was Playfulness. How does Iris embody this for you?
Iris always has fun with clothes — to her clothes are a joy — and she is never afraid of playing with her appearance or having humour with how she chooses to present herself to the world. At almost 100, she is one of the most playful people I have met!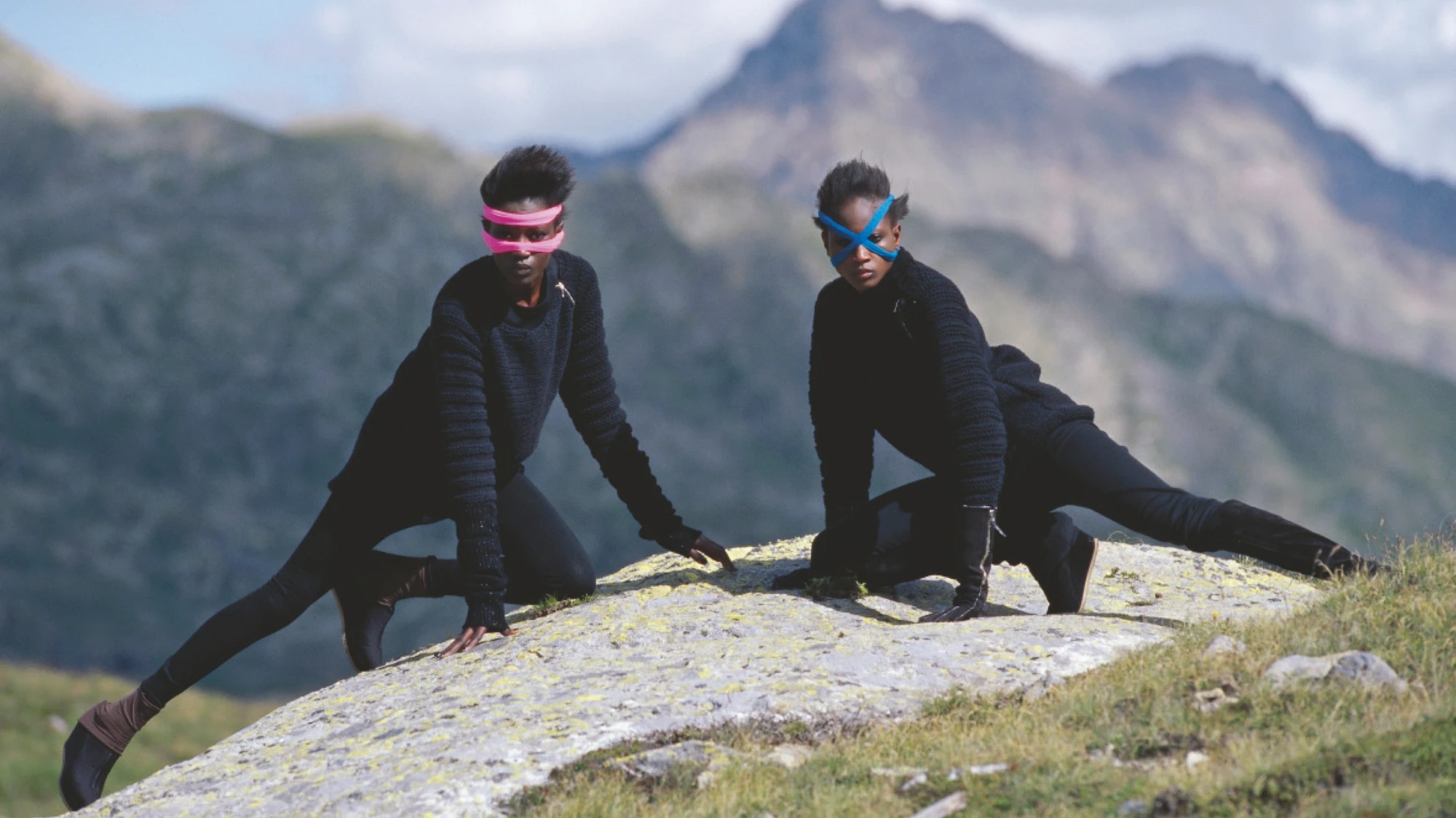 'Ain't No Mountain High Enough', Issue 5, 2007
This feels like an editorial that must have taken some effort to pull off — what's the story behind it?
Marie Chaix had started working with Hans Feurer and wanted to do a story with him for Acne Paper. The theme was Elegance and she wanted to work with Black models. The location became the Swiss Alps — I believe just behind where Hans actually lives. You know, Hans shoots fashion like a photographer shoots nature. He shoots from a great distance — hence why you get this particular quality of the images.
More generally speaking, what role did fashion editorials play in the Acne Paper world?I would like to quote my friend Vince Aletti who wrote in his essay for the book that "Fashion spreads, even the most extensive, were just one element in a mix that focused on culture in the broadest sense, with a keen eye on how the past informs the present."
I was lucky to work with two very good stylists on the entire run of Acne Paper: Mattias Karlsson and Marie Chaix. Both of them produced fashion shoots that look as fresh today as they did when we first put them on the page. Because Acne Paper had a historical point of view, Marie and Mattias were the ones to bring the magazine right up to today with their fashion stories. Their contributions made the magazine modern.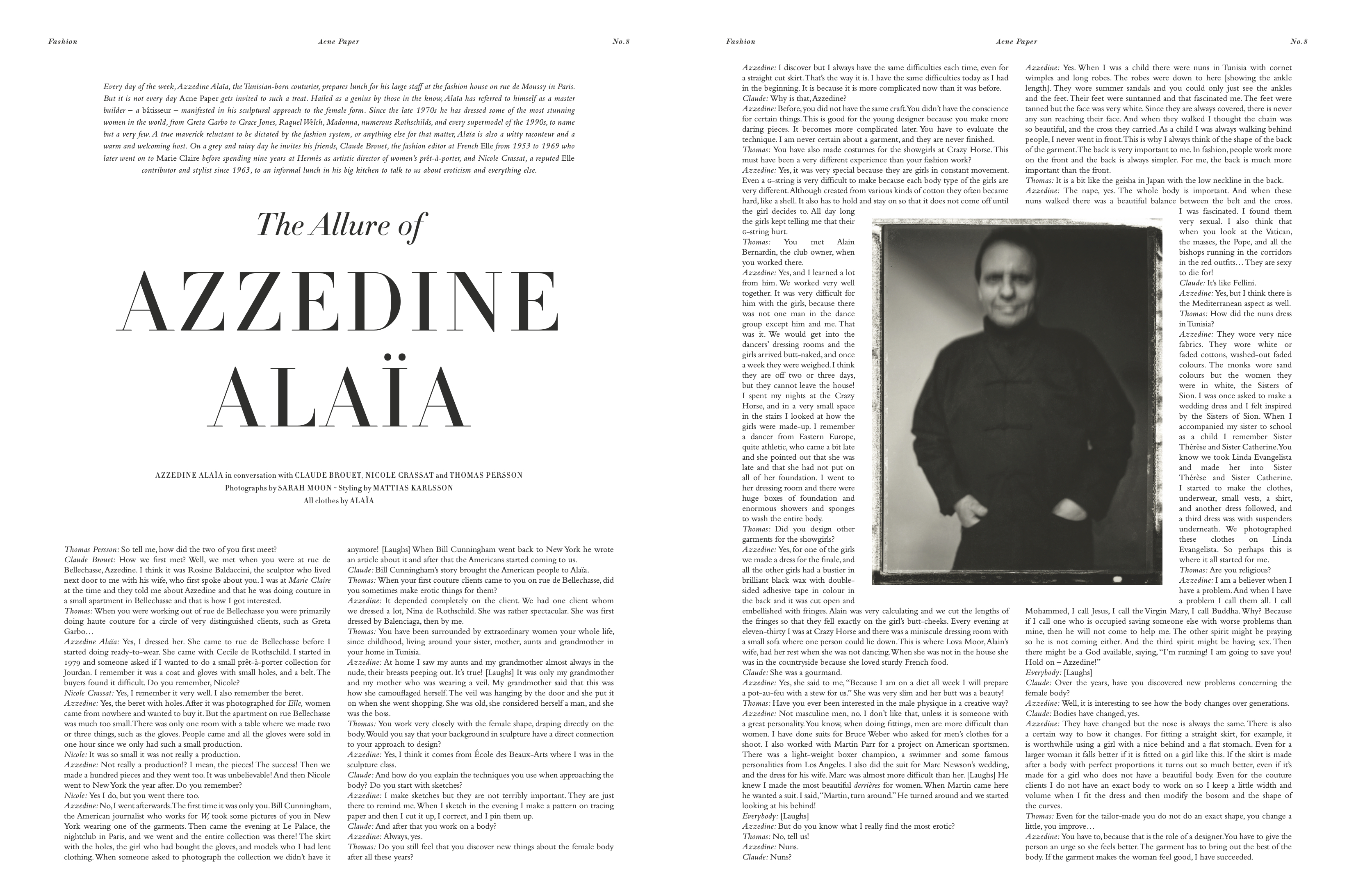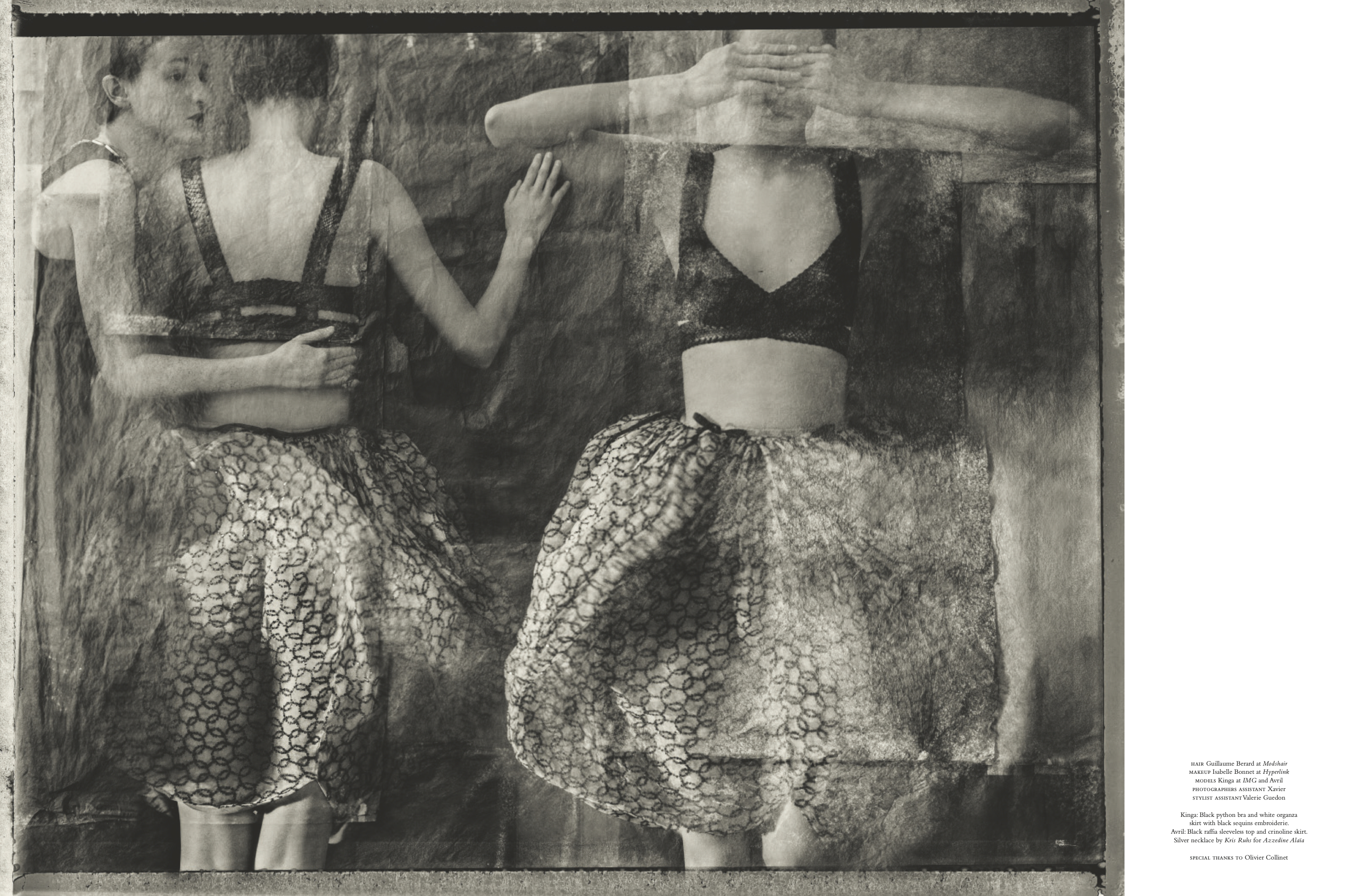 Azzedine Alaïa, Issue 8, 2009
**Your conversation with Azzedine over lunch encapsulates many of the things people say about him — his warmth, his witty sense of humour, and his keen attention to the wants of the bodies he created for. What impression of him were you left with?
**A generous, warm, witty and completely charming man. He had a kitchen in his Maison in Le Marais where food was cooked every day for his team. Everybody in his team got together in the kitchen for lunch every day, which says a lot about the kind of man he was. I was there one day because an old friend of his invited me — Claude Brouet, the legendary editor and early director for the Hermès collections. So we had lunch and Azzedine told many interesting stories, such as how he, as a child, found nuns erotic when he got a glimpse of their ankles. He was a master of his craft and generous to a T.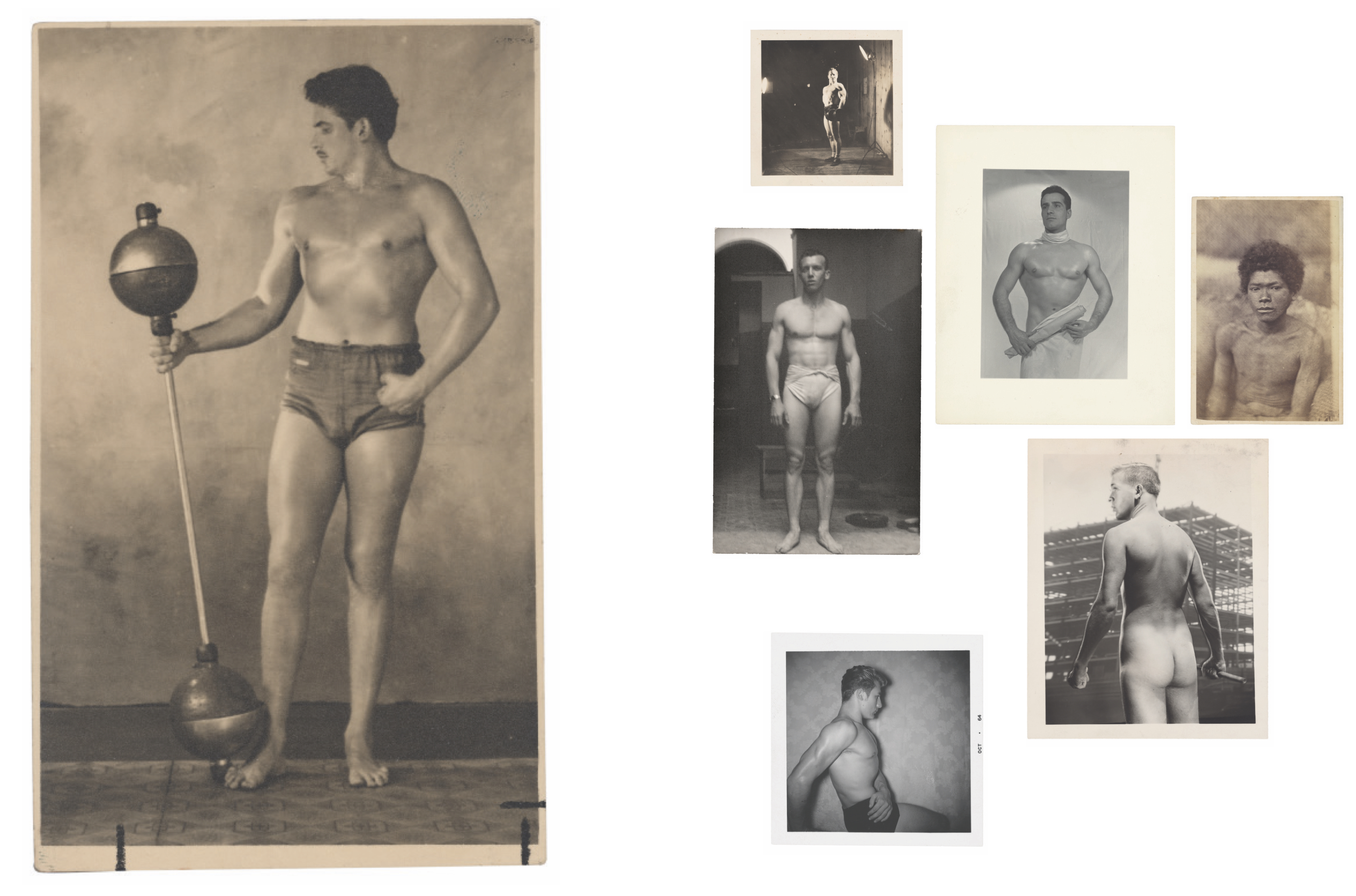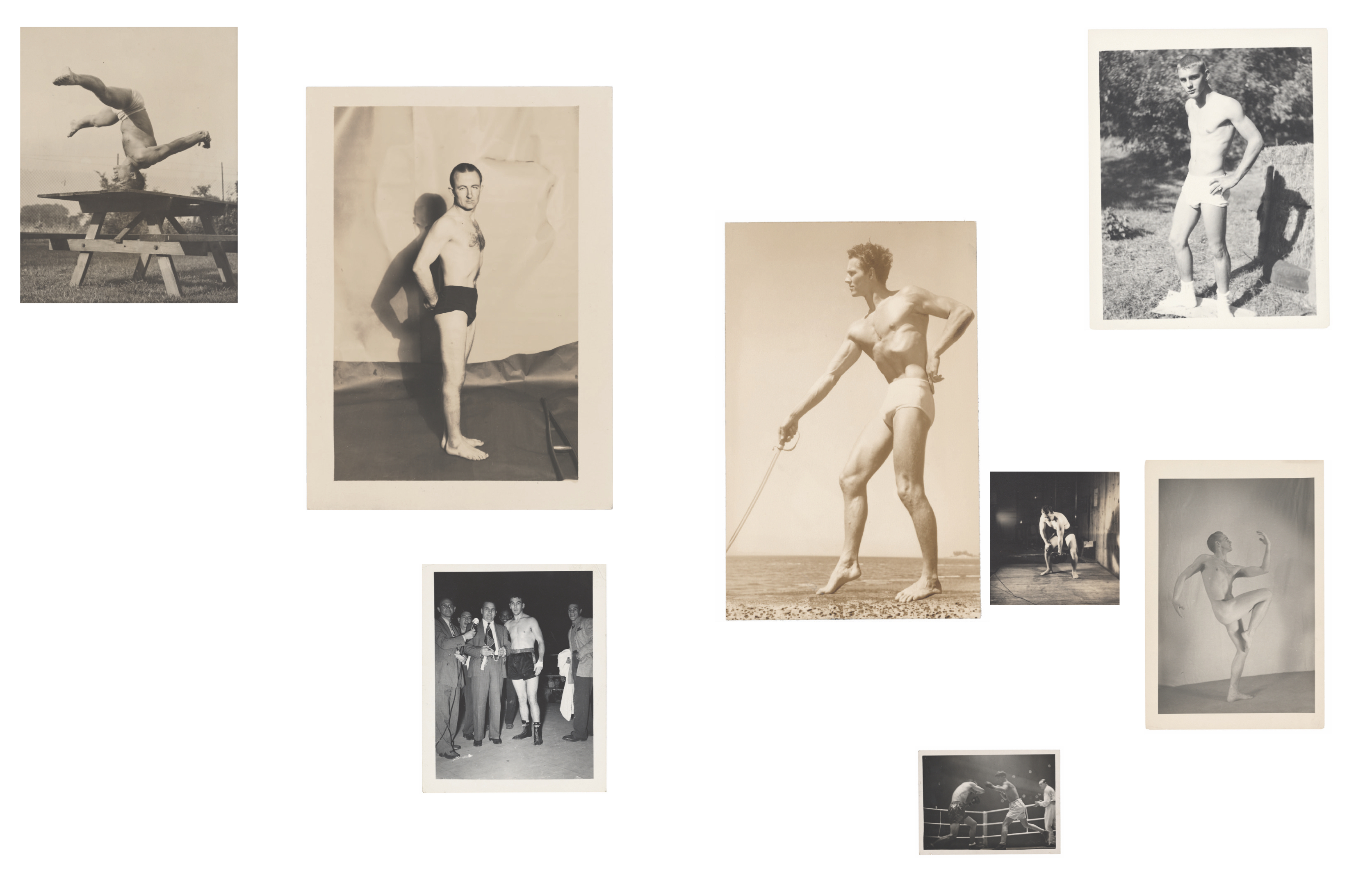 'Male' curated by Vince Aletti for Issue 13, 2012
**The theme of this issue was The Body, which is such a recurring theme in art, literature, philosophy and, of course, fashion. What were you trying to add to the creative conversation around 'the body' with this issue?
**I was curious about the fascination the body holds in the minds of artist, writers, designers, photographers, scientists, etc. The issue was a kind of celebration of the human form in all its splendour, while also trying to approach its mysteries. I don't think we said anything new about the body per se — it was more about being curious and wanting to learn about the body and its representation in art and visual culture through the centuries.
Tagged: