Photography Thistle Brown. Image courtesy of Gauntlett Cheng
Balenciaga's black-out and New York's big return: What's in fashion?
Your one-stop-shop for this week's fashion news to know.
Photography Thistle Brown. Image courtesy of Gauntlett Cheng
Coucou mes anges de mode! Welcome back to 'What's in fashion?'. What a stylish seven days it's been! This week, as per, we're bringing you the lowdowns on the chicest shows, including a double whammy from Matthew Williams, a dispatch from a totally popping New York, and all you need to know about BALENCIAGA'S INSTAGRAM BLACK-OUT!!! Crazy, we know! Read on to find out what's in fashion.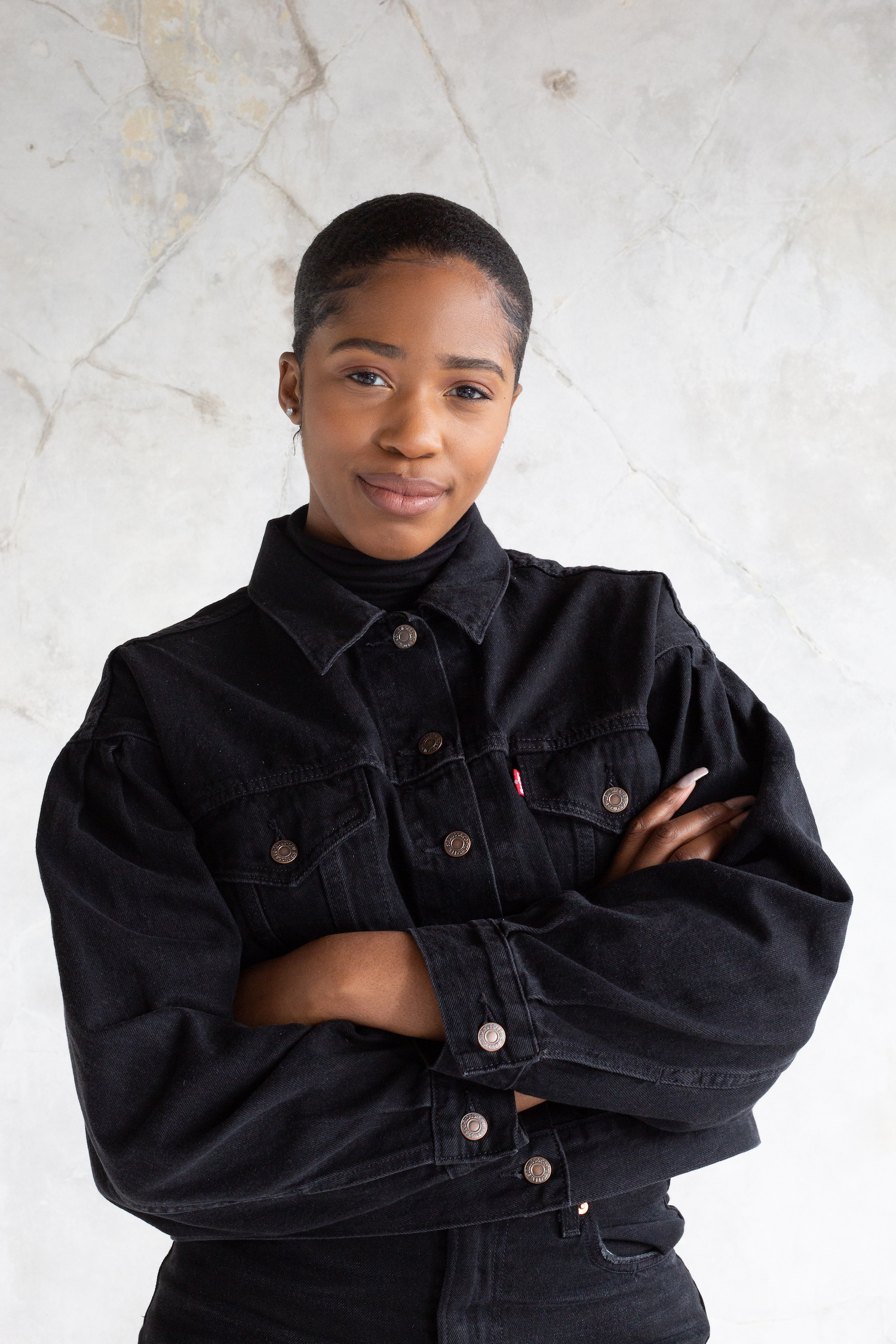 Raise a glass to Bianca Saunders!
As you're of course well aware, fashion's awards season is well underway. After the announcement of Matty Bovan's double win in the International Woolmark Prize a couple of weeks back, our attentions now turn to the ANDAM Prize, the grande dame of French fashion awards founded by Nathalie Dufour. This year's final seven was basically a hit list of some of our fave talents out there -- Bianca Saunders, Casablanca, Area, Ludovic de Saint Sernin, Rokh, GmbH and Grace Wales Bonner -- so whoever ended up taking home the €300,000 cash injection and year's mentoring from Balenciaga CEO Cedric Charbit would have been entirely deserving. Given the nature of fashion competitions, though, there can only be one winner, and this year -- after blowing the panel away with her to-be-revealed SS22 collection -- Bianca Saunders scooped the main gong! "I can't put into words how thrilled I am to receive such a prestigious award and I am truly honoured,' she said upon the announcement. "Mentorship from such a key player in the industry, plus financial support like this, will help me really focus on growing my business and realising my lifelong dream - establishing Bianca Saunders as a global fashion brand.," a dream that we're sure she'll see come true. MS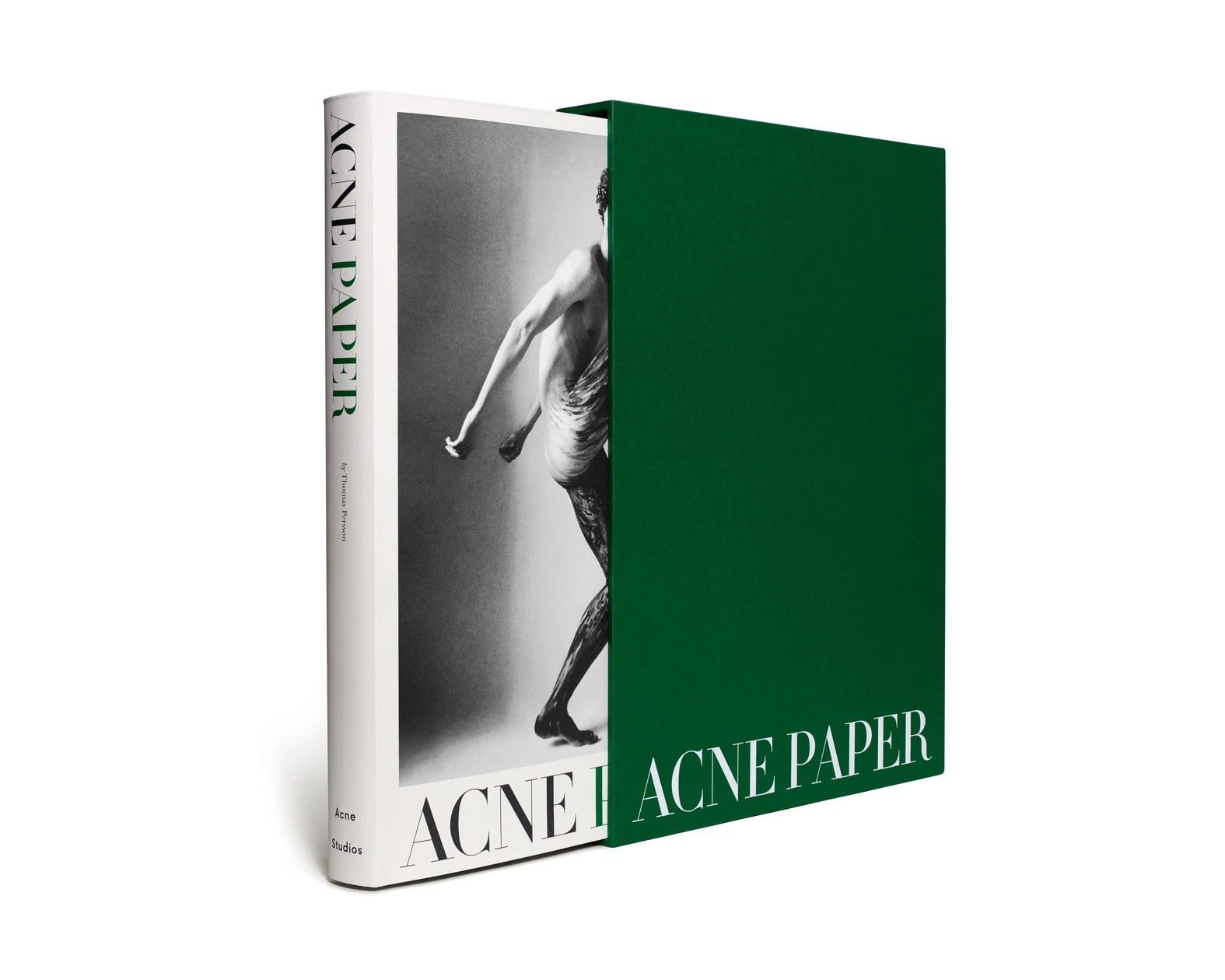 Acne Paper launches a new book
Earlier this week, Acne Studios took us on a trip down memory lane with the launch of Acne Paper, a book that celebrates the legacy of Acne Studio's brief but remarkable time in the editorial realm. To commemorate the occasion, we asked Thomas Persson, the magazine's former Editor-in-Chief, to tell us the stories behind some of the most iconic moments from its archive. If that hasn't convinced you to go check it out, then we should also add that the 560-page coffee-table tome also features a portfolio by photographer Christopher Smith and new essays by Sarah Mower, Vince Aletti and Robin Muir. More than just a nostalgic throwback, it's a precious window into the world of fashion editorial before social and digital media took over the game. KK
The designers pushing swimwear forward
It's a new world, honey! And this post-vax summer, if your wardrobe is not expansive, exuberant and eco-conscious, you can't sit with us. Luckily, these four swimwear brands; Isa Boulder, Chromat, KNWLS and Hunza G are here to redefine what it means to be 'bikini ready', showing you that really can minimise your impact on the planet while still pulling a a fab beach look. From Isa Boulder's exploration of what it means to be "awkwardly sexy" to Chromat's appreciation of curves, cellulite and scars, to bikinis made out of recycled Lycra yarn, these new gen labels are rebuffing conventions and creating their own rules. Read more here. KK
Balenciaga logs off
Eight years ago, Phoebe Philo said that "the chicest thing is when you don't exist on Google." Her maxim still stands, though if the recent actions of some of fashion's biggest players are to go by, then the chicest thing today is when you don't exist on Instagram. Following in the footsteps of its Kering stablemate Bottega Veneta, Balenciaga has wiped its Instagram account clean! And if that wasn't enough drama for you, they've done so just days ahead of Demna's hotly-anticipated couture revival!! fashion gasp!!! We are, unfortunately, no more clued up than you as what this all means, but the timing and the fact that the account itself remains live would imply that a big fucking moment is in-store. All the more reason to keep your eyes glued fast to your screens! xoxo MS
Alyx takes a moody beach trip
Think trip to the beach, but make it chic. That's just what Matthew Williams for the presentation of his latest collection for 1017 ALYX 9SM's, "BEYOND". In a broody film, the American designer took us on a surreal sci-fi voyage to Planet Alyx's coast and fielded a collection rich with hippy-inspired styling, futuristic textures and oversized hoodies. Comprising coloured bikinis with matching leggings, structured double-layered hoodies, distressed jerseys, soft cotton dresses with twist and knot details, and armour-like leather moto jackets, this was a perfect synthesis of fantasy, comfort and wearability -- which is just what we all want from a post-pandemic look! KK
Givenchy Resort was all about an American in Paris
Think your schedule's packed? Well, imagine what Matthew Williams' must look like! Perrenially booked and busy, these past seven days have seen the Californian designer drop his latest collection for Alyx and a whole 'nother one for Givenchy! In his latest outing for the Parisian house, he decided to focus on the places he calls home. "In my collections, I always speak to lived reality," he says. "For Spring 2022, our first pre-collection runway show, I wanted to bring together my American roots and my brand new life in Paris." Here, a sense of transatlantic cross-pollination came through strong in pieces that suggested an inimitable sense of Parisian chic -- think cropped high-collared jackets with armour-like leather sleeves and cut-out slinky evening dresses -- with a healthy dash of street and quirk a l'américain. "There's an energy of striking out for a new adventure, of drawing on something familiar yet creating something completely new," Matthew says, a key vehicle for that sense of newness being his collaboration with Seattle-born, Mexico-based artist Chito, whose expressive graphics feature on looks, accessories and even Rimowa suitcases. Chapeau, Matthew! Who doesn't love an American in Paris! MS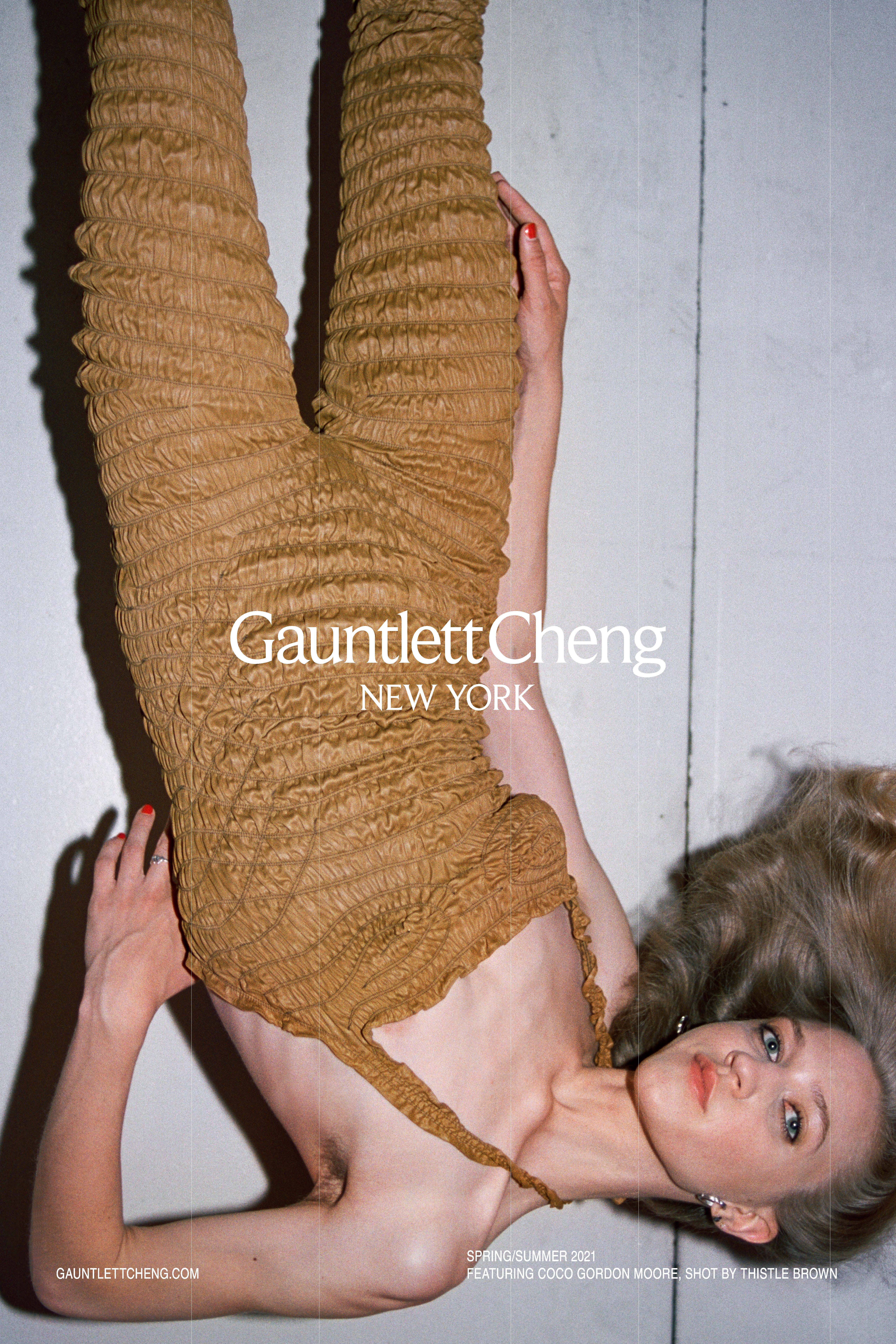 Gauntlett Cheng take New York by night
New York, New York, it's a helluva town… and it's BACK! Indeed, as you'll have seen on your screens when all of the city's elite fashion gays simultaneously livestreamed Madonna writhing atop a bar and spewing out bubbly (we love!), the Big Apple is alive and kicking once more. There are few people, though, who are quite as thrilled to see life return its streets than Esther Gauntlett and Jenny Cheng, the joint force behind -- you guessed it -- Gauntlett Cheng, and stylist and photographer Thistle Brown. They're so excited, in fact, that they even paid homage to the vibrant nighttime spirit of their newly-revived hometown in their recent campaign, starring none other than Coco Gordon Moore. Here, the trio tells us all we need to know about the pics, what they've missed most about New York by night, and their post-vax party musts. MS
Hi guys! For those who aren't familiar with Gauntlett Cheng, quickly fill us in on the story behind the brand, and how you came to work together.
Esther Gauntlett: Jenny and I met while we were interning together at Eckhaus Latta about 7 years ago. Our first shoot with Thistle was in 2018 at a love motel in New Jersey. We connected instantly and felt like he really understood our clothes and our way of working.
And for those of us not in New York right now, tell us: what's the vibe like?
EG: It's honestly crazy right now. The streets are totally packed and there's a kind of mental energy everywhere. We shot this on a Saturday night in Times Square and I assumed it would be quiet - the theatres are still closed and it was before a lot of restrictions had been lifted. It was really wild though - guys on ATV bikes, people everywhere and kids taking prom photos. I feel like we were all so overstimulated and excited out there.
Thistle Brown: New York is definitely back, alive and kicking!
Jenny Cheng: Also, there's a heatwave happening in New York right now, and we're all reconnecting and hugging each other despite the stickiness.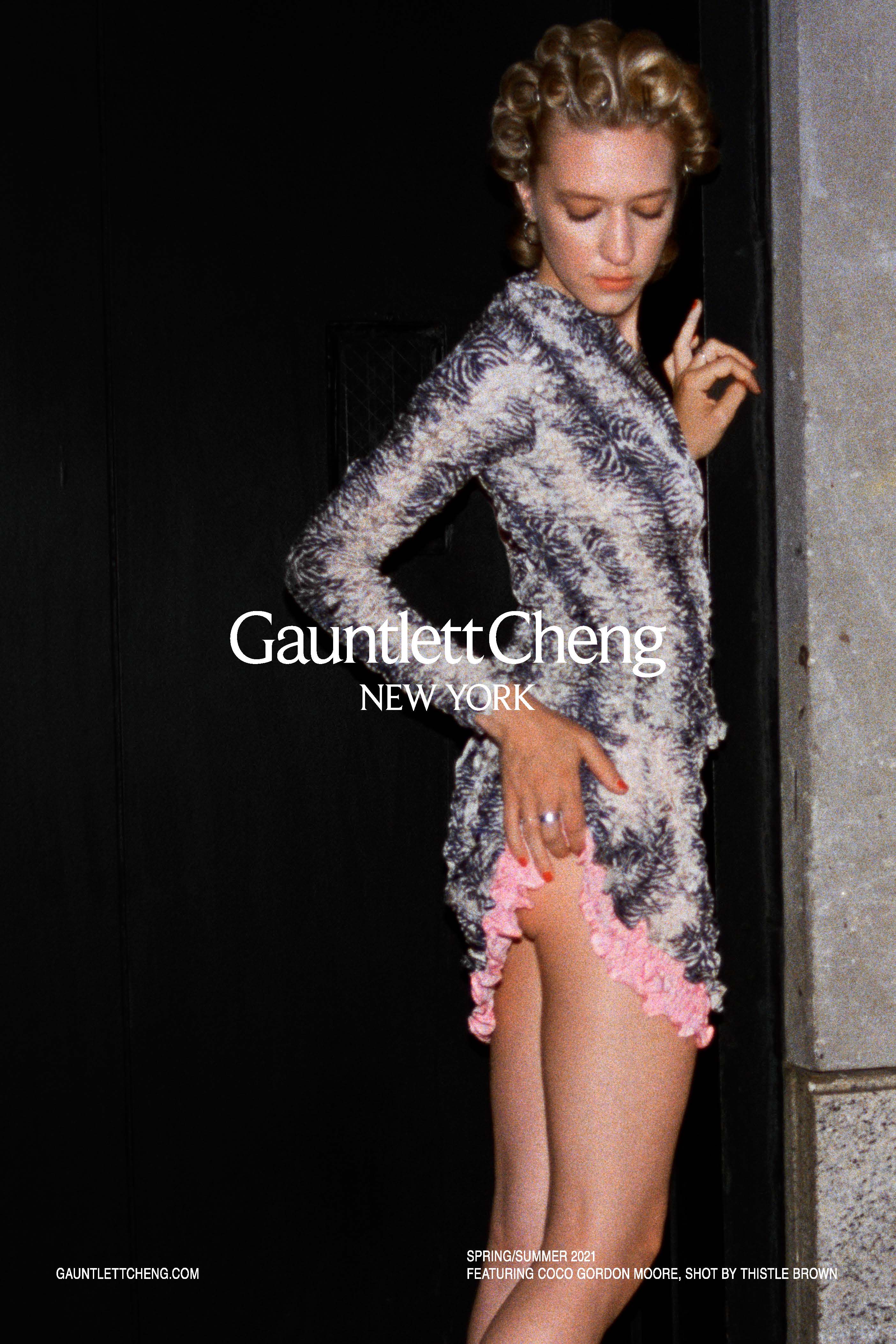 What's the story behind the campaign?
TB: I just got back to NYC after being in New Zealand (where I grew up) for a few months. I guess while I was there I leaned back into my teenage melancholy albums. I couldn't stop listening to PJ Harvey's Stories from the City, Stories from the Sea. The album is a love song to NYC, it's about being young and open to a city that treats you like an unpredictable lover. When the girls asked me to shoot something, I was like we need to shoot in the thick of it, to bring back the lights and all those Manhattan vibrations.
JC: We wanted to capture a classic New York City, but with a sense of renewed energy -- a spring energy.
What made Coco Gordon Moore its ideal star?
TB: I've always been inspired by Coco's mystery, grace and ease. She has such an assertive quality about her while at the same time there is a delicate sensitivity. I could make a book about Coco, to be honest.
EG: Coco has an incredible energy -- everything came to life on her but she really looks at home.
JC: Completely, Coco is a star! It was amazing to see the synergy between Thistle, Coco and the city. It was so magical and so energetic, especially once Coco's curls were unleashed.
There's quite a sensuous, nighttime energy to the images. What have you missed most about NYC nightlife?
EG: I missed the spontaneity of it. The feeling of walking around on a hot summer night and you could run into anyone, and anything could happen.
JC: I missed the holiday parties we used to throw where we'd dress up and see all of our friends. Hoping we can do another one soon.
TB: I think New York nightlife is beyond a relic now, we've realised that the city can't operate without it. We have a lot of friends who also depend on it for income, so it's really important that we don't forget how special it really is.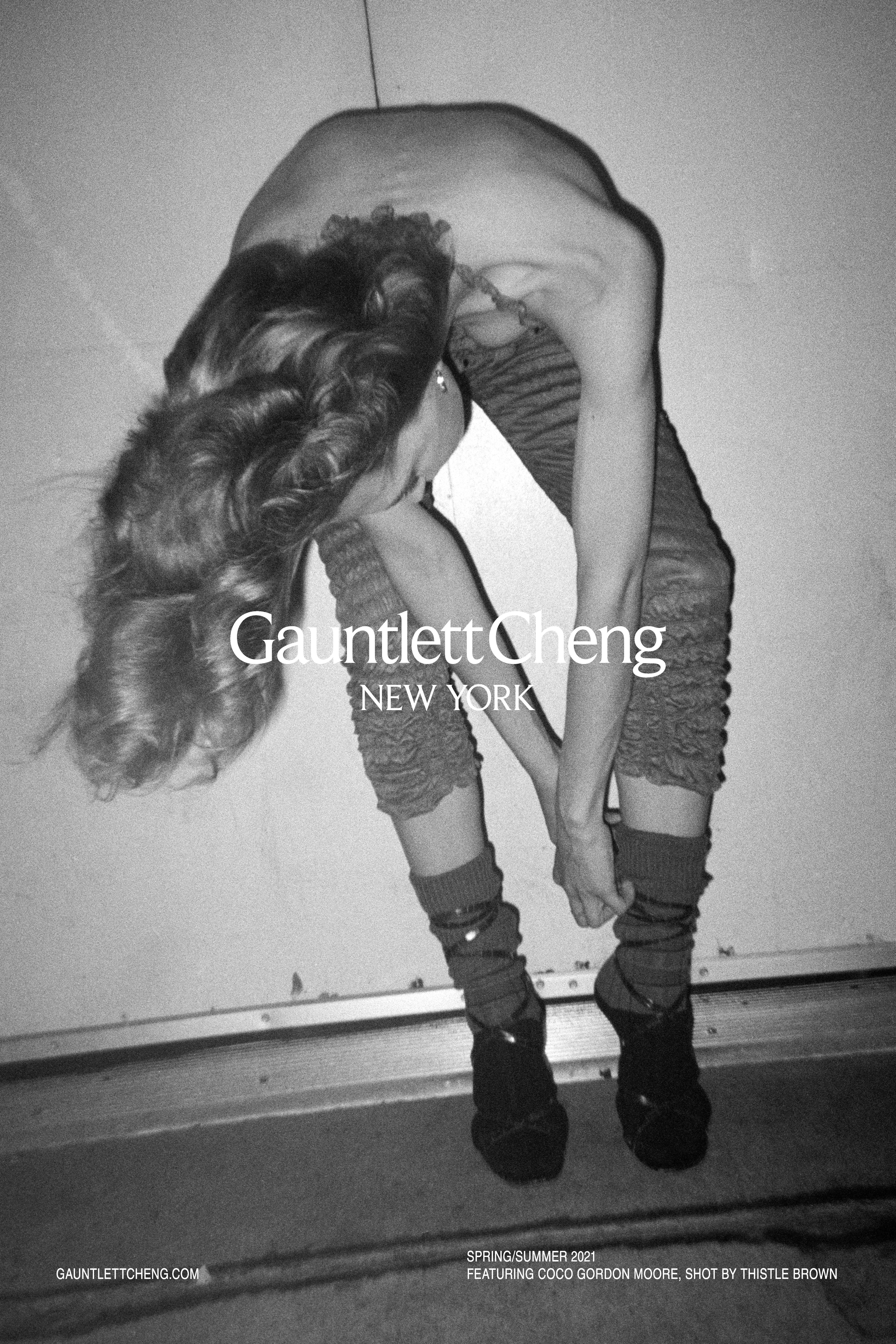 Tell us about the night that Coco's heading out on. Where is she going? Who is she seeing?
EG: I feel like there's a definite undoing that comes across in the pictures, like she's on her way out and the way back from something. There's a feeling that she's sort by herself in the big city but so at home and comfortable there.
JC: She has no plans, she's taking it all in, taking it as it goes, feeling a little flirty.
TB: She's just doing her thing, looking lost but not ever lonely. Making moves and landing at the right party in the end.
Lastly, what are your top five post-pandemic New York nightlife musts?
E: Time to wear a dress again! A bag that can fit a bottle of wine you'll probably drink by the river. People you love. People you haven't seen in a long time. That's only four but don't think you really need more than that…
J: Shooting hoops in the park at dusk, eating chips and walking to the river with friends, dressing like you're ready for the beach at any moment, rosewater mist, and feeling sexy.
T: Chapstick, nighttime bikes, showing skin, dancing on the streets or at the river, and smooching the crush you couldn't catch before.