Watch an exclusive film exploring the BTS magic of the Gucci Aria show
See the epic set and wonderful world created by Alessandro Michele.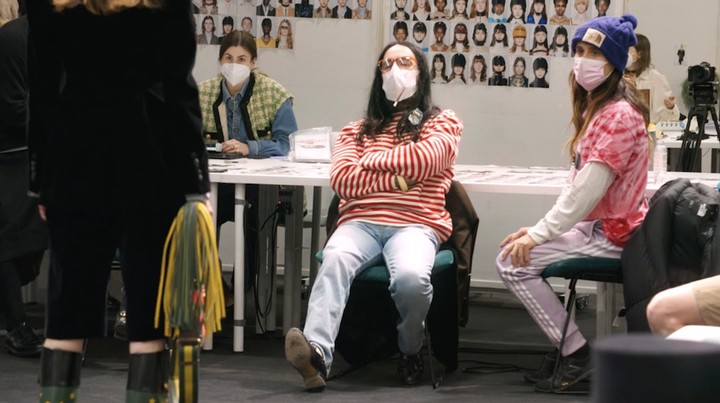 Image courtesy of Gucci
"Fashion is a wonderful illusion that is a dialogue between shapes, between colours, between interactions," begins Alessandro Michele, Creative Director of Gucci, in a new backstage film chronicling the brand's 'Aria' collection, which was shown last week. The most notable dialogue in the collection, however, was that between Alessandro and Balenciaga's Demna Gvasalia, which saw the former "hack" the Parisian house and incorporate elements of the Balenciaga world into his own. "Demna really enjoyed the idea of me using his patterns, his styles, to transform them into something else," the Roman designer said after the Aria show. The collection reintroduced a more streamlined kind of glamour into the Gucci language, with the designer playing not only with Demna's vision of tailoring, but also Tom Ford's, with the resulting velvet suits and sexy, subversive motifs taking the label in a new direction.
Now, Tommaso Bertani's new short shows the work behind the collection. We see Alessandro talking to the director of Aria, Floria Sigismondi, discussing how best to honour Gucci's 100th birthday, and the Gucci team fitting the show's looks before the epic filming at Rome's Cinecittà studios. Floria built the facade of the Savoy nightclub there, as a tribute to London's Savoy Hotel, where Guccio Gucci worked as a young man. The models enter the club before walking a searingly-lit runway illuminated with hundreds of cameras, and then finally emerging into bucolic nature. The scale of the garden they built at Cinecittà is particularly astounding, with the studio's backdrop revealed as the models trampoline in evening gowns. "What's Gucci? It's like a big box, multiple things," explains Alessandro, who references Ford, horses and the Gucci family. "It's fascinating."
Watch the film and see behind the scenes of Gucci's 'Aria', below.
Credits
Film by Tommaso Bertani @ringfilm.
Music:
Gucci Mane "Gucci 2 Time"
(G.Mane)
(P) 2015 BMG Rights Management (US) LLC d/b/a RBC Records
Courtesy of BMG Rights Management (Italy) srl