Model Aweng Chuol is on a quest to belong
The South Sudanese model discusses her complex upbringing, gay marriage equality and her five-year plan.
"I've got 115 goals and the aim is to achieve 75% of them before I turn 25," Aweng Chuol says over the phone from Paris, a couple of hours before she'll board a flight to London. Like many models, she arrived in Europe a few week ago as part of the fashion week circuit. It's been a bit of an eerie edition, this season, she admits. With precautions to contain the coronavirus crippling business and international travel, it's been quieter and less hectic than usual. Not that there's ever been a moment's peace since she was scouted in an Australian McDonald's and booked as a worldwide exclusive for Vetements a couple years back.
Aweng is ambitious, very ambitious, and those goals she's envisioned for herself don't just tick themselves off. "In terms of modelling, 2020 is the year I want to crack down those big jobs: the key magazine covers, the beauty contract, walk a major show," she says with conviction. Sliding in a couple of more weeks in London before she goes home is just part of the plan.
Finding and creating a home has always been important to Aweng. The 21-year-old was born in Kakuma, a refugee camp in Kenya, after her parents fled the Sudanese civil war while her mother was pregnant with her. Her father had been a child soldier in the First Sudanese Civil War, which lasted from 1955-1972, later fighting in the Second Sudanese Civil War as an adult, which lasted from 1983-2005. Aweng has never been able to visit her parents' home country. At the age of seven, she moved with her family from Kenya to Australia, leaving her father fighting on South Sudan's battlefields. In 2012, he passed away as a result of complications from a war wound. Until she was 19, Aweng stayed in Sydney with her mum and siblings.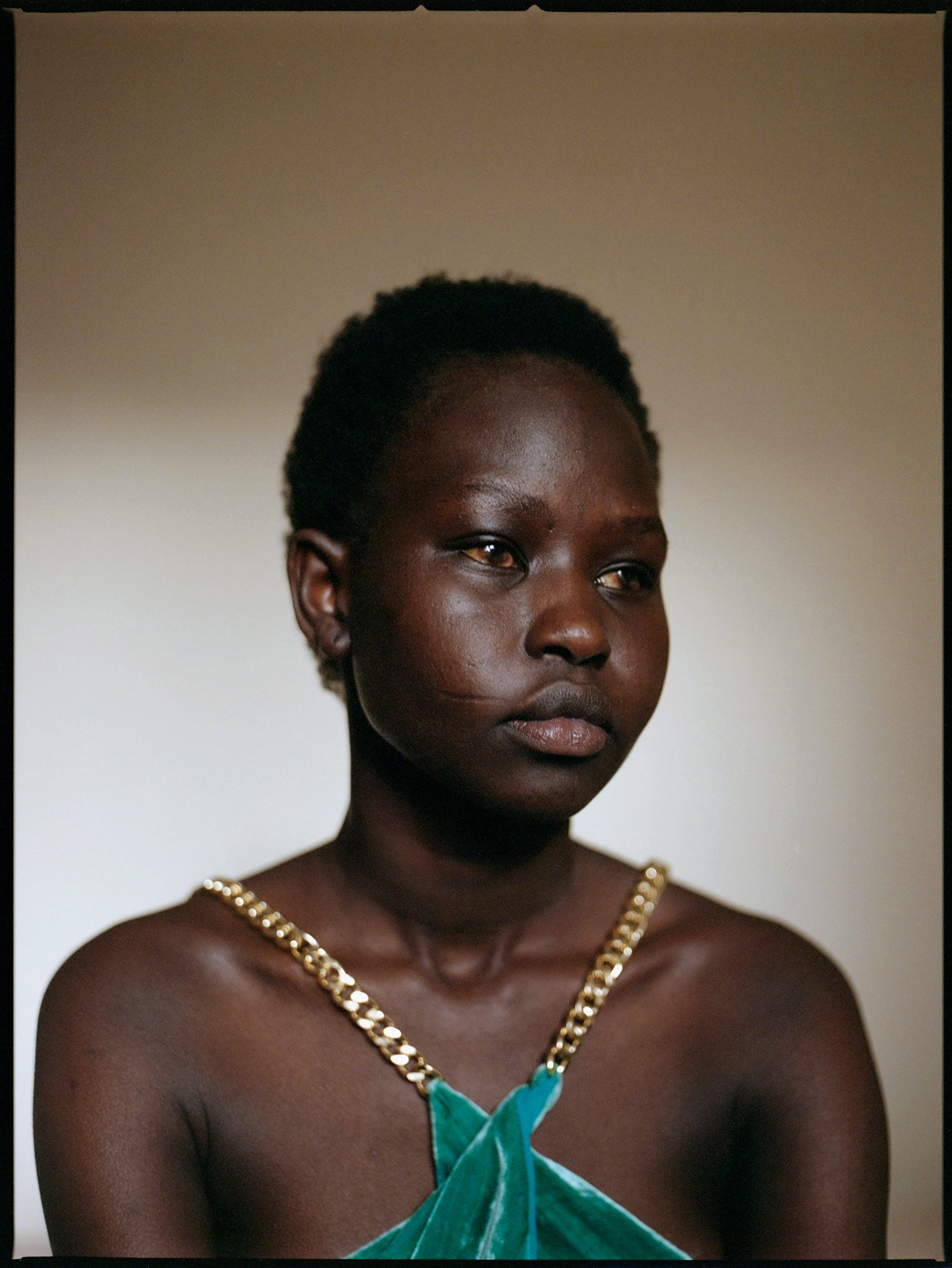 Her childhood in Kakuma has become a bit of a dream, something which she explains feels abstract and elusive. "We never spoke about being refugees when I grew up," she says. "We were almost made to believe as if it didn't happen, which is a bit of the general attitude in refugee families: pack up, let it go, and keep going -- especially when it comes to the women. Pretending as if the war never took place was a coping mechanism, and they have raised their daughters in the same way." She recalls a specific incident from third grade that stuck with her: "Our teacher made us write a memoir about home, and I went back to my mum asking where exactly was home. That was the first time I found out that I came from a refugee camp."
Now that she is processing her own childhood experiences, she's become a vocal advocate for mental healthcare among refugees, and girls in particular. She is affiliated with organisations such as War Child and Children in Conflict, has spoken at the UN's Mental Health Forum and set to graduate from a Law and Psychology course next year. Future plans to become the first female president of South Sudan are on hold for now, but definitely not off the table. Until then, she's left watching on from the sidelines as yet another Sudanese crisis unfolds. On 3 June last year, dozens of pro-democracy demonstrators were killed in a brutal crackdown led by the military in the capital, Khartoum. Ever since, the region has been plagued by political upheaval, and the situation is simply too volatile to enter the country. "Whenever it calms down I will go and visit -- my dream to get into politics is still very much alive. Upholding freedom of speech would be my most important mission."
There is, however, something else preoccupying Aweng at the moment: a little over two months ago, she got married to her 23-year-old fiancé and "best friend" Alexus. The couple, dressed in a crisp white suit and silky dress respectively, tied the knot in a private wedding attended by a few friends. "Once I got married I realised I had found a place where I was respected and loved unconditionally. Marriage has brought me a sense of permanent home and belonging that I was looking for. Particularly in an industry such as the fashion industry, which is hectic -- hopping from hotel to hotel with no place for your candles, for your bed, your photos -- having a home is essential." Being married to a woman has also made Aweng's advocacy for LGBT rights (she identifies as bisexual) more personal, she says. "Gay marriages should be treated as significant and as normal as any other marriage," she says.
Dividing her time between studying, modelling and activism, there's no wonder Aweng's list of goals is so long. But it sounds like she's already successfully ticked off an important one for 2020. "I was not able to sit at a table on my own for a long time," she says. "I always needed to have friends or family around me. But I don't want this fear of being alone to bother me anymore, and I'm getting there." There is, however, still plenty to yearn for. "By age 25," she quickly adds, "I want to have two degrees and have built a law firm -- if I graduate early next year, I'll have enough time to set the business up." We have zero doubt that she'll get there.
Credits
---
Photography Maxime Cardol
Casting and styling Lisa Megens
Beauty Charlotte Niketic
Aweng @ Models1