Photography Julian Bouchan
How Banoffee's emotional purge became a bruising pop album
The Australian-born, LA-based musician's debut record is a searing exploration of personal trauma.
|
20 February 2020, 11:32pm
Photography Julian Bouchan
Hitting rock bottom is brutal, but sometimes it's needed to rebuild. For Australian-born musician Martha Brown, who records and performs as Banoffee, one of those moments arrived while stranded on a Californian highway. It was 2018, and she'd been living in L.A for about a year, which had been rough: She was bouncing from nightmare home to nightmare home, money was tight, and her work was exhausting and endless. She was driving to meet a friend, who was going to buy her dumplings and console her about the fact that she might need to move back to Australia, when her car started billowing smoke. She paid wreckers $70 to get rid of her busted, smoggy car, abandoning a lot of her belongings in the process.
This experience is immortalised on the clear-eyed, crackly 'Chevron', a track that arrives midway through Banoffee's bruising debut record Look At Us Now Dad. The song is strangely moving in the way it captures a very particular feeling: that of surrendering to a moment of crushing dejection and doubt, until you've expelled every bit of fear from your system.
A few weeks ahead of the album's release, I met Martha at a cafe in her hometown Melbourne. Wearing a fluorescent yellow jumpsuit with her icy blonde hair in plaits, she speedily runs through the chaotic list of jobs she held back then: multiple nanny positions, dance studio receptionist, catering assistant, an assistant director, and working for a wealthy man in a job she later explains to me as, "Pretty much organising his life, just selling my soul to have his credit card."
This unrest came quickly to a close after Brown's highway incident, however. Just two days later, she was asked to join Charli XCX's backing band, which was to support Taylor Swift's mammoth Reputation world tour. It caused further delays in completing her album, but spending each night performing in colossal arenas to tens of thousands of people altered the course of Martha's record. She walked away from the tour ready to embrace her more sugary pop leanings, and far more conscious of the considerable power pop music can wield. "It's where the majority of our youth look to draw reference, of how they want to be or how they don't want to be, what they believe in and what they don't believe in," she tells me.
Martha moved to L.A from Melbourne after experiencing what her psychic described to her as "dark night (of the soul)". The phrase, based off a poem by 16th century Spanish mystic St John of the Cross (and more recently rearranged by flamenco-pop force Rosalia) refers loosely to the idea that we all experience one extremely bleak, existential period of our lives, with the only antidote being to radically upend your values and identity. "I think when you live in a certain city it becomes very hard to rewrite the stories that people write about, or that you write about yourself. I felt like it was sort of impossible to escape a lot of the decisions I made here," she says.
Banoffee was a project born out of anguish and recovery. Nearly a decade ago, she had been playing in a folk-ish indie rock band with her sister when she had a mental breakdown. In the aftermath, she began uploading her own frosty electronic pop experiments to Soundcloud. Speaking to The Age recently, she said Banoffee acted as a "measurement of progress". Over the years she's released a string of shimmering singles, two EPs and even a collaboration with fashion label Skodia.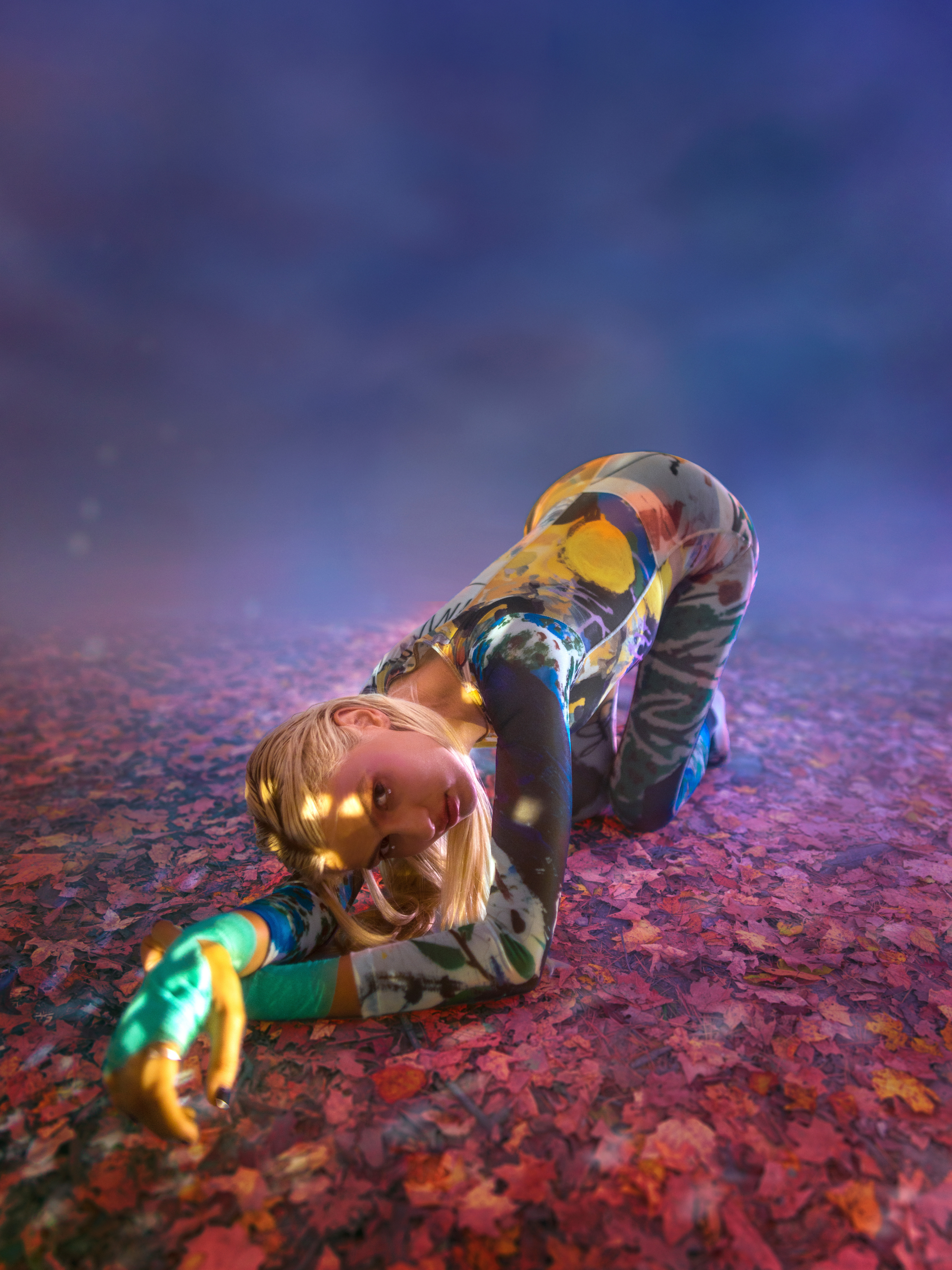 While Brown's music has always been full of prickly emotions, Look At Us Now Dad is a gut-wrenching document on trauma, family and resilience. It's an emotional purging, metabolised through biotic, propulsive pop music.
Like Swedish icon Robyn, Martha seems to keenly understand the cathartic power of spilling your guts out and sobbing in the club. Song 'Contagious' may be the best example of this: Powered by gleaming synths and swelling harmonies, it's a pop banger about feeling like an emotional parasite. "When I was younger, my mental health got in the way of a lot of relationships. I felt like it had become almost like a contagion, [like] my personal experiences had started leaking into other people, and were really staining everything I touched," she says.
While diaristic and deeply personal, nearly all of the songs find salvation in family and community. There are wobbly, raw interludes of familial friction and sorrow, some of which sound like Brown is exposing us to the deep, raw recesses of her iPhone notes.Then there's the glistening kiss-off to fickle friends, 'Tennis Fan', which features Brown's close L.A pal, Empress Of. 'Count On You' addresses the experience of having to see someone who's hurt you everyday, but being able to find emotional refuge with a friend.
The album's most searing moment may be 'Permission', an exorcism of an experience of sexual assault. The song sees Martha's auto-tuned vocals repeating "permission" over and over, getting more strained and twisted each time she sings the word. It can be difficult to listen to.
For Martha, it was never a question of if she'd write these scalding songs, but when. Time and distance, she tells me, provided the space she needed to finally be able to breach these difficult subjects with clarity and understanding. She also wants to encourage us to be more forthright and honest with one another. "People don't like to be explicit about what they're going through, and I didn't want to write an album that was all love songs. I was just over making music, hearing music that was about the same themes or was so ambiguous that you had to see it as some sort of sonic experience," she says. "Lots of times when I was on tour, or in [a] session, people would be speaking about their family or their past or whatever. As soon as I spoke about any type of real truth, the whole room just went silent. People don't talk about mental health or abuse or all of these things that seem so scary to say out loud."
Banoffee ends the album with title track 'Look At Us Now Dad', an affecting dedication to her father and his experience of intergenerational trauma. Researching his difficult history was revelatory for her — it allowed her to better understand, and be more forgiving, of her own emotional pain. "I wrote that song for both of us," she tells me. "It was more like a celebration, like looking back on how things used to be. There's no way you could have told him back then, or me a couple of years ago, where we are right now," she says, pausing for moment, "We just wouldn't believe it."
Banoffee's debut album 'Look At Us Now Dad' is out now.
Tagged: