Photography Mitchell Sams
Christopher Kane's sex obsession meets sacred geometry for AW20
The designer married his usual kinky concerns with a sharp-edged focus on triangles at his London womenswear show
|
18 February 2020, 1:27pm
Photography Mitchell Sams
In the last couple of years, "More Joy" has become a definitive mantra at Christopher Kane, emblazoned across a highly successful (and accessible) line of simple items like T-shirts, beach towels and pyjamas. In other words, S-E-X (another buzzword for the brand), which many designers shy away from and Christopher gravitates to like a forbidden fruit. It's formed the foundation of all his collections since the one in 2018 that riffed on the 1972 bestseller The Joy of Sex. In a time when outré sex appeal has been replaced by prudent lengths and boxy tailoring elsewhere, he's brought kinks to life (with graphics reading "Rubberist" and "Sexual cannibalism") in futuristic silhouettes.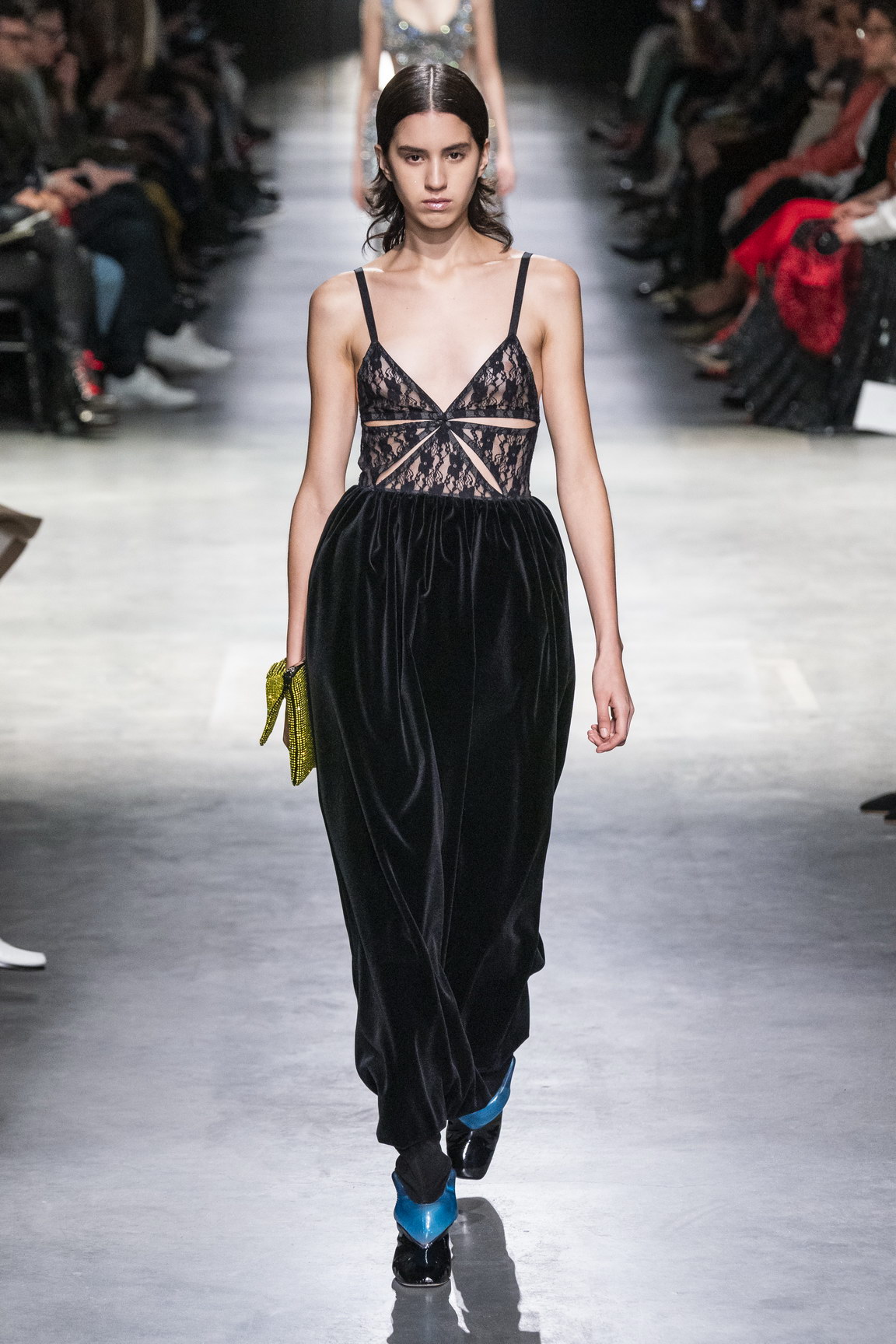 Christopher continued the deep dive into the world of sex for AW20, too, though it was less fetish-focused (with the exception of gel-filled harnesses) and more abstract. In fact, it was a concept as simple as triangles that provided a wellspring of ideas for the Scottish designer. He reimagined the shape in various ways, from geometric satin patchwork coats and A-line cupcake dresses, to isosceles cut-outs of lingerie lace as bralets and triangular slits on crisp white cotton shirts. Why triangles? It started with "saucy knickers", he explained after the show – women's underwear is basically constructed from triangular panels.
The deeper Christopher went, the bigger the idea became. It led him to Adam and Eve, the ultimate symbols of lust and sexual subversion, and their love triangle with nature (python print boots nodded to the bad-influence snake). Then there was the all-seeing eye of God, often encased in a triangle, and Pythagorean theorem. Alongside these geometric concerns, the collection hit on plenty of Christopher's recurring themes, from sexual desire and nudity (Lucas Cranach the Elder's German Renaissance painting of Adam and Eve became a sweatshirt print) to nature and science (the Tree of Knowledge! Biology! Fig-leaf knickers!). It all came via his distinct sharp-edged minimalism, which offers a fresh alternative to the often curved, voluptuous depictions of the sexualised female body.