Matthias. Photography Vincent Ferrané.
Intimate portraits of the trans and non-binary community in Paris
Photographer Vincent Ferrané captures the ritual of getting ready to go out in his new book, 'Every-day'.
|
23 November 2020, 9:00am
Matthias. Photography Vincent Ferrané.
In his new book, Every-day, Vincent Ferrané provides a magnetic glimpse into the at-home lives of young trans and non-binary people in Paris. Ava, Jackie, Leo, Mathieu, Matthias, Maty and Raya are at play in their own spaces: experimenting with their cache of foulards and fake nails, surrounded by cultural totems like a Lygia Pape poster or a book by Maryse Condé. The rituals of getting ready to go out — selecting an outfit, putting on makeup in the mirror, shaving — are recast under Vincent's gentle and attentive gaze. The French photographer depicts the nimble possibilities of putting together not only one's look but a concept of selfhood, in a way that's part 19th-century toilette, part 90s teen movie montage.
Vincent describes his aesthetic as more magazine editorial than documentary, yet his subjects never strike a pose. He understands that the sense of authenticity in his work comes from "letting people play their own role, express their own rituals with their objects, settings, [their] unique and personal way of doing things."
We spoke to Vincent about his Judith Butler-spurred awakening and how the power of portraiture extends well beyond facial contours.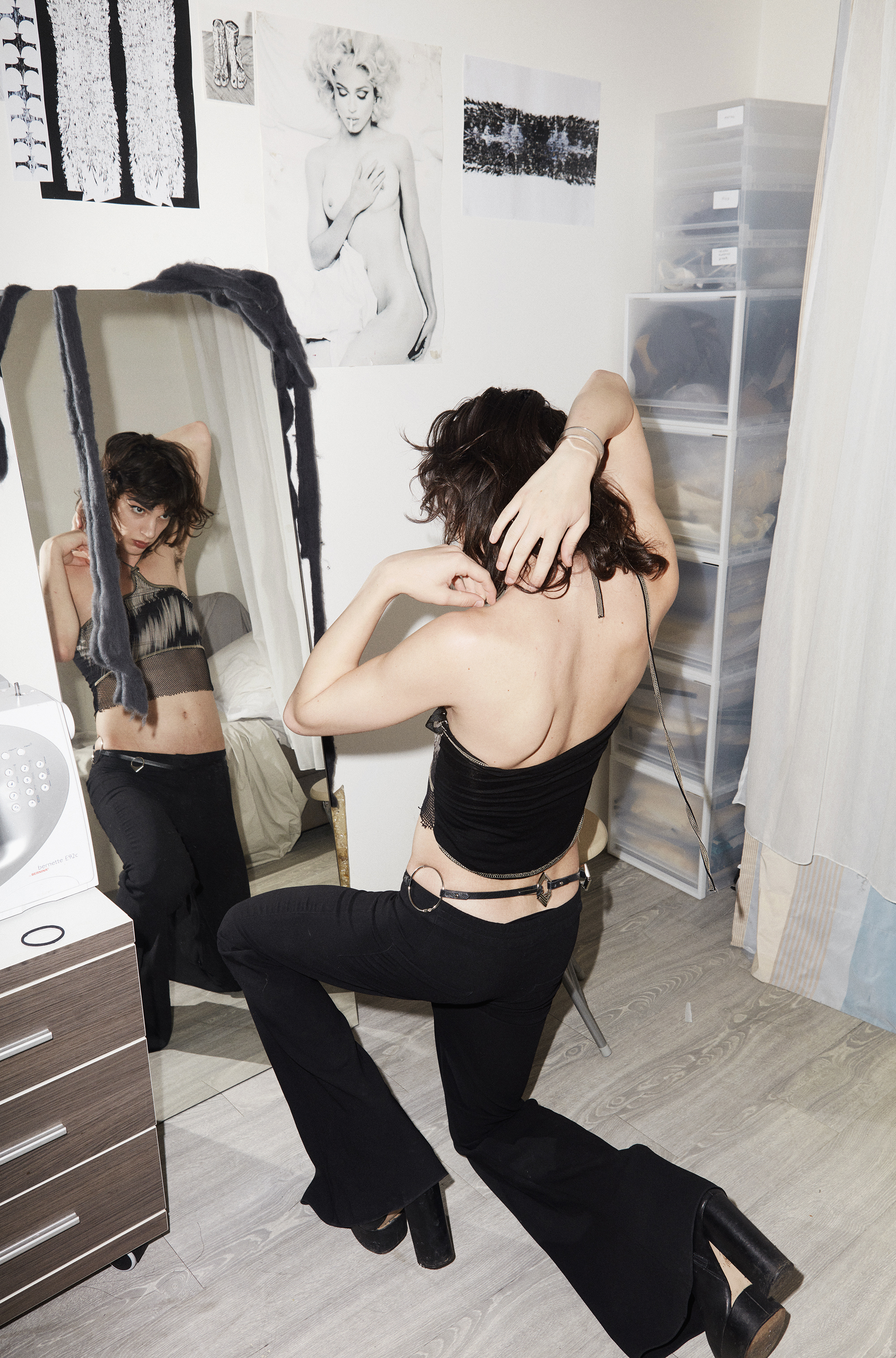 What was your path to becoming a photographer?
I am self-taught. I went to medical school and became a dentist, but I quit after a few years. I realized that wasn't the life I wanted, but I had to find the strength to carry out that decision.
Doing reportage for newspapers struck me as the best 'school'. I couldn't have been an assistant or worked in a studio because at the time I didn't even know that existed. Later, I learned to work in a studio through portrait and fashion assignments. I was able to gradually develop my personal work through exhibitions and by publishing books.
Which photographers have influenced you?
I feel, to quote artist Philippe Parreno, like I grew up "not among things but among images". I would not be able to practice photography today, or be able to do this series in particular, without Weegee, Nan Goldin, Valerie Belin, Vibeke Tandberg, Paz Errázuriz or Claude Cahun. My tastes and inspirations have changed along the way, but William Eggleston has always stayed with me, for his aesthetic mastery… he treats vernacular subjects with the same complexity as 'noble' ones.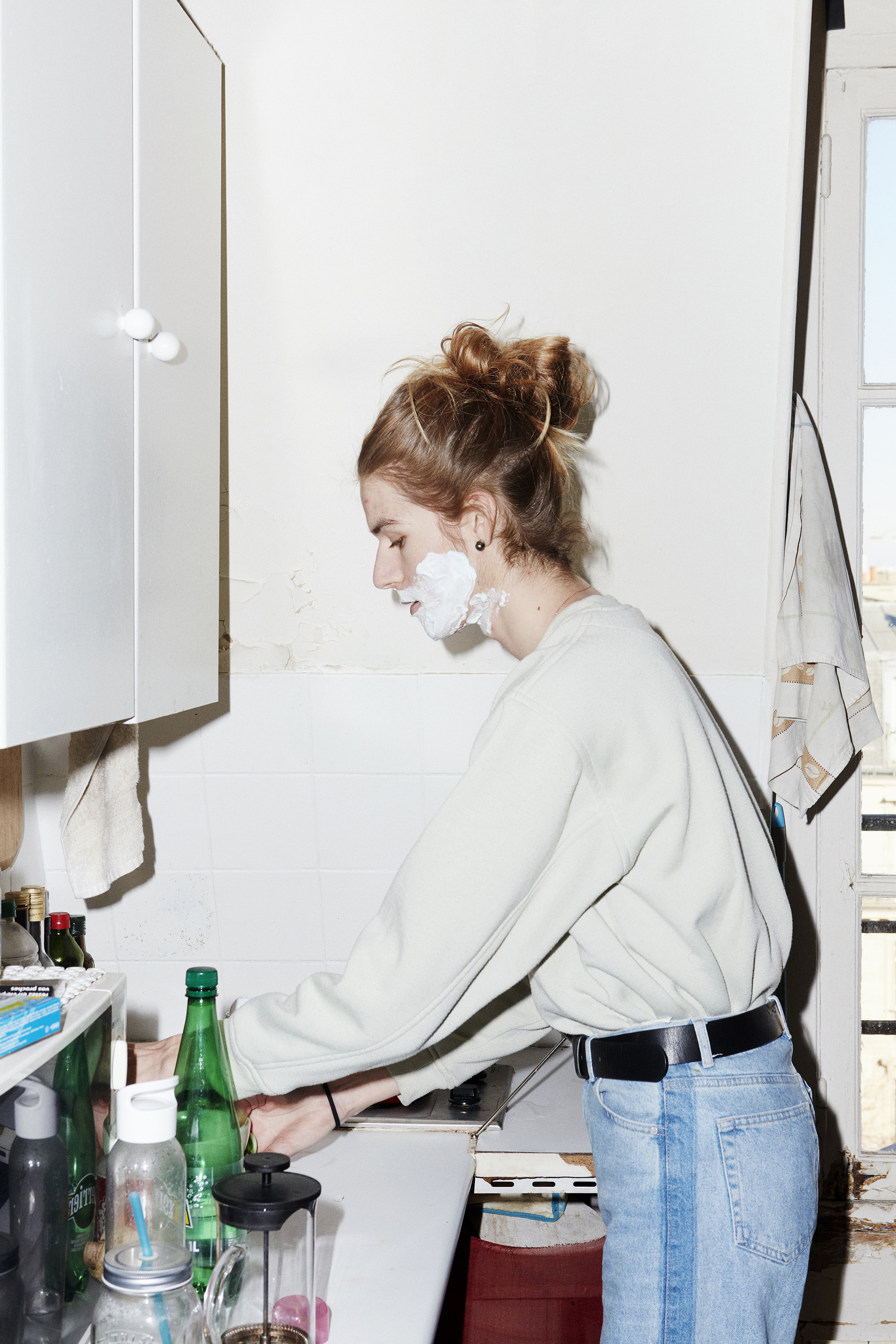 How did Every-day come about?
I often decide to start a series related to reading different schools of thought. In this case, I was moved by the writings of Judith Butler, Virginie Despentes (notably King Kong Theory), Georges Canguihlem (Le Normal et le Pathologique) and Gaston Bachelard (L'air et les songes). I guess the genesis really dates back to reading Judith Butler's Gender Trouble and Bodies That Matter several years ago. I found these writings had great power because they opened up a completely new critical rereading of gender and its genealogy.
Every-day spotlights this hallowed ritual of getting ready before going out. Why this?
I wanted to photograph innocuous-seeming daily life, in a way that could visually highlight the tensions and limitations of the feminine/masculine binary. I wanted, through portraiture, to document transgender and non-binary people through a simple but symbolic and bodily event: getting ready in front of your mirror before leaving home. It's intimate and, I think, extremely revealing. The 'moment' is as interesting as the space in which it plays out: namely within a room isolated from the world, but also in touch with the world. We all remember looking at a parent or relative or partner during those moments of prepping, which were as much a way of learning about the other as learning from the other.
I wanted to stay as close as possible to a daily practice everyone knows, and invite the viewer to question themselves rather than giving them a story to follow. The series is not only driven by a discourse of inclusion and diversity, but questions the structures and codes that we know lead to exclusion. I tried to identify how people incorporate, renew or deconstruct heterosexual cisgender conventions. Some of these images showcase their transition, like scars after a mastectomy, or the act of adapting your gait to your body, which changes under hormonal treatment and physical training, or "packing" your pants before leaving.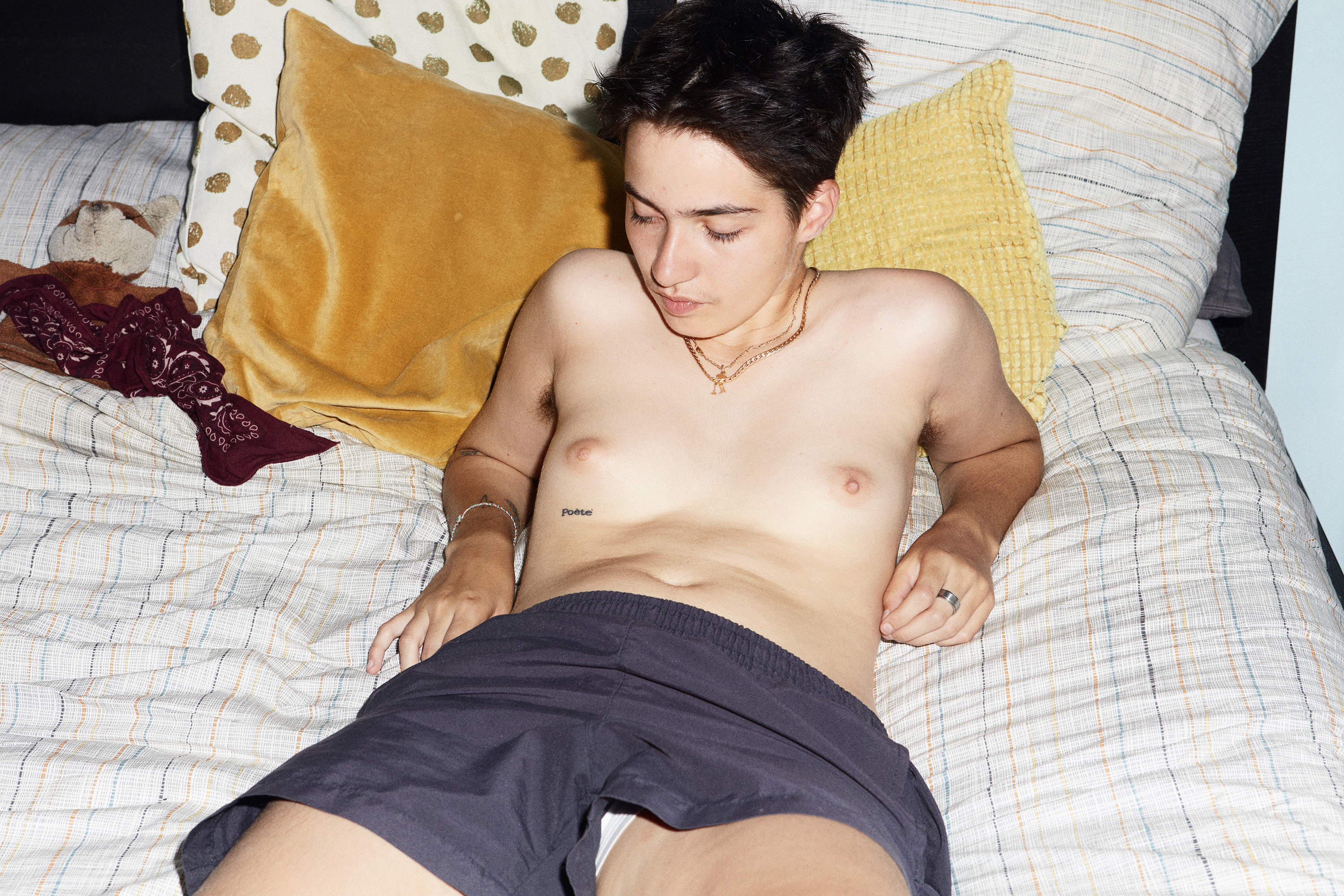 You feature lots of personal details — grooming products, décor, clothes. How do these complement the portraits?
I consider the personal details not as a complement but at the same level as the bodies or the portrait images. For me, the series is like a portrait structured through various facets. The décor, the objects, the face, the gestures are a composition with no hierarchy; they participate in the diversity of the individual.
The seven subjects are cited as first names, without any further introduction or information. Can you expand on who they are? What is your relationship to them?
Some I knew before the series; others I met for the project. Raya is a staple in Parisian nightlife and a rising model from La Réunion. My first shoot was with Matthieu; I knew him because he was modeling, at the time, for Margiela and came to Paris from the south of France for fashion week. I found it interesting to present a person who relies heavily on social media and asserts his style this way. The image where he is shaving could have been taken from one of his Instagram stories, since he documents his life meticulously.
For Matthias, I knew his work as a painter before this project: a sensual and dark world that I find fascinating. His house is packed with mountains of clothing, jewellery, books, well-chosen objects and fairy wings. The accumulation is like a temple or sanctuary more than an interior.
Ava is Brazilian and goes to fashion school, is a clothing designer, a model and is developing a transgender clothing line.
What connects these seven figures, if anything?
Apart from the fact that they are trans or non-binary, they are young, from the same generation, living in Paris and they have a particular relationship with fashion, style and clothes, which, as we know, is loaded with this gendered dimension.
What are your own rituals around the act of going out?
Let's say that maybe as a cisgender man, my own ritual might come across as trivial or mundane, and that should be questioned. Masculinity, as I see it in my mirror in the morning, is as it was taught to me; it does not come from nowhere, it is not 'natural'. I build it and rebuild it a little every day — lately, by shaving my head with a clipper and 3mm comb (hairdressers are closed with the return of lockdown here).
How does this series relate to the rest of your body of work?
Doing personal projects has allowed me to question myself on gender representation and to put these questions into images. My first book, Milky Way, questioned the representation of a breastfeeding mother by mixing codes of classic Madonna Litta paintings with the grueling daily reality of breastfeeding. Visitor looked at seventeen women artists at work in their studios and the 'status' of women artists more broadly.
Have you noticed depictions of gender shift over your time as a photographer?
I think that, in our societies, there is still a misunderstanding or a blindness of how sex, gender and sexuality/desires are articulated for everyone. We've evolved in our thinking about gender in the binary sense, which has allowed for great progress regarding the dysfunctional patriarchal domination. While these advances are always fragile, a binary way of depicting gender feels limited. We can't go beyond these limitations without establishing a definition that encompasses all identities, the whole spectrum of gender. This series brings together trans women and trans men. Some are attached to this definition; others consider themselves simply male or female. There are non-binary people for whom the definition of gender is either too narrow or totally irrelevant.
You've photographed covers for French publications. Have you noticed changes in gender representation within media?
In media, things seem to be changing, perhaps mainly because the personalities popular with young audiences are no longer the same and take a clear stance on these issues. Decision-makers are also changing, little by little. But can things change long term if we do not question and face the source of gender clichés and their history?
However, the evolution and liberation of social mores also unleashes a reactionary backlash. We see fractures increasingly emerging and, with that, irreconcilably polar conceptions of society. We can, unfortunately, imagine the complicated coexistence of more and more assertive representations: from the most open to the most backwards.