Watch the trailer for the Cock Destroyers' new sex-positive reality show
Featuring seven contestants and an ensemble cast of guest judges that includes Baga Chipz, 'Slag Wars' is the horny gift that keeps on giving.
|
17 November 2020, 2:50pm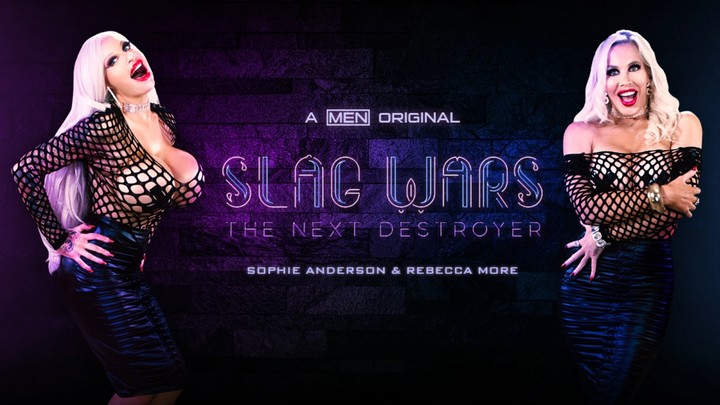 via Twitter (@slagwards)
November really is doing God's work for 2020, isn't it? Not only has it brought the end of the Trump era and the tangible prospect of a sweet, sweet coronavirus vaccine -- it's also bringing the horny end-of-year gift you never knew you needed, Slag Wars: The Next Destroyer. Yes, that's right, from 27 November, the tune of this bum-note year is to be gloriously uplifted by a (just about) safe-for-work, sex work-positive reality TV show brought to you by none other than Cock Destroyers Sophie Anderson and Rebecca More. To be streamed on SlagWars.com "before moving to a popular streaming service," Rebecca told us last month, the show will see seven contestants, or 'slags' -- a hallmark of the ladies' valiant reclamation of the word 'slag' to celebrate sex-positivity -- battle it out in their plight to become The Next Cock Destroyer.
What does that take, exactly? Well, according to a new trailer released today, it takes "someone who's sex-positive and kind," says Sophie, "someone who's hilarious and confident," quips Rebecca; "someone fucking hot!" both squeal. From what can be gleaned from the two-minute clip, all seven slags easily fulfil all of these criteria. To separate the Destroyers from the mere Damagers, they'll have to prove themselves in a series of challenges that explore different areas of the sex work industry.
They'll be judged by a panel that includes the Destroyers, gay porn star Matthew Camp and a range of guest judges that includes RuPaul's Drag Race UK favourite Baga Chipz!! "We've also done a song for it, which was so much fun!" Rebecca told i-D, promising that, in addition to a potential "Driving for Dick" follow up, the show will also cast a more tender light on the relationship between Sophie and Rebecca than what we've seen of them so far. "People have seen Sophie and I in certain characters, but here they're going to see us and our relationship more intimately," she says, "as well as how we are mentors and judges at the same time." RuPaul eat your heart out.