DI PETSA AW21 is a call for self-love
The Athenian designer's latest collection, 'I am my own Mother', celebrates the female body through wet-look dresses and maternity-inspired womenswear.
"Especially during these times, now that we're in quarantine and that we have had to be alone a lot, it's important to see that all forms of love that you would ever need are within you: sexual love, platonic love, even motherly love," says Dimitra Petsa, over a Zoom call from her native Athens. This is the call of her fashion label DI PETSA's latest collection, titled "I am my own Mother": be tender, care for yourself, love yourself unconditionally, as if you were your own mother.
Although her AW21 collection debuted this week, DI PETSA's latest offering has been brewing, simmering for nearly a year. Since April 2020, spurred by global pandemic-induced lockdowns, the Greek designer and performance artist has held a series of monthly virtual movement workshops. Officially titled Wetness Workshops, they're an extension of the designer's ongoing "Wetness Project", which explores femininity through often taboo bodily fluids. "Through the workshops we tried to create this safe space where we could share the experience of letting go of the shame surrounding our bodily fluids and talk about the idea of self-love. It was a very profound and intimate experience for me," says Dimitra, who personally led the workshops. "I really wanted to design from that space."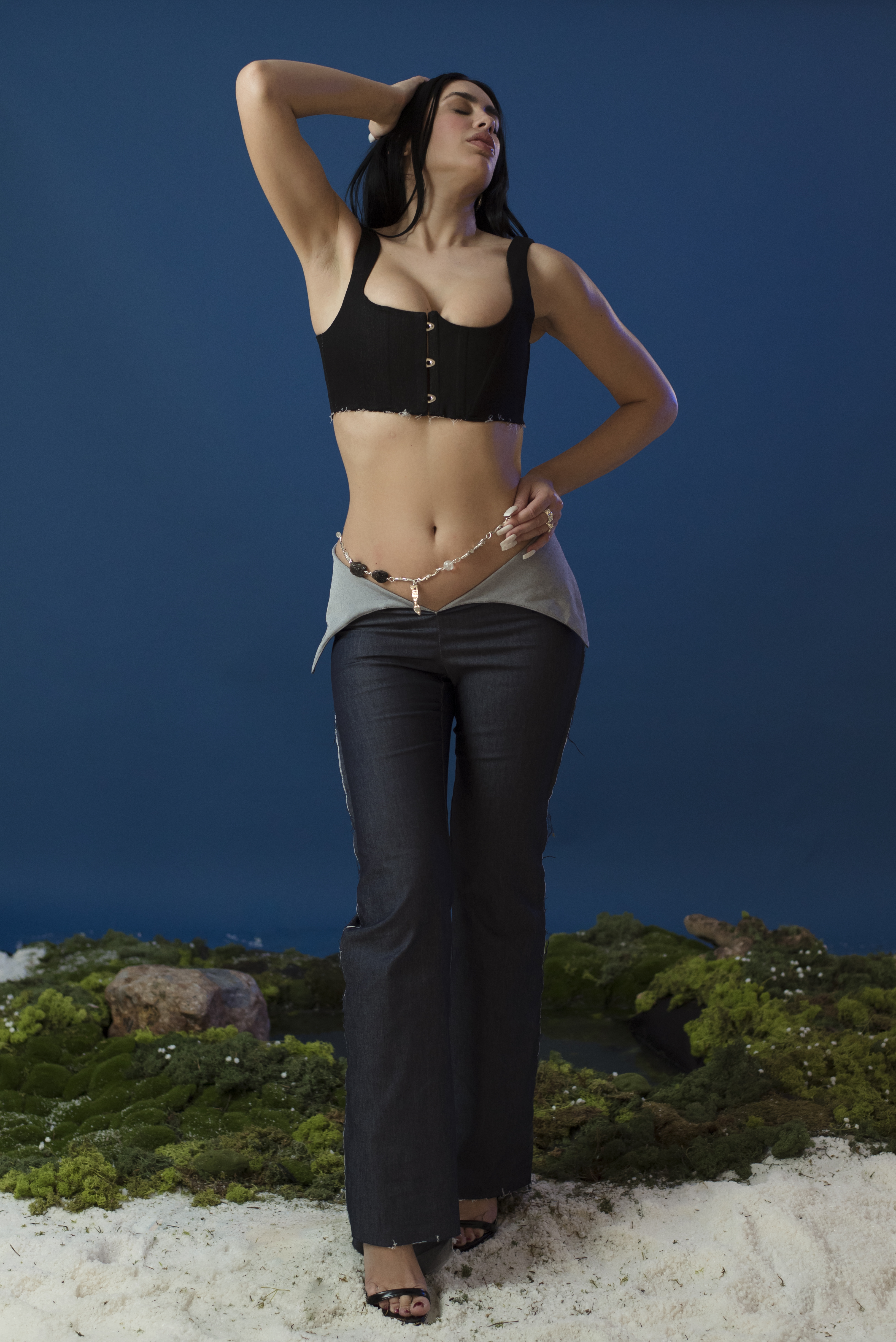 Dimitra has a poetic umbrella term for these acts of self-care, self-love and self-healing: "self-mothering". And, as such, AW21 explores the figure of the mother, in its many forms. "We've done a lot more maternity wear," she says, noting that the label's signature breastfeeding corset makes a reappearance this season — now in regal blue silk. "We've also created these knit tops that have a slit you can open and breastfeed from. But the idea behind these pieces is that you can wear them even if you're not a woman who happens to be breastfeeding. It's more of the idea that you can nurse and breastfeed yourself." This season, the designer also crafted the label's first pregnancy wet look dress; it's a celebration not only of female wetness, but of motherhood. "When I was putting the dress on the model, her baby started kicking," she elates.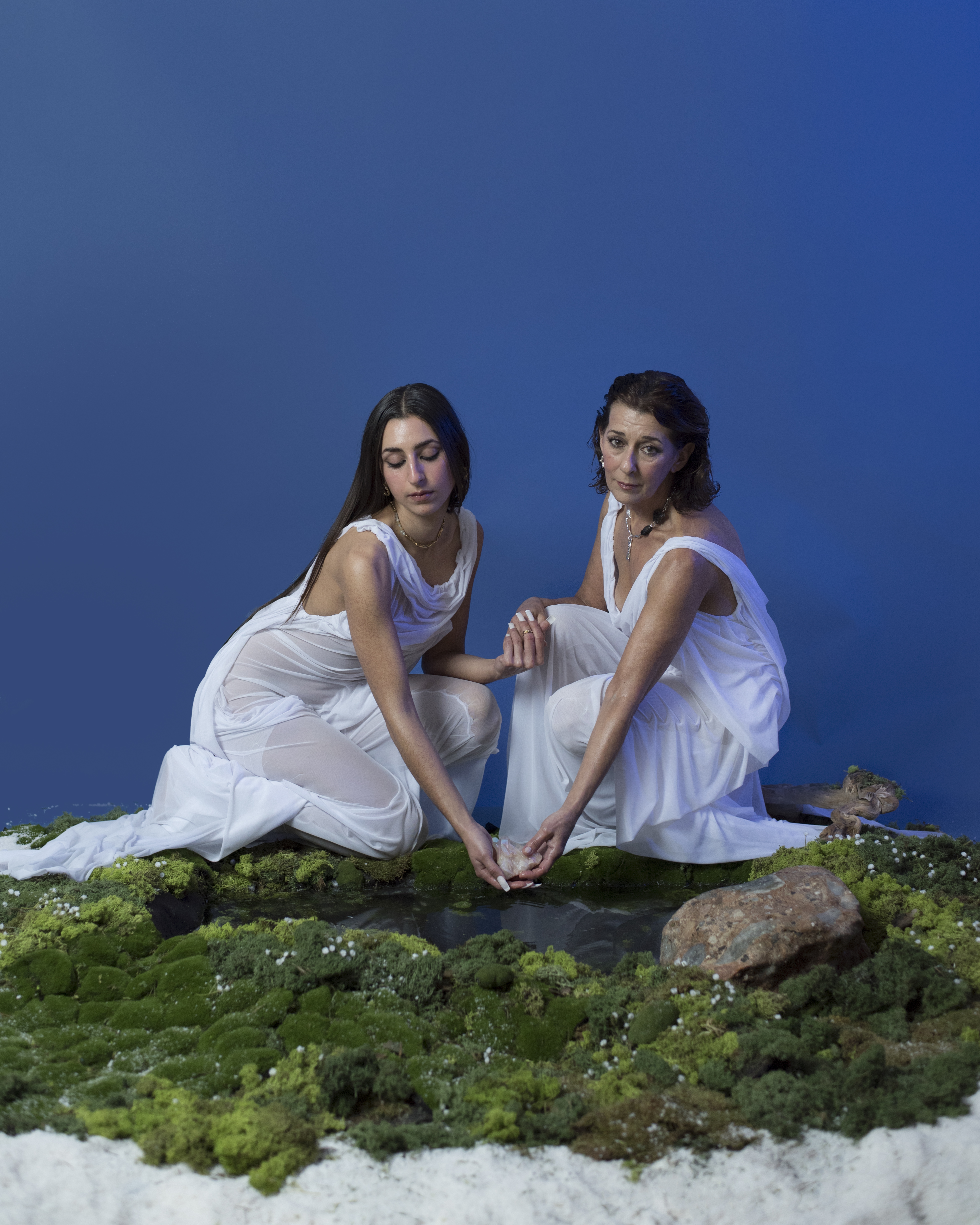 Contemplations of motherhood — "where we come from," Dimitra says — also brought the designer to the "mother land", her native Greece. For this collection, the label collaborated with The Lyceum Club of Greek Women, a local group of women specialising in traditional Grecian embroidery crafts dating back to the Byzantine era. It's a dying craft that Dimitra hopes to preserve and celebrate through DI PETSA's body of work, going forward. Together, Dimitra and the group created a dazzling golden silk dress, hand-embroidered not only with protective patterns (traditionally sewn to ward off evil spirits) but with each of the artisans' initials.
Self-care — treating oneself with a gentle touch — also came across in the collection's textiles, indulgent velvets and supple silks. "I was going intuitively for fabrics that make you feel protected. The idea is that, in times of chaos and in times of need, you can feel a sense of safety by touching your own skin, by touching surfaces," Dimitra says. The label's newly-minted line of jewellery, too, is infused with these same self-soothing properties. Inspired by Ancient Grecian protective talismans, hand-carved gold and silver necklaces and belly chains are set with healing crystals: amethyst, angel quartz and lapis lazuli.
Presented during Paris Fashion Week — a first for the label — the collection's accompanying film brings AW21 full circle with Dimitra's Wetness Workshops. Next to an artificial lake and bathed in a haze of sage, models twist their hips, self-hug, writhe and caress themselves, running their hands over expanses of velvet, silk and bare skin. It's a heady dose of self-love and, especially right now, we're all here for it.