Photo by REPORTERS ASSOCIES\Gamma-Rapho via Getty Images.
7 of Françoise Hardy's most iconic outfits
With her mix of masculine and feminine styles, the yéyé chanteuse practically invented the French garçonne look.
Photo by REPORTERS ASSOCIES\Gamma-Rapho via Getty Images.
What would modern French music — and French style — be without the legacy of Françoise Hardy? After signing to Paris' Vogue Records in 1961, the singer-songwriter shot to the forefront of the French music scene, becoming the face of the country's emerging yéyé genre. Not only a pop music icon, Françoise was — and remains — a bona fide fashion icon. Muse to 60s designers like Paco Rabanne and Andé Courrèges, the chanteuse continues to inspire some of today's foremost designers. During his time at Balenciaga, Nicolas Ghèsquiere declared Françoise "the very essence of French style." And he's right: Françoise's singular mix of masculine and feminine, classic and avant-garde is quintessential French girl cool, now and forever. Here, in honour of her 77th birthday, we look back on some of her most iconic outfits.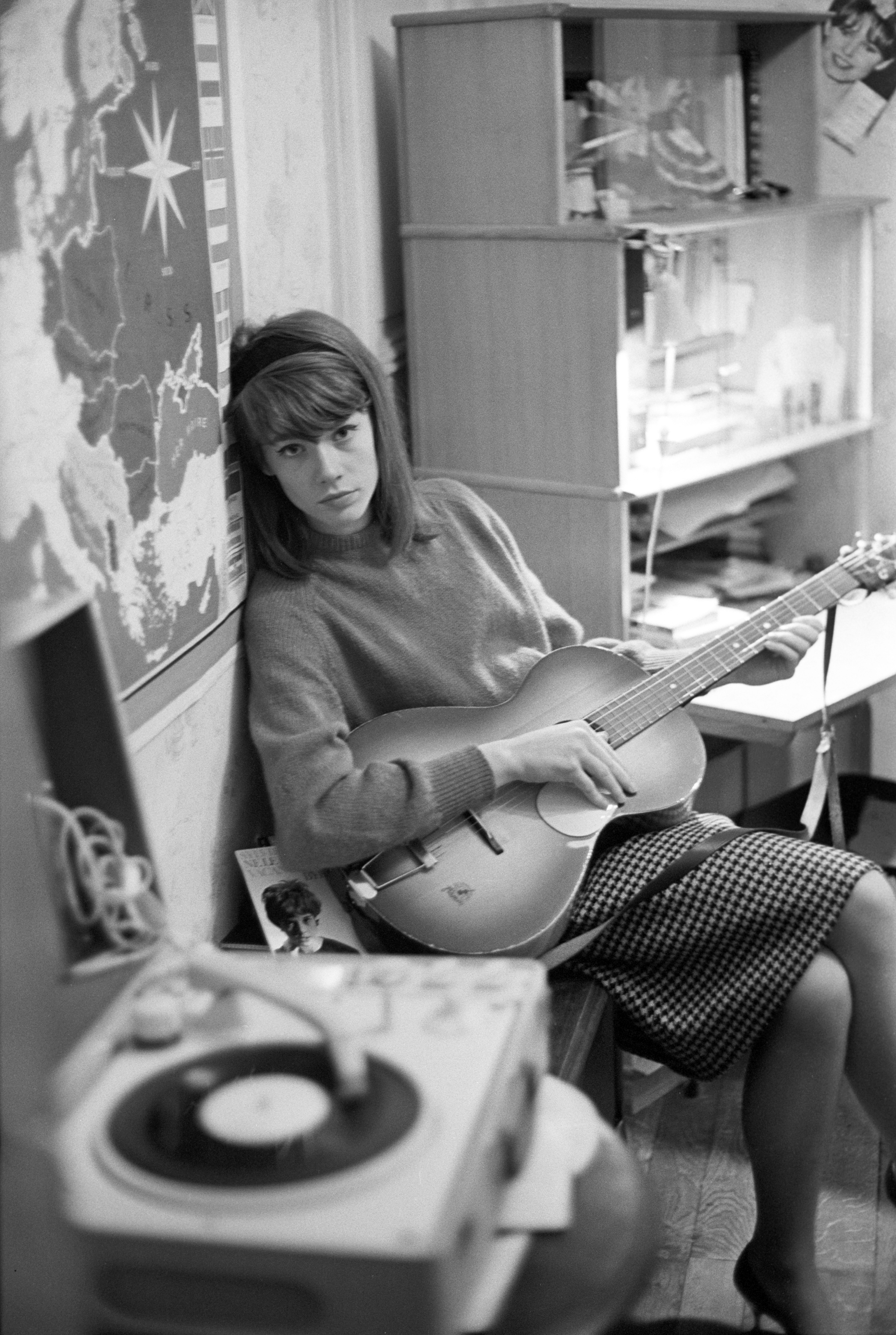 At home in Paris, 1962
Just over a year after she was gifted a guitar by her father, Françoise Hardy signed to Vogue Records, becoming the face of the country's emerging yéyé musical genre. With singles like "Oh oh chéri" and "Tous les garçons et les filles" vocals, the chanteuse shot to international stardom, garnering airplay in the UK and throughout Europe. During the first half of the 60s, at the beginning of her musical career, Françoise's wardrobe captured the girlish charm of yéyé: demure shift dresses, peter pan collared car coats, prim twinsets and skirt suits, and kitten heels. Here, playing guitar in her apartment, Françoise looks ever the gamine in an oversized sweater and woolen midi skirt topped with a headband.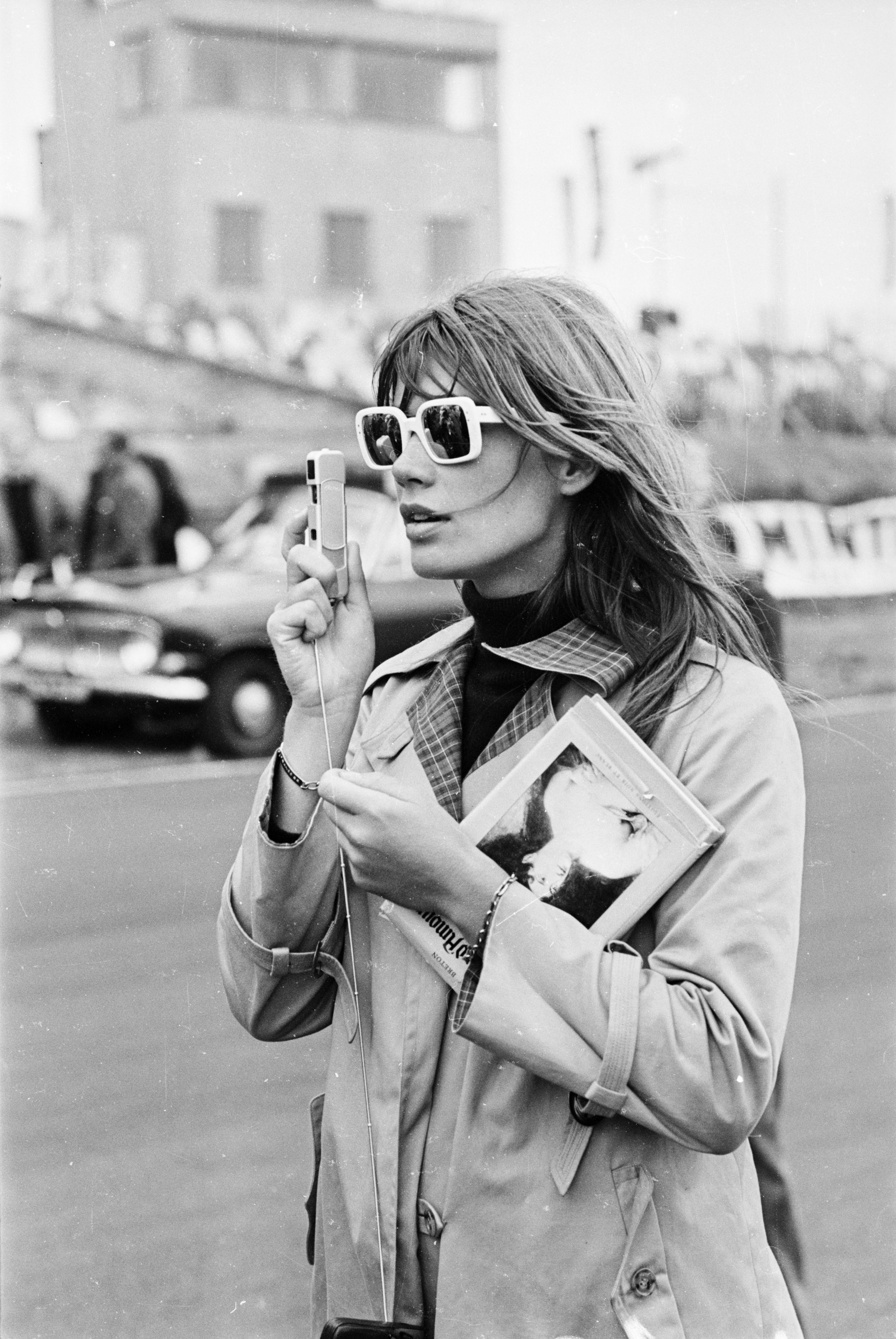 Off-duty on the set of Grand Prix, 1966
Beyond music, where Françoise garnered admirers such as Bob Dylan, Mick Jagger and Serge Gainsbourg, Françoise's unique charm caught the eye of some of France's premiere directors. In 1963, the singer made her film debut in Roger Vadim's Château en Suède and was chosen for the role by the director himself. Out of her rather impressive filmography — which includes a cameo in Jean-Luc Godard's Masculin Féminin — Françoise's most iconic (and stylish) cinematic role belongs to American Formula 1 flick Grand Prix. As Lisa, girlfriend to the film's Italian racecar driver, the singer sported bright colour-blocked outfits and striped shift dresses. However, behind the film's scenes and off-duty, as photographed here, Françoise wore more subdued fare: staple French styles like black turtlenecks, gabardine trench coats and graphic 60s sunglasses.
In Venice, 1966
In the late 60s, Françoise's off-duty style shifted from gamine to garçonne, with more masculine, fitted silhouettes. The singer's new look was undoubtedly inspired by the androgynous, moto styling of Grand Prix, and took in cropped trousers, leather jackets and pants, knee-high boots, and fitted sweaters. Here, sailing down a canal in Venice, the chanteuse wears one of her quintessential garçonne looks: crocodile skin jacket, printed baby tee, stovepipe jeans and matching Chelsea boots.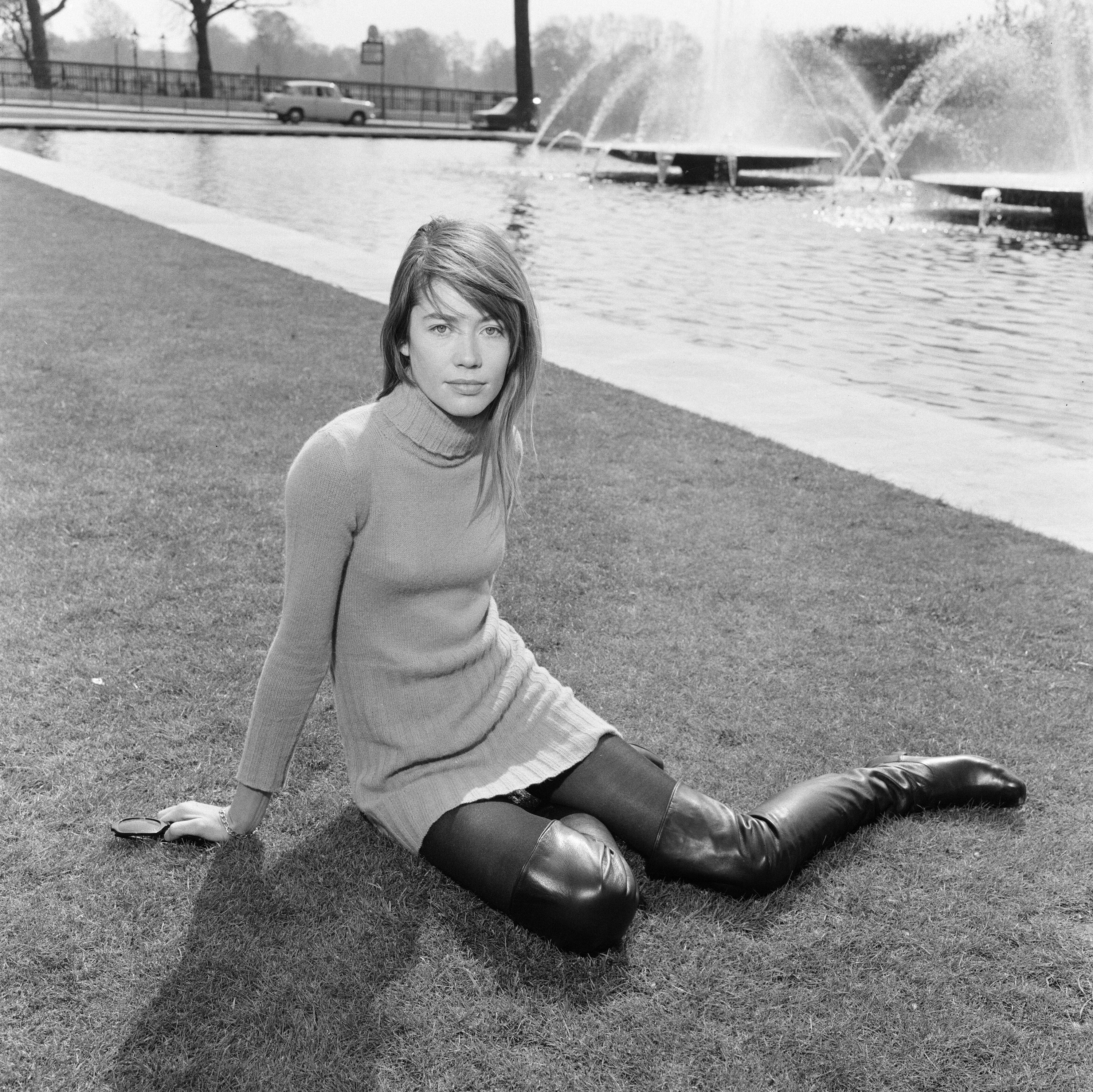 In London's Hyde Park, 1968
In a style retrospective for Elle France, Françoise admitted that she was one of the first women to don the 60s ubiquitous (and subversive) mini skirt. Here she is, in 1968, upholding that legacy in a turtleneck mini dress and thigh-high boots.
In Paco Rabanne, 1968
In 1962, Françoise met fashion photographer and would-be boyfriend Jean-Marie Périer. Together, the couple are responsible for some of the singer's most iconic album covers — and Françoise's status as a fashion icon. After modelling for Périer, Françoise became a staple in the pages of Vogue Paris and a muse to many of France's emerging designers, including Paco Rabanne. Here, Françoise wears one of the designer's most iconic metallic dresses. Weighing in at 20 pounds, and crafted from 1000 gold plaques and 300 carats of diamonds, this particular Paco Rabanne creation was dubbed "the most expensive dress in the world."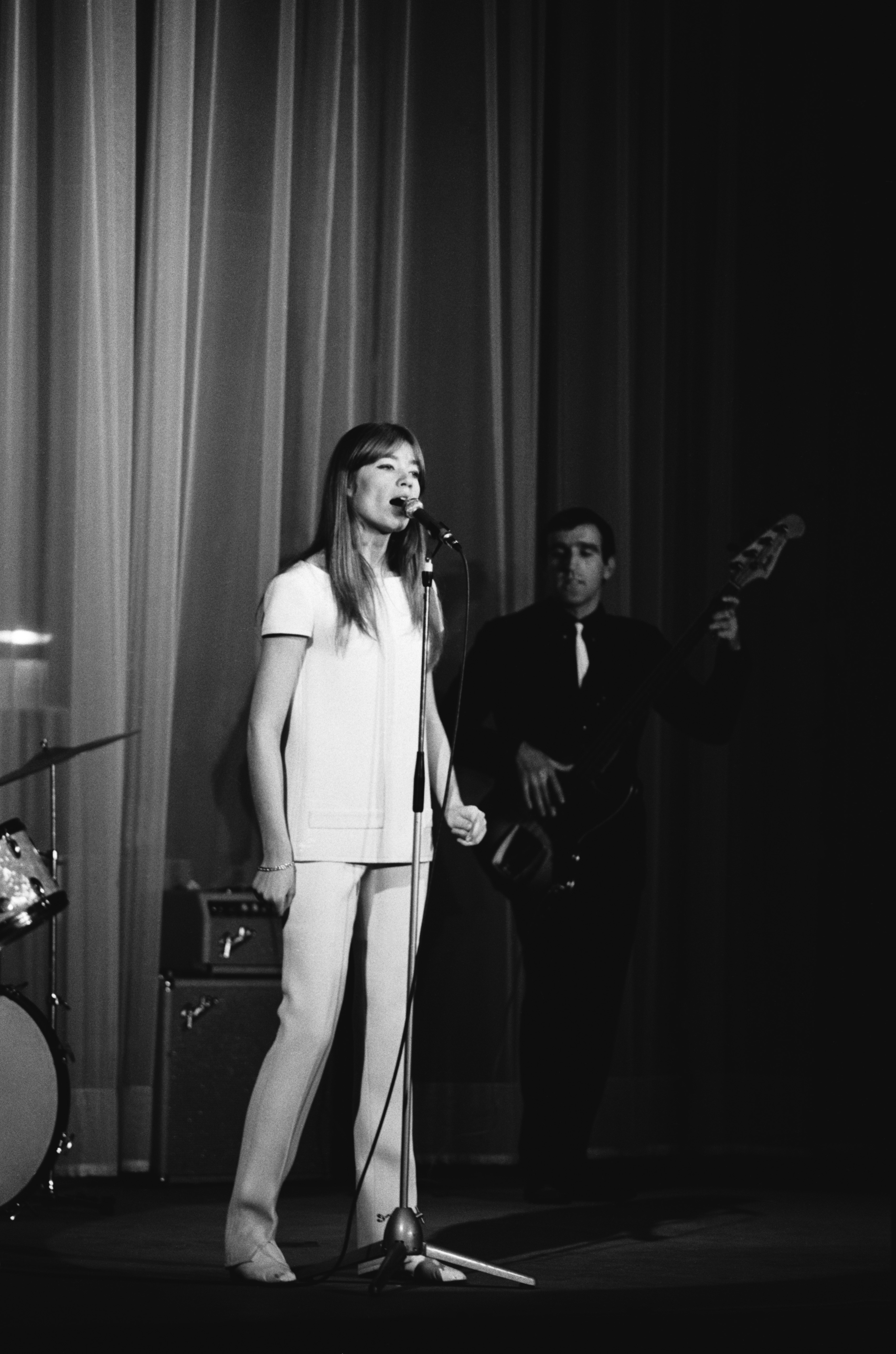 On stage in France, 1967
In the late 60s, Françoise also became muse to French designer André Courrèges, known for his futuristic designs and credited with creating the mini skirt. On and off-stage, Françoise wore myriad Courrèges creations including his signature go-go boots and shift dresses (which she joked to Elle France made her "look like an alien"). Here, she wears one of the designer's streamlined co-ord sets with matching boots.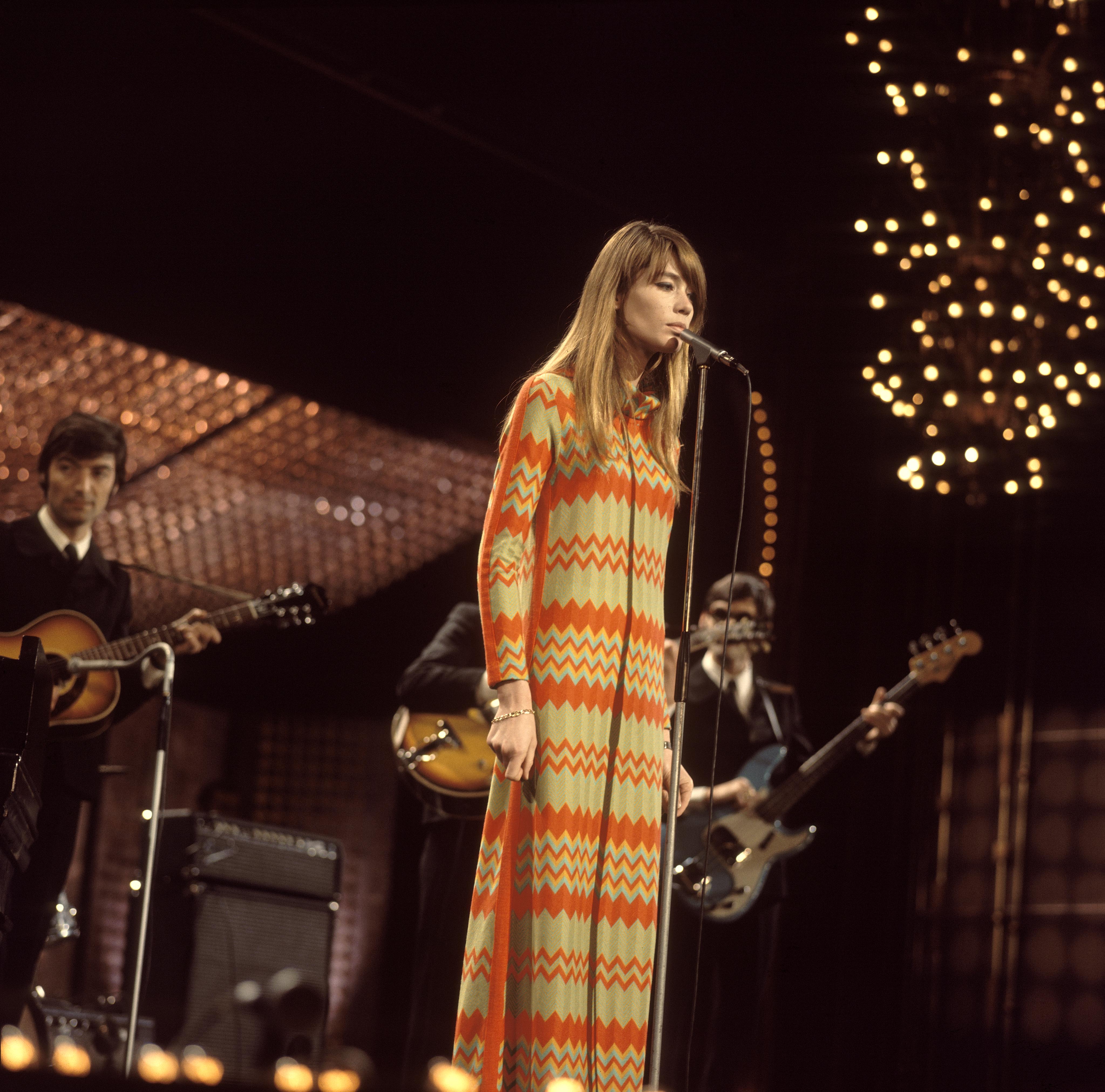 On stage in London, 1968
Sartorially, Françoise is most often credited with popularizing the 60s garçonne look, known for its French staples and neutral palette. The chanteuse, however, did love a pop of primary colour and a good graphic pattern — perhaps also inspired by her turn in Grand Prix. In the late 60s, she was photographed wearing orchid purple, periwinkle blue, emerald green and paisley. Here, she wears a wavy striped dress in era-appropriate orange and sage green.