How to reenact Timothée Chalamet's filmography with his Dune action figure
Because plastic Timmy and Armie Hammer as a Cowboy Ken Doll just makes sense.
|
09 December 2020, 1:12pm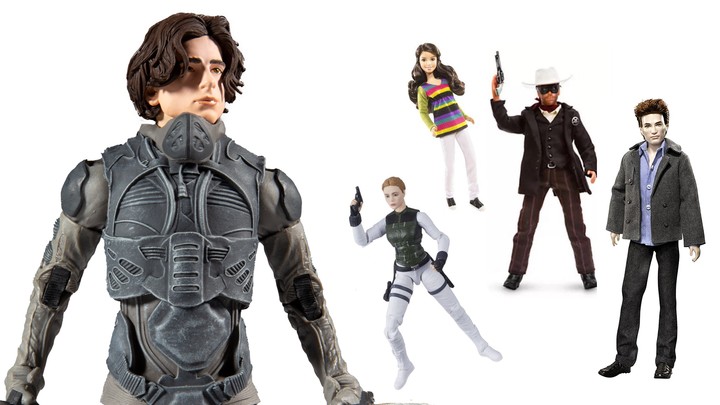 I bet that when you were sat in the cinema back in 2017, watching a waify young Oscar-tipped heartthrob give his all to a gay love story, you didn't expect him to soon be recreated in miniature, plastic form. But this is 2020, after all, the year of unpredictability, and so here's your first look at Timothée Chalamet as an action figure. Yep, in celebration of the release of Dune (which is now coming in October 2021 rather than later this month, as was initially planned), a toy manufacturer has created a little statue of Timmy as his character Paul Atreides.
The knife-wielding, seven inch-tall action figure is one in a series created in honour of Dune's release, and it's arrival ahead of time is a little bittersweet. 2020, as you'll know, is the first year in which we've not had a TC movie since the early 2010s. We're starved of him and so are gonna be forced to get creative. We won't have Dune for another 11 months, and The French Dispatch, his much-hyped Wes Anderson creation, has not yet been given a new release date. What the hell we gon' do now?
Well, here's a thought. If you can now possess your own miniature Timothée Chalamet, surely that means there are other co-stars of his out there, who exist in tiny plastic form? Could we, theoretically, recreate his old and upcoming films using the action figures of his industry peers? The answer, dear friends, is yes.
Call Me By Your Name
Of course, our initial port of call for this experiment was the classic that made us all fall in love with him in the first place: Luca Guadagnino's Call Me By Your Name. For this, we searched for them all: everybody's favourite dad, Michael Stuhlbarg? No such luck on the action figure front. Maybe Mafalda — played by Vanda Capriolo — that loving, loyal queen, has been entombed in plastic and shrunk down for the purpose of being thrown about a toy box by children? Nope.
But of course, Armie Hammer came to the rescue. He has an action figure from his wild west Disney caper, co-starring Jhnny Dpp, The Lone Ranger! Yes, he may be five inches taller than Dune Timmy (cue more age gap discourse) and don what we think may be an irremovable Zorro-like eye-mask and cowboy hat, but you can recreate their beautiful 1980s Italian love story to pass the time! Go buy 30 mini peaches to complete the whole set.
Lady Bird
We all know TC invented being a dickhead when he appeared in Greta Gerwig's heartfelt coming-of-ager Lady Bird. He played Kyle, the libidinous arsehole love of Saoirse Ronan's life, for crying out loud, and perfectly epitomised that guy you knew in high school who listened to music he thought was dead indie but was actually, in reality, just dead boring.
Perfect fodder for an action figure remake, right? Right! Well tough because nobody in this movie has had a toy made of their likeness. Nope, not even Saoirse for her turn in the big-screen adaptation of Stephenie Meyer's The Host, or City of Ember which we didn't see but gives off that 'big merch spin-off' vibe. Oh well, best get creative with the Play-Doh this Christmas: we want a life-like version of Saoirse in full 19th century regalia a la Ammonite to scream at Dune Timmy STAT.
The King
Ahh, The King! The Netflix movie that got a pounding from some critics but actually had plenty of redeeming features, like a raging, bruised Timothée Chalamet performance at its centre, Lily-Rose Depp being a total dom top, and Robert Pattinson having the time of his life with the most wild French accent any of us have ever heard. With its big battle scenes and regal backdrops, this one's perfectly suited for an action figure remake -- and when it comes to R-Patz in particular, you've got plenty of plastic toys that can act as the stand-in for his role as The Dauphin.
Like one of the several hundred versions of Edward Cullen we were given. Maybe you want to go for the cursed version created by Barbie, in which he looks like a man in his 40s creepily cosplaying as a teenager? Or maybe you'd like a little more agility from him with this one that has poseable arms and a chic double-breasted jacket? Alternatively, if you're patient and looking for a man in armour, you'll be able to own a version of his Batman at some point in the near future too.
Little Women
A year on, and that clip of Jo March saying, "I can't I can't!" to an upset Laurie is still living rent-free in our heads. But we've already established that we've not got a Saoirse action figure — so who else can step in here?
Well, who better than his future wife Amy, played by Oscar-nominee(!) Florence Pugh? A few years ago she was the British queen of indie excellence, and now she's got her own bloody action figure after entering the Marvel Cinematic Universe! Yes, her outfit as Yelena Belova in the Black Widow origin story movie might scream more 'I take exercise extremely seriously' than cosy, middle-class upbringing in 1800s Massachusetts, but the hair's pretty spot on, so that must count for something, right?
A Rainy Day in New York
Instead of further funding the work of hugely problematic filmmakers, make up your own version of A Rainy Day in New York with Dune Timmy and a Barbie doll of Selena Gomez from when she was on Wizards of Waverly Place.
The French Dispatch
Nothing culturally pains us greater than the continued delay of arthouse excellence, as Wes Anderson's The French Dispatch is inevitably going to end up being. A winding story of a literary magazine set in France, involving a cast of some of the most illustrious and respected actors of our times: Tilda Swinton, Benicio del Toro, Bill Murray, Timmy, Frances McDormand and long-time Wes collaborator Owen Wilson. Here at i-D, we believe you are all brilliant dreamers, and so despite the fact we have very little knowledge of what actually happens in The French Dispatch, or even who Timmy shares screentime with, we'd quite like to see you recreate the film using plastic Dune Timmy and this promotional figure of Owen Wilson from the 2006 remake of The A Team. Make it happen. We know you can.
Tagged: