Adwoa Aboah in conversation with Holly Shackleton
The activist and model speaks with i-D's former Editor-in-Chief about their collaboration for The Female Gaze Issue.
|
09 November 2020, 10:08pm
This story originally appeared in i-D's 40th Anniversary Issue, no. 361, Winter 2020. Order your copy here.
The Female Gaze Issue of i-D, created in 2016, was fronted by activist and model Adwoa Aboah – and across a series of beautiful, intimate covers by Harley Weir, Inez Van Lamsweerde and Letty Schmiterlow, the issue was a celebration of the brilliant women shaping the fashion industry and beyond, shot and created entirely by female photographers.
At the time, Hilary Clinton seemed on the cusp of becoming the first female president in American history, bringing women's rights to the forefront and hope to many. We all know how that turned out. Nonetheless, in her concession speech, Hilary delivered a message reminding young girls that they are valuable, powerful and deserving of every opportunity to achieve their dreams. The Female Gaze Issue reflected these sentiments, while further examining both how women view themselves, other women and the world around them.
Adwoa's Gurls Talk platform had launched a year before – a safe digital space for anyone and everyone to share their experiences that soon evolved to include IRL community events providing opportunities to talk, listen and learn about important issues. We are, goes the mission statement, stronger together. With a personal history of addiction and mental health struggles, Adwoa was determined to turn her story into something positive and lasting. She hasn't looked back.
Four years on, Holly Shackleton (Editor-in-Chief circa The Female Gaze) speaks to fellow i-D family member Adwoa about collaborating on the issue, the model's evolution and how times have changed since.
Holly: Can you remember the first time you were in i-D?
Adwoa: Erm…
I think I can. I may be wrong but it might jog your memory. Was it not that really beautiful portrait by Tyrone Lebon, you have your hair pulled up in a ponytail?
Oh my god! That one! I remember – the headline was 'Kiss Me, I'm Organic'. I can remember. I'm wearing a stripy top, I've got my jewellery on and my hair is pulled back.
That's what I remember as your first picture in i-D but I'm not sure if there is anything before that.
No, that was my first time in i-D, I think. I was about 18?
There's another one that you're really young in as well. You've got a yellow scarf on your head. Wasn't that Tyrone too? It's really beautiful.
I think the 'Kiss Me, I'm Organic' image was first though. We shot this at Mark – Tyrone's dad's – studio with Julia Sarr-Jamois. I don't think me and Tyrone were going out at this point? So, I could've been like 16 even? We didn't start going out until a few years later.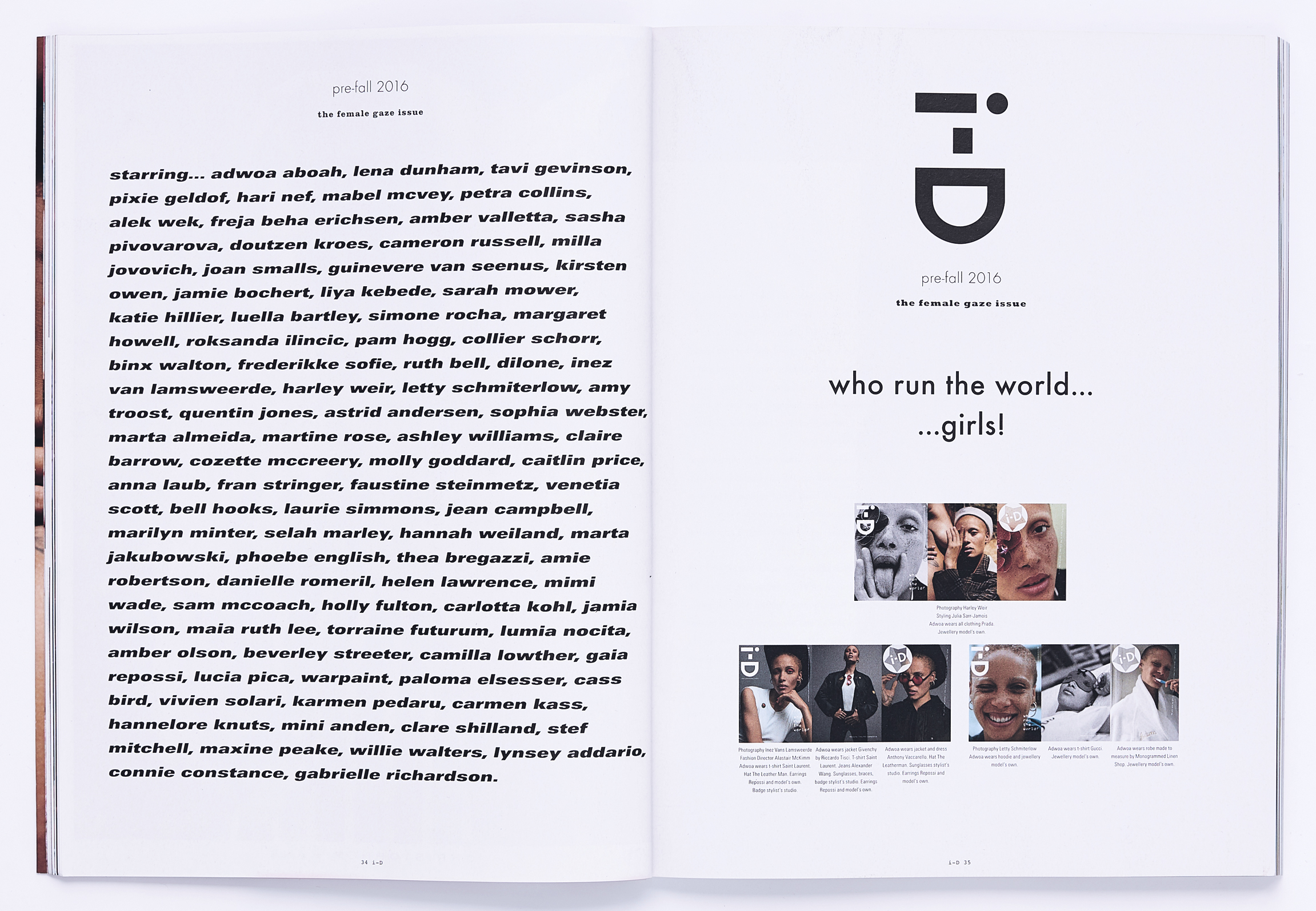 So, I think that was your first i-D moment.
I think so. And well, when I was looking for my copy of The Female Gaze Issue for reference before this interview, I realised I have every single other issue except for mine.
That's awful! We have to rectify it immediately!
I know! I think for me i-D has always stood out. It was aspirational in the sense that it didn't feel too out of reach. Getting my first i-D cover was a pivotal point and a monumental moment in my career, because it really was the magazine that I really loved everything about. I loved the people that were in it. Some of my favourite models you guys had always really championed. I was obsessed with Agyness Deyn and she was always in i-D. And the reason I don't think I was going out with Tyrone when that first image was made was that I look quite shy and nervous, which is the person I was back then, and i-D was the person I wanted to be. I wanted to be in that magazine.
What was so special about i-D was that it was always about people and their stories. It wasn't just clothes or the latest collections, but it was about who's in them. What those people had to say. That's what I identified i-D with and what I still identify it with.
I always loved that in i-D there would be a beautiful portrait of someone unknown that you'd be celebrating and you, as a reader, felt lucky to be introduced to them. I love that you would find these people who were real and from the streets and had nothing to do with the fashion industry.
What impact do you think it had on you as you grew up in the fashion industry?
I always thought, if I was going to be a model I would like to do stuff that was like what you saw in i-D. It was a magazine I always wanted to be in. I feel quite nostalgic about it actually, looking back on it, because the modelling industry looked and felt so different back then. Now, you can have a personality and an opinion and be a character and you don't just have to be in front of the camera. But i-D has always celebrated models and held them in such high regard.
I think you're right. I think that's the beauty of i-D. It always gave a voice to those who were photographed in its pages and, as you say, everyone in it was always more than a model. i-D was ahead of its time because that's something that is almost expected now, isn't it, within the industry, but i-D has always championed people speaking out and standing for something rather than just being a pretty face in clothes.
Exactly! When I was like 16 or 18, it was cool to be in a magazine, even if I didn't know I was going to be a proper model at that time.
Yeah, and then when we did The Female Gaze issue, you obviously were just starting Gurls Talk, you were 23 I think.
Exactly! Wait, I need to ask you a question then.
Okay.
I need to ask you what was the first issue you worked on.
Oh my god, I don't actually know. Isn't that terrible? I loved i-D and just wanted to work there. When I finished university, I wrote a letter asking to do work experience and they replied asking me to start on Monday and then I stayed for almost 15 years. Which is crazy. The time just disappeared but disappeared in the best of ways, as it does when you're really enjoying something. So…
I think that's it. i-D was a magazine that made you feel like you wanted to be part of it. I want to work there. I want to be in those pages. That's the impact i-D has.
It's that community, isn't it?
Very rarely do I get jealous of not being part of things but i-D is something that I've always been like, 'I wish I could have been in that shoot' or 'I wish I could have been in that issue'. It's always like… it's cool. Whatever cool means.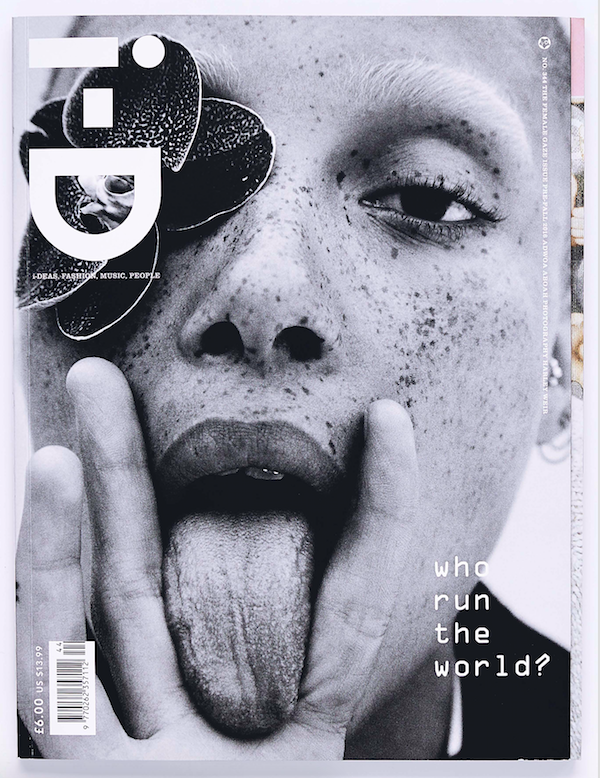 It felt like anyone could and can belong to it, too. There's this huge creative community that almost builds the foundation for whatever you choose to do next. It's a foundation. And i-D always has good values, which is rare. Do you remember how The Female Gaze issue came about? We obviously reached out to you and said we'd love to do something and then it kind of snowballed into this epic, three cover look into your world.
I had just moved to LA. I was about 23 and I had just started Gurls Talk. It says a lot about i-D that this is what you guys were looking out for and what you thought was important. Gurls Talk was really still just an idea in my head but you were excited by that idea. It was the first time my opinion, my story, what I had to say, was being celebrated on a level with what I looked like. To me it shows the power of magazines and fashion and what they can do if they're not lazy.
You'd had that beautiful Tim Walker Vogue Italia cover but other than that was it your first big cover moment?
This was my big cover moment.
And we obviously had three female photographers shoot it.
I remember thinking when we spoke about what photographers we were going to use and you know, obviously it was Inez, and then we had Harley, who was very much about to explode and become a huge photographer, and Letty as well, and we wanted to have a contrast between all three covers, and see how they viewed me through their individual female gazes.
They were all so different but so beautiful. I absolutely love the Letty one in your bedroom, which was so intimate and just honest, wasn't it? Such a beautiful shoot.
Yeah, exactly! Not wearing make-up. She just came to my house and we shot that one. And then we shot the other two covers in Los Angeles. Inez's one in a studio and Harley's in a park.
Yeah. Harley's one is absolutely beautiful as well.
It was like they all had no boundaries in their own particular way. Whether it be with Letty's being really raw and bare. Harley's was just kind of all or nothing in terms of what we were trying to say and what we were doing and also the other girls that were in it. I remember one of them was on their period and she had blood coming down her legs and I remember thinking this is what it's about. This is so fucking cool I'm doing this. Like this is who I'm working with. And then Inez was slick and chic and very strong but you know, strong done in a different way.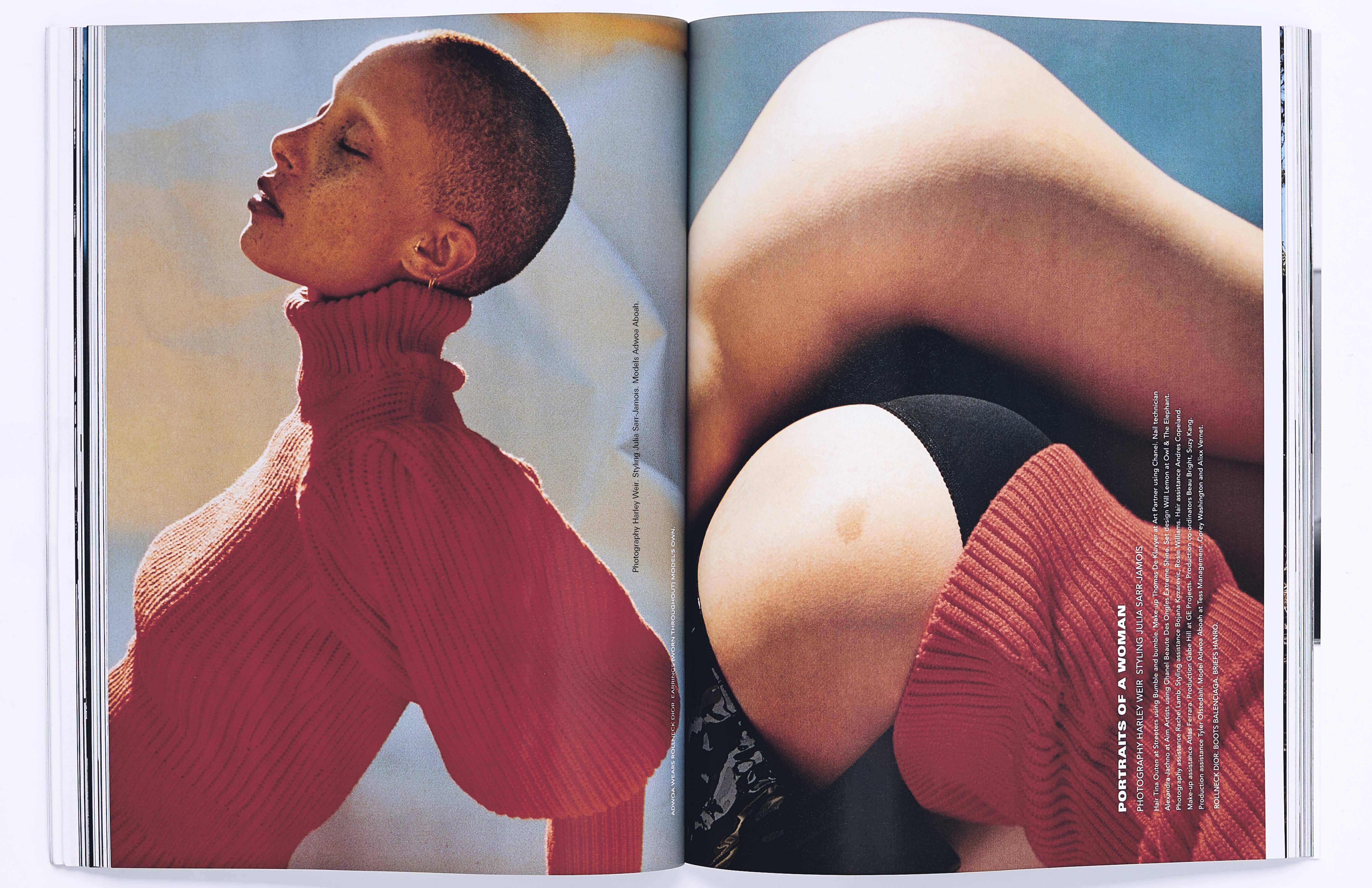 Yeah, I think the results were really, really powerful. It was just the epitome of what i-D should be about, as we said earlier. It was a brilliant girl – you – but you were also really standing for something and had something to say and had a bigger message than just being a model, and I think that's why it's so powerful.
Yeah. This issue was without a doubt one of the highlights of my career and will always be a highlight. I was confused about who I was and how I saw myself and then this issue came together and I just remember feeling so happy, so strong.
And obviously Gurls Talk has gone from strength to strength since. I think for me, at that moment, I just wanted to champion female talents. This was 2016 and no one had done an issue created totally by female photographers. Within like, six months or a year, everyone seemed to kind of cotton on to it, but at that moment it felt quite revolutionary to do it. It's a little depressing but it felt like a big thing to do in 2016.
And then by January 2017, Trump was in power and we were all on the Women's March. Mad.
I remember there was some push back from certain members of the team who thought it was sexist to men to only include women but I persevered and we got the issue and I think it's a really special one.
It is. It did feel revolutionary for sure.
And obviously you've been in i-D a ton of times since then.
I love being in i-D. I love it. Shooting can feel a bit stagnant sometimes but whenever I shoot with i-D it feels like a whole new experience. I shot with Inez again about a year later, and then with Tim Walker and Judy Blame after that, and then most recently the Rihanna project this year.
I'm sure there's probably more to come. I think that's why it has been so successful because it has evolved and it really has managed to move with the times over the last 40 years.
Exactly, I mean 40 years. i-D has transcended everything. It's a publication that makes an impact on people's lives, it's for people who want to see themselves reflected in a magazine. It's opinionated and it will always stand for something and it will always continue to shine a light.