Deb Never, Coco O and Zsela staged a live concert for Ganni's AW21 show
Three artists, one Danish fashion brand. We sat down with the three musicians giving us much-needed live music with a side of fashion.
|
04 February 2021, 4:46pm
Image courtesy of Ganni
It's always fashion week somewhere in the world! This week, Copenhagen Fashion Week is well underway, albeit digitally. Despite travel restrictions and the, err, ongoing pandemic, the Danish capital still has plenty to offer to rival its more traditional fashion capitals. This season, leader-of-the-pack Ganni has taken an alternative route to showcasing its AW21 collection by inviting three really fabulous musicians to stage a concert (remember those?) live from their makeshift recording studio in Copenhagen. New York-based Zsela, LA's Deb Never and Copenhagen native Coco O are lending their vocals — via both covers and their new tracks — to Ganni's AW21 'show'. Each of them also modelled the collection in the accompanying look book. What are they wearing, you ask? Well, Ganni's new collection is full of slouchy denim (some of it with a metallic sheen), boxy pinstriped tailoring, plenty of cosy knits (very 'hygge'), and those silky, floral dresses that Ganni has become renowned the world over for. The artists may be the stars of the show, but their clothes are a pertinent reminder of the joys of seeing performers do their thing.
"The collection is all about love; our love for life and all the things we took for granted, but mostly music," explains Ganni's creative director, Ditte Reffstrup. "Music is my biggest source of inspiration. I miss the dancefloor and the energy that music gives me. It's the medium that can always influence my state of mind." It should be noted that in pre-pandemic times, Ditte's post-show parties during Copenhagen Fashion Week would often descend into glorious all-night dance parties, with the Danish designer at the centre of the stage, lip-syncing to George Michael, glass of organic wine in hand. Instead of staging a generic pre-recorded catwalk show, Ditte wanted to recreate the magic of live music with some of the artists that have been getting her through lockdown. "A song can be such a strong reflection of time, a way of encapsulating a moment," she adds. "In these times where everything feels so monotone, I wanted to bring people an experience through music, and hopefully get people to feel something."
To mark the occasion, we sat down with Zsela, Deb Never and Coco O to discuss their performances for Ganni, as well as recording during lockdown and the shifting nature of dressing for an audience.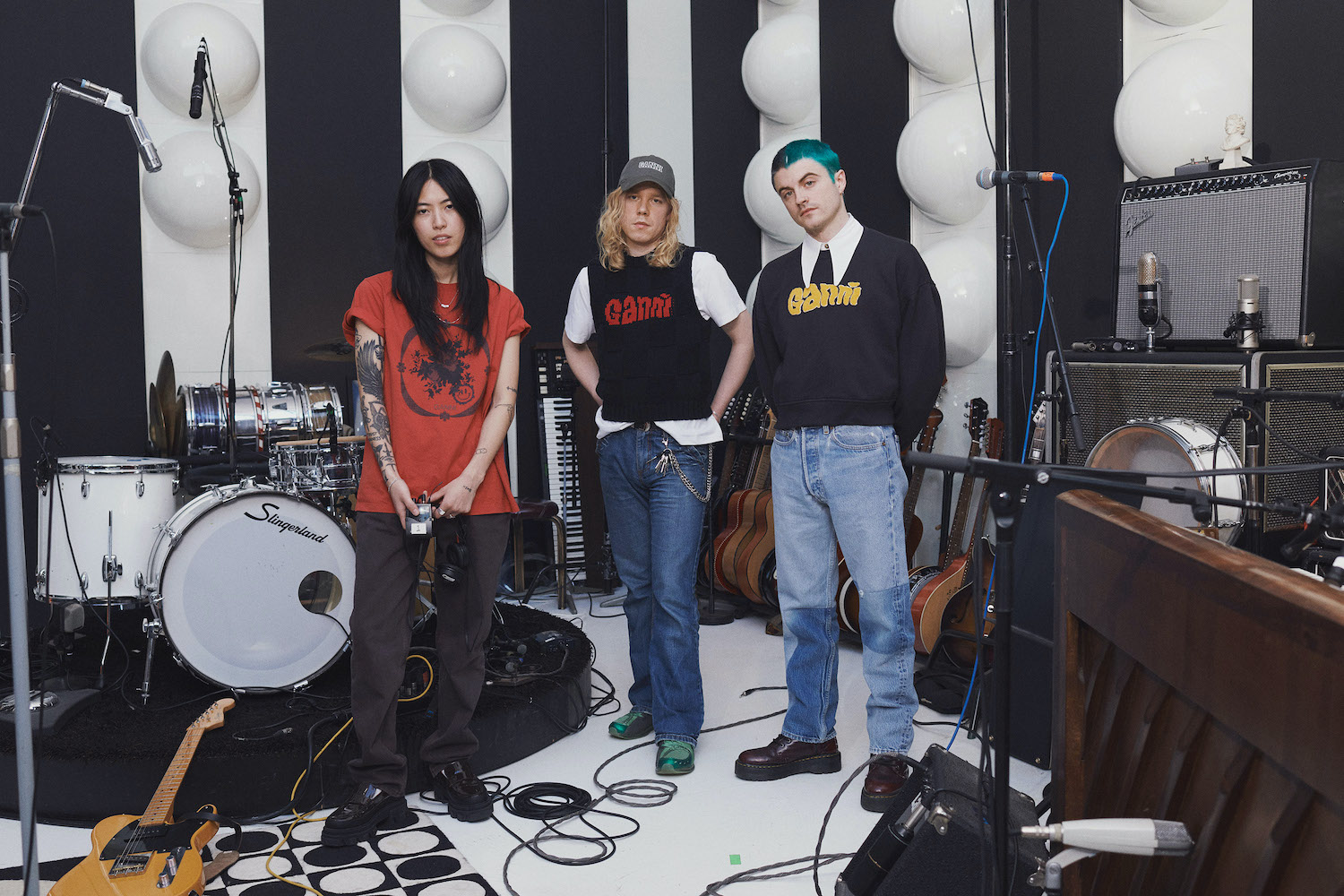 Deb Never is an LA-based singer-songwriter, known for her low-key blend of grungy guitar and moody hip-hop beats. She started writing songs at 15, when she stole a guitar from her local church after being inspired by a Nirvana music video. Since the release of her debut EP, House on Wheels, in late 2019, she's toured with Dominic Fike and taken over i-D's Instagram to launch her lockdown project, Intermission. Her new single, Someone Else, is out now.
Can you talk us through your performance for Ganni?
I'm performing a song that just came out a week ago called "Someone Else" and a new song that comes out next month called "Sorry". I am excited to play completely new songs, adding this live aspect to it, because it's so different from how you would hear them on Spotify.
Tell us a bit about the meaning and inspiration behind your music…
I write about my experiences. It usually comes from an introspective place. One of the songs is about the fear of a person you dated falling for someone else. That selfishness, it's an honest emotion.
How would you describe your style? Do you dress differently when performing?
Most of my clothes are thrifted, casual things. Stuff that makes me feel comfortable and represents me. My style is pretty unisex, but I like playing around with femininity. I don't change my persona or outfit when performing. I like to feel like myself on stage.
What did you like about the new Ganni collection?
Ganni has that feminine feeling, while adding an interesting contrast of suits. It's super wearable and I love how comfortable it makes me feel. The shapes are great -- I love all the tailored suiting.
What's the biggest difference between performing live and digitally?
The energy of the room! I love being able to just be in the moment and give energy to the crowd. Live performances are about experiencing the music, not just listening to it. When performing digitally, it's still a strong expression, it's just much more precise.
Have you been adapting the way you work during lockdown?
My creative process is still pretty insular, if anything it's given me more time to record and work. My inspiration came from life before, but as time feels like it's standing still, it's more about a feeling now.
What's the playlist that's been getting you through these last few months?
For some reason it's been a more nostalgic playlist than I am used to. Bon Iver's album Self Titled has been playing on repeat. Portishead's "Glory Box" because it makes me feel like I'm in another world -- perfect escapism. And King Krule's "Stoned Again" -- I listened to it during quarantine while getting stoned. What else was there to do?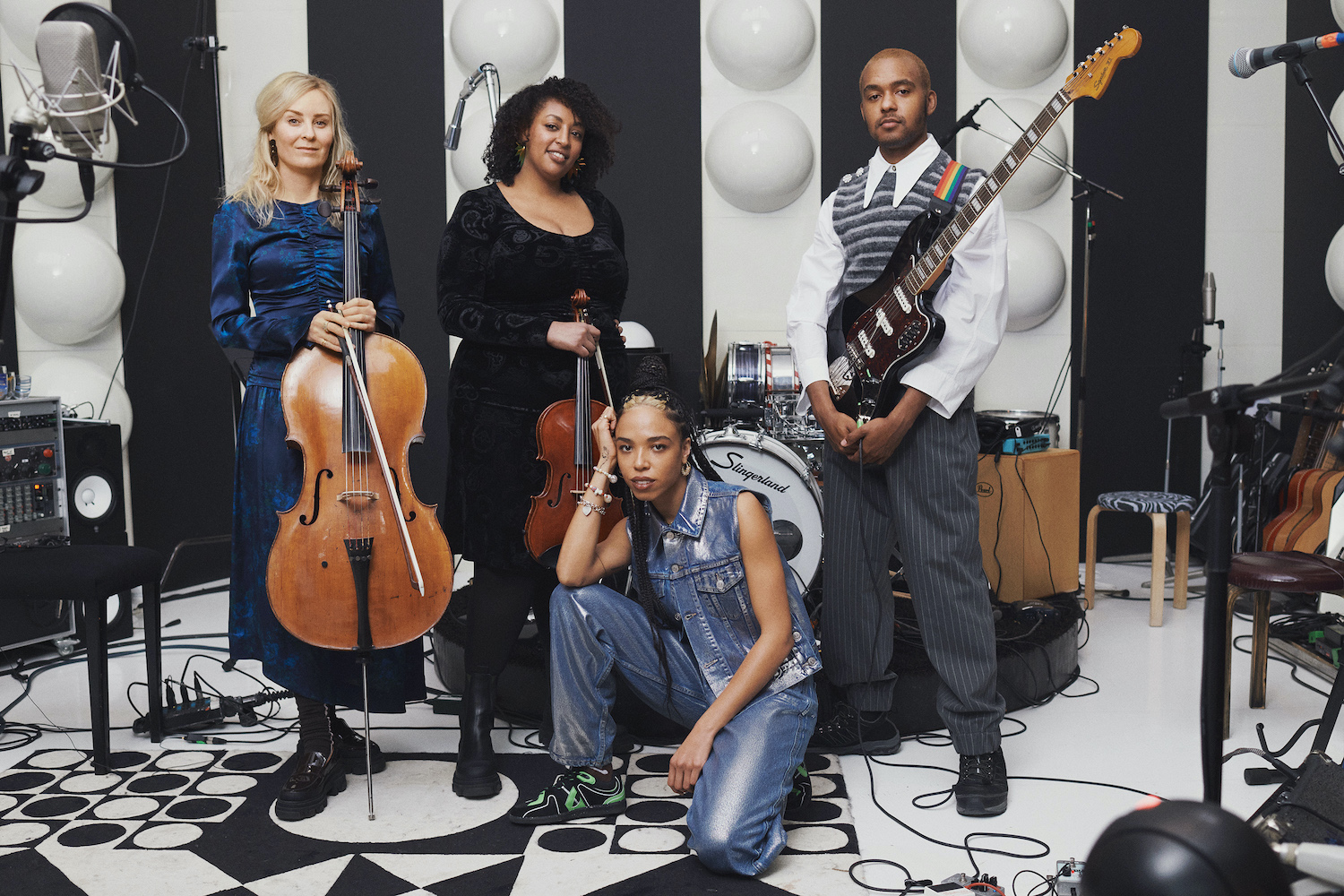 NYC-based singer-songwriter Zsela has strong fashion and art credentials. The 25-year-old has already modelled for Collina Strada and Vaquera, and brought her soft vocals to MoMA and the Whitney Museum. You could say that creativity runs in Zsela's family: her dad is Marc Anthony Thompson aka neo-soul artist Chocolate Genius, her mother is the photographer Kate Sterlin, and her sister is actress Tessa Thompson. Not a bad roster. Known for her stunning staccato vocals and new-school meets old-school style, Zsela's debut EP, Ache of Victory, came out last year.
Tell us a bit about your performance for Ganni…
I've never played with strings before, so it was extremely special to hear my song with a string arrangement that was composed specifically for this performance. I was pretty nervous about the whole thing because I haven't sung live for a while, but everyone involved made it feel like home.
Which song did you decide to cover?
I did a cover of "Nothing Compares 2 U" by Sinead O'Connor (but I grew up on the Prince version). It worked out perfectly since it was one of Ditte's all-time favourite songs too.
How would you describe your style?
Scrappy.
What do you miss most about performing live? And how does it compare to performing to the world digitally?
I miss people, I miss engaging with a crowd. It's kind of a thing for me to sing into people's eyes. It's so different now that everything is digital. I didn't think I'd be performing live anytime soon, so I was really excited to get this opportunity.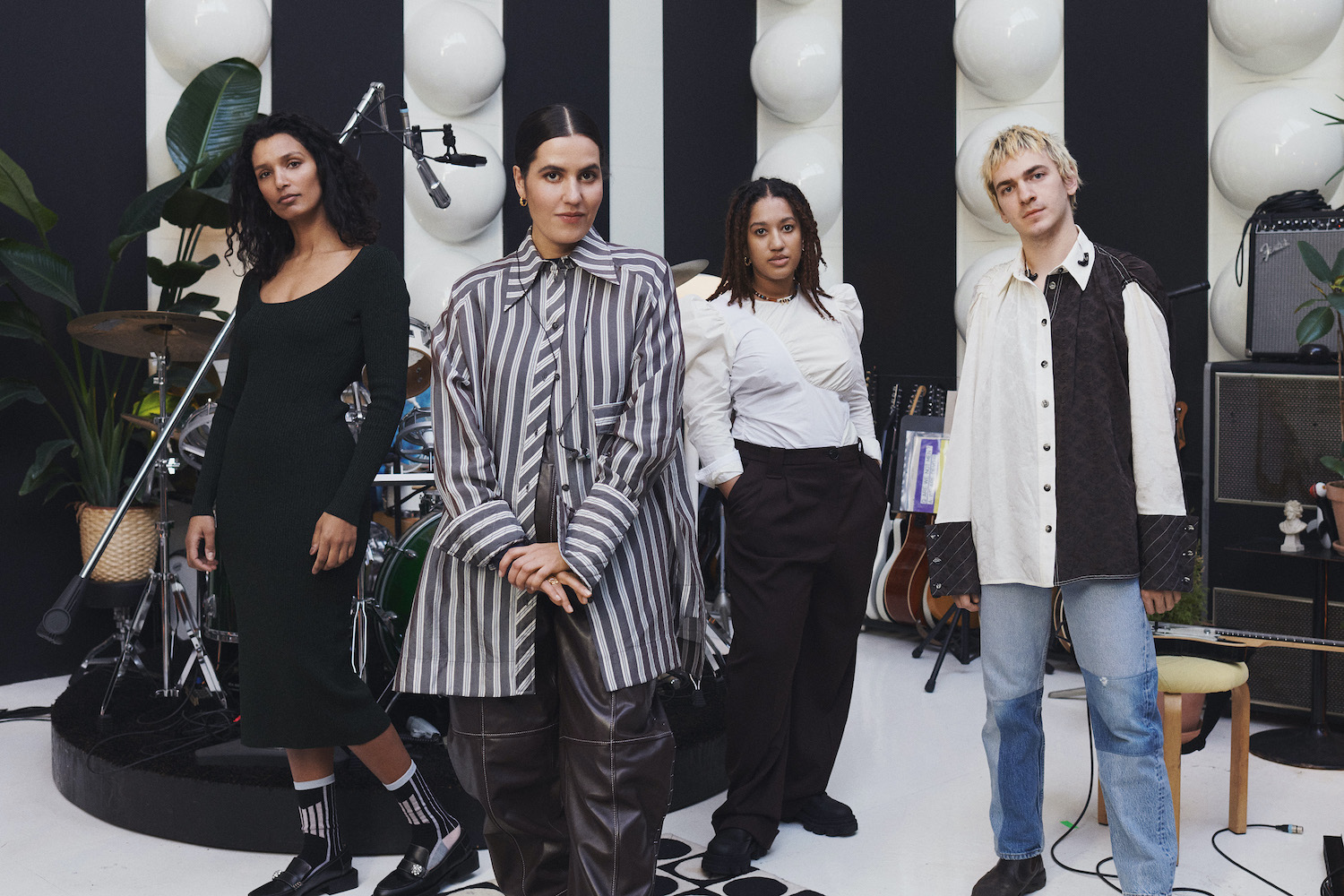 Cecilia Maja Hastrup Karshøj — AKA Coco O — is a Copenhagen native, known for her haunting yet upbeat vocals. Previously a member of Californian soul-pop act Quadron, alongside Robin Hannibal, she was one of Prince's favourite bands. Now, she's moved back to her hometown and has been pursuing a solo career, collaborating with the likes of Tyler, the Creator, Erykah Badu, Kendrick Lamar and Pharell Williams. Her new single is out this month.
Which song did you decide to cover and why?
"You're Not Alone" by Olive. It's such a nostalgic song for a lot of people who were kids in the '90s. It reminds me of partying and dancing with my friends. I think it translates perfectly for this weird time we are in right now… with so much isolation, it's a little message of hope and patience. "Hold on / You're not alone."
Tell us a bit about the meaning and inspiration behind some of your own tracks…
My song "Bad at All" was written a couple of years ago. I was in LA writing songs and escaping a toxic relationship. The song is about realising that maybe it's not so bad to move on to something healthier. And the realisation that feeling bad is just as important as feeling good -- one can't really go without the other.
How would you describe your style? Do you dress differently when performing?
I would say my style is pretty mellow and classic. When I was younger, I really enjoyed dressing up in glitter and sparkles when I was performing. Now, I'm more concerned about being comfortable. I do think that throughout the years I subconsciously took on a more masculine appearance in order to not be sexualised, and to get more respect by men in my business, which is pretty fucked up.
How does Ganni speak to the way you want to express yourself?
I always love how Ganni's clothes are so comfortable but still really chic and cool. To me, comfort is freedom. If I can be active and practical and still look really cute, it's a success. I really feel that Ganni embodies that feeling in their clothes.
What do you miss most about performing live?
I miss the energy shared between the audience and the performer. It's this magical invisible thing that everyone in the room can feel. It's like being present together in a shared moment of time. I miss that feeling a lot. It's a bit hard to create that same energy digitally, but I must say I was a bit surprised to see how well it has worked during these lockdown times. People have been so creative and it's like a new whole thing that I think a lot of artists will keep on during after the pandemic ends.
Have you adapted the way you work during lockdown?
I have been so fortunate that I have been in the studio finishing my album most of last year. I really needed a break from the outside world and all the pressure I took on myself. I really needed this time to just dive into my music.
What music has been getting you through these last few months?
Duval Timothy's "Slave", John Carroll Kirby's "Blueberry Beads" Jazmine Sullivan's "Price Tags", Nick Hakim's "Qadir", Hether's "When U Loved Me", Zsela's "Noise", serpentwithfeet's "Fellowship", Deem Spencer's "is", Babyfather's "God Hour" and Frederik Valentin's "Blue".