Help! I'm obsessed with... Atarashii Gakko!
Please inject this chaotic Japanese idol group straight into my veins.
|
17 February 2021, 8:30am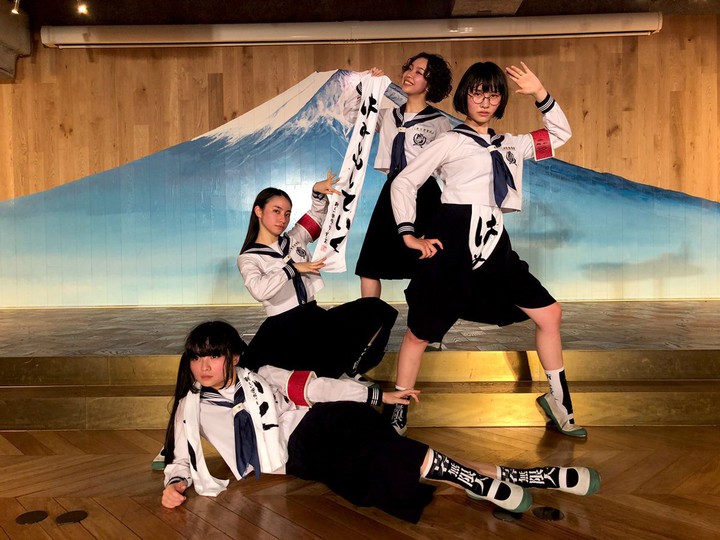 To know Atarashii Gakko! is to know pure joy. Unlike many idol groups, whose personalities, lyrical themes and choreography are polished to perfection, this young Japanese foursome do things differently. They might just be the closest thing we have to anti-idols. Instead of the polish, they're coated in a furiously weird brilliance. They shoot funny skits about Japanese culture. They sing about being jealous of their classmate's massive boobs. They're basically the theatre nerds you knew in school and yet, just a few weeks after launch, the music video for their new single "NAINAINAI" is fast approaching two million views on YouTube. At least half of those were me.
In the video, we join them -- Mizyu "the Sleeping Kitten", Suzuka "The Wildcard", Kanon "The Graceful One", and Rin "the nice and funky one" -- in their classroom. You should know that they're always wearing school uniforms, it's their thing. Technically they're all between the ages of 18-22 but nobody seems to have kicked them out of sixth form yet. Set to a simple 90s hip-hop beat punctuated with bursts of anime-grade girlish laughter, "NAINAIANI" is an upbeat pop song about battling teenage drama and feelings of directionlessness, which is ironic given the sheer focus these girls possess. "This song is so catchy even my existential dread is dancing," one fan commented below the video, and honestly, same.
Fun fact: all four members of Atarashii Gakko! are trained in Kumitaisou, a coordinated group gymnastic practise which is controversial for its enormous (and enormously dangerous) human pyramids, and it shows. Their self-choreographed moves -- though high-energy and technically spot on -- are ultra expressive, full of attitude, and, much like their weirdo personalities, somehow all seem very accessible. Although you know deep down you definitely couldn't join in, you at least feel like you could.
In some places, the group goes by the longer moniker, 'Atarashii Gakko No Leaders', which translates to 'leaders of the new school'. Whatever you decide to call them, you should know that the group's raison d'etre, according to their Spotify bio at least, is to "live a daring and fun-filled life while searching for freedom within the margins of society". And aren't we all? By "boldly inhabiting their individuality as a small force of resistance that questions the norm" (I love them), the quartet inspires their young fandom to do the same. A fandom that is, it transpires, increasingly international. You see, "NAINAINAI" is their first release on NY-based record label 88rising, who have a successful track record for catapulting Asian artists into a global spotlight. And while the group debuted to a local fanbase back in 2015 with "Kamu-to-Funyan", and have since released two eclectic albums that jump erratically between jazz, J-pop and metal, on this single they've finally found their sound.
Likely because of this new international appeal, in recent months Atarashii Gakko! have shot a series of PSA videos, or rather, amusing explainers of aspects of Japanese culture complete with subtitles: Japanophile heaven. One series, a Japanese school etiquette show called The Seishun Academy, teaches lessons like what to do when your friend betrays you (start a dance battle and despair to the sound of a metal breakdown, apparently); why you should lurk in the dark corners of the locker room (it's where you'll hear the best gossip duh); and most importantly, how to perform in your school cafeteria (headbang to emotional metal in front of the Mount Fuji mural). I shouldn't have to point it out at this stage, but this lot are very funny.
They're very good at TikTok too, where they have 643k followers and share daily videos of them doing stuff like this, as well as moving to the 2003 nightmare that was Crazy Frog and choreographing a new dance that revolves around looking up each others skirts to Kreepa's "Oh No".
Sure, Rin has an impressive crochet side project, Kanon's love of baked goods is relatable and Mizyu has perfect hair, but the most interesting band member, to me, is Suzuka. I'm pretty sure she's the leader. At 19, she's not the oldest, but she's the tallest and wears a pair of thin wire-framed glasses that defy gravity right the way through their dance routines. In what one fan described as the "BIGGEST ANIME PLOT TWIST", however, Suzuka just revealed that there are in fact no lenses in said glasses. We'll let her off. After falling deep down an Atarashii Gakko! internet hole, I have also learnt that Suzuka likes to draw sexy pictures and that she prides herself on being an excellent mum to her house plants. What's not to love?
In fact, what's not to love about Atarashii Gakko! in their entirety? If you've made it this far, you too will have taken in the beauty of their weirdness. You're also very likely to have "NAINAINAI" stuck in your head on repeat for the next week or so, like some kind of mantra you didn't necessarily choose to embrace. It's perhaps the group's chaotic energy, a reflection of our current life and times, that makes now the perfect moment for this Japanese idol group to break out into the wider world. I, for one, will be watching from afar to see what they do next… until they invite me to join the band, of course.