Photos courtesy of Beepy Bella.
Beepy Bella is the ethereal jewellery brand inspired by magical creatures
Designer Isabella Lalonde tells us about her signature handmade necklaces and why glass-blowing makes her feel like a wizard.
|
14 September 2020, 3:00pm
Photos courtesy of Beepy Bella.
If you live in New York City, frequent the dreamy Café Forgot or merely have an Instagram account, you're likely to have stumbled upon the ethereal jewellery brand Beepy Bella. Inspired by all things fairy and fantasy, designer Isabella Lalonde's handmade delicacies are adorned with glass-blown magic mushrooms and miniature strawberries; her rings feature sopping wet roses; and there are beaded "elf jewel" earrings. Not to mention the candied pearl necklaces recently worn by Devon Lee Carlson and Savannah Hudson (to Dua Lipa's birthday party, no less).
Growing up between Switzerland, Paris and New York, Isabella began making art at a young age and went on to study fine art at Parsons. But it wasn't until she attended a jewellery course at Central Saint Martins that she was inspired to launch the Beepy Bella brand. Ever since, she has designed pieces inspired by the idea of utopia — inviting artists, poets, dreamers and creatives of all kinds to join her there. "My jewellery is a way to communicate how truly surreal it is to be living on this planet," she says, "in a galaxy, suspended in time."
To show off the latest Beepy Bella jewels, the designer tapped artist slash actress Sasha Frolova to shoot some self-portraits while quarantining in the wilds of upstate New York. Here, alongside the boredom and stream of conscious-inspired photos, we asked Isabella to tell us all about her surreal world.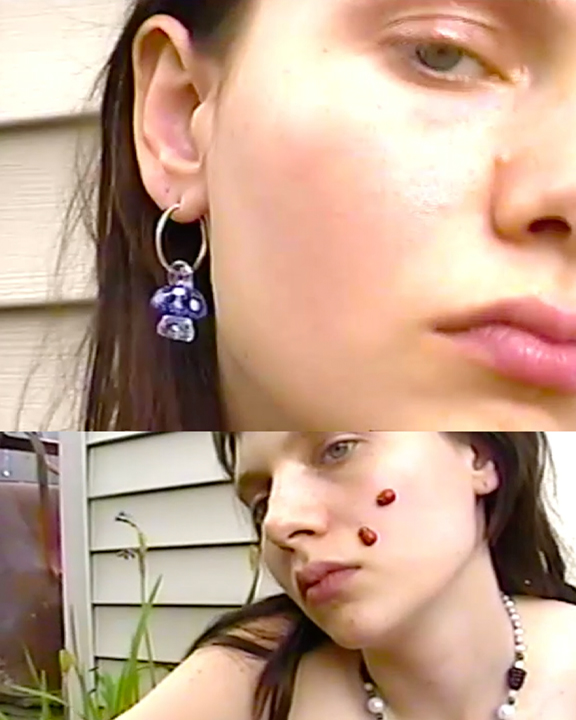 Tell me about the world of Beepy Bella — how would you define it and what's it like?
Beepy Bella is an ethereal, magical playground for fairies, elves and enchanted creatures.​ It's constantly blossoming with imagination, positivity and love. Artists, creators, dreamers, poets and creatives of any kind are welcome to contribute to the landscape of this intangible utopia. Beepy Bella jewellery is a physical manifestation of my dreamspace. It's a way to share my vision with others, in hopes that they find a comfort in this world that wouldn't have existed otherwise, and that their imagination feels invigorated.
How do fairytales and fantasy play a role in all of this?
Fantasy is the core of my brand's ethos and it plays a deeply personal role in my jewellery. As far back as I can remember, fairytales and fantasy have always expanded and added to my perception of reality. My jewellery is a way to communicate about how truly surreal it is to be living on this planet, in a galaxy, suspended in time.
How does your work and experience as an artist inform your designs?
My approach to jewellery design may be constructed a little unconventional. Knowing I was an artist from a young age, I learned to cultivate an innate need to experiment and create, which is core to the process of my fine art practice. With my brand, I don't follow any seasonal calendars, I just make as I feel. This process allows for an organic and thoughtful relationship to my creations. Jewellery is the perfect medium for me because it perpetuates my innovative side and challenges me to finesse more technicality and consideration into my end product, both physically and mentally. Jewellery design has been a really good experience for me, as it simultaneously stimulates my art practice.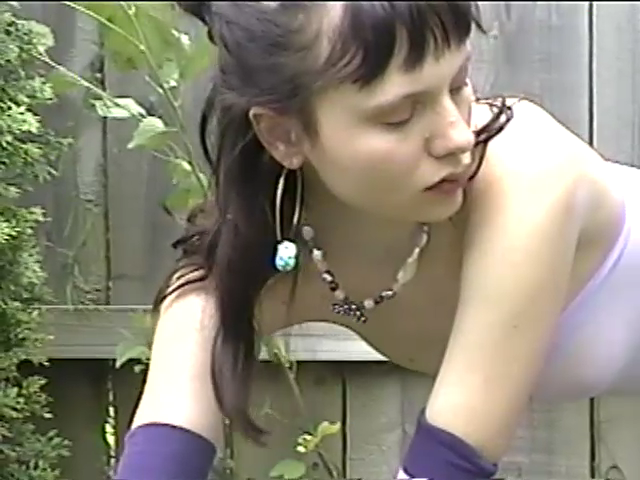 A lot of your tiny charms are handmade — could you walk us through your design process?
I design my pieces with the organic beauty of nature in mind. As I am a naturally spontaneous person, many of my design concepts get applied in the moment rather than starting with a sketch. When I'm not pulling inspiration from moments within nature, I'm inspired by movies like Fantastic Planet and The Dark Crystal, as well as old fairytale book covers. Throughout my work, I gravitate towards symbols like raspberries, mushrooms and frogs. These themes are representations of my utopia.
Are there specific materials that you're drawn to in your pieces?
One of my favourite mediums to work with is glass. It's a magical process to melt and transform natural ingredients into glass. When glass gets really hot, it turns into a honey-like consistency and takes on a glowing rusty orange/warm yellow colour. Working with this medium in a gooey state is not only therapeutic, but also feels like a form of wizardry. It's a really unique process in that when the glass hardens and cools down, the colours of the glass totally change and become something completely new — a reminder of nature's ability to charm and surprise. Additionally, I appreciate that glass is very easy to re-purpose. That is, if I make a mistake on a bead, I can melt the glass down again and create a new design with it. This ease makes it feel more sustainable.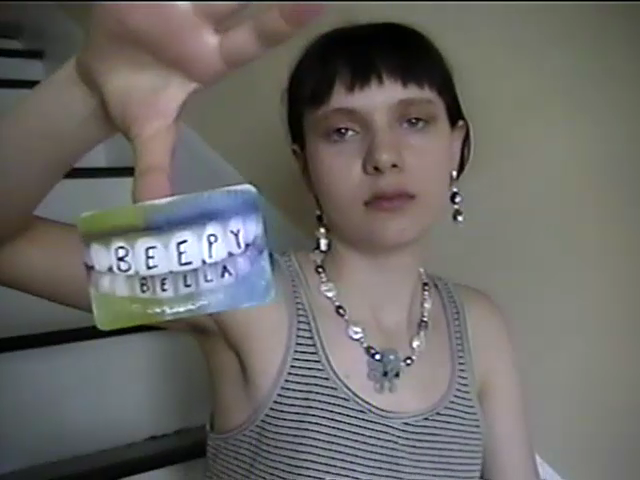 In what ways has your own personal style inspired Beepy Bella?
As much as my art practice inspires my design, equally so has my personal style. When I was growing up, I was raised between Switzerland, Paris and New York. Being exposed to these different cultures at a young age helped me understand the importance of fashion, no matter the geographical location. I always loved people watching for the outfits, and can still do it for hours on end to this day. Observing how someone dressed themselves is like reading a book about who they are or how they are feeling internally. I love the psychology aspect of street style and self expression.
I view the process of dressing myself each morning as a puzzle. My outfit isn't finished until I feel something "clicks" and I have an "aha" moment. Every time I put together an outfit, I learn significantly more about who I am due to the pieces I chose and how I styled them together. It's comparable to the process of journaling, or having a diary, but instead the clothes and composition of the outfit are the words that I am writing down.
When I create jewellery, I always consider an imaginary outfit that it will interact with. I would describe my jewellery as eclectic, experimental and elegant, which are qualities that I aspire to channel in my everyday style. It's a way to share my personal self within every piece I design for others, and that is why my jewellery is called Beepy Bella.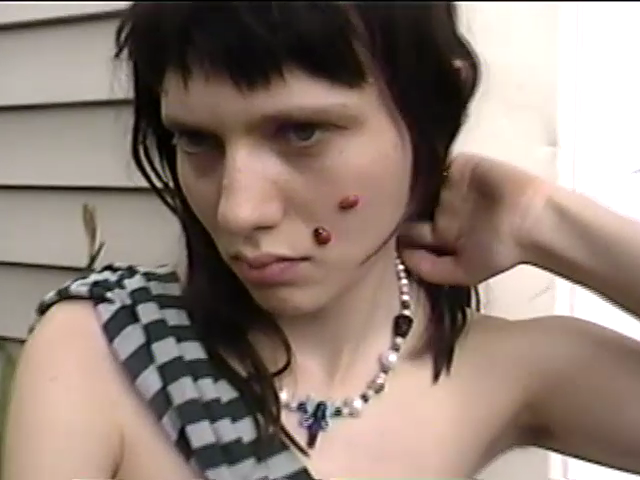 Your latest shoot is in collaboration with artist Sasha Frolova. How did that come about and what makes Sasha the ideal Beepy Bella muse?
Sasha first caught my attention because of her quirky, fun personality and eclectic fashion sense. I love how expressive and beepy her personal style is. I felt that she would be a great Beepy Bella muse because we're quite similar in that we both wear many hats as creatives and innovators. The self-portrait series is a seamless collaboration because Sasha was able to create as she would naturally, but with my creative direction in mind. Shooting video was a super fun medium to work with because I personally love editing and Sasha has an amazing camera to film with. My sister, Ines Lalonde, created the soundtrack to fully immerse our viewers in an artistic experience.
Tell us about some of the noteworthy pieces that Sasha's showing off here.
She's sporting our classic glow-in-the-dark mushroom earring, which will be releasing in mossy green and neon orange very soon. The ceramic frog beads are handcrafted, as well as the purple caterpillar pendant she's wearing in one of the necklaces. Sasha is also wearing an octopus necklace, which features an intricate glass pendant where the octopus legs actually hold it up on the necklace chain, creating a 3D effect. I love when pendants resemble the surreal and create depth in the necklace. Lastly, she's wearing the classic Beepy Bella plaid logo socks, which are fun and super comfortable.
If you could collaborate with any artist, who would it be? Why?
A current artist I would really love to work with is Anicka Yi. The way she incorporates science, experimentation and senses into her installations is very unorthodox and eye catching. Her pieces definitely make my mind melt, which is the best reaction to have to any art. She also uses a lot of nature, including ladybugs and bacteria in her work.