Embrace your nervous energy with Jessy Lanza's new mix
The Hyperdub artist just made us the perfect pandemic soundtrack.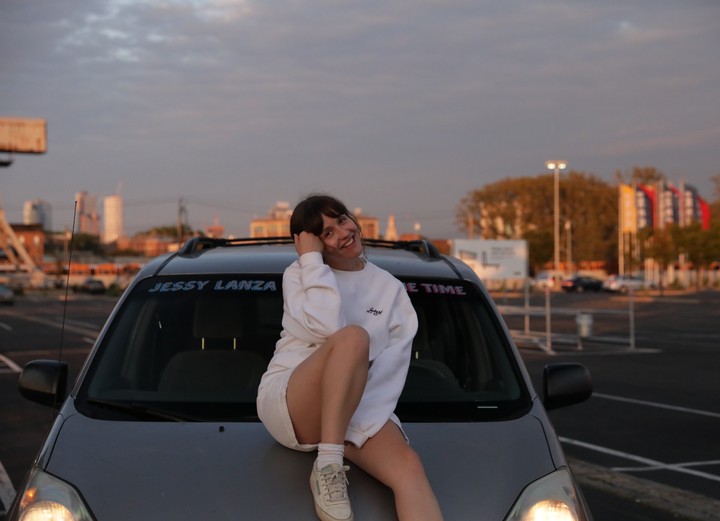 At the start of lockdown, Jessy Lanza packed up her shit and drove her minivan from New York to San Francisco. The coast to coast road trip marked the start of a shift in pace -- her European tour had been cut short and the future of the world was now looking pretty uncertain. Things might have got a little slower since then, more sedentary, but that hasn't stopped Jessy performing a series of livestreamed DJ sets and releasing her first album in four years, All The Time.
"Anger is a familiar and safe feeling for me," Jessy said on release last week. "The album became a conversation with myself about why that is." Touching on personal experiences and her frustration with cultural expectations, All The Time defies its subject matter and comes together as something beautiful, experimental and fun, with Jessy's familiar pitched-up vocals at its heart. In the pandemic-friendly music video for LP track "Over and Over", which dropped on the same day, we join Jessy as she rides a pair of escalators up and then down in an empty shopping mall -- you guessed it -- over and over again. It's hypnotic.
"Since my new album came out, I've had a lot of nervous energy that I don't know what to do with," Jessy says. Thankfully, she channelled this into something productive: a really fucking good mix made especially for us. "I was feeling hyper when I made this mix for i-D, and I think that comes across loud and clear. It features music by some of my favourite artists releasing music at the moment: DJ Tre, Martyn Bootyspoon, Loraine James and DJ Swisha. Hope you enjoy!" Oh, we will.
Tagged: