Miuccia Prada and Raf Simons combine for the most anticipated show of SS21
"This is a collection about what Prada means, the concept of Prada. Finding what Prada can mean today, with another perspective, another point of view."
|
25 September 2020, 12:04pm
What is Prada? That was the question that Raf Simons and Miuccia Prada sought to dissect, examine and reinvent with the debut of their first collection as co-creative directors of the Italian house. In an unprecedented partnership they had us on the edges of our seats, this was the most anticipated show of the season. "This is a collection about what Prada means, the concept of Prada," Miuccia said in a statement. "Finding what Prada can mean today, with another perspective, another point of view." Cue Raf Simons: "I've always seen it as a community that has a very specific attitude, intellect, aesthetic," he answered when asked 'What is the Prada-ness?' in the fan-submitted Q&A that followed the show. He admitted that there was something indefinable about it, too. "You can't really answer what it is, but it is, it exists, it's present, it's clearly there."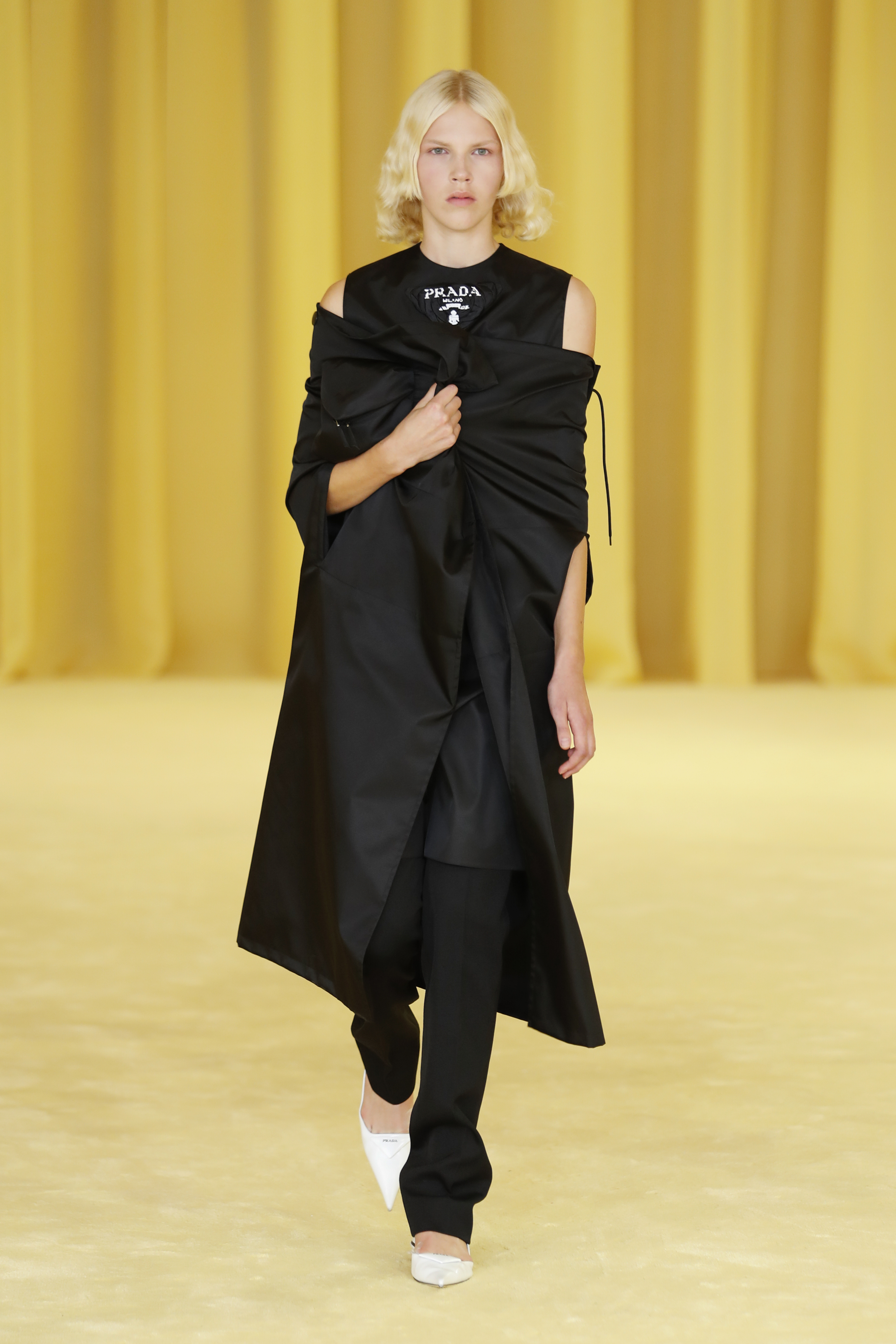 Whatever it is, you're looking at it. As a result of that ambiguity and tension, the two presented a new era for Prada, one that harmoniously blended their two worlds. Filmed against a joyous buttercup-hued curtained backdrop (yellow is one of Raf's favourite colours: he had the Calvin Klein flagship entirely painted in the colour, and his last menswear show in Paris was set against a yellow backdrop), the show had a simplicity and directness that felt very Prada, whatever that might be. There were no props, except for 'chandeliers' of TV screens and camera rigs projecting filming the whole thing and flashing the names of each model, all of whom had never walked a fashion show before. New era, new faces, new Prada.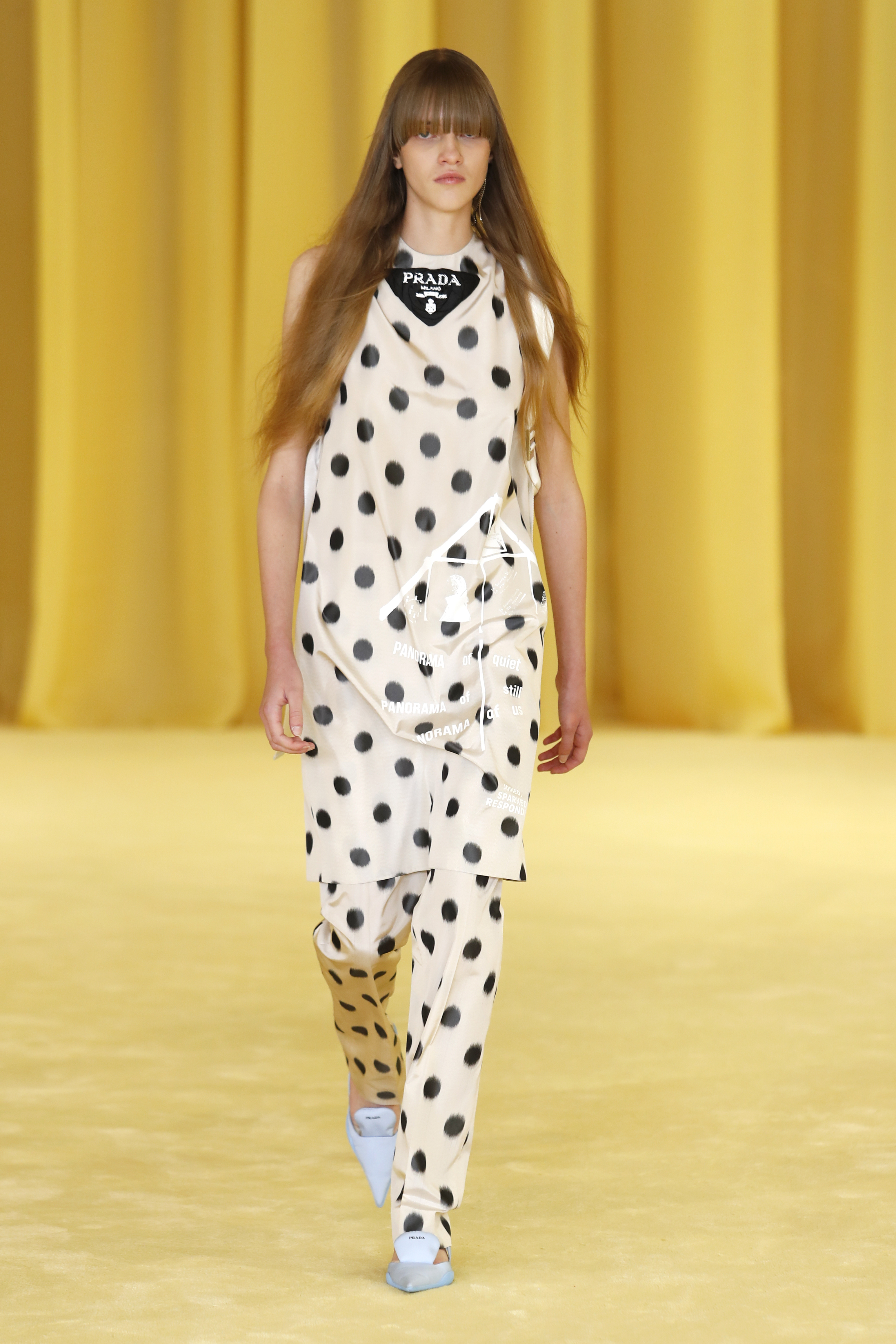 The first big theme was technology, which Miuccia explained is something she always tried to ignore in favour of humanity, but realised how integral it has been to humanity during the last few months. "During lockdown, I realised how impactful technology is for us and how it is a kind of extension of ourselves," she said after the show. "We wanted to represent technology not as a foreign entity, but as an extension of a person, as a friend, as another form of humanity." Given there wasn't a physical audience, and the show was broadcast to the world via Prada's website, the message hit home with an electro soundtrack composed by Plastikman and those aforementioned screens and cameras, which offered panoramic view of every look (great for noticing the scooped backs of the cocoon coats, the curvature of the slingback kitten heels and the mini logo-triangle earrings). Digi-prints, techy nylons and clean, sharp lines of silk tunics and cigarette trousers hammered the message home.
The second big idea was uniforms. "I was thinking of how I have perceived Prada over 25 years, and one thing that came out instantly was uniform," Raf explained. "A uniform gives a sense of community. In a context of reduction, the idea of a uniform is a representation of longevity. In all honesty, I have been looking at Miuccia, how she is dressed, her uniform. It is what she finds important." So, Mrs P became the muse, with voluminous coats clutched at the chest (her favourite way to wear them), plenty of pleated skirts worn with cashmere jumpers. Right now, Miuccia said, her uniform is a pleated cotton skirt and a navy sweater (she was wearing just that post-show). In the collection, however, they were given touches of Raf-ishness: the cashmere sweaters came with polka dot holes, the skirts printed with graphics and the coats with giant hoods, her signature silk dresses were worn with his signature black cigarette trousers.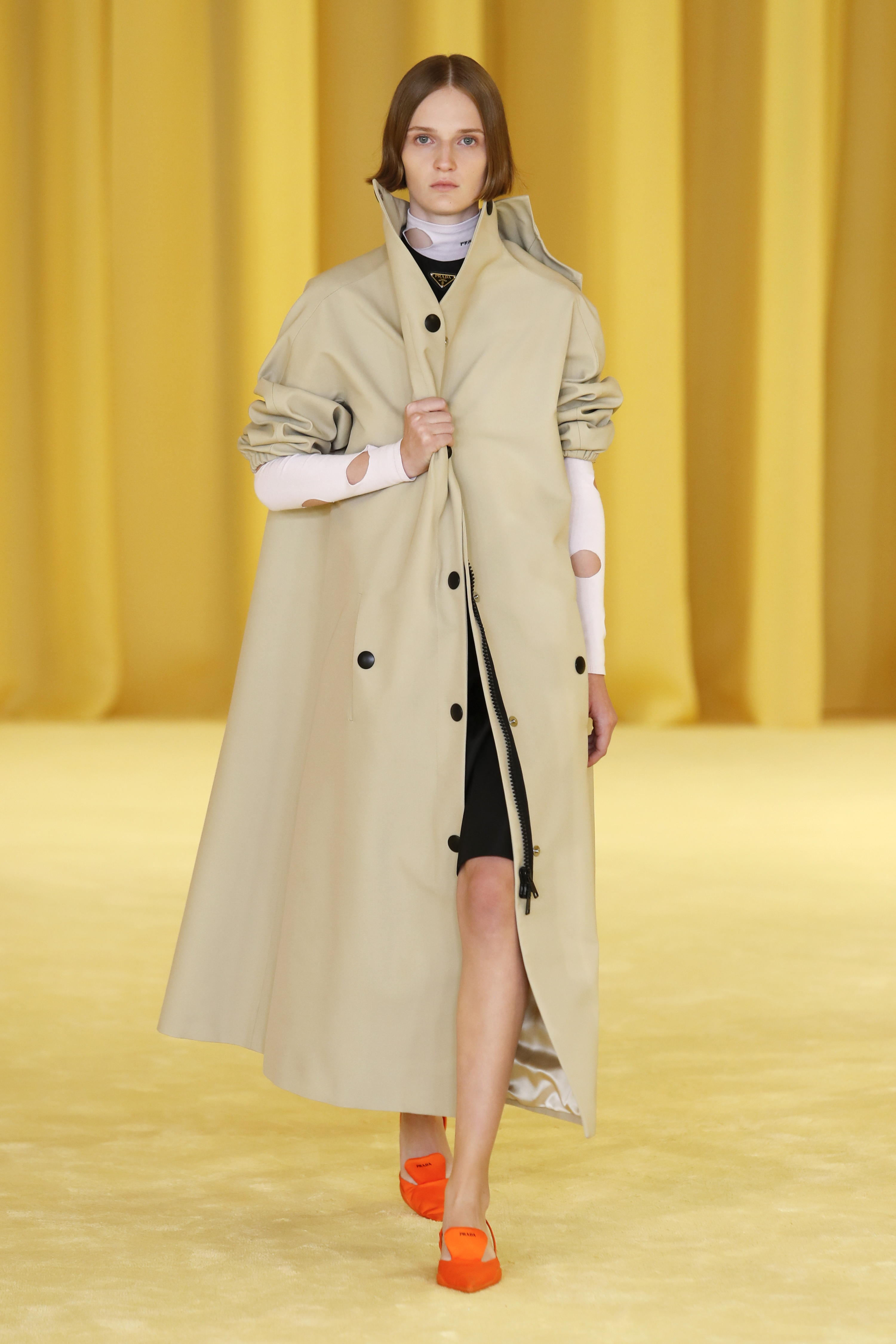 This was a collection that felt like a true collaboration between two monolithic designers. The Prada-isms were Raf-ified, and vice versa. "Every designer wants to be new, but when you are in it for a long time, a few decades, it's important to be able to refresh your own body of work," Raf said. So, that's exactly what they did. Both designers referenced their past through the eyes of the other. Raf enlisted Belgian artist Peter de Potter — who for a decade has layered slogans and graphics to Simons' namesake menswear label — to create the graphics seen throughout. As for Miuccia, there was a revival of the "ugly chic" retro-wallpaper prints from her SS96 collection (albeit on couture-proportion hoodies and full skirts), as well as the classic Prada nylon that the house was built on and their distinctive triangular logo tabs, which were blown up into breastplates and shrunk into earrings.
It felt like a new dawn, for both Miuccia and Raf; a meeting of the minds; a great first date. The two designers described their dynamic as a "creative conversation in progress". And it was clear there didn't seem to be a sense of compromise or sacrifice, a harmonious balance. "There was dialogue, a questioning of each other: we knew we wanted to give that possibility," Raf said. However, they still couldn't be further apart. In response to one of the fan-submitted questions, "What is the first thing you drink in the morning?" Miuccia responded: "My mother told me, first hot water – apparently it's very healthy" – while Raf shared that he drinks coffee, "and then for the rest of the day, Coke Zero". There is still a point of difference — they are different generations, nationalities, genders, personalities, after all — and that tension is what will keep us on the edge of our seats, season after season to come.