Photography Boris Camaca.
How to create a sustainable sneaker line
For their new label VIRÓN, Mats Rombaut and Julian Romer are making eco-conscious footwear from corn and apples.
|
03 September 2020, 3:00pm
Photography Boris Camaca.
"The brand is a protest, in its own way," Mats Rombaut says. He's speaking about VIRÓN, a newly-launched sustainable footwear label spearheaded by the designer in collaboration with Julian Romer. "We created this brand because we saw that the fashion industry's existing systems had failed us," Julian adds. "We wanted to create change, to take actions and start within our industry." Equipped with its own manifesto, calling for radical action in the name of our planet's health, VIRÓN and its creators are set on forging a new way forward: a "future-proof system for a fashion industry that pollutes less."
If you're a sneakerhead, or even if you're only somewhat well-acquainted with the world of footwear, you know Rombaut: both the designer, Mats, and his eponymous label, beloved equally for its conceptual ugly shoe hybrids and irreverent campaigns, as well as its forward-thinking use of plant-based textiles.
Four years after founding Rombaut, while consulting for another label, Mats met future VIRÓN partner Julian Romer. While the former has over seven years of experience in sustainable textile development, Julian has been working in the footwear industry, in sales and buying, for 14 years. The duo found common ground in their shared values and views of the industry to which they belong.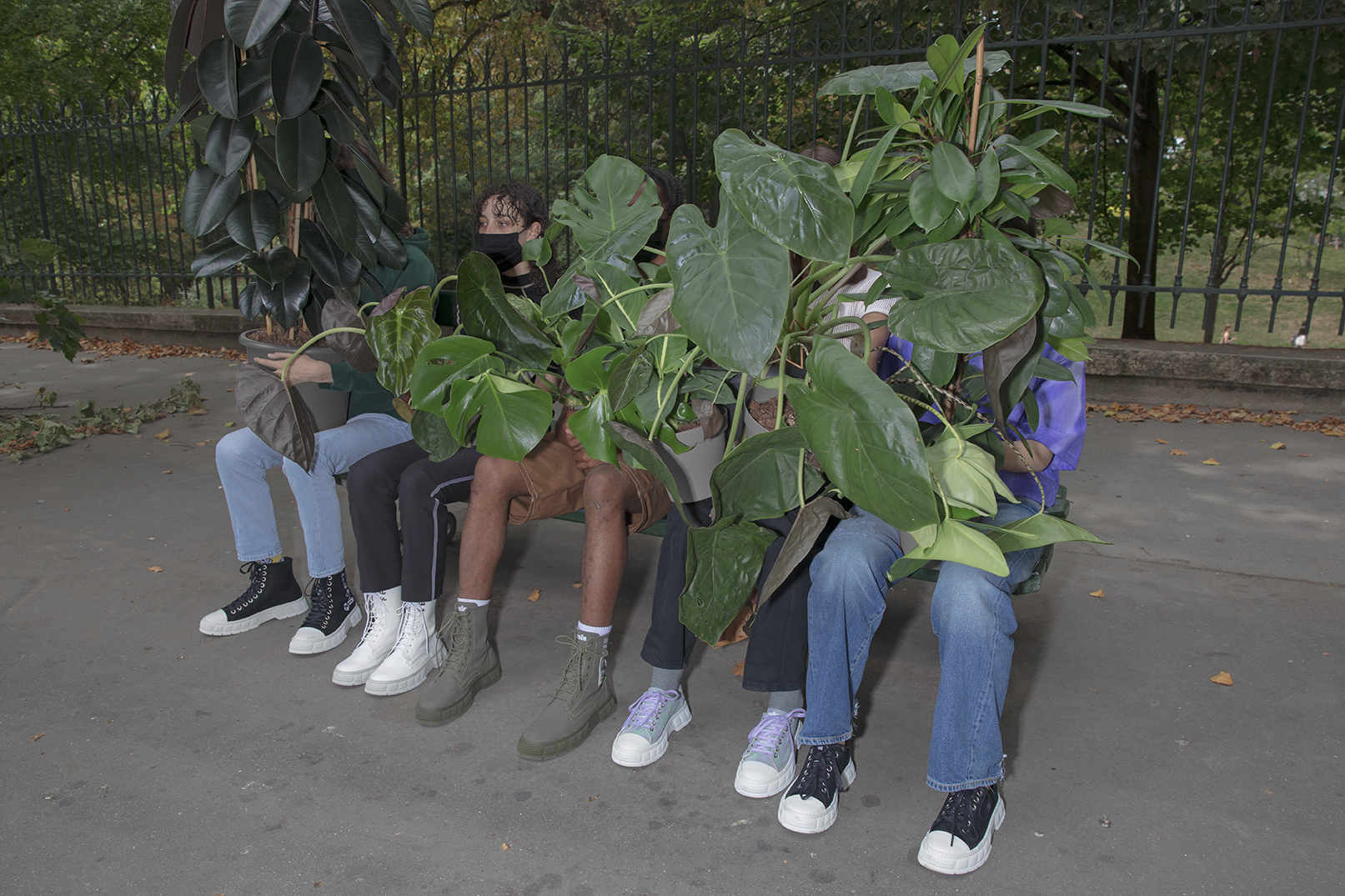 "Working in sales or as a buyer, you can see all the excess, all the overstock and inventory; how there's so much unnecessary product on the market. And you read all the time that brands are burning millions of Euros worth of inventory because they don't want to give a big discount to the end consumer, otherwise the brand's value will decrease," Julian says. "A lot of bigger brands are doing sustainable lines, trying to greenwash everything they're doing. Just putting in minimal effort," adds Mats. "We just wanted to make sustainability more accessible: creating the best product possible, right now, in the most ethical and sustainable way."
So how does one achieve this? A painstaking amount of research, trial and error, and problem-solving. "We want to create a closed-loop system that could be an example going forward and work on a larger scale, which means that every process needs to be thought through, to cut waste as much as possible," says Mats. "Basically, the way to do that is to take a more slow fashion approach." Bucking the industry's increasingly frenetic trend cycle, VIRÓN offers a small selection of staple styles; as of the label's launch — through its own e-comm platform and, imminently, through retailers SSENSE, LN-CC and Selfridge's — four models including classic low-top and high-top sneakers and combat boots. Each shoe is fitted with the label's single outsole design. "We wanted to make just one outsole: an outsole made from recycled rubber, and that you can also recycle over and over again," Mats says.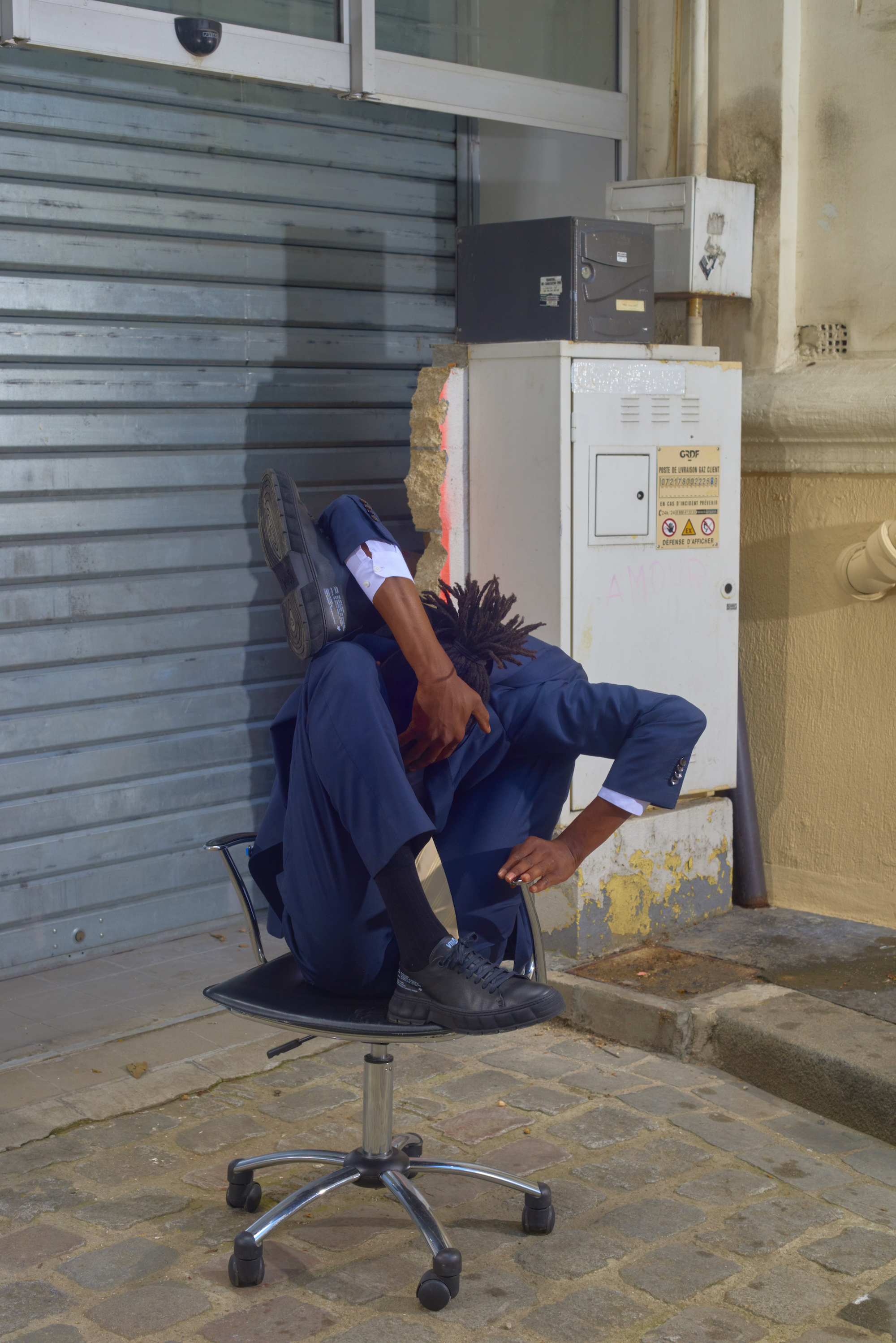 "Every season, of course, we will change the materials," Mats continues. "We use a lot of upcycled materials, such as army tents and recycled cotton. Our idea was to never use new, virgin materials and use what's already out there to cut down the waste as much as possible." Upholding the Rombaut label's legacy, VIRÓN also trades in cutting-edge plant-based textile. Mats spent seven years testing out tree bark, Piñatex (made from pineapple fibres), and coconut, before the duo landed on corn and apple leather (both made from leftover food industry waste). "In the end, we landed on apple and corn leather because they're close to us, produced in Italy," says Mats, about the duo's insistence on a short supply chain and entirely local, EU-based production. While a viable option, Piñatex ultimately didn't make the cut due to its lengthy supply chain — from the Philippines to Barcelona and then on to the UK. "Our apple leather supplier is very committed to sustainability and they've been researching this for a long time. It's important for us to look at the intentions of businesses and of people: how long they've been doing it and for the right reasons."
On top of sourcing and working with some of the industry's most cutting-edge recycled and waste-free textiles and keeping it local, the duo also track the sustainability of their own production. "With Green Shoes 4 All, we're tracking the carbon footprint of our whole operation, from our office to production to shipping, and then offsetting it with our partner in solar energy. Just to round it up to this 360 approach to sustainability," Julian says. The label also partners with 1% For The Planet, through which they donate a percentage of revenues to NGOs.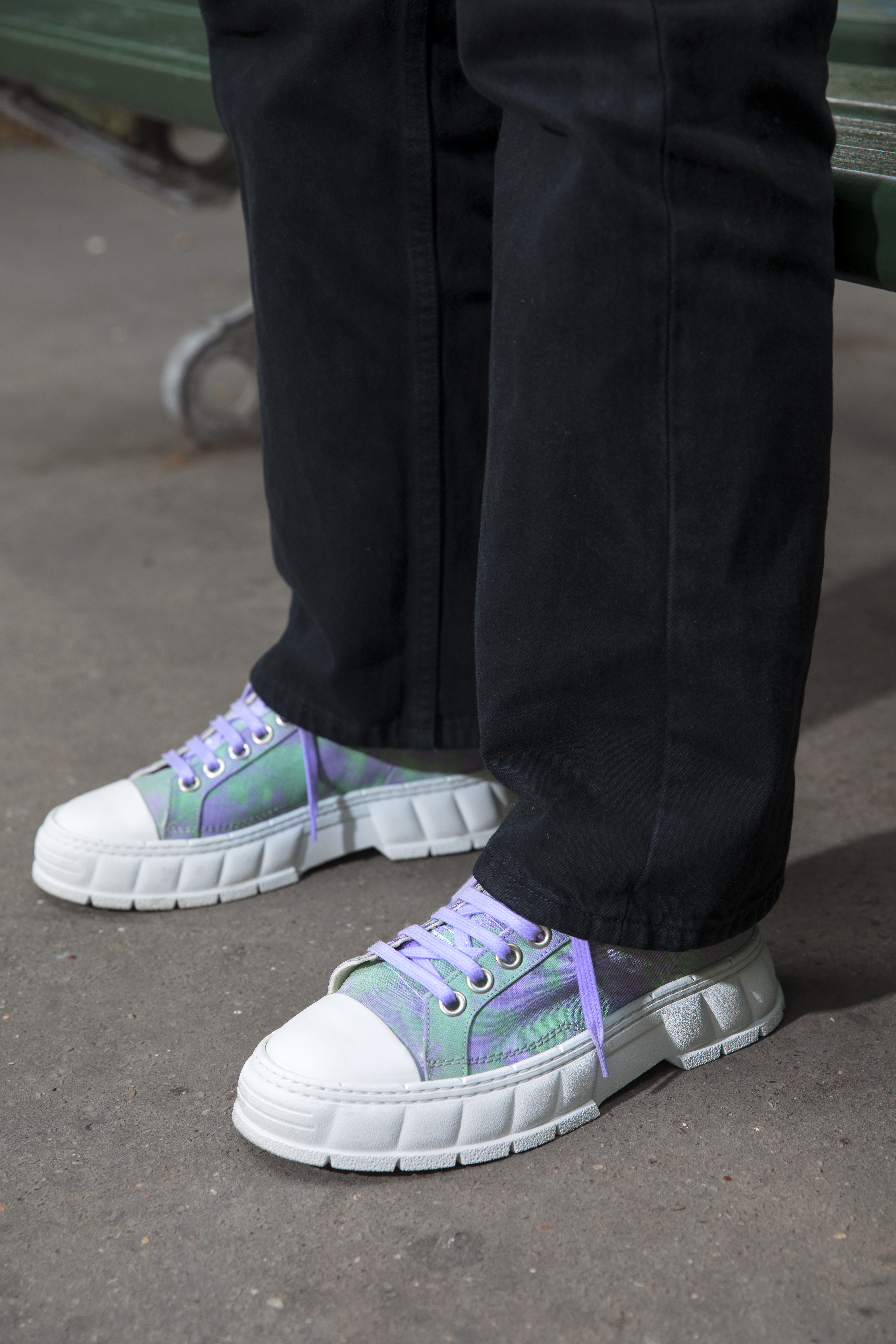 As Mats's devotion to textile research and development might imply, the duo will continue to explore the realm of plant-based textiles through VIRÓN. "We tried mushroom leather," Mats laughs, recalling another potential fabric that didn't make the final cut. "It just kept ripping. We've been waiting for it for years but it's just not there yet, not fully developed." Julian notes, however, that the prospect is "very exciting for the future".
The duo envision VIRÓN as a social platform through which they can collaborate openly with emerging material suppliers and companies who have produced overstock. "We want to keep our models really straightforward, but innovate in terms of materials and in the way we collaborate with suppliers and with people. It can be anything, it doesn't need to be the standard brand collaboration. It can be anyone who has some overstock of material," says Mats. "Instead of burning your stock, you can send it to us and we'll make it into shoes."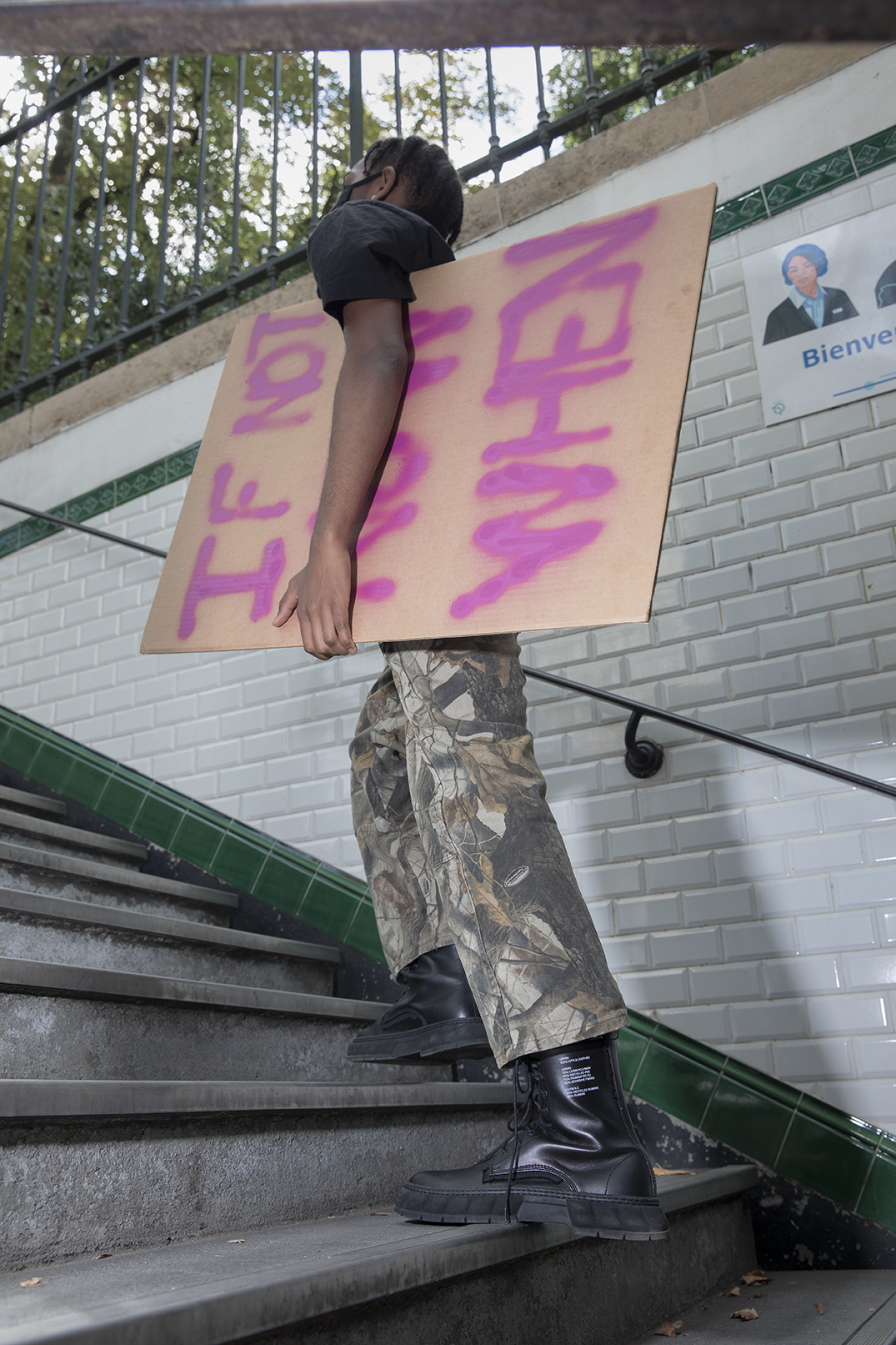 Ultimately, with VIRÓN, Mats and Julian are creating the change they want to see in the fashion industry — all in a very grassroots manner. "We started one year ago, before Covid-19," says Mats, who cites youth-driven environmentalist movements — "Greta Thunberg and all those young people who are really trying to make a change" — as the inspiration behind the label's radical, urgent and protest-inspired imagery. VIRÓN arrives with a veritable manifesto — "We need radical action now" and "NO to 'sustainable' animal skins or useless 'super ingredients'". Its shoes are fit "to storm the streets in", its recycled rubber soles "made to march".
"We're past the point of demanding change. This is what we mean when we talk about VIRÓN being a social platform; there's this collaborative element because we want to create change. We believe that now's the time to be united and to support each other. Of course, we want to hold big corporations accountable, but at the same time, we still want to ignite change ourselves," Julian says. "Hopefully the big players of the industry are forced to rethink their mission and the whole system gets redesigned."