Gucci will present two seasonless collections a year post lockdown
The luxury house is the latest to adopt a less frantic, more considered fashion week schedule in the wake of the coronavirus pandemic.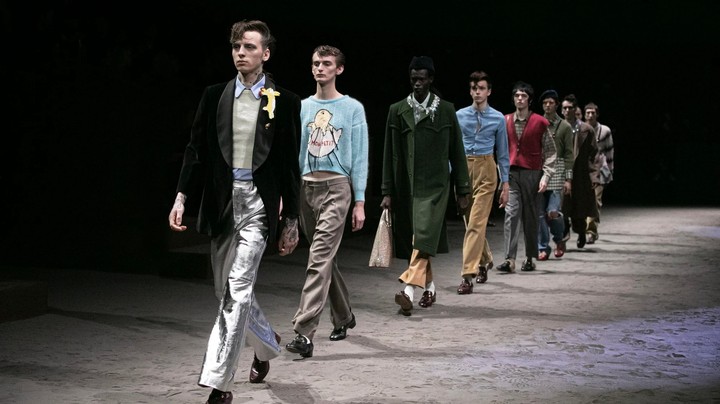 Photography Mitchell Sams
While the fashion industry, like countless other institutions across the globe, has been shaken to its foundations by the coronavirus pandemic, increasingly designers, brands and creatives are using the government mandated downtime to take stock and reconsider the breakneck speed with which luxury fashion has become expected to function. Last week the BFC and CFDA published a joint statement calling for the industry to slow down in the wake of the pandemic, while earlier in the month some of fashion's biggest names penned an open letter acting as a petition to reset the gruelling industry calendar. Now, Gucci are the latest house to answer that clarion call.
In a series of diary entries released on Gucci's Instagram over the weekend, the Italian brand has announced a radical shift in how they will present collections going forward. Taking a step back from the punishing seasonal calendar, Creative Director Alessandro Michele has instead decided to present twice a year, making both shows seasonless, a huge step away from the "fashion circus" we've come to know so well. The move is a huge step towards greater sustainability in the fashion industry, cutting down on material waste but also on travel as fashion editors across the world jet to fashion months presumably less often.
Gucci's new manifesto is outlined in a series of diary entries, penned by Alessandro himself, posted to Instagram in both Italian and English. In one entry, entitled "We Turned Out To Be So Small" and written at the end of March, when Italy was in the grips of their coronavirus epidemic, the designer wrote, "our reckless actions have burned the house we live in". The emotional entry goes on to say: "These days of confinement, in a suspended time that we can hardly imagine as free, I try to ask myself what is the meaning of my actions. It's a vital and urgent questioning for me, which demands a careful pause and a delicate listening. It's trying to name, with the precision of love, my fears and my desires."
In a later entry, entitled "A New Creative Universe", he expands on what the future might look like: "That is why I decided to build a new path, away from deadlines that the industry consolidated and, above all, away from an excessive performativity that today really has no raison d'être. It's a foundational act, audacious but necessary, that aims at building a new creative universe. A universe that essentialises itself in the subtraction of events and that oxygenates through the multiplication of sense."
Following the Instagram posts, a virtual conference took place on Monday afternoon, where he expanded a little more on what this new calendar and work schedule will look like. "Two appointments a year are more than enough to give time to form a creative thought, and to give more time to this system," Alessandro said in the video. He couldn't be more right.