We need to stop disposable face masks becoming our next ecological disaster
Face masks are now a crucial part of our daily lives, but their irresponsible use and disposal are contributing to plastic pollution. Here's how you can do your bit to curb the damage they cause.
|
25 September 2020, 10:22am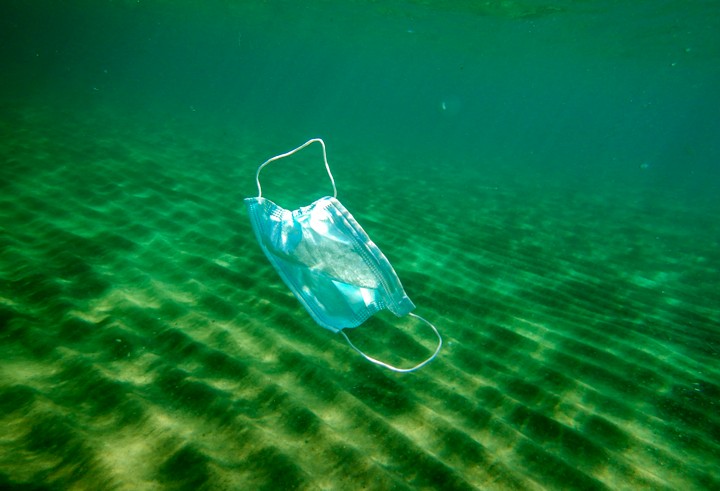 Photo Illustration by Salvatore Laporta/KONTROLAB/LightRocket via Getty Images
It's time to wake up. On Global Day of Climate Action, VICE Media Group (of which i-D is a part) is solely telling stories about our current climate crisis. Click here to meet young climate leaders from around the globe and learn how you can take action.
"[Disposable] masks are the new plastic bags," says Sarah Jay, creator of the Toxic Beauty (2019) documentary and founder of All Earthlings, an organisation dedicated to improving transparency in cosmetics supply chains. She's among the many conservationists who have warned that the coronavirus pandemic could bring about a rise in the consumption of single-use plastics and disposable masks, most of which are made from polypropylene, a type of thermoplastic.
While the wearing of masks is imperative for slowing the spread of the virus, according to the United Nations, 75 percent of those used ultimately end up in landfills, floating in the seas or are incinerated, releasing harmful toxins into the atmosphere. And the amount being produced has surged, too. The UN trade body, UNCTAD, estimates that global sales will total some $166 billion this year, up from around $800 million in 2019. That translates to 200 billion face masks and gloves entering the environment with each month of the pandemic that passes, according to Green Matters, and as early as May, gloves, masks and hand sanitiser bottles (collectively dubbed COVID waste) were recovered among other more common debris by divers in the Mediterranean Sea.
"Plastic pollution was already one of the greatest threats to our planet before the coronavirus outbreak," says Pamela Coke-Hamilton, UNCTAD's director of international trade. "The sudden boom in the daily use of certain products to keep people safe and stop the disease is making things much worse."
In the warped collective headspace that the pandemic has induced, the rush towards products that offer us immediate safety makes sense, says Dr. Anika Kozlowski, assistant professor of fashion design, ethics and sustainability at Ryerson University's School of Fashion. "Given the general state of anxiety around COVID-19, we are all in a state of stress whether we realise it or not so the instinct to protect oneself is high. This makes it easy to externalise and forget about the abstract and external impacts our behaviours have such as using or increased use of disposable face masks and gloves."
"If we want a future, we need to learn to be comfortable with inconvenience because disposable items such as face masks are a convenience factor." — Dr Anika Kozlowski
Still, the issues that are now arising from this exponential boom in use cannot be downplayed. What's more, these are issues that we should have begun tackling long ago. "Healthcare is a ubiquitous activity around the world generating tons of waste annually, so why have we been so slow to address that plastic waste stream?" Anika asks. "If we want a future, we need to learn to be comfortable with inconvenience because disposable items such as face masks are a convenience factor."
"Wearing a mask is the new normal for the foreseeable future, so each of us must be prepared," Sarah continues, stressing the importance of being more conscious of which masks we choose to wear. "We all need to be equipped with a reusable, multi-layer fabric mask that fits well, have several backups on hand, and wash them regularly."
In the context of a global pandemic, a single-use disposable mask is, of course, better than no mask at all. This is especially true for communities who cannot access alternatives. With this in mind, Hallie Spradlin, Accessories Director at trend forecaster Fashion Snoops, says that if you are using one, the most responsible way to discard the item after use is to cut the elastic ear loops to prevent entanglement should the item end up in a vulnerable animal habitat.
Given the scale and newness of the issue, a catch-all solution has yet to be found. "Like any issue within the realm of sustainability, we need a diversity of approaches, from various stakeholders from government to companies and citizens that consider all perspectives," says Hallie. "I think a common mistake we make is having blanket approaches and solutions because we live in such a global world. I believe we need local solutions." Since plastic pollution was already one of the greatest threats to the planet, she says we really need to consider replacing inadequate regulation, changing business models and introducing incentives leading to the reduced production and use of plastics. "Other recommended measures include designing face masks that can be more easily recycled, and expanding waste collection, particularly in lower-income countries."
"We have seen the way in which many industries have quickly assessed and adapted to the needs of community health, including innovations in materials as masks become an essential accessory," she continues, citing the SEEUS95 mask by Solight Design as an example. It reimagines the traditional N95 silhouette as a durable, transparent lower face shield with replaceable filters made from environmentally safe materials like bamboo, silk fibre, and nanosilver, which also gives them bacteria-resistant properties.
Of course, environmental criteria are not the only ones that a mask has to meet. Human behaviour has to be taken into account, too. "When we consider human behaviours, we have to understand local social norms, culture and values. For example, if I make a mask that can be recycled, is there a way to collect the masks? Is that infrastructure already in place? What would it cost? Who would regulate it? What are the local attitudes and behaviours around recycling?" Hallie asks.
And while reusable masks are clearly the best options for the planet, there are health factors to consider as well. Discussions around 'maskne' -- acne triggered by mask-wearing -- for example, have been steadily growing. It's "caused by the accumulation of sweat, oil, and bacteria around the mouth, chin, and cheeks," explains Melissa Hago, VP and Creative Director of Beauty & Wellness at Fashion Snoops, and is exacerbated by the irritation caused by long hours of mask-wearing. And that's not your only worry -- there are also concerns that such extensive wear could cause candida overgrowth, which, according to Everyday Health, is basically a yeast infection around the mouth, symptoms of which include red bumps and cracks at the corners of the lips. Fungi of the genus candida occur naturally on the skin and in the saliva, but it's "in humid environments, much like the one created under your mask," that it truly thrives, Lucy Chen, MD, a board-certified dermatologist at Riverchase Dermatology in Miami, told the publication.
A key step to take here is paring back your skincare routine, giving the skin a chance to breathe, reset and heal. "Hydration and being gentle with the skin is key, and this includes both using hydrating products and drinking lots more water," says Melissa, with another way to avoid further irritating a maskne flair up being to avoid touching or moving your face covering while using it. Material choices are key to consider, too, with breathable, natural fibres being the top choices. "Cotton is great because it allows our skin to breathe and linen and bamboo are light-weight and cause less friction," says Melissa. "Silk is another good choice for acne-prone skin."
With the coronavirus pandemic very much ongoing, mask-wearing will be an integral part of our everyday lives for some time to come. With that in mind, we all have a responsibility to ensure that the production, wearing and disposal of masks has health in mind — not just ours, but the planet's, too. As wearers, that means critically evaluating our consumption choices and changing our behaviours accordingly. But we also need to see large-scale infrastructural initiatives implemented by our governments, healthcare systems, and businesses — sustainable solutions that take a full life assessment of masks into consideration. If they really are here to stay, let's not add them to the growing list of issues that we as a society still have to solve.