Hailee Steinfeld is ready for you to hear these songs
Five years after her debut EP, the Oscar nominated actor and popstar is back in the recording booth. On this episode of NOTHING TO Hi-DE, she tells us what took so long.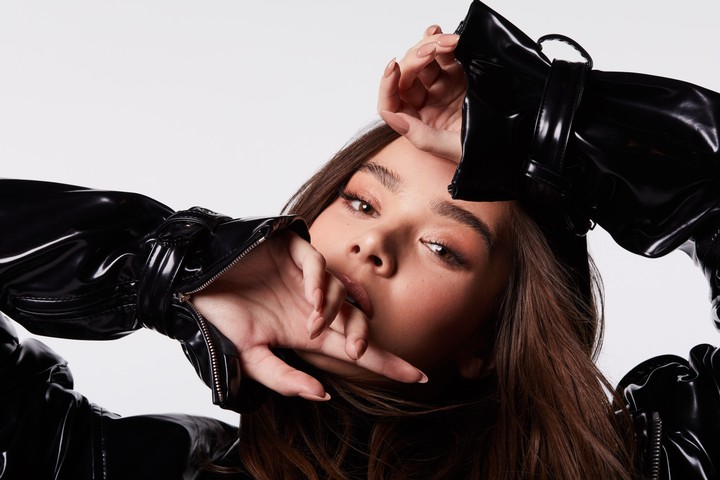 Photo Sarah McColgan
Hailee Steinfeld is really busy. Like, more busy than the average person whose job it is to entertain audiences, because she's doing that from what feels like a thousand different angles. Since she was first propelled to fame some 10 years ago now, with her brilliant turn in the 2010 Coen Brothers film True Grit, she's successfully tread the line between pop enigma, mainstream movie star, and actor. In short: she has range.

But after spending half a decade almost entirely immersed in the worlds of film and television, nabbing leading roles in blockbuster franchises and scoring Golden Globe nominations, she's back in the recording booth. With a stack of new tunes under her belt already, she's just dropped her new EP Half Written Story, and it's a belter.
Bookended by the singles you've heard already (and if you haven't, where on earth have you been?), it's a searingly honest mini collection of proper pop songs entangled in heartbreak and the way that manifests, from the resilient "I Love You's" (which interprets that very great Annie Lennox sample) to the fuck you excellence of "End this (L.O.V.E.)".
It's the start of something new for Hailee that still hearkens back to the excellence delivered five years ago with that banger, "Love Myself". She's keen to talk about this new chapter -- well, some of it -- so we gave her a buzz for our Instagram Live series NOTHING TO Hi-DE to discuss everything that shaped the EP, what she's been doing during lockdown, and when to expect the next series of her Apple TV smash Dickinson.