How Netflix's The Half Of It subverts the gay best friend stereotype
Alice Wu's acclaimed film delves into the complexities of queer-straight friendships in a way that cinema rarely does.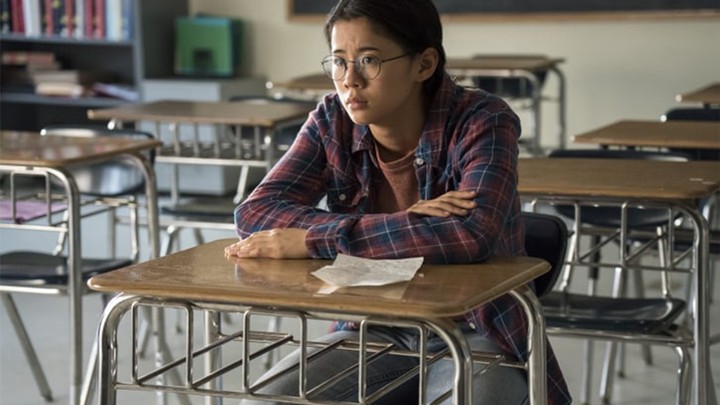 Image via Netfllix
On its surface Netflix's new film The Half Of It is like any other teen rom-com of the past few years. It contains all the same tropes we've come to expect from the streaming giant's usual offerings; the socially awkward (but smarter than all their peers) protagonist who holds a secret; the unhappy, misunderstood 'pretty girl'; the simple and inarticulate yet harmless jock; and the depressed teachers with lesson plans that just so happen to foreshadow the moral dilemmas our protagonist is going to face.
But right from the outset of Alice Wu's critically-acclaimed movie, the audience is forewarned that this is not a romance. In this film, no one is going to end up with what they wanted (at least not romantically). From the beginning, we fall in love with Ellie Chu -- played by Leah Lewis -- a high school senior in a small, evangelical town in the USA. Ellie spends her down time working with her dad at the train station and writing her classmates' essays on a no-A-no-fee guarantee. This becomes difficult when she's given a new assignment by jock Paul Munsky (Daniel Diemer) to pen a love letter to his school crush Aster (Alexxis Lemrie) -- a girl Ellie too secretly has a crush on. In the process of deceiving Aster through carefully crafted love notes, Paul and Ellie develop an unexpectedly close friendship of their own -- one that feels realistic and true even though it's rarely portrayed on the screen.
Friendships between LGBT+ people and straight people often fall into a very specific box and most queer people will remember a time when someone has referred to them as a GBF, or 'gay best friend'. Some of us love it, luxuriating in the unique position we as queer people can hold; others (myself included) can't stand it, particularly when it comes, as it often does, from someone we barely consider an acquaintance, let alone a BFF. The concept of the GBF also carries a lot of stereotypes. Onscreen it is often used to identify white, cis, gay men who perform various supplementary roles to a straight white female protagonist. They're the gay personal shopper, sassy comedic relief and shoulder to cry on when the boy of her dreams rejects her. In Clueless, after Cher realises her flirtations with Christian are being ignored because he's gay, she decides to still keep him around because he's one of her "favourite shopping partners". Though Crazy, Rich Asians broke numerous glass ceilings with its strong all-Asian cast, the openly out, complex and intelligent character of Oliver still only really appeared in scenes requiring a makeover or the spreading of gossip. Representation is always great but queer people -- and the relationships we have with the straight people around us -- are obviously so much more complex than what we are being shown in our favourite films.
While the friendships between queer men and straight girls are not uncommon on screen, depictions of friendships between queer and straight people of the same gender are on the rise too; from Eric and Otis in Sex Education to Devi, Fabiola and Eleanor in Never Have I Ever. But friendships between queer women and straight men lack the same representation. We rarely, if ever, see them onscreen.
And if we do then they perform the harmful trope where the queer woman is pitted as the enemy of the straight male protagonist. The 1992 Hugh Grant film Bitter Moon ends with the punchline that the girl Hugh Grant's married character has been hoping to get with the entire film is actually having an affair with his wife all along. In the truly tragic 2016 flick Mike and Dave Need Wedding Dates, much of the comedy revolves around Adam DeVine's character fighting with his bisexual cousin Terry for the affections of a girl. When Ross Gellar decides to have a threesome with wife Carol in an alternate universe episode of Friends, it's played for hilarity when she leaves him for their female tryst partner. Even acclaimed representation like the Black Mirror episode San Junipero can fall into the trap of the female queer character luring other women away from men.

Under the prescriptive, oppressive behavioural codes demanded by the patriarchy, straight men are in constant fear of being emasculated. And in film lesbians are presented as a threat to their masculinity, an unknown force that comes in when you're not paying attention and "steals" your girl. "Queer women are more often than not portrayed in the media as either titillation for men or competition for men -- rarely is there any in between," says Lauren, a 24-year-old queer woman. Even though some of her closest friends are straight men, Lauren struggles to find representation that reflects the "easy and pally" relationships she has with them. "In the past two years there's definitely been a step in the right direction for representation with Booksmart, The L Word, Generation Q and even Derry Girls," she says, "but the friendships are usually always between women and even then, there's a tendency to make two queer female characters hook up!" She points to the fact that the closest representation to the friendships she has would be Callie and Mark in Grey's Anatomy and Steve and Robin from Stranger Things. "But Grey's Anatomy had to go and ruin it by making them sleep together and have a kid," she adds. "Robin and Steve were cute though, and they talk about girls together which I do all the time with the boys".
But this is where The Half Of It fills a gap that, as writer Anna Menta of Decider says, is "so obvious, it's a wonder the movie hasn't been made yet". Less of a throwaway subplot than Robin and Steve, Ellie and Paul's friendship is at the centre of the film -- and its only depiction of true love. We watch as they grow together, making sausages, supporting each other and overcoming the deep-rooted evangelical homophobia within their town. What's more, because the film is told from Ellie's perspective we see the friendship from the queer friend's side. Unlike Clueless, it's not about what the gay kid can offer the straight kid. If anything, Paul is the straight best friend who helps Ellie come out of herself and offers her a close and caring friend in her incredibly lonely and closed-off world. Though they have their issues and fall-outs, Ellie is never presented as a threat to Paul's masculinity, nor is she there to merely carry a heterosexual storyline.
Queer representation still has a long way to go. Though a 2019 report by GLAAD found that LGBT+ representation on the screen has never been higher, it is true that the quality of that representation can often feel trite -- leaning heavily on stereotypes, written as a last minute addition to a heterosexual narrative and rarely accurately embodying the relationships and friendships we as queer people have with those around us. Nevertheless, the beautiful and sweet way Alice Wu's film carries the complexities of Ellie and Paul's friendship is definitely a groundbreaking start.