Is this Harry Styles' secret TikTok account?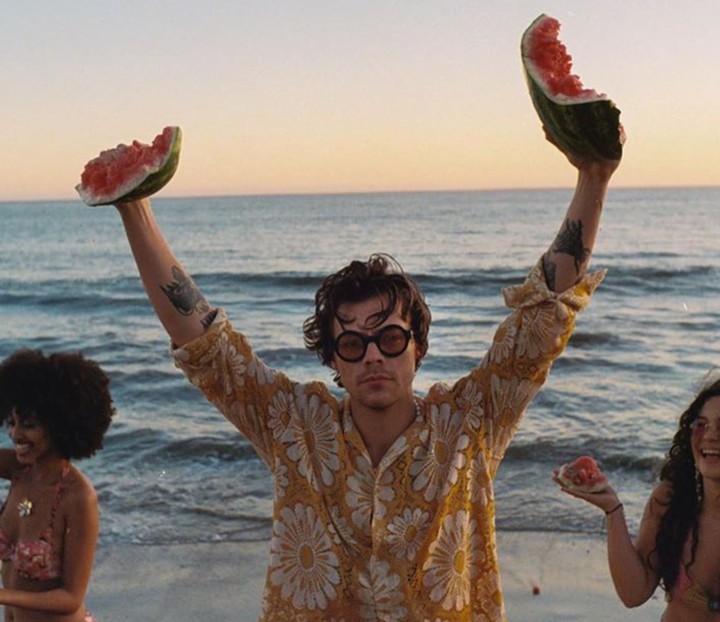 via Harry's Instagram
In a week that's seen Kanye West announce an album that has not yet materialised, only for Taylor Swift to take its place with a surprise album that no one had predicted, it seems like music is well and truly having a mad one. Think the madness is over? Well, think again! Eagle-eyed Harry Styles fans think they've found his secret TikTok account.
Having first uploaded a clip at the end of June, @terrytome specialises in covers of Harry's biggest hits, only they're delivered by an otamatone, a Japanese electronic music synthesizer that looks like a music note and sounds a bit like a kazoo. First came "Falling"; it was, of course, gorgeous. But fans started to notice there were a bunch of interesting elements -- you know, beyond the singing musical note -- that pointed to who may be behind it all.
Why, for example, does Terry wear gloves in every single video, despite the fact he's indoors sitting at his laptop? Well, in one comment, Terry states that he has "very recognizable hands". Could he have DISTINCTIVE HAND TATTOOS that would blow his cover?! Why is he working from music editing software instead of just heading to YouTube and googling "Falling Instrumental" like the rest of us do whenever we're half-cut at 3am at a friends karaoke party, ready to make every reveller in the room cry? Seems very suspicious to us!!
Fans have, obviously, caught onto this sus behaviour, and have been trying to get to the bottom of it. "Me tryna look in the screen to see if it's secretly Harry: ️️," one fan commented.
But things really got interesting when Terry uploaded a clip with what sounds like a studio version of Harry's track "Medicine" in the background. But "Medicine" has only been performed live, so how on earth did he get his hands on that?
In an earlier comment on a preview video posted a few days earlier, one fan pointed out: "wait you have a studio version of the instrumental :0" to which Terry replied "I-no. No I don't. "
So there you have it guys. Harry Styles was meant to be touring the world with his Billboard chart-topping record but instead he's sitting in his house on a HP laptop leaking music on TikTok. It's confirmed.
Tagged: