Photos courtesy of Khruangbin.
On Mordechai, Khruangbin reimagine its groovy psych-rock
The Texas trio discuss their highly anticipated third album, adding bold new vocals and how bassist Laura Lee became an alt-rock style icon.
Photos courtesy of Khruangbin.
Khruangbin may be one of the streaming era's greatest success stories. Since introducing the world to their groovy, slow-moving, psych-rock music on Bonobo's Late Night Tales compilation in 2014, then following it up a year later with their debut album The Universe Smiles Upon You, the Houston trio has made fans of Virgil Abloh, Wu-Tang Clan and Jay-Z, who was spotted buying the band's sophomore album Con Todo El Mundo in LA. (Hov can be heard rapping over a sample of Khruangbin's "A Hymn" on Jay Electronica's "A.P.I.D.T.A.") But it's the band's global fanbase, captivated by their mix of influences that extends from Thai and Persian funk to Jamaican dub and Japanese city pop, that has bought them far-reaching fame.
On the band's third album, Mordechai, they're hoping those fans will stick with them as they shift gears. Mark Speer's meandering guitar melodies, once the universal language of Khruangbin's mostly instrumental music, now have to contend with vocals — the band took the bold move of adding words from bassist Laura Lee's journals to almost every song. With the exception of "Connaissais De Face," where they sing in French, "Pelota" in Spanish, and lead single "Time (You and I)" where they use a collage of different languages, all band members sing primarily in English.
Mordechai also celebrates Houston, the band's hometown, which thanks to its majority-minority population is one of the most ethnically and culturally diverse cities in America. The opening song — a warm, cosmopolitan, jazz-funk jam called "First Class" — ends with an elated shout-out to "H-town." Khruangbin's origins even extend to Houston's St. John's United Methodist Church, where Beyoncé was once a choir girl (pastor Rudy Rasmus officiated her and Jay Z's wedding), and Speer and drummer Donald "DJ" Johnson used to play in the gospel band.
Speer and Lee's first encounter sounds almost cliché now that Khruangbin has become known for its dubby, faraway psych-rock meditations, but they met in 2007 through a mutual friend, who also happened to be Speer's roommate. Lee, who was studying art history with a focus on Near East art, was over at the house one day when she noticed Speer watching a documentary on Afghan music. She later tracked him down on MySpace and gave him her number. A few weeks later he texted saying "the universe smiles upon you" — a phrase they later adopted for the title of their debut album. They soon became fast friends, on the path to becoming bandmates.
The trio recently spoke to i-D about their new album Mordechai, why they chose to add vocals to their mostly instrumental rock music and Lee's incredible stage outfits.
Laura, I believe many of the lyrics on Mordechai come from your journals. How often do you write, and what form does it normally take?
Laura Lee: The writing is not in poetic or lyrical form at all, it's usually just kind of a mess. I've been making a journal in quarantine; at least one page a day where I just put pen to paper and don't pick it up. In the notebook that I pretty much filled before the vocal recording sessions started, it was very much that, except I had taken a long drive prior to writing, and on the drive I started thinking about different stories and memories that I have and I voice messaged myself, like a prompt. Then when I got back to Houston I wrote all the prompts out on Post-it notes, so that whenever the stories weren't coming I had prompts for them around me. The words that were in my notebook, while in some fashion they made it onto the album, it definitely wasn't verbatim by any stretch of the imagination. We listened song by song to see what ones wanted vocals, or wanted an extra texture, and for those songs I found words, or a sentiment, that fitted the mood or tone of the song. Then as a band we collectively morphed my ramblings into what became the lyrics.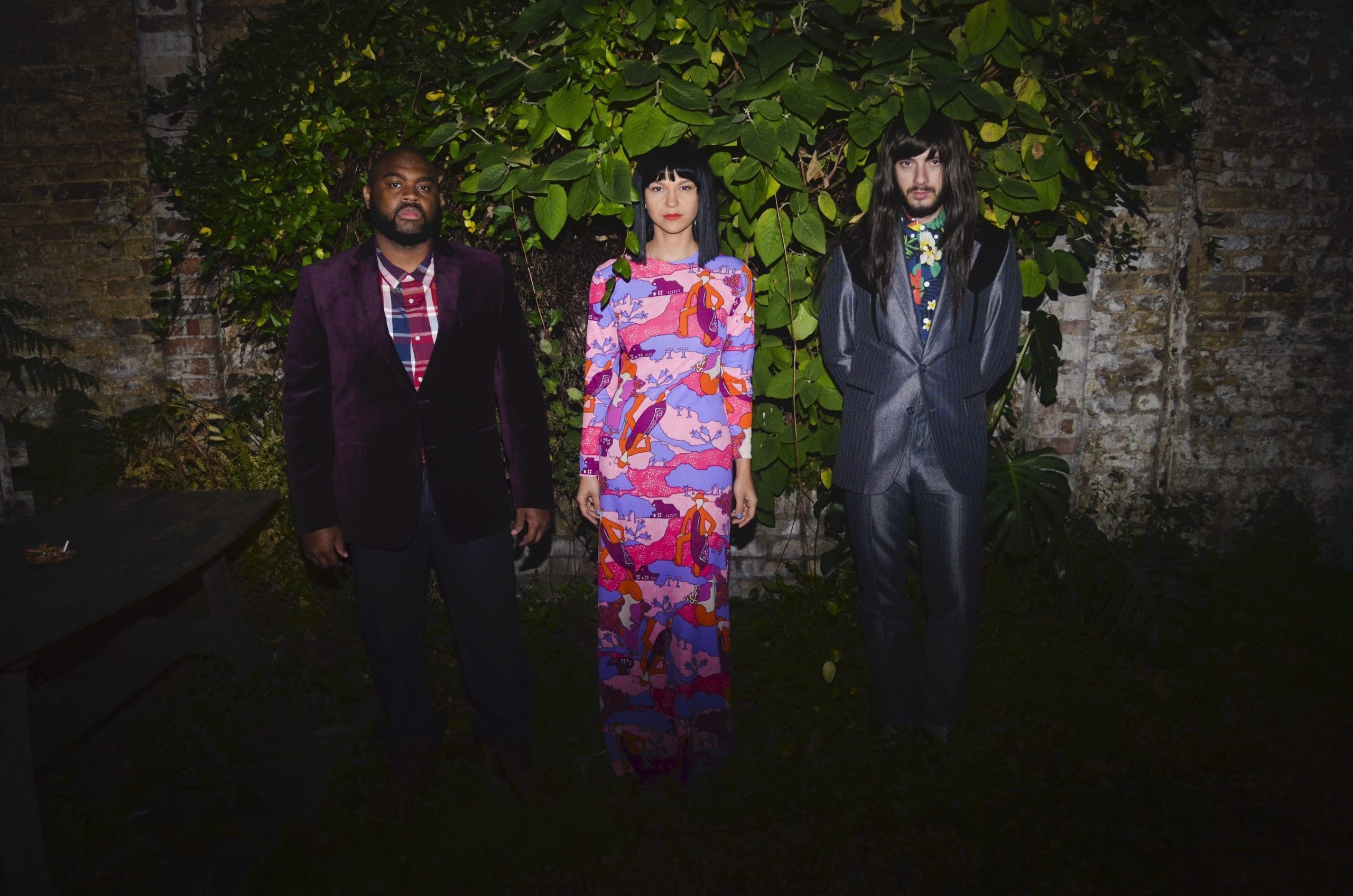 Your first two albums have mostly instrumental songs. Why did you decide to include vocals more prominently on this new one?
Mark Speer: Originally, when we started scheduling time for this record, [management] said you'll have more time than you've ever had to work on this next album, and I thought, awesome! Then they said we're gonna get you in the studio and you can have all this fun afterwards, and I was like, why would I want to make a record like that? That gives me no time to write, it just gives me tons of post production time — it was backward, and I didn't want to do it like that. So, when we went into the barn (the band records all their music in a barn in Burton, TX), we essentially cranked out music as quickly as we could, and I was like, you know what, I'll focus my energy on arranging other things, rather than on my actual guitar melodies. I'll come back and do my guitar melodies later, since we have all this time. So, between recording in the barn to the time we started working on post production, which was about two months, that's when a lot of the ideas for words and vocals developed.
Why did you decide to include multiple languages on this album?
MS: One of the reasons I think our music connects with people is because we play mainly instrumental music, so if there is any band that could, and should, incorporate multiple languages in their work, it should be us. That's not to say that any of us are fluent in any other language other than English, it's just that we were motivated to include these phrases. My direct inspiration for that was from listening to Japanese city pop, which has all these words in Japanese and then a few phrases in English. I like how that sounds, so I thought let's do that on this record.
Your album titles are all very personal — The Universe Smiles Upon You was the first message Mark sent Laura; Con Todo El Mundo is a phrase Laura used to speak with her grandfather. Who is this album named after?
LL: It was a friend who I met last year that was really kind to me. I took a hike with him and his family just before I wrote all the words in the notebook that became the reference material for the lyrical part of the album. He just showed me a really nurturing, lovely day, and I love the sentiment of someone doing something just because it's the right thing to do and not wanting anything in return. The only other time that I had ever heard that word — I knew Mordechai as the hawk in The Royal Tenenbaums. It is one of the only movies that's at the farm where we record. In the movie, Mordechai gets set free and he comes back home, and in my story I was set free and I came back home, so there are some parallels I drew to that. And Wes Anderson, the director, is from Houston, and everybody on our album is from Houston — it was Houston-focussed, it's a theme on the record.
What is it that you find so charming about Houston?
DJ Johnson: There's a lot of things to discover here. It's a city with lots of charm, with lots of art and culture. It's home.
MS: The things I miss most when I'm not there include the heat, the humidity, my friends, those streets that have the trees hanging over them, the glorious amounts of food, the variety of food and the proximity to quite possibly one of the nastiest beaches in the world.
LL: It's weird that it's known for food because I don't think there's any particular restaurant that is famous. It's not necessarily a place where there's new food being made, there's just so many cultures, so there's legit food from different places. When people think of Texas they immediately go to BBQ, but right now when I was thinking about my favorite food in Houston, BBQ didn't even come up. But obviously there is some amazing BBQ to be had.
Laura, you are styled for the stage by Megan Boyes and you've worn a stunning array of different stage outfits. How did the two of you come to work together?
LL: I met her at a Halloween party at the Pickle Factory in East London. I was taking selfies with a friend of mine in the bathroom and Megan commented on my hair. I made the bold statement when we started playing that I would wear a different outfit for every show, and that tour with Father John Misty had 36 shows in two months and I did not have 36 stage outfits. So, when I met her it was a very serendipitous situation, and she has been helping me ever since. That first tour nobody really knew who Khruangbin was, so she was really having to fight to get stuff lent to us. Pretty much for every tour, I get three or four giant boxes of clothes, and she and I have a really cool relationship where she's my stylist, but she doesn't pick out my outfits. I just get a box of clothes and I'm free to play with them however I like. Sometimes I've actually worn things backwards or inside out because we work with a lot of recent graduates and up and coming designers where [the fashion] is still pretty wild.
Did you end up having thirty six different outfits for the Father John Misty tour?
LL: Oh yeah, I have never worn the same outfit twice. And, after seeing Elton John a couple of times a few years ago, I have now graduated to wearing two outfits per show. There are so many clothes in the world that deserve to be seen and I feel really happy to play a part in that. As much as it would be convenient to wear a uniform on stage, it's important to me to draw attention to all these amazing artists that are making clothes.