Watch Harry Styles in the first trailer for My Policeman
Here's your best look yet at the controversial British queer movie.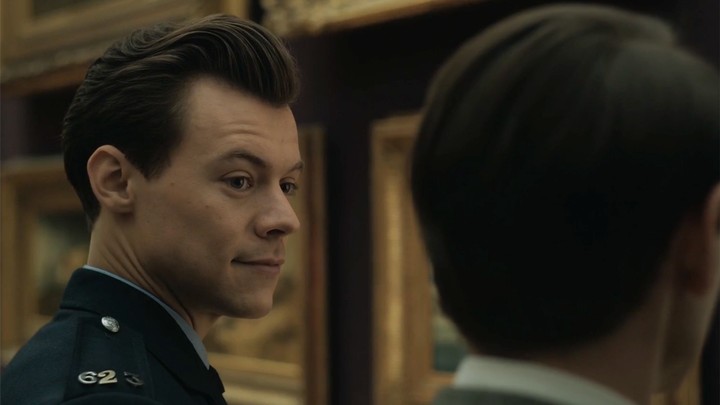 After what feels like years of waiting, My Policeman -- the movie we have unofficially dubbed "Harry Styles' bi cop movie starring Emma Corrin as the third wheel" -- has finally got its first trailer, ahead of being released in US and UK cinemas on 21 October 2022. It will be the one of two Harry Styles movies we get this year, preceded by the steamy yet creepy Don't Worry Darling in September.
The movie, produced by Amazon Studios, has become one of the most anticipated British projects of the year ahead, bringing together some of the country's most promising screen talents. But what's the movie about? Where's it being filmed? And for the love of god when can we see Harry Styles snog another man with our own two eyes? All of this and more below.
What's the plot of My Policeman?
Based on a 2012 book by author Bethan Roberts, My Policeman is a decades-spanning story that focuses on the life of Marion and town policeman Tom, a lovestruck couple living in 1950s Brighton. Then, their lives are sent into a tailspin with the arrival of Patrick. He's a handsome older gentleman, enamoured by Tom, and together the trio live shielding their relationship from a homophobic society until the dynamic reaches a complex breaking point. The story jumps between the 1990s and the 1950s, focusing on the same characters. The book predominantly focuses on Patrick's perspective, so it's thought the script may have been written to focus on Marion and Tom, considering Emma and Harry are the big casting choices.
Who's in the cast?
Alongside Emma Corrin, who plays Marion, and Harry, who plays Tom Burgess, My Policeman stars Luther and The Last Kingdom actor David Dawson — not Louis Tomlinson as Wikipedia currently states (nice try Larries) — as Patrick. The older version of Emma's character will be played by Gina McKee, star of Notting Hill and Black Narcissus. Homeland star Linus Roache will play the older version of Harry's character, while Rupert Everett has signed on to star as the older Patrick. As yet, no other actors have been announced, but it looks like the film's cast will consist of a small ensemble anyway.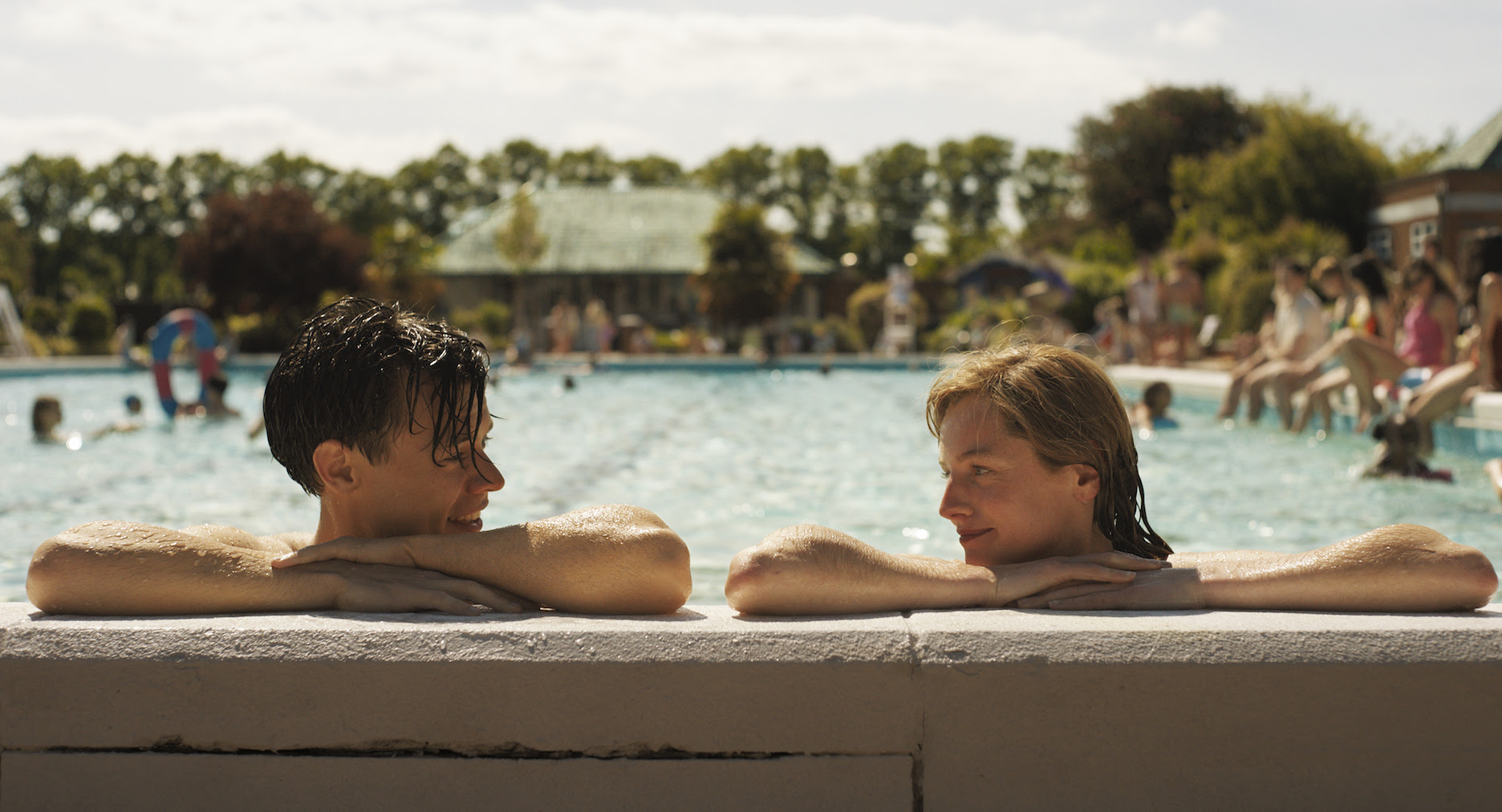 Is there a trailer?
Yes! The teaser trailer for the film dropped today, giving us our first proper look at the film's mood. In it, we see Tom and Patrick discuss J.M.W. Turner's 'Stormy Sea with Blazing Wreck' in a Brighton art gallery. "So how does it make you feel?" Patrick asks Tom. "You can sense the waves," Tom replies. "You know how strong they are, like swimming in rough surf."
As we watch clips of the complicated three-way relationship unfold, with scenes by a lido, cars careering through woodland, and steamy encounters between Tom and Patrick, Patrick replies, forebodingly: "You feel like they could crush you… take you under. You just have to let it take hold of you."
Earlier, we got two newly-released images depict Patrick showing Marion and Tom some art at a grand exhibition, Harry looking like a dapper 50s king in a tie and knitted sweater. Another shows Tom and Marion lovingly staring into each other's eyes as they rest by the edge of the lido.
And who's behind the camera?
Perhaps the biggest selling point for the movie's talent has been the screenplay. The book's adaptation was written by Ron Nyswaner, who was nominated for an Oscar for his Philadelphia script in 1994. More recently, he's been writing on Homeland for TV. This will be his first major movie in six years. Theatre director Michael Grandage will be making his big screen debut as the movie's director, while Caroline Levy will be the executive producer. Having worked on The Lighthouse and Colette, she most recently wrapped work on The Nightingale, a war story starring Dakota and Elle Fanning. On cinematography duties is Ben Davies, who shot The Eternals with Chloé Zhao as well as Three Billboards Outside Ebbing, Missouri.
Is there really going to be nudity in My Policeman?
Tabloid rumours have done the rounds suggesting that Harry Styles will have sex scenes involving nudity in the film. A so-called "film insider" told The Sun that "Not much is going to be left to the imagination. Harry is throwing himself into this new role and is really excited about the challenge, even though it's a daunting task.
A recent interview with Capital FM's Roman Kemp is more illuminating. Speaking about My Policeman and his upcoming sexy psycho-thriller Don't Worry Darling, Harry confirmed there will be "saucy scenes" in both. "I don't know if you can watch either with your parents," he said. "I'm gonna have to do another one."
Roman also asked Harry if, like the cast of Bridgerton, he used a "deflated netball" as an assist. Harry replied: "I've personally had no experience with a netball. It depends very much on who you're working with and what the situation is. All I can say, from my experience, is that we were very lucky to have a trusting relationship with the people we were working with and that came first." Harry continued. "It's me and you and we trust each other, and at any point we can stop whenever." He concluded, "I'd never done that before," before adding, "on camera at least." Harry, you scoundrel!
What's the age rating then?
According to documents obtained by Harry Styles Daily and Harry Styles Updates, the MPA have given My Policeman an R-rating for "sexual content."
Where is My Policeman filming and when?
My Policeman filmed in the summer of 2021 in Brighton and London. Based on paparazzi photos of Harry in London and reports by FilmUpdates, it's thought shooting has kicked off in the capital and will move to Brighton at a later date.
Did any photos from the set of My Policeman leak?
Short answer: yes, and lots of them. Just when you thought House of Gucci was the only movie you'd see every scene of pre-release, My Policeman's filming moved to Brighton and the stans caught on. A mix of paparazzi shots and fan photos have been released onto the internet alongside video too. We got our first look at his policeman get-up (ACAB still applies, sorry). And then some previews of his scenes with Emma Corrin, including one in which the pair kiss, courtesy of TikTok-using Harry stans who have taken it upon themselves to document the whole process of filming.
One girl on TikTok even 'storytimed' her realisation that Harry was in Brighton from the moment she'd learned of his arrival all the way through to seeing him live and in the flesh on set.
Why do the clapperboards say Wakefield?
In order to throw stans off the scent of shooting locations, many high profile movies (or those with starry casts, like My Policeman) will adopt secret working titles during filming. By the looks of the paparazzi shots, it seems like My Policeman is shooting under the title Wakefield.
Former Harry collaborator Christopher Nolan does this a lot, too. Dunkirk was shot under the title Bodega Bay; The Dark Knight used Rory's First Kiss.
When is it being released?
You can watch the bisexual Harry Styles fantasy you've been manifesting since you were a 13-year-old Directioner when it hits UK and US cinemas on 21 October 2022, before heading to Amazon Prime to stream globally from 4 November 2022.
Tagged: