The curious rise of botched plastic surgery videos
When life gives you a bad boob job, what do you do? If you're an influencer, you make a vlog about it, obviously.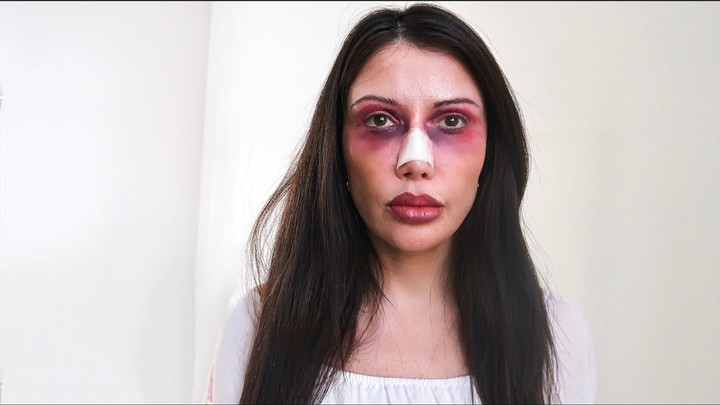 "Ever wonder what botched Botox looks like? I'll show you," wrote Whitney Buha on her March 15 TikTok upload unveiling her own Botox gone wrong. Following a routine Botox injection, the Chicago-based lifestyle blogger and influencer experienced an extreme case of ptosis on her left eye, with her right eye opening abnormally wide in compensation.
That clip has since garnered 2.3 million views. Buha followed up the initial reveal with videos throughout her Instagram and TikTok accounts detailing her months-long return to normal, some similarly lighthearted in tone, others offering more detailed explanations of what went exactly wrong and what has aided her recovery, including an IGTV with nurse practitioner and injector Brittony Croasdell.
"I wasn't really sure what to do at first, because I could tell that this wasn't going to go away quickly just based on the conversations I'd had with professionals in the field," Buha says. She had discussed Botox in the past on her blog, but her content is more focused on topics like home decor and fashion tips rather than plastic surgery. "I couldn't hide my face forever, so I might as well just kind of tackle the situation and tell everybody what happened."
Social media has often been credited -- or criticised, depending who you ask -- with normalising plastic surgery and cosmetic procedures. But plastic surgery, like any medical procedure, comes with inherent risks, ranging from mild ambivalence about the results to serious physical injury. Depending on their demographic, influencers can face some degree of shame when sharing that a procedure has left them with less than desirable results. But acknowledging when a procedure has gone wrong can also help craft a more authentic connection with audiences -- an increasingly important commodity in social media, as much as flawless skin or aspirational vacation photos.
"We need to remember that the biggest draw factor is that [influencers] are not traditional celebrities," says Dr. Crystal Abidin, an anthropologist and ethnographer, and associate professor at Perth's Curtin University. "And so the mainstay of the attraction in craft has always been to remain ordinary, and connected with the audiences. So talking about the low light view, talking about their actual struggles, is what keeps people attracted to them."
Such vulnerability is not always easy. "People don't like to be wrong," says YouTuber Lorry Hill of the reticence of many to share their negative experiences with plastic surgery. Hill's channel is primarily dedicated to detailing the speculated plastic surgeries and cosmetic procedures celebrities like Bella Hadid or Hailey Bieber have allegedly had -- not to shame those celebrities or promote those procedures, but to acknowledge the amount of work (and money) it takes to achieve that look. She is also open about her own procedures, including her difficult experience with rhinoplasties, and has created commentary videos on other influencers' procedures, like Cristina Villegas' similarly botched nose job.
"My first surgery on my nose left me dissatisfied, and you don't see that a lot. And then even my second surgery left me dissatisfied and that sent me into a loop of surgery-induced body dysmorphia," Lorry says. But revision surgeries are extremely common with rhinoplasties, she notes. "I did finally get the result I was looking for and I wanted to share that with people, especially the people who were depressed over getting a bad result, that there's definitely hope."
While videos like Buha's or Hill's that share a more nuanced look at plastic surgery might be a new phenomenon in the west, Abidin notes that Asian influencers — like PeachMilky and sunnydahye — have shared such content for years. That's in part because in many Asian countries, plastic surgery is seen as a pragmatic decision to improve one's job or romantic prospects for men and women alike, in contrast to western countries where it can still be stigmatised as vain, frivolous and highly feminine.
Going back as far as 2009, sponsored plastic surgery trips to Korea or Japan were common for influencers in Southeast Asia, who were in fact encouraged to share the difficult aspects of their procedures, Abidin says. "They had in the contract clauses where they could actually talk about the pain of recovery, any regrets they've had, including at some times follow up procedures or small augmentations promised by the clinic as part of their customer service assurance for other clients in general. So talking about the less than perfect experiences is already built into their contract at that time as a norm."
Talking about the plastic surgery process shares similar qualities with other genres of social media uploads popular in Asia, she notes, such as influencers showing how they pose to obtain a visible thigh gap, or posting videos removing various layers of filters. "All of these fall under the umbrella of influencers trying to dispel the myth that being beautiful, drop dead gorgeous, is a natural endeavour," Abidin says.
But as sharing plastic surgery becomes more normalised across western social media, so too will more ambivalent feelings about plastic surgery. And not all influencers who share negative experiences have had outright "botched" procedures. Some, like Gabi DeMartino, or Eleanor Barnes, who goes by the handle Snitchery, have simply felt a change of heart. After receiving many facial fillers, which are particularly popular at the moment, both have detailed their decisions to dissolve those fillers or simply stop obtaining them. Doing so shows how even as influencers might be responsible for perpetuating certain beauty trends, they are not exempt from the pressure to meet such standards. And as evidenced by the many supportive comments on those videos, acknowledging that point endears them to their viewers.
The difference of course between influencers and the average social media user is that the former wields a great degree of power. For Hill, disclosing plastic surgery, whether it's positive or negative, is the responsible thing to do for those with a platform. "If you're strong enough to deal with the negative comments, you should definitely talk about it," she says. "Especially if your audience is young, you don't want them to think that you obtained something naturally, because they're going to try to obtain it naturally and then they're going to not be able to do it."
But influencers or not, all social media users are constantly negotiating what parts of their life to share and what not to share, whether it's to maintain a perfectly crafted image or protect a semblance of privacy. "There's things that I haven't shared that have been difficult," says Buha, who has also written online about painful moments in her life such as a miscarriage. "But I will say that when I've shared personal things, that's when I've received the most responses and the most support. So it's very apparent that people really appreciate that transparency, and that honesty of who you really are behind the screen."
The novelty of revealing a "new face" or a plastic surgery mishap might provide for an instant viral moment, but it is increasingly just another part of life. "Influencers are generally humans who are storytellers," says Abidin. "And so for those of them who are in the lifestyle genre, where their content is dependent on them narrating what they've gone through, what they're doing next, talking about plastic surgery procedures, and all of the nitty gritty, it really is no different from an influencer going to a very hot club, behind the scenes of their homemaking, their wedding planning, being frustrated over placemats or wedding invites."
Follow i-D on Instagram and TikTok for more on beauty and internet culture.
Tagged: