Images courtesy of Chanel, Miu Miu and AZ Factory
The best of Paris Fashion Week SS22: Chanel, Miu Miu and AZ Factory
Chanel threw it back to the 90s, Miuccia Prada said 'Free Britney!' and the fashion industry celebrated the life and work of Alber Elbaz.
Images courtesy of Chanel, Miu Miu and AZ Factory
Bonjour, mes amours! Quelle merveille, Paris Fashion Week est de retour! The grande dame of fashion showcases is back, bolder and better than ever for SS22. As fashion's travelling circus rolls into its biggest, busiest stretch, we'll be bringing you the lowdowns on the chicest collections, live (well, almost) from the dazzling lights of la ville lumière. Alongside blurbs for our standalone reviews on the big hitters (all the tea on your Chanels, Diors and Vuittons), we'll also be feeding you the 411 on shows and presentations by the schedule's most exciting independent names. If you can barely contain yourself at the very thought of that, just imagine how we feel! We shan't get too ahead of ourselves though, this is a marathon and not a sprint. Now, on your marks, get set… GO!
AZ Factory
Before he passed away in April, Alber Elbaz was in the process of introducing AZ Factory to the world, his first namesake fashion house. But it was difficult to process the loss of the designer at the time, given global lockdown restrictions and a lack of IRL fashion weeks, which is why, on the final night of Paris Fashion Week, the industry gathered to celebrate the life and career of the legendary designer. Alber's partner, Alex Koo, orchestrated a spectacular roster of 45 designers from around the world as well as the design team at AZ Factory to each create a look dedicated to the designer and his mantra, "Love Brings Love". On display were looks, many of which riffed on the themes of love, by designers including Dries van Noten, Demna Gvasalia, Olivier Rousteing, Rick Owens, Iris van Herpen, Pierpaolo Piccioili, Rei Kawakubo, Pieter Mulier, Maria Grazia Chiuri, and Jean Paul Gaultier.
Alber's design team also orchestrated a tribute to his legacy, recreating looks from his years at Lanvin, finishing with Amber Valetta in a jacket cut from the same pattern as the one his team had originally created for him, as well as his signature satin bow tie, the look's hem embroidered with his distinctive illustrations of his joyous designs. But while many in the audience were brought to tears, the mood of the show was of celebration. Soundtracked by Love Train, the finale was a vast curtain dropping to reveal some of the world's most recognisable models on a scaffolding structure, each wearing the looks designed by Alber's peers. Heart-shaped confetti exploded into the air, and the audience gathered after the show to raise a glass and dance in memory of one of fashion's most beloved designers. OA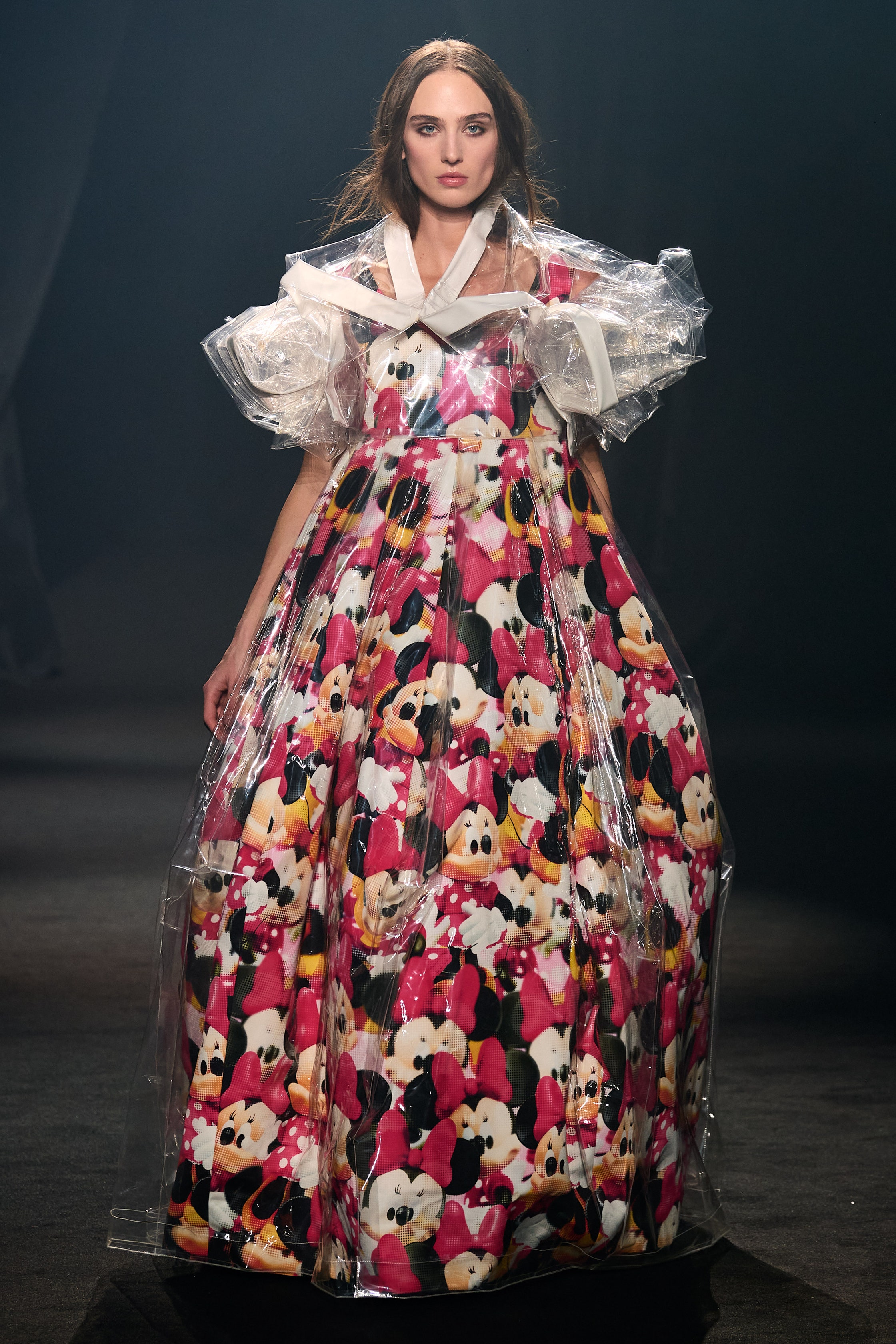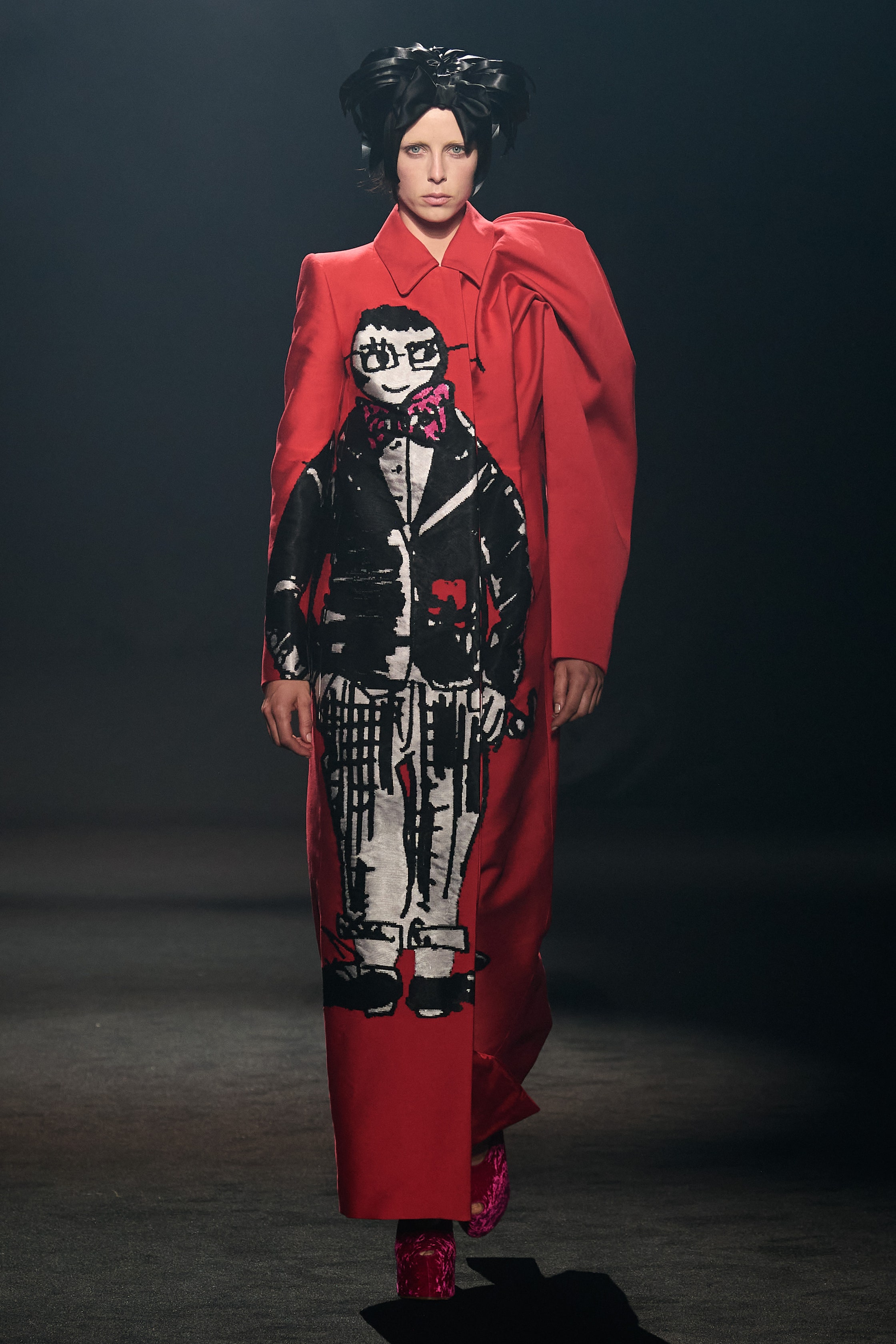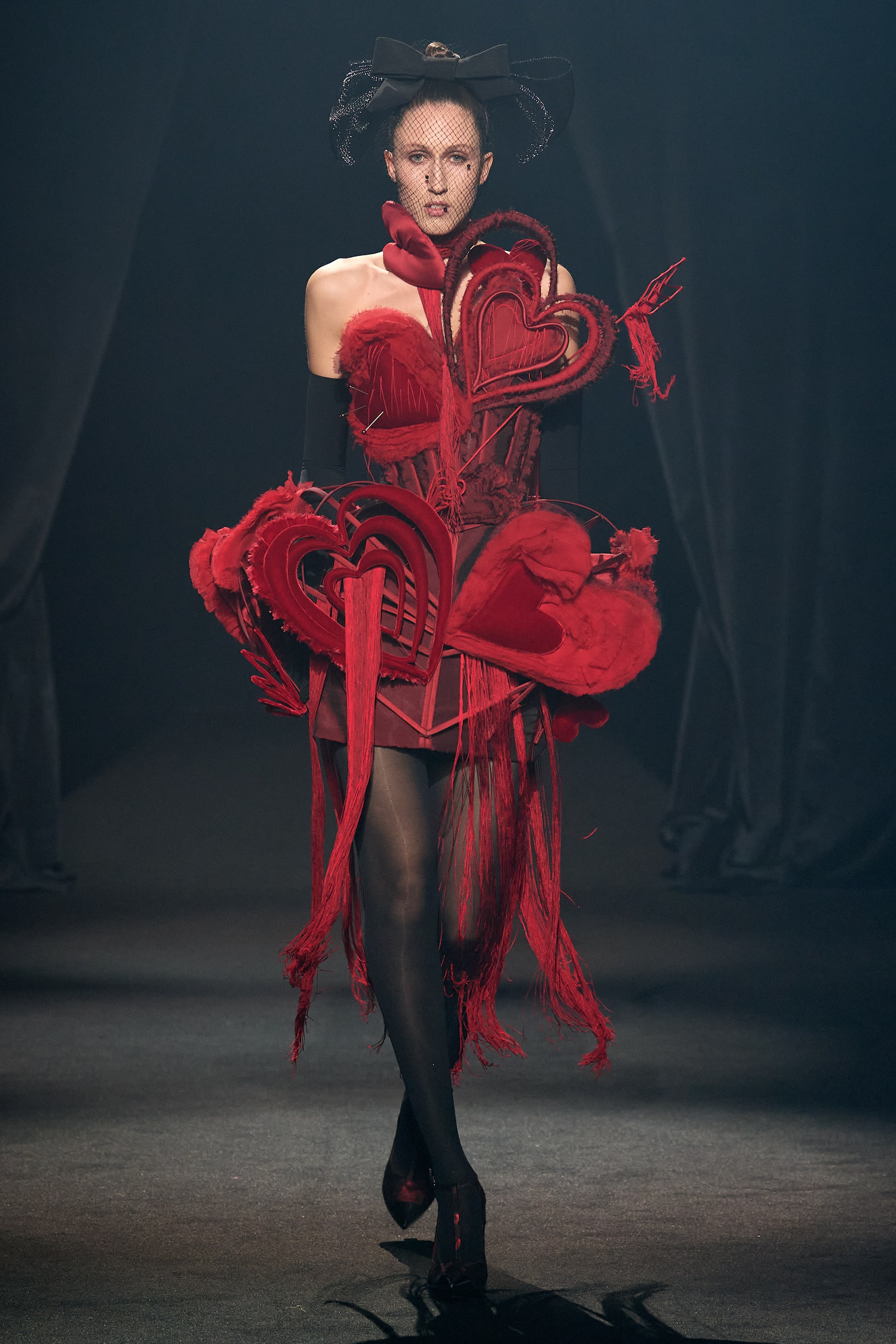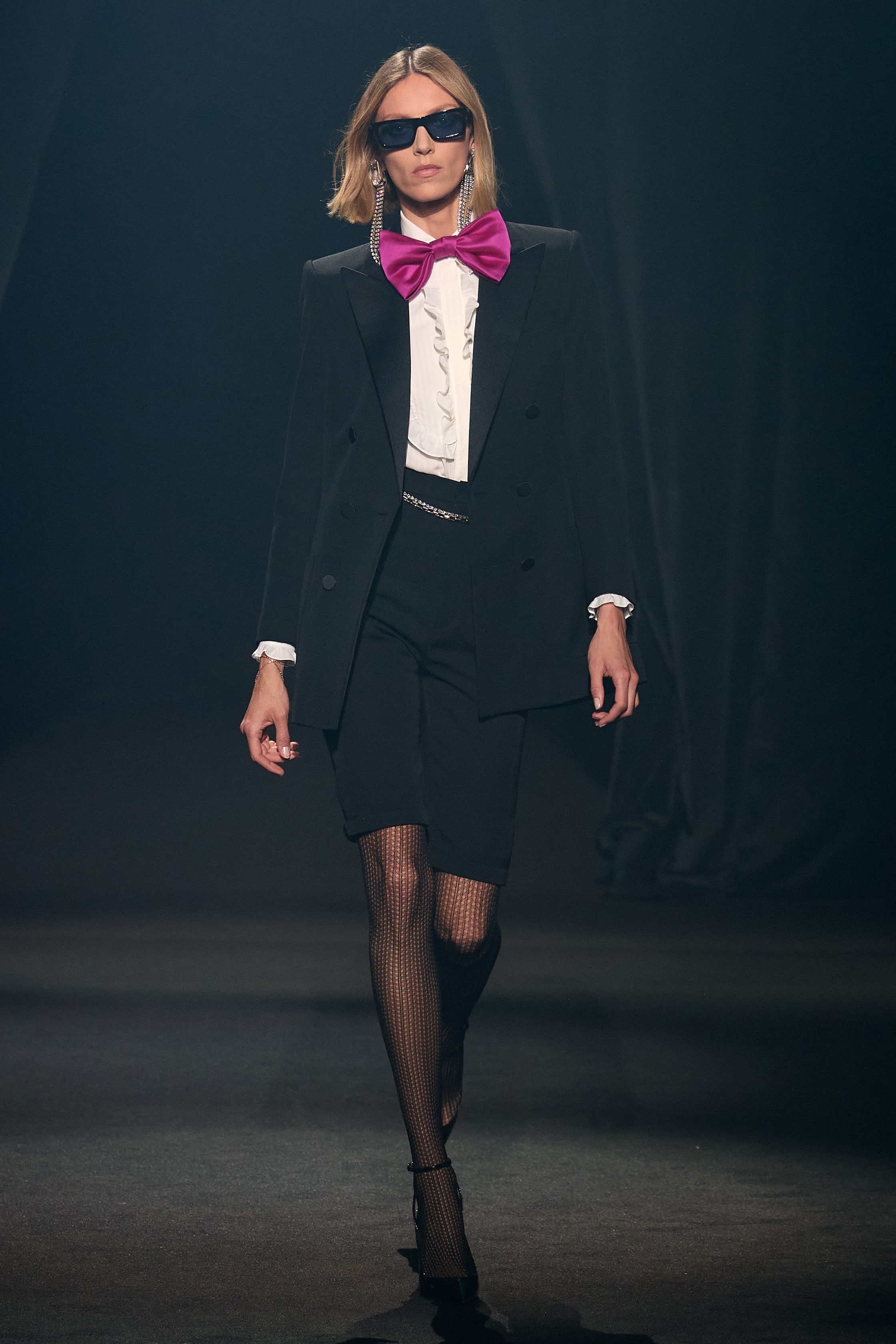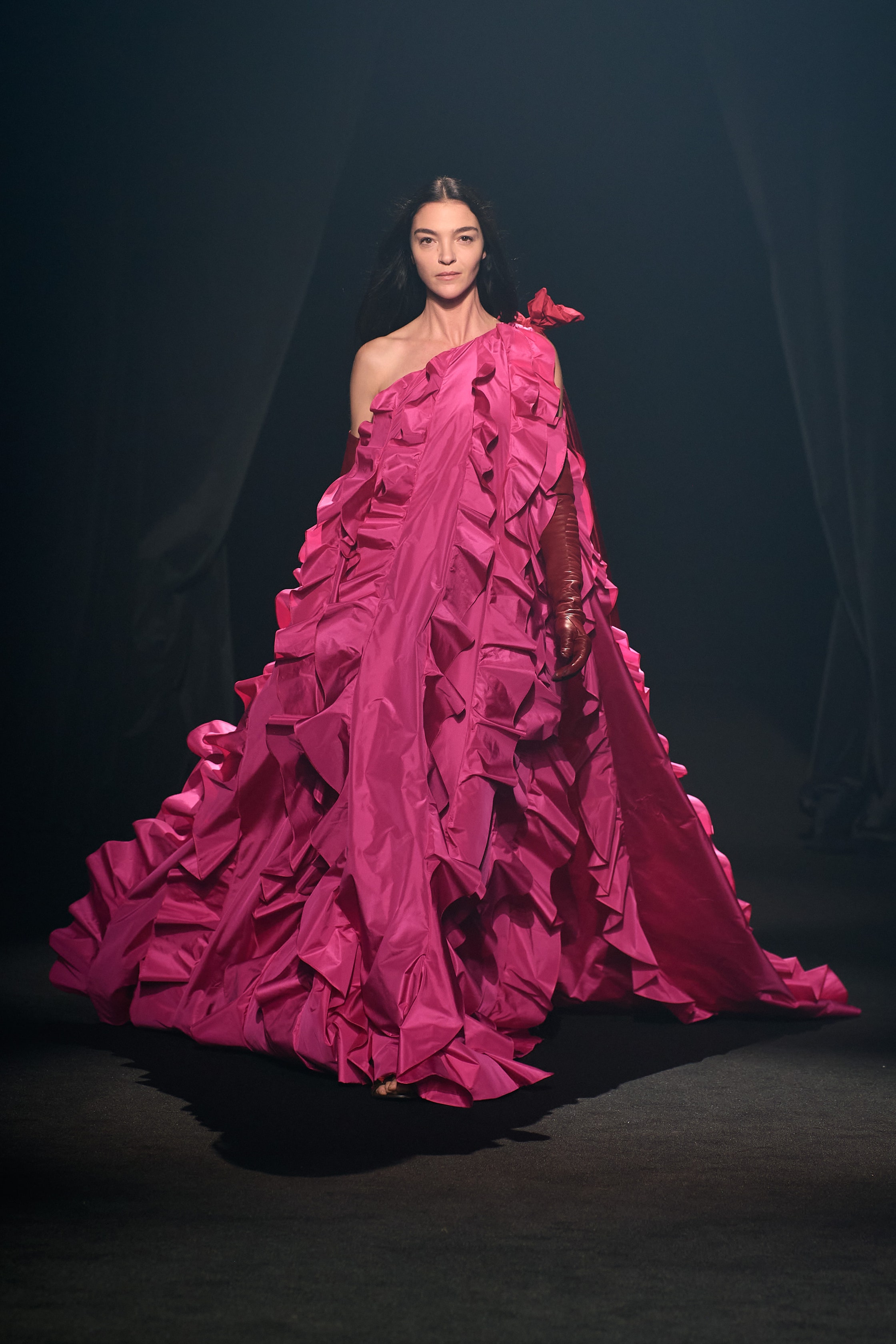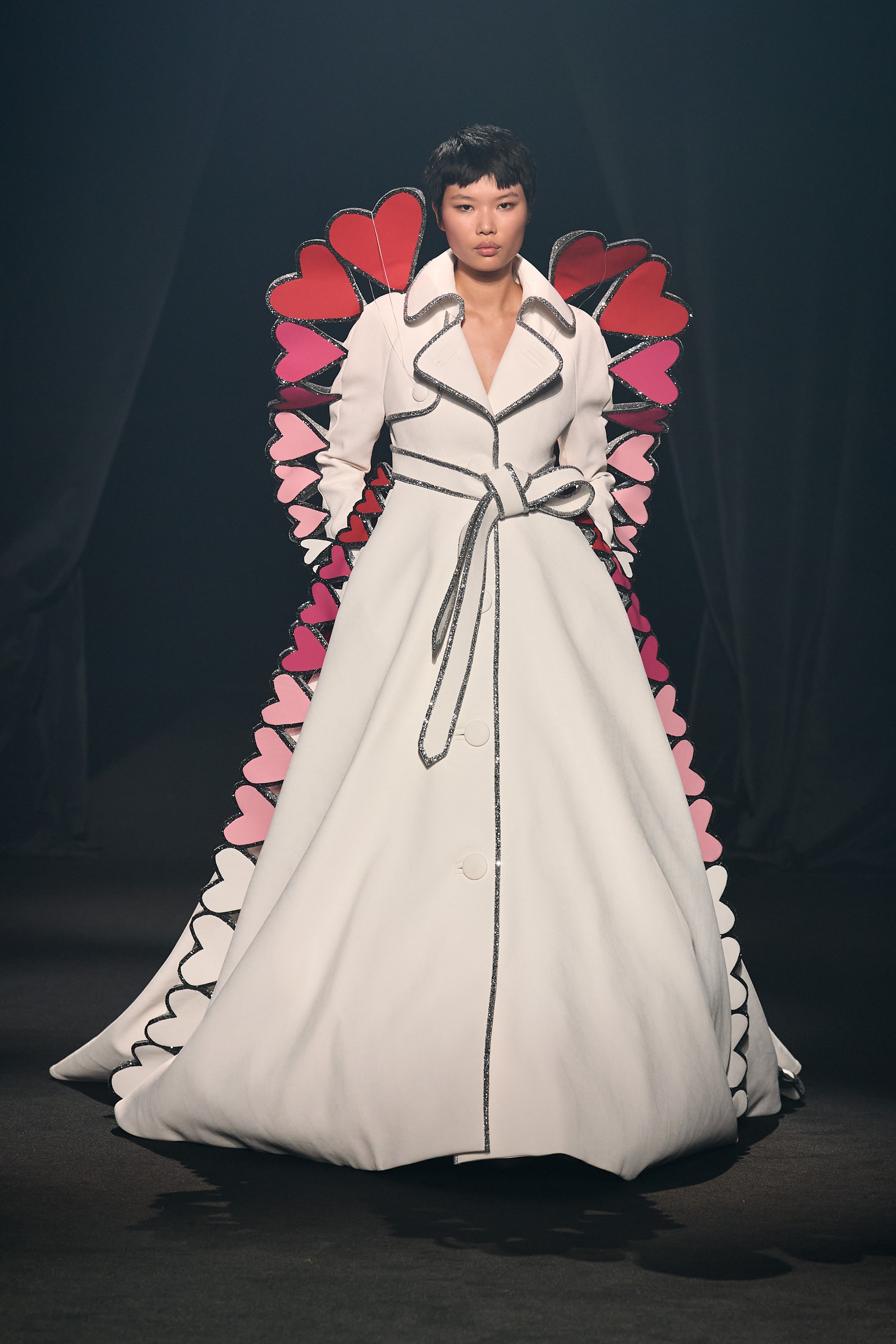 Miu Miu
With her latest Miu Miu outing, Miuccia Prada broke the rules of schoolyard uniforms and set a detention-worthy curriculum of very sexy, highly exposed uniforms. Think Britney Spears in the …Baby One More Time video, pleated skirts and crisp cotton shirts hiked up to reveal as much skin as possible. Belts became bandeau tops à la Jodie Marsh, cable-knit sweaters were shredded to bralette proportions à la Britney, and waists were so low-slung that underwear became outerwear. But there's more that meets the eye than Y2K-flavoured Gen-Z bait (as if Mrs P would ever!)… Read our full review for everything you need to know about Miu Miu's most provocative show in recent memory. OA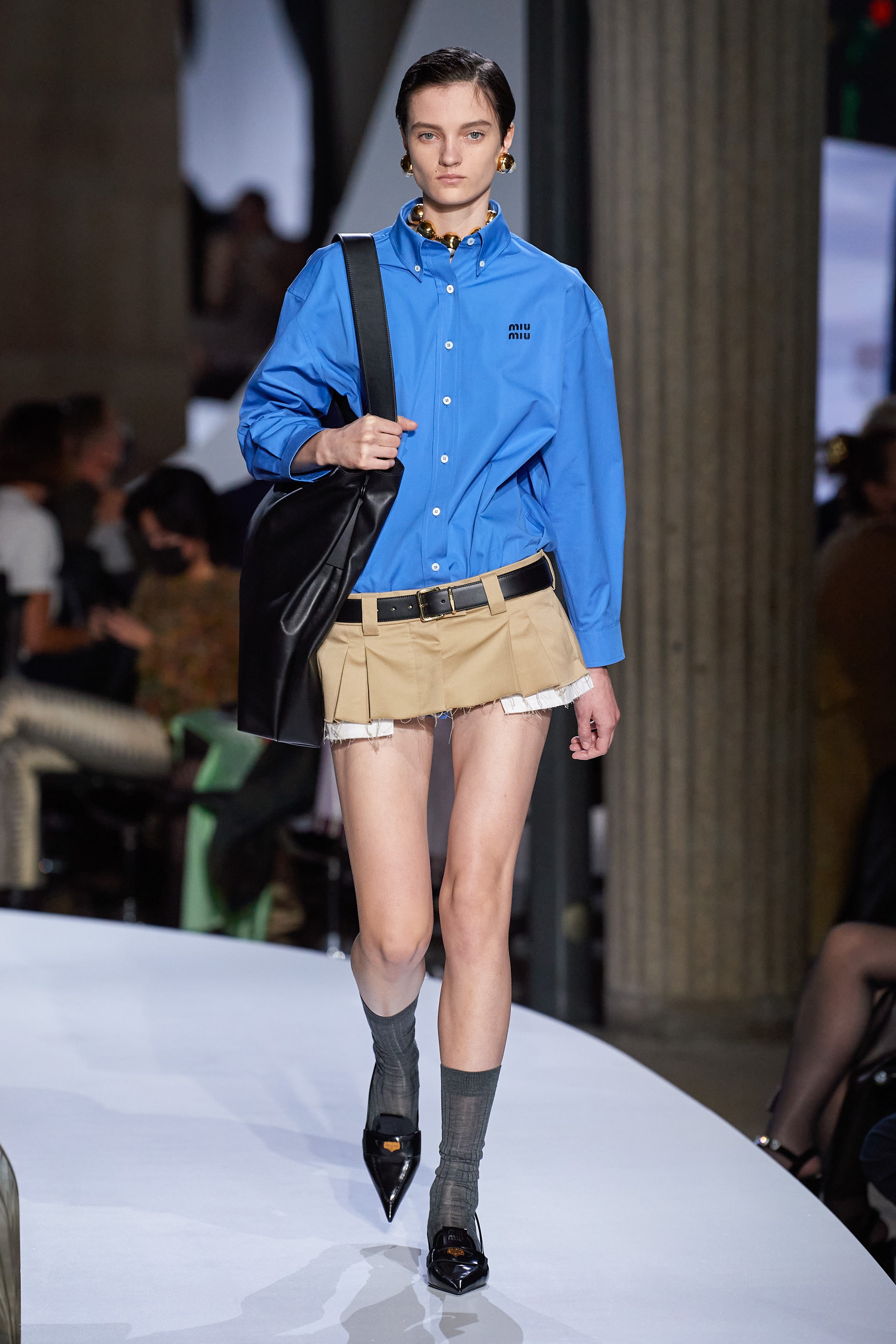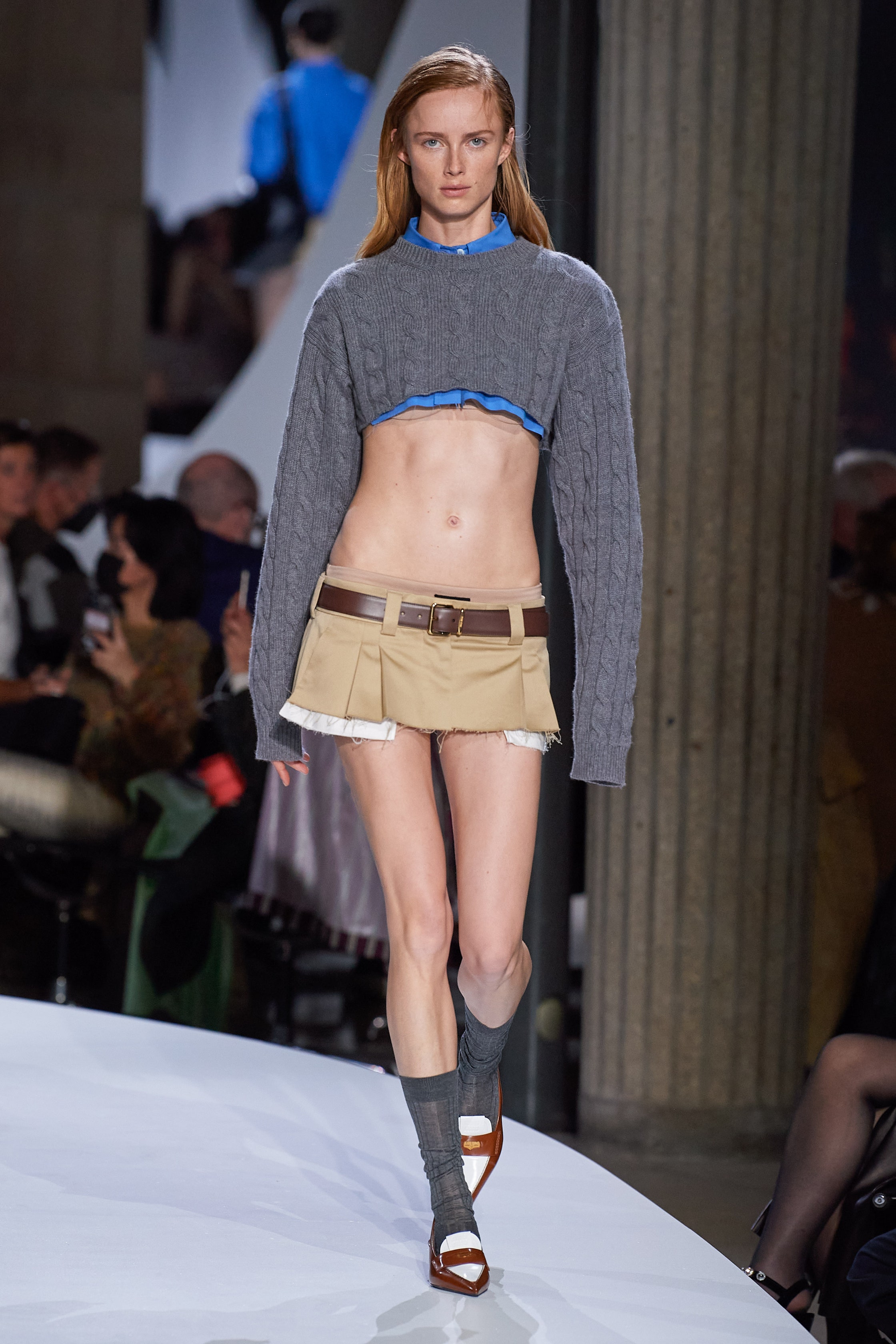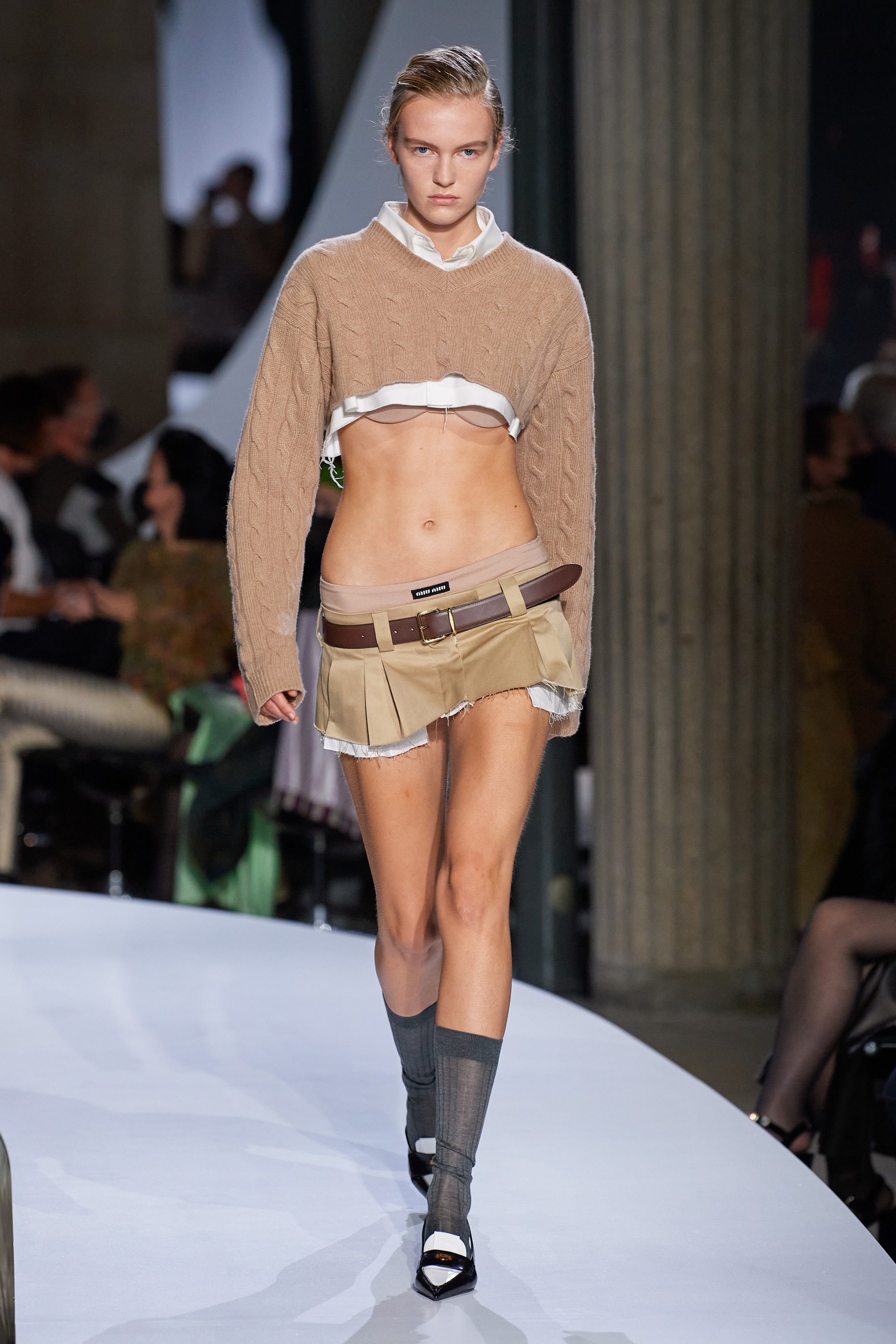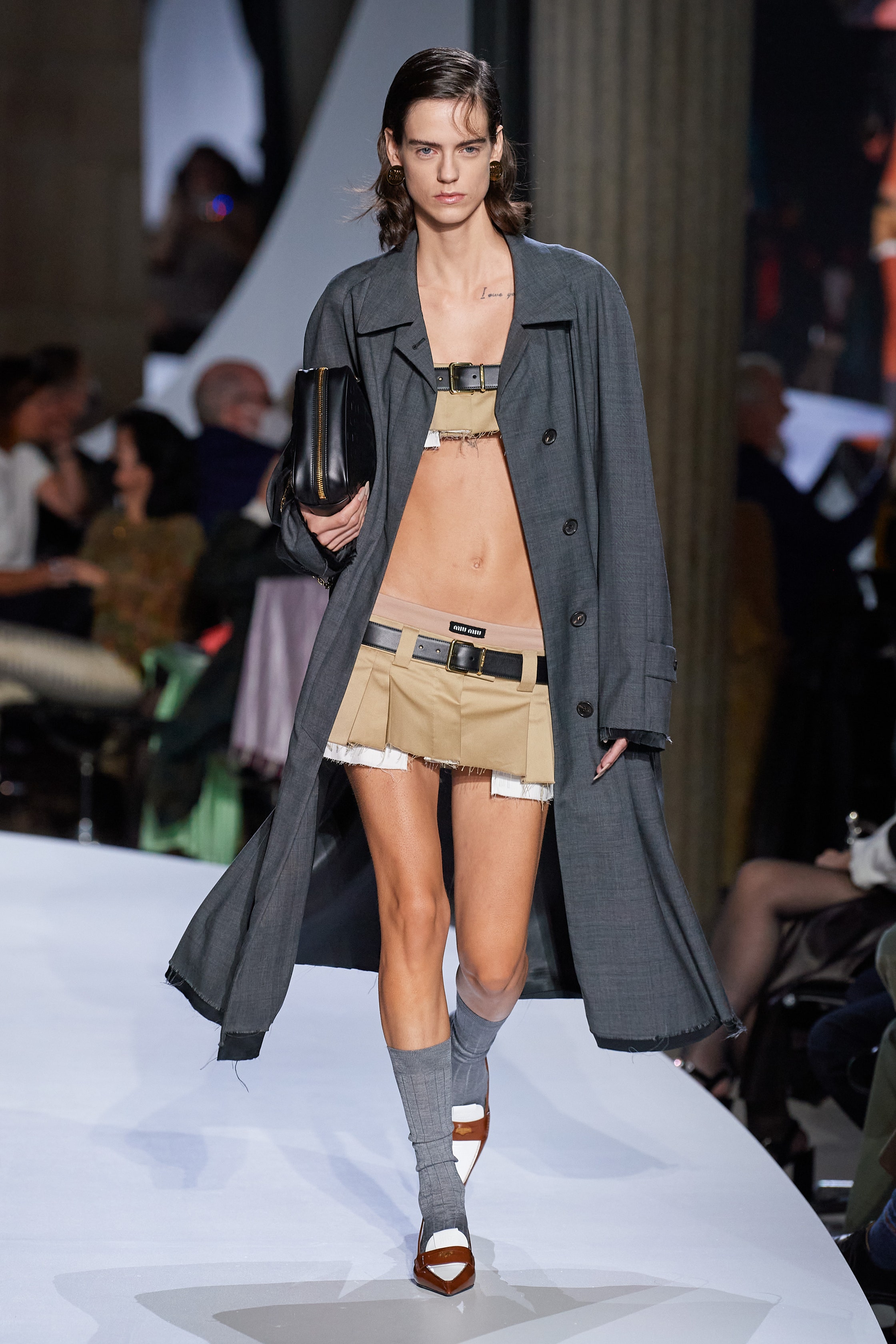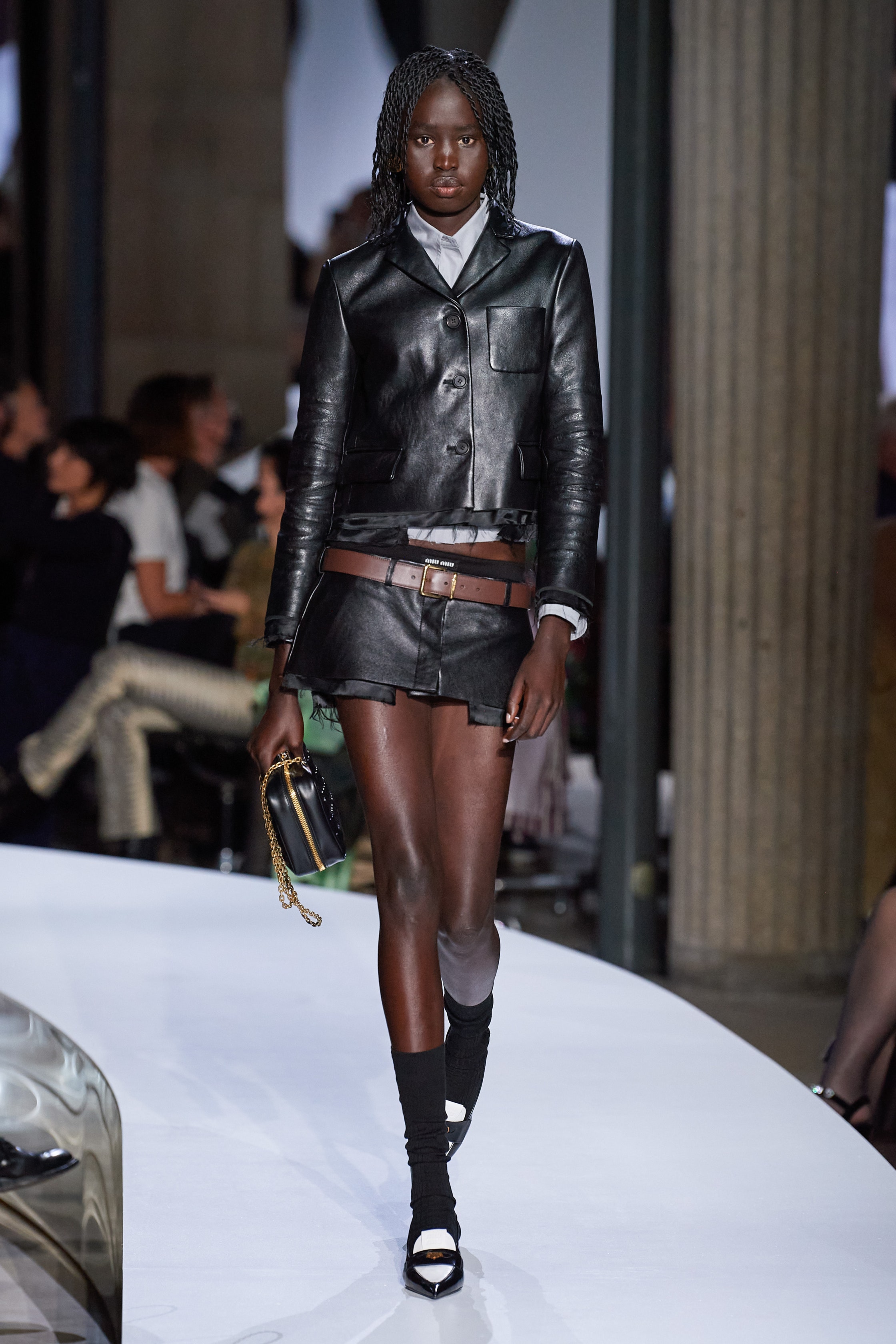 Chanel
For a generation of young fashion fans, there's nothing like nostalgically delving into videos of 80s and 90s fashion shows — especially Chanel's. Something about them, at least with hindsight, seems that bit more magical, and a lot more mythical, than the here and now. So, when we arrived at Chanel yesterday morning, for the first time in a long time, the set put a smile on everyone's face — this was a throwback to the Golden Age of high-camp fashion shows. Photographers lined the elevated catwalk, with Vivienne Rohner looking out from behind a Nikon on the backdrop. They blocked the view of the front row. K-pop sensation Jennie sat with five members of her glamsquad fixing her silky hair every five seconds. And then, as the clamour was at its most intense, the lights went off and the first girl came out in a monochromatic swimsuit laden with gold chains, costume jewellery and Chanel bags (Kristen Stewart arrived late amid the chaos, only adding to the fabulously frenzied atmosphere). That first look set the tone for the show — this was Virginie's most playful collection yet. Here's everything you need to know. OA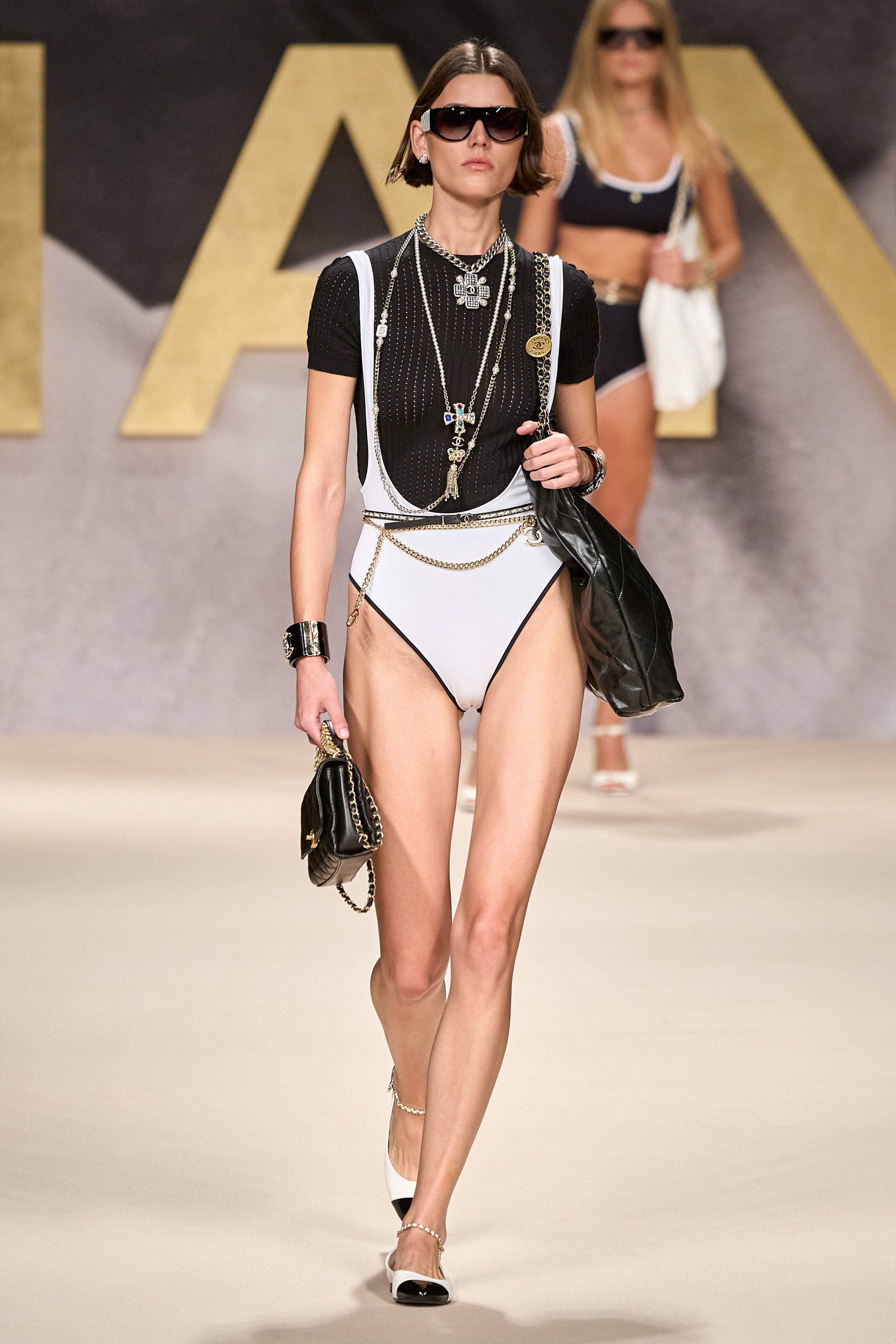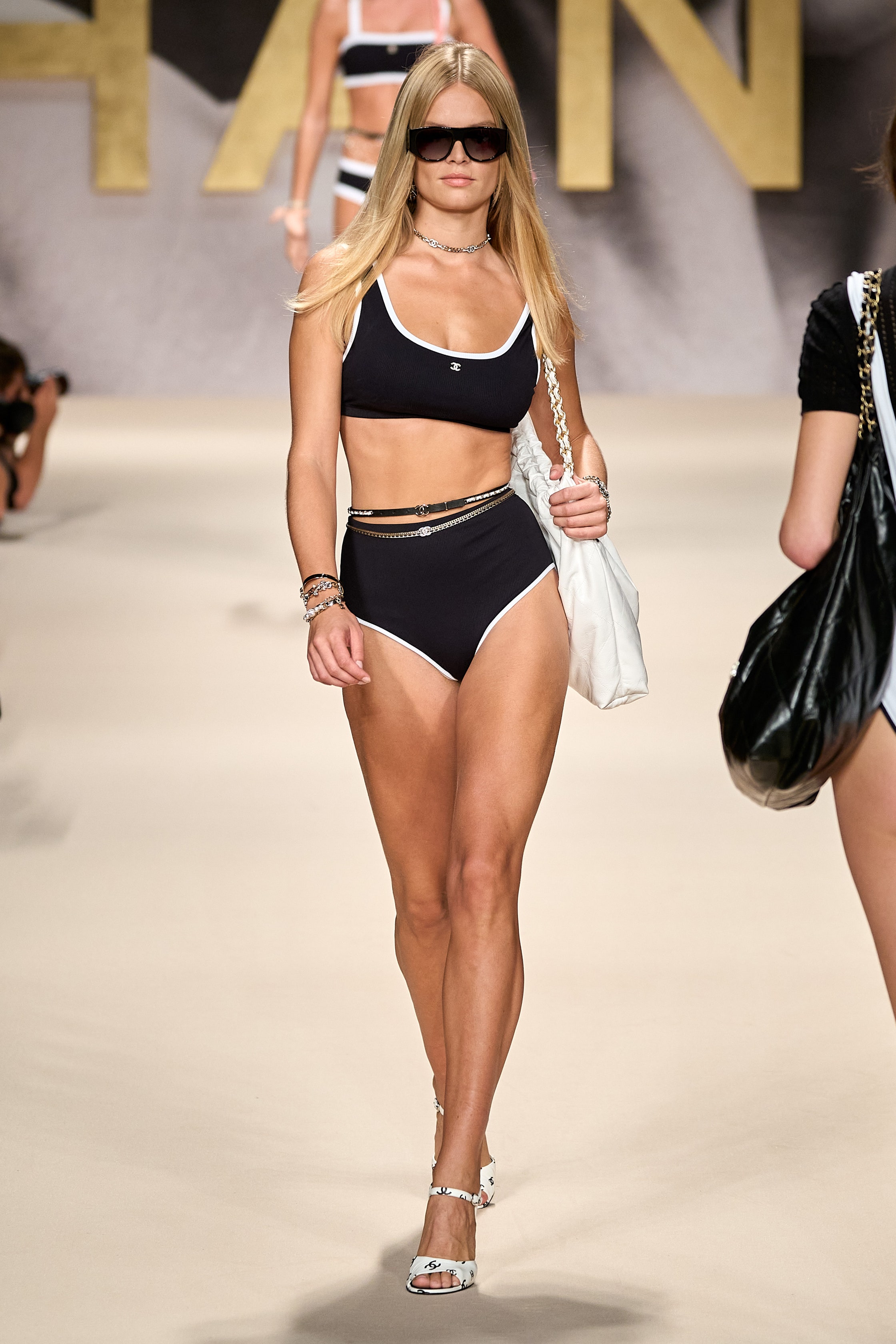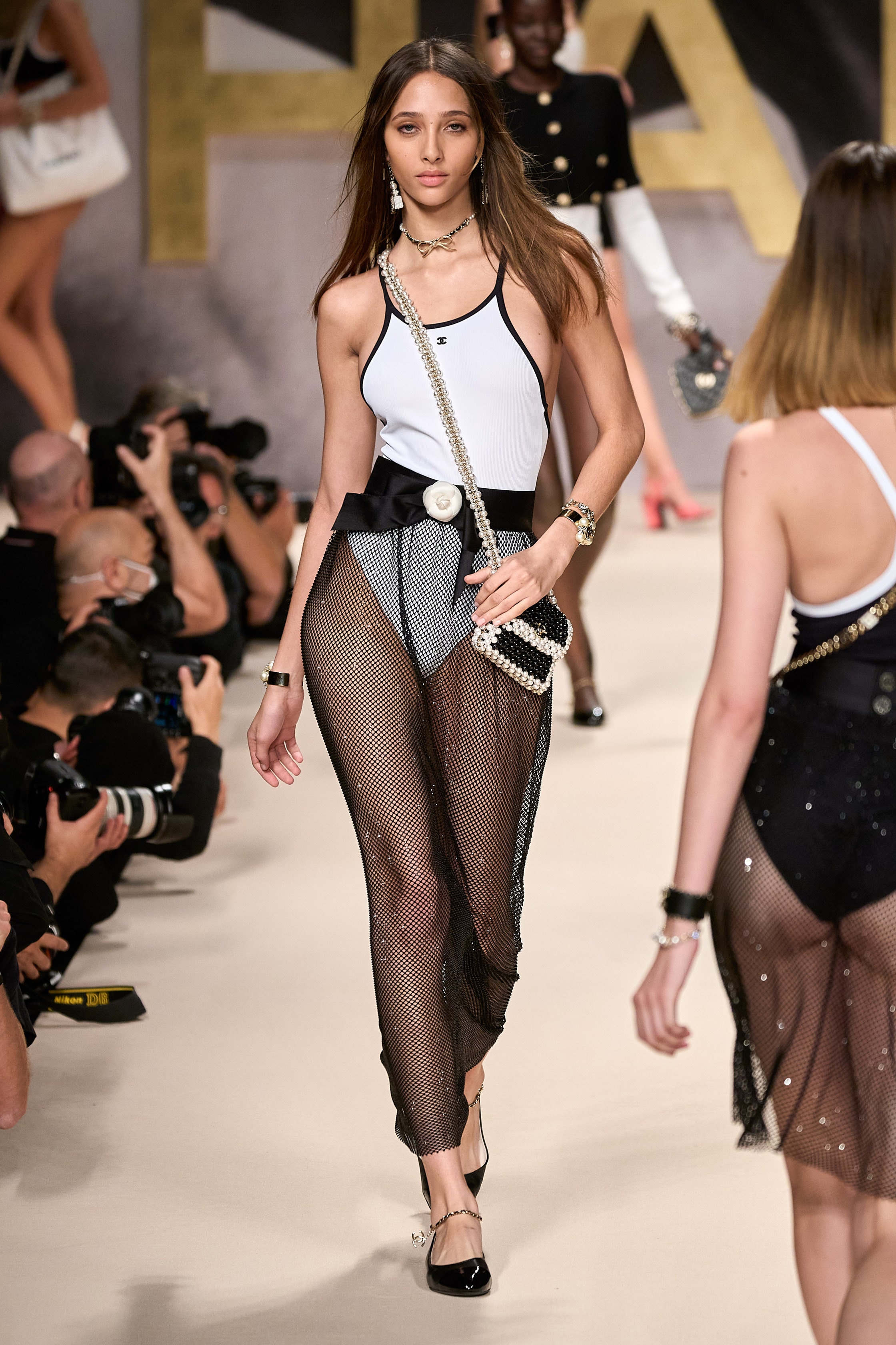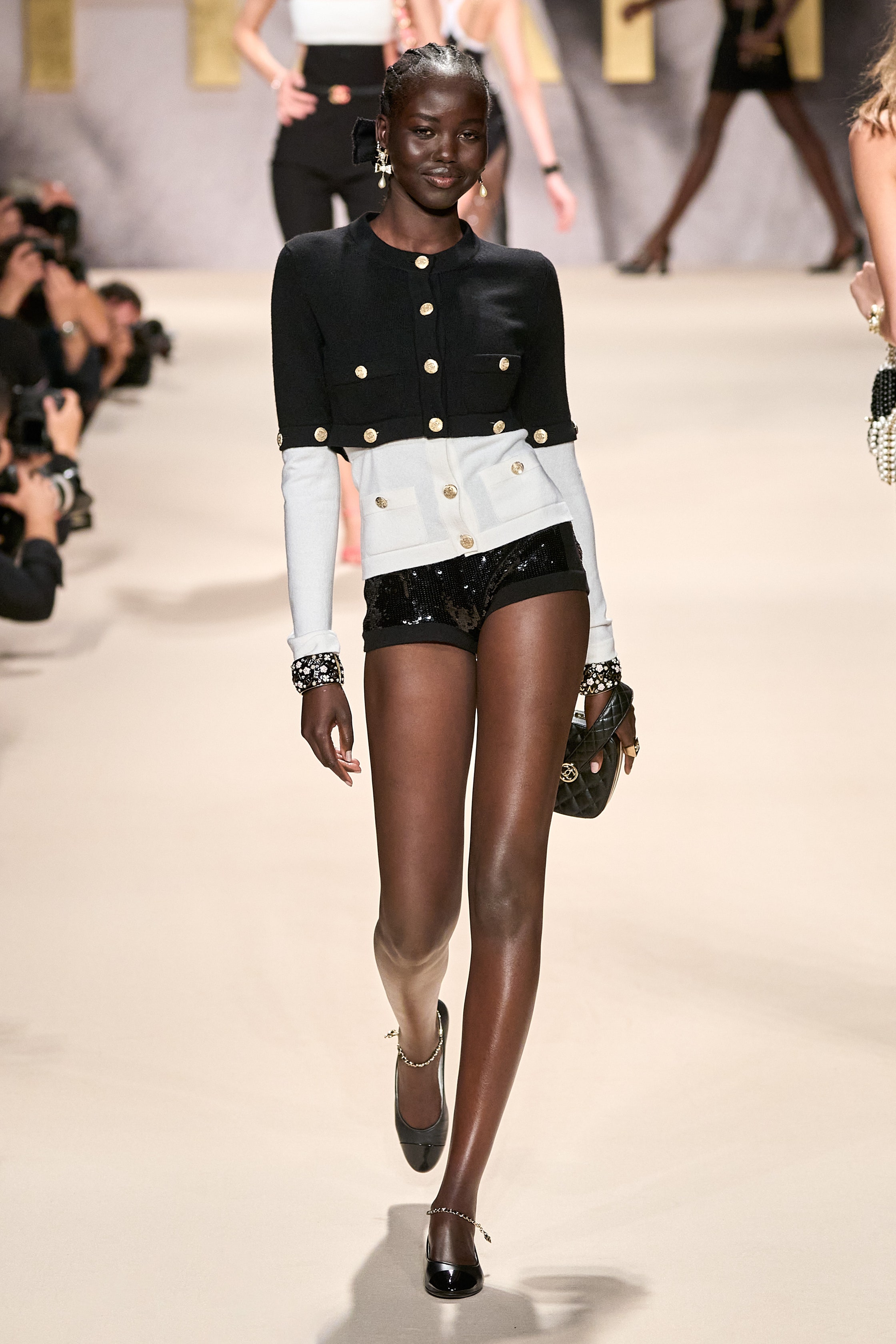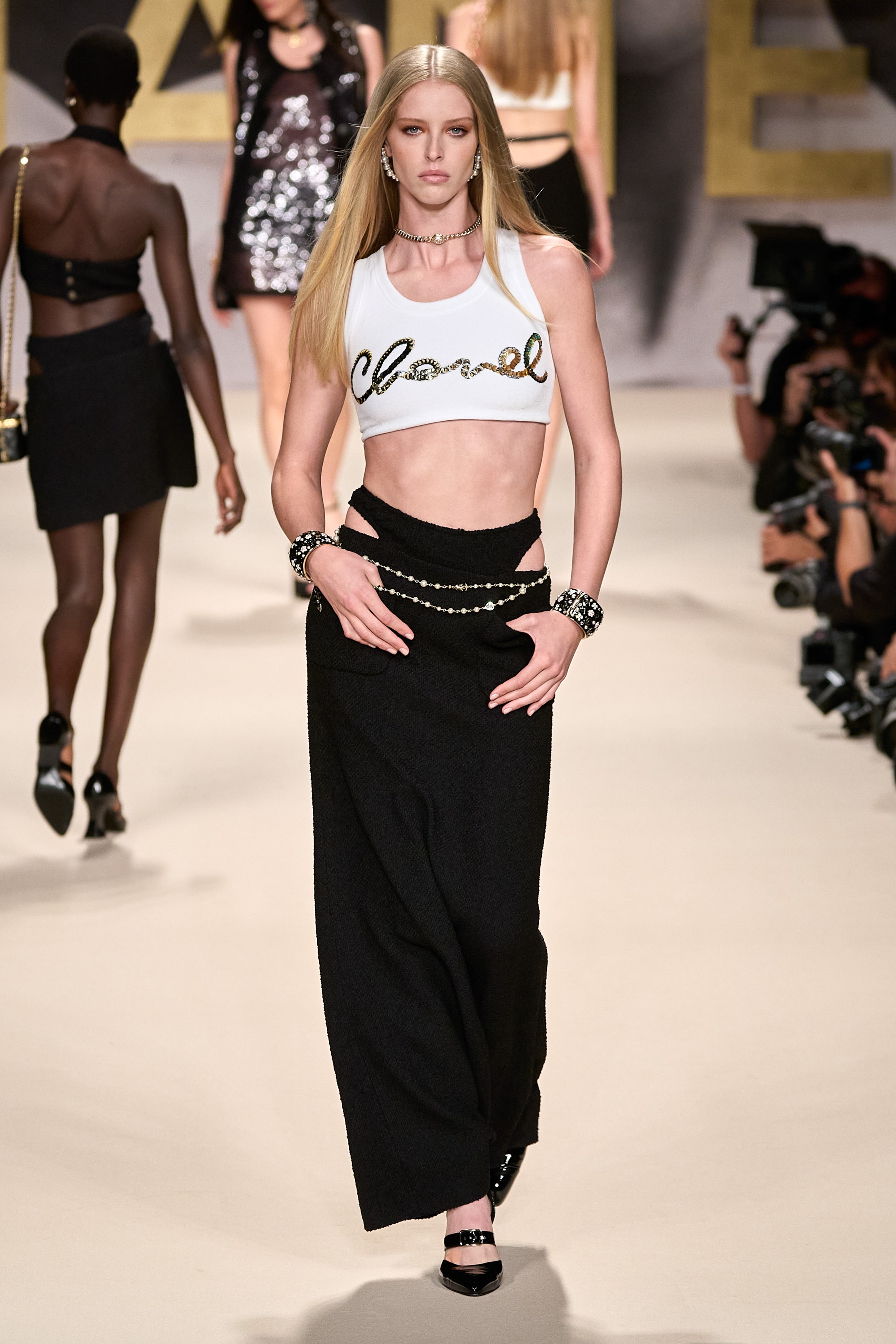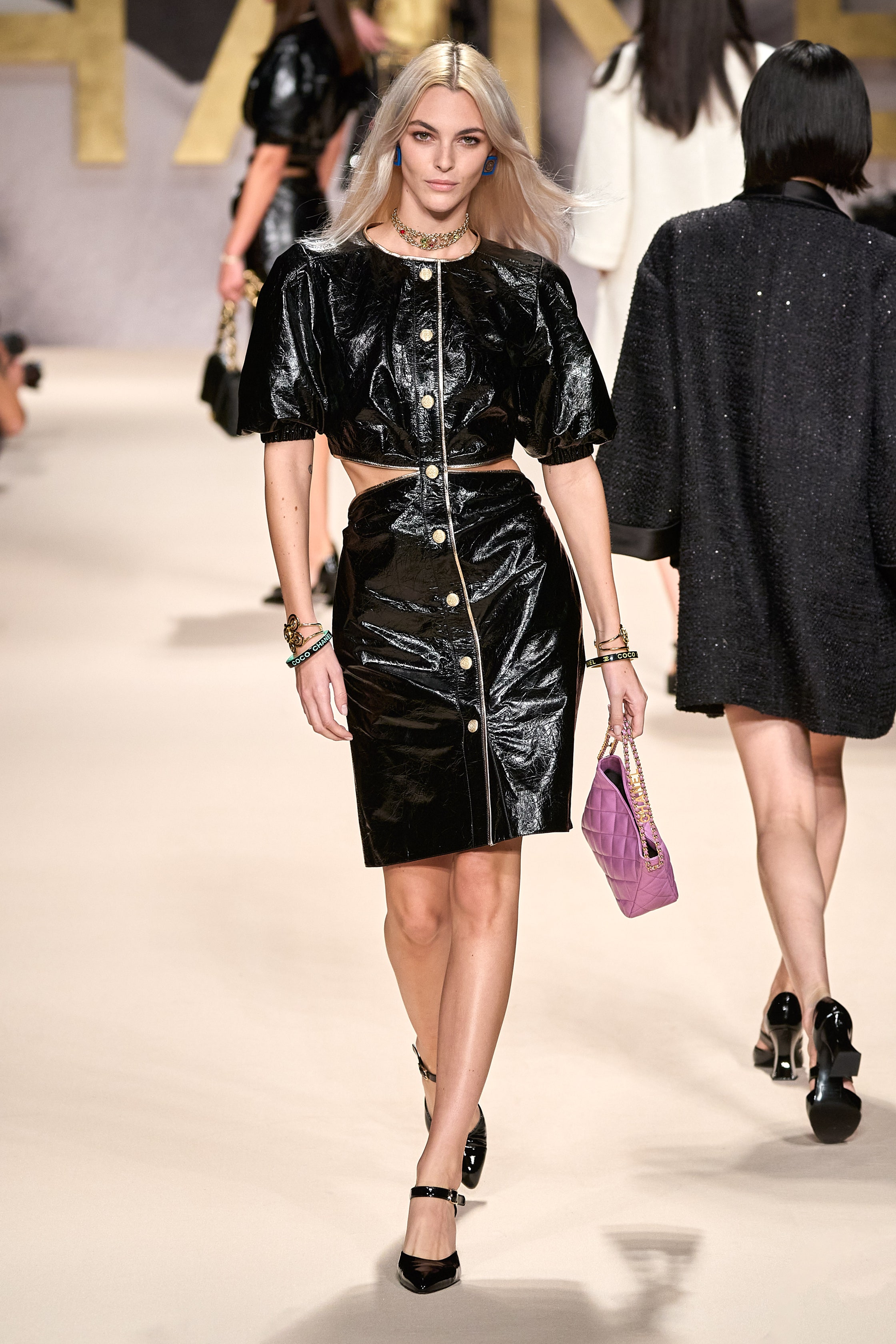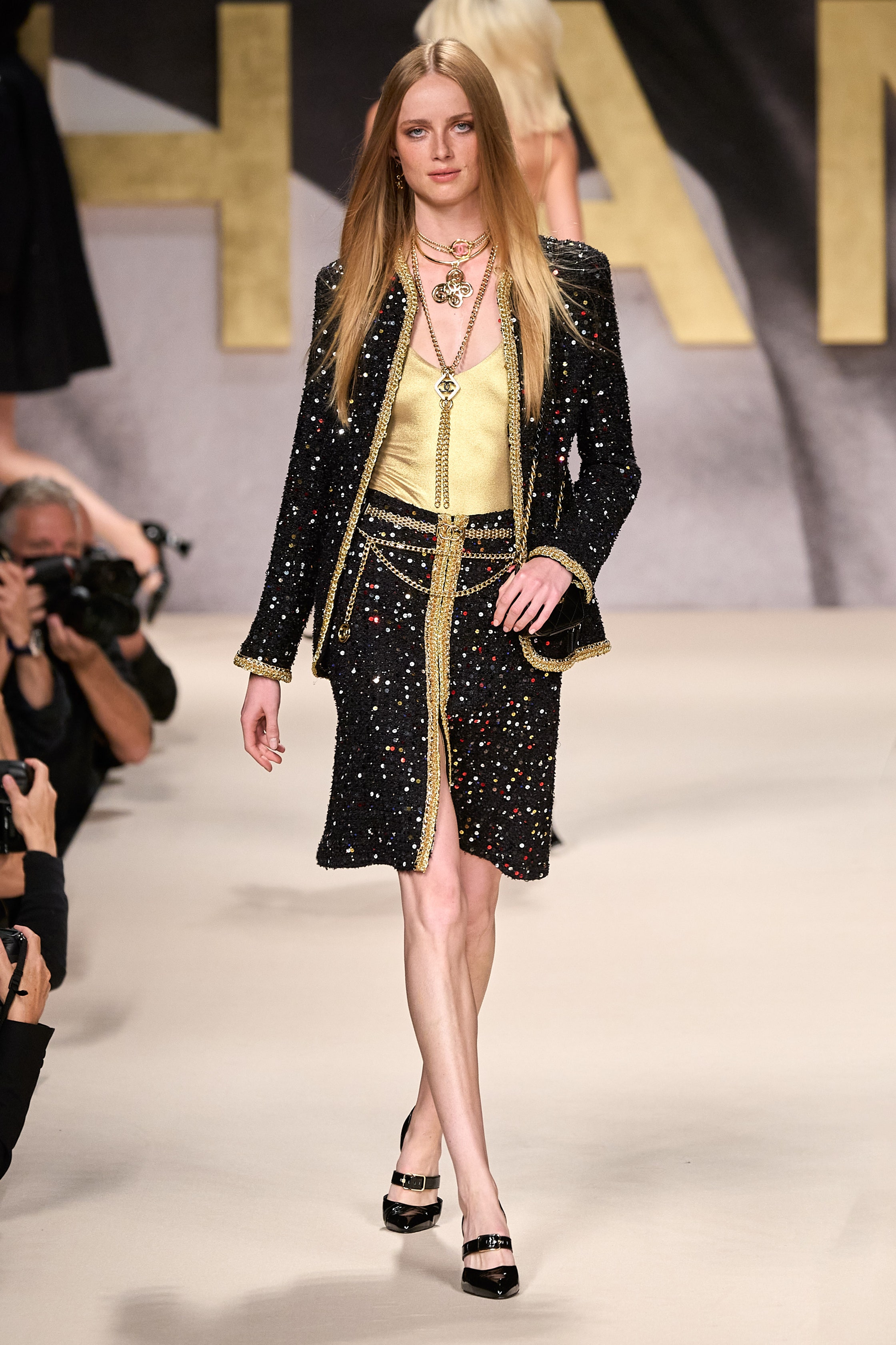 Comme des Garçons
The theme for Comme des Garçons' SS22 collection wasn't a definitive topic, but rather a reflection for Rei Kawakubo's "present state of mind", wrote the designer in a note distributed following the online presentation of her SS22 collection. Following that up was a terse list of "things [she feels] we don't need these days", including "the making of intricate fabrics", the "patterns which clearly define the body" and even "the intention to make clothes". Now, that may seem like pretty rogue territory for someone who has made their name as a fashion designer to venture onto, but it's a testament to the ethos that Kawakubo-san has developed over the forty years of her career, which is pushing fashion to the point where it stops being just that.
What we saw here was no exception. Twenty-one looks more closely resembled ambulant sculptures than they did recognisable clothes. In what felt like a conscious riposte to much of body-conscious work we've seen this season, the figures of the wearers were either obscured by egg-shaped cocoons of fabric printed with cartoonish flowers, leaves and bows, or exaggerated by features like pinched shoulders and hulking puffball sleeves. Giant, pixelated houndstooth prints and puffy black vinyl daisy appliqués served to further trick the eye away from identifying the human form, as did swooping panels of heavily reinforced fabric that felt more like upholstered furniture than fashion per se. Esoteric as that may sound, this was a welcome reminder of the expansive horizons of fashion that we often forget to explore – a demonstration of its inherent flexibility as a medium, as readily applied to the production of conceptually rich art objects as to commercial products. What we saw here were the thoughts of one of the industry's great minds at their most pure – "like simple pebbles that you get after rough rocks have been washed over and swept down the river," as Rei herself wrote. MS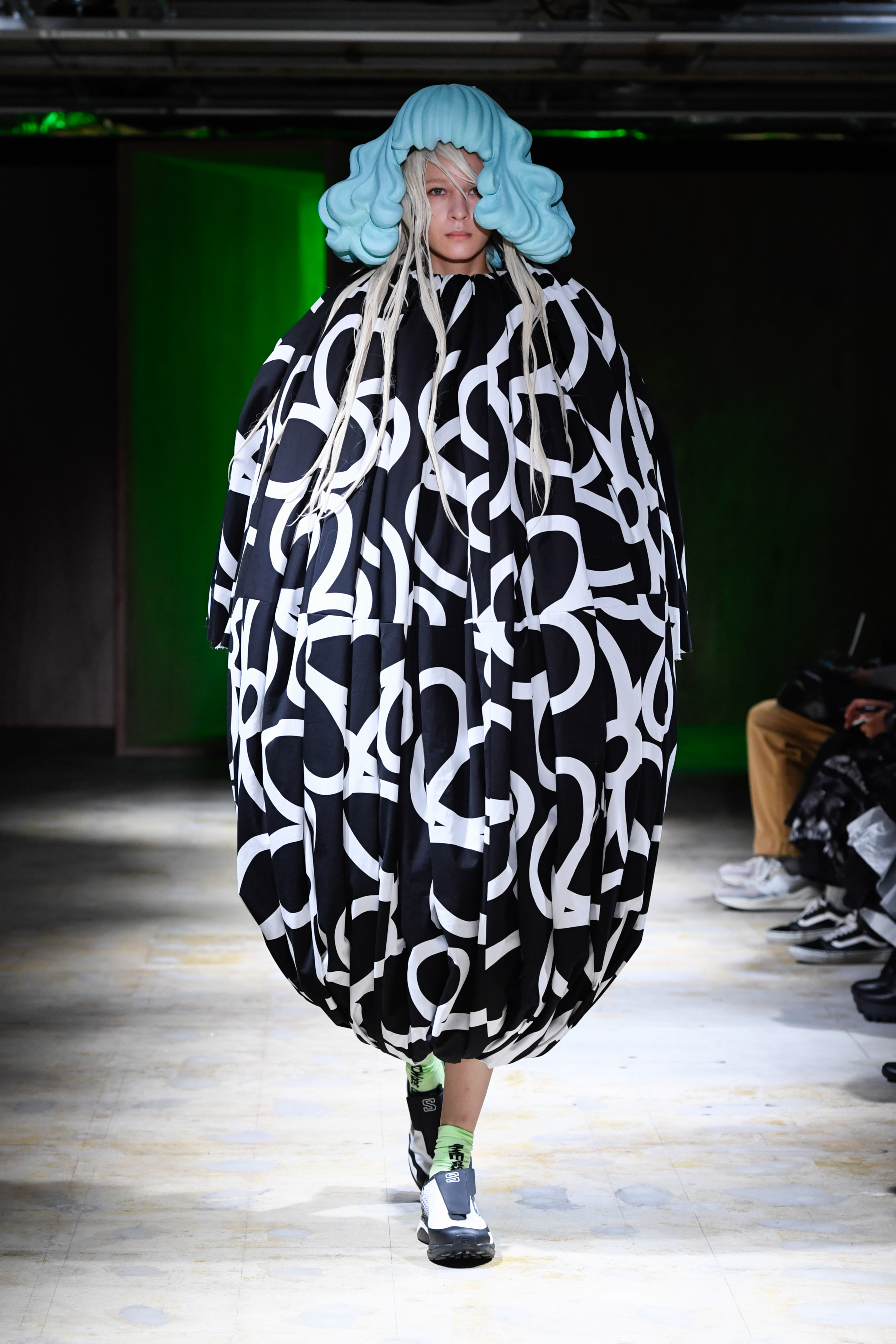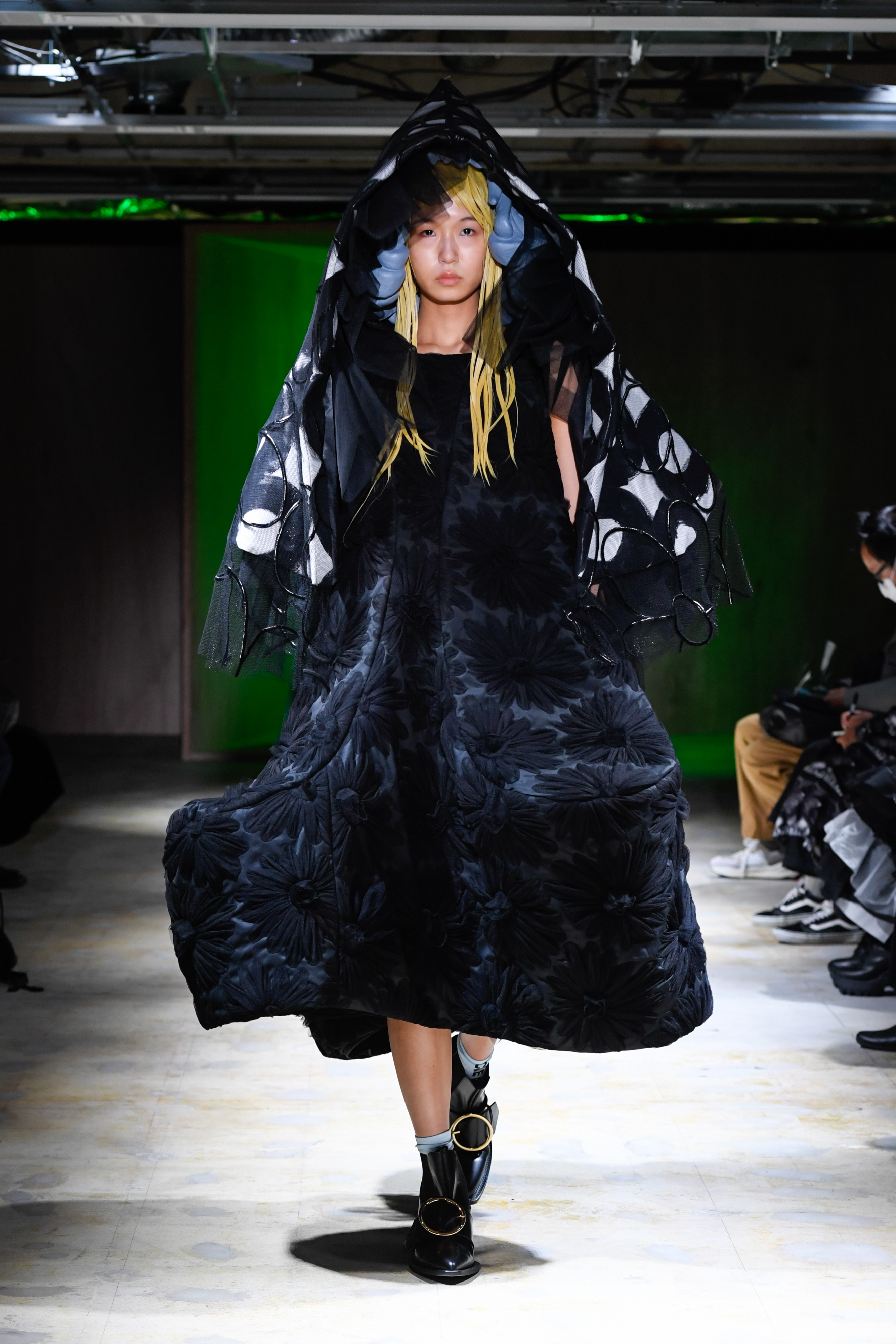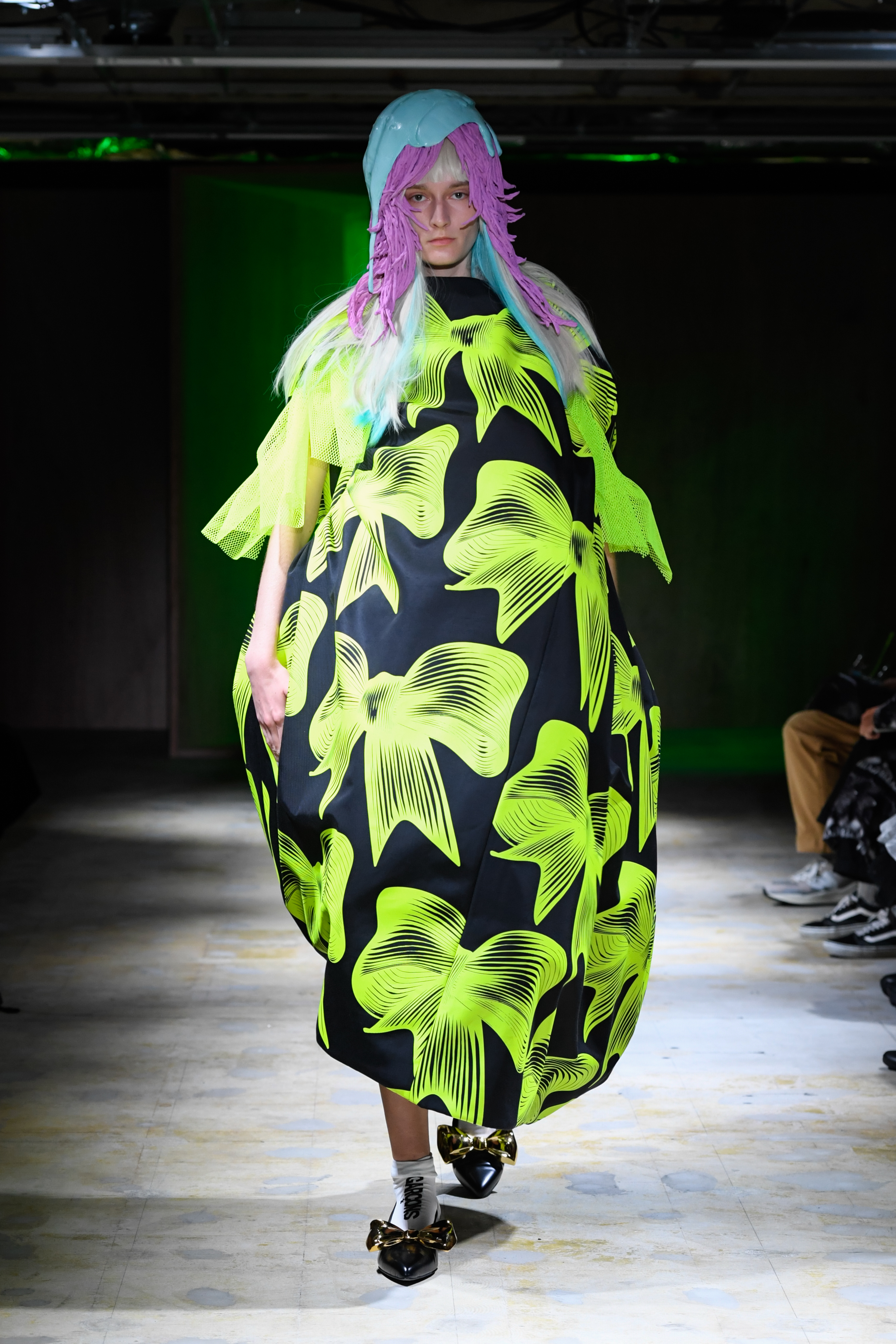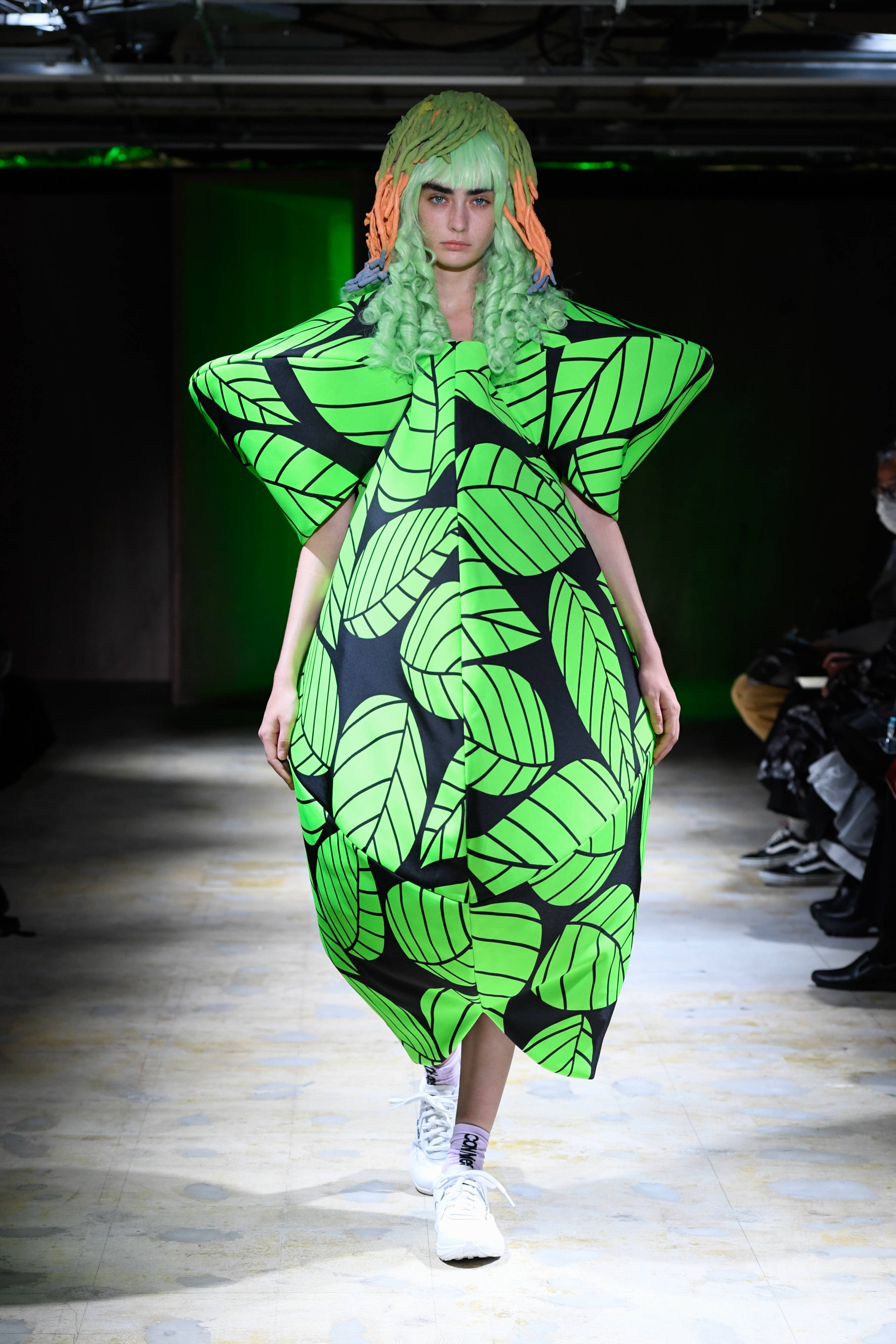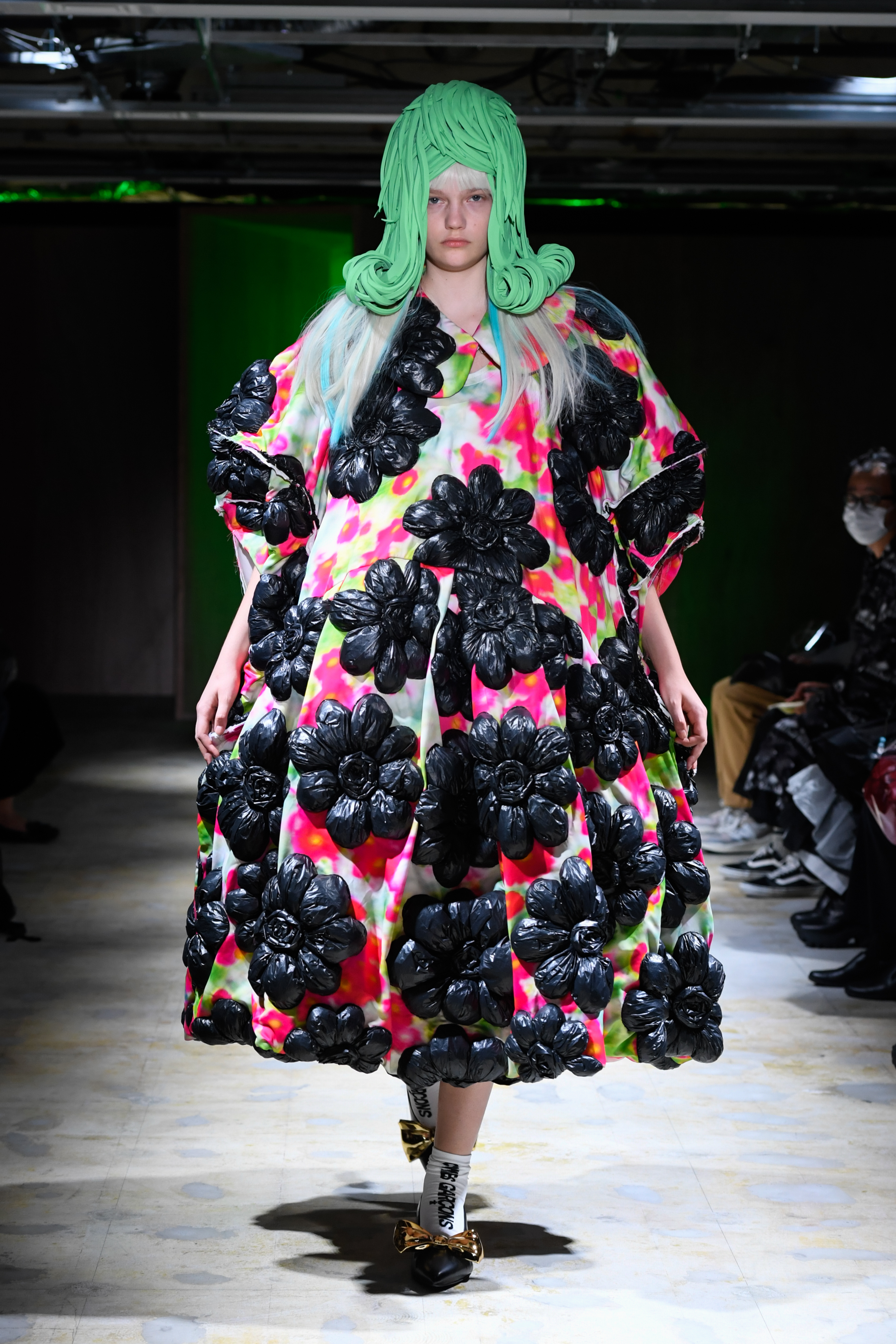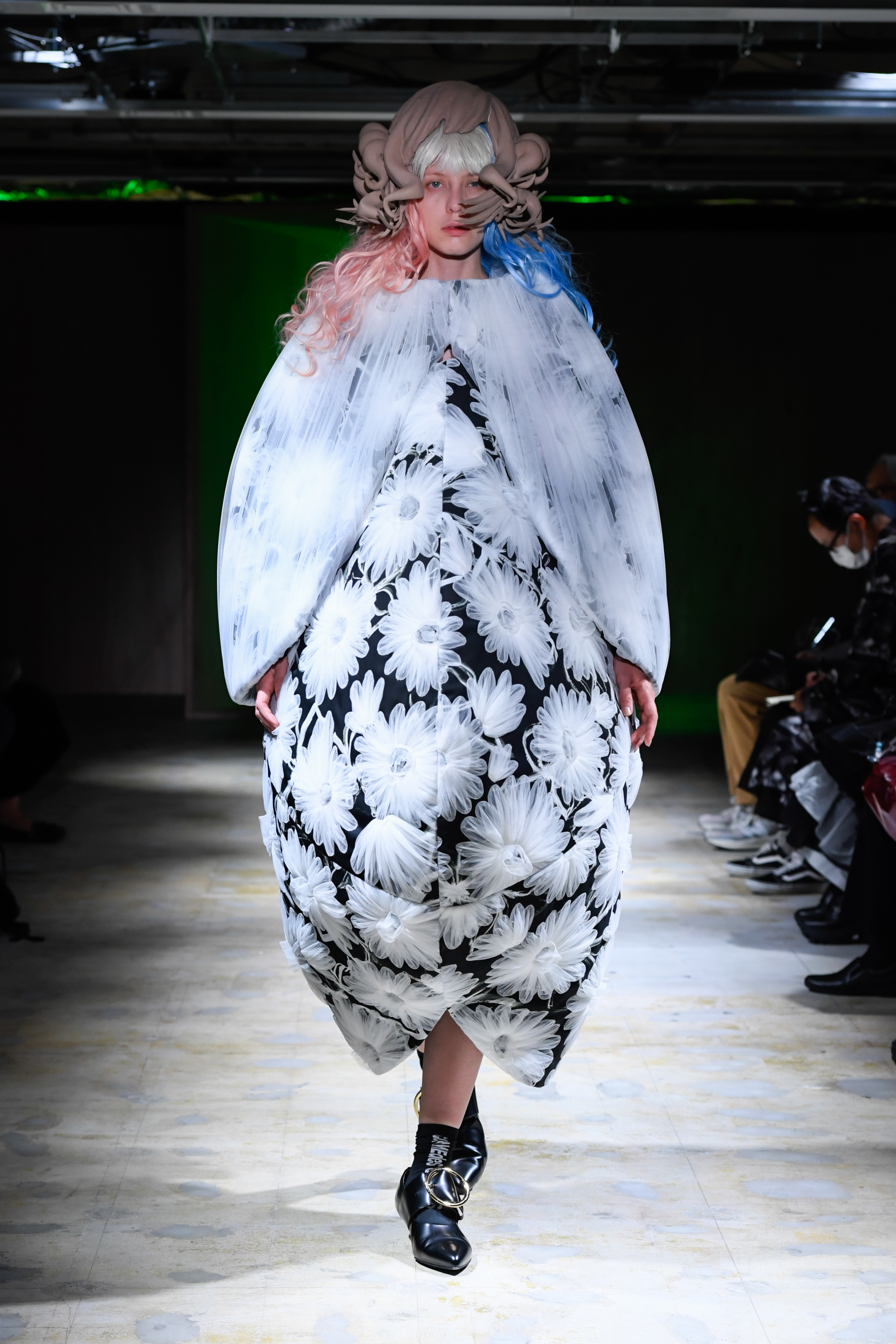 Maison Margiela
In a season where most heavyweight houses have abided by convention and returned to the runway, there's one name that's been particularly conspicuous in bucking that trend: Maison Margiela. Daring as it may seem at first, it's a move that makes total sense. After all, amid all the fashion films we've seen over the past 18 months, few have done them quite like John Galliano, who's put out one cinema-worthy spectacle after another for collections for the house.
This season saw him join forces once again with La Vie en Rose director Olivier Dahan, with whom he worked on a feature-length flick for his AW21 Artisanal collection. While the short film they created for the SS22 Co-Ed collection certainly built on the brooding, rugged tone they set, it was poppier, lighter development on the dark, maritime themes they explored in their first collaboration. That mood made itself felt in the clothes – young revellers frolicked around film studio sets in thigh-high rubber-coated waders and raw-hemmed denim shorts, while armour-like loden wool coats – a key point of exploration in the Artisanal collection – were appliqued with denim jackets to fresh, punky effect. Bateau neck dresses were shrouded in swathes of bright, gauzy mesh, and essorage – an enzyme treatment – gave outerwear a mottled tone. In classic Margiela fashion, high was cast as low and low was cast as high –'poor' materials like tea-towelling fabric were refashioned into fine tailoring and delicate embroideries decorate the lining of a simple cotton toile coat. Here again was proof that while conventions may be followed by many, John Galliano's Maison Margiela will always be there to disrupt them. MS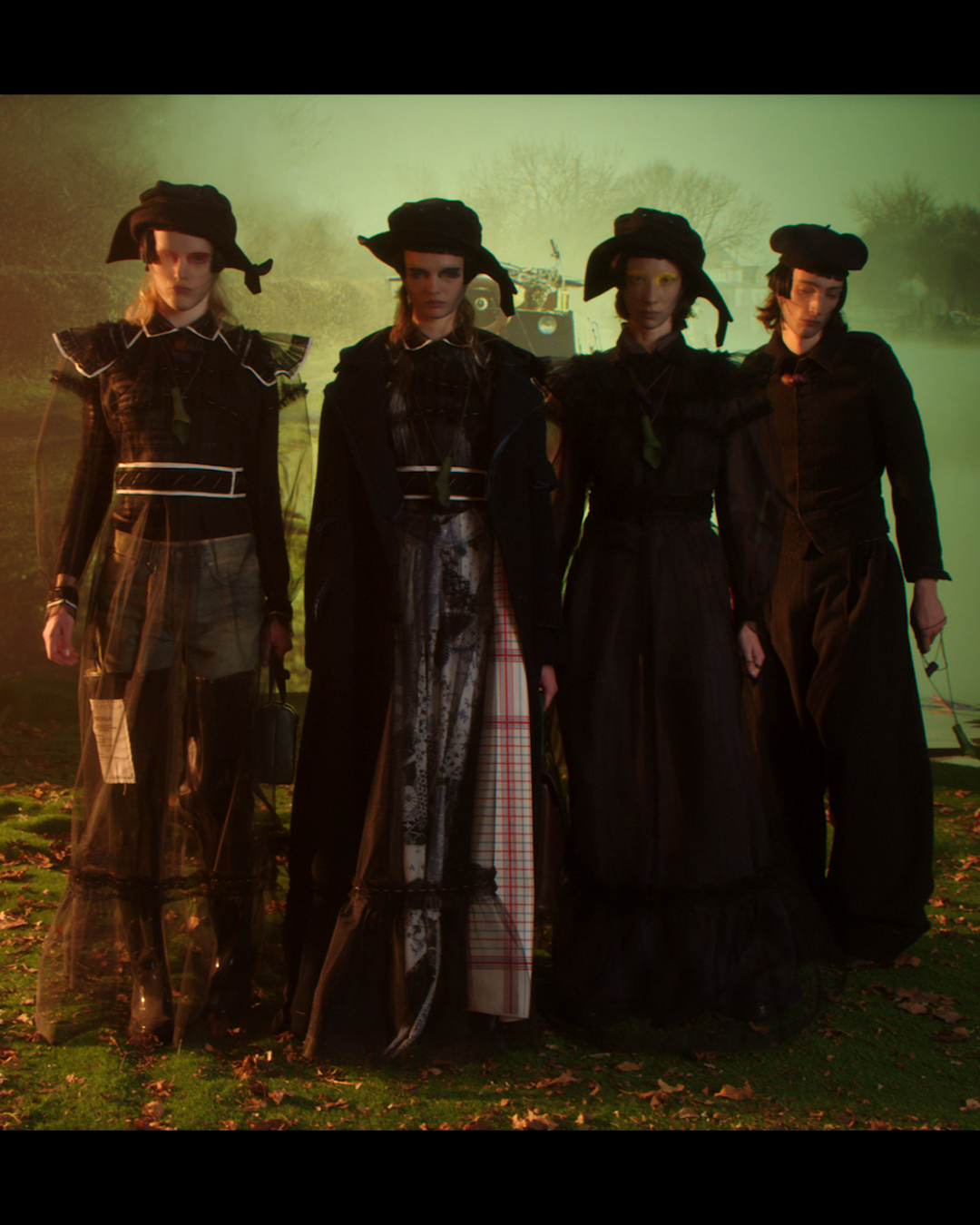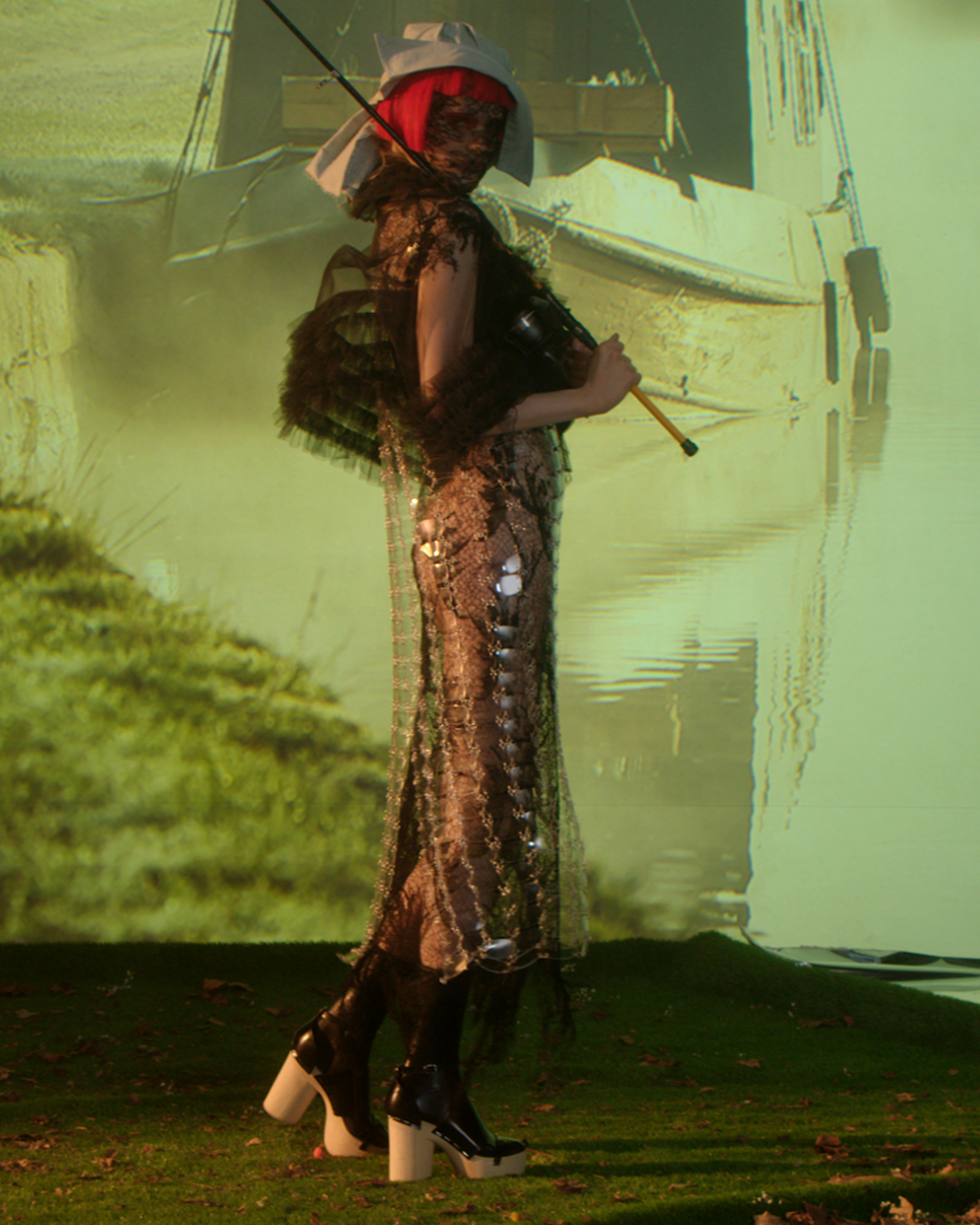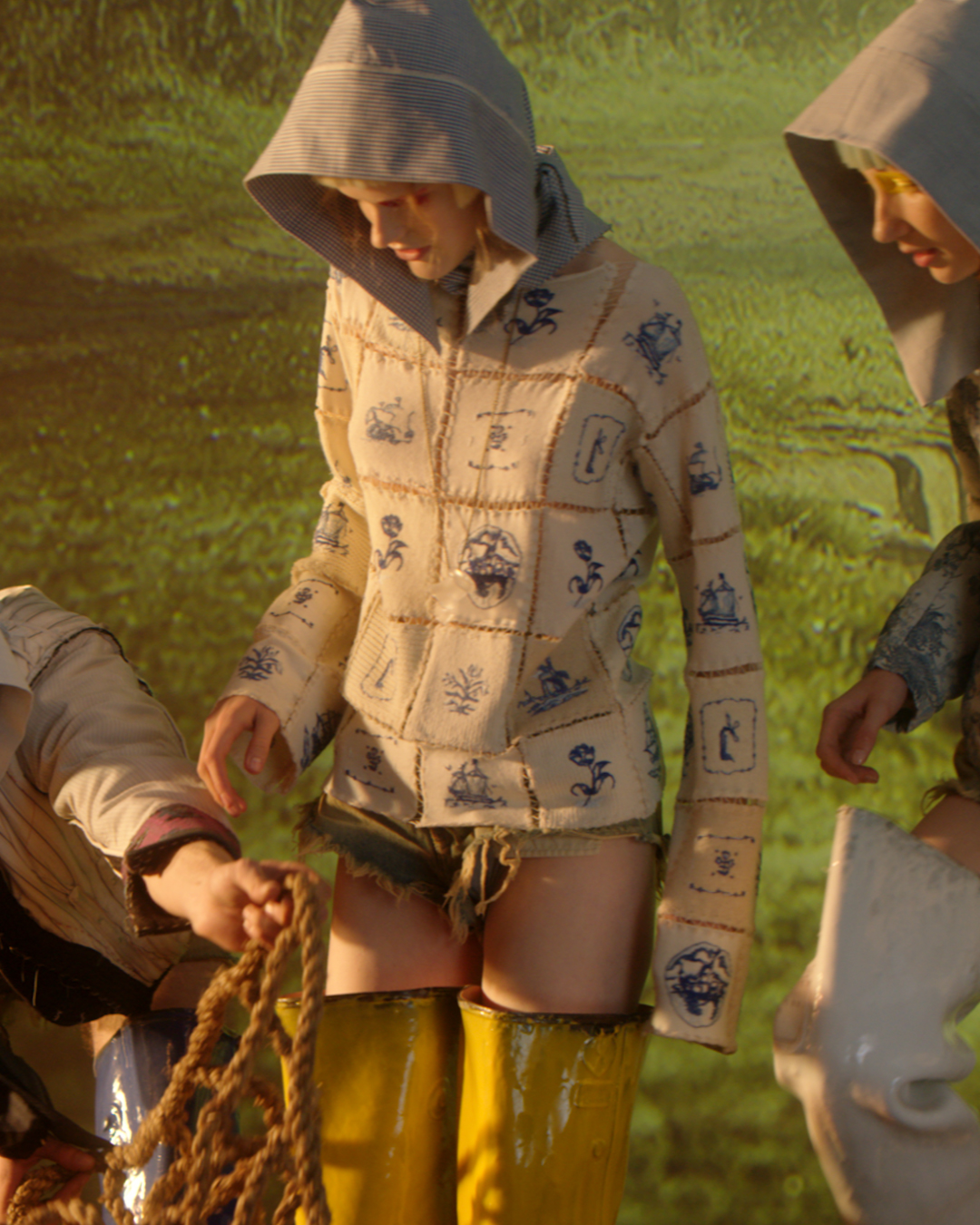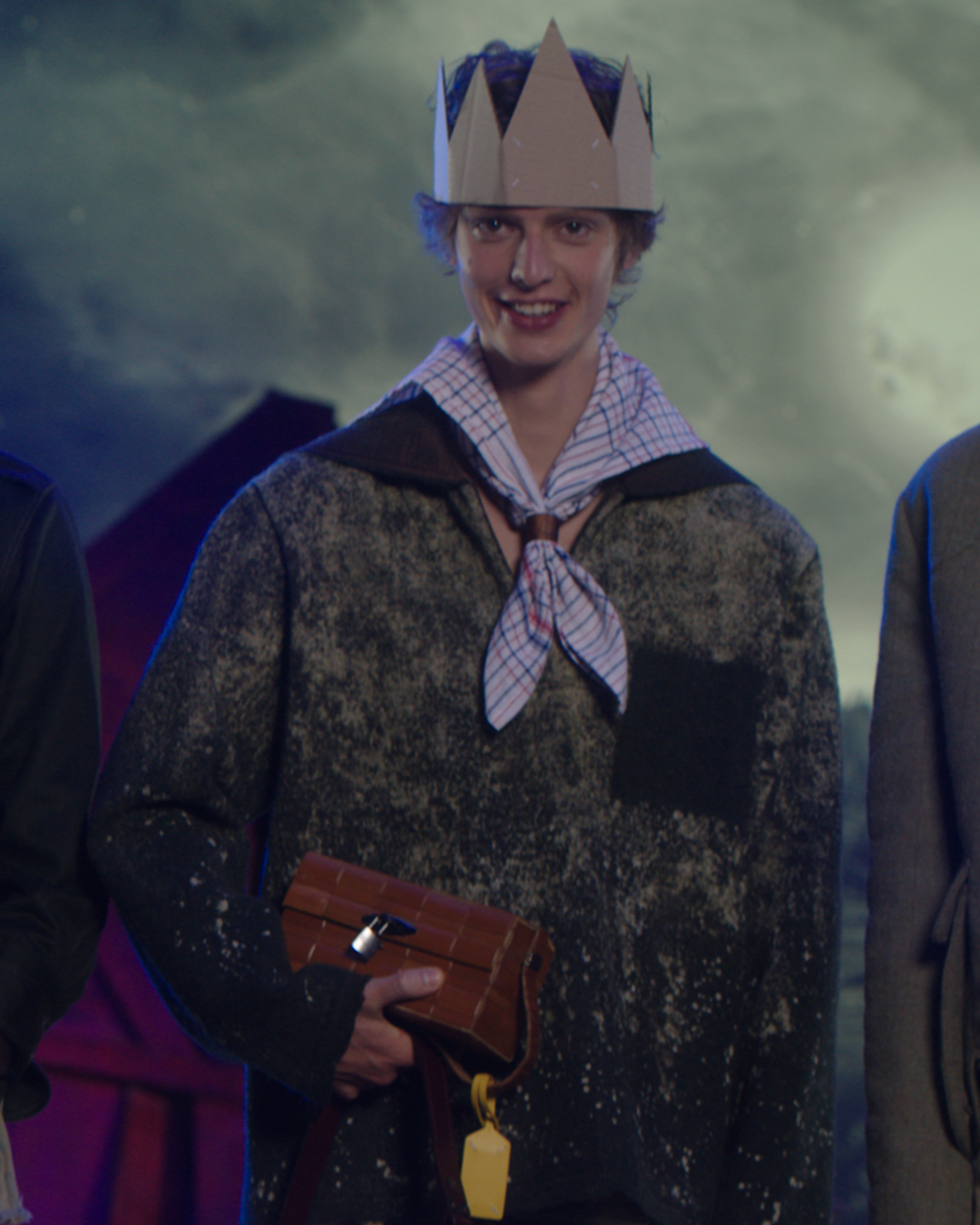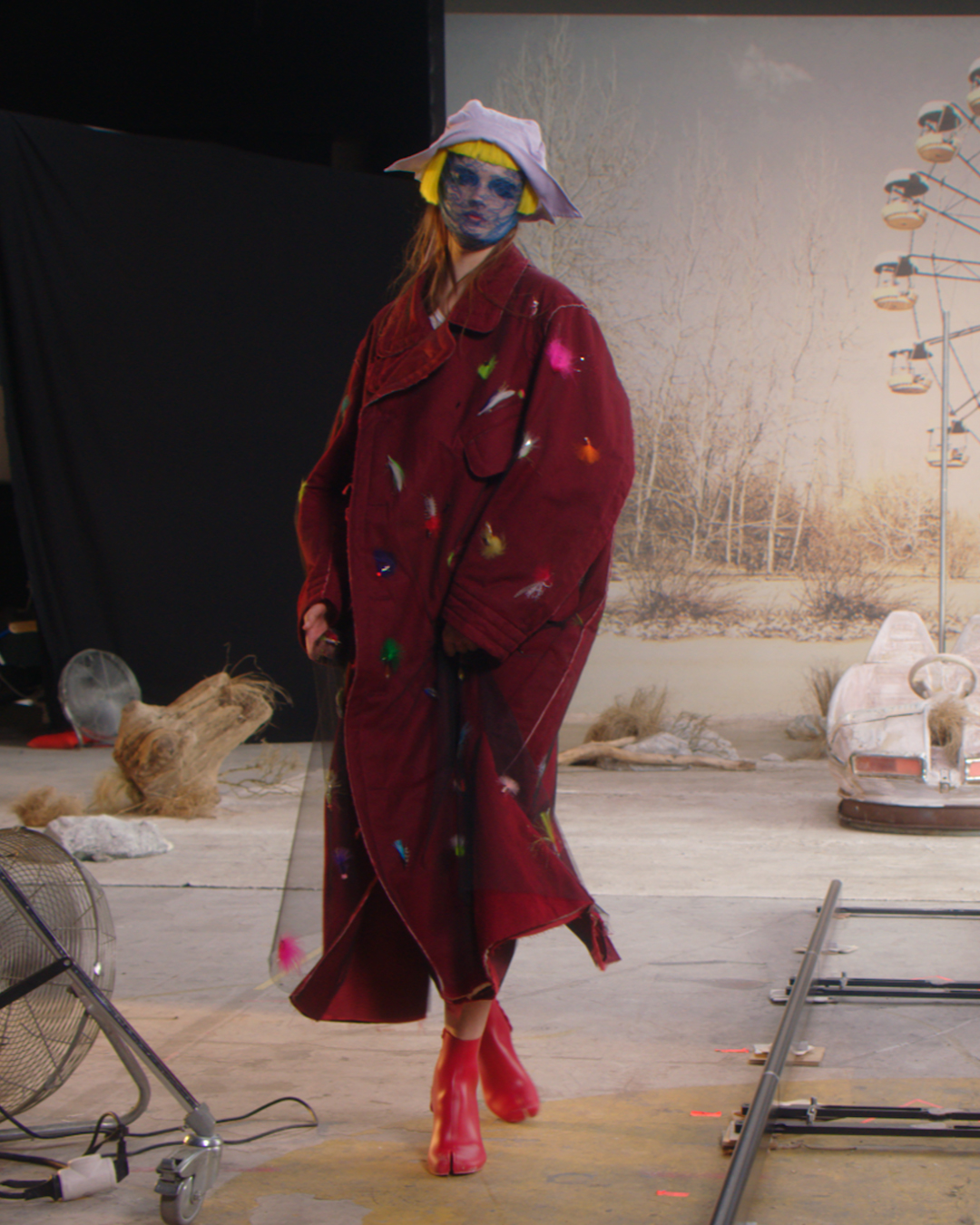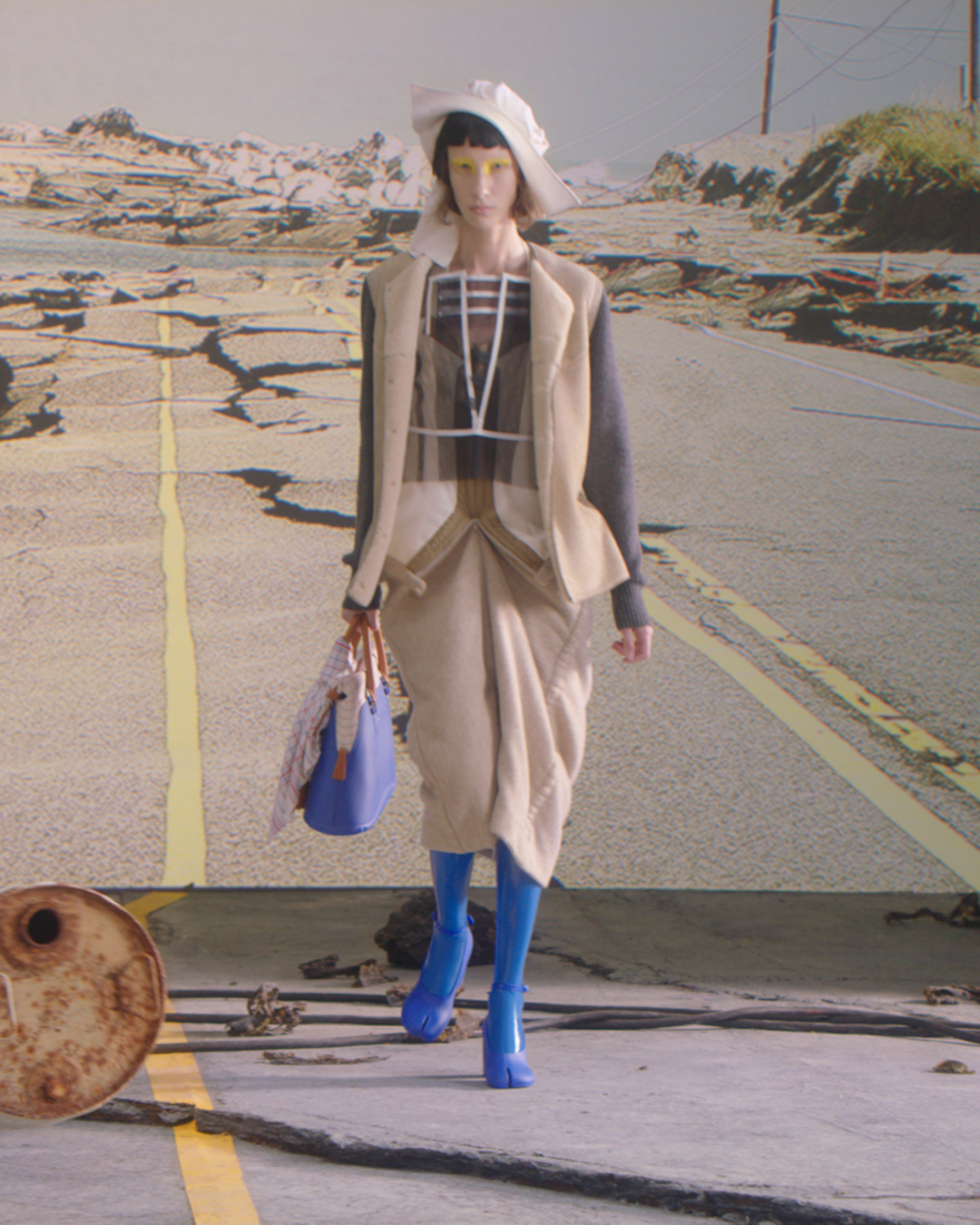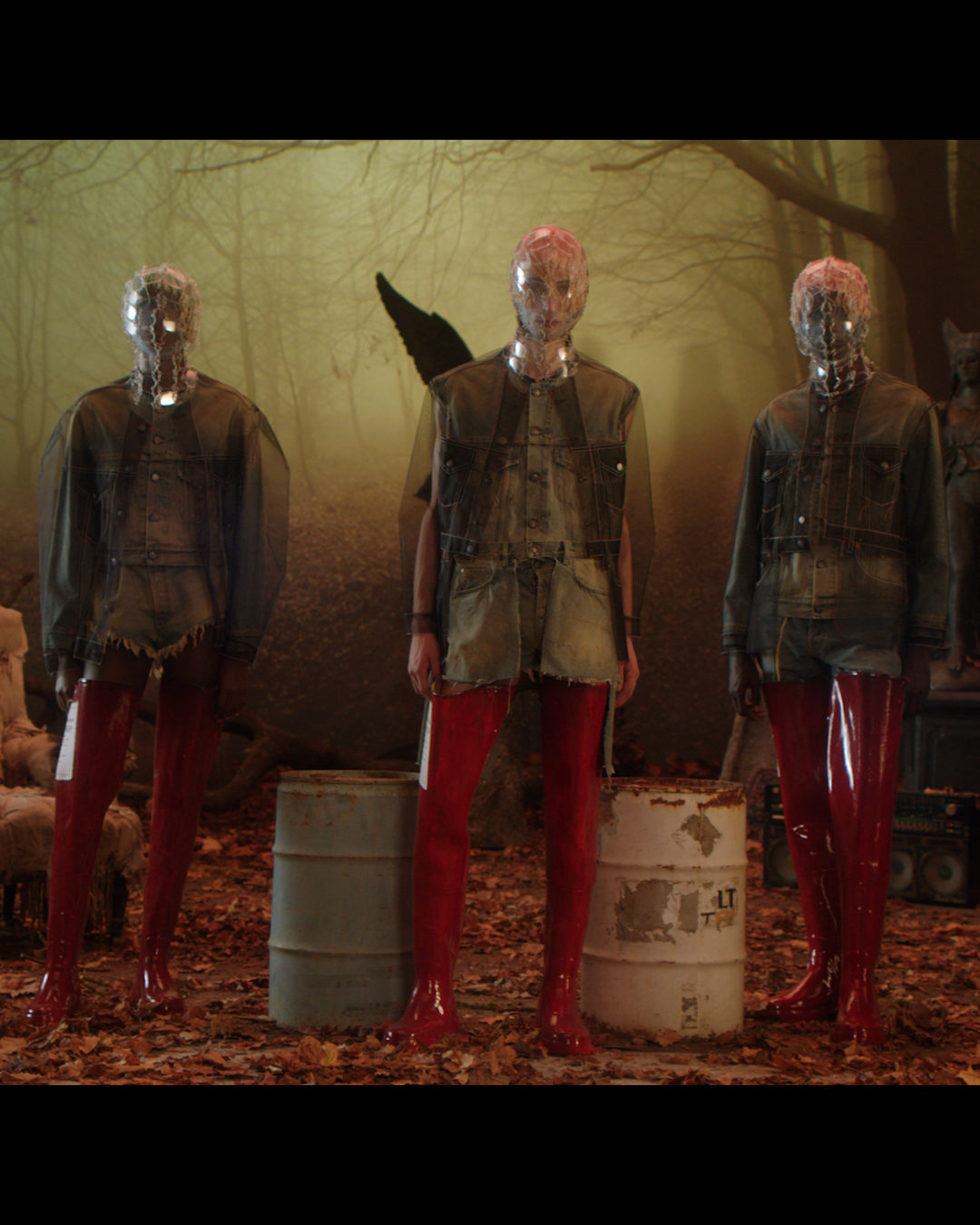 Sinéad O'Dwyer
What do nannies get up to when no one's watching? Practicing gymnastics routines, ironing in skimpy lingerie, or taking long bubble baths are among the answers, if the Sharna Osborne-directed film for 'Domiciliary' – Sinéad O'Dwyer's SS22 collection – is to be believed. Of course, it's worth noting that this is an intentionally tongue-in-cheek representation of the things that domestic workers might get up to when left alone, but through its humour, it highlights the tension between professionalism, intimacy, and voyeurism that characterise working in somebody else's home.
While the film draws on the Sinéad's experiences and observations accrued while working as a nanny, the garments drew upon vintage fetish illustrations of nanny roleplay scenarios for inspirations. Where that's perhaps most notable is in a white cotton bib and a pastel pink taffeta apron, which make use of a delicate couture pleating technique to replicate the designer's trademark cast silicone pieces. Elsewhere, this steamy tone informs twisting, double-faced dresses that echo shibari bondage ties, and stirruped, harness-like bodysuits composed of straps of bright shirred satin. Beyond these more salacious pieces, the London-based designer has boldly expanded her size-inclusive ready-to-wear offering — bloomer-inspired shorts with frilled hems and cheeky cutouts are crafted in stretchy shirred silk, and this season also marks the arrival of Sinéad's first-ever tailored suits, which feature a darted bust that allows the front panels to fall flush with the body. Whether for the boardroom or the bedroom, Sinéad O'Dwyer's got you covered. MS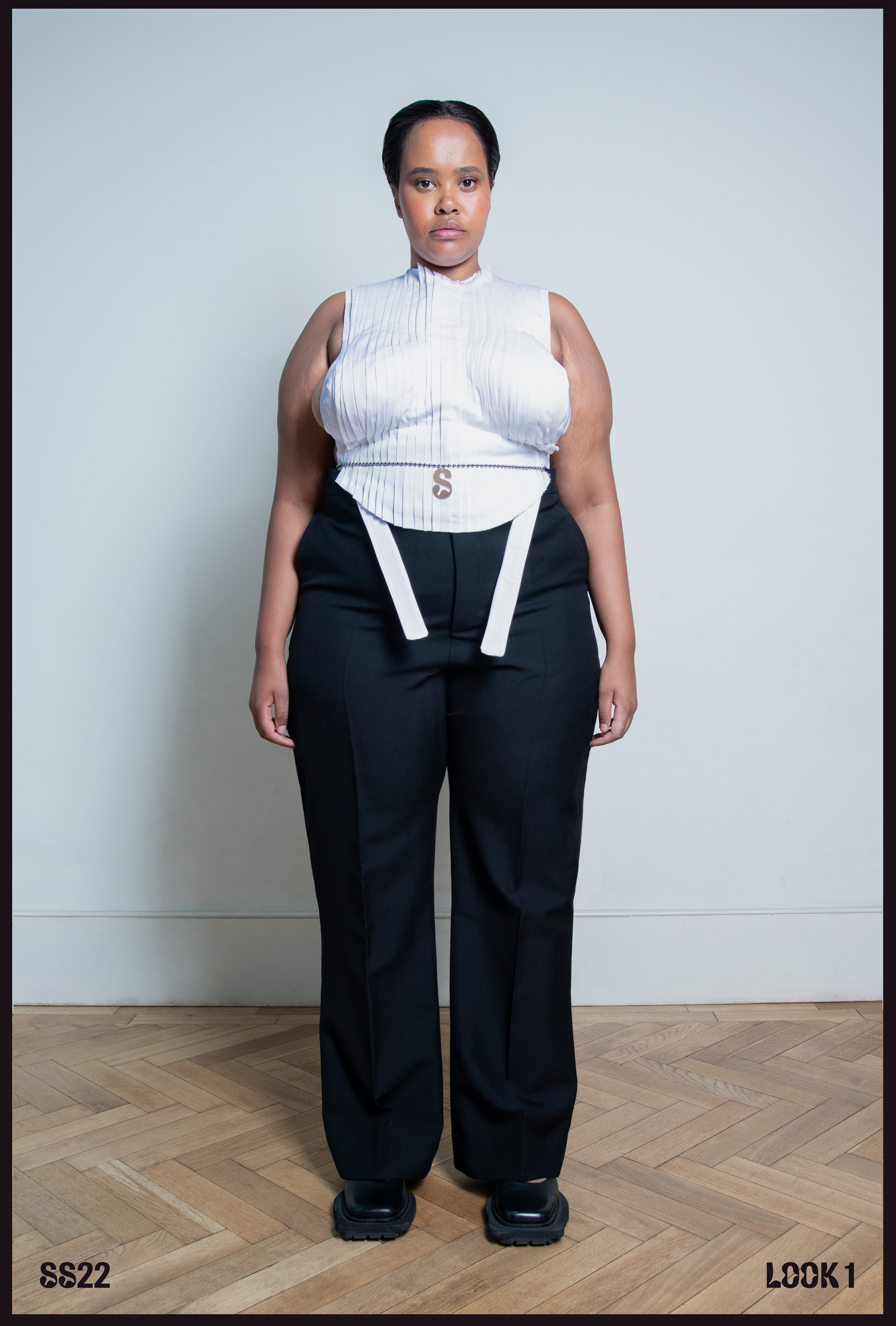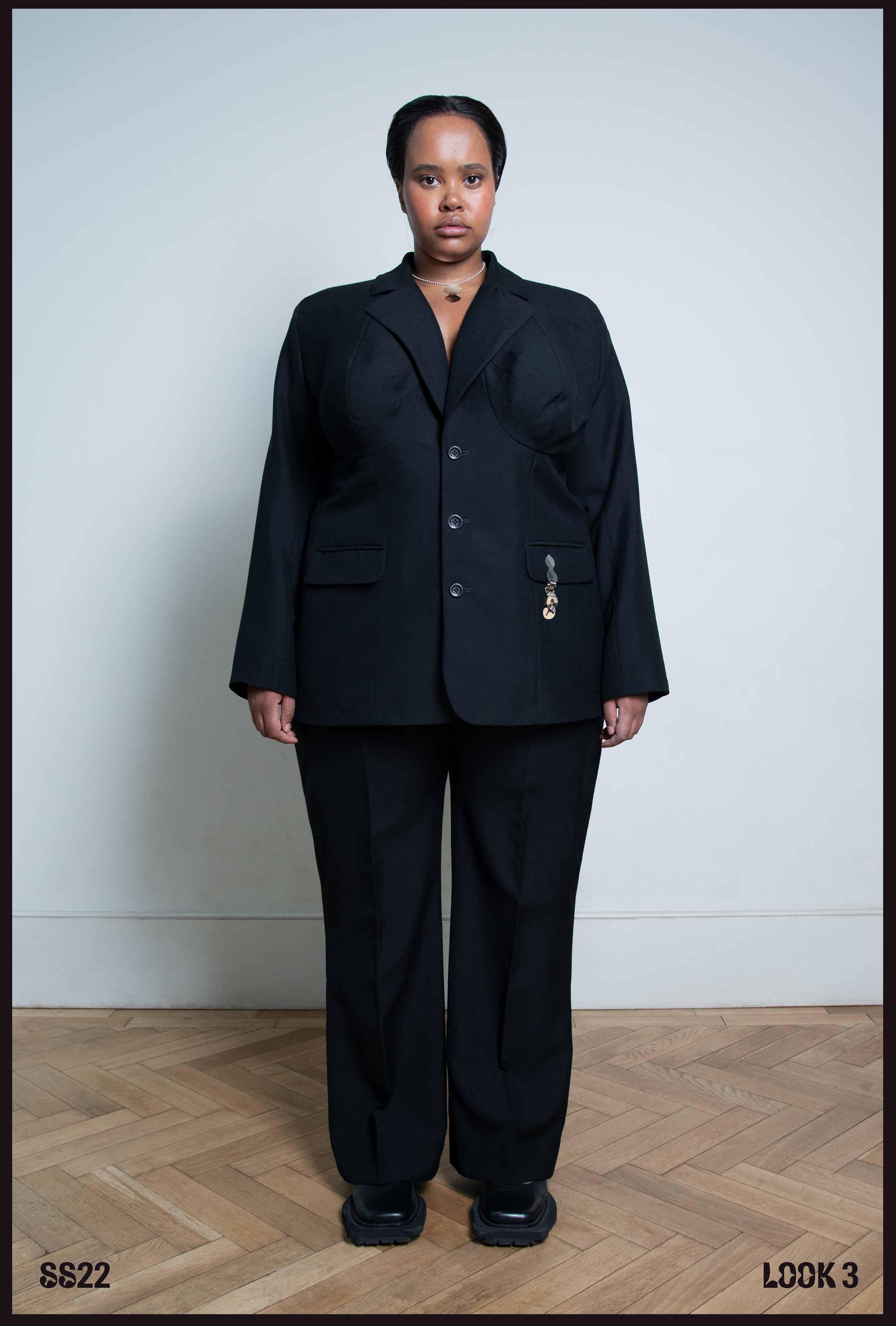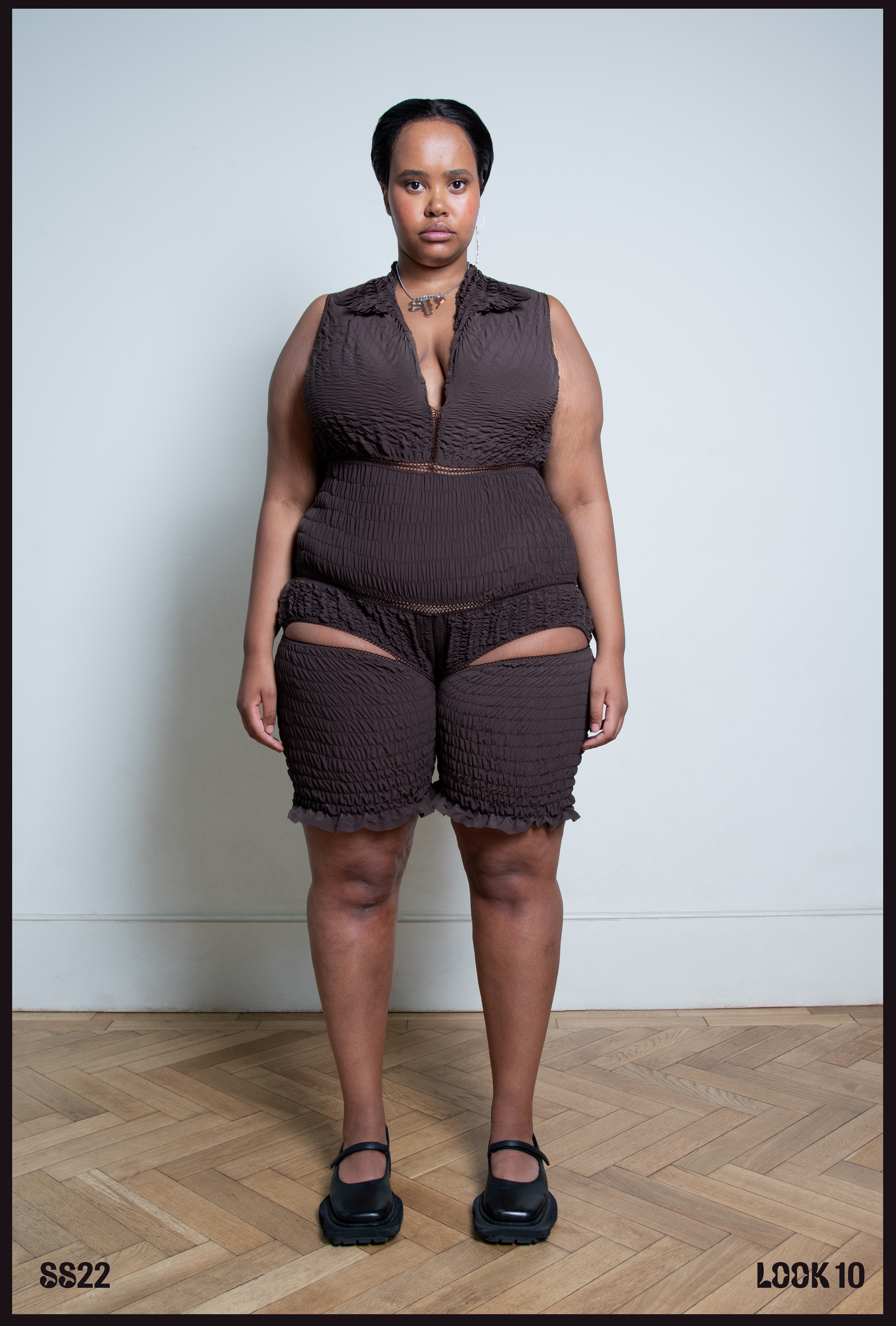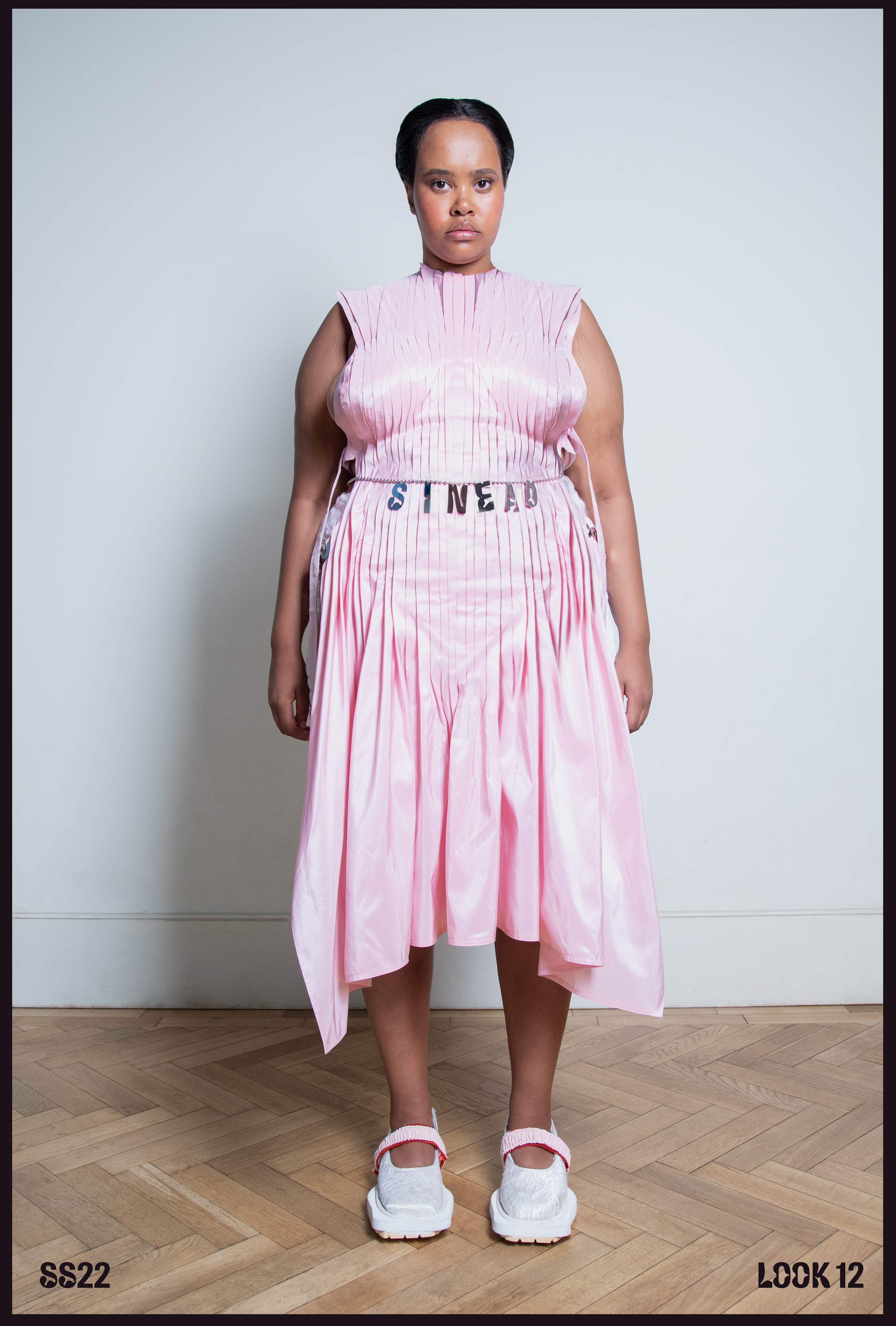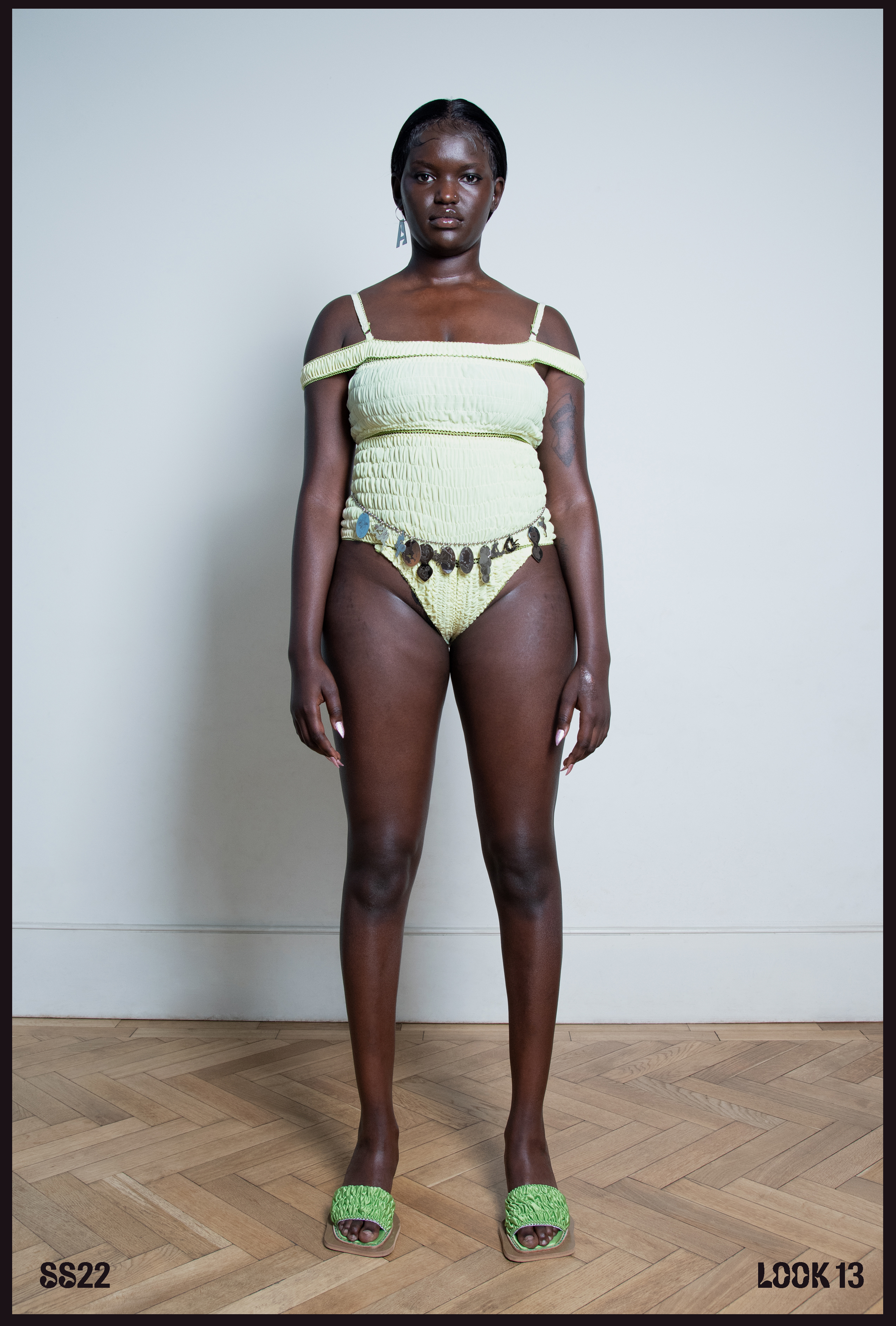 Paul Smith
While many brands have seen the return to the Paris catwalks as their opportunity to stage big fat fashion shows – lights, cameras, soundtracks and all the trimmings – Paul Smith instead invited a select coterie of editors to his Marais headquarters for an intimate salon presentation. Prefaced by an arresting performance by French-Senegalese singer anaiis, guests were then joined by Sir Paul himself, who guided eager listeners through the collection as it appeared. The clothes themselves – an easier, breezier take on the iconic British house's tailored codes – carried a similar sense of relaxed intimacy, They weren't necessarily pieces that should be seen whizzing by on a catwalk; rather, they invited the close contemplation and attention that the cosy setting allowed for.
Like many designers, Paul drew inspiration from the comfort-minded dressing mentality that emerged over the long months of lockdown, offering pieces perfect for lounging about in: unstructured boyfriend shirts; roomy pleated trousers; unstructured macintosh coats and form-fitting ribbed knit separates. Complimenting these laidback pieces were looks that exuded a zingy dynamism too: cycling tops and thigh-cladding short nodded to the fact that Sir Paul's a keen road cyclist, while the collection's recurring poppy sunflower prints were inspired by the blooms he sees from the windows of his Tuscan home. It's a significant shift in tone for a brand whose reputation is built on its exacting tailoring – which, it should be noted, was still present in abundance. It says a lot, though, of the designer's versatility: that, after all, is what has kept him at the top of the game for more than 50 years. MS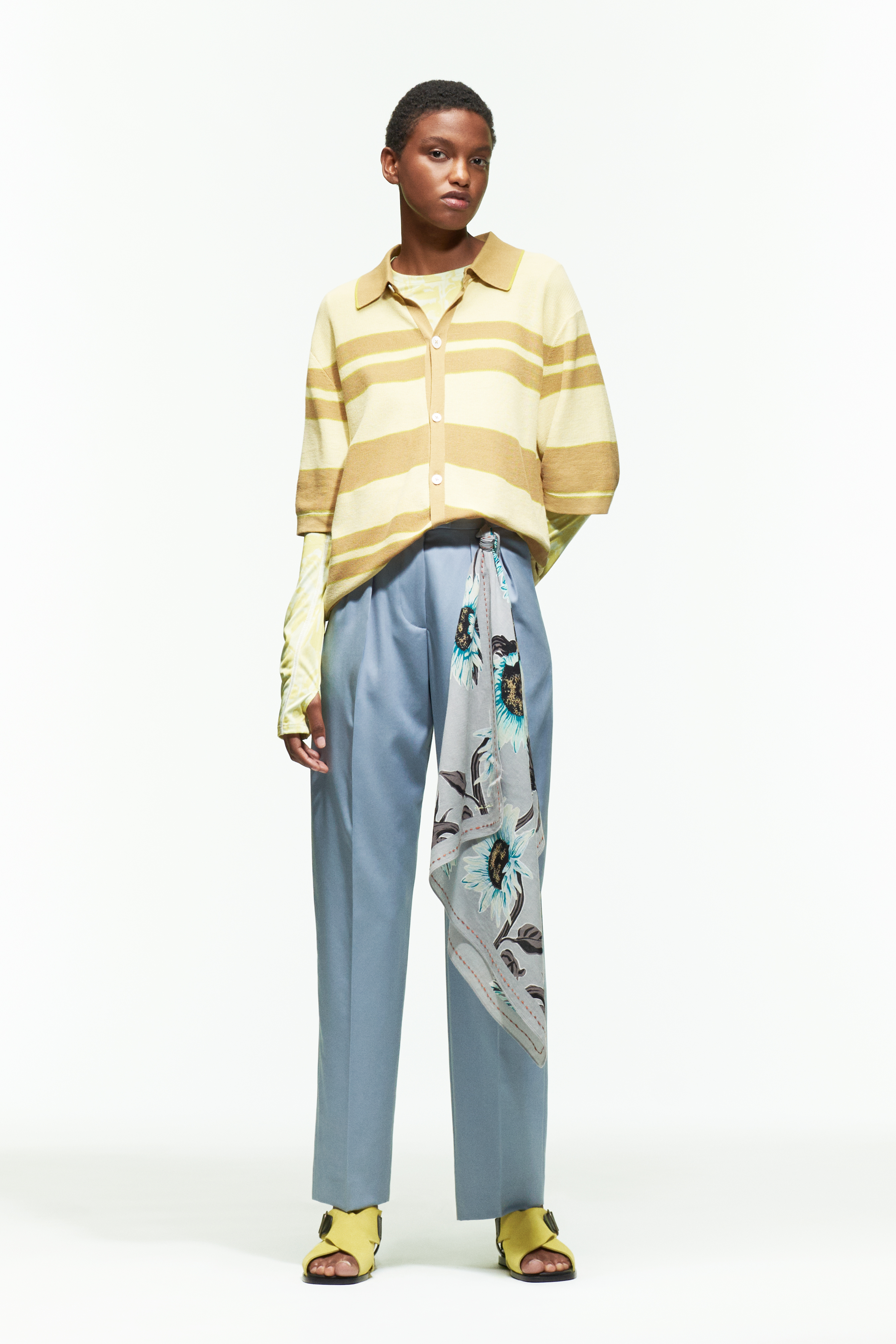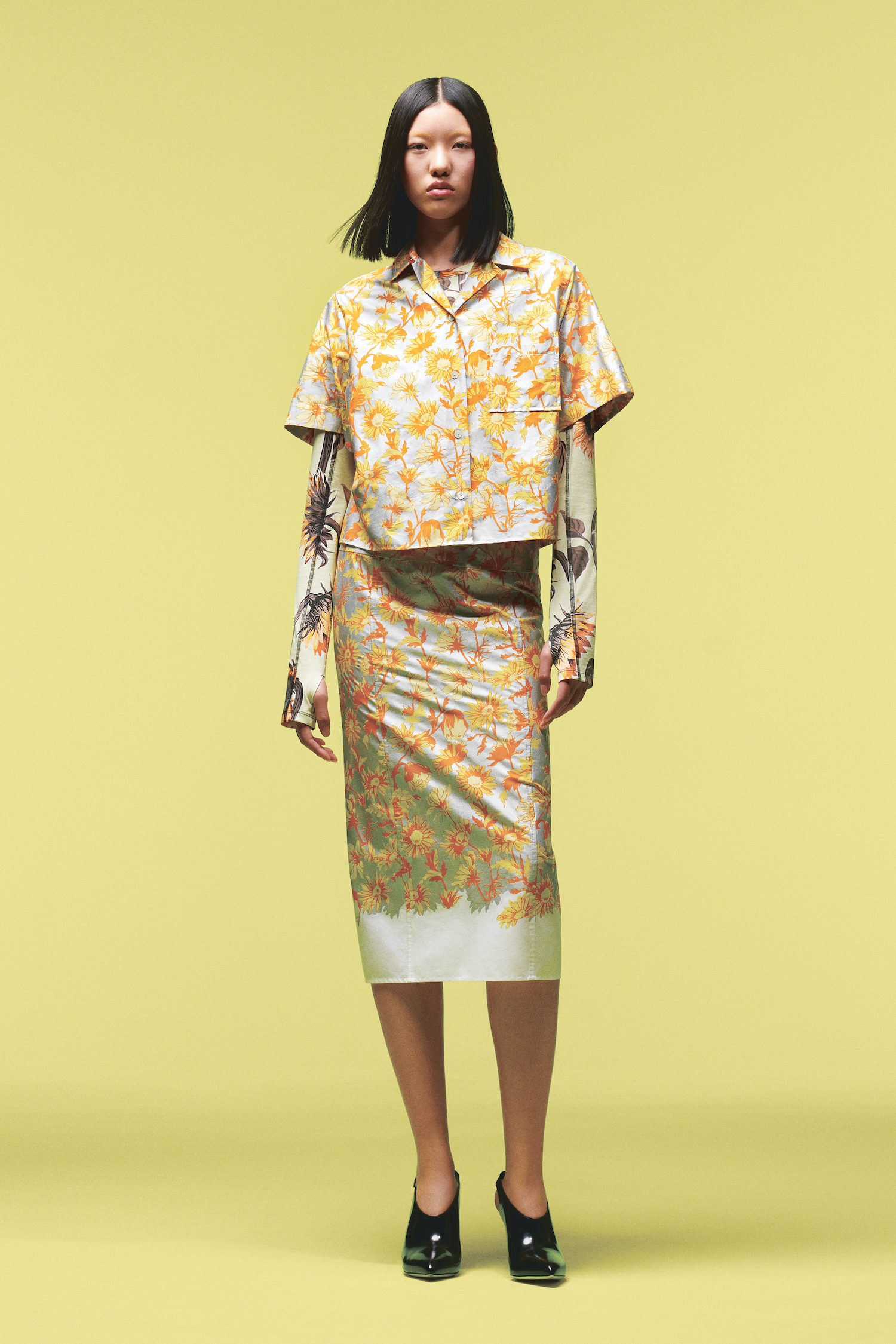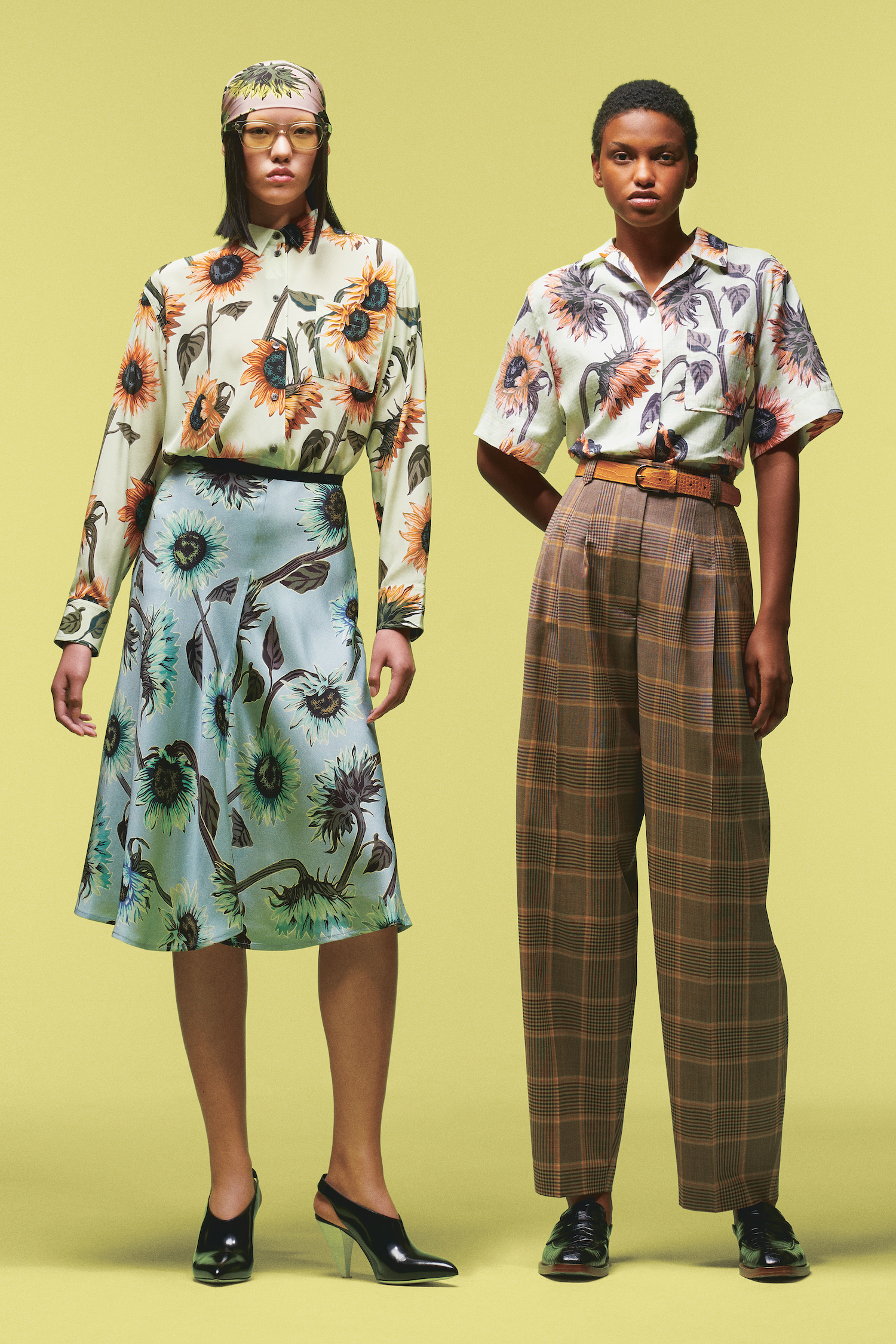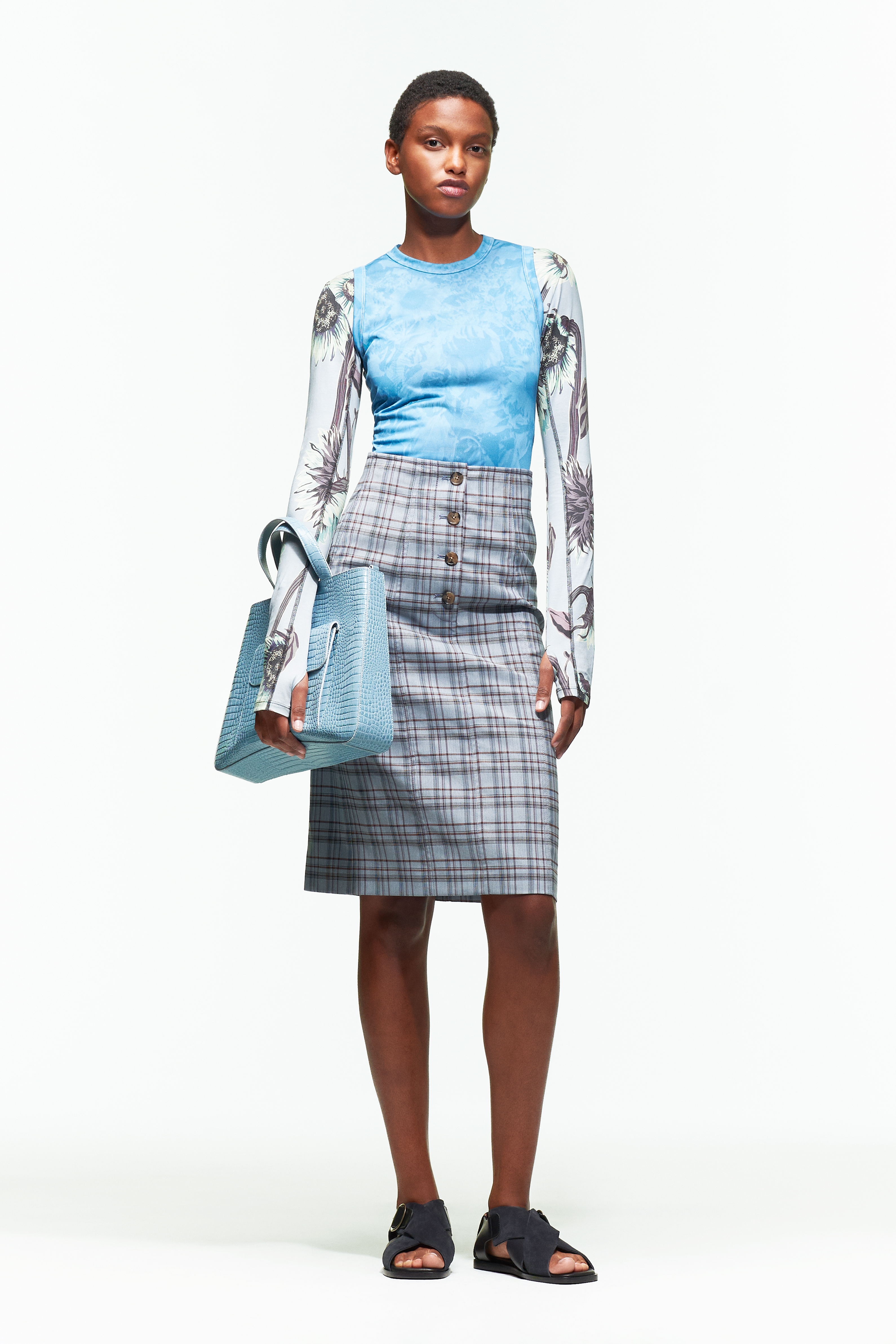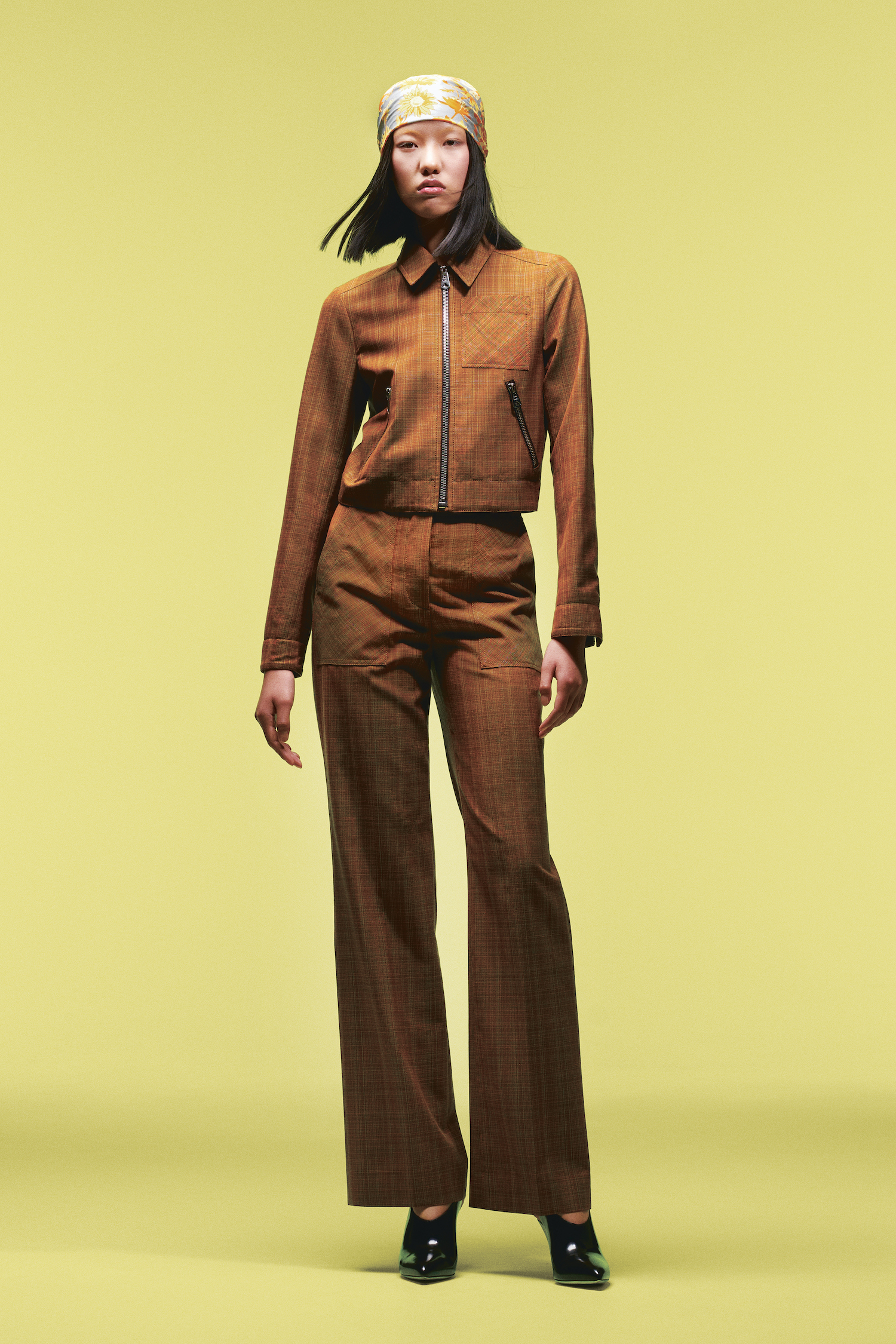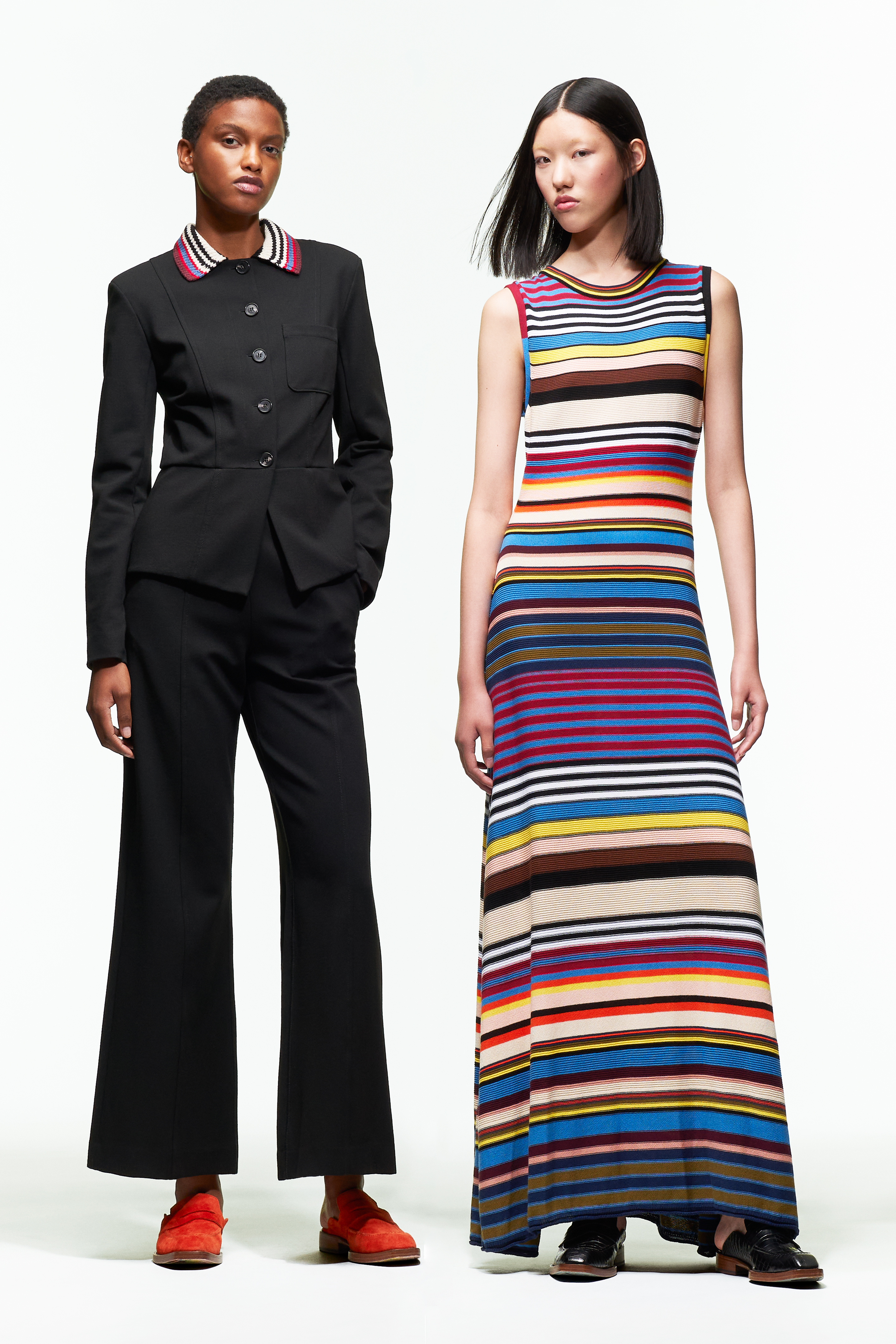 Ann Demeulemeester
It wouldn't be quite right to call Ann Demeulemeester's Sunday show a comeback, but it certainly heralded a new era for the brand. After seven years under the creative direction of Sébastien Meunier, the presentation in a spacious lycée was the first since the Antwerp-based house was acquired by the New Guards Group, the renegade conglomerate behind brands like Off-White and Ambush. While a new design head hasn't been announced – it's currently being presided over by an anonymous design team – it's been confirmed that the namesake founder of the house is back on board in a consulting capacity. Watching the models walk their zigzag route across the gridded runway, her return made itself strongly felt. In an exclusively monochrome palette of canvas, denim, leather and wool, this was a collection that revelled in the grunge-y signatures that won Ann D legions of fans in the mid-to-late 90s, and that a new generation of nostalgic Depoppers are discovering now. Oversized black tailored trousers were paired with white tank tops and grey denim waistcoats, and pure-white column dresses were styled with harness-like bands of streaming black tape. Rather than redress the table and propose an entirely new aesthetic direction for the brand, this was an accomplished body of work that looked within and recognised what so many people love the brand for, delivering exactly that. MS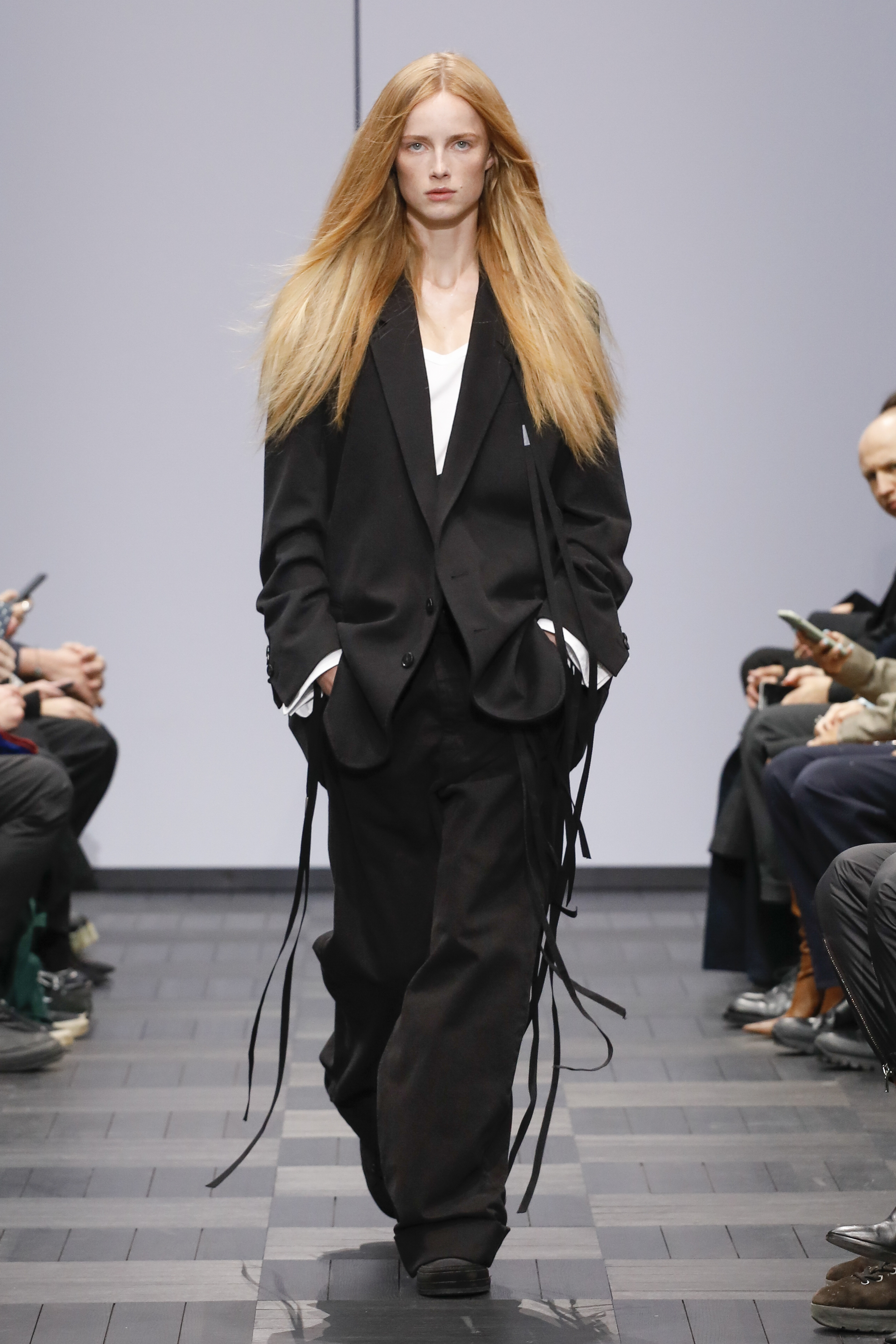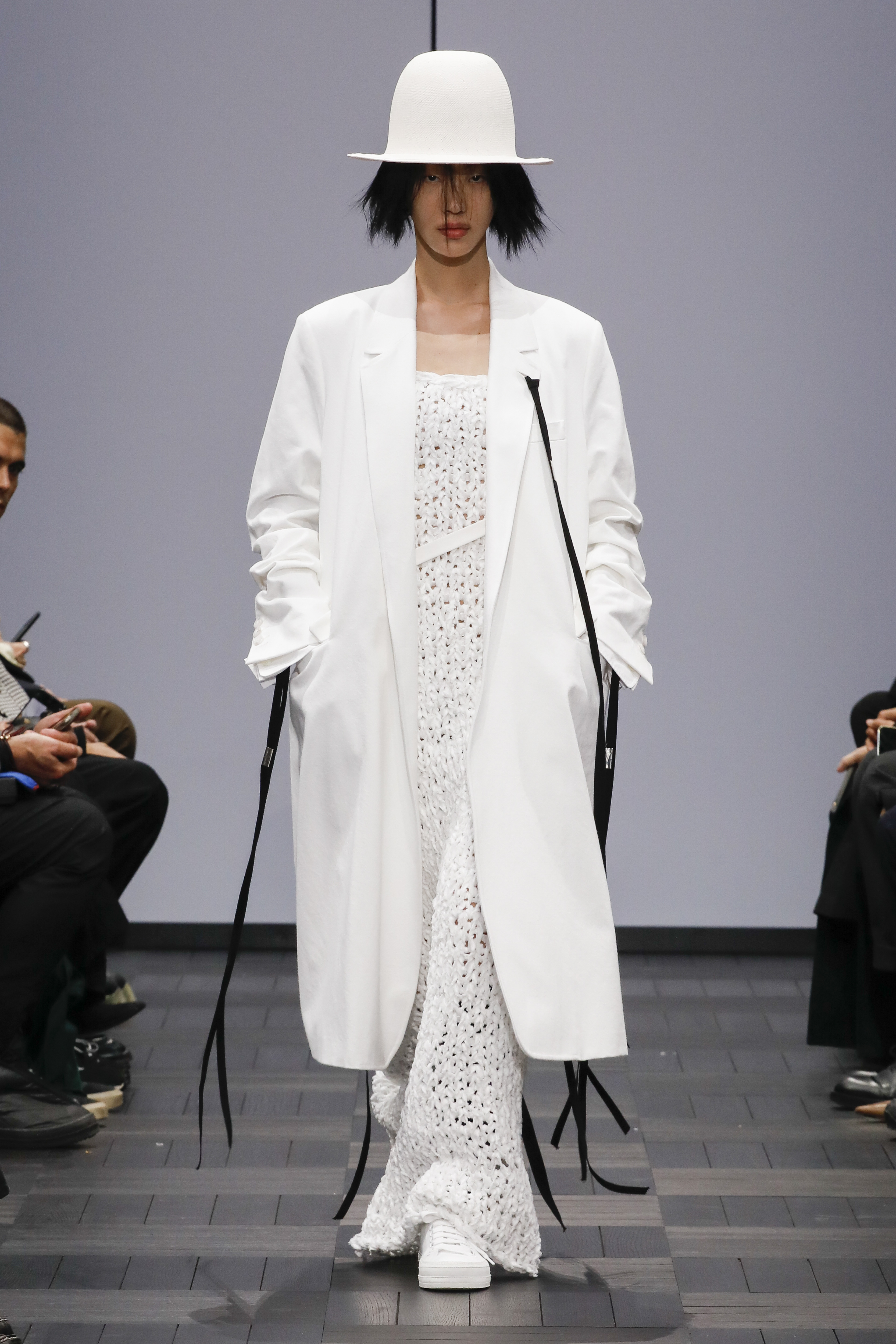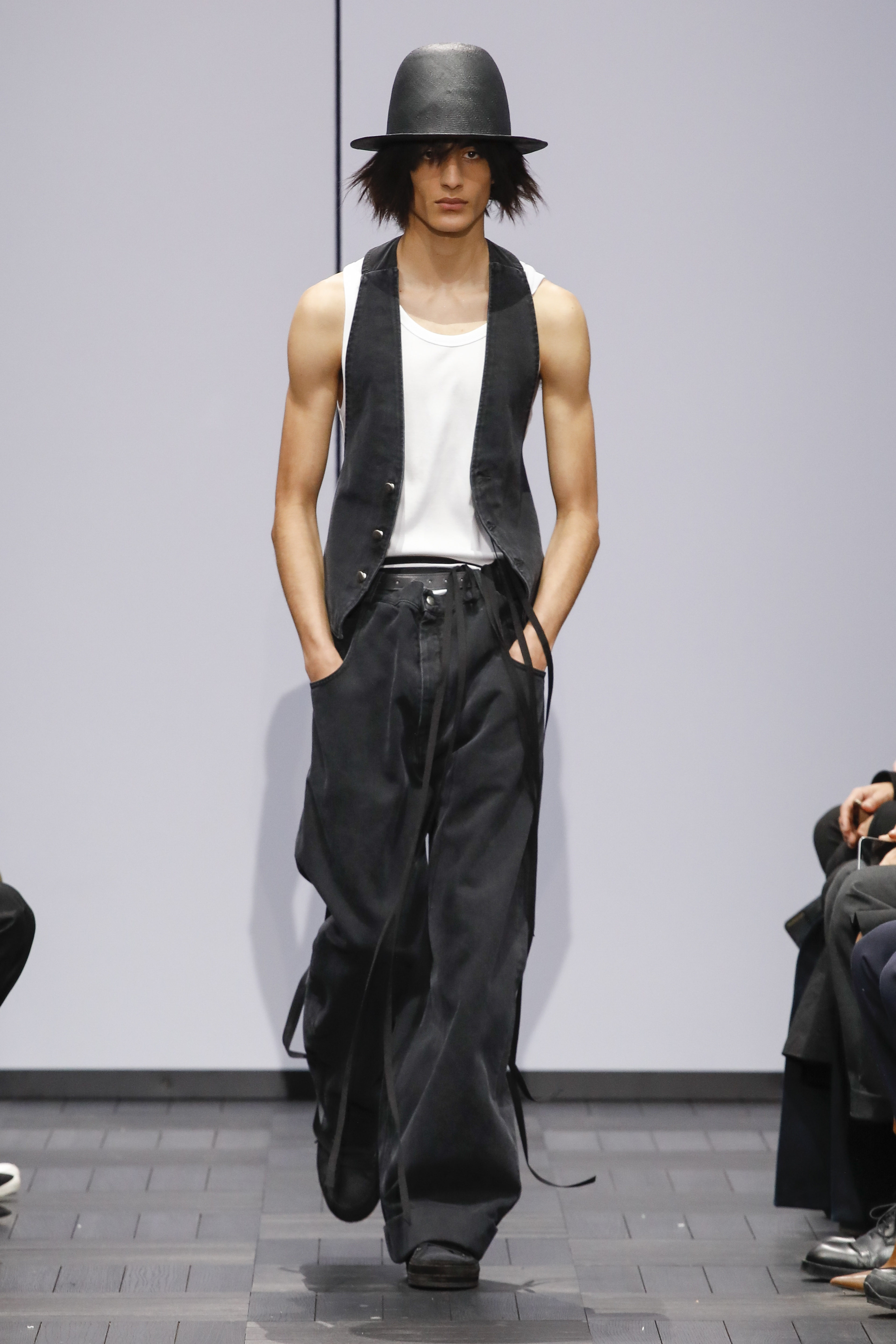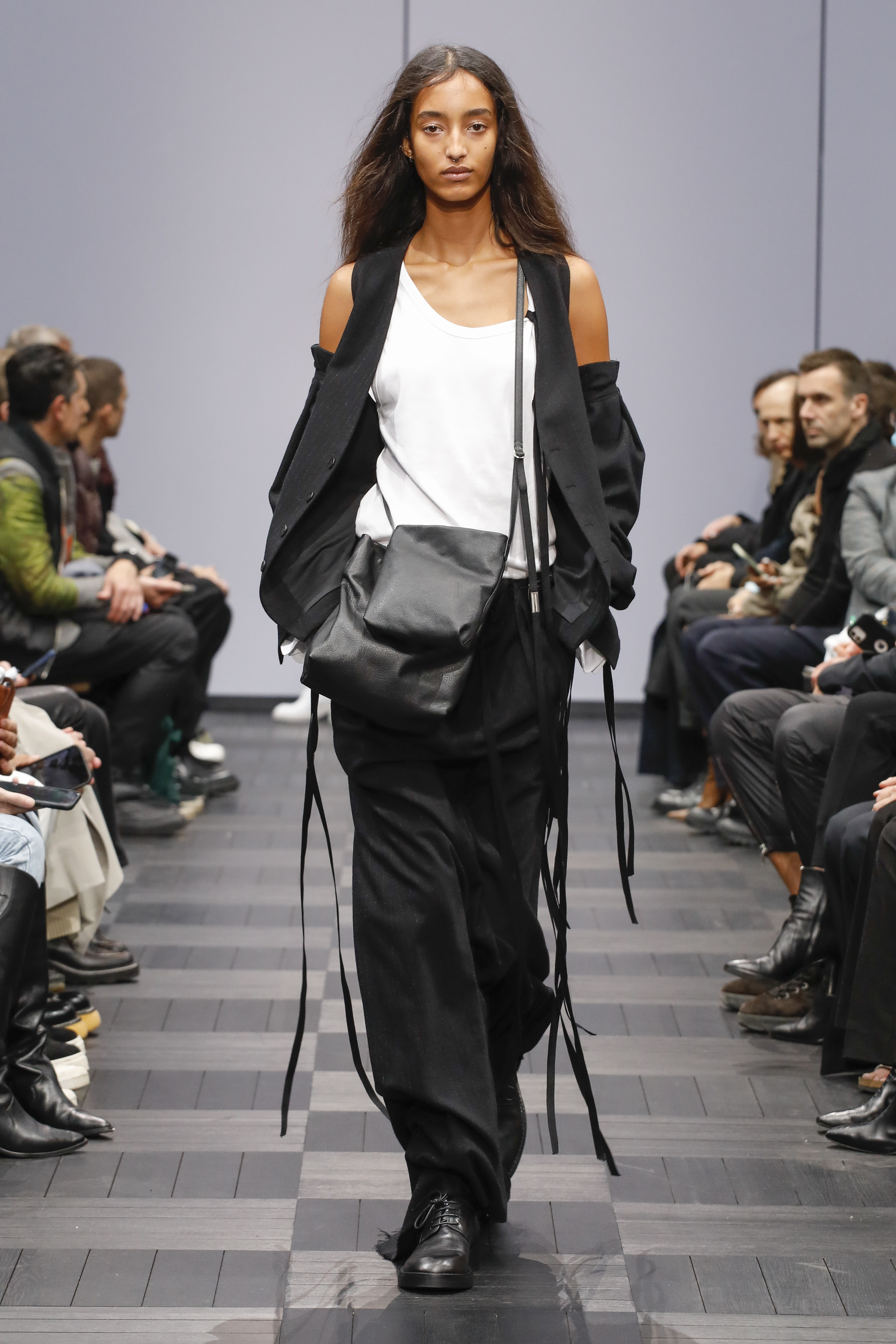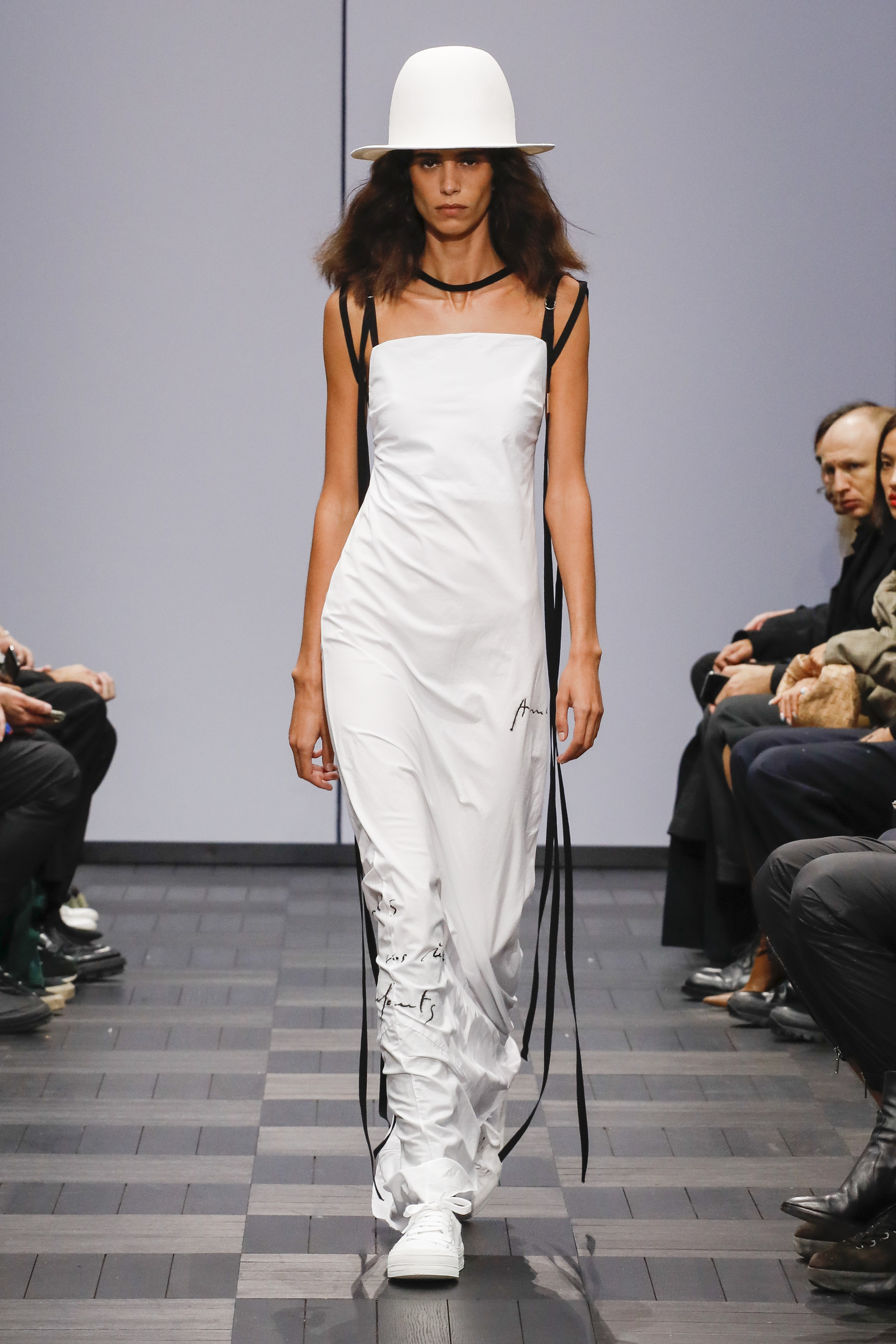 Ludovic de Saint Sernin
In a season that has basically been a bubbling cauldron of pheromones, there was always going to be one designer to pay due attention to. That is, of course, Ludovic de Saint Sernin, Paris' supremo purveyor of clothes that'll get anything with a pulse hot under the collar. The collection he presented in the colonnaded basement of the Institut du Monde Arabe was no exception, building on his track record of popularising itsy-bitsy thongs and Swarovski crystal mesh crop-tops among his Extremely Online audience. Fittingly titled "Désir" (that's Desire in English), it saw a parade of buff bodies saunter down the runway in crystal net mini-pareos, form-fitting minidresses, crop-tops composed of bands of supple lambskin and separates in gossamer smocked silk that pooled at the ankle like the foamy white horses of a cresting wave. With its palette of rich earthen hues, punctuated with volcanic flashes of scarlet, orange, and fuschia, watching the collection file out felt more like a long, slow smoulder, marking a notable turn from the poppier, more screen-friendly tone that has marked much of what we saw from Ludovic over the course of the pandemic.
That's in part because this was a collection made for the runway, rich with pieces that are made to be seen in the flesh – we challenge anyone not to be hypnotised by the glimmer of intentionally-undone crystal slip dress or the single-shouldered, glitzy mermaid-y number as they walk by. Beyond the more obviously eye-catching pieces, though, it was all underpinned by the same commitment to exacting, couture-level craft standards that the designer has placed at the heart of his work since the start. Save for the label, those aforementioned leather pieces didn't have a single stitch in them, held together by hand-knotted leather cord. And a pair of taffeta boxer shorts were decorated with delicate, hand-embroidered flame motifs — the result of a collaboration with painter Jean Claracq. Altogether, this emanated an irresistible sense of confidence. What could be sexier than that? MS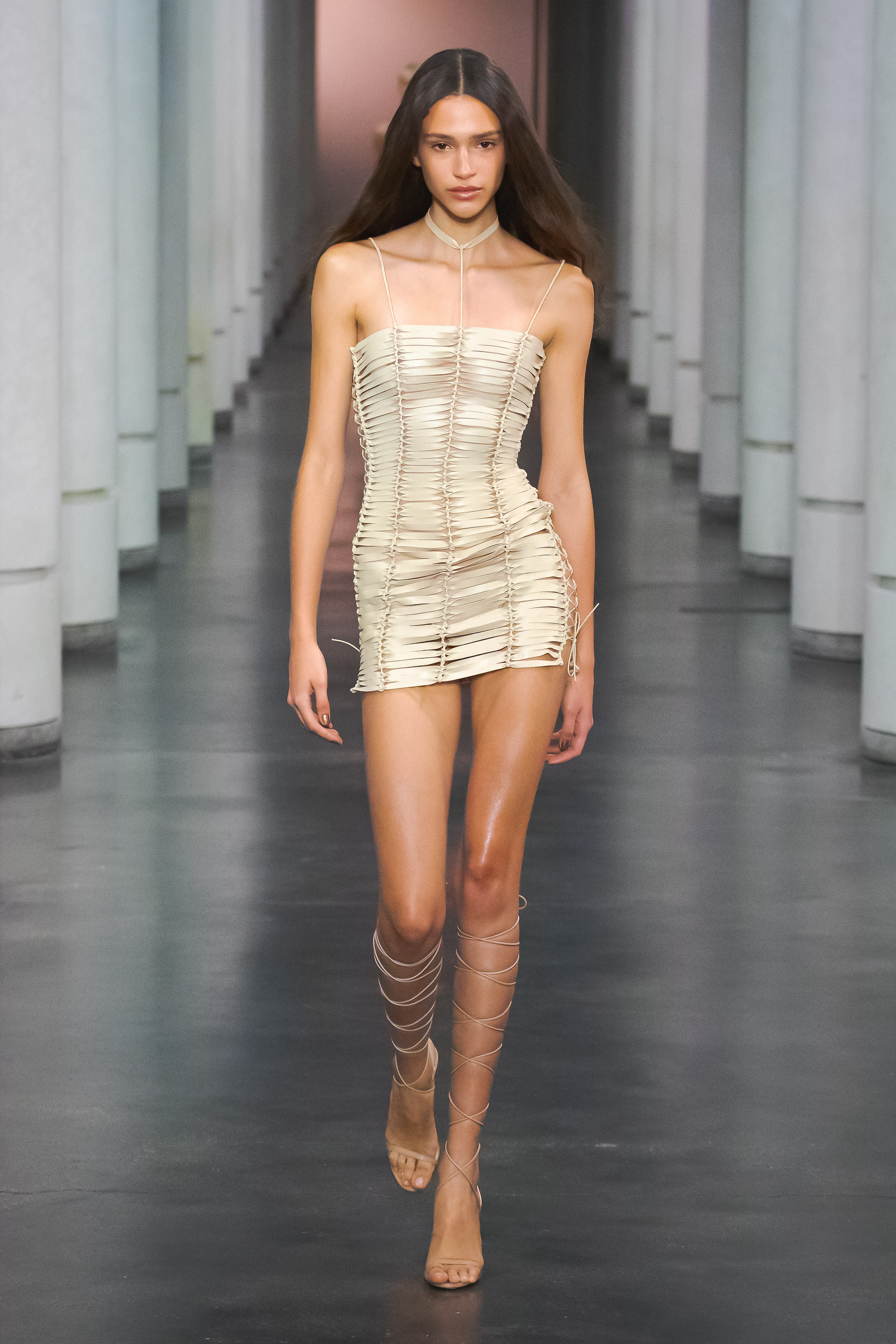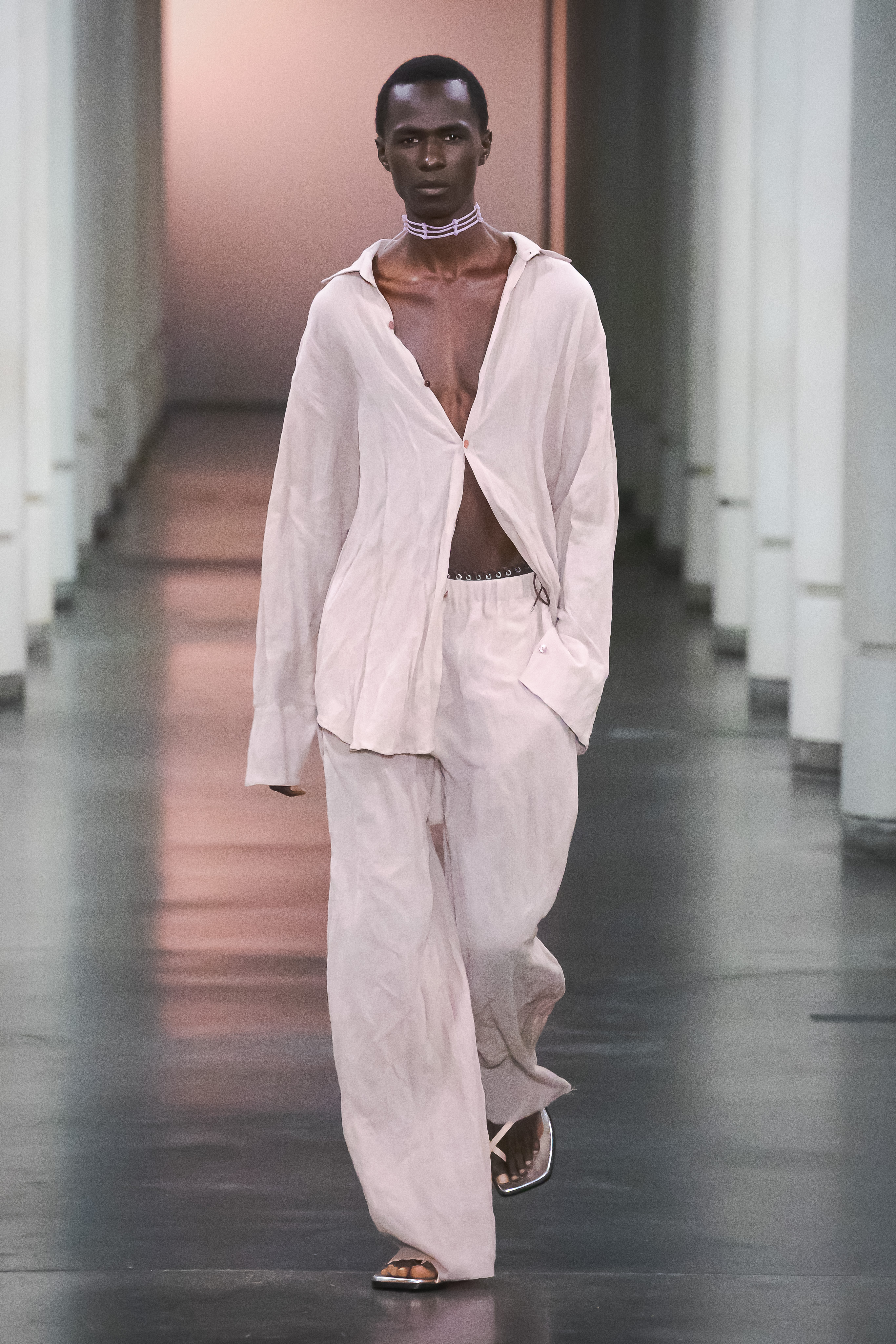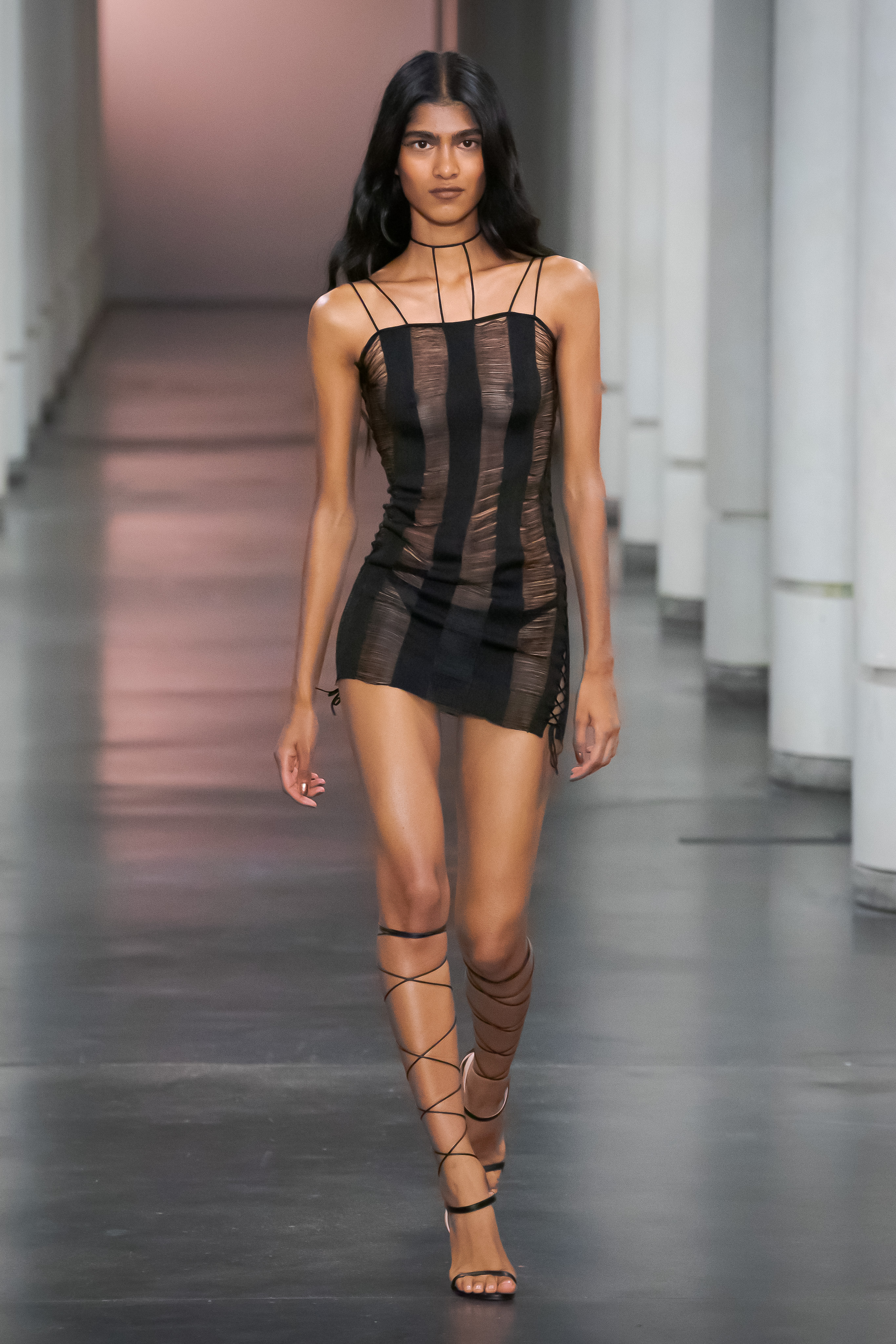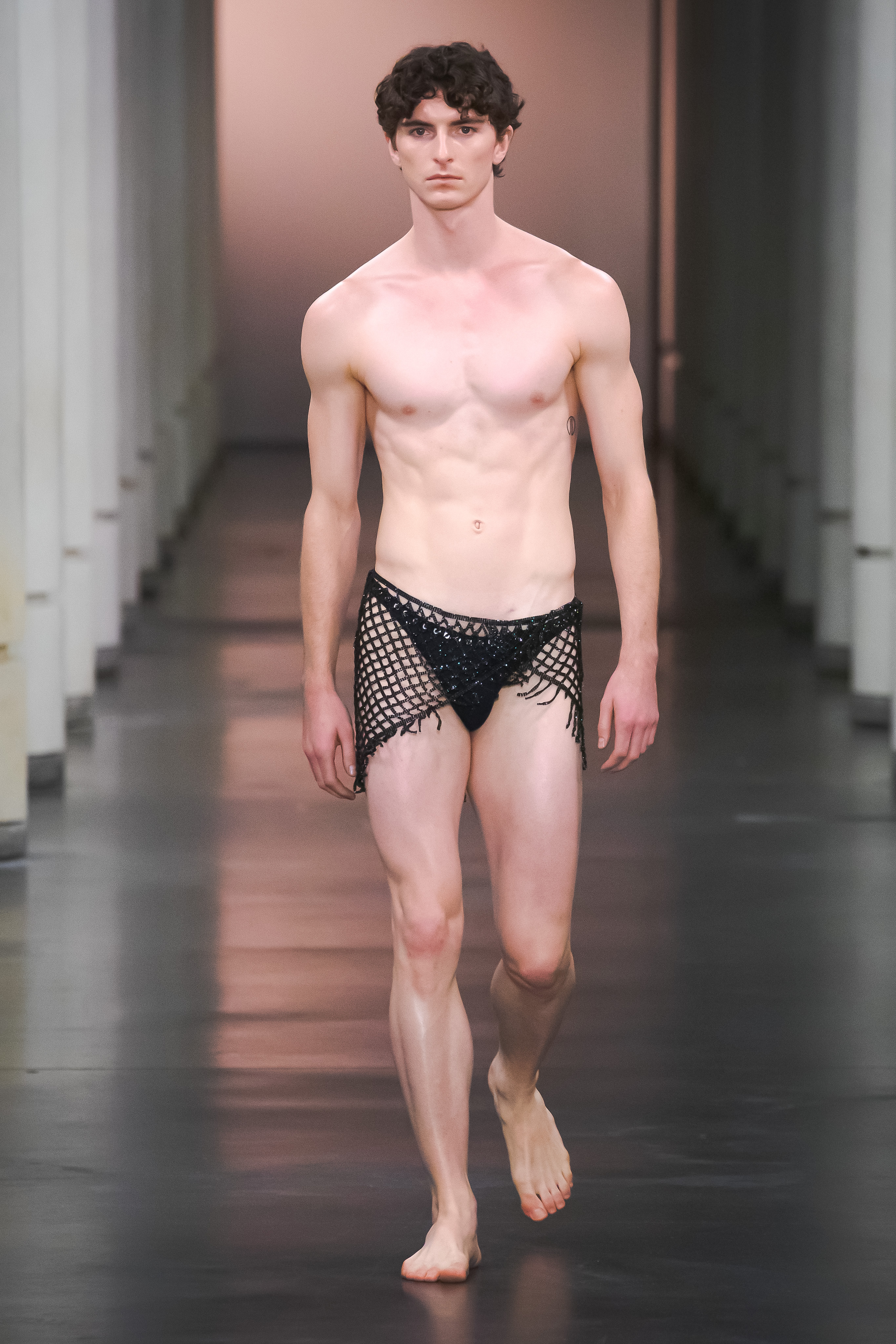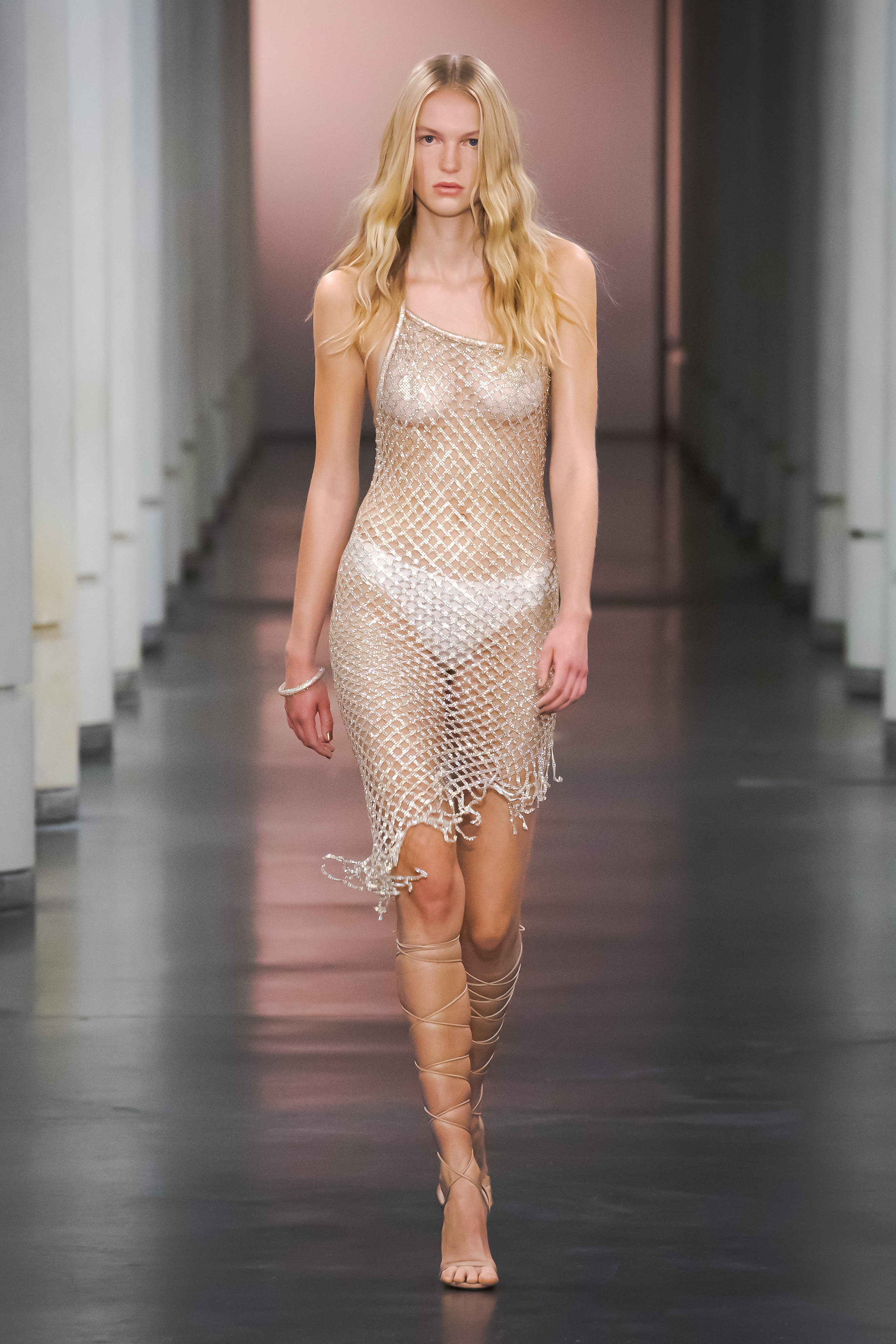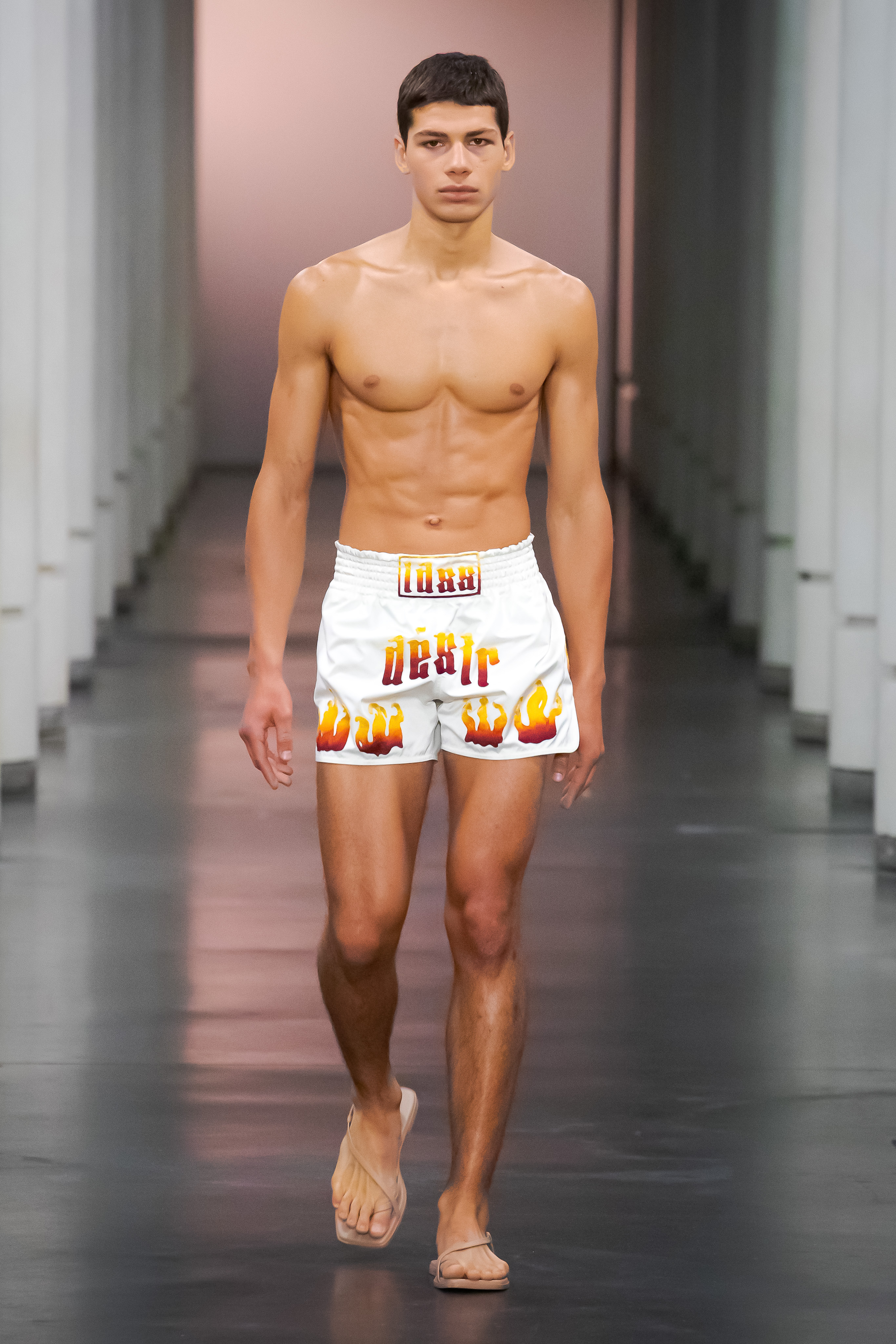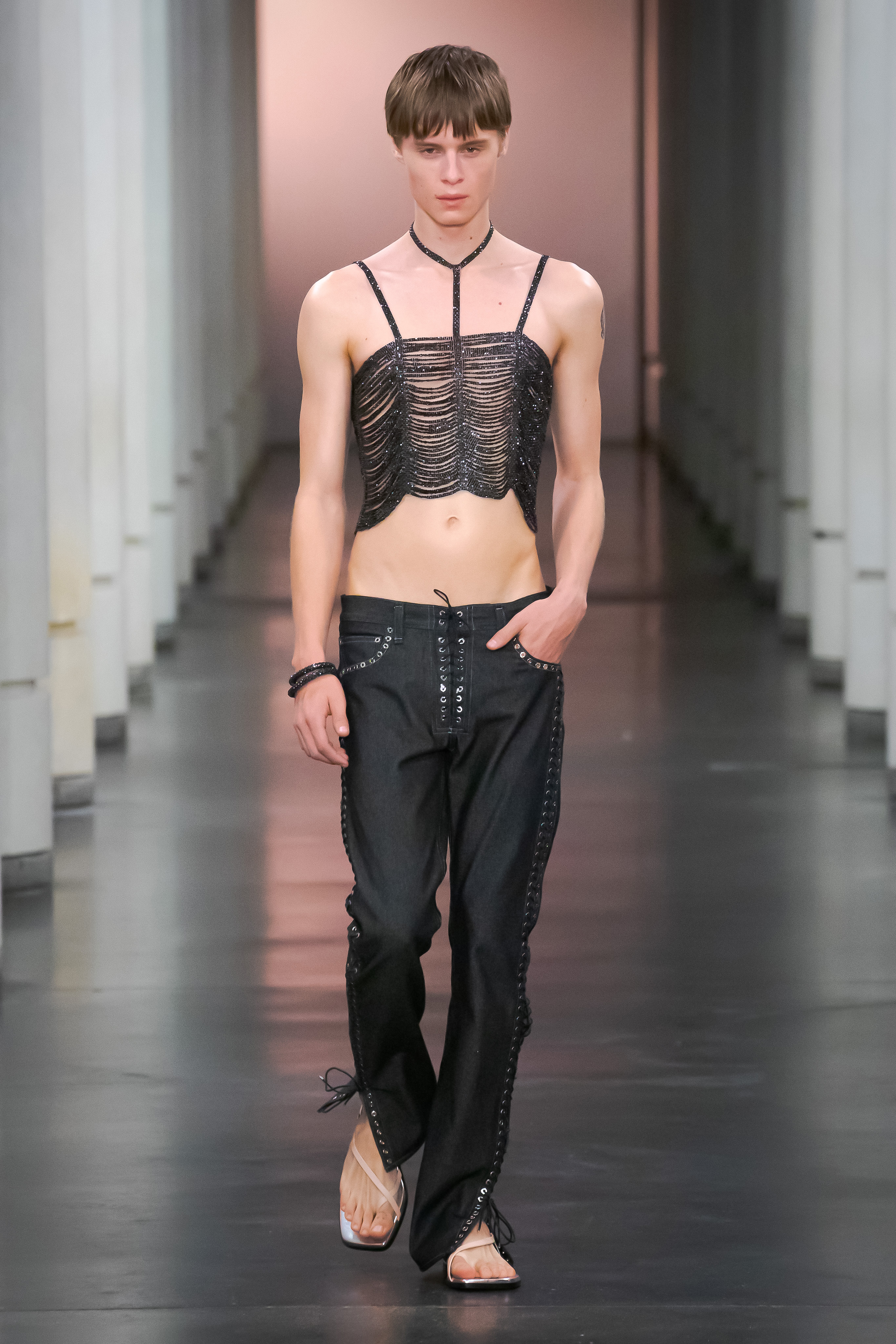 Balenciaga
It's a pretty safe bet that, over the past year and a half, the head honchos at the industry's biggest houses have been scheming how to take home the fashion week crown upon the eventually return of physical fashion shows. For Demna Gvasalia and the gang over at Balenciaga, the answer was to not stage one at all… well, sort of. While the Parisian house did stage an IRL event replete with models, editors, celebs and influencers alike, it wasn't a fashion show like you or I have ever known. Rather this was a hyper-meta exercise in playing out contemporary celebrity culture and the crucial role that Balenciaga has played in shaping its aesthetic. You'll have to go read our full review here to find out what exactly it entailed, but, with it's open-to-all red carpet, celebs-as-models and models-as-celebs, and Simpsons collab, it's safe to say that Balenciaga just won fashion week. MS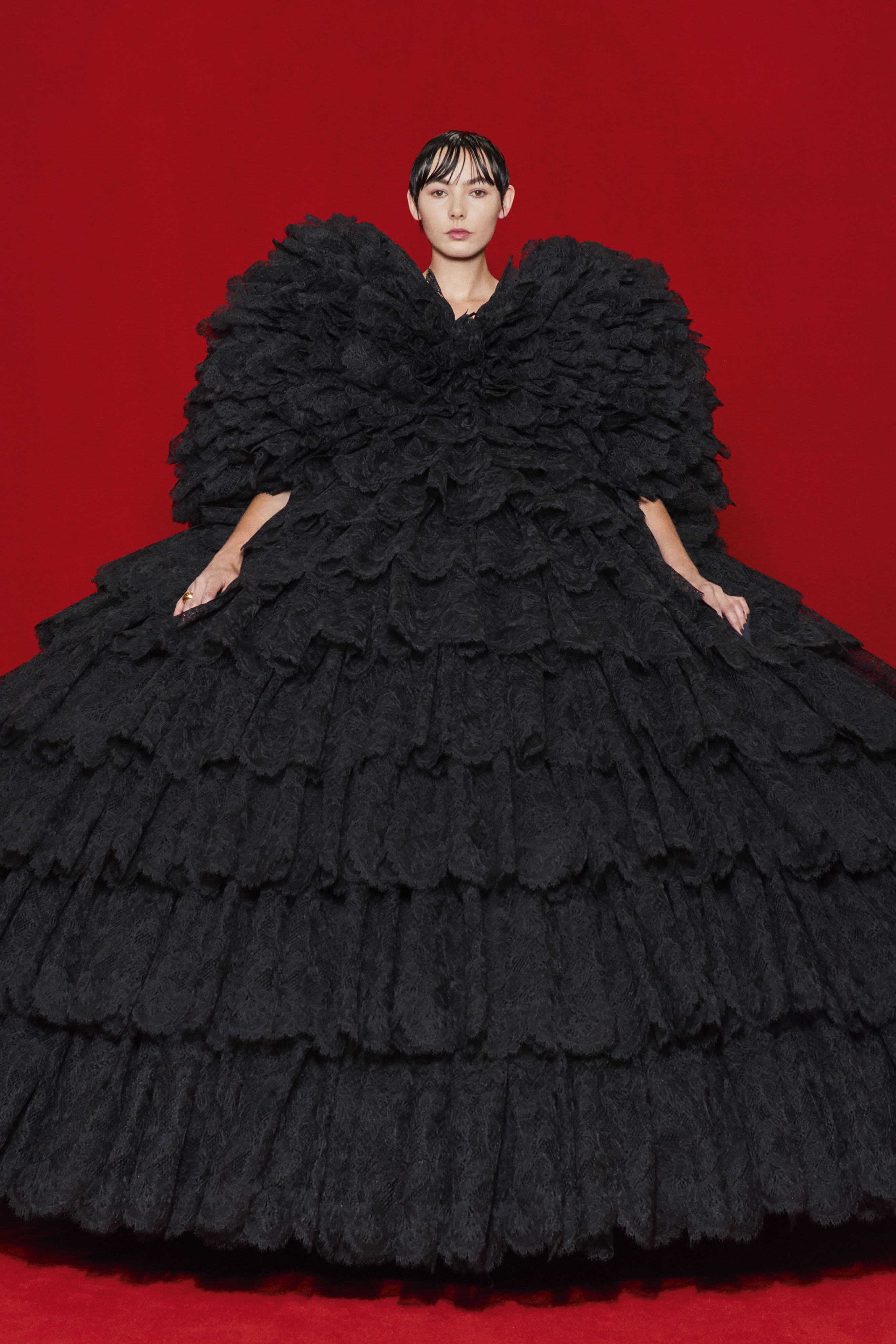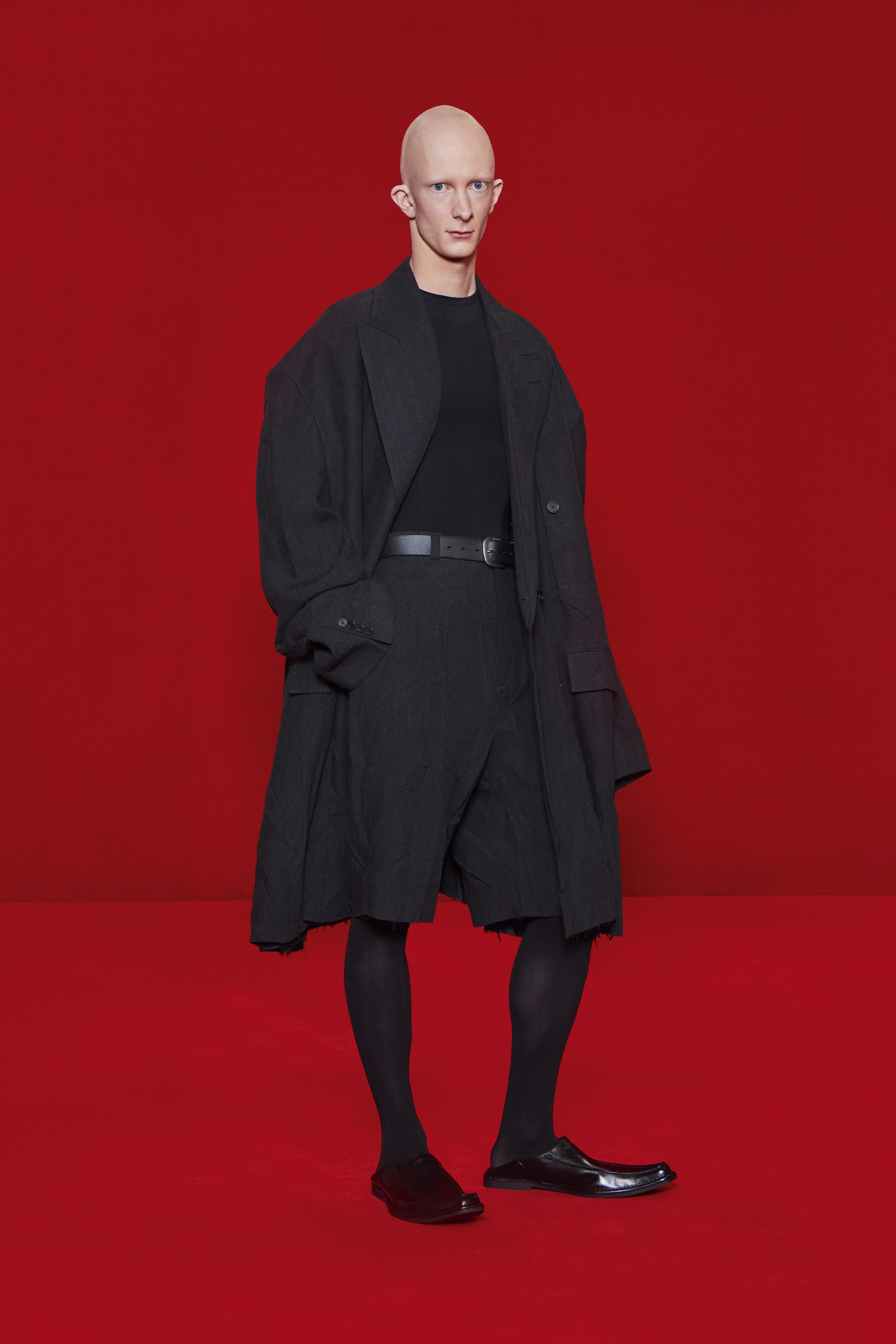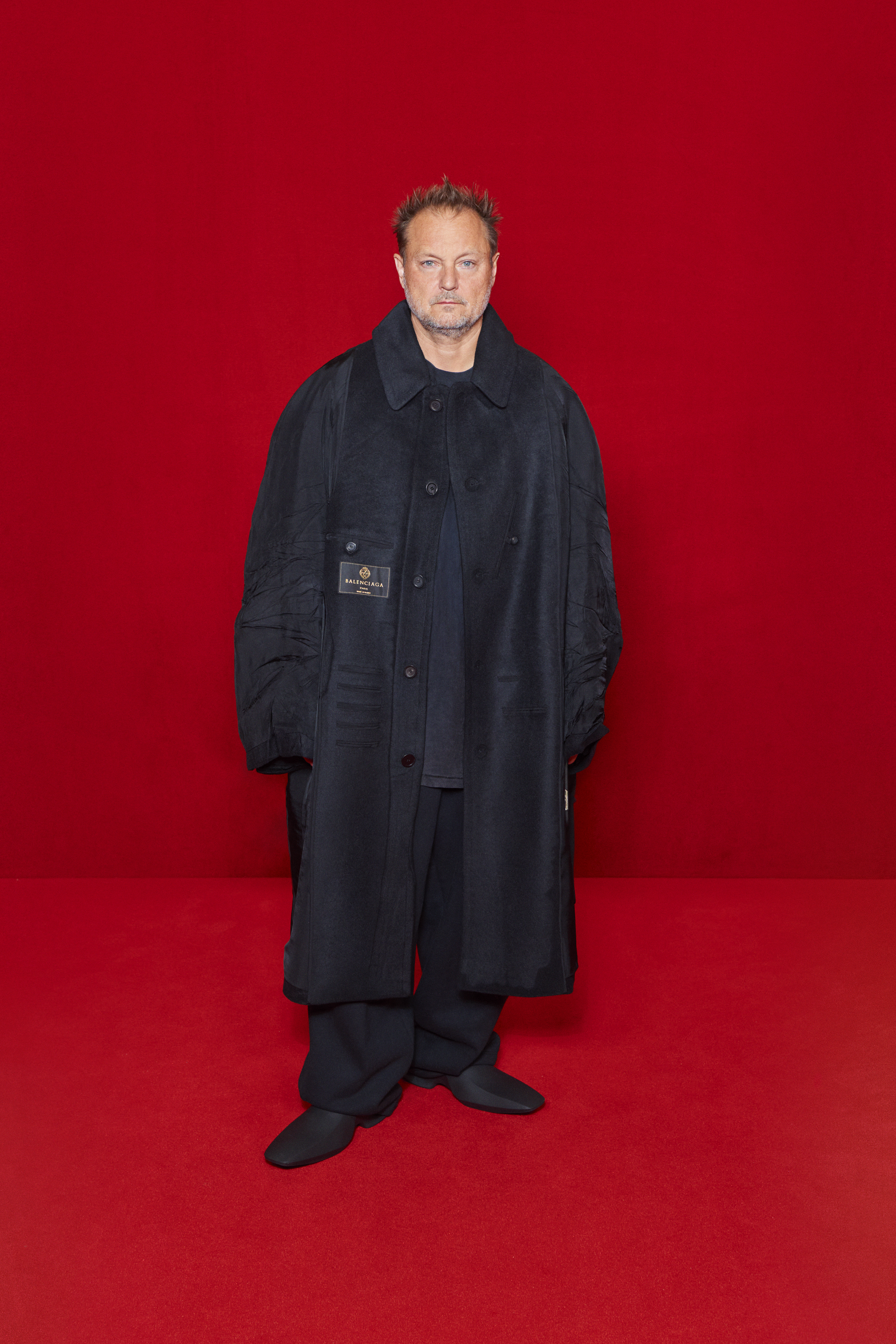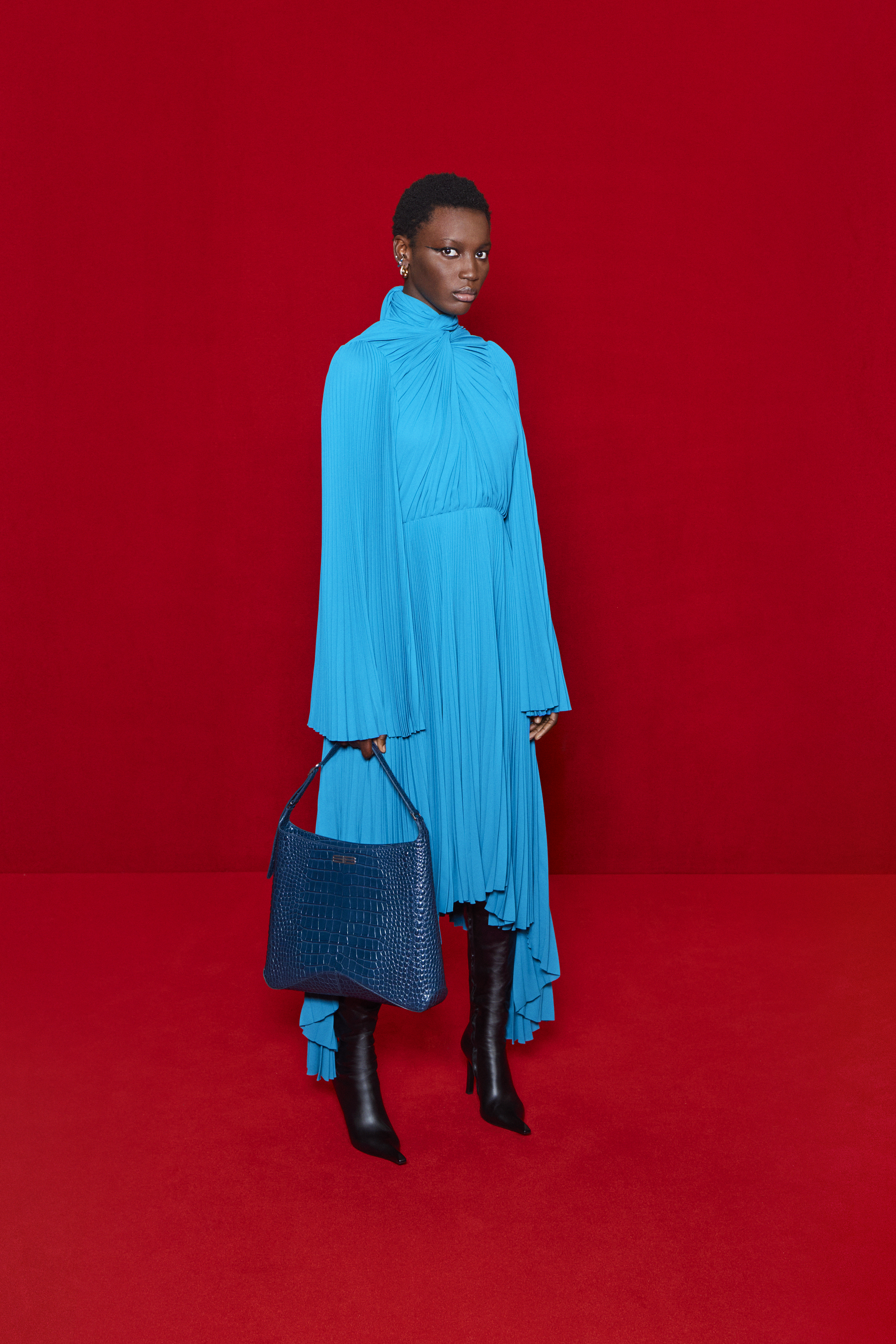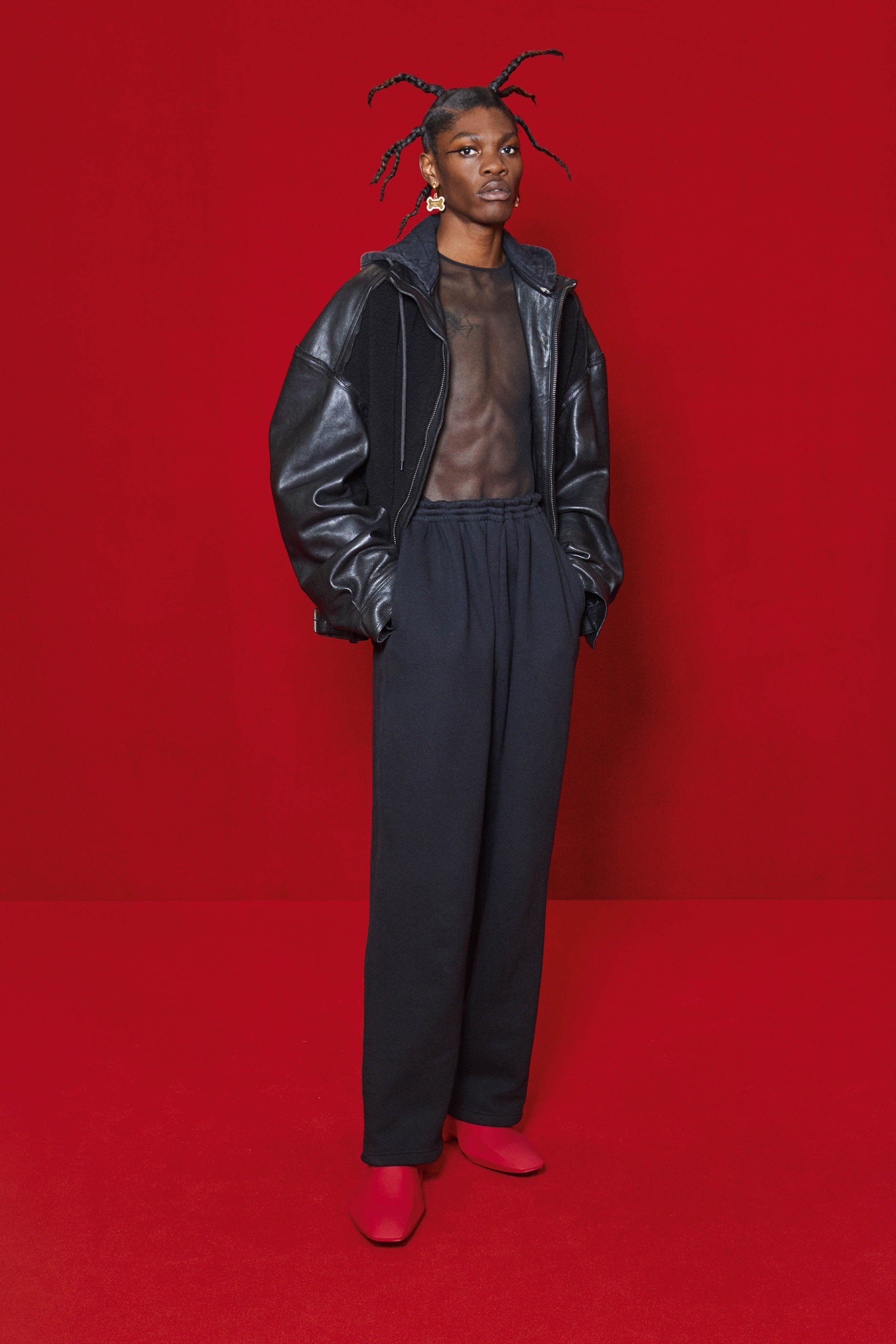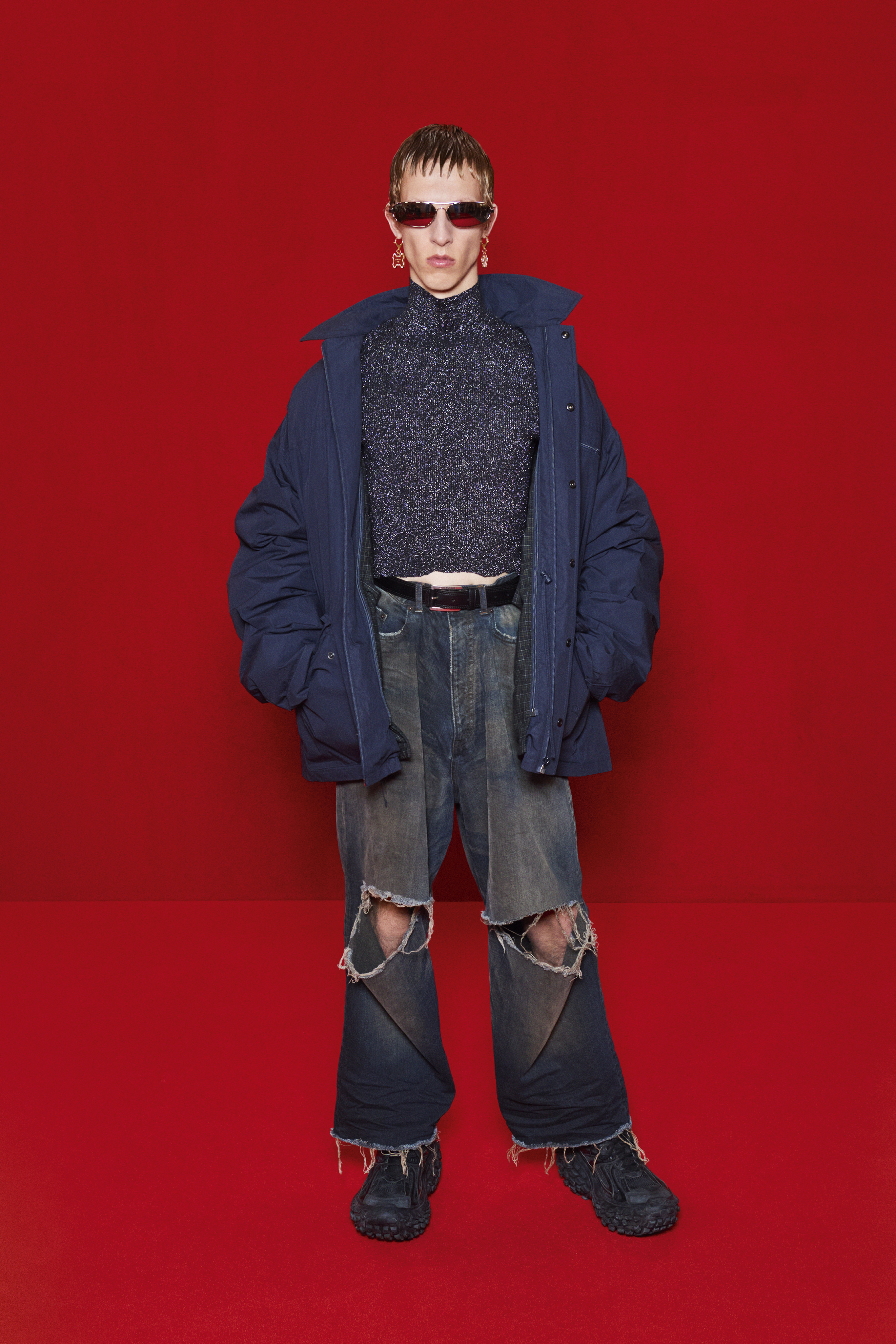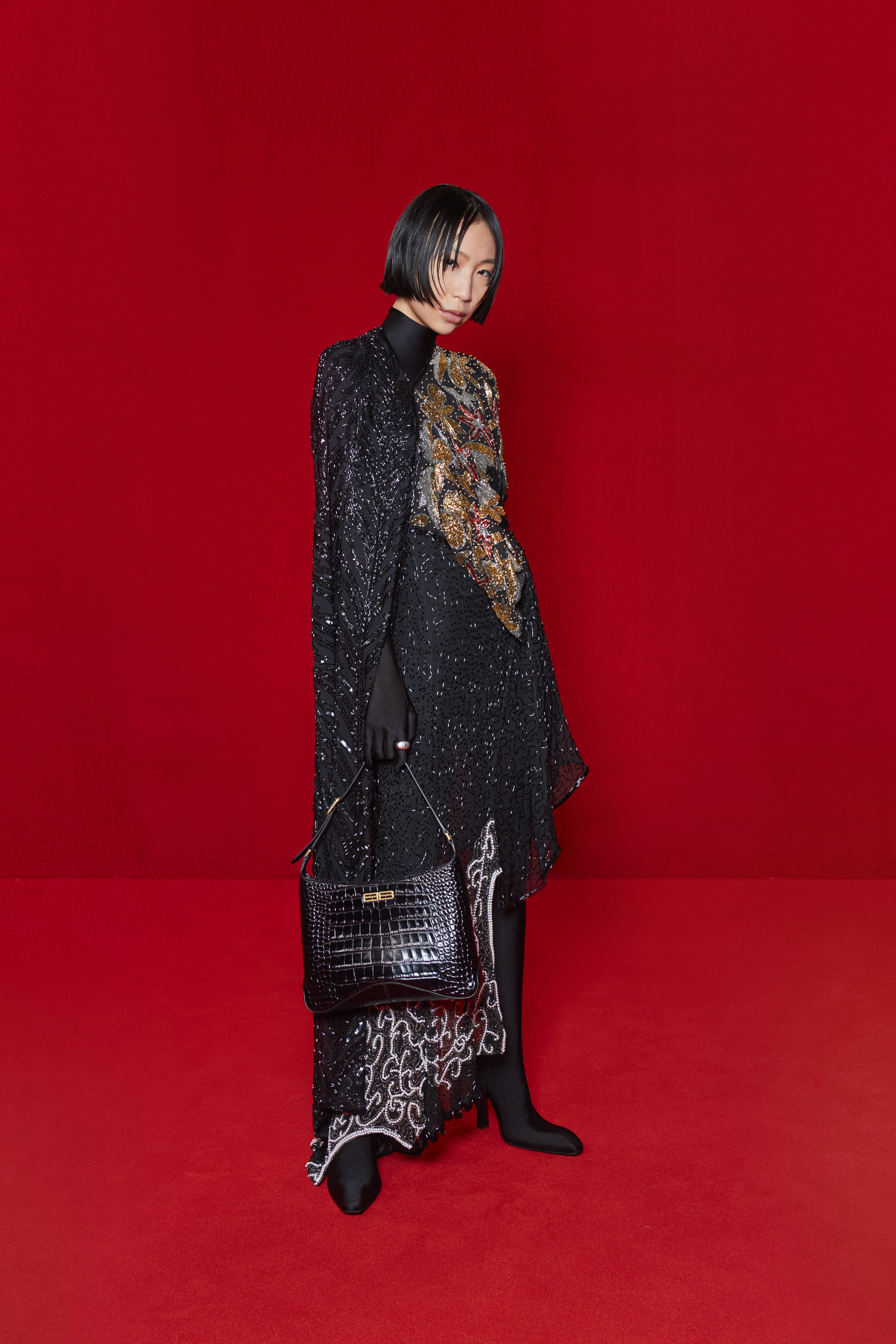 Hermès
Spending a whole week in traffic-clogged Paris during fashion week can be a lot, so it was with glee that Hermès' invitees headed out to an airfield on the outskirts of the city for a chic excursion. Whenthey arrived, they were greeted by a giant hangar decorated with paintings by artist Flora Moscovici, the source of inspiration for Nadège Vanhee-Cybulski's latest collection for the house. Rich with sunset yellows and raw, earthen tones, it delivered exactly what you look to Hermès for – impeccably crafted, quietly luxurious garments that are almost therapeutic to see and touch. Sounds fab, doesnt it? Well, head here for the full lowdown! MS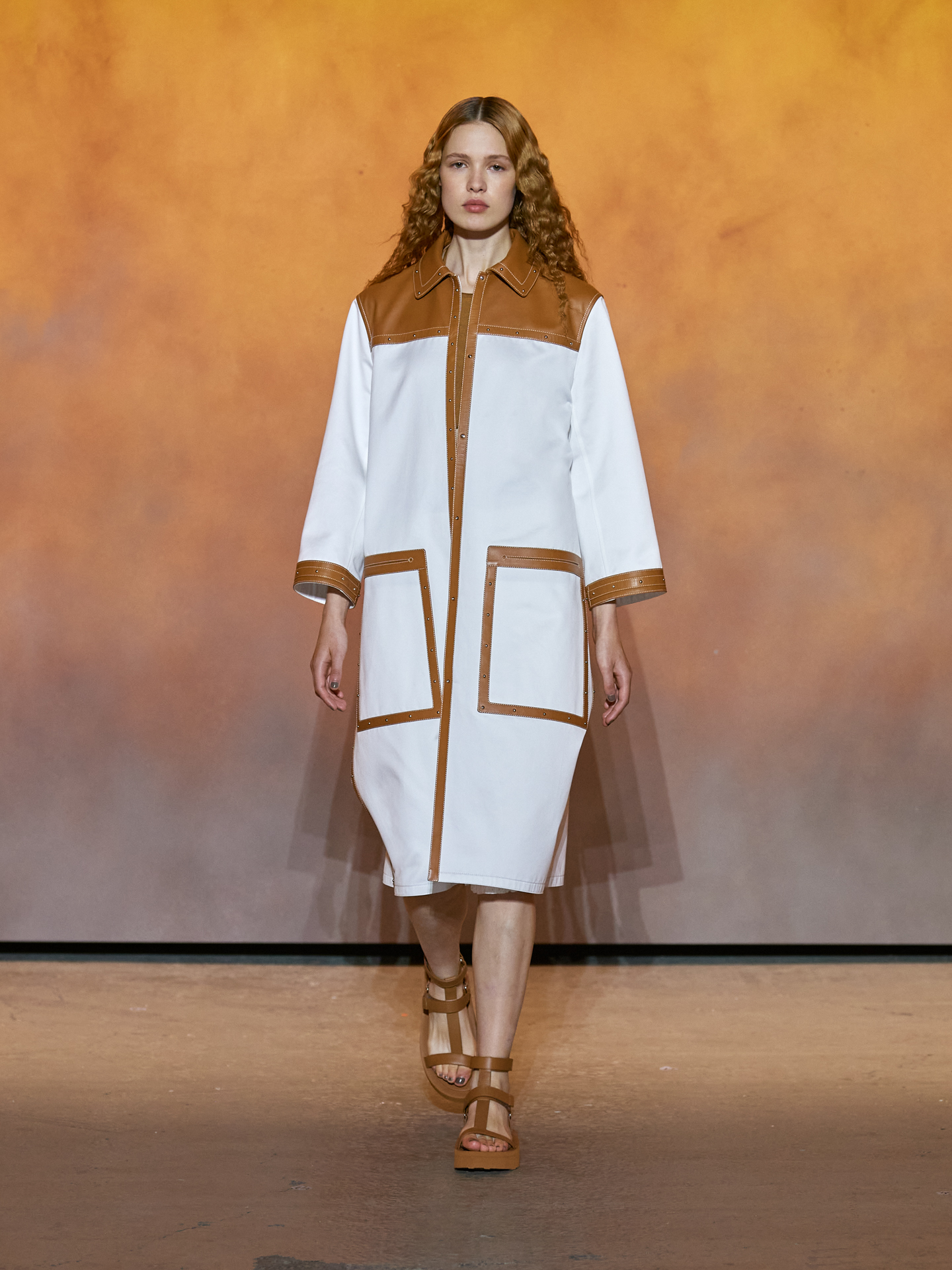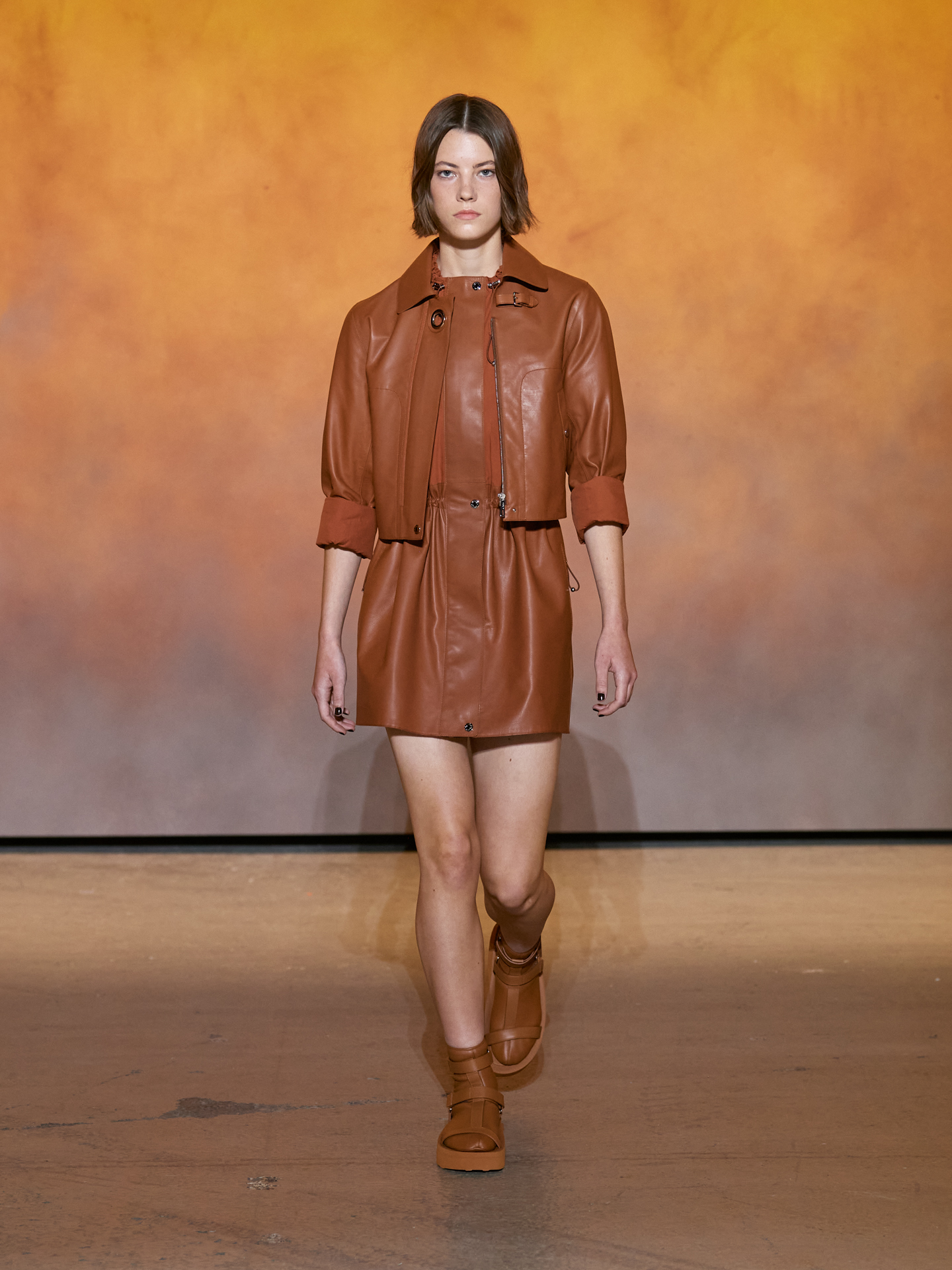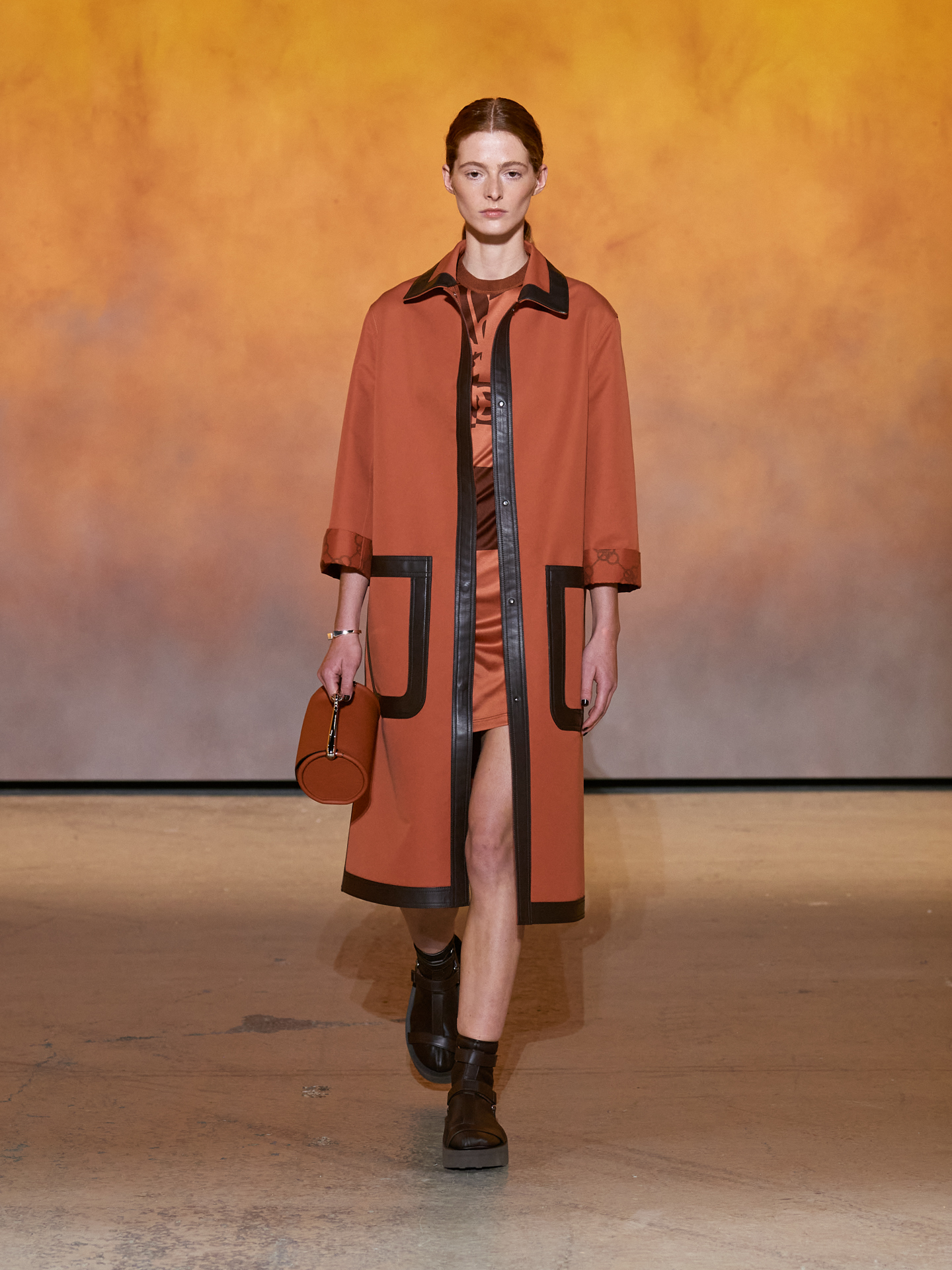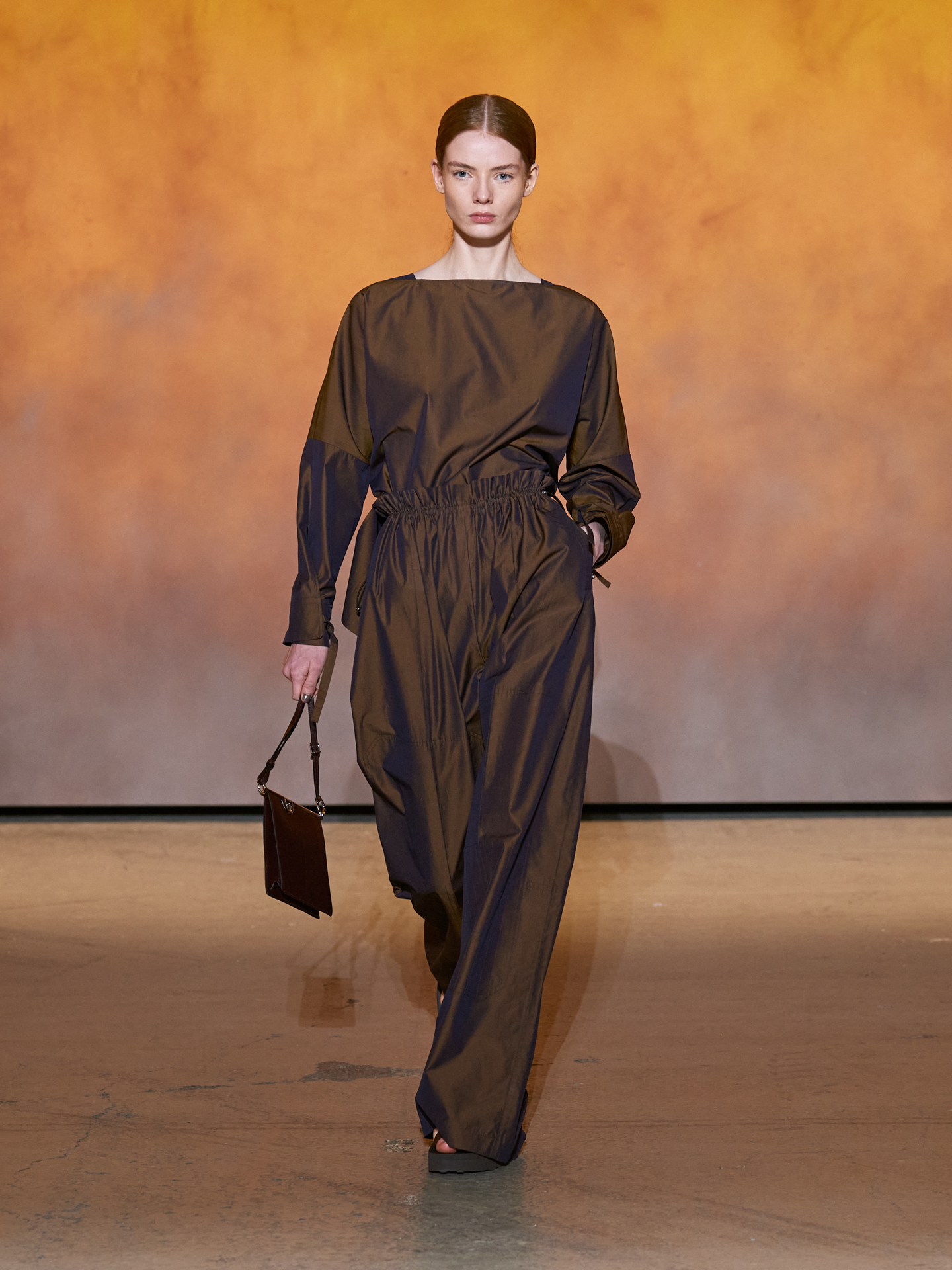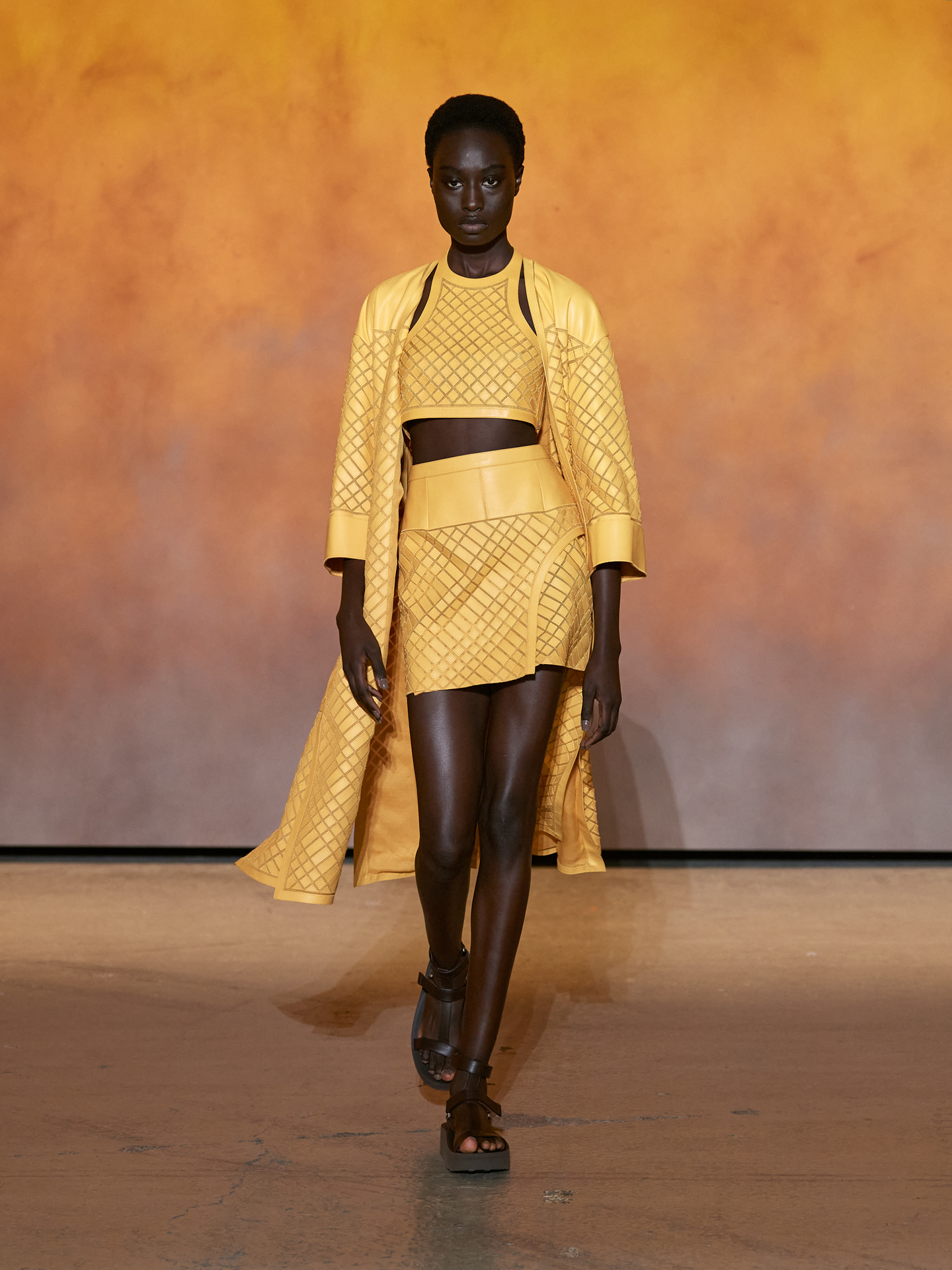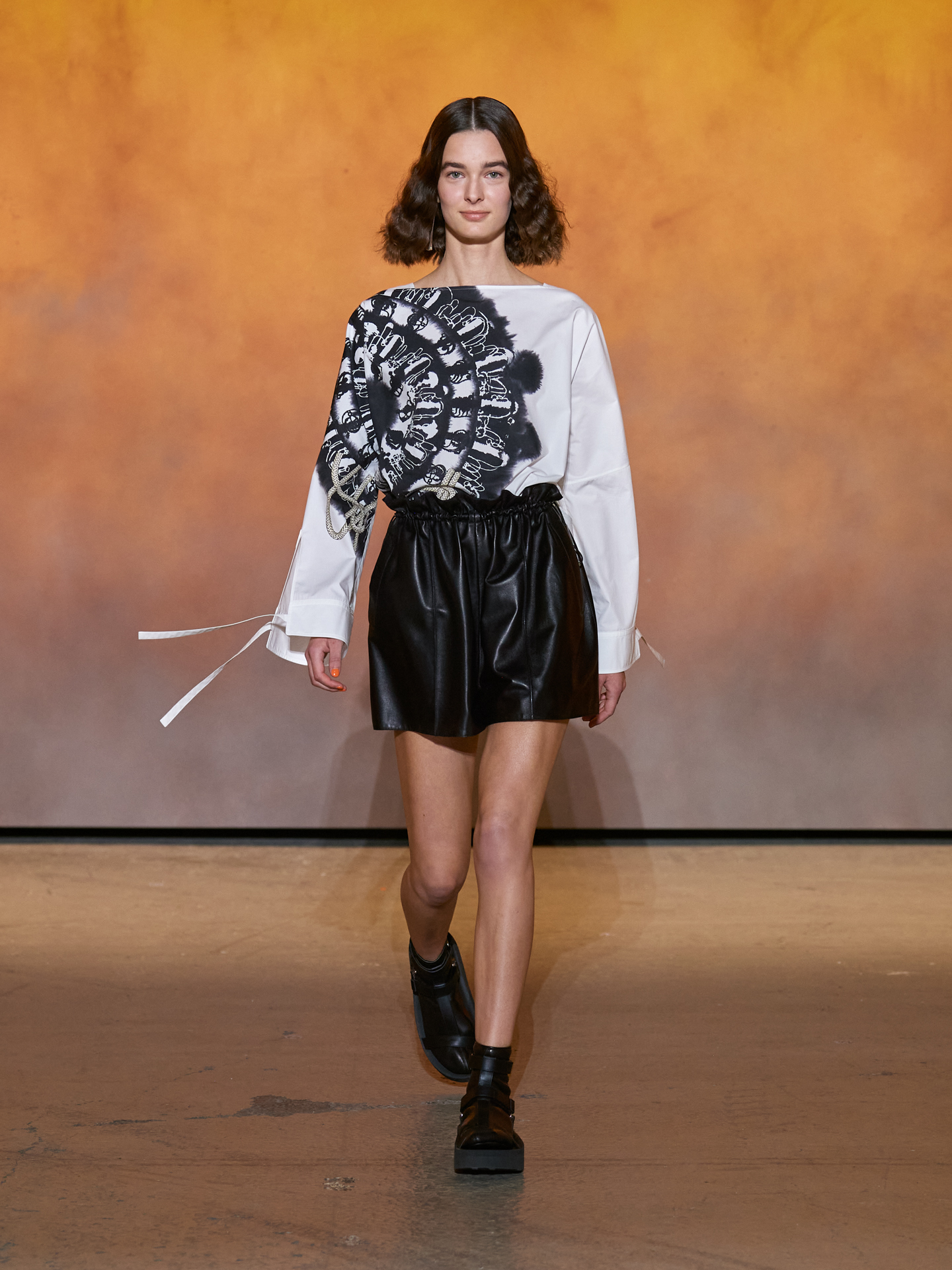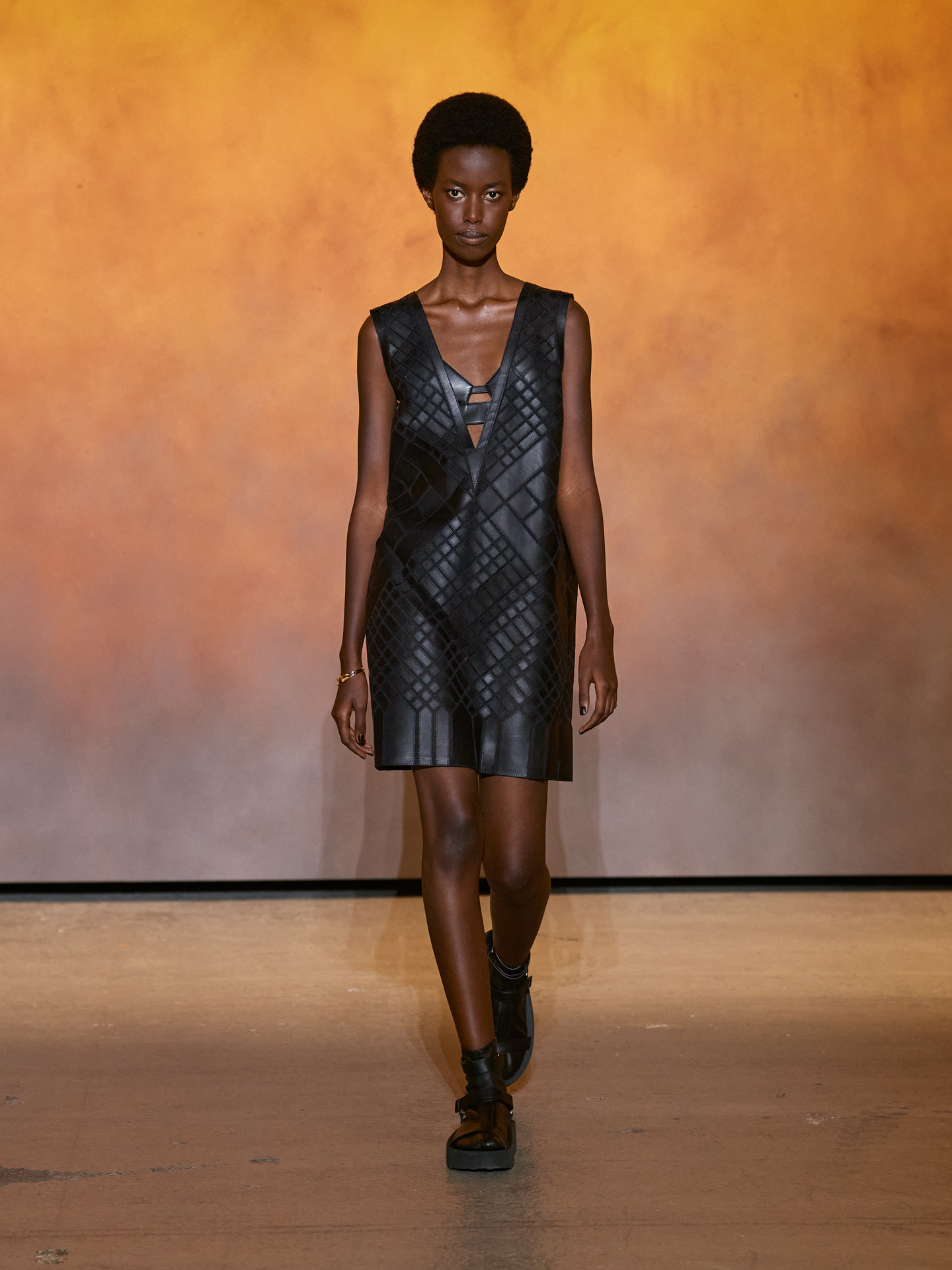 Andreas Kronthaler for Vivienne Westwood
You of course know by now that this season is all about baring skin and sexiness, but there's something about much of what we've seen that almost feels a little too serious – too sultry and smoky-eyed. Proving that a carefree sense of quirkiness can prove just as seductive was Andreas Kronthaler for Vivienne Westwood. Pieces with blown-up busts and comically-proportioned halter-neck boots (yes, you read that right) were complemented by elegant latex column gowns and twisty draped dresses, resulting in the careful balance of a wink-wink-nudge-nudge sensuality with an exacting sense of craftsmanship and a hefty dollop of romance. Here's the full debrief! MS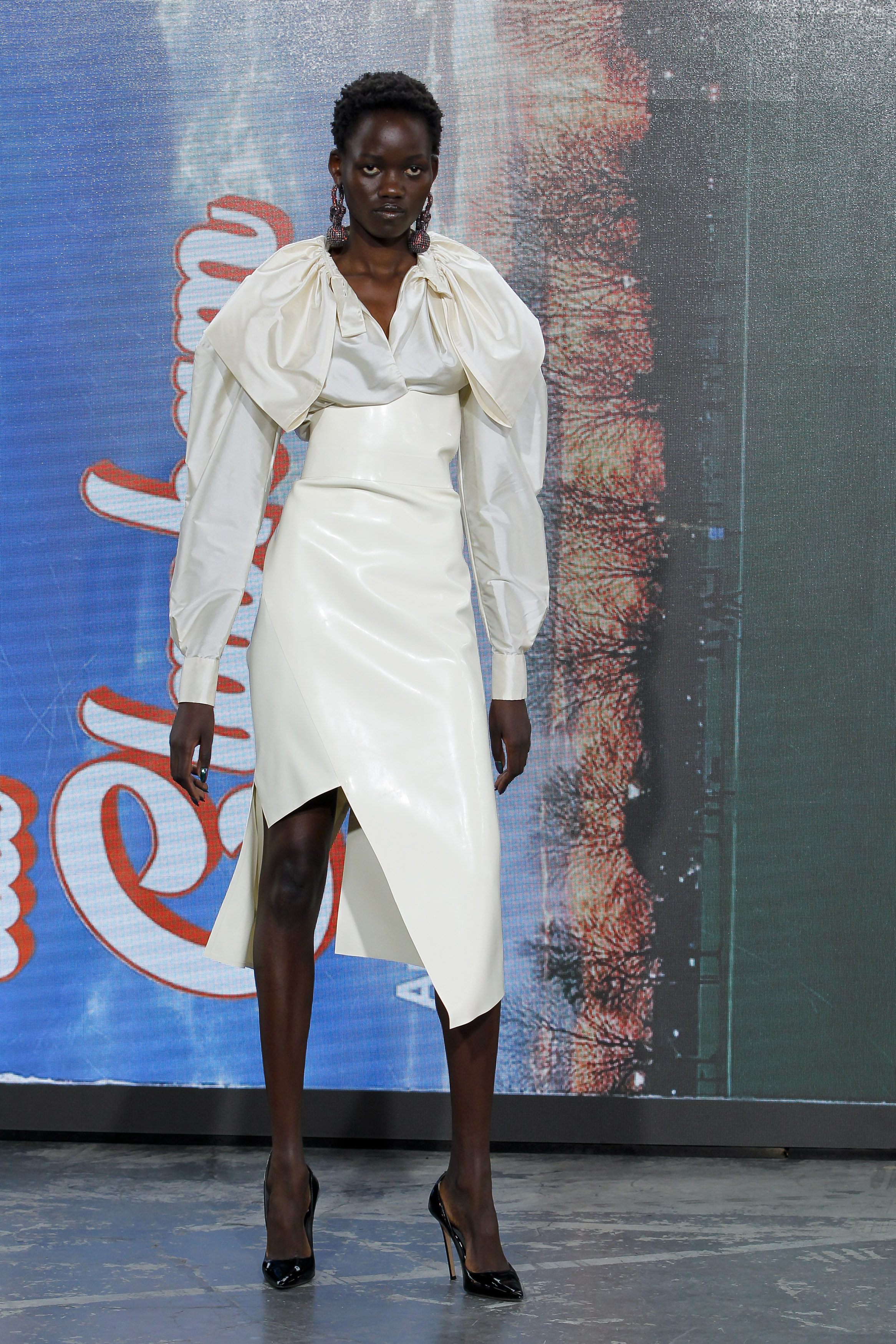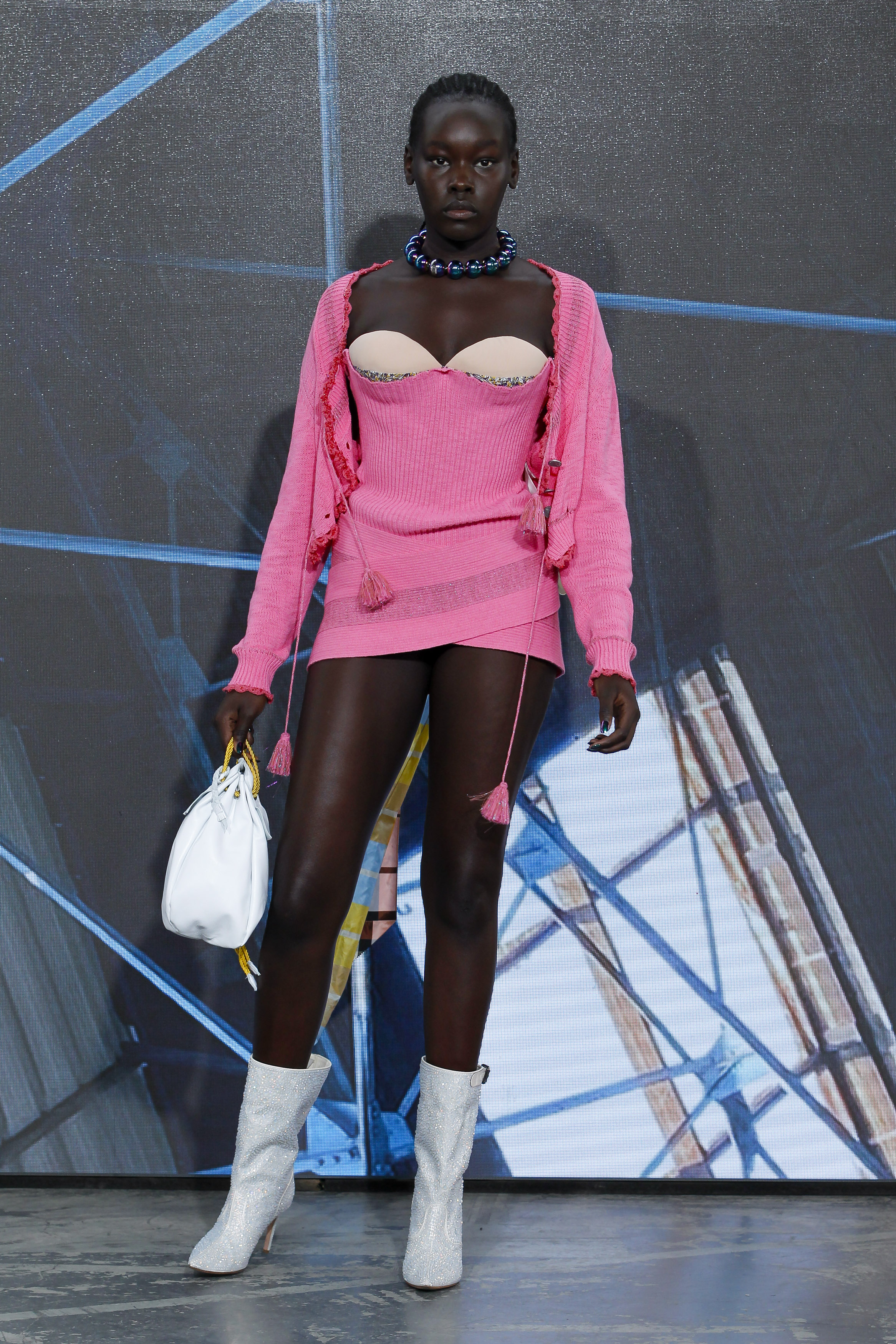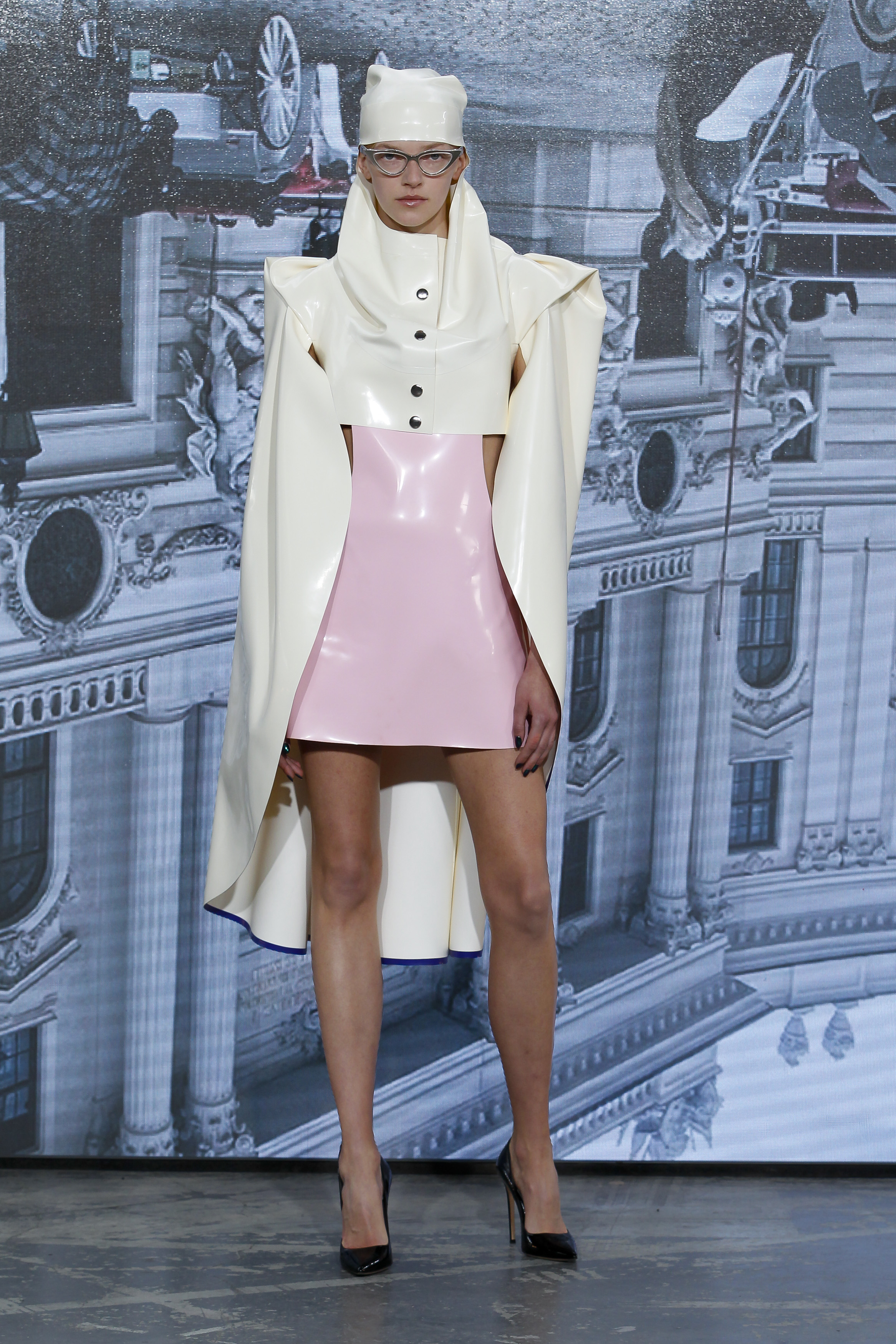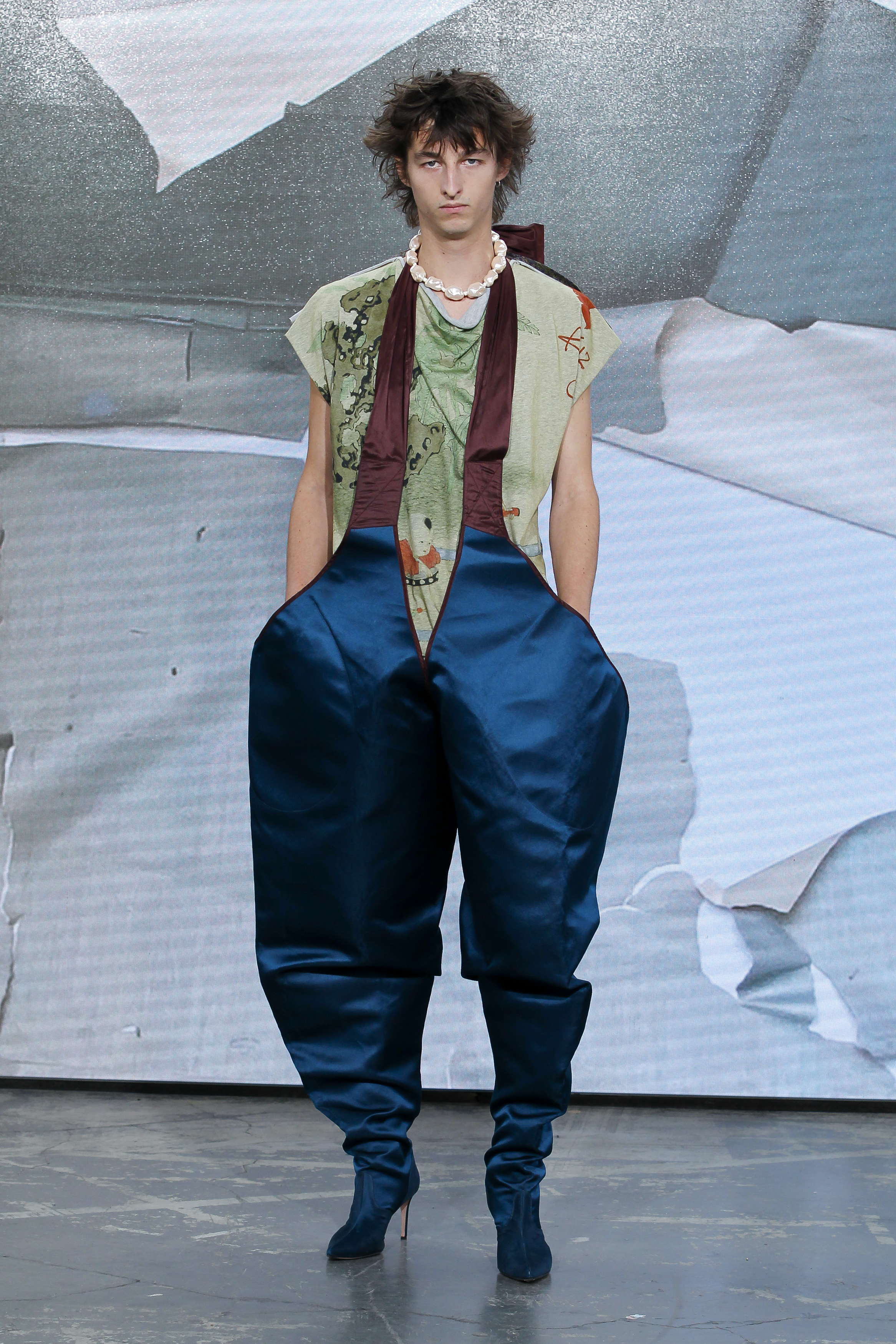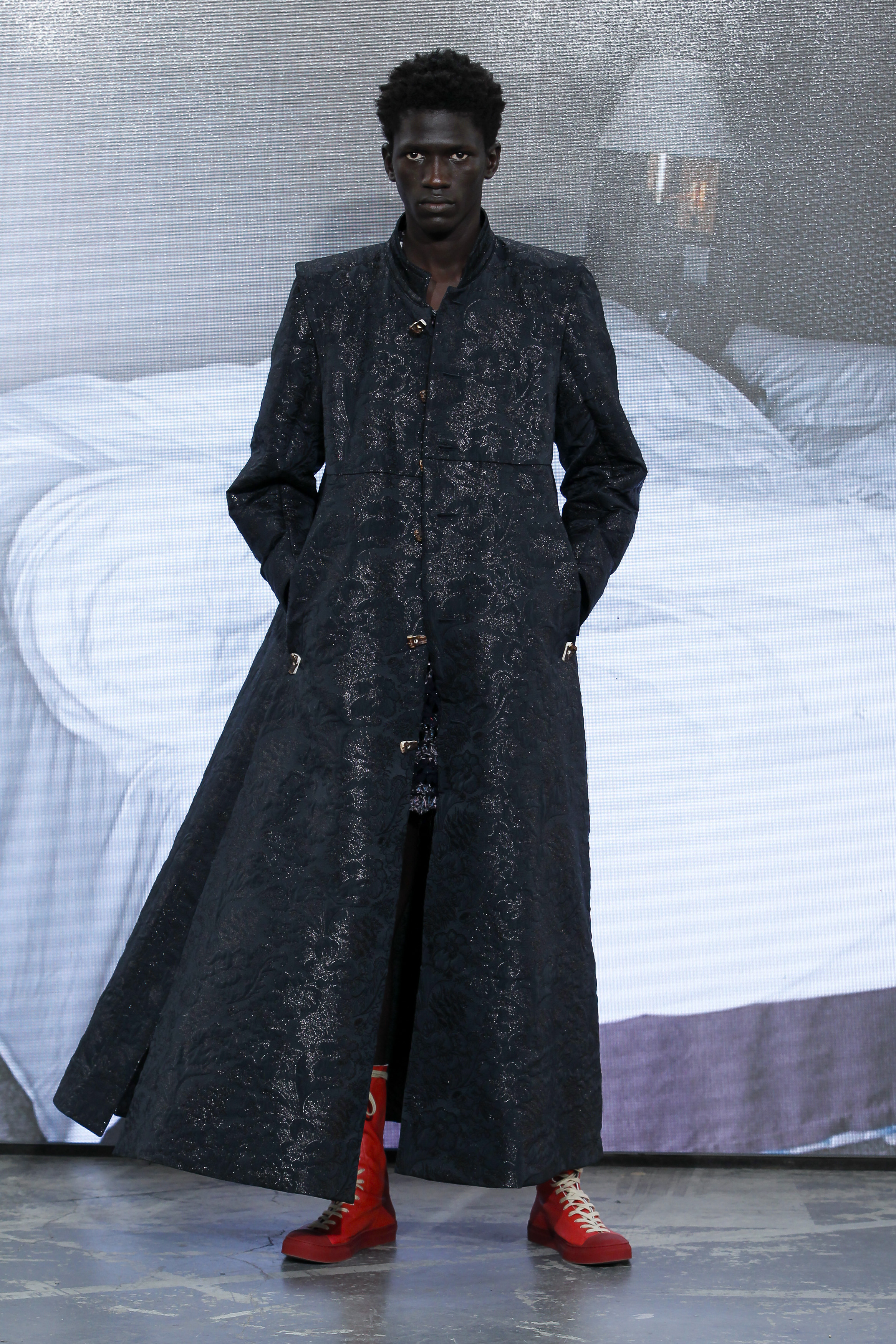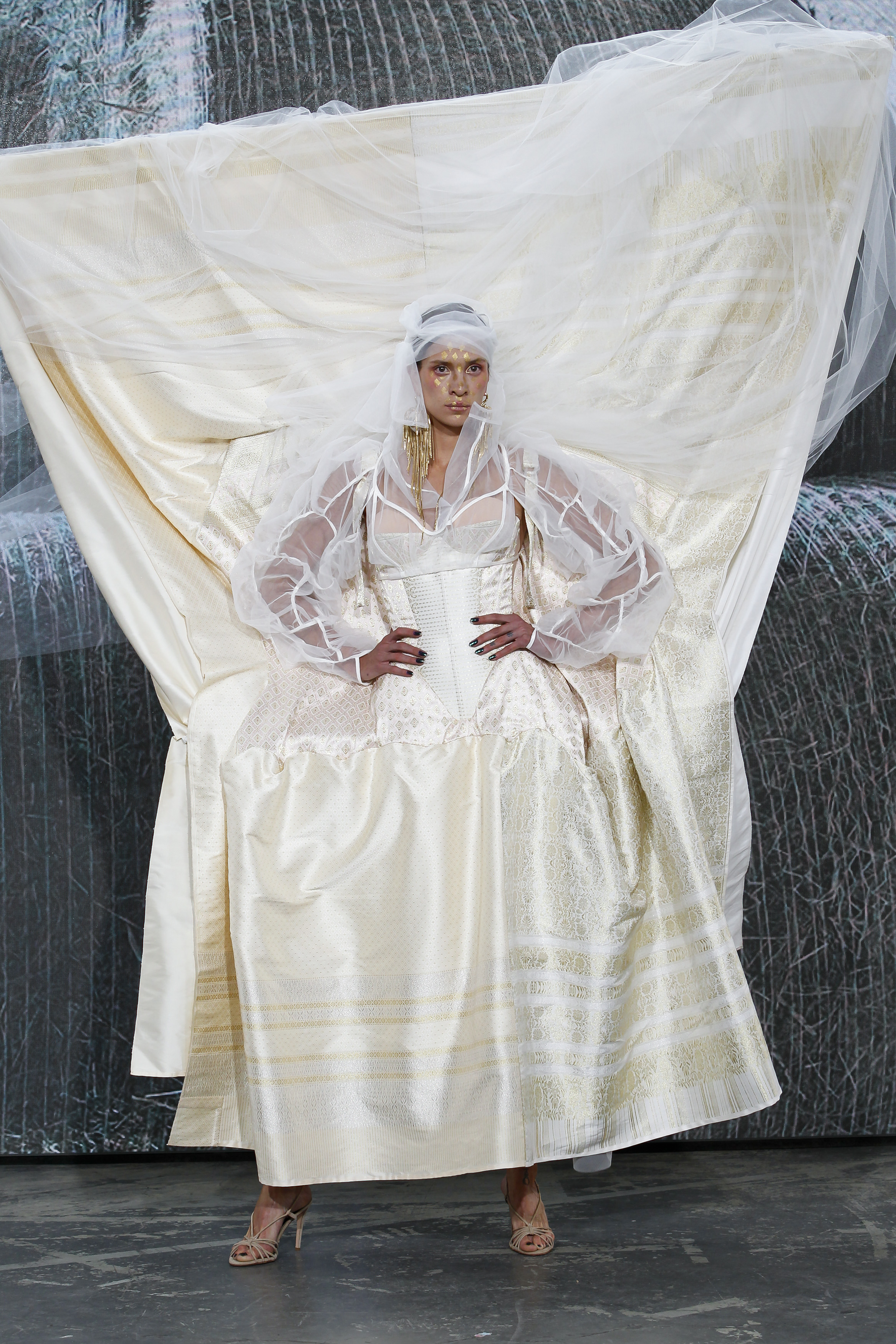 Valentino
To move forward into the future, you often have to look back on the past. That's at least what Valentino's Pierpaolo Piccioli underscored with his SS22 collection. That doesn't, however, go to say that what he sent down the runway was at all regressive – rather, he looked to the Roman brand's legendary archive, searching for ways to reimagine its most iconic shapes, techniques and silhouettes in ways that feel right for today. The result was an almost-100 look strong collection that married the exacting handcraft techniques that the house is so widely adored for with pieces and forms fit for today's streets. Read the full review here. MS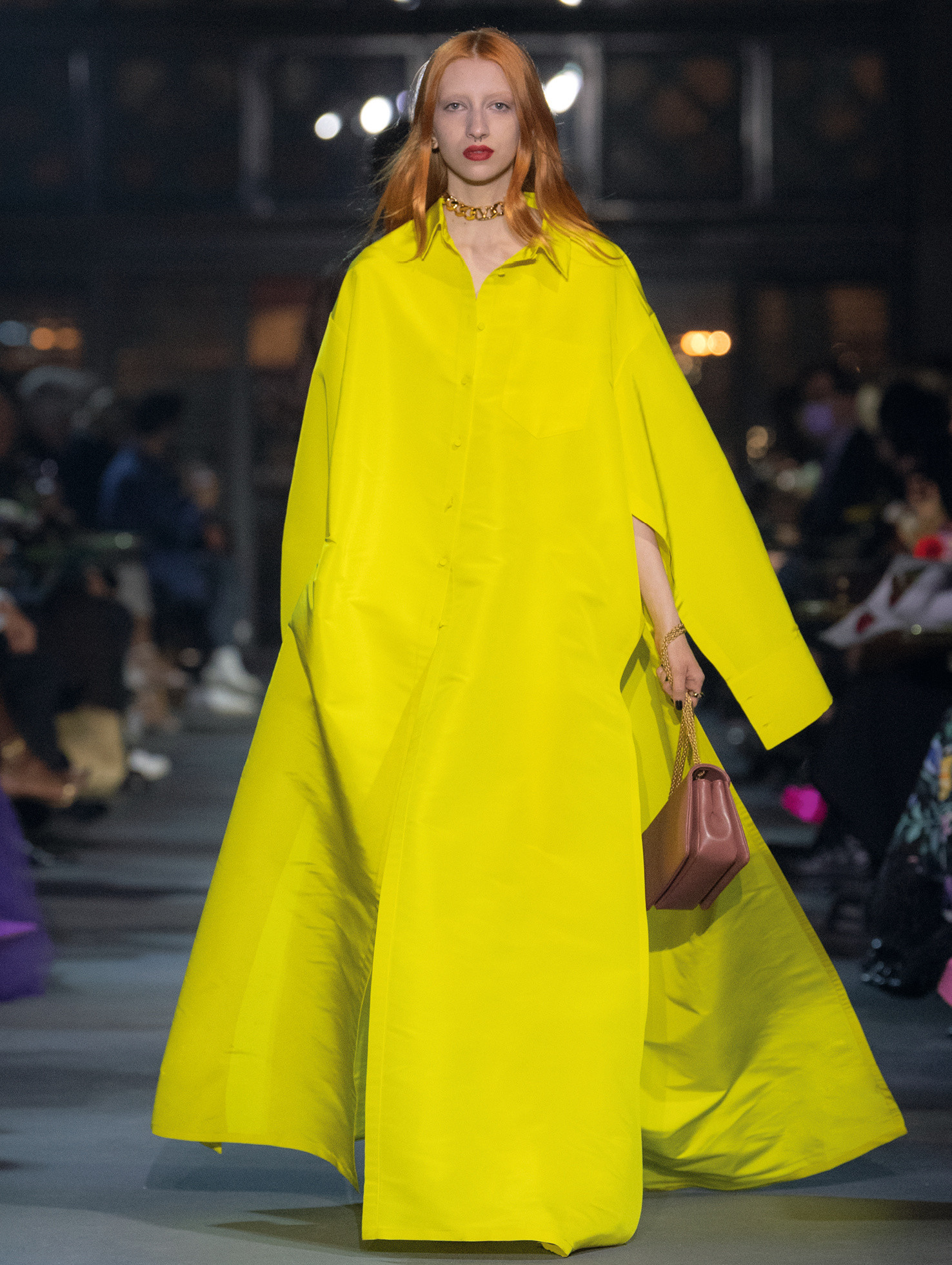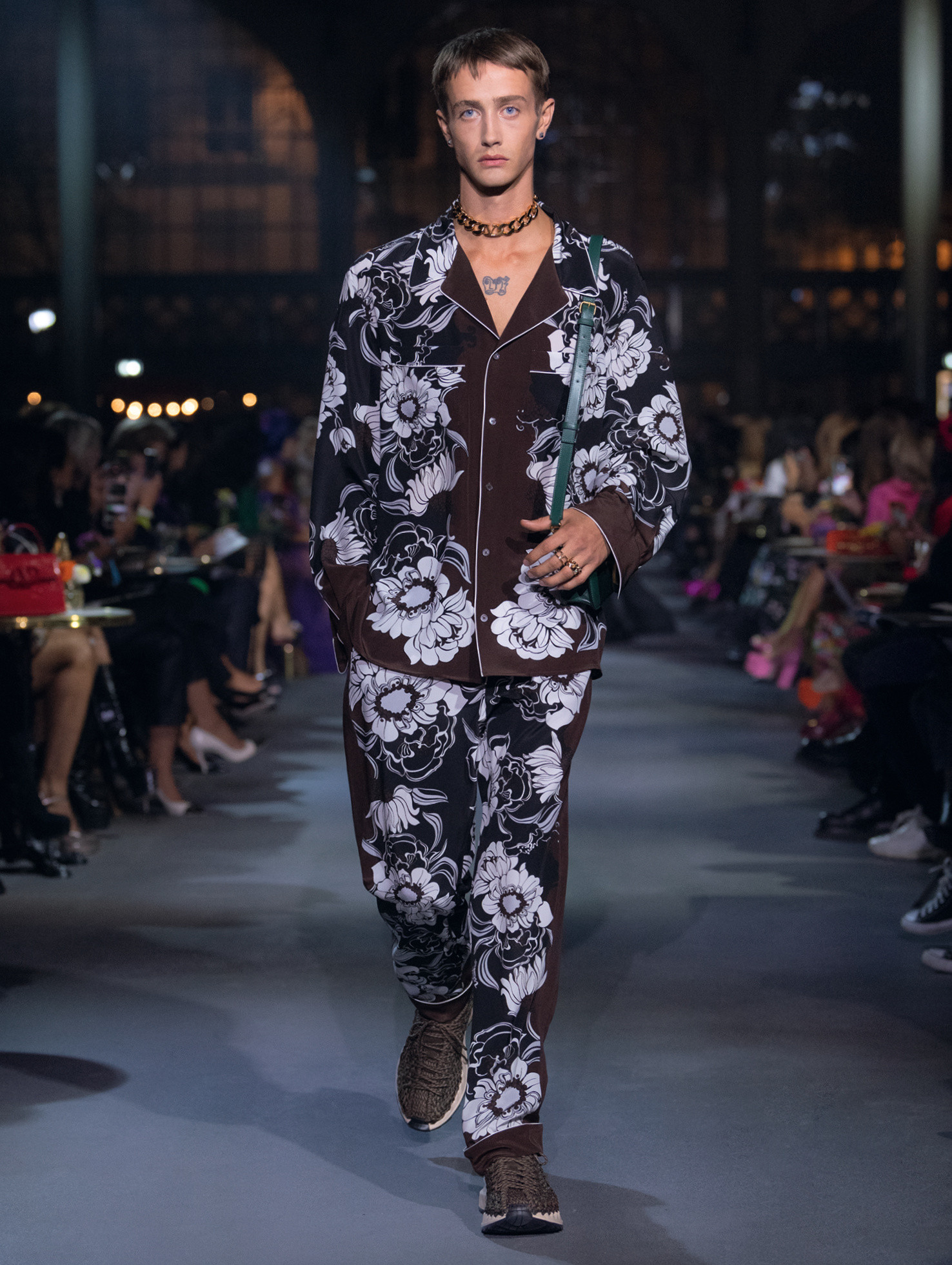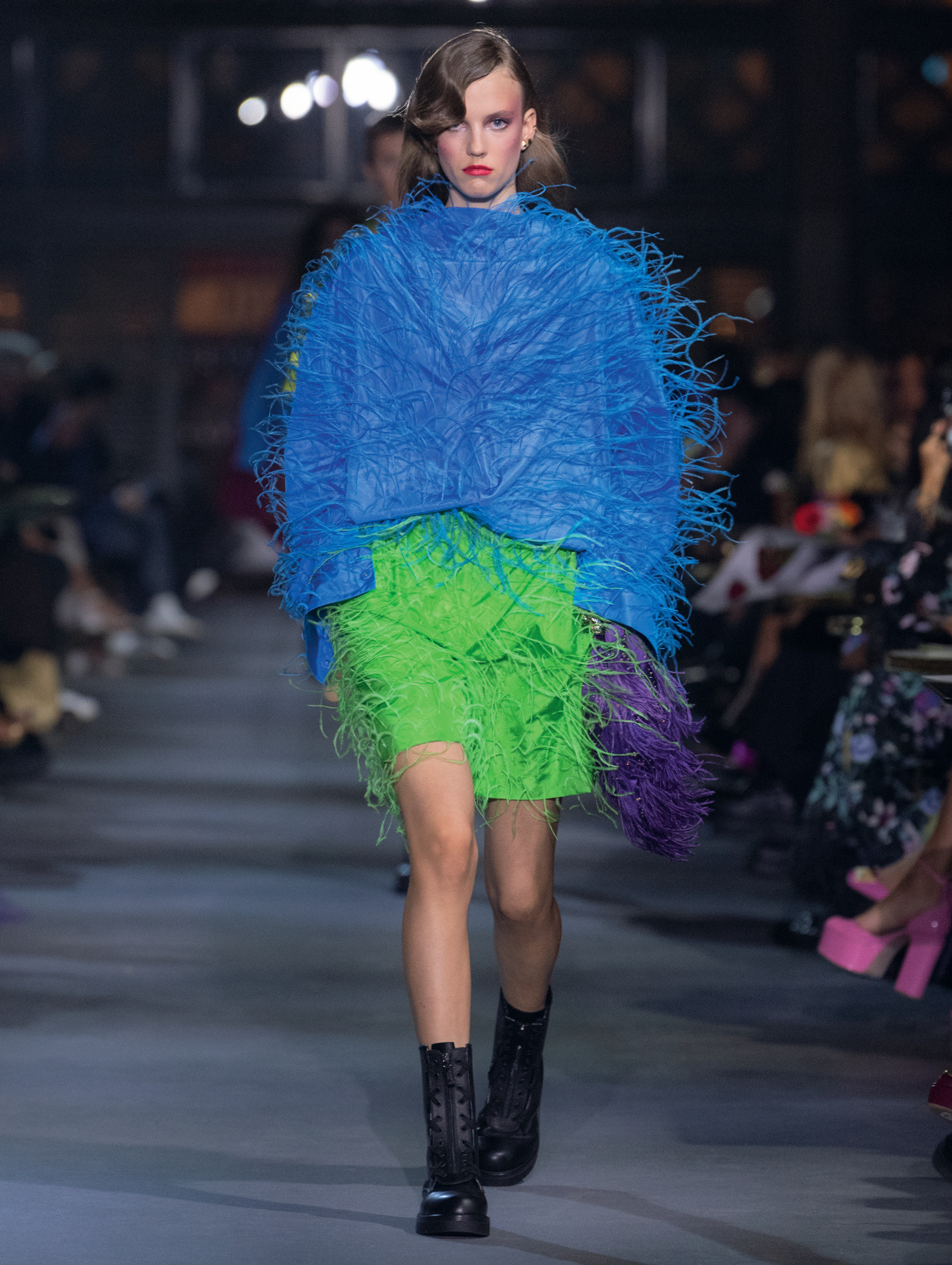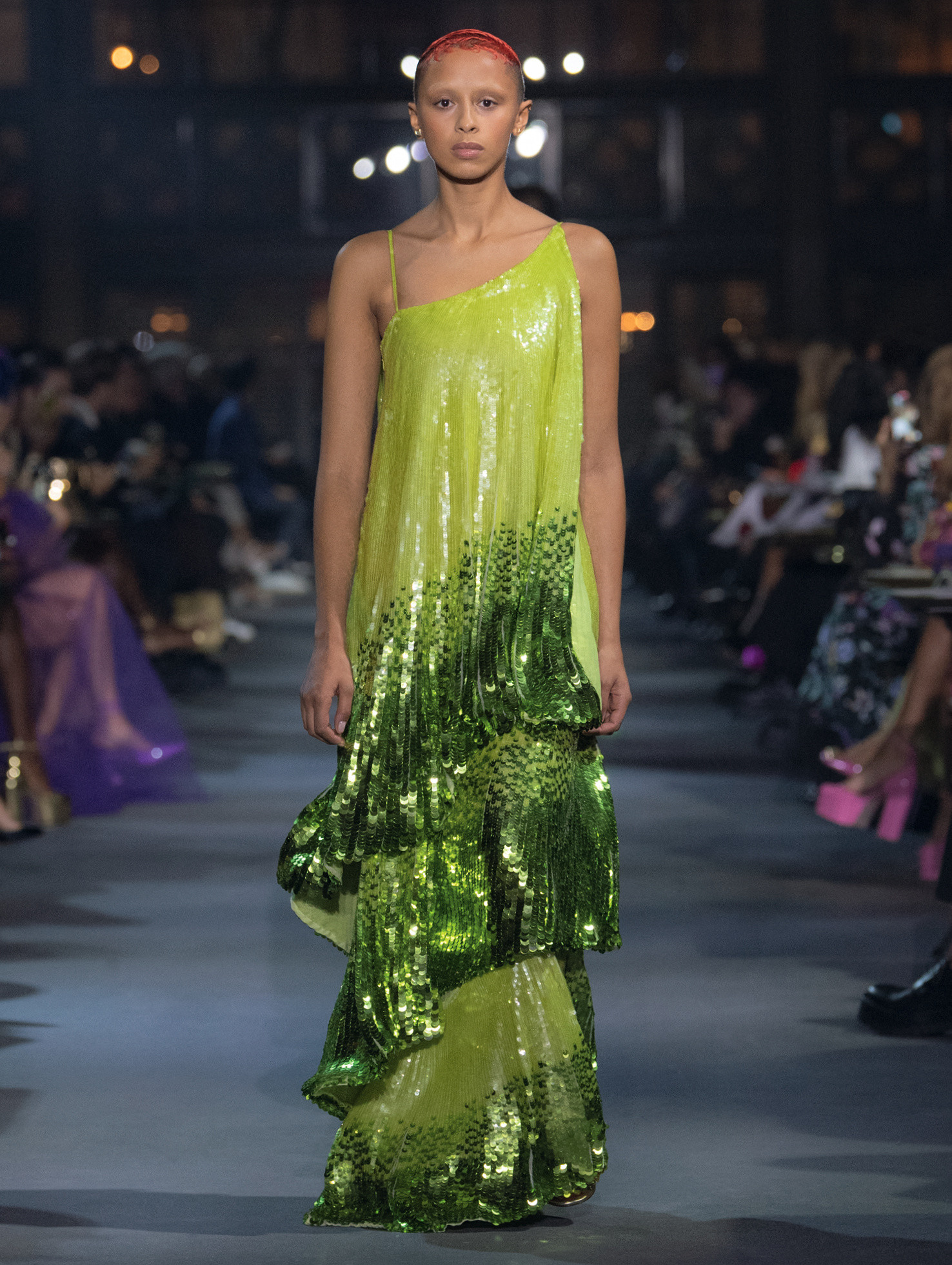 Bianca Saunders
Season after season, Bianca Saunders has built a name as a true master of infusing garments with a sense of animation and moment — whether by freezing the shrug of a shoulder or the crinkle of a scrunched up linen through intricate draping and experimental print techniques. The pioneering nature of her approach was recently acknowledged on a grand scale when she took home the ANDAM Prize — one of the industry's most prestigious awards — earlier this summer, picking up a generous cash prize and mentoring. Rather than stage a physical showcase this season, Bianca instead opted to release 'Henchmen', her SS22 collection off-schedule during Paris Fashion Week — during which we'll no doubt see her show in the not too distant future. In an extension of her exploration of how clothes respond to the writhes and wriggles of the bodies that wear them, this season, her eye was drawn to the contorted garments of hyper-jacked body builders, paying particular attention to the ways in which their pumped-up muscles stretch and warp the typically precise proportions of menswear garments and prints. Wide-legged, pleated trousers — the product of a collaboration with Farah — create a sturdy base, and seen from the side, the biceps of sleeves are cut intentionally wide to give an illusion of bulk, and stripes and plaid checks that you'd typically expect to be straight are subtly askew. Seamlines on denim jeans and jackets — created using sustainable ISKO denim — accentuate the contours of the body, while gym-ready tank-tops have moulded chests. No need to hit the weights in preparation for SS22's Hot Boy Summer – Bianca's got you covered! MS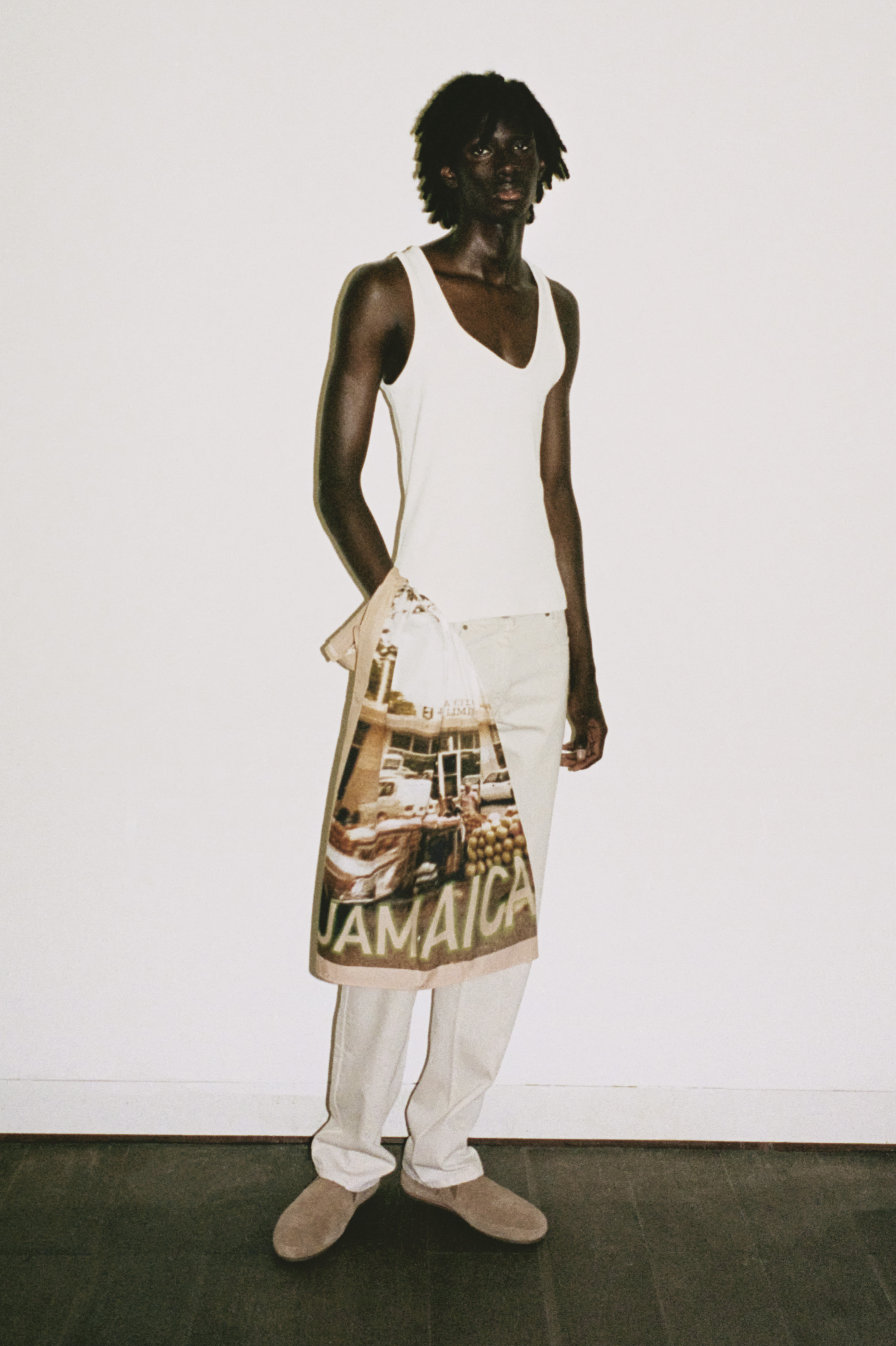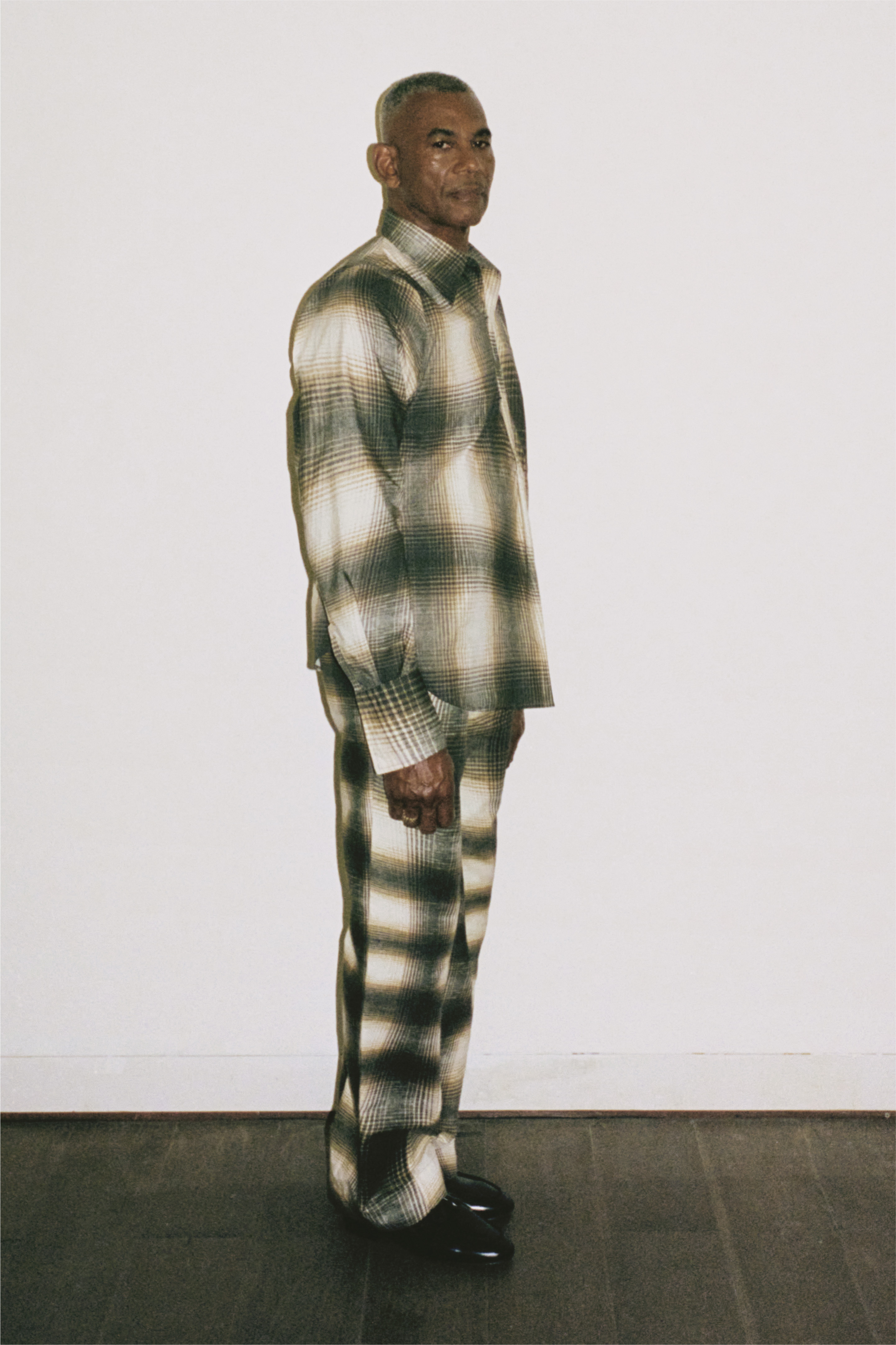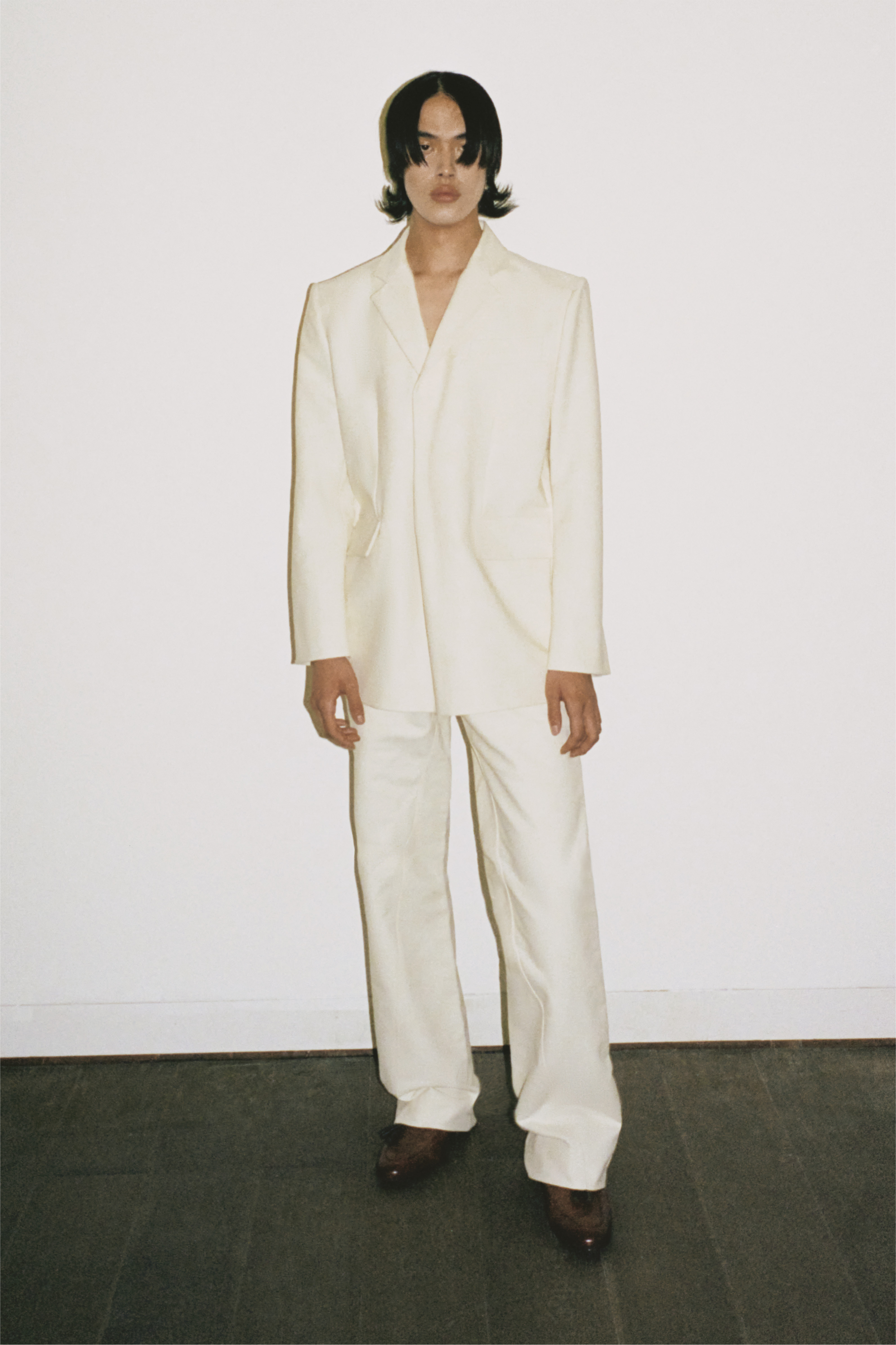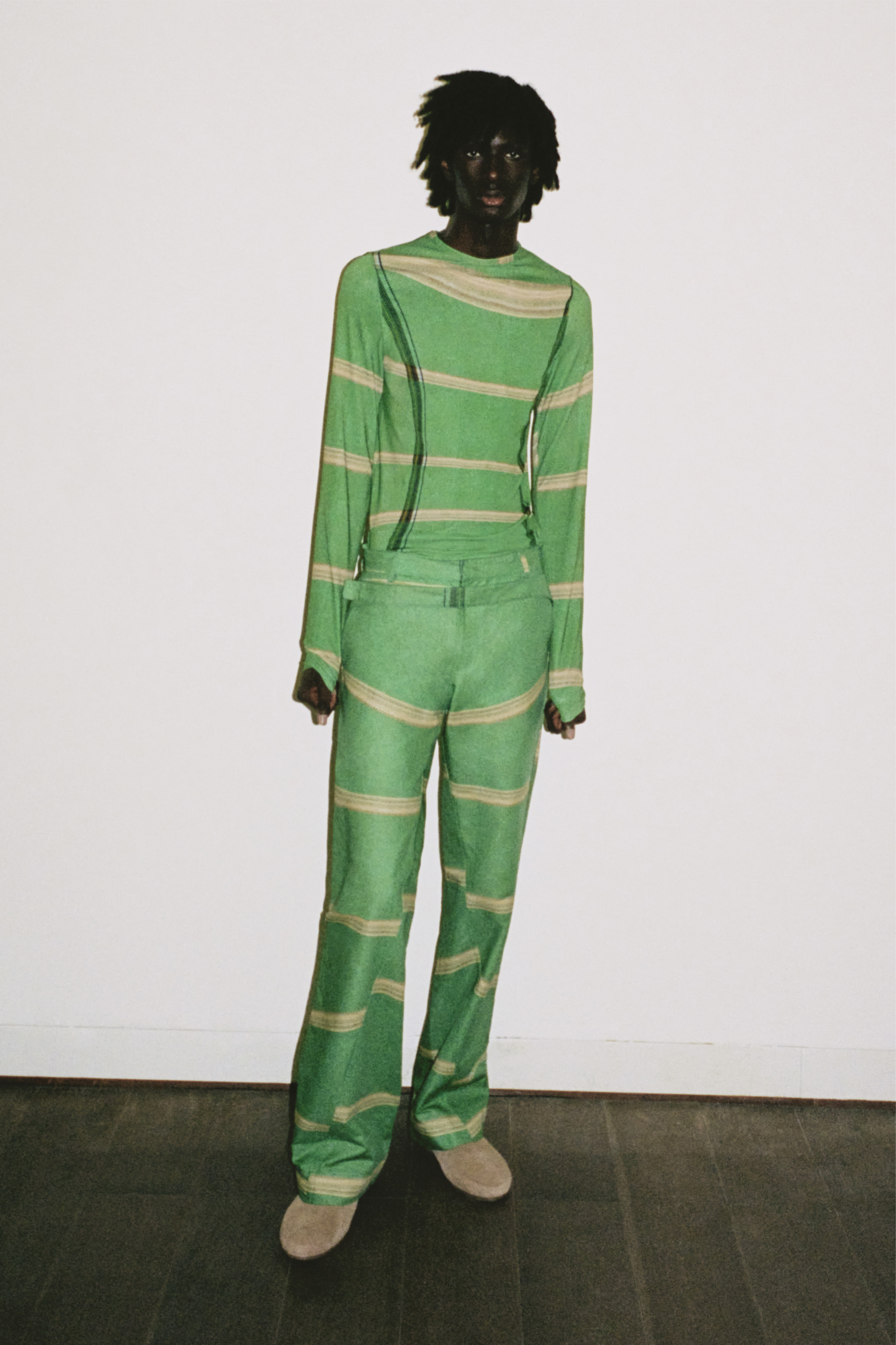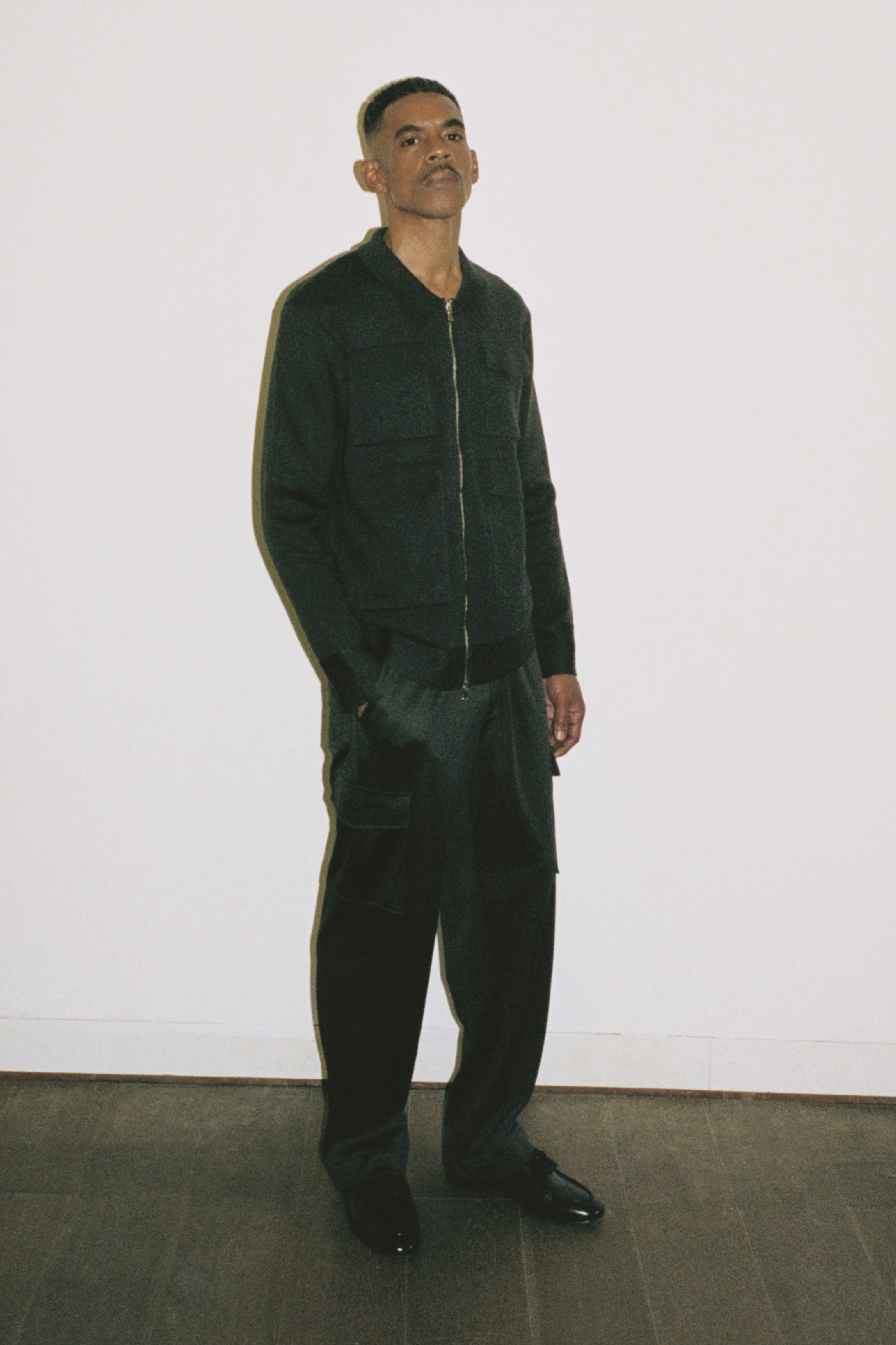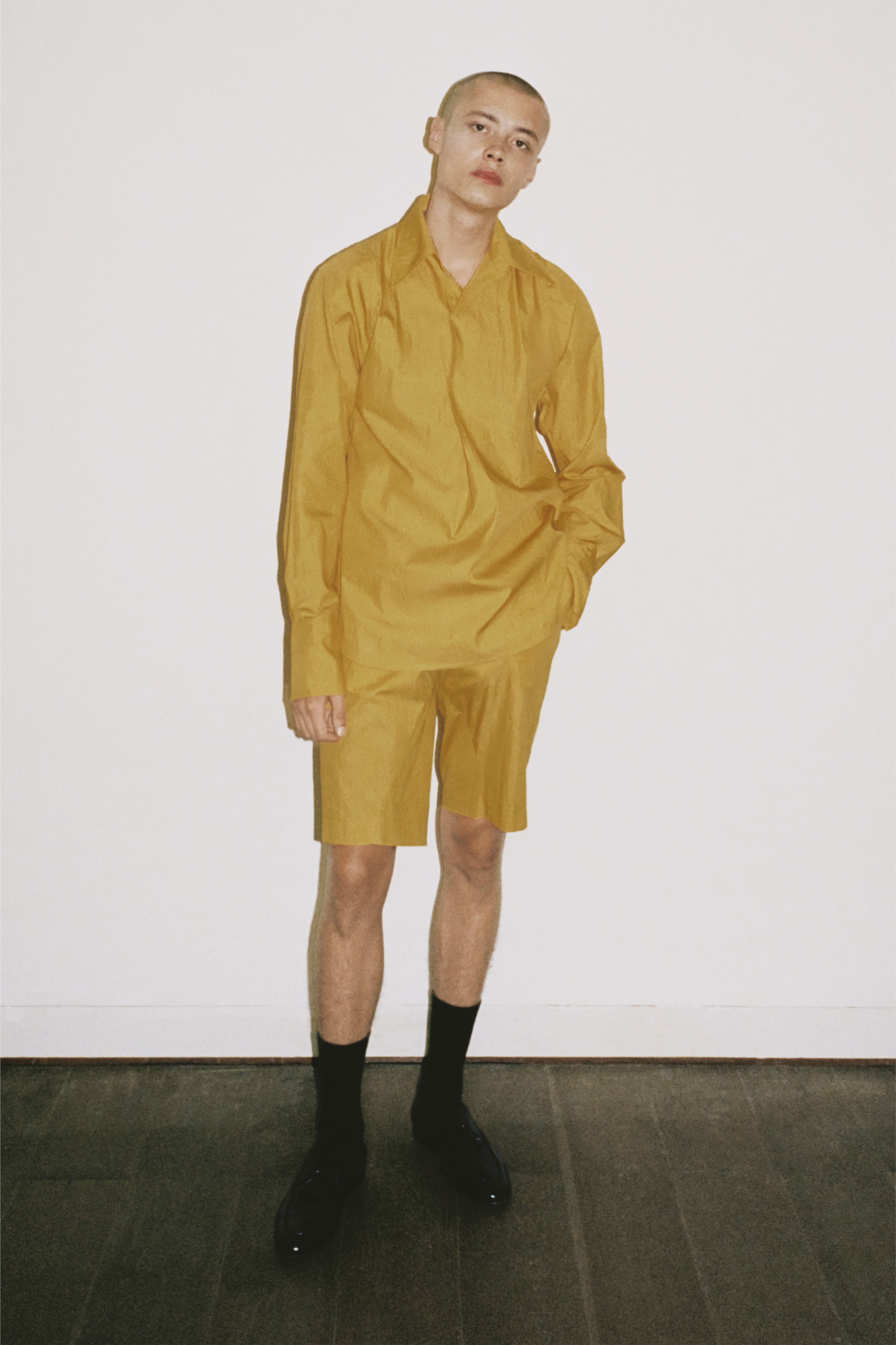 Loewe
Sometimes, there are shows that restore your faith in fashion. Often, they happen in Paris. Yesterday morning, as the first autumn chill swept through Paris, something was in the air as Jonathan Anderson radically refreshed his vision for Loewe. Held in a vast lime-washed pine hall, it was bare but for rectangular hole in the middle of the room from which the first models emerged headfirst with geometric shapes protruding out of their sinuous long knit dresses, almost like alien creatures emerging from a subterranean cave or eco-spaceship. A metaphor perhaps, but Jonathan said it was akin to a "blank piece of paper" – he didn't want anything to distract from the "neurotic, psychedelic, and completely hysterical" clothes he sent up from below. The result was a rare instance of when clothes become fashion, and when shows become unforgettable moments — and can read all about here in our full review.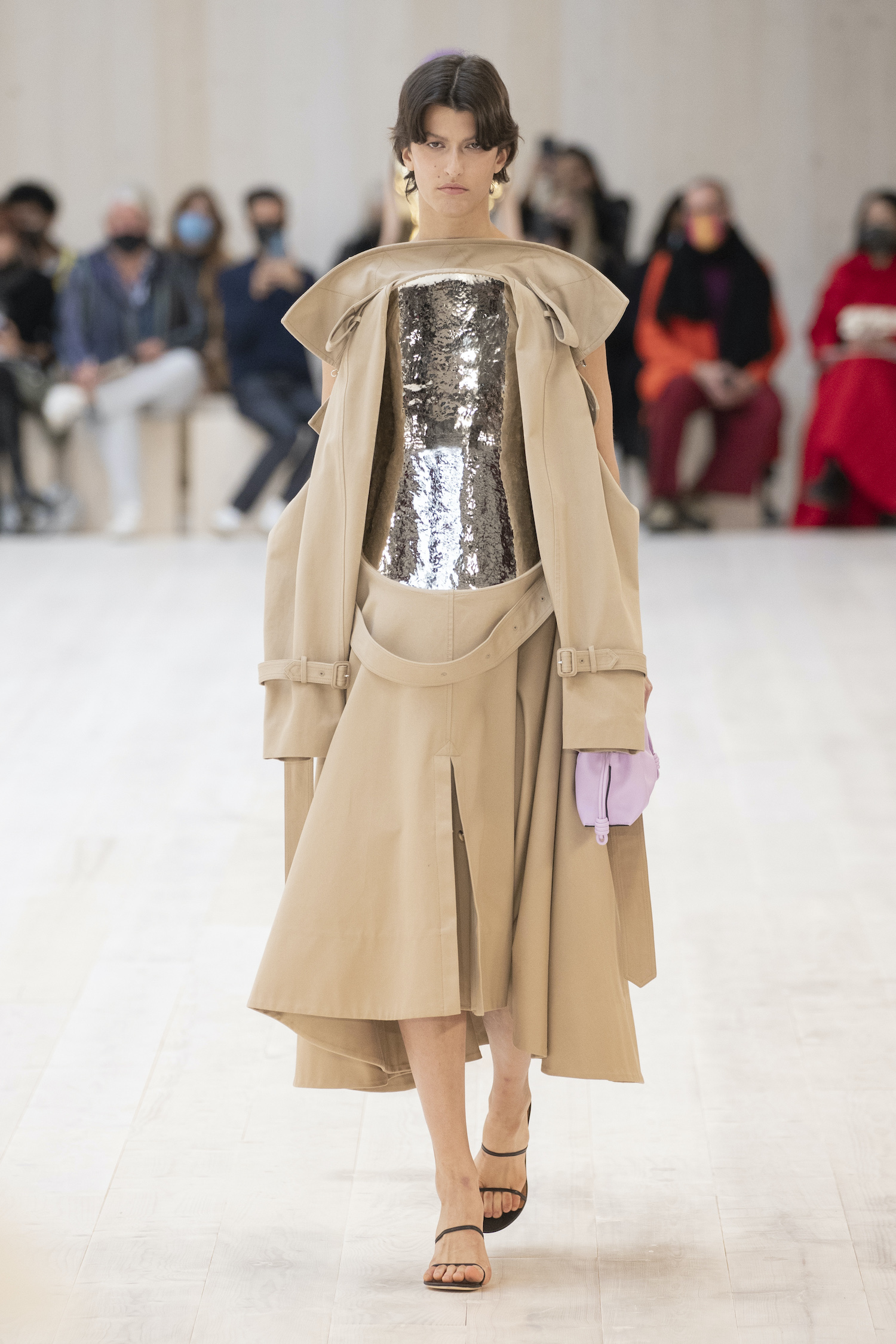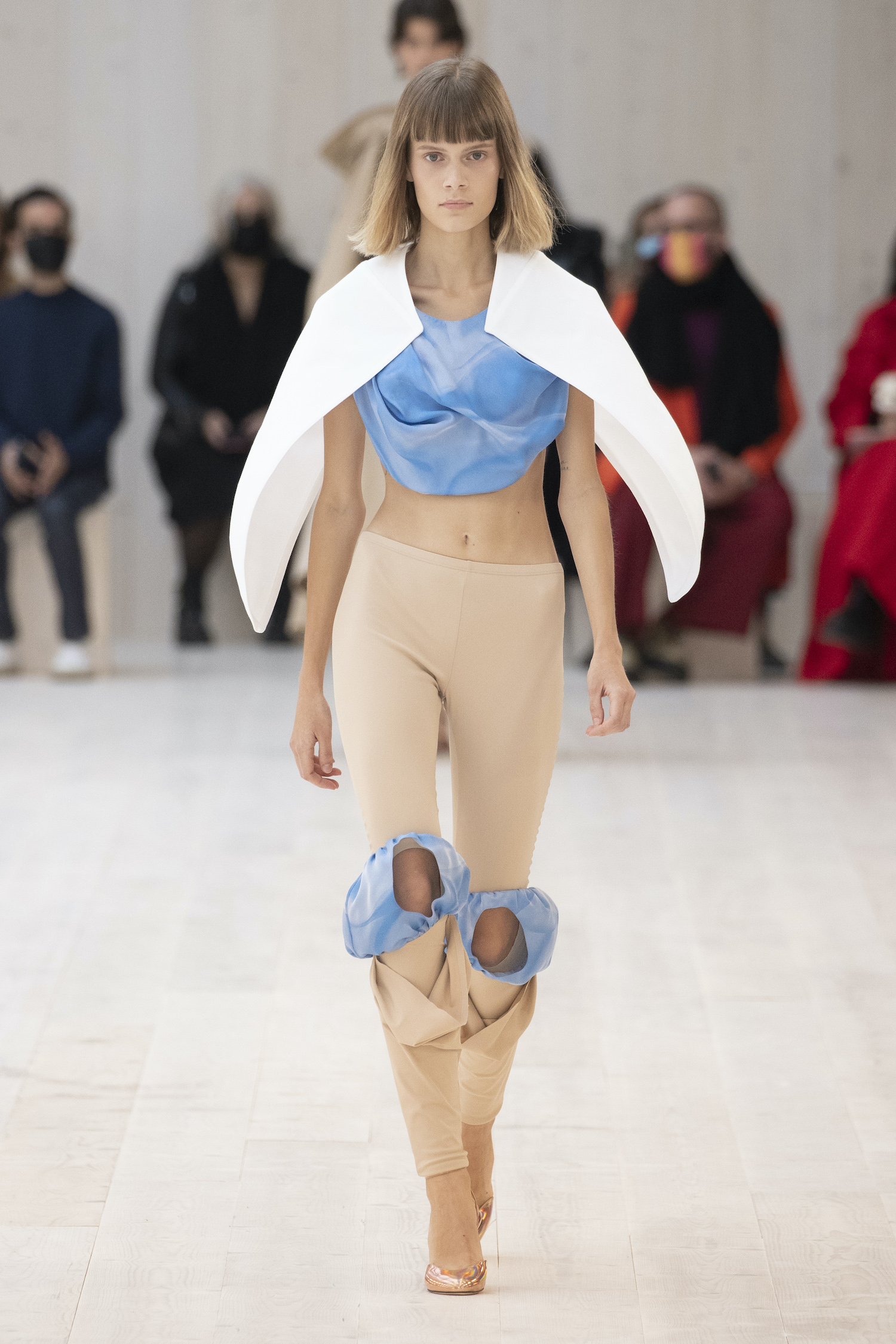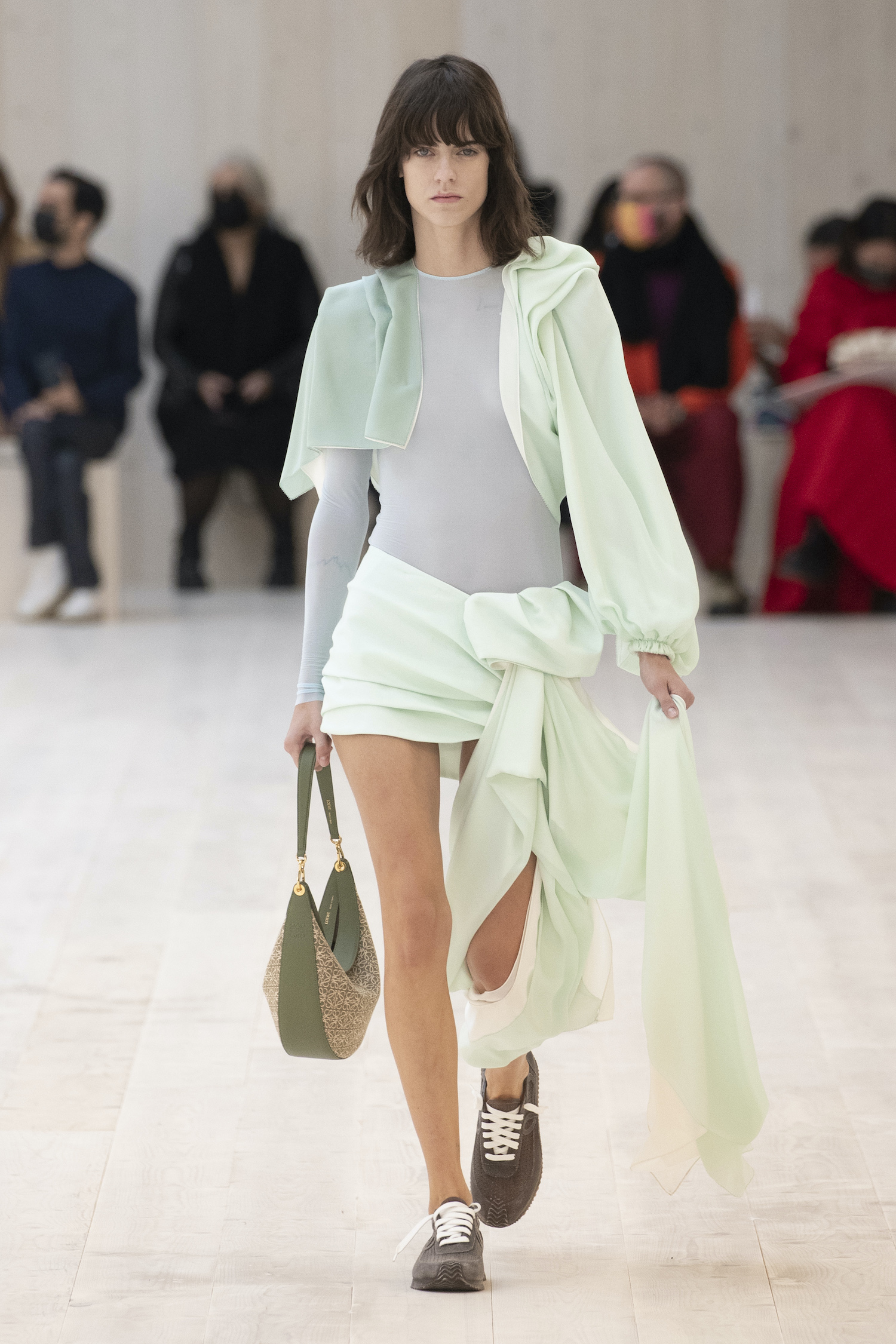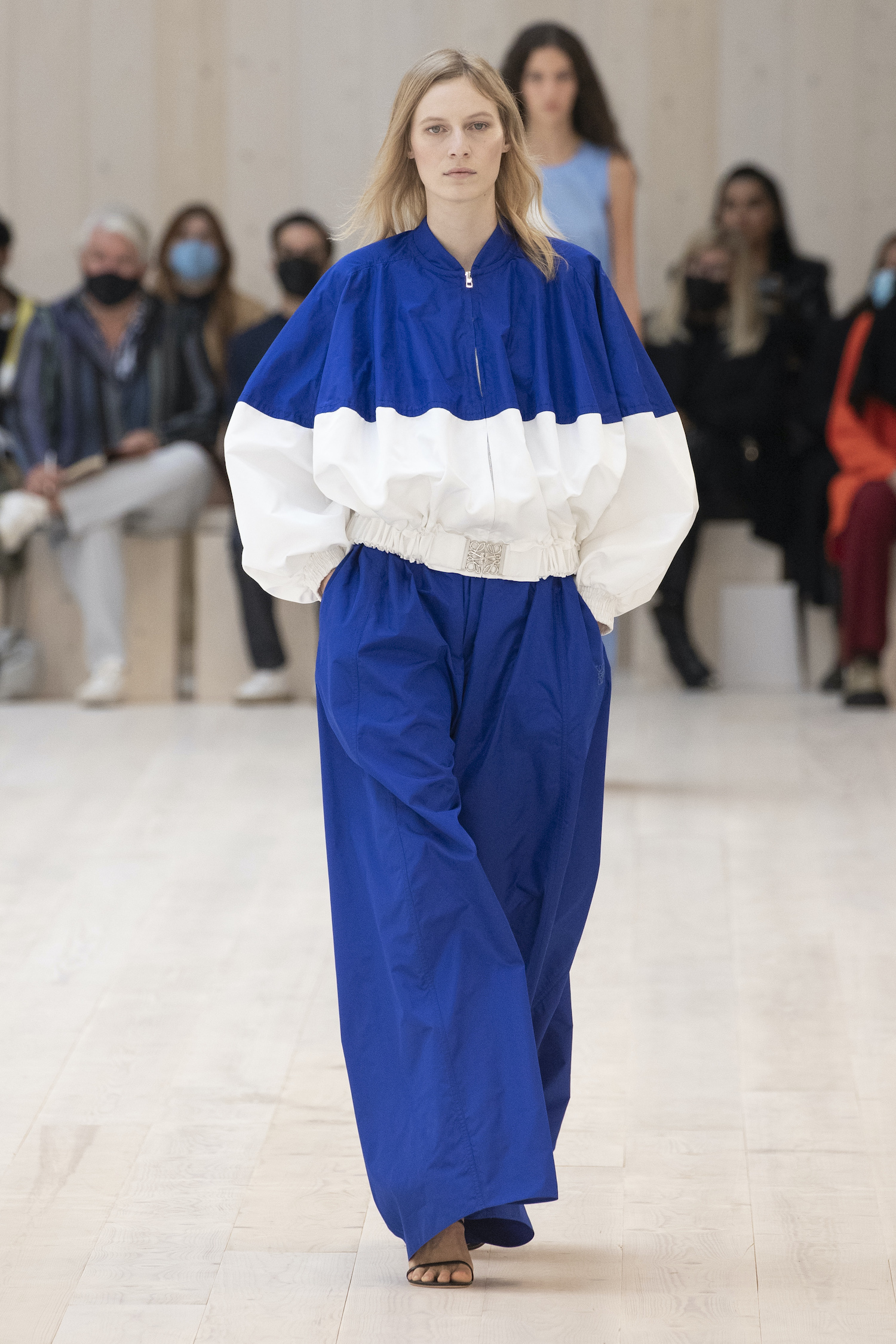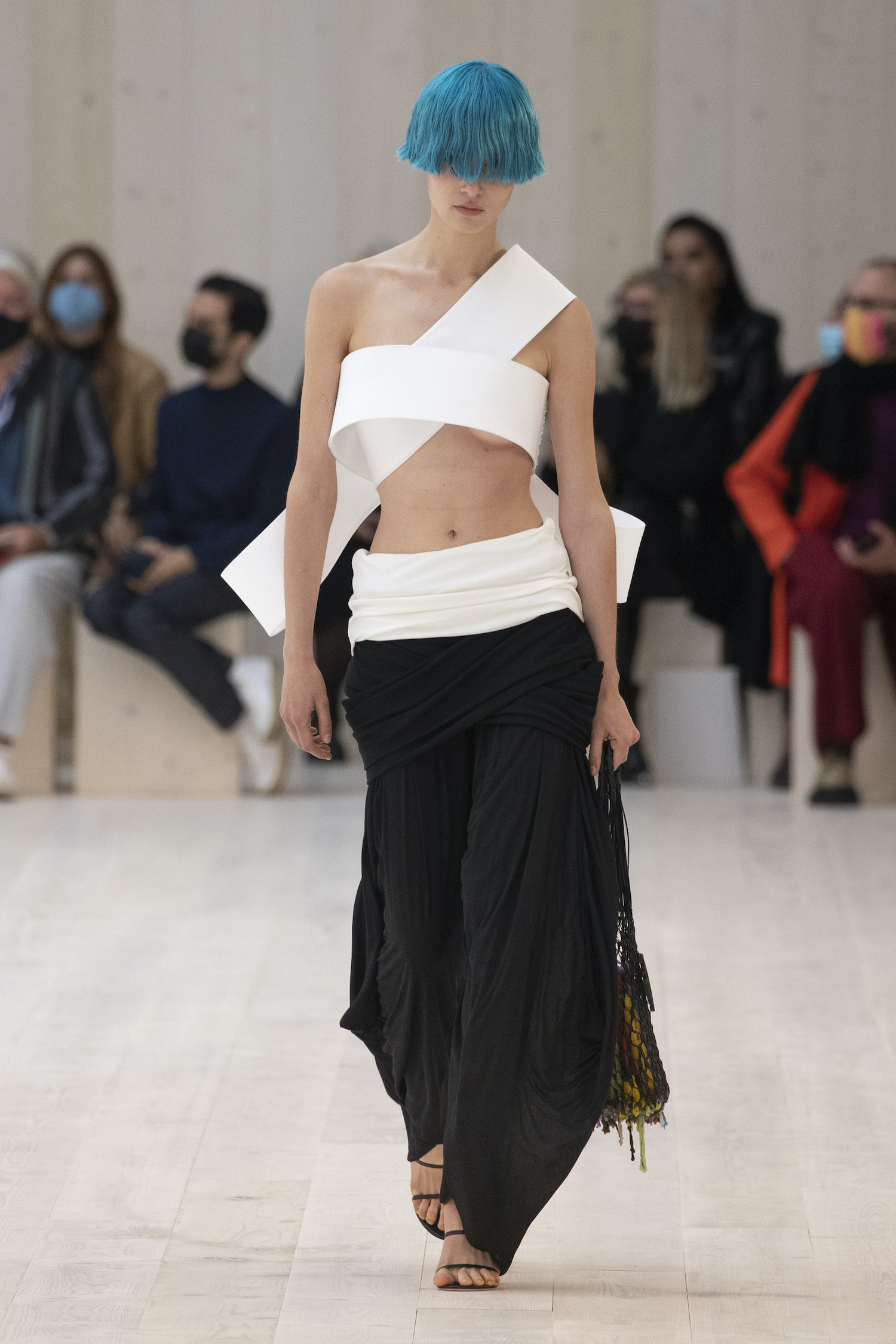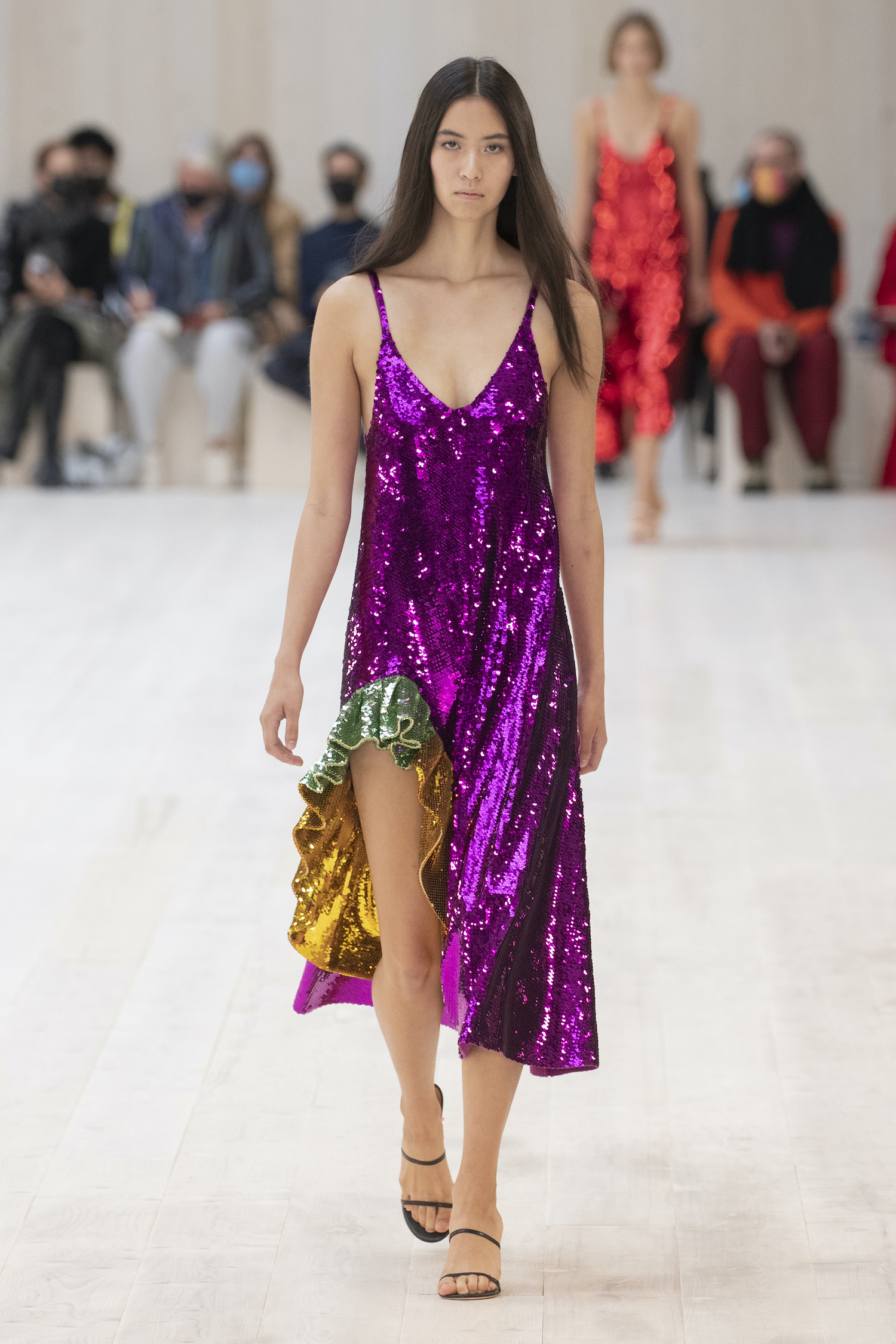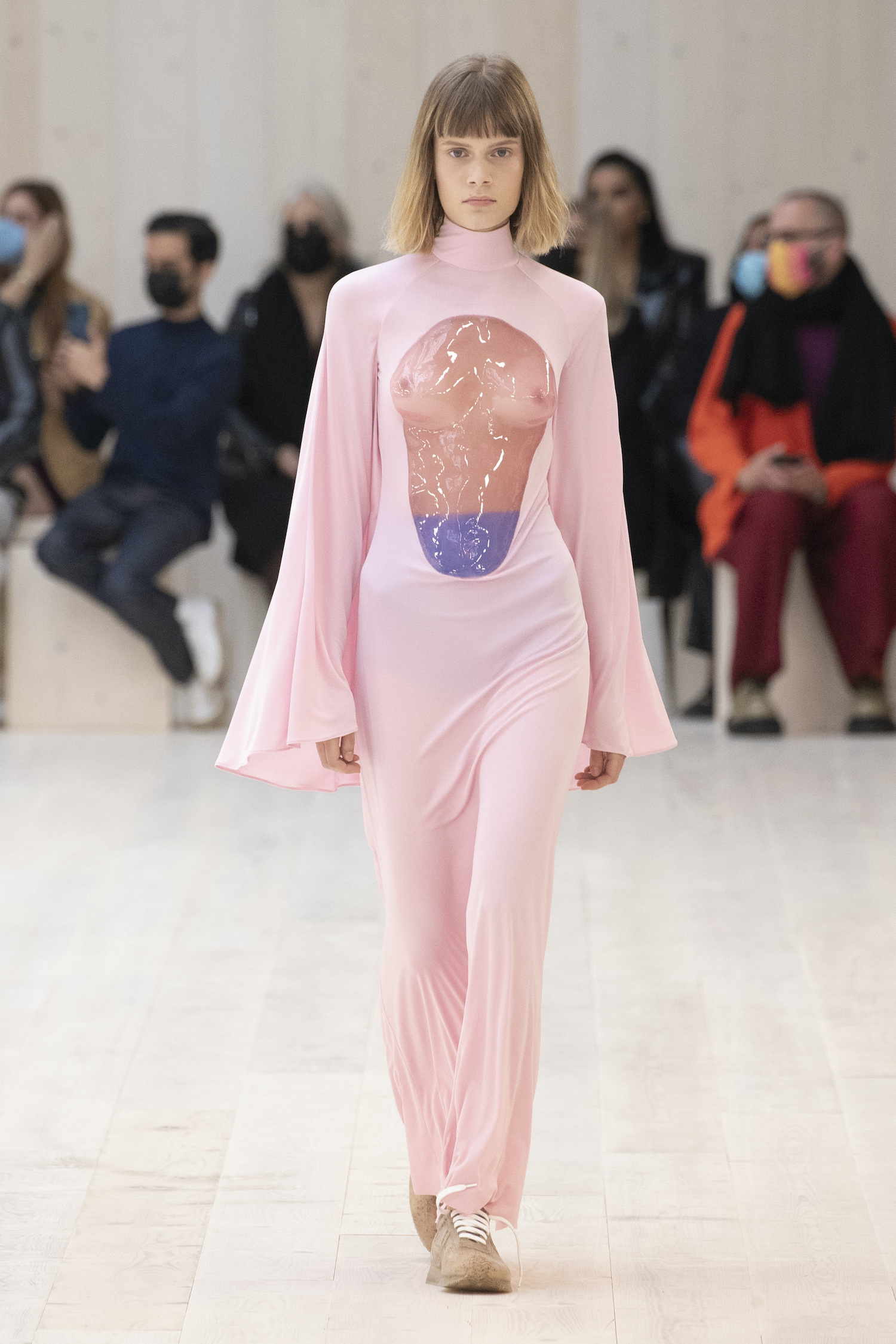 Raf Simons
Head Girl Gone Goth is how I would describe the mood of Raf Simons' first physical co-ed show, staged yesterday under the grand colonnade of the Palais Brongniart. Think school uniforms and playground tribalism — knife-pleat skirts for girls and boys; sharp, slightly scratchy blazers worn with prefect badges; crisp shirts with XXL proportions; and matronly raw-edged sack dresses — but given a darker, more subversive edge. It was almost as if a group of boys and girls escaped a Belgian convent school, took a pill, danced all night (the hair was drenched) and fell down a dark rabbit hole of witchy ritualism, raising the dead and being gripped by skeleton-hand clasps on their arms. The sense of intrigue was what made it one of Raf's best collections in recent memory. It was Raf doing what Raf does best: riffing on misguided youth and all its sweaty angst, naiveté and tribalism. There was a sense of repetition among the looks, which could have easily become boring but instead created a sense of subverted uniformity— the models emerged almost as clusters, like schoolyard cliques, their uniforms screen-printed with thrasher-like graphics and Medieval etchings. Sure, they all go to the same school, but they've personalised their uniforms in their own, individual ways. Anyway, that's the thing about school uniforms — they might be symbols of rules, but rules are there to be broken. OA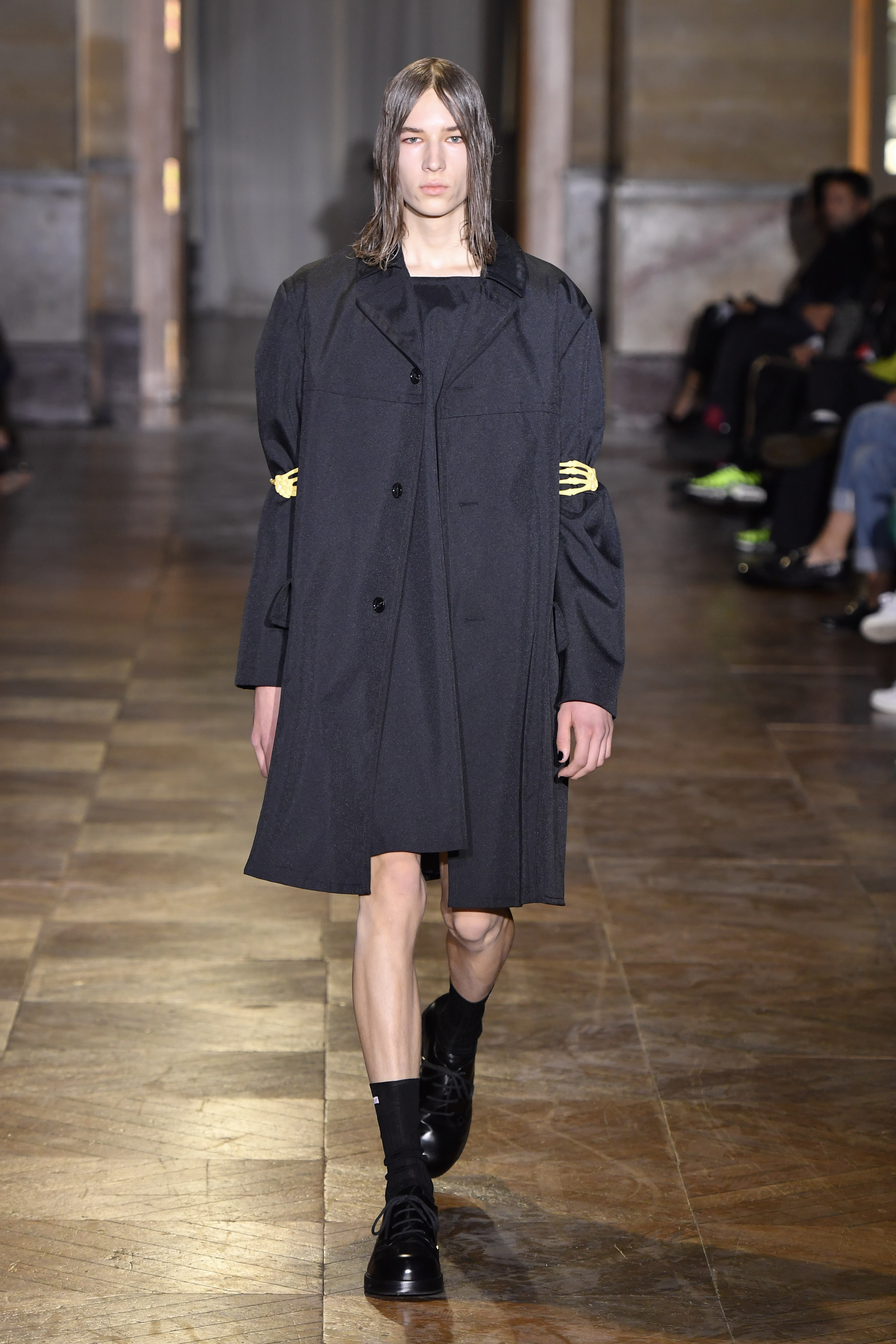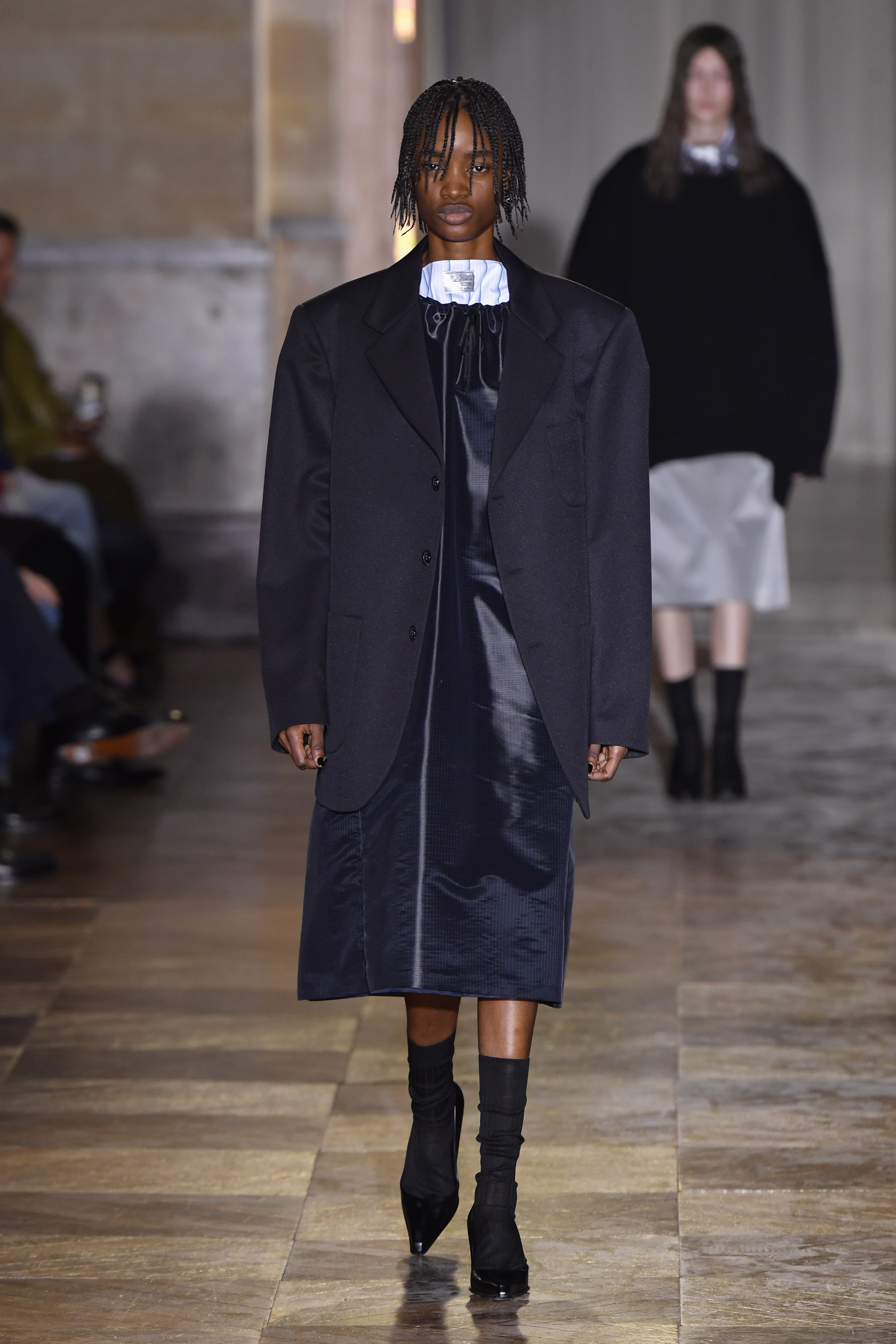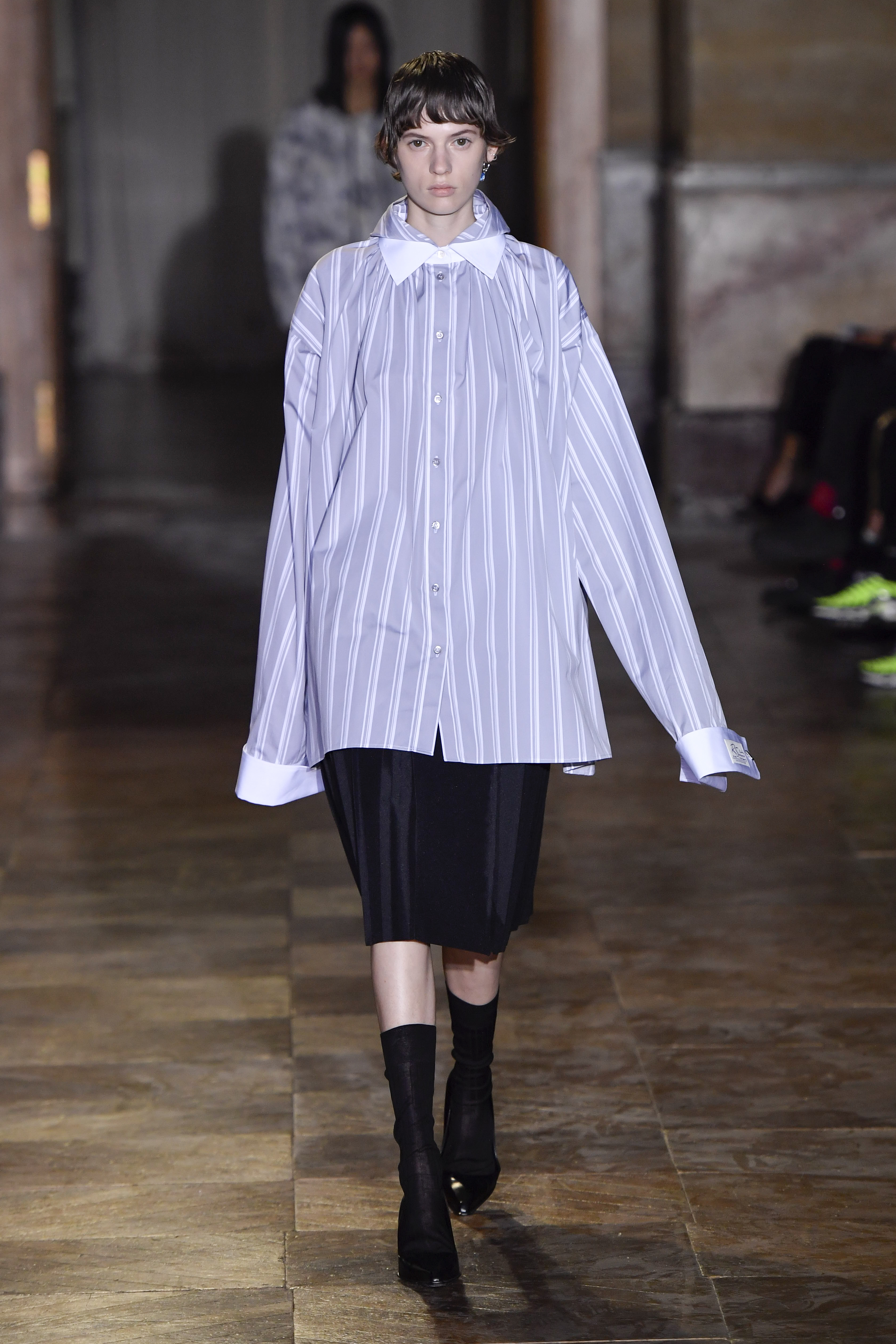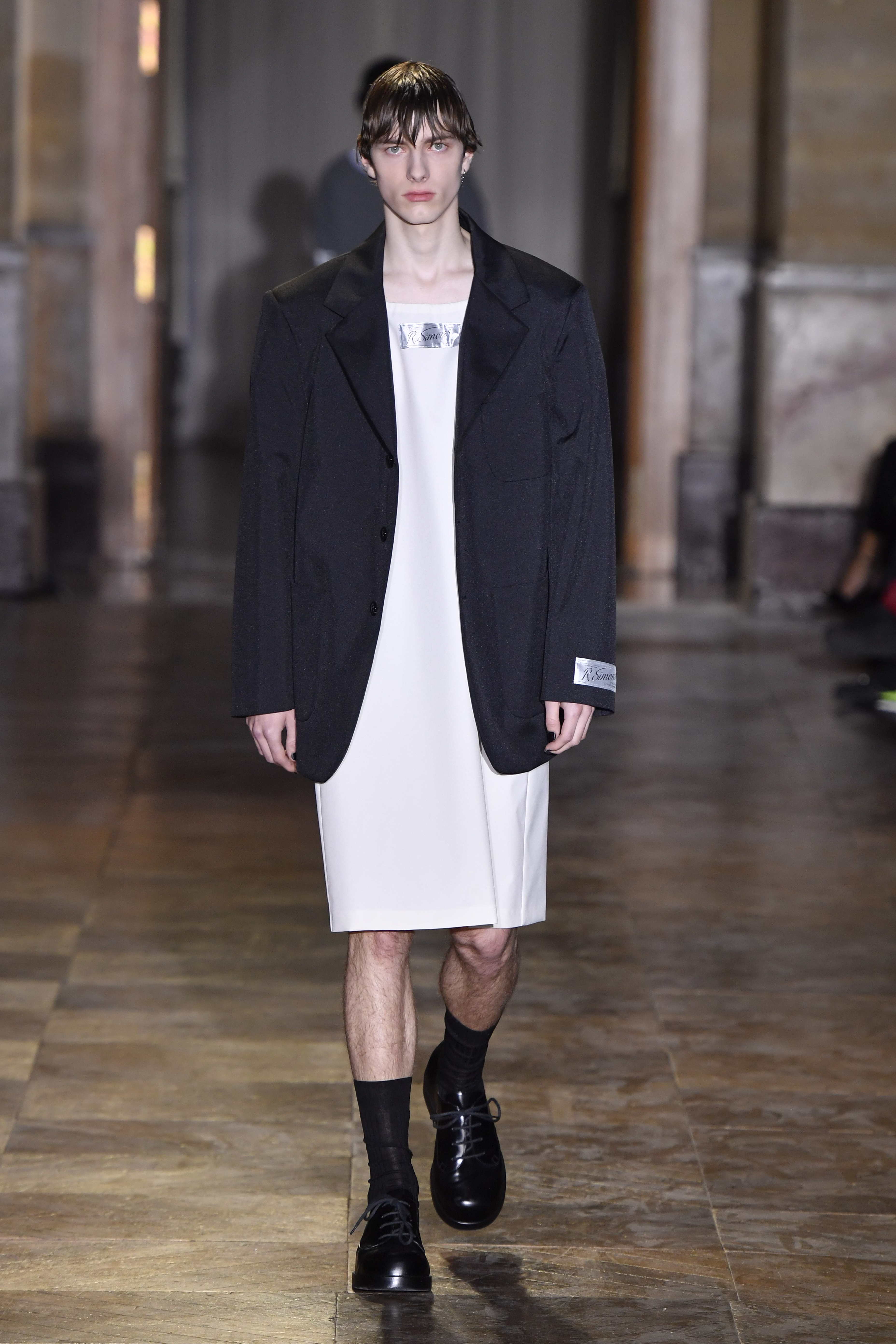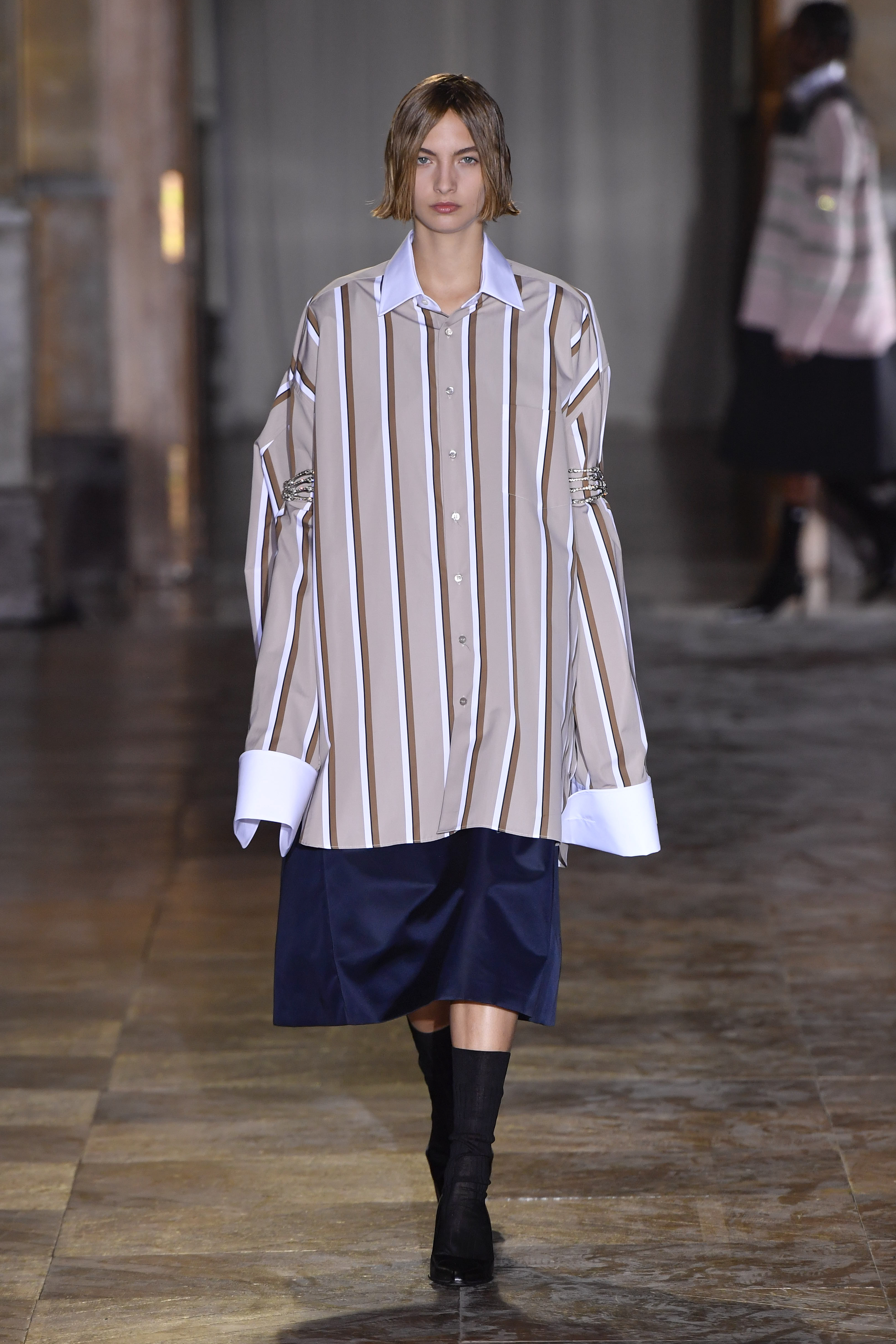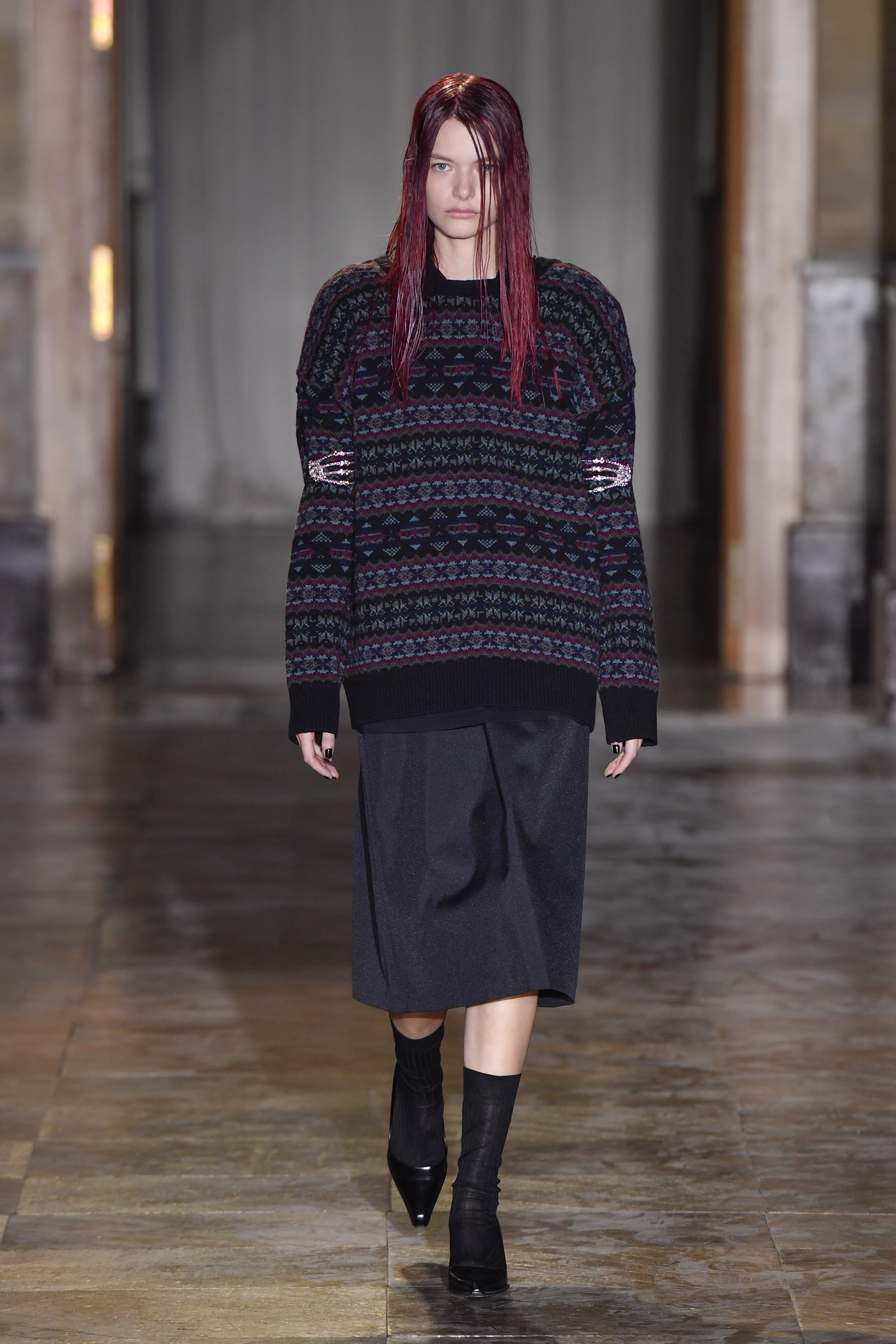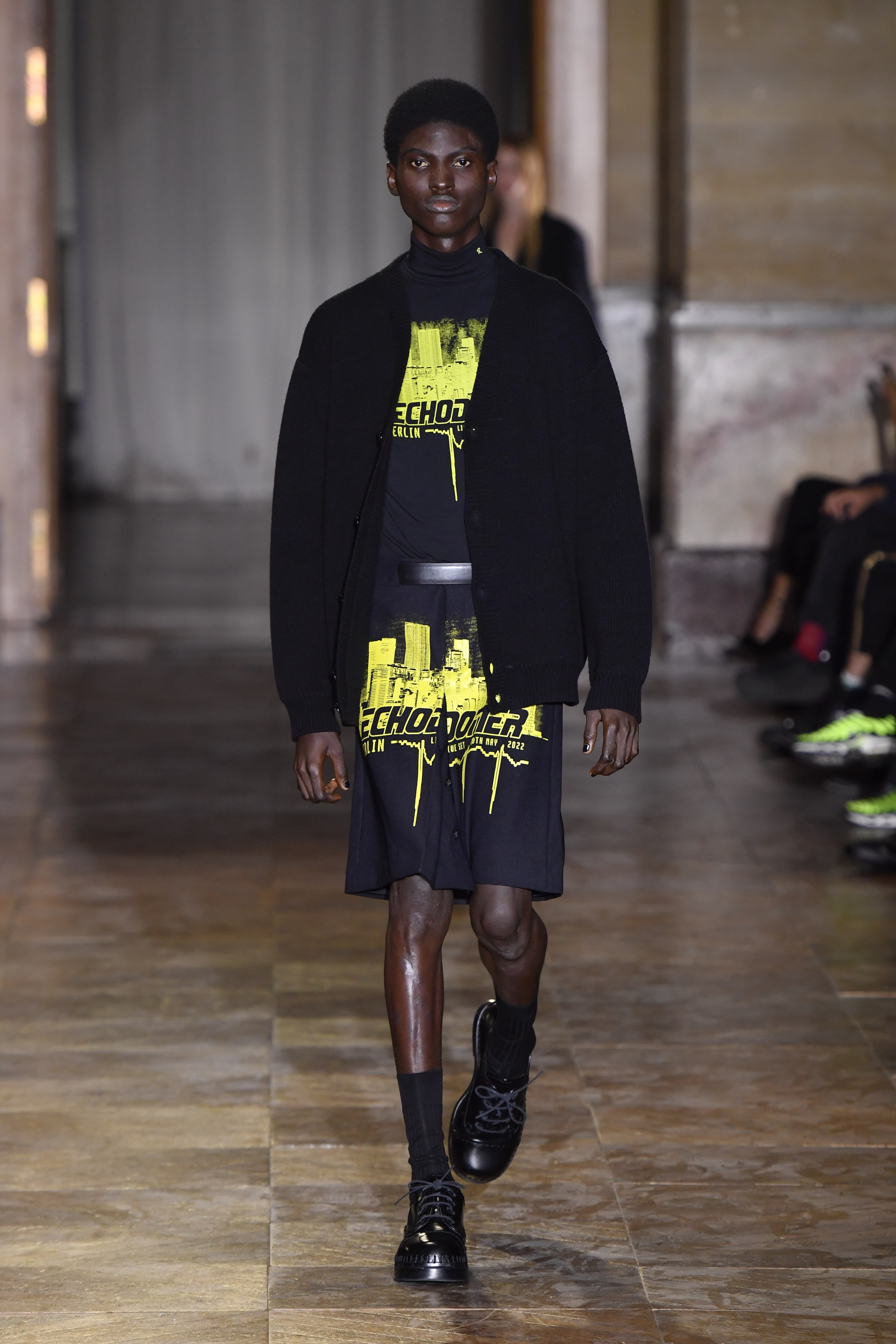 Isabel Marant
As night falls in Paris, there's nothing like an Isabel Marant show to kickstart your evening. Always staged with flashing disco lights and layers of smoke, this is a high-octane spectacle starring the girls and boys we all want to be, even if we're too cool to admit it. Glossy-legged, bouncy-haired, athletically-toned and incredibly sexy — watching an Isabel Marant show is like the pages of Vogue Paris coming to life. As for the clothes — well, they're quintessentially Parisian in that oh-so-insouciant way, combining a boho laissez-faire look with the regimental athleticism of someone who works out every day. Although the Isabel Marant girl is so Parisian, she'll simply say she woke up like this, her hair naturally tousled, and that she never goes to the gym — all the while hardening her abs with barre classes and reformer pilates at Midtown. In other words, she's complicated and delightfully predictable. Skin is always on display and sexuality is always celebrated (Isabel's way ahead of the curve of SS22), there are always pockets for that hand-in-pocket nonchalance, and the shoes come high enough for a lift and low enough for the models to energetically pace down the catwalk to Gabber Eleganza's throbbing soundtrack.
Tick, tick, tick! This season, Isabel was thinking of sunsets and beaches (again, this isn't the label for esoteric conceptualism), applying peachy-skied prints to denim and combining swimwear with sportswear. The result was a sort of raver-in-Mykonos look with colourful clashing prints and all the kind of carefree, lightweight clothes that you want to wear on a summer holiday. There's a slight 80s-flavoured retro feel to it all, courtesy of the Japanese graffiti motifs and parachute-silk parkas and cargo styles. In her show notes, Isabel mentioned the influence of Hans Feuer, the German photographer known for his saturated fashion imagery, which makes sense when you look at the sporty fabrics and colour-blocked styling. At its core, however, it is an eternally attractive idea of Parisian glamour that deserves to be witnessed in the French capital. Besides, what could be more Parisian than escaping to the beach for the entire summer? OA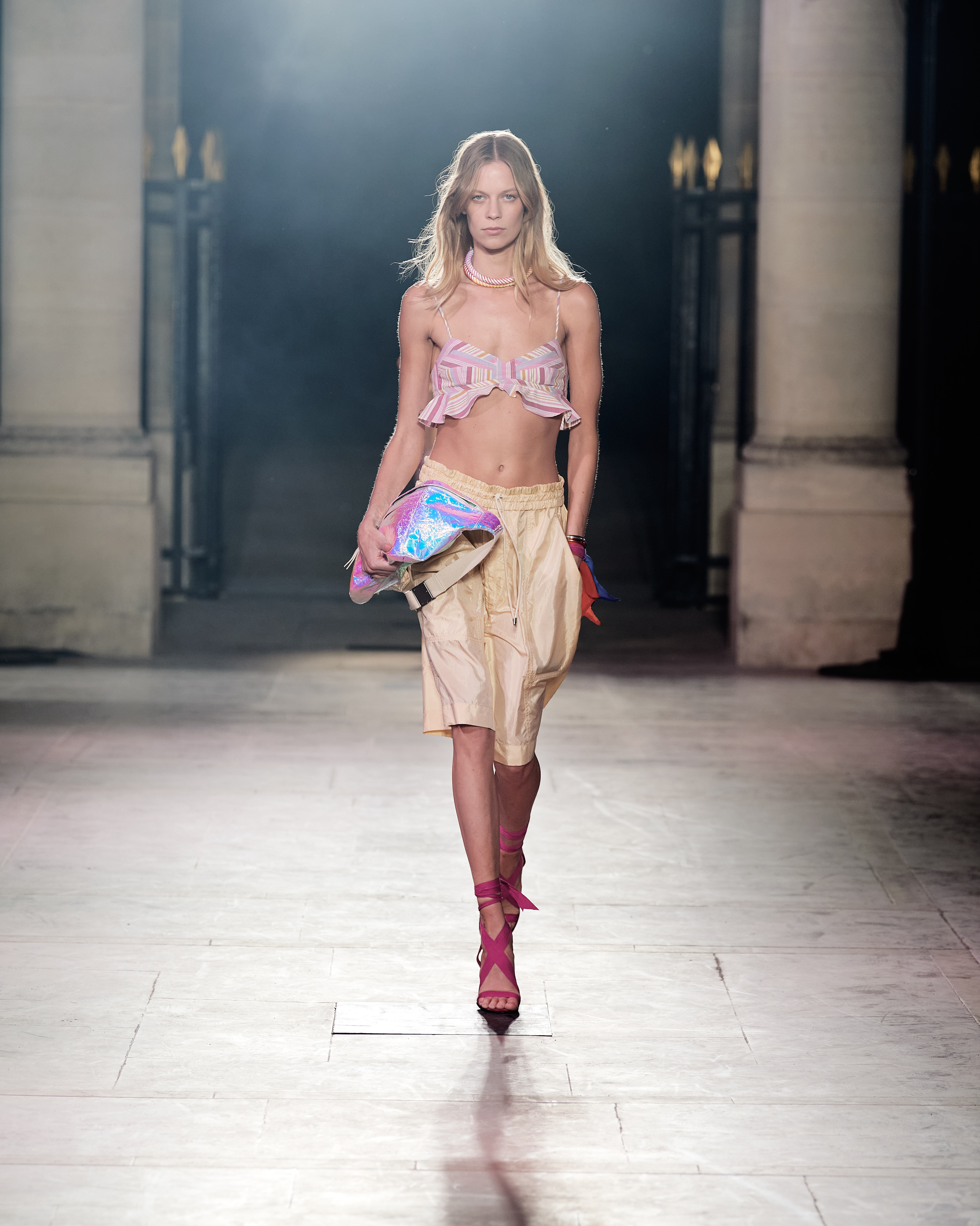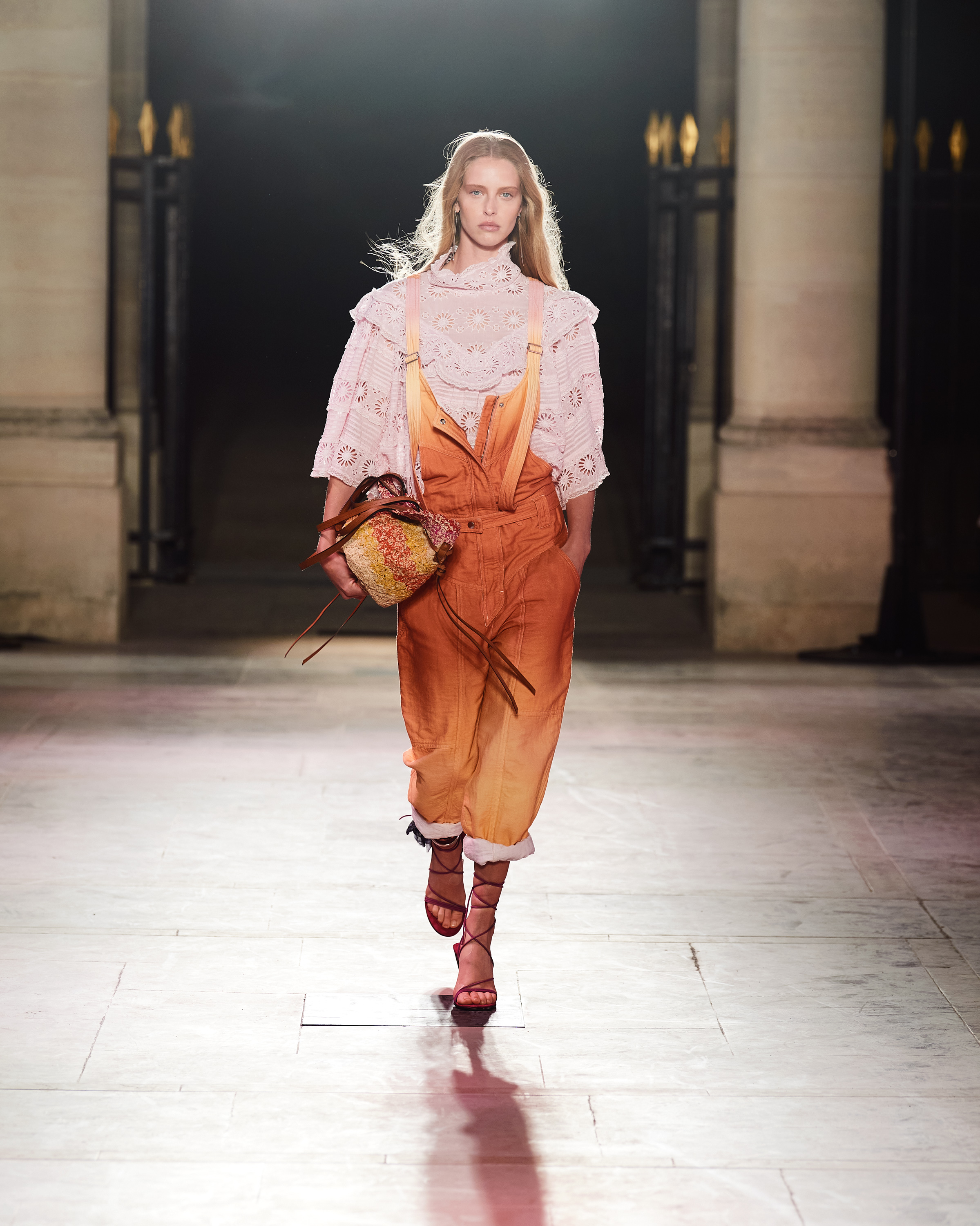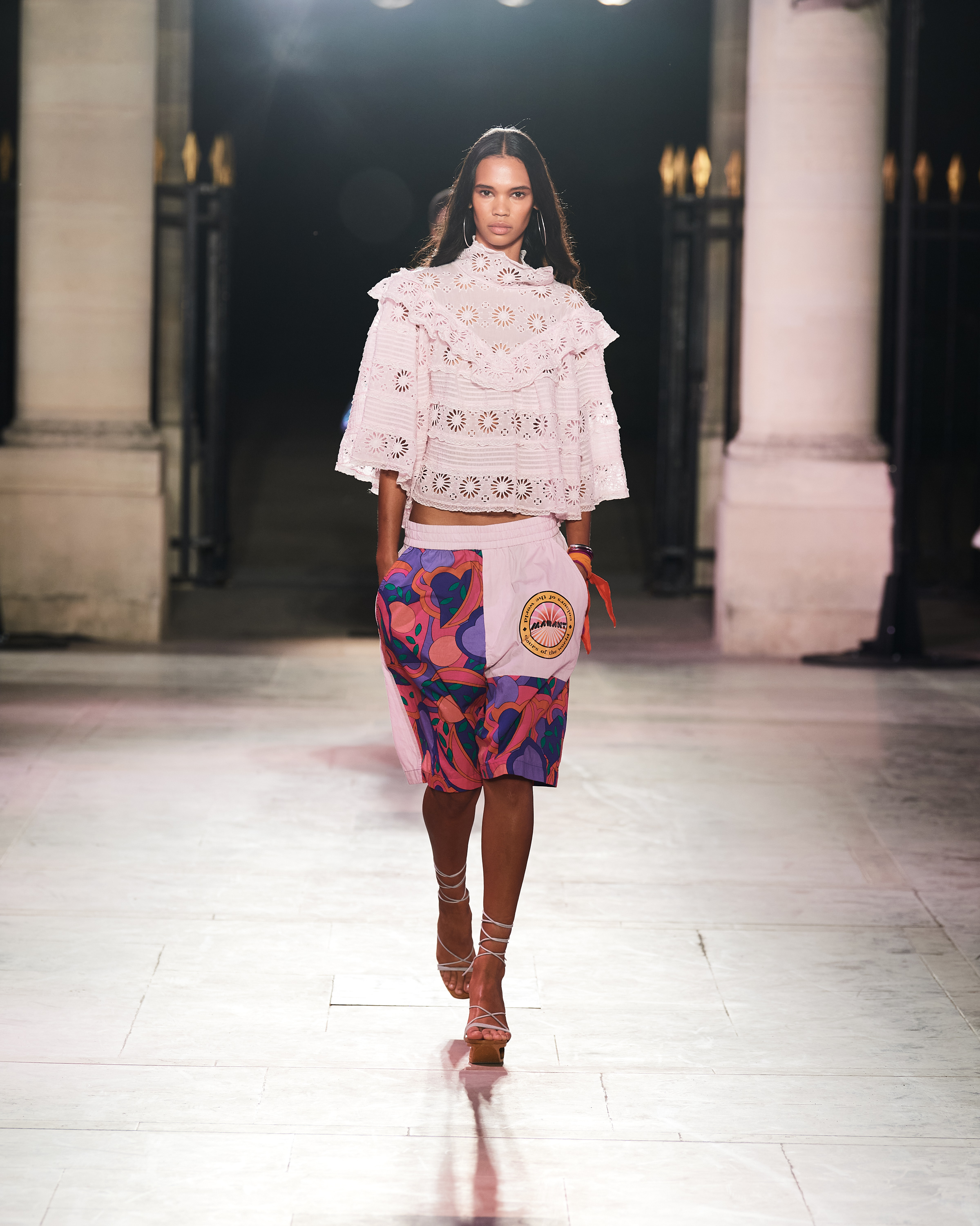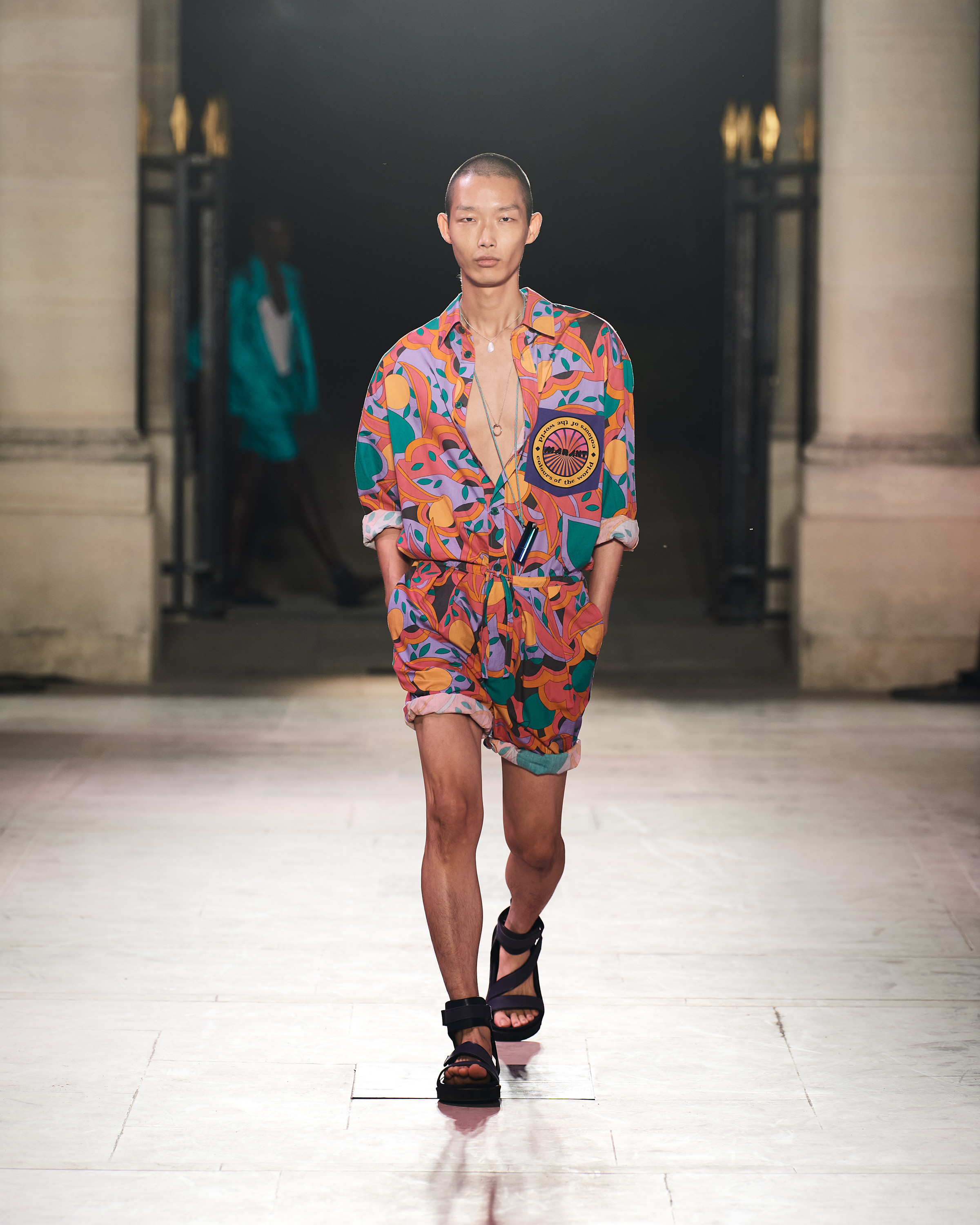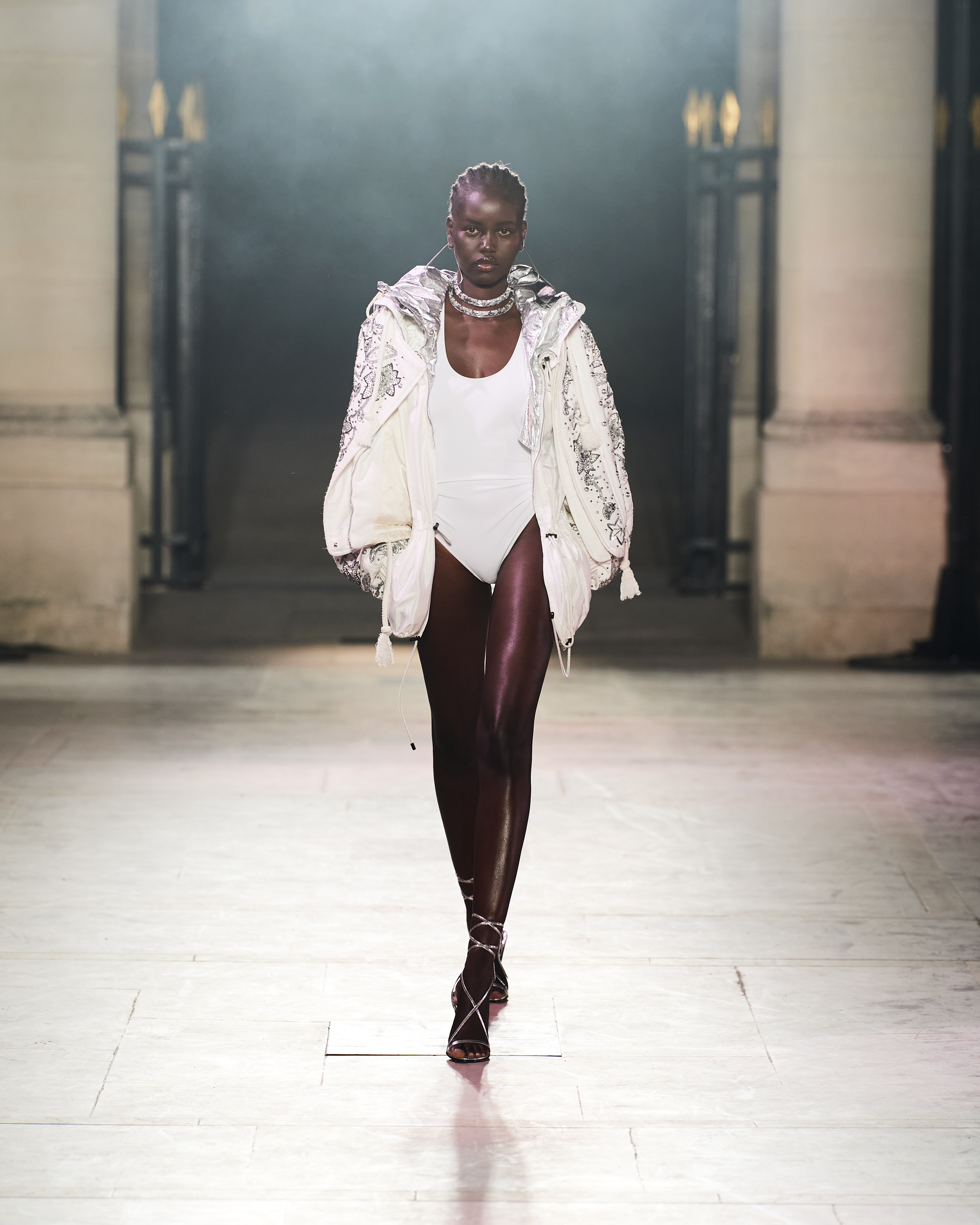 Chloé
Yesterday marked Gabriela Hearst's first in-person Chloé show, despite her handful of collections presented during lockdown. That's a lot of pressure, right? So, the Uruguayan designer built a waste-free catwalk on the most beautiful spot on the Seine, Notre Dame in full view. Cliché? Who cares! Sometimes it takes an outsider to show Paris at its best; Frenchness is a caricature in and of itself, after all. "I was sitting here a few weeks ago and I just thought, anyone not happy sitting here with this view on a day like this, they may as well get in the river," Gabriela declared in her passionate Latin voice. It's the kind of fiery fuck-it attitude that the designer also applies to the sustainability commitments she's brought to Chloé with her.
Reading through the show notes, it was impressive how much of the collection was upcycled from the brand's deadstock, crafted from low-impact fabrics sourced from genuinely responsible providers, and made by local craftspeople and organisations working with lesser-known communities. This is more than just trendy lip service, it's a radical approach to designing for a French heritage house. Plus, it didn't come at the expense of the look — in fact, this was Gabriela's most accomplished collection yet, each of the girls in her show embodying a kind of sun-kissed ease, wearing clothes imbued with the sentimental warmth of handcraft. The silhouettes were womanly — a riposte to the skimpiness we've seen elsewhere — and clothes came with spiritual gemstone details, shell jewellery, and trailing ribbon detailing that gave them that very Chloé touch of whimsy. And just like the setting in which they were shown, it was near-impossible not to sit back and think: Paris, Je'taime. OA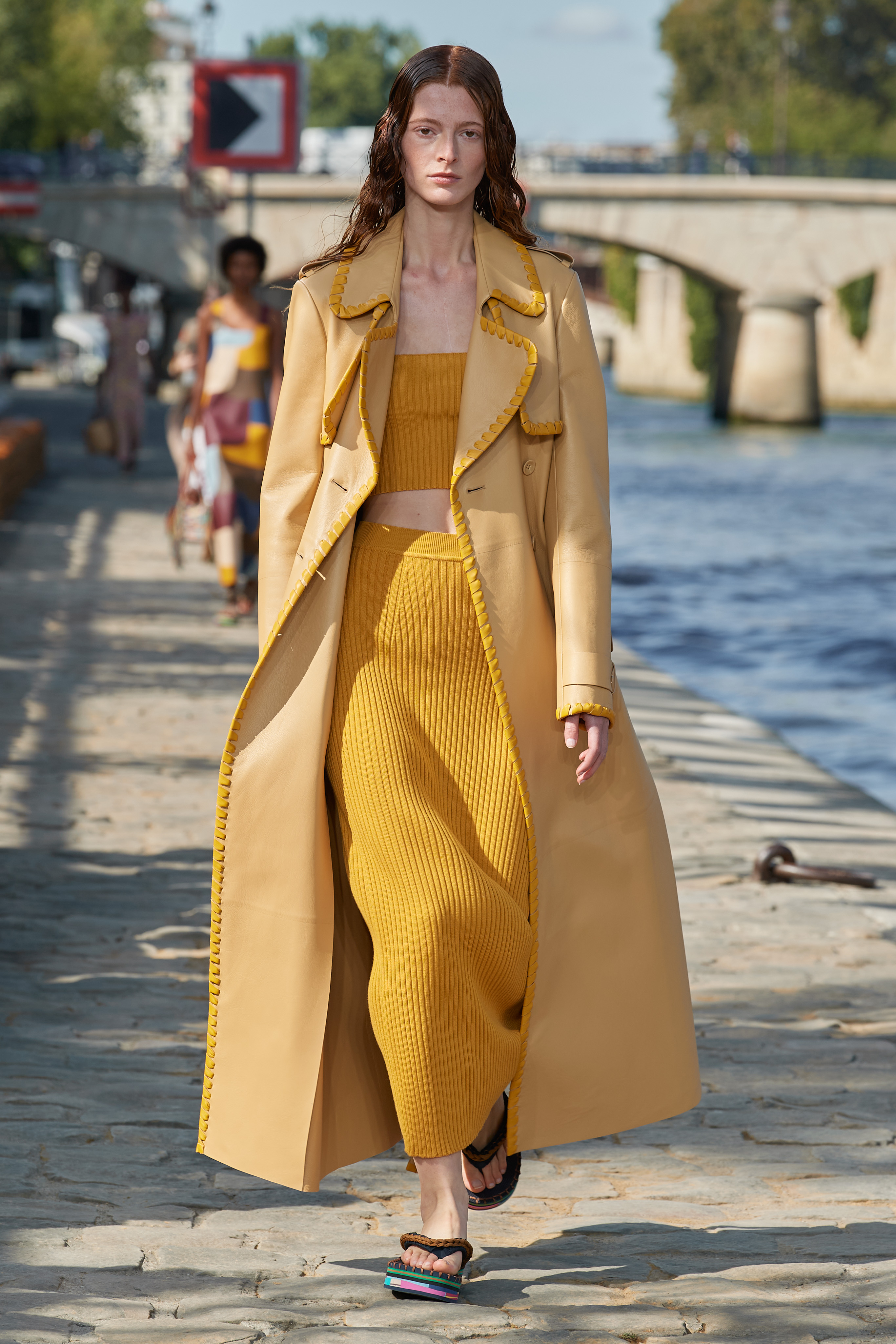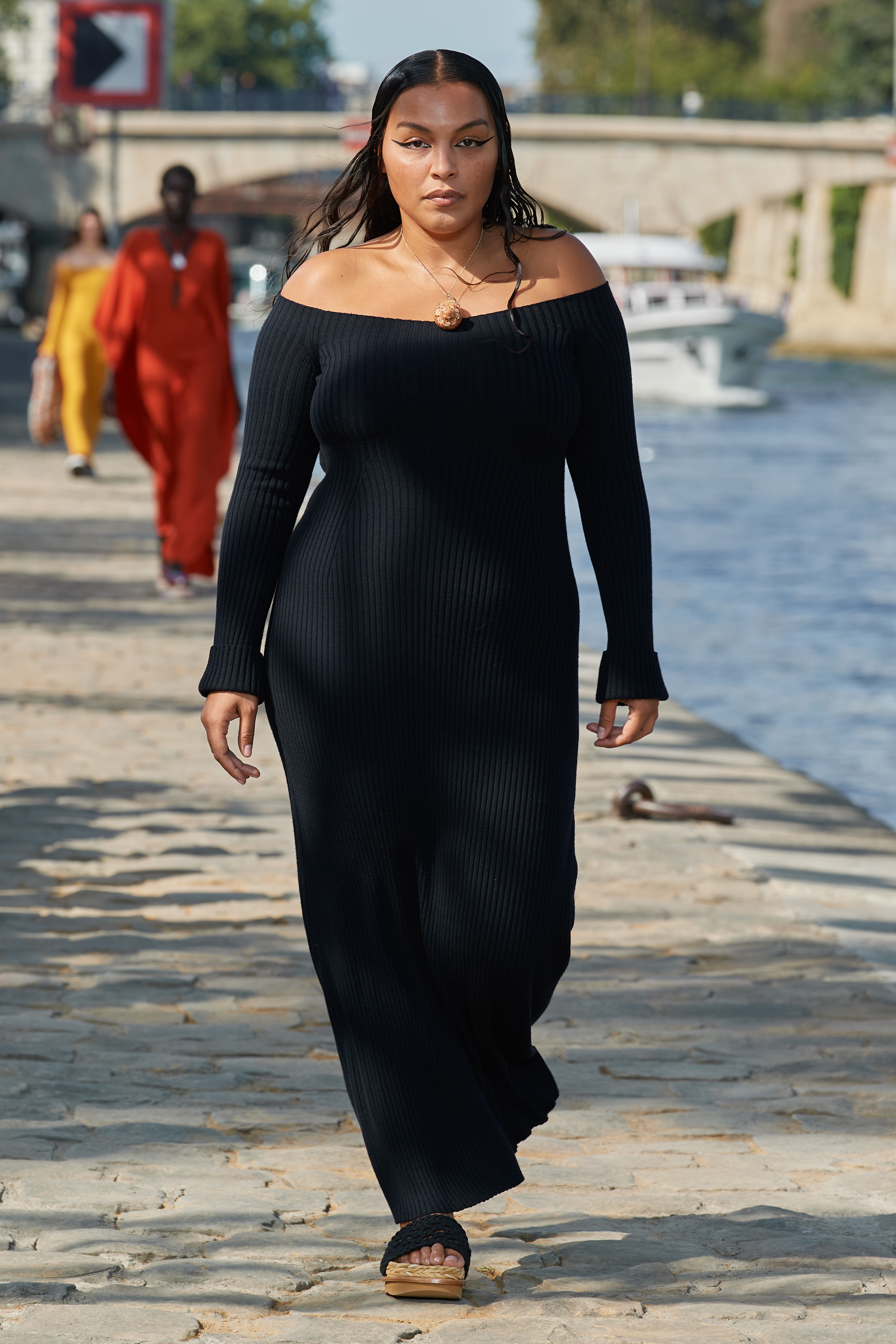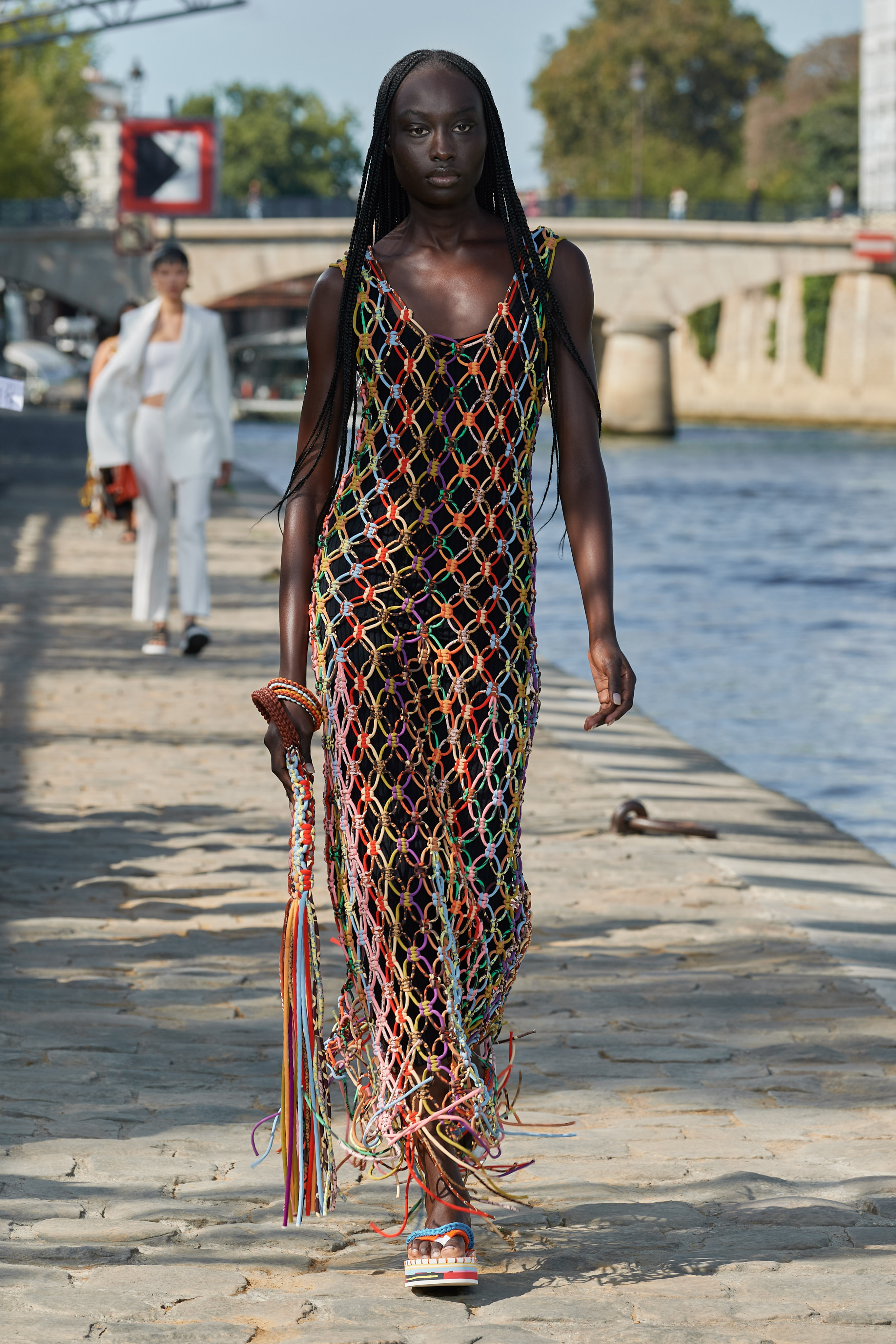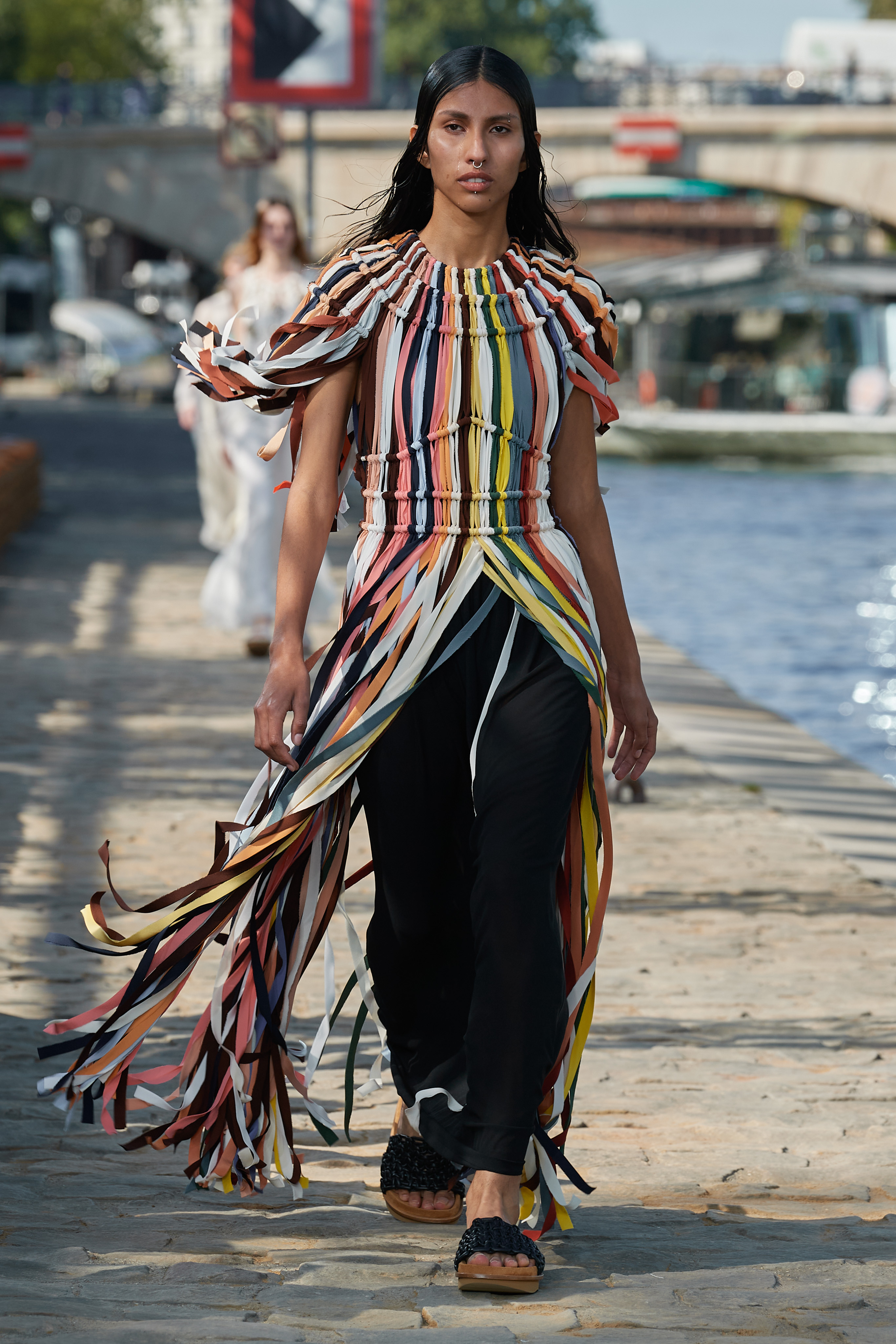 Rokh
If there's one thing that London-based designer Rok Hwang is known for, it's his ability to slice and splice the templates of ostensibly familiar garments and turn them into something entirely new. The collection he presented yesterday at the Petit Palais was no exception in that respect – bulky-pocketed cargo trousers were reimagined as corseted tan leather jumpsuits and asymmetrically panelled canvas coats, while the pencil coats with stepped hems were constructed from buttoned-together bands of the beige cotton gabardine you typically associate with a trench coat. Where a sense of newness shone through most strongly in the collection, however, was in the suite of looks that felt almost like they'd been lifted from an old Hollywood rendition of prom. Girls with sky-high bouffants bobbed down the runway in sleeveless gowns in crystal-embroidered and tufted lace, often sporting bicep-cuffing opera gloves. Then there were the more overtly sexy looks, a fashion genre that Rokh isn't necessarily immediately associated with — a turquoise satin gown had thigh-high slits and an embroidered cut-out at the chest, while off-should minidresses came in mirror-finish latex. Whether it's dressing you for a debutante's ball or for the dancefloor, Rokh proved himself to be a designer who really can do both. MS