5 legendary beauty looks: new wave
Emerging from London clubs in the late 70s, the look's beauty and fashion ethos married the whimsy of the Blitz Kids with the chaos of punk.
An era characterised by its outlandish costumery, severe makeup, and architectural hair, the beauty of new wave was unforgettable. Born in Britain, new wave music first emerged as early as 1978, and included synth pop and softer post-punk sounds. What began as a response to the unpalatable punk music scene went on to capture the attention, hearts, wardrobes, beauty and manes of mainstream youth culture around the world.
Heralded by the 'Second British Invasion' of the 1980s, new wave music videos took centre stage on MTV when it launched in the US in 1981. Listening, watching, and dancing from their homes, audiences tuned in to behold the latest, boundary-pushing looks. Meanwhile, club goers, patrons, and performers turned the pursuit of an outrageous look into a real lifestyle, working to outdo themselves and each other, moving that needle further towards absurdity.
New wave's beauty and fashion ethos married the whimsicality of the Blitz Kids with the harsh, unforgiving chaos of punk. From heavily rimmed lower lash lines to architecturally significant hair, we're revisiting five of the most iconic new wave beauty looks of all time.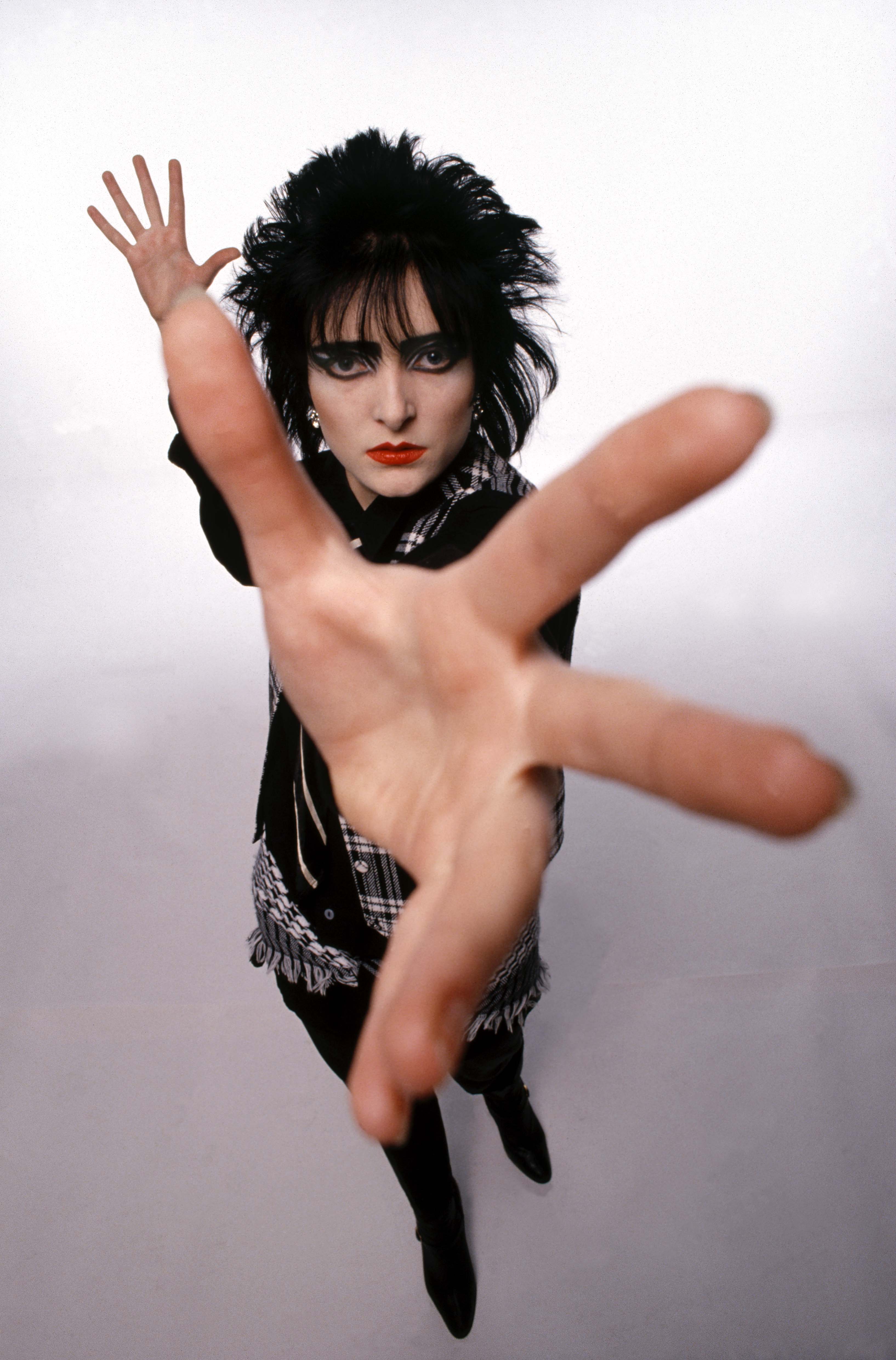 1. Siouxsie Sioux, 1979
Siouxsie and the Banshees released their second studio album in 1979. Just 22 years old at the time, Susan Ballion—better known by her stage name Siouxsie Sioux—had already assumed her position as one of new wave's most defining faces. In 1976, enamoured by the burgeoning punk scene, Sioux and a group of contemporaries (including Billy Idol and future bandmate Steven Severin) began following the successful Sex Pistols, but later distanced herself from the band after her infamous ITV appearance with them. The on-air scuffle left Sioux with a bad taste in her mouth for the punk scene.
But if Sioux's iconic 1979 look tells us anything, it's that you can take the girl out of punk rock, but you can't take punk rock out of the girl. Sharp angles at every opportunity — from the inner corners of her brows to the cupid's bow of her lips. Always a study in extreme contrast, Sioux's signature beat combined punk's heavy graphic eyes with a white face base to rival the deathly (and deadly) Venetian ceruse look popularised during the Elizabethan period. And of course, Sioux's spiky jet-black mullet is considered one of the early and defining examples of what would become a quintessential goth hairstyle.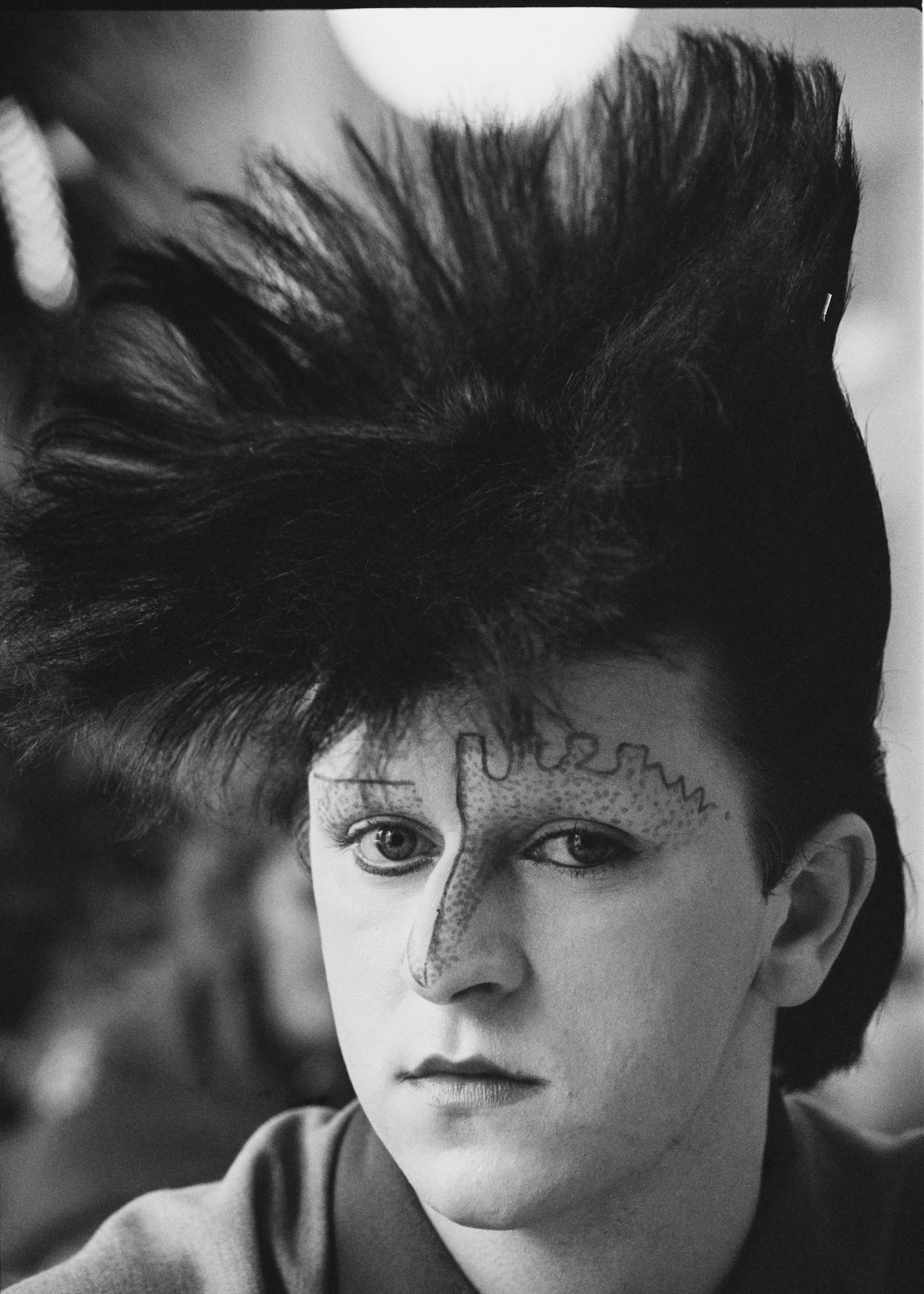 2. Steve Strange, 1980
From the abstract to the abject, Steve Strange served up some of the most daring new wave beauty looks of all time. The late Welsh singer, socialite, and nightlife impresario was best known for his role as frontman for the band Visage. Before Visage released its first single in 1979, Strange was already earning his reputation as the original Blitz Kid and London nightlife's most discerning gatekeeper; he famously turned away Mick Jagger at the doors of a nightclub.
Credited as a pioneer of the New Romantic movement, Strange never shied away from a bold beauty look, at the same time using his position as nightclub host to encourage his guests to come dressed for the occasion. In this photo from 1980, the same year Strange appeared in the music video for David Bowie's "Ashes to Ashes", the young singer showcases some of the era's most evocative makeup trends. Heavy black eyeliner, a pointy cupid's bow, and expertly engineered hair accentuated by an abstract line drawing in the centre of his face. This look is simultaneously derivative and nonsensical. Perfectly in keeping with the new wave brief.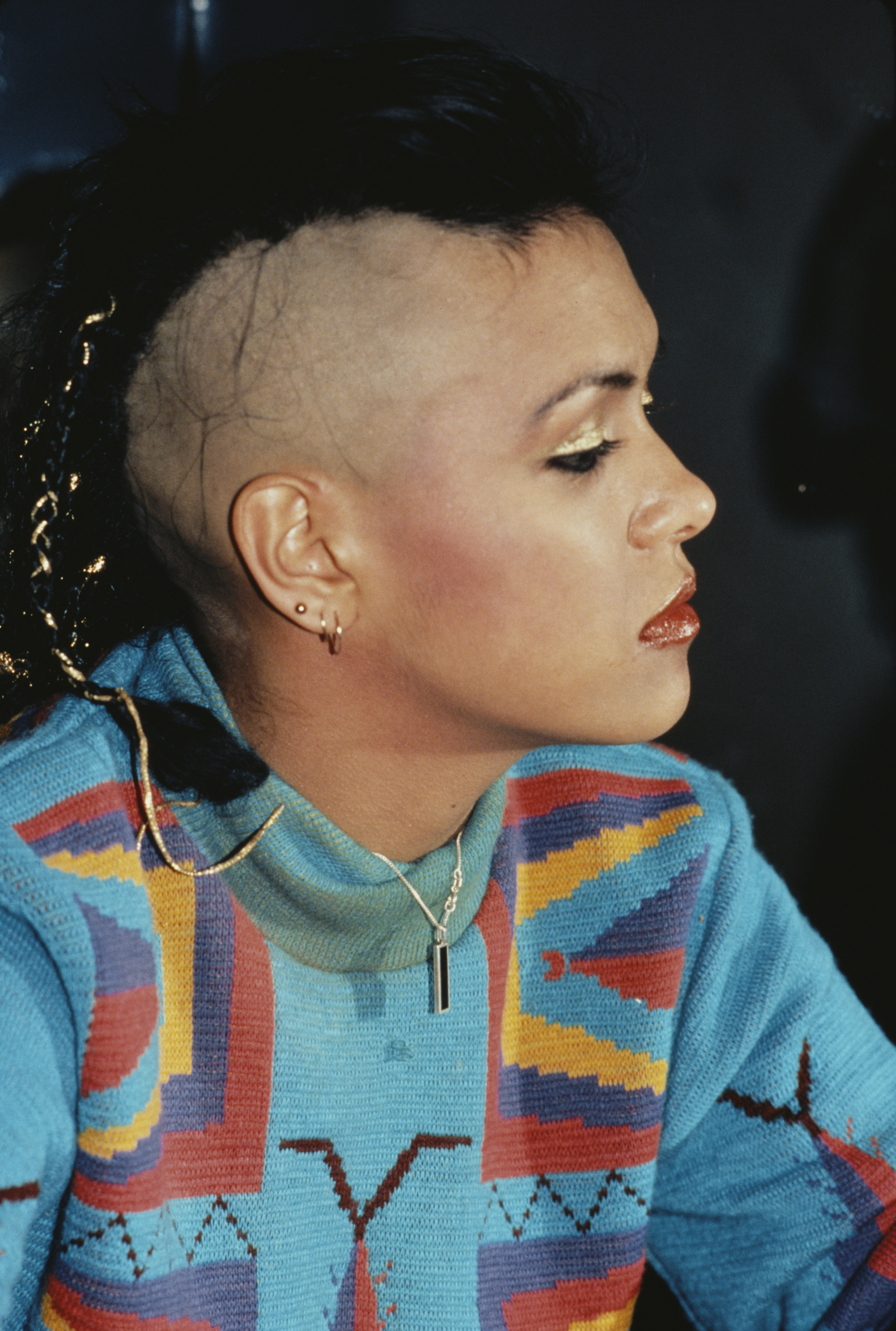 3. Annabella Lwin of Bow Wow Wow, 1982
Even if you haven't heard of Annabella Lwin, chances are, you've definitely heard her music. Founded in 1980, Bow Wow Wow was the invention of former Sex Pistols manager Malcom McLaren. Burmese-English singer and songwriter Annabella Lwin was only 13 at the time. In 1981 the band released See Jungle! See Jungle! featuring a semi-abstracted nude photo of 15-year-old Lwin and her (fully clothed) male bandmates. The controversial image, a recreation of Manet's Le Déjeuner sur l'herbe, spurred a Scotland Yard investigation into McLaren for potential exploitation of a minor.
This photo was taken in 1982, when Lwin was still a teenager at the helm of an otherwise very much adult post-punk band. Her satin coral lipgloss and soft wash of gold eyeshadow stand out; gentle in a decade known for its cold hard looks. Lwin's wide mohawk with glitter ribbons flecked throughout captures the new wave ethos while still feeling soft and malleable. For a 15 year old, Lwin's iconic variation on the new wave theme is refreshingly low-maintenance without being any less in-your-face.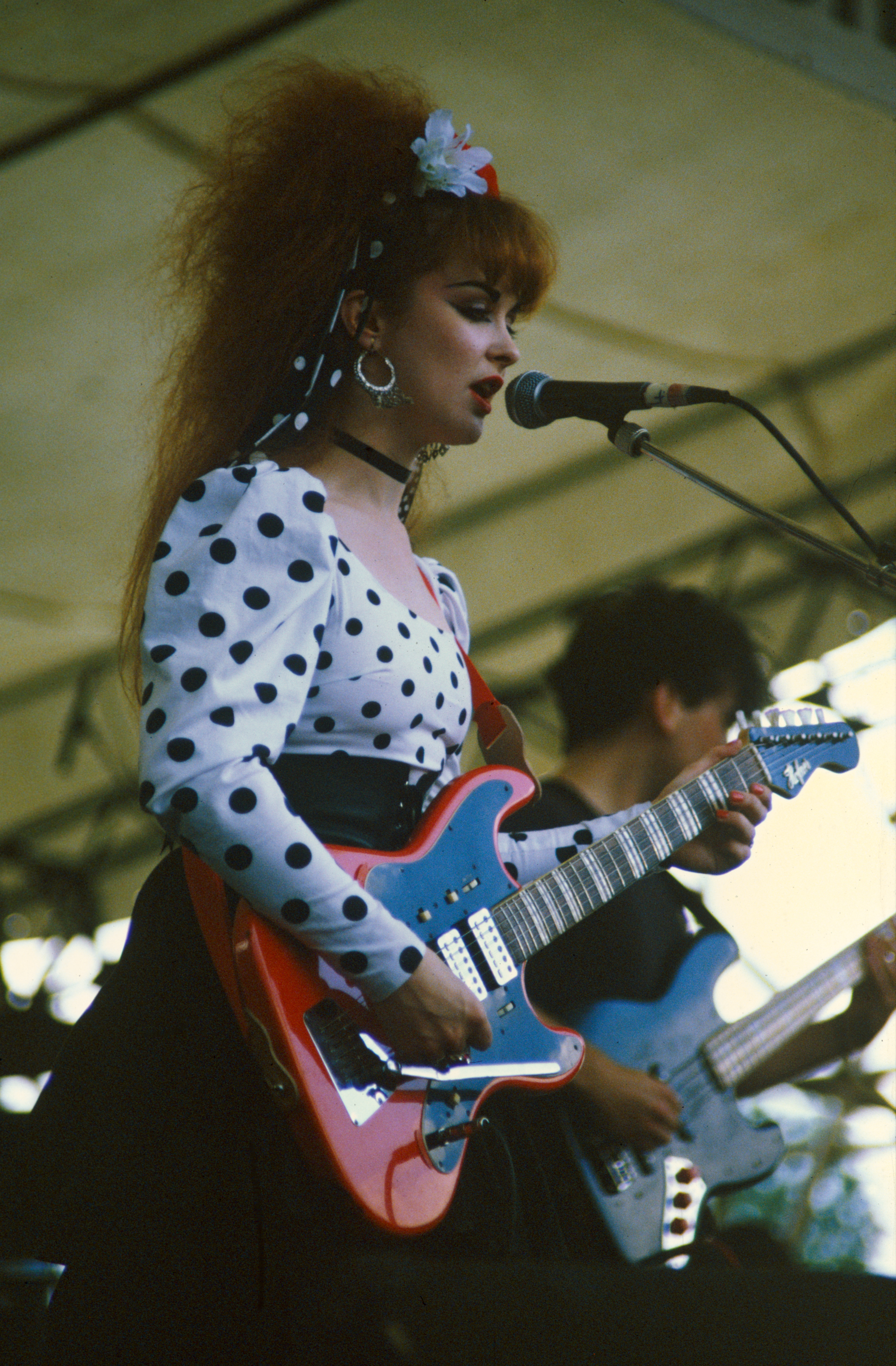 4. Jill Bryson of Strawberry Switchblade,1984
Glasgow natives Jill Bryson and Rose McDowall formed the cult new wave duo Strawberry Switchblade in 1981. While the band's tenure may have been short lived — the pair parted ways, citing creative differences in 1986 — their punk-meets-primary-school aesthetic has earned them forever placement on the 1980s moodboard.
In an era of over-the-top costumes, Strawberry Switchblade's signature look became their calling card. A chaotic mix of puffy polka-dotted innocence on the bottom and devil-may-care from the neck up, Bryson's makeup look here proves that the devil is in the details. Without the reverse cat-eye and eyebrows drawn on with a felt tip, the irony of this iconic new wave look might have gone unnoticed.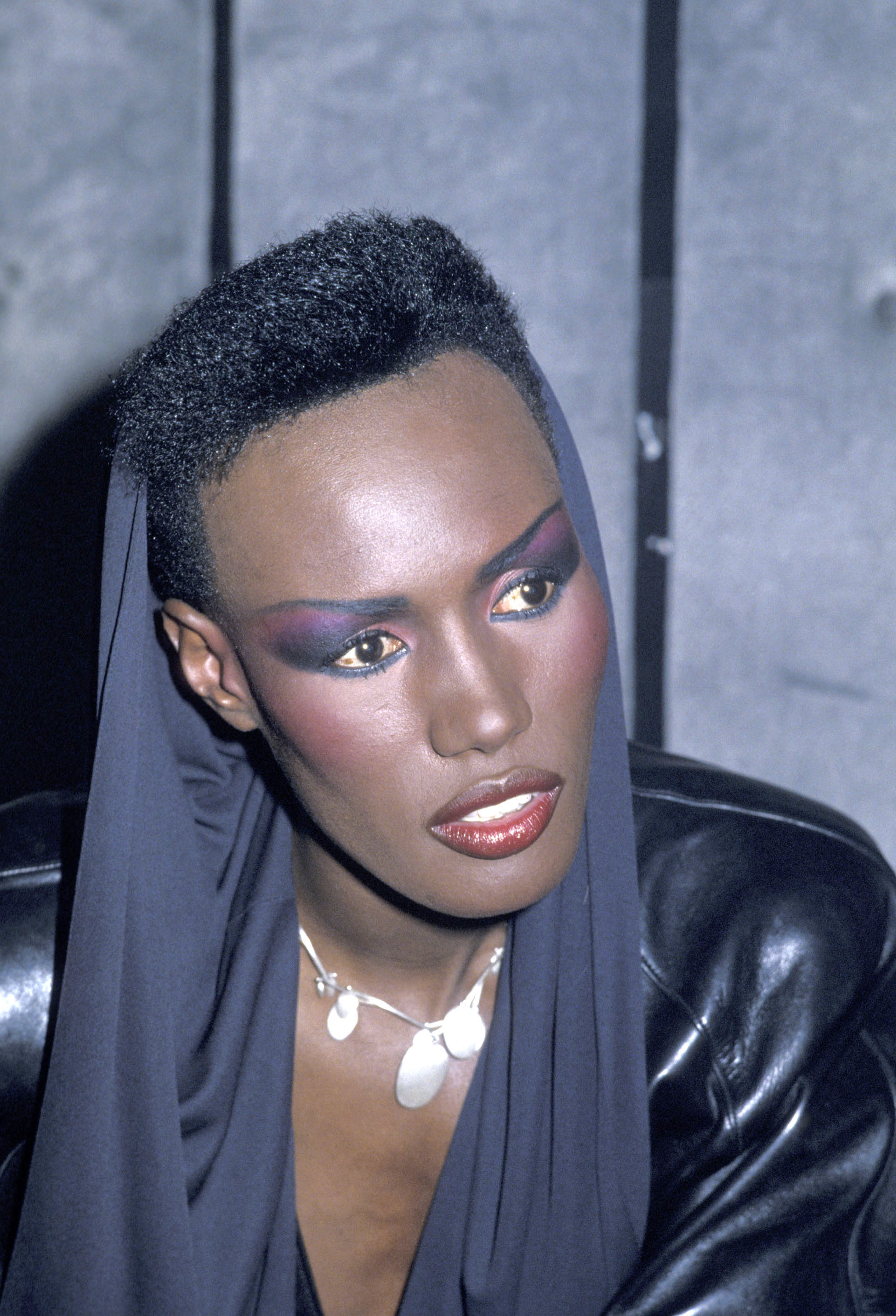 5. Grace Jones, 1986
From her legendary days on the dancefloor at Studio 54 to her on-screen roles in films like 1985's A View to Kill, Grace Jones is a beauty icon for the ages. Long before the advent of new wave, Jamaican-American Jones was a young model whose chiseled cheekbones and androgynous look made waves in the Paris fashion scene.
Jones first launched her musical career as a disco artist in the mid-70s, but pivoted to new wave in 1980. Unlike many of her post-punk-leaning contemporaries, Jones approached new wave beauty with the polished glam of someone who came of age on a dancefloor and not in a mosh pit. Attending a 1986 fundraiser to benefit the American Foundation for AIDS Research, Jones proved that two of new wave's most enduring makeup trends — the pointy lip and the reverse cat-eye — could converge at the apex of both elegant and severe.