Image courtesy of Michele Lamy
Gucci's Shoreditch home and Michèle Lamy at Art Basel: What's in Fashion?
Your one-stop shop for this week's fashion news to know.
Image courtesy of Michele Lamy
A big slap on the back for us all! After a month of back-to-back shows, we made it to the finish line in one piece. If you're checking in here for a recap of all things SS22, then, my dears, you have come to the wrong place (don't worry, though – here's all the tea on what went down in New York, London, Milan and Paris!). We of course won't have you go hungry, though, and this week we're back with our usual buffet of oh-so-stylish morsels, from news on ephemeral new Gucci stores and ikebana installations chez Loewe to an interview with the one-and-only Michèle Lamy and expert tips on how to keep the cashmere sweaters you're now pulling out from the back of your wardrobe in tip-top shape. Bon appétit! Here's what's in fashion.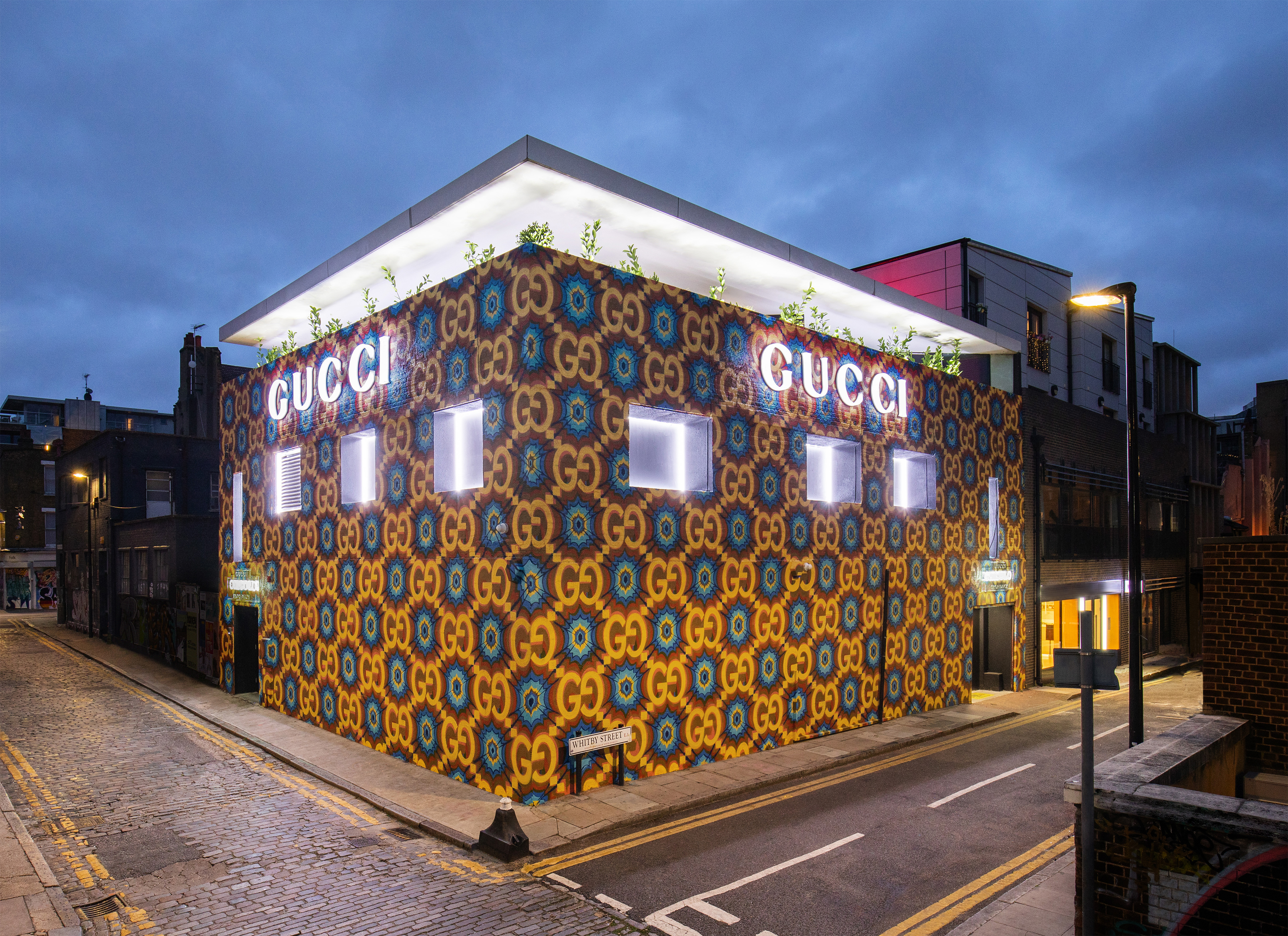 Gucci heads to Shoreditch to toast its 100th birthday
Happy birthday, Gucci! Yep, the Italian house turns a whopping 100 this year (let's hope it gets a letter from the Queen) just in time for Lady Gaga to immortalise it on the big screen the brand to stage a landmark show in Hollywood. To celebrate, Gucci has rolled out a global network of dedicated stores, or 'Circolo' as they're calling them (it means circle, as in 'full circle'). In London, the doors have opened to Shoreditch to Gucci's temporary space where the public is invited to step into the Sir David Adjaye-designed multisensory universe of Alessandro Michele and his #GucciGang. Sure, there are clothes, bags and shoes on sale (who doesn't love a bit of shopping?), but more significantly, there are gem-like rooms for free-of-charge discovery. In one, IDEA Books has curated shelves of rare art and photo books, ideal for flicking through on a rainy day. Upstairs, a 'listening room' features boxes of vinyl records hand-picked by some of Gucci's favourite artists — including Phoebe Bridgers, Celeste, Nick Cave, Billie Eilish, Sir Elton John, Kam–Bu, Jared Leto, Arlo Parks, Iggy Pop, St. Vincent and Florence Welch. The idea is to put a record on, sit back and while away your day dreaming of wearing Gucci onstage. Plus, there's also a delightfully maximalist café (think toile-de-jouy wallpaper and GG-monogram cappuccinos) which will host talks throughout the tenure. In other words, watch this space. Literally. OA
Your ultimate guide to caring for your autumn wardrobe
Did you feel that? It's the first chill of autumn. Oh, don't despair – there are so many great things about it: crunchy leaves, brisk walks, candlelit dinners, and our favourite – cosy, soft-to-the touch knitwear. Mmmm! Yep, it's time to get that store of cashmere out of the woodworks (cedar, we hope), but proceed with caution. With darker evenings comes great danger for our cherished sweaters (moths) and the dreaded bobbles and ruin that comes with excessive wear. We caught up with Saskia Dijkstra, a former Joseph designer, who launched Extreme Cashmere a few years ago from her native Amsterdam. The idea was to create one-size-fits-all cashmere pieces that can be worn year-round with ease, expertly crafted from the best soft Mongolian goat cashmere (and occasionally woven with lurex or mesh for that feather-light quality). Think sexy, skin-tight tubes that can be worn as bandeaus, skirts or minidresses, t-shirts and sweaters that can be thrown over jeans, even 'swimwear' that doubles up as the perfect layering leotard. And the best thing about it? Saskia invites customers to send their cashmere to the Dutch capital to be repaired, expertly washed and cared for, in order to encourage longevity. She knows a thing or two about how to take care of the supple fabric, which is why we've asked her for her ultimate guide for caring for cashmere at home… OA
Hi Saskia! Why did you start Extreme Cashmere?
After working on the manufacturing side of cashmere for over 20 years, I simply wanted to make a sweater without any concessions, completely on my own terms. The focus was purely on the product and the idea was never to create a brand. I simply wanted to make a sweater that makes you feel better on a bad day – one that gives you comfort and makes you feel confident.
Can you tell us a bit about the label's philosophy and offering?
At Extreme Cashmere, we don't do seasons or collections. We believe in a full cashmere wardrobe that can be worn throughout the year (all seasons, all occasions). All of our editions – whether it is a winter or summer delivery – always include a heavy turtleneck and smaller/sexier tops made using different cashmere qualities and techniques. Additionally, we always try something new, whether it's cashmere lurex, cashmere mesh, or tubes, which we recently launched. Through this, we hope to keep surprising our customers and challenging what a cashmere brand can be.
Winter is coming…. What's the best way to take care of our cashmere?
We want our customers to enjoy their cashmere garments for as long as possible and years to come, so we recommend the following steps:
Washing. Don't dry clean your cashmere – it's bad for the fibres – and don't hand-wash it, as it will start felting. All of our garments are machine-washable and easy to maintain. Wash it regularly in a high-quality machine on a wool programme (30°C, 600rpm), using wool detergent or baby shampoo and no softener. Put each garment in a separate washing bag or pillowcase, and don't run a cycle with more than three garments at once. After washing, dry the garment flat on a towel. In this way, you prevent the garment from getting stretched out.
Ironing. Then, iron at low temperature, using a thin cloth between the iron and the cashmere. This will help ease the fibres and get them back into place.
Resting. As cashmere is a natural product that requires some special care, after wearing it for a day it is best to let it rest for two days after. This will help the fibres recuperate and recover. Store the garment folded in a drawer or on a shelf. It will lose shape when you hang it on a hanger.
Pilling. Our garments are made from natural fibres that pill. Pills are the small fuzzballs that occur on the surface of the garment due to friction. Some people cause more pilling while wearing cashmere than others. Deeply-dyed cashmere, like bright red, tend to pill more than colours that don't need much dye. You can remove excess pills by using a cashmere comb. The pilling will lessen after removing the fuzz a few times.
Frame puts on The Ritz for its latest collab
When in Paris, we always stay at The Ritz. Well, not always (magazine budgets aren't what they used to be) but there's nothing quite like popping to the grand hotel for a cocktail. Something about the place just feels fabulous. Plus, it's part of fashion's folklore – Coco Chanel lived there, Kate Moss is a regular, and Gianni Versace would stage his couture shows over the swimming pool. The hotel's enduring appeal is why Frame — the beloved-by-supermodels denim label — has partnered with the Paris landmark for its latest capsule collection. Sporty (dare we say American!) pieces such as varsity jackets, gym bags, baseball caps and denim jeans are emblazoned with The Ritz's classic navy blue logo. Even if you haven't stayed there, there's something that feels deliciously ironic and totally tongue-in-cheek about. Putin' on the Ritz, quite literally. OA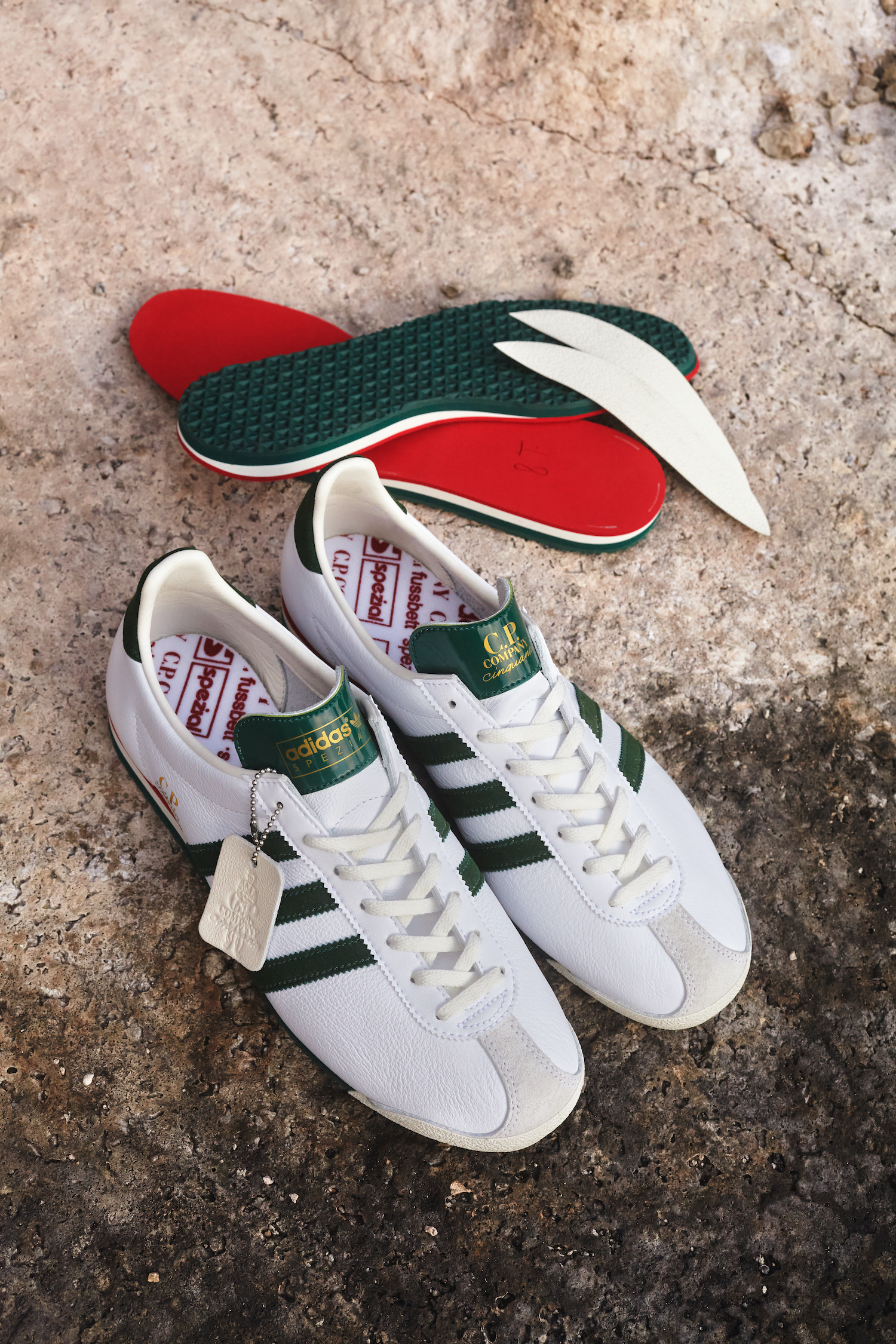 Adidas welcomes C.P. Company to the family
Can you believe that C.P. Company — the Italian streetwear label — turns 50 this year? (Yes, we're making a mental note to go see their doctor.) To celebrate, the brand has launched a new two-piece collaboration with Queens-of-Collaborations, adidas! It's footwear, of course — the 'Italia SPZL' is an update of a 50-year-old style from the sports giant's archive — as well as a reworked 'Haslingden' jacket, with a 70s-inspired Italian camouflage print adorning C.P. Company's signature 50 Fili hi-tech fabric. Buon compleanno, CPC! And Viva Italia!
Can't get to Tokyo? Onitsuka Tiger brings Tokyo to you
Itching to get on a plane to a far-flung destination? One person who can level with you there is Andrea Pompilio, the Milan-based creative director of Onitsuka Tiger. Given that the company he works for is Japanese, in pre-Covid times, he regularly found himself traveling to the East Asian nation. With travel to the country now tricky (that's putting it lightly), this season, he settled for a mental voyage instead. For "Milan – Tokyo", the brand's SS22 collection film, he enlisted director Hideto Hotta to take us all on a journey to an unexpectedly empty version of the Japanese capital. Depopulated as the streets may seem, the bright neon lights of Shinjuku and Shibuya serve as the perfect runway for Andrea's optimistic, poppy new collection – think tiger-stripe tracksuits and bowling shirts, knit crop-tops and pencil skirts with sporty stripes, and nostalgic, ravey colour-blocked outerwear in technical fabrics. Tokyo may be off the cards for the time being, but here's the perfect wardrobe for you when it's back on! MS
Get yourselves to the Gagosian!
Yes, we know that this weekly column is called 'What's in Fashion?', but darlings, with Frieze week just around the corner, what could be more stylish than art? Proving our point is the exhibition that just opened at the Gagosian's Mayfair space: Social Works II curated by Antwaun Sargent. A sequel to the like-titled exhibition that showed earlier this year at the gallery's New York space, it spotlights an intergenerational range of artists from the African diaspora, including legendary architect David Adjaye, filmmaker Isaac Julien, and i-D faves Tyler Mitchell and Grace Wales Bonner. Showcasing works explore notions of personal, public, institutional and psychic space, as well as issues pertaining to social and artistic practice, be sure to block out a couple of hours to immerse yourselves in some of the most deeply contemplative art currently on show in the British capital. MS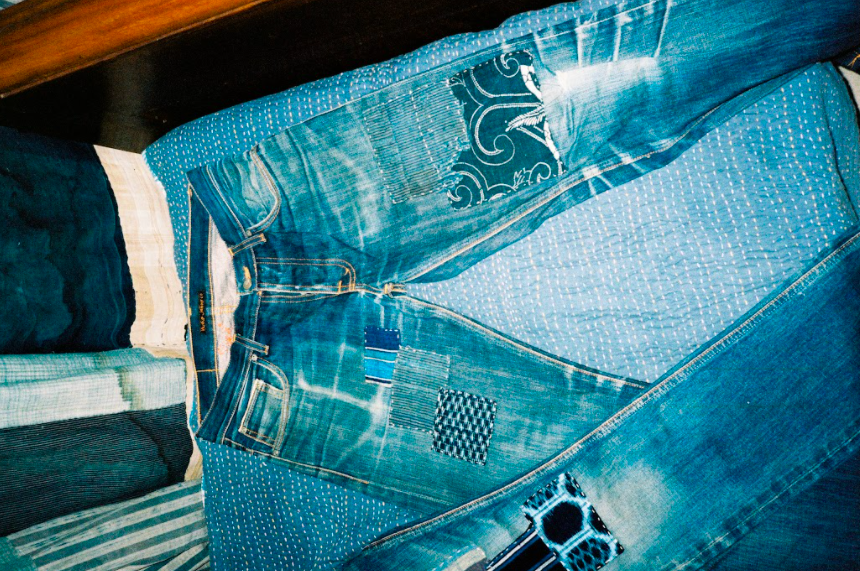 Pre-loved denim to fall head over heels for
It's no secret that denim has a bit of a bad rep on the sustainability front – particularly on account of water wastage and the environmentally harmful chemicals used in the dyeing process. Cause for hope, however, can be found in the efforts being invested by players in the space to minimise their impact, among them being Swedish label Nudie Jeans. Known for their pioneering repair programme, through which they offer free repairs to prolong the life of their garments, they've now launched an exclusive capsule with London luxury retailer Browns. Available as unique, one-off pieces, they've breathed new life into 15 pairs of jeans and one jacket, mending salvaged denim pieces with patches of vintage Japanese fabric. They've been created with the intention of being worn, but – as an installation of the pieces at Browns East in Shoreditch shows – are exhibition-worthy objects in their own right. "By recycling post-consumer garments and adding craftsmanship to create something new, not only gives meaning and purpose to both the product and I as the maker, but hopefully also to the wearer who appreciates one of a kind artisanal pieces," says Maria Erixon Levin, Nudie's co-founder and creative director. "These re-worked denims contain a story of where they've been, and how they got here which I believe will speak to customers who are looking for something out of the ordinary." Quick! Head here to cop yours. MS
Roses are red, Violets are blue…
John Galliano once said that, upon returning to Paris from Japan and witnessing the traditional ikebana floral arrangements, all other flowers simply looked vulgar. He wasn't wrong. The Japanese practice of botanical compositions is the height of elegance and an art in and of itself, which is why Loewe is staging an exhibition of it at its London store during Frieze week. To celebrate its Botanical Rainbow line of fragrances (when the bottles are placed together they form a technicolour spectrum) the Spanish house has invited the Sogetsu School of ikebana to create arrangements that will sit alongside artworks by its founder, the legendary master Sofu Teshigahara, who revolutionised the art and helped turn it into a global phenomenon. Some of his original artworks will even be on display, such as the sculpted vases and found-object vessels, as well as giant bronze sculpture. Who needs paintings when you've got another Nature's finest artworks? OA
The incomparable Michèle Lamy takes to the stage again
The last time we spoke to Michèle Lamy, the Co-Founding Partner and Director of Art/Furniture at Owenscorp, she reflected on the important role that performing plays in her life. From her impromptu turns on the mic at Les Deux Cafés, the Hollywood haunt she ran in the late 90s and early 00s, to her performances with artists like Cecilia Bengolea and her appearance just last week on the Rick Owens runway, her live appearances are invariably spellbinding – true must-see moments. A few weeks back during Art Basel, after close to 18 months away from a formal stage, the living legend made a powerful return at an evening held by Audemars Piguet and Almine Rech in honour of Japanese artist Ryoji Ikeda. There, the audience was treated to a double-whammy of Michèle – first in a concert by Lavascar, the noise band she's part of with Nicola Vascellari and her daughter Scarlet Rouge – and then in a collaborative performance with the audiovisual art pioneer. Wish you were there? Well, here's the next best thing – Michèle herself to fill you in on everything that went down!
Hi Michèle! So tell us about your recent Art Basel performance. How did it come about?
Michèle Lamy: It was all instigated by Ryoji! He was doing a big installation in Basel with Audemars Piguet, who wanted to celebrate him by doing this show. We'd actually been talking about doing something together for a couple of years, but last August he said that he wanted to start doing some music together -- we had big plans – we wanted to create a record… Anyway, after all the discussions, Audemars Piguet decided to do it at the Elisabethenkirche in Basel. It's an amazing location – it's known as a queer-friendly church, and is a place where anybody can do things in there: concerts, performances, and things like that. He invited Lavascar to do a show for the first part, but the piece that Ryoji and I had originally planned to do wasn't really possible – we had to be careful with the intensity of the sound due to the stained glass – so that instead became a seven-minute performance. As small as it was, it really felt like a big breakthrough to have this primal scream along with his music… I don't really know how to put it into words, but it really felt like there was something that was growing, something that can't really be put down in specific terms. Ryoji's someone who speaks more through his music, after all.
What is it that you particularly admire about Ryoji's work?
I discovered Ryoji through Rick years ago, and he's DJ'd at many of the parties we've done since we've been in Paris. I've been to many of the events and exhibitions he's done, and there's always been something about the combination of sound and image that talks to me -- it's really something that really gets into your body, and takes you higher and higher. He says that he's a musician first and foremost – and I agree, he really is a great musician – but something that he's not so known for is the really visually extraordinary performances he's done. There was that performance in Los Angeles with hundreds of cymbals, and then he's done performances with cars, and then noise. Nobody really talks about this side of what he does, and I think that the performance we did was a combination of the two sides of his work.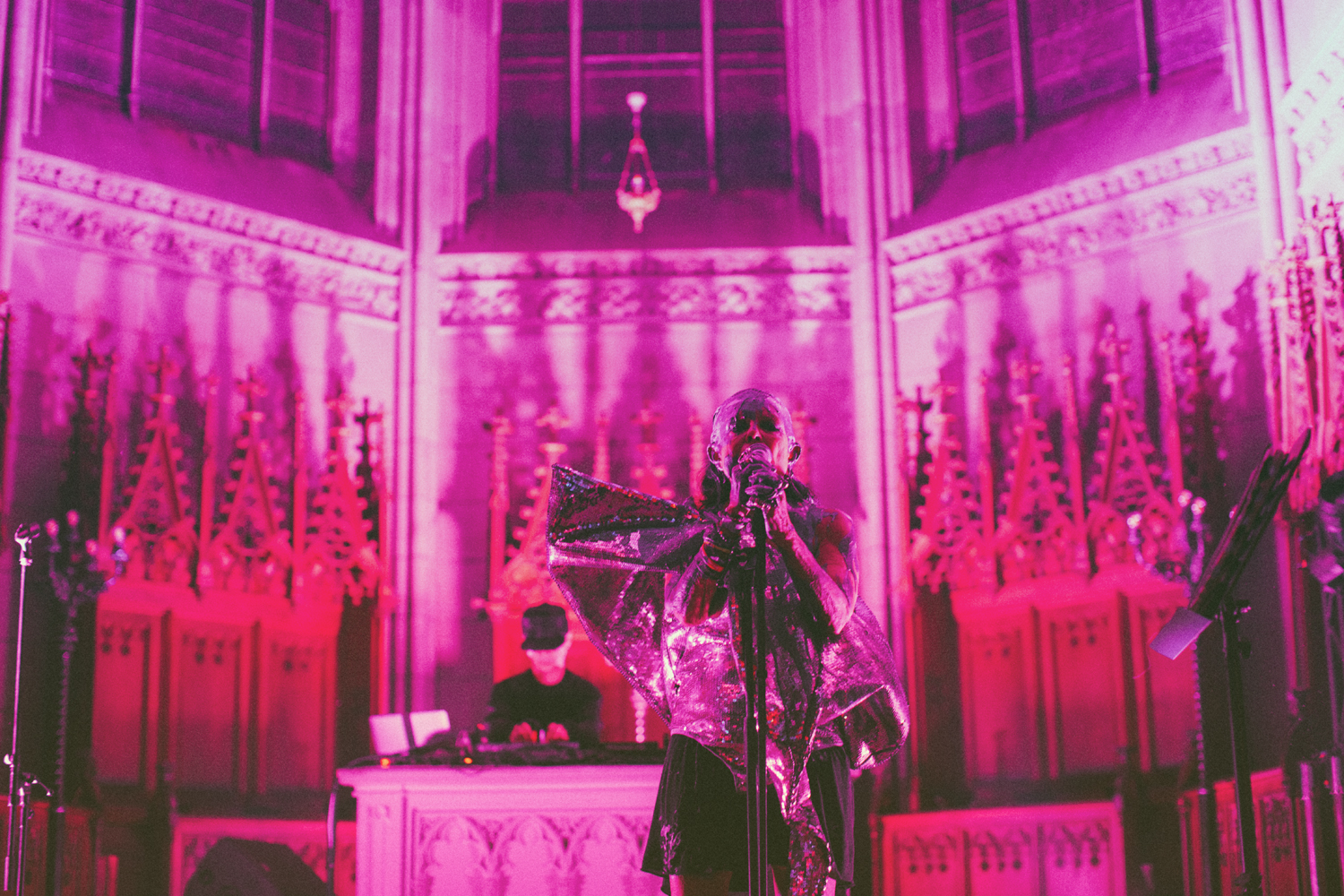 What was the audience like? And when you're performing, are you very conscious of the people that you're performing to?
Yes, I'm always quite conscious of the audience -- for the entrance of the Lavascar gig, I made it almost like it was a wedding in a church. I came through the door and walked down the aisle through the whole crowd. So I really like the audience, and I like interacting where there are a lot of people – even if I'm performing for 10 friends, I'm very conscious, but when there are more than 300 people, I'm in heaven! At the same time, I'm deep within my own story -- right now, I recite poems by Etel Adnan in our performances, and it's a journey that I want to take everybody with me on.
How did it feel to be back at Art Basel, and to be performing again live?
Well, Art Basel isn't really a place that's about performance, and I was actually there for a Rick Owens' furniture installation that was part of the design section of the fair. We did an installation of our Pompidou beds, which are the structures that we used for a performance we did at the Pompidou Centre during FIAC in 2019. But being back at Art Basel was great, though. I've been to every edition since I moved back to Europe from the States in 2003, and have always been so happy and impressed. There are always such great exhibitions on at the same time at places like the Fondation Beyeler, as well as in Zurich close by. This year was smaller in attendance, but it didn't change the atmosphere. People seemed really happy to be back and to be together, and galleries really brought their best pieces and artists to their booths. There was a real feeling of continuity.