Photography Thibaut Grevet. Image courtesy of Dior
Dior sneakers and Frieze London: What's in Fashion?
Your one-stop shop for this week's fashion news to know.
Photography Thibaut Grevet. Image courtesy of Dior
Darlings, it's London's chicest week! Fashion week? Please! We're talking about Frieze week, that time every October when a global clique of super-stylish art collectors and fans roll into town for one of the world's greatest art fairs. Much like most of the fashion weeks we've reported on this season, this year's Frieze is a particularly special one, marking the return of the fair to its IRL spot in Regent's Park. Accordingly, today we're giving you the lowdown on the most stunning events to hit up after you've played a customary game of 'Where's Raf?' in the main tent – and, y'know, taken in all the wonderful art on show. Beyond that, we're also spotlighting collections from two super-talented CSM MA grads, and bringing you everything you need to know about the best collabs that have landed this week. Here's what's in fashion!
Dior has a chic new running shoe
Just in time for our endless strolls around the Frieze tents at Regents Park, Dior have dropped their new running shoe, the B30 Sneaker. Described by creative director Kim Jones as "elegant and sporty" with "a touch of audacity", the trainer's body, made of flexible microfibres and mesh built for activity, comes in shades of grey, white, beige, olive and even neon lime for the more bold wearer. Then, embellished along the side in a french-modernist style but with a luminescent twist, is the initials of the fashion brand's namesake with the logo also adorning the heel and bottom of the chunky, curved sole. A short film released alongside the drop presents the shoe collection as not just perfect to view art, but as an art piece in its own right. Don't believe us? Try them on virtually with the B30 Snapchat lens. TG
Paolina Russo's ready for a fight
As we've all learned in recent times, aching boredom can be a powerful creative force. While it may not be especially inspiring in and of itself, it often forces us to discover and create our own means of escape. For Paolina Russo, the outlet she turned to growing up in the Toronto suburbs was sports – specifically taekwondo, the Korean martial art in which she obtained a second Dan Black belt and even competed for Canada. These experiences naturally informed the SS22 collection she presented at 10 Corso Como in Milan during the city's fashion week, though she transported them into a rather more fantastical setting than your average suburban leisure centre. "I really wanted to communicate that I want my woman to be this warrior woman," Paolina says. "She's always going into battle," and she's always dressed accordingly. She wears pieces like the form-fitting technical knits that Paolina swiftly made a name for upon graduating from CSM's MA programme in 2020, along with garments imbued with senses of flow and dynamism – wide-legged flares, and draped tops that mimic the way they might be worn by an off duty athlete. It all comes to life in Fight Night, a film installation originally shown in Milan, and the result of a collaboration between creative director Ben Ditto and image-maker Aidan Zamiri. Drawing upon sparring matches and the common video games and anime references that Ben and Paolina share, it sees two fighters duel in an almost Tekken-y, sci-fi setting. Fashion from the future – right now! MS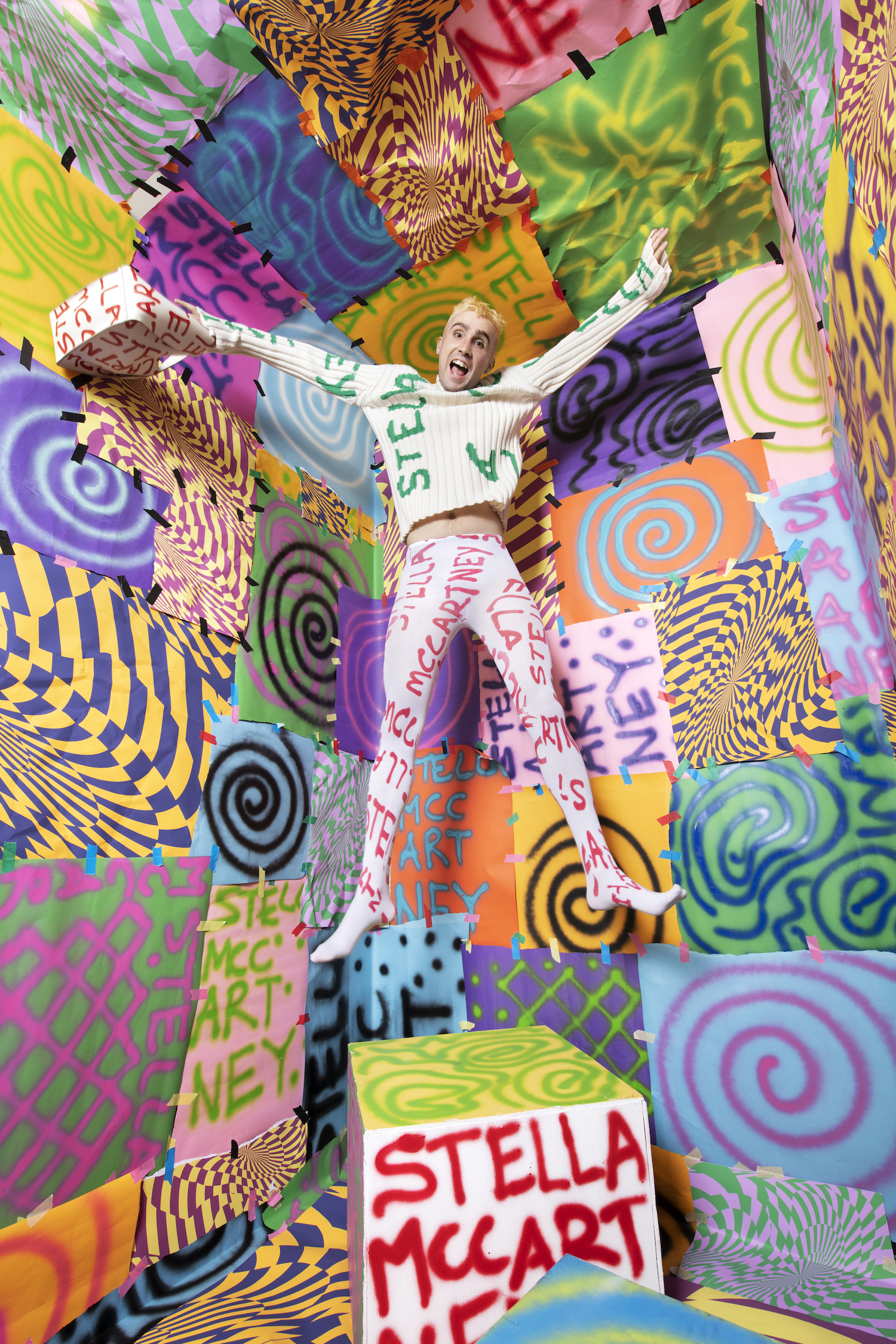 Stella McCartney goes psychedelic club kid for its collaborative capsule
Revered British fashion designer Stella McCartney has handed over her latest capsule collection to three young artists and designers to reimagine the brand's legacy and most iconic pieces through their own eyes. Called Stella Shared 3, the capsule sees environmentally-conscious, neutral garments take a psychedelic turn under the creative vision of the next generation. Just like those pointy S's we all used to draw all over our school books as kids, Antwerp-based graphic artist Tom Tosseyn, played with the first letter of Stella by turning it into lightning bolts and yin and yang symbols on sweatshirts, and alliterative words that represented sustainability listed along a scarf. South London's Ed Curtis then spray painted the brand name alongside Vertigo-esque spirals on chunky knits and the Falabella bag, whilst Queens, NY's Myfawnwy stamped hoodies and tees with their signature handmade marble prints and trippy suns and flowers. Either head down to the house's Bond Street flagship, or check it all out here! TG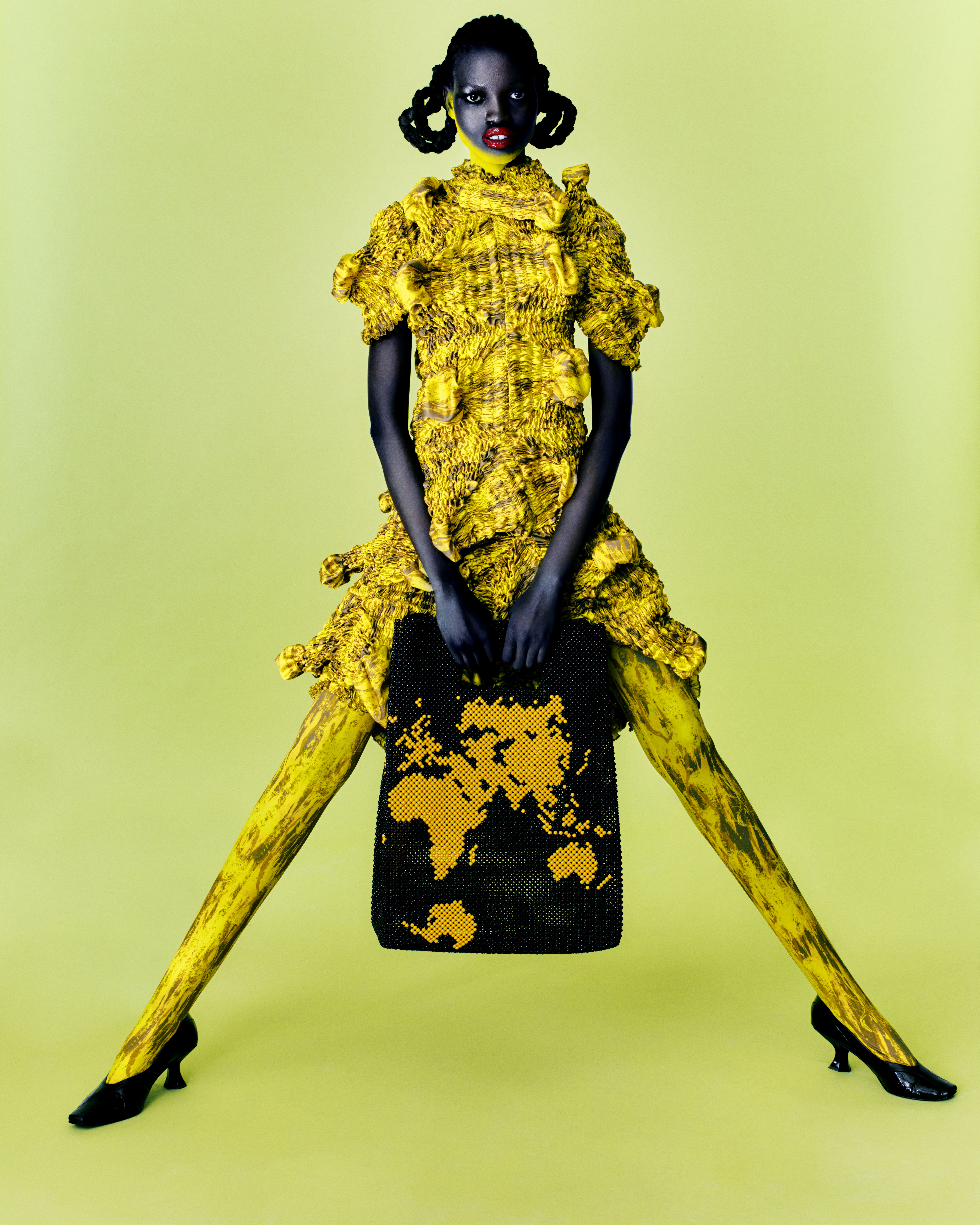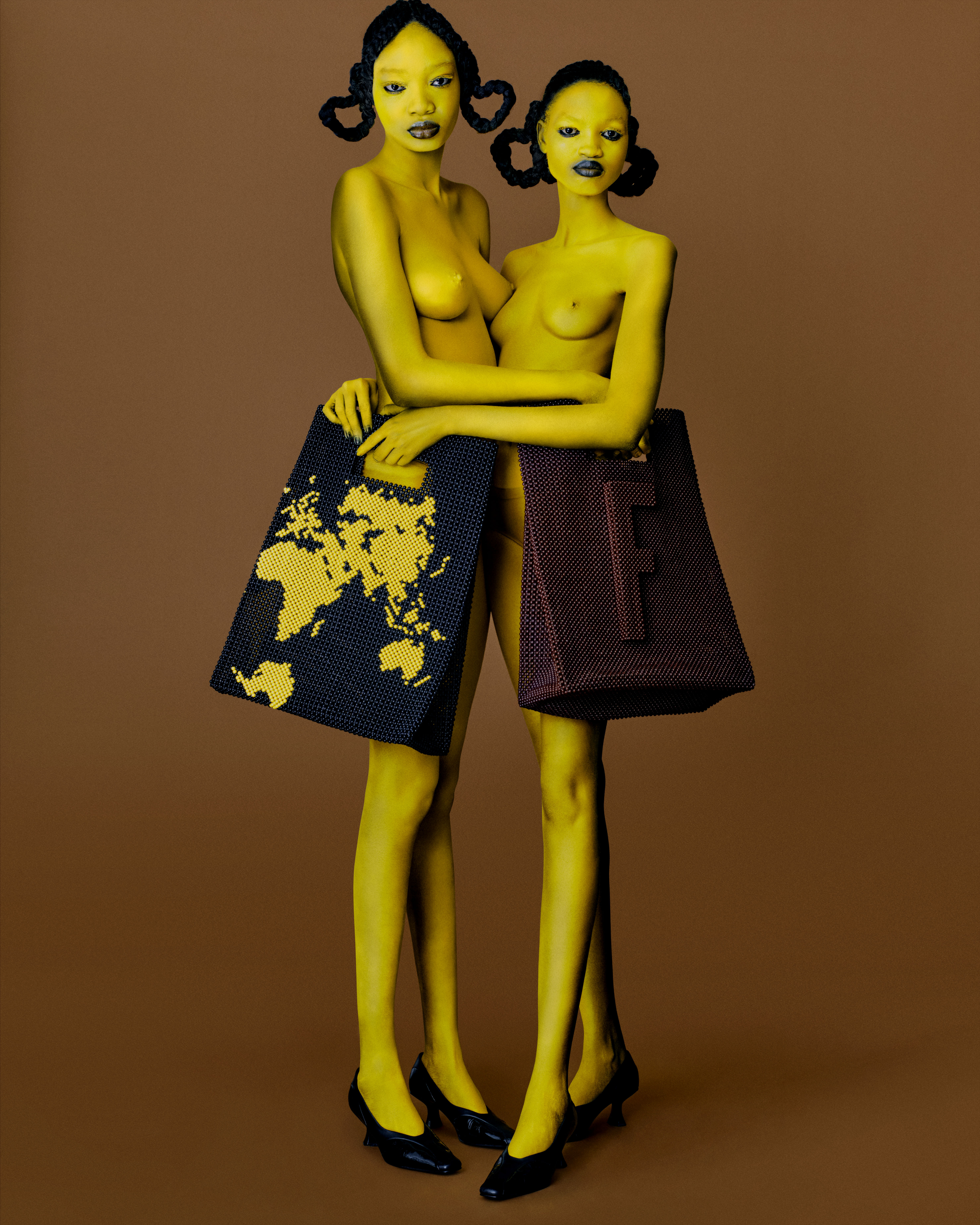 Feben pairs up with Rafael Pavarotti for its emotional new campaign
Fresh from the presentation of X-Pression, her knockout debut on the London Fashion Week schedule for SS22, London-based designer Feben is back with an equally knockout campaign. Shot by Rafael Pavarotti in the photographer's trademark saturated style, it "translates the collection's mood into a story," Feben explains. "It's super important for me to work with people I feel comfortable with and understand my language. Raf really did that and pushed it to another level, as he always does." Through his lens, the collection's core message of processing emotions on one's own terms takes on a distinctly celebratory tone. "X-pression is really about feelings," the designer says. "It's a celebration of wearing what you want when you want." One thing we know for sure is that when spring comes back around again, Feben's all we'll want to wear! MS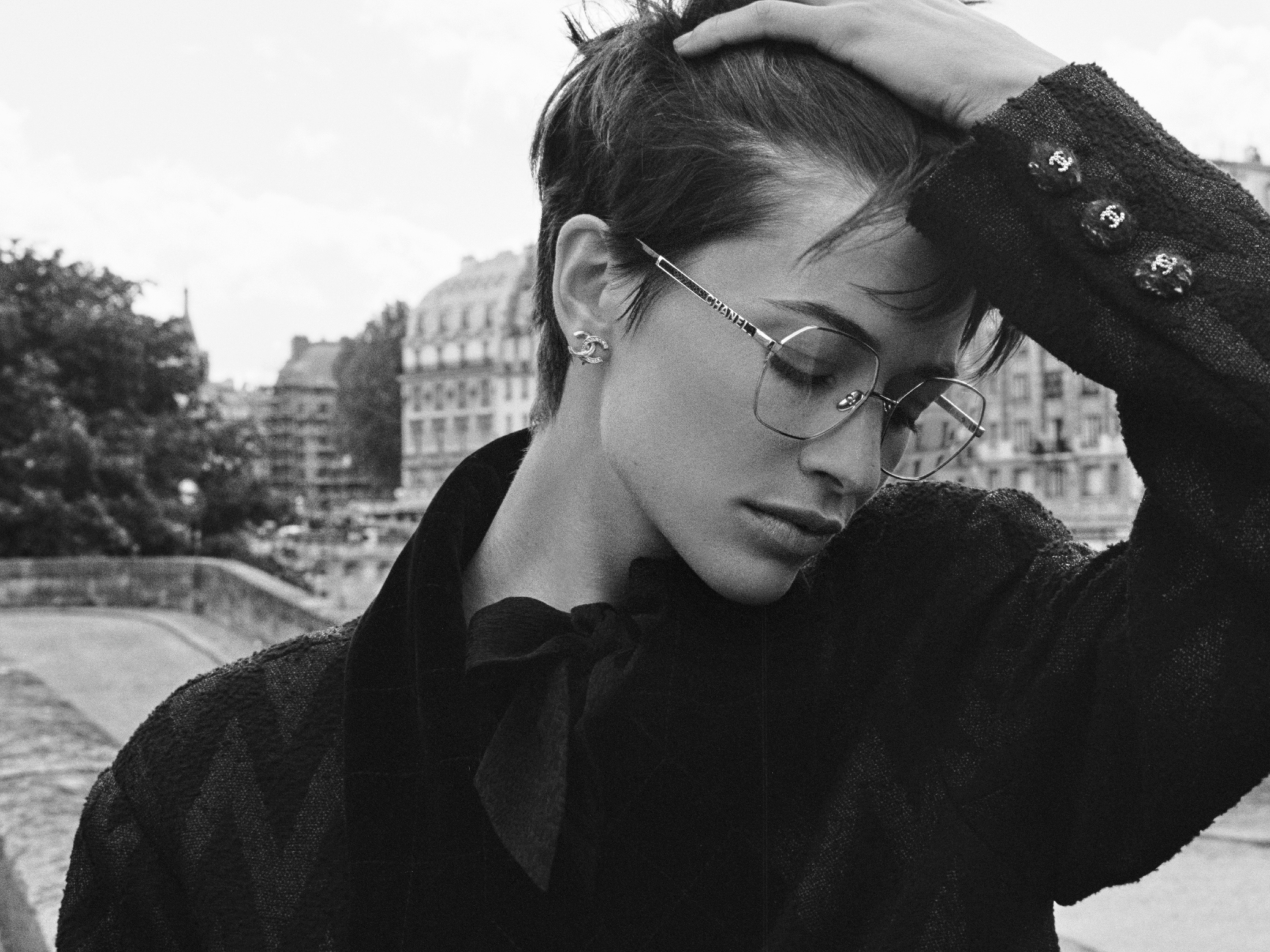 Chanel eyewear has gone virtual
Sometimes, trying things on IRL can be such a drag. Especially glasses! Taking off your actual prescription pair to try on new frames, the optician gauging your reaction as you squint at your blurry reflection saying: "I think these suit me?"… Anyway, here to solve that problem is Chanel who have created a virtual try-on function alongside the launch of their UK e-commerce eyewear site. You can try on the fashion house's selection of glasses -- including thick black frames, hexagonal two-tones and rounded chain looks -- using your front-facing camera, before comparing designs and taking photos for safe keeping. Chanel also want the online experience to be just as personal as if you were to walk into one of their boutiques. So they have tailored the service to offer eye exams, complimentary fittings and adjustments, and after-care from Chanel-authorised opticians. Pretty neat! Even if you don't need a new pair, go try out all the stunning eyewear designs online or in Chanel boutiques now. TG
Frieze heads to Dover Street Market
If Frieze week is the chicest period on the London calendar, then one of its chicest hubs is of course Dover Street Market. By far the artsiest of the capital's concept stores, each year, it puts on an extremely fab programme of events and product launches over the fair's weekend, with this year being no exception. If you head down to Rei Kawakubo's Haymarket emporium either today, tomorrow or Sunday, you'll be greeted with everything from the launches of zines by ERL and Asics & Kiko Kostadinov, a new Comme des Garçons x Gucci tote, and signings by Juergen Teller, Liberty Ross, Supriya Lele and Jamie Hawkesworth for the releases of their latest photography books. You know where to be! MS
…and MATCHESFASHION heads to Frieze
You wouldn't think it, but traipsing around Frieze and Frieze Masters can be quite the feat of endurance. Thankfully, though, MATCHESFASHION has come through with the goods to keep you going. Alongside sculptures by floral artist Wagner dotted about the Regent's Park tents, the fashion powerhouse has teamed up with none other than Tony's Chocolonely to dish out custom wrapped chocolate bars at locations throughout the fair! Chocolate and art at the same time – can it get any better than that? Actually, yes! In each bar, you'll find a Wonka-style golden ticket that you can take to MATCHESFASHION's Mayfair residence, 5 Carlos Place, and be entered into a prize draw for a chance to win £5000 credit, a signature facial by Skin Design London founder Fatma Shaheen, a case of Ruinart and so much more! Get munching, girlies! MS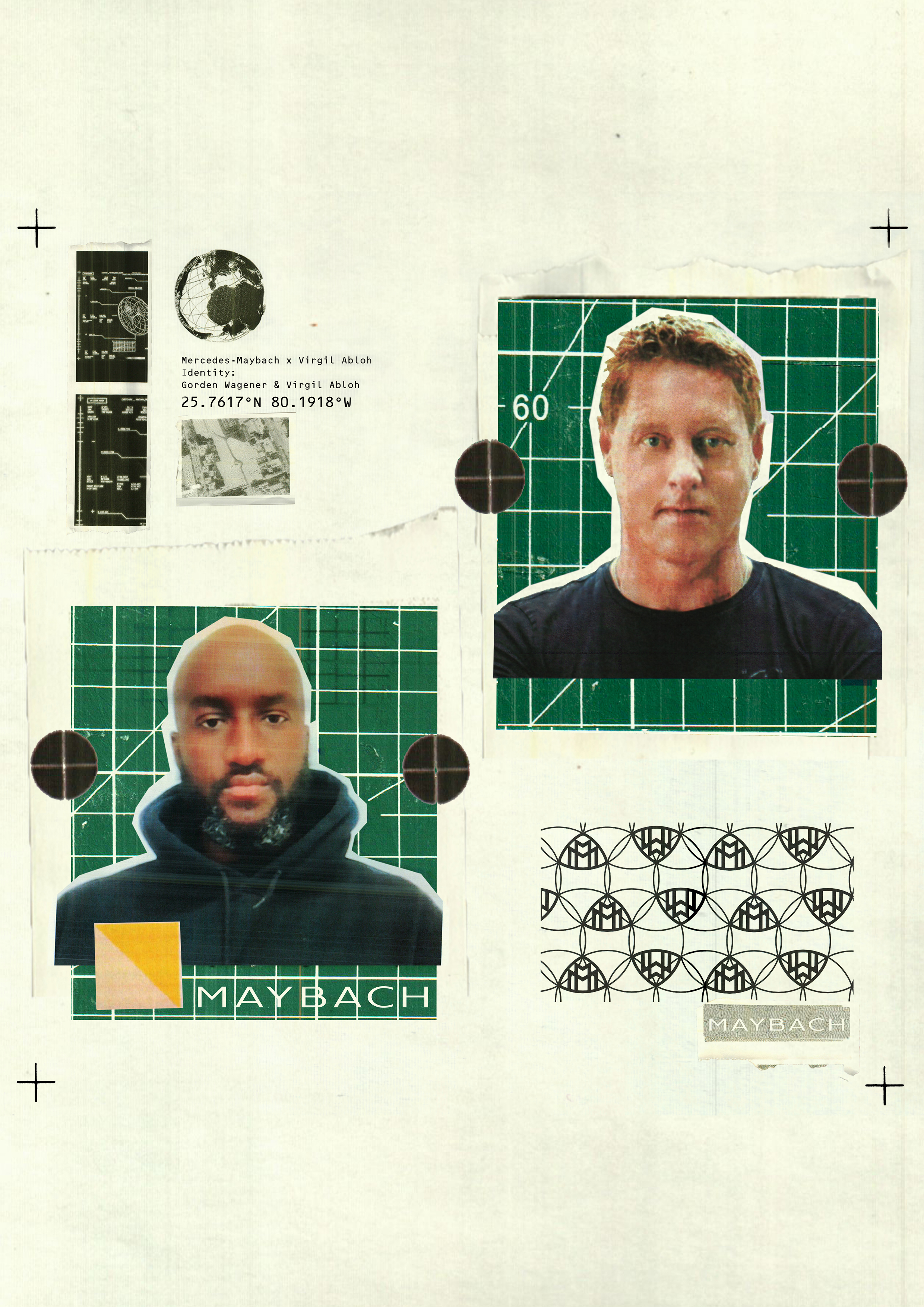 Virgil Abloh has been let loose at Mercedes again
Get in loser, we're going shopping! After reimaging the Mercedes-Benz SUV G-Class last year with mesh windows and futuristic clean-white racing seats, Virgil Abloh is back behind the wheel - this time collaborating with the brand on the Mercedes-Maybach. The CEO of Off-White and artistic director of Louis Vuitton Men's has been working on an electric revamp of the 100-year-old car that is set to be unveiled at this year's Art Basel Miami Beach on 1 December and will no doubt, using his background in civil engineering, push the boundaries of car design to new innovative and artistic heights. "The Maybach legacy celebrates exploration, pushing creativity to new places, living outside of the status quo. In this next phase we're embracing these ideals and bringing the Mercedes-Maybach heritage into the future, inviting the next generation to join in revering this icon," Virgil said in a statement. "Together we're entering a new age of discovery." Lead the way Virgil! TG Awake NY gives a Vans classic a makeover
East Coast meets West Coast in a new collaboration between Awake NY's Angelo Baque and the OG skate footwear brand Vans' popular high-top shoe. Modelled by US rapper Westside Gunn, three new variations of the classic Sk8-Hi are available from today with the iconic checkerboard pattern in pink and black, green and blue and red and blue. Each has been created using special dyes to give the high-tops a unique worn-in look from first wear, and is offset with fun contrasting neon laces to boot. Furthermore, to give back to the community, Awake NY is donating a portion of proceeds from the shoe's sales to First Youth Initiative, who provide resources to low-income immigrant young people within Manhattan, and Children of Promise NY, who support kids impacted by mass incarceration. Expected to sell out fast, the trainers will be coming in three exclusive drops on Awake NY today, Greenhouse on 20 October and finally Footlocker on 22 October. TG
Loro Piana and Hiroshi Fujiwara made elegant, minimalist streetwear
For their first-ever collaboration Italian luxury cashmere house Loro Piana went big, enlisting the expert eye of designer, musician and actor Hiroshi Fujiwara on a genderless capsule collection. Bringing together the brand's ethos of fine fabrics and elegant designs with the 'godfather of streetwear''s distinctive aesthetic, the collection comprises ten clean, minimalist looks in a limited colour palette of navy, black, charcoal and white. Tsunagi, the Japanese symbol for happiness and interaction, decorates overcoats and sweaters while a chain-link motif symbolises the preciousness of bonds – how we're stronger together, and the joys of living together. The collection -- which is also the first one Hiroshi has put his own name to, rather than the name of his brand Fragment -- is available in Loro Piana's boutiques and on Loropiana.com now. TG
Paula Canovas del Vas reminds your what fashion really feels like
Over the past few years, we've all gotten pretty used to looking at fashion on a screen. While many of us may be perfectly content with limiting our engagement with all things mode to our phones and laptops, that doesn't mean that it's by any means the ideal medium for it. In her SS22 collection, Paula Canovas del Vas challenges the notion that sight should be placed at the top of the sensorial hierarchy when it comes to interacting with fashion, creating clothes imbued with such textural wealth that they practically call out to be touched, heard, or even – as the trippy collection video directed by Joyce NG and styled by Ai Kamoshita implies – tasted. Here, the London-based Spanish designer and CSM MA grad fills us in on the thought process behind her ultra-tactile body of work. MS
What was its main conceptual starting point for the collection?
This season started with a simple observation: today's technological ubiquity has made sight the primary vector through which information is consumed. Nonetheless, how is your perception of the world influenced by the senses involved in that discovery process?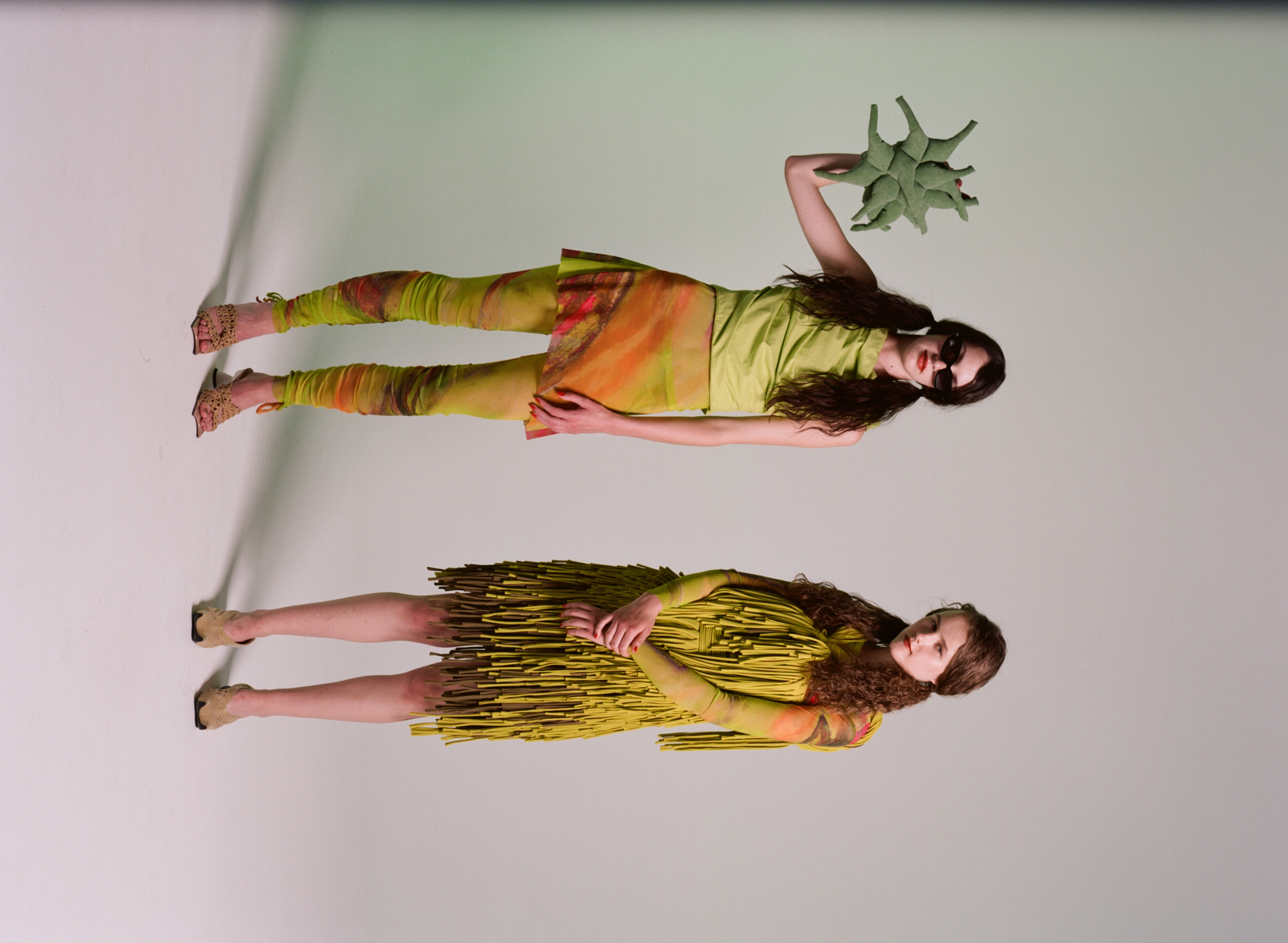 In both the film and the clothing itself, you focus quite strongly on the idea of textures and senses that can't necessarily be experienced through a screen -- going beyond the purely visual, essentially. Could you tell us a bit more about what inspired this particular direction this season?
My friend Gabriel Santos recommended I read Juhani Pallasmaa's The Eyes of the Skin: Architecture and the Senses, and in response to that, this collection explores three-dimensional details, textures, volumes. I wanted to put today's ocularcentrism — the idea by which visual senses have been privileged above all other senses – into perspective, and really challenge it by creating very tactile and textural shapes and textiles that almost feel like you could eat them.
Are there any particular pieces or techniques you'd like to highlight?
Everything! The bags are embossed by Italian artisans and constructed in Spain. Glasses were made in collaboration with eyewear guru Mauricio Stein. We worked with Jack Wooley to create a ceramics set and we also collaborated with chef Zelikha Dinga for the food installation you see in the video. The new Horny Diablo shoes are entirely woven in one piece, and we even added some glitter to the new styles! Also, a lot of the fabrics we've used this season are deadstock, which we spend a lot of time and care in sourcing.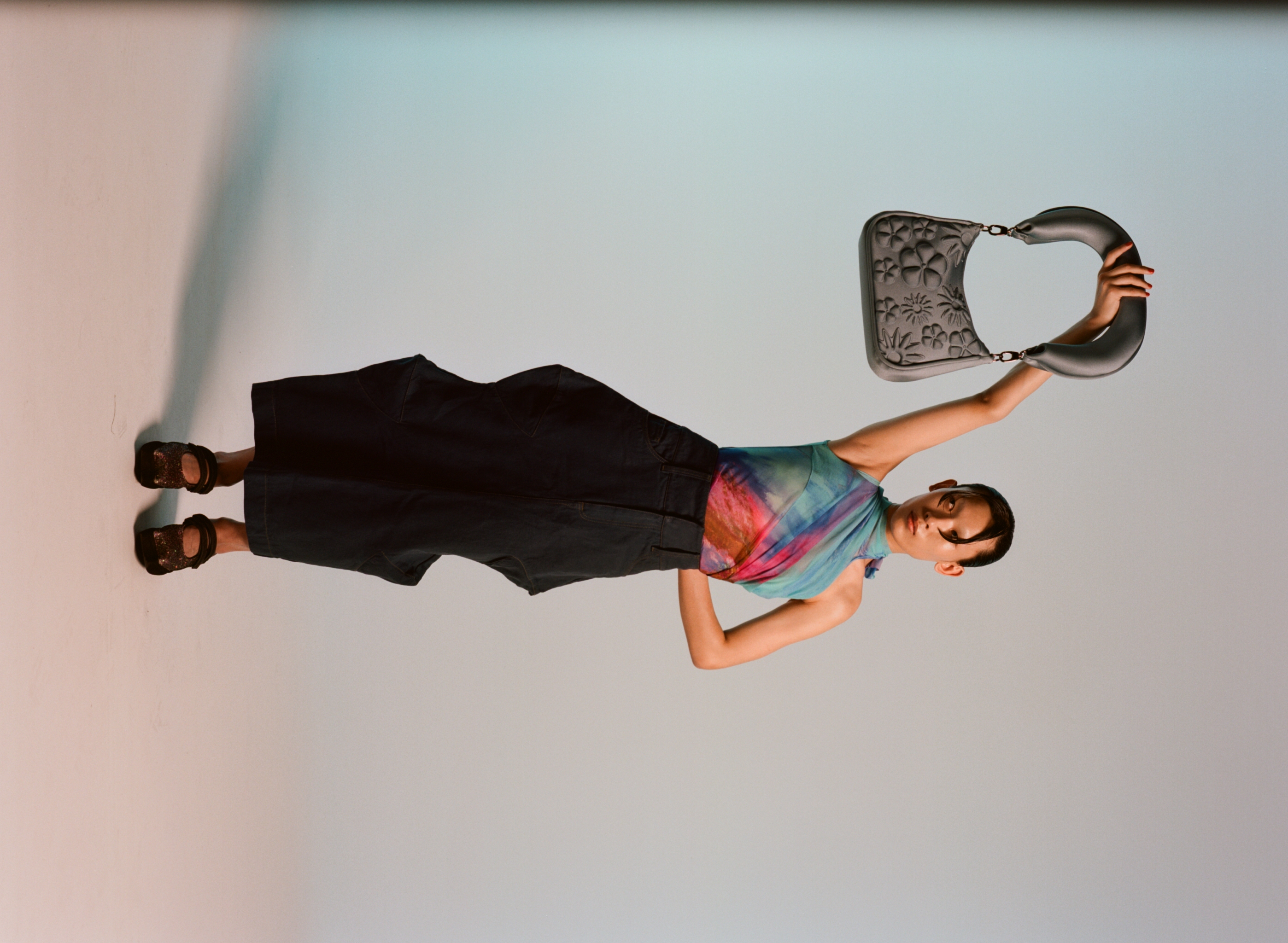 What sort of conversations did you have with Ai and Joyce around the creative direction for the imagery and film?
I feel extremely fortunate to be able to create with talents like Ai and Joyce. Our conversations around the creative were always very 360. Joyce has an incredible eye for references and ideas, always pushing to be their best – whether that was with the scenography, the colour grading for the video, or even the food research. And then Ai had such incredible input with the styling and accessories, always bringing new ideas about ways in which we could wear and construct the garments. It really was a dream team!
What do you hope audiences are able to take away from the collection/the visual world you've built around it?
A much-craved for sense of tactility and sensuality, especially after most of our interactions have been framed by the screen in the past two years!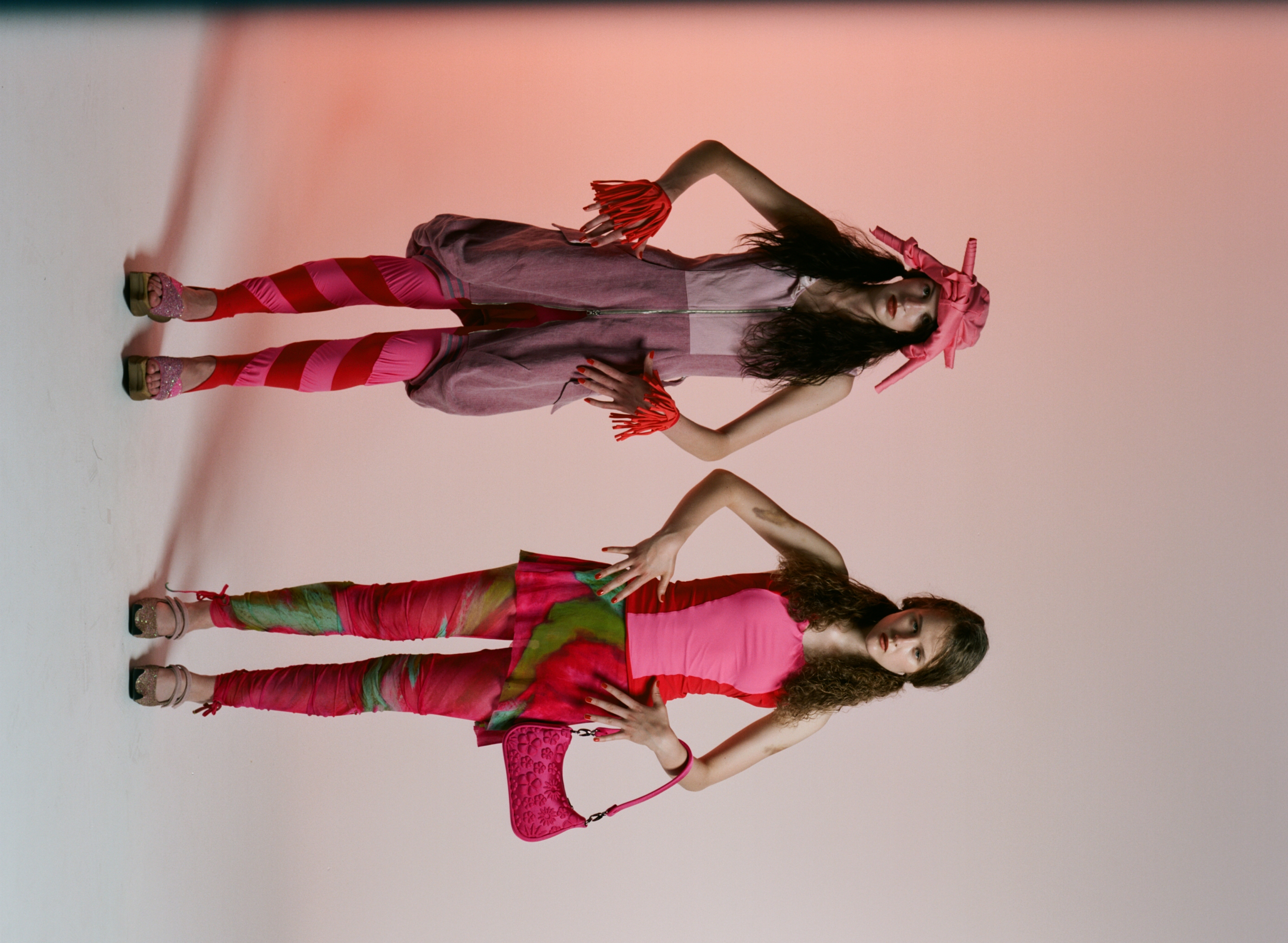 Tagged: