Pieter Mulier's debut at Alaïa kicks off couture week in Paris 
The Belgian designer's SS22 collection was a celebration of the house's founder and the sensuality of the women who loved to wear his clothes.
Images courtesy of Alaïa
Azzedine Alaïa was fashion's last true couturier. He famously described himself not as a designer, but as a bâtisseur — a builder of clothes. He worked with his hands, making clothes for real women's bodies, to be worn in everyday life. A diminutive designer in stature, his contribution and legacy in fashion is huge. Even Cher Horowitz knew that he was "a totally important designer".
Almost four years after his death, his big shoes are being filled by Belgian designer Pieter Mulier, who for two decades has been the right-hand of Raf Simons in his roles at Jil Sander, Christian Dior and Calvin Klein. You may remember Pieter from the Dior & I documentary. "I've been working in the shadows," he said during a catch-up before the show. "When they called me, I said yes immediately — I was checked out of fashion after working for big brands, and it took me a year to get the job."
Last night, on the street outside the Alaïa ateliers on Rue de Moussy, Pieter made his debut for the house, unofficially kicking off couture week in Paris (Alaïa has never been one for institutional schedules). It was with the utmost respect to Azzedine and his close-knit family of craftspeople, most of whom were in the audience, that Pieter sent out a collection inspired by the classic hallmarks of Azzedine's forty-year repertoire. "It's about taking care of the DNA of the brand and explaining it differently for a new generation who aren't familiar with his work," explained Pieter in a preview, spritely as a fashion student straight out of college. "I wanted to bring the energy back into the house, most of all for the people who are working here."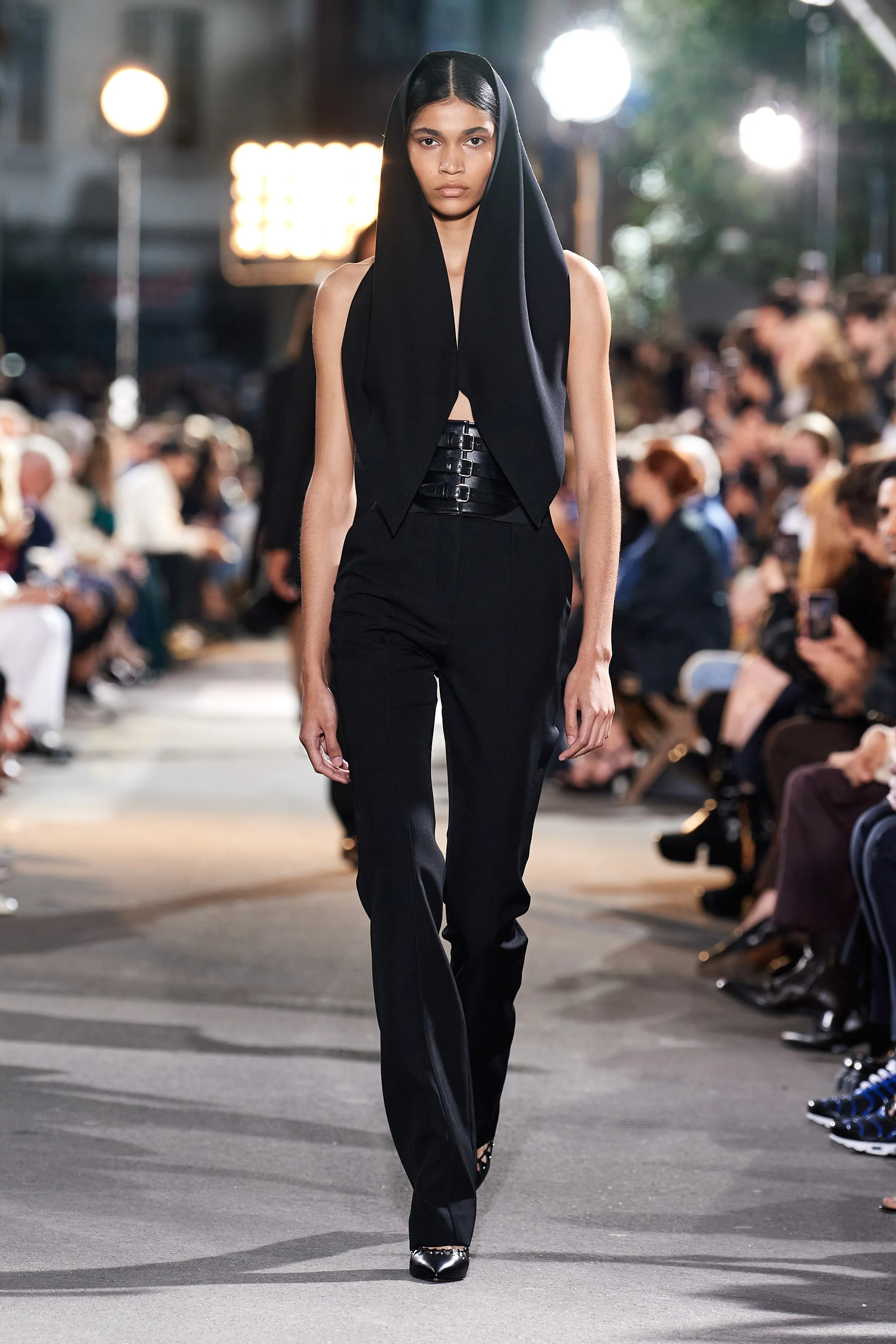 But whereas Azzedine, ever the créateur, had moved on from many of the styles he developed during his illustrious career, Pieter brought styles old and present into the fold. He started the show with tailoring, something he felt the house had neglected but had always excelled at, with draped blazers and hooded blouses worn over long, lean trousers cinched by the signature Alaïa belts that resemble Arabic mashrabiya screens. Then came the 'King of Cling' dresses, all body-ody-ody, exquisitely fitted with seams sensually mapping the geography of the hips and bust. "We are the only house that can do sexuality without it being vulgar," grinned Pieter. "It's been a long time since we've seen Alaïa so overtly sexual like this, but we've tried to do it with his taste level."
The girls swung their hips as they walked, sensually swaying to the North African beat of the soundtrack. The fact they were on the street gave it even more of a revitalised energy (some of the most memorable photographs of Alaïa's work is Arthur Elgort's photo of models after a show, standing in the street, or Peter Lindbergh's photo of Tina Turner or Marie-Sophie Wilson striding across pavements). Pieter said Natasha Poly and Mica Argañaraz cried during their fittings, so blown away were they by their white hooded dresses.
Specially-developed stretch wools, silks and Japanese denims became the canvas for which Pieter could sculpt his warrior-woman silhouettes. There were big cocoon coats, too, the kind Azzedine once made for Greta Garbo (she requested it be "bigger, bigger, bigger!") only this time in python and a double-sided leopard calf — Pieter says that every collection he designs for Alaïa will have a leopard look. Many of the pieces, through couture wizardry, were entirely made with just one seam from one piece of fabric, the edges woven like baskets instead of sewn, or the materials sculpted around the body with fastenings at the back going from top to bottom (making them incredibly erotic to put on and take off).
Pieter has worked behind-the-scenes at some of fashion's biggest houses, but he said he was blown away by the small family-run scale of Alaïa. His previous design team at Calvin Klein ran into hundreds. Collections were churned out every month. It was a radical volte-face for the designer to end up at a house that stopped showing as a part of fashion week altogether as far back as the early 90s, releasing collections when they're ready, if at all. Alaïa's owner, Richemont, has allowed Pieter to do as few shows as he likes, and have complete control over how many collections the house produces (for now, it's just this one this year).
That's the thing about Alaïa, it's all made by the most skilled people in Paris, and that takes time, the greatest luxury of all. In 2002, when Yves Saint Laurent shuttered his haute couture business, Azzedine employed several of the petites mains who suddenly found themselves out of work. "It's the opposite of sportswear," Pieter smiles. "No sneakers, no nylon. The line between haute couture and ready-to-wear is very fine. Everything is made here in the ateliers, even the knitwear. It's a true couture house."
Look closely at the collection and you'll notice there is no embroidery, which has become somewhat fetishised by couture houses and used as a foil for atelier-porn content. It's a collection entirely based on silhouette. The only embellishments were Tunisian bells, jangling on lattices of knits, and micro-studs used as if they were the lightest beads. The veils, too, nod to Tunisian muslimah traditions, but also the sensuality of a covering up while remaining incredible exposed. It makes the silhouette more dramatic, more erotic. It brings to mind Grace Jones in A View to Kill, only for now.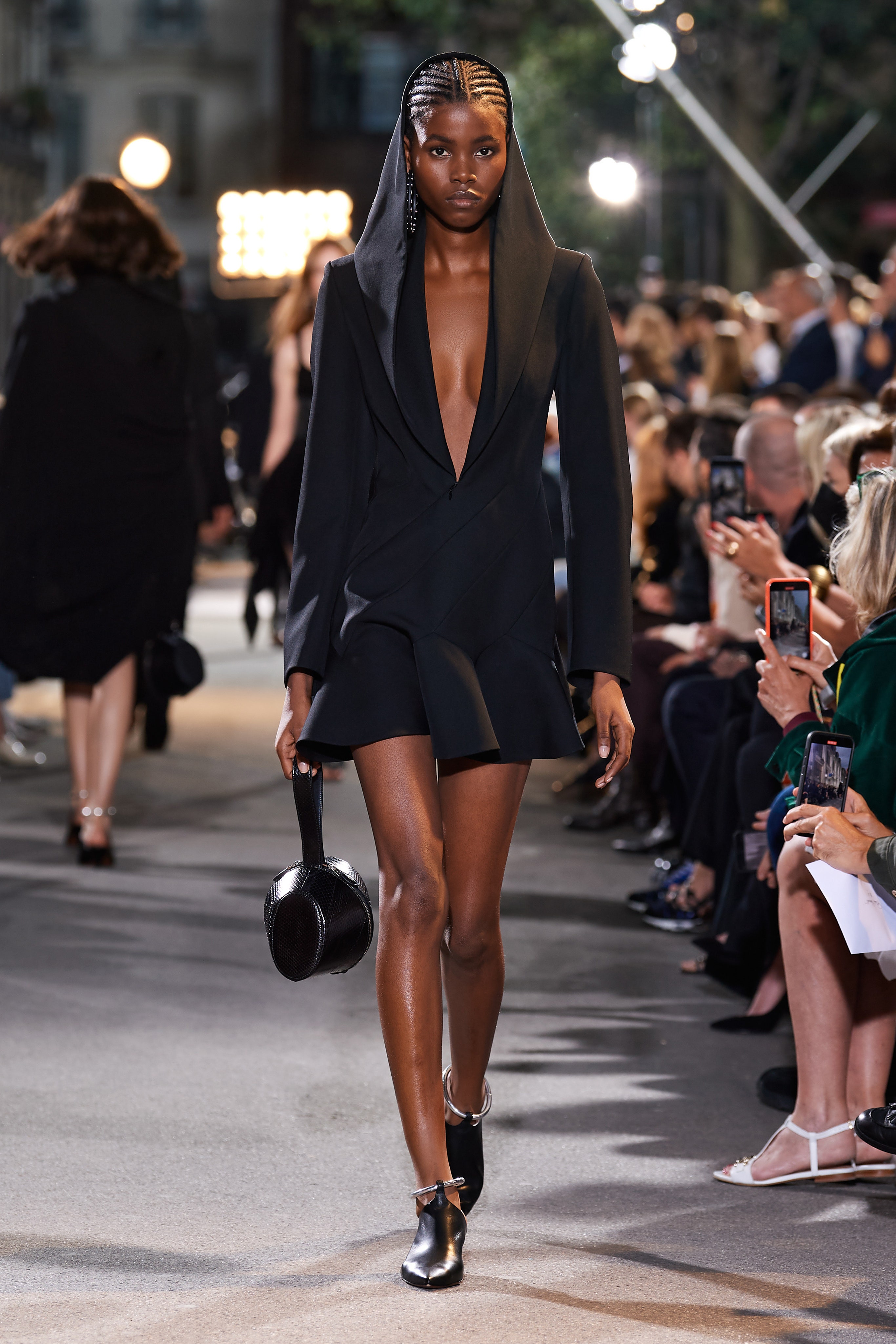 There's also something else that makes Alaïa's place in the fashion ecosystem vital — it is the only couture house in Paris founded by a person of colour. Azzedine arrived in Paris from Tunisia in 1856, where he worked for Dior under Yves Saint Laurent (until he was asked to leave, which he said he suspected was because of anti-Arab prejudice). Instead, he built his own house, and over decades established new silhouettes, techniques and even materials, doing what every designer only dreams of: changing the course of fashion history. Although he was far too modest to ever say it.
Over the years, women of colour flocked to him. Grace Jones, Tina Turner, Naomi Campbell, Michelle Obama, Iman — as well as women from across the world — adored Alaïa, largely because he understood the undulating curves of their bodies. His clothes embodied the extremes of his upbringing, of seeing his veiled grandmothers and aunts cover up in the streets, only to be naked at home. In the early days, he even dressed the dancers at Crazy Horse, individually fitting each of their thongs, as well as couture doyennes such as Garbo and countless Mademoiselle Rothschilds. However, long before diverse casting was a 'thing', Azzedine's shows were predominantly modelled by women of colour.
Pieter acknowledges that history, and it's something he's making a big part of his output — and he started by bringing it to the street. It's rare enough that a creative director enters a house without any predecessors other than the founder. In some ways, it's a carte blanche. In others, it's a Sisyphian challenge. Especially when it's Alaïa, perhaps one of fashion's purest and most beloved houses. Pieter sees his role as a caretaker, not a — to be blunt — a coloniser, as so many creative directors are. He arrived solo without his own team, instead getting to know those who worked with Azzedine, and he's not egotistical enough to go about changing logos, redesigning stores and declaring himself a breath of fresh air.
Everything here was about respect, not just for Alaïa, but the people who worked for him, and the women who loved his clothes. After this show, that will now include a whole new generation of them.