Meet the queer Korean couples vlogging their lives together
In South Korea, where LGBTQ+ people can often feel invisible, these influencers are creating their own representation.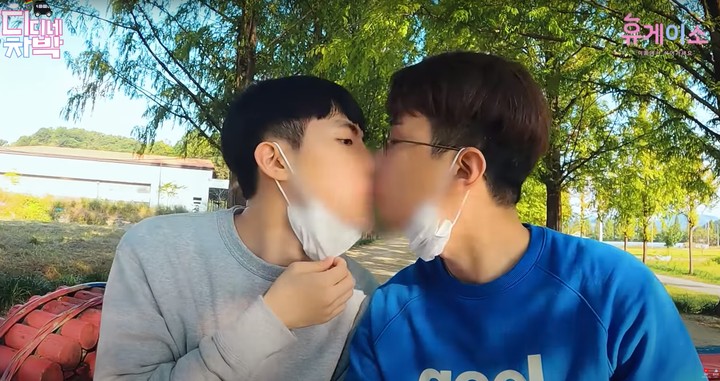 Dia and DG, screenshot via YouTube
"Since I realised I was gay, I thought the word 'marriage' had nothing to do with me," says Dia. "But it's one of the rights and blessings that gay people should be able to get." He's sitting on the floor of his apartment in Seoul, sharing a tub of ice cream with his boyfriend of three years, DG. They're just two of the growing number of influencers exploring the way historically conservative attitudes towards queerness in South Korea are shifting in its bigger cities.
This conversation happens in the second episode of Dia and DG's prank wedding vlog. It was an ironic gag that quickly unspooled into a poignant, rare look at how queer people exist in a country where the odds seemed stacked against them. In South Korea, same-sex marriage is illegal and there is no anti-discrimination law to protect the LGBTQ+ community against hate crimes, or ensure equal treatment from employers.
An anti-discrimination bill that could safeguard queer people's human rights has been proposed and rejected eight times since it was first raised in 2007. Entrenched gender roles, a military code that criminalises same sex relations, and a powerful collective of Christian lobbyists combine to perpetuate media stereotypes and political apathy. Queer representation in mainstream media is almost non-existent too. Gay K-pop singer Holland had the music video for his single "Neverland" censored with a 19+ rating for showing a simple kiss, and beyond him, the sexuality of the industry's idols is framed as ostensibly straight.
The Pew Research Center's 2019 Global Attitudes Survey indicates that only 44% of Koreans believe homosexuality should be accepted by society, with respondents aged 18 to 29 in the country more than three times as likely to support homosexuality than those aged over 50. In this divisive, often dangerous political climate, South Korea's younger queer generation have turned to the digital world to share their stories and present a more positive narrative.
Dia, aged 33, and DG, 29, helm their channel Hyugayso together alongside a growing group of queer vloggers. Creators like Hayden Royalty, Daenyeol, Mango Couple and Todol have carved a space to share standard influencer fare, albeit through a queer lens (think cute cooking clips and travel vlogs) alongside forthright discussions about LGBTQ existence in South Korea. Videos like Todol's summer vlog and Dia and DG's trip to the flower market affirm the fact that a queer existence is just as normal and harmless as a heteronormative one; a framing mainstream news media fails to capture, and that Korean entertainment erases entirely.
But there is, in this world, still a need for discretion: while some vloggers show their faces, others choose to blur their features, a reminder that South Korea's queer community live with the palpable threat of discrimination and violence.
Dia and DG met through YouTube three years ago. Dia began Hyugayso as a podcast alongside his job as an architect, with the aim of proving that gay people were present and thriving in just about every profession in South Korea. DG found the podcast while working as a barista, and began to attend live shows. One day, after a show, he asked Dia out, and as the two dated, they began sharing their daily lives as a couple.
Whether they're attending the Seoul International Pride Film Festival or breaking down the facts surrounding Korea's absent anti-discrimination legislation, Dia and DG aim to normalise the lives of Korea's queer community. "I enjoy learning about other people," Dia says. "All stories are precious, and they give me a wider perspective. Because the Korean media doesn't show the LGBTQ+ community well, gay people can't imagine how others like them live. They have to carry their worries alone."
While Dia and DG's couple vlogs capture two lives in tandem, Hayden Royalty started their YouTube channel to share their solo journey. The genderqueer creator, 31, moved to Seoul in 2013 after graduating from university in California. They secured a job in publishing and found the city's underground LGBTQ+ community in the neon-drenched queer bars of Hongdae and Itaewon, but felt the absence of genderqueer recognition on and offline.
"I decided to start the channel in 2017 because I felt that there was no representation of queer Asian people," Hayden says. "I didn't have the space to explore my gender, because it wasn't seen as a valid or existing identity. The only thing I could do was create my own, and that was through YouTube." By sharing their experiences -- from coming out and experiencing gender dysphoria, to reviewing films and sex toys -- Hayden has learned more about themselves, calling it "a therapeutic way to work through things [that are] on my mind".
Hayden also produces interview segments with queer friends to shed light on wider topics like inclusive education and transitioning. "I want to help people unlearn the biases they might hold," they say. "[At school], the sex education I received wasn't relevant to me – there was nothing about sexual orientation or gender identity. I was very young and I didn't even know what queerness was."
Like Hayden and Hyugayso, Daenyeol uses his channel to share other people's stories. The YouTube producer and bartender, aged 28, creates projects that challenge cultural conventions. His latest project, What Are You Looking For, pairs gay strangers together in a blind date set-up, and poses a series of questions to guide them towards finding a point of connection. "The purpose of the series was to show the nerves and excitement of a blind date and allow subscribers to really think about the questions in the video," Daenyeol says. "I wanted to show that the world is the same for everybody."
One of the first Korean queer creators on YouTube was Kim Cheol-soo, 32. He started his channel in 2015 as a place to share his perspective. When he began dating Jang-ho, the channel expanded to laid-back couple vlogs and livestreams. One simple concept, the Coming Out Page, gave closeted queer folk around the world a place to take pride in their identity online. "Among the LGBTQ+ people who haven't come out yet, there are many who hesitate because they don't have the opportunity," Cheol-soo says. "I wanted to provide this for those people. I also thought that it would help other LGBTQ+ people to see their courage."
Although Cheol-soo views YouTube as a platform to represent queer voices, his ultimate goal is to move beyond the need for them to feel marginalised at all. "My impression is that we've just taken that first step," he says. "As this gradually diffuses into general public perception, people will recognise that LGBTQ+ people live [life in] in their own way. People know I'm gay, but that doesn't mean being gay is the main theme." It's his belief, he adds, that "there shouldn't be issues that only LGBTQ+ people experience in the first place."
In the first episode of their wedding vlog, Dia and DG set up a photoshoot in one of the few churches in Seoul open to the queer community. They posed, as if getting married, to take a comical, some may say sombre dig at the fact that the law says they can't. They're touched by the welcome they received there. "I was so happy our relationship could be celebrated," Dia says. "I could feel that people [and their attitudes] are changing.
"We're not human rights activists, but this small movement might be our way to fight against discrimination, and for our future."
Tagged: