Young designers Crandall Duffy, Gui Rosa, ISA BOULDER, Natalia Fedner and Sydney Pimbley are taking crochet from lockdown hobby to club essential.
Photography Camille Vivier; photo via Instagram; photo via Instagram.
The last year and a half's lockdowns have seen us all get cozy inside our homes. We've perfected our infits and our Zoom meeting fits. We've taken up new hobbies from sourdough baking and crocheting to candle-making. We've spent copious amounts of time cooking for ourselves, and perhaps sprucing up our at-home dining environs with tablecloths or doilies. But it's now summer 2021: Covid vaccines are steadily rolling out; clubs and bars are slowly reopening; the outside world is calling us. Of course the 'going out' dress is a stalwart choice for dressing up and re-entering the world post-lockdown. But from the confines and comforts of home comes the after dark staple's new seasonal counterpart: sexy crochet.
As going out ready as it reads, summer 2021's sexy crocheted look actually finds its roots in 2020's lockdowns. Last September's digital New York Fashion Week saw bicoastal American label Eckhaus Latta take to the socially-distanced outdoor catwalk with artisanal, crocheted separates. The multicolour opening number worn by Paloma Elsesser looked to be patchworked together from a set of mismatched doilies. New York-based label Commission also drew SS21 inspiration from the textiles of stay-at-home orders. "The collection was started during our time quarantining, so the mentality with which this creative process occurred was very home-bound," the design trio behind the brand told i-D. Among swathes of upholstery florals, cheeky crocheted bralettes, which cupped the breasts in two doilies, and table runner-esque underskirts hearkened to the season's beloved dining room linens.
And we can't speak to last year's doilycore moment without a nod to Sydney Pimbley, whose CSM graduate collection — and subsequent AW20 outing — were prescient to the housebound trend. The English designer's AW20 collection, titled "Woman is Fickle", was cobbled together from upcycled table linens: real doilies, tablecloths, runners and the like. The offering's sexy cowl neck camisoles and suspendered miniskirts — all rendered in vintage crochet housewares — nodded to the multitudinous nature of womanhood, conflating the womanly archetypes of homemaker and seductress. Launched in February 2020, Pimbley's AW20 offering was the first to suggest that crochet could feel just as at home at the club as it is on the dinner table.
For SS21, the crochet look is moving beyond table linens, leaving its homely confines for the great outdoors, both literally and metaphorically. In fact, two weeks ago Insta-queen Kylie Jenner whisked the trend away on a tropical getaway. Posing beachside for a grid snap, the influencer wore a gravity-defying knit dress, all open knit florals and clinging webs of yarn. The ultra-sexy, ultra-artisanal number was crocheted together by Parsons alum Natalia Fedner, who's created custom knit pieces for Kylie and other members of the Kardashian clan in the not-too-distant past. Like many modern knitters and crocheters, Natalia learned the craft from her mother. Speaking to the homely, craft-y associations of the frequently hand-me-down technique, she says, "I think there are a lot of stereotypes of 'women's work' that have negative or belittling stereotypes associated with them. Crochet, knitting, embroidery, sewing, quilting — anything 'domestic' all fall in this category. I don't necessarily see myself as purposefully designing against these associations — but rather amplifying the art that has always been a part of these crafts. I sometimes bristle at that word, 'crafts', because of all the connotations it has. There is as much art potential in using a crochet hook as there is in wielding a paint brush."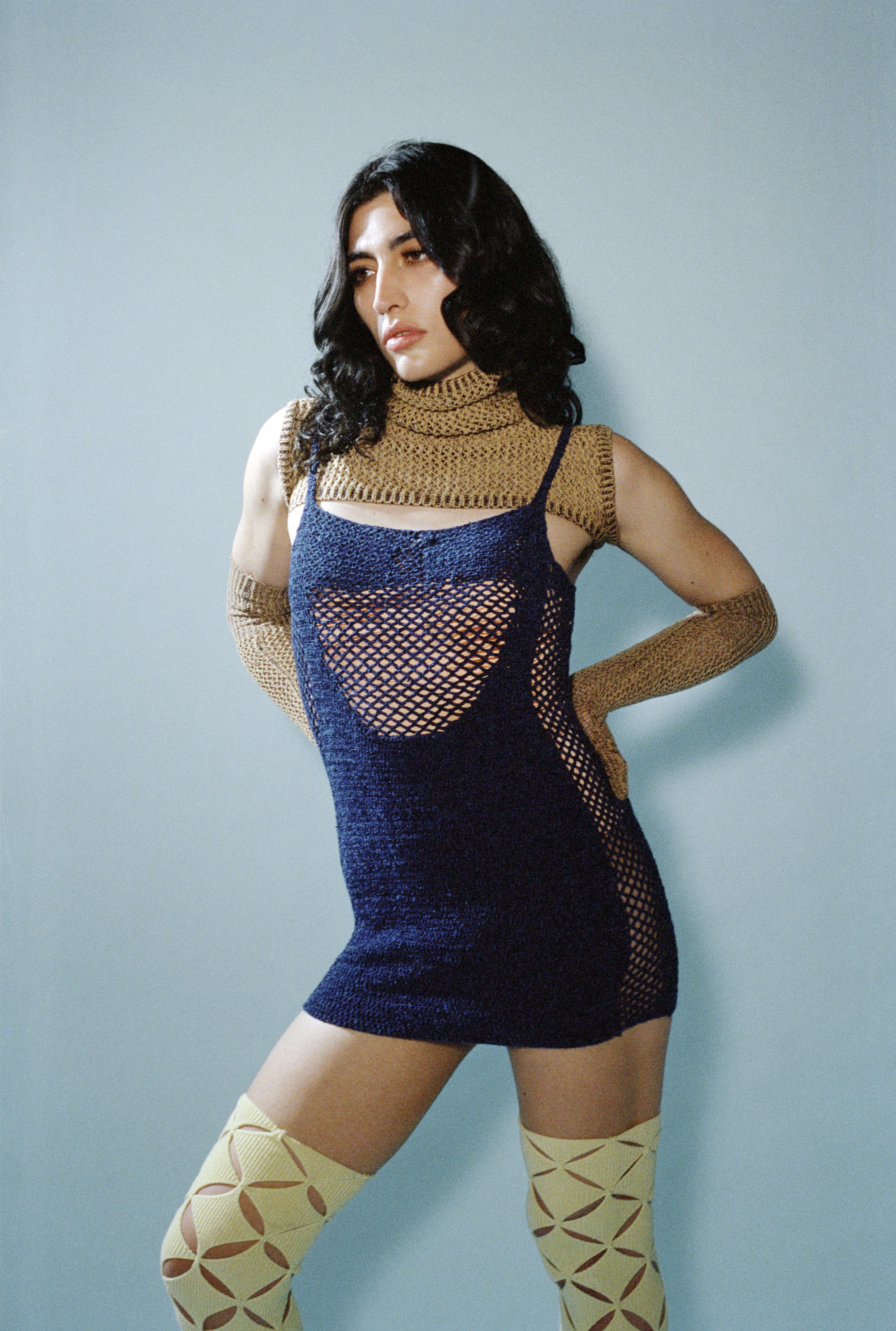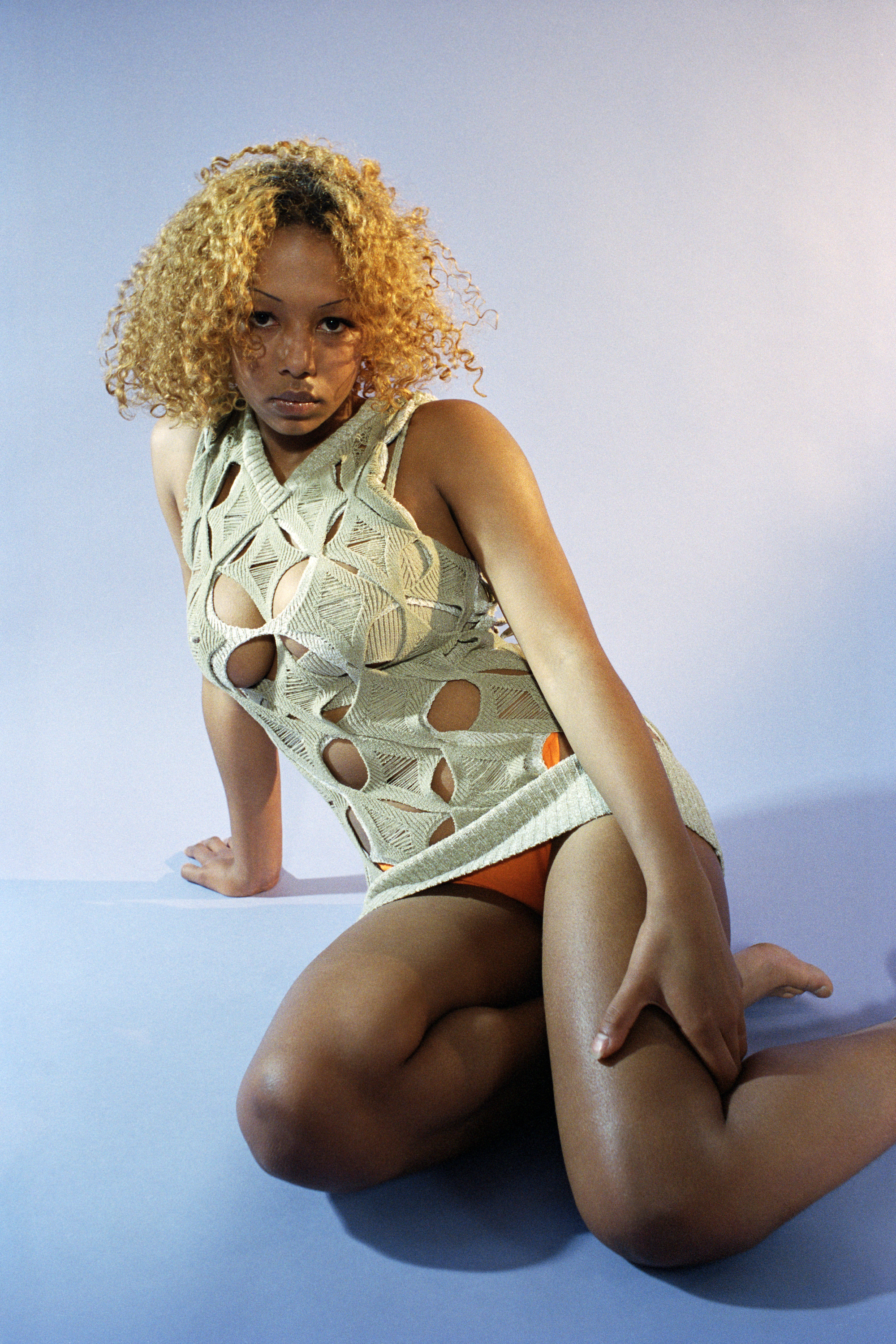 To the designer, despite its arts-and-crafts reputation, the art of crochet is sexy in and of itself. "Crochet is inherently sexy: it's a series of loops, a series of holes," she explains. "There is always the flash of skin, the degree just depends on how tight you crochet and how many loops you make."
Like Natalia, plenty of other designers are exploring the sexy-homely dichotomy of crochet. Take ISA BOULDER, for example. Drawing upon the technique's domestic associations, the Balinese label's crocheted pieces — open-knit bodysuits that insinuate the curves of a lingerie set, knitted garter belts and stockings — are designed to not only empower the wearer to embrace their sexuality, but to expand the standard definition of the concept. The design duo define their aesthetic as "awkwardly sexy" or, more recently, "homely sexy". Speaking to their singularly sexy designs, Lia Basari, one-half of ISA BOULDER, told i-D, "Sexiness is an interesting subject to touch on because we are probably the two most unsexy people you will find in a room. And this is also exactly why we would like to present sexiness in a less polished, more raw and questionable form."
Elsewhere in AW21 offerings, Australian designer Christopher Esber brought the season's ubiquitous knit technique to his brand of smoldering, strappy eveningwear. Though still inspired by the homewares of quarantine — "drawing on furnishings, interiors," he told Vogue — Esber's crocheted creations looked less home-y and more sexy. Slinky minidresses and billowing camisoles, both featuring open knit bralette details, read as polished and modern, and found themselves at home alongside the designer's usual peek-a-boo garb.
For some designers, however, the sexification of crochet is moreso a rejection of its dowdy associations. Speaking to how he acquired his preferred crochet technique, CSM MA Fashion graduate Gui Rosa says, "It's a hand me down technique. YouTube is so 2020; you gotta get it raw, straight from the source: grandmothers." Despite the utmost respect for crochet's origins, Gui says, "I detest doilies. To work with something so intrinsically ugly is tormentous… The only way out of the regional magnetism they carry is through juxtaposition and collaging of ideas that are alien to those. Short hems, deep v's and open backs are the only design features one can pair with wool." Conceptualized prior to lockdown, Gui's glam, crocheted designs — mohair jeans, crinoline-like mini skirts and plunging vests, all finished with voluminous frilled hems — push back against the grandparent-esque garb of the late-2010s, and are perfect for post-Covid revenge dressing.
Like Gui, Maine-based designer Cat Duffy of knitwear label Crandall Duffy embraces "the lacey quality, the ruffles and frills" of crochet, itself. "Crochet can be incredibly feminine, and I think it's quite empowering to own that," she elaborates. The designer's signature crocheted tanks, all laced-up the front and corset-like, and net-like open-knit dresses exemplify this statement. Speaking with Cat, however, summer's newfound crochet trend seems to come full circle — from its humble lockdown origins to sultry post-vax iterations. When asked why she thinks the sexy crochet look is trending this season, the designer replies, "Since the beginning of the pandemic [we] witnessed the birth of a new kind of DIY culture, with the rise of Pinterest and TikTok 'How To' clips. Everyone I know has learned a new hobby this past year, so there is a lot of crochet constantly in everyone's peripheral vision."
This summer, we'll finally be out and about — vaxxed up, showing off and showing out — in our going out dresses and choice crocheted looks. Still, there's no denying that the past year, lockdowns and all, have impacted us all, and they've also left an indelible mark on fashion as a whole.