Kanye and Demna are joining forces on a fashion line
Balenciaga x Yeezy designs at Gap prices?! WE ARE NOT WORTHY.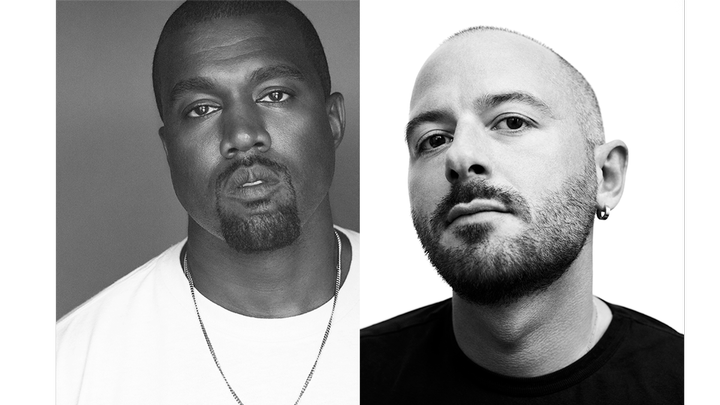 Images courtesy of Yeezy Gap.
If anyone was hoping for a sleepy 2022, we're sorry. Just one week in and Ye (formerly Kanye West) has made clear that it's set to be anything but dull. After breaking the internet just last night by stepping out with Julia Fox on one of the most mind-bogglingly meta second dates of all time, the artist has shaken up the pop-cultural snow globe for the second time in less than 24 hours, announcing that he's pairing with his good friend Demna (formerly Gvasalia) on a fashion project.
That's right, just as we predicted, the collaboration wheel is set to keep on turning, with the pair joining forces to create a line for Gap, under the banner of Ye's pre-existing partnership with the American retailer. Officially titled Yeezy Gap Engineered by Balenciaga, the project's aim will be a little different to the branded cross-pollinations we saw so much of last year. Rather than top price bracket goods, the venture will bring the visions of two of today's most definitive creative voices to the masses, making "incredible product available to everyone at all times," Ye told Vogue – which we're taking to mean Balenciaga x Yeezy designs at Gap prices. Lord, what good deeds did we do to deserve this?
Of course, while this is a pretty damn seismic announcement, it's hardly unexpected. Well, not in hindsight, at least. Ye and Demna's mutual admiration for each other is hardly secret at this point, and their creative relationship has been turbocharged in recent months. Ye (masked, obvi) was seen front-and-centre at the debut of Balenciaga's couture revival last July, and is reported to have been seen carrying out pretty major hauls from the brand's stores. Demna, on the other hand, creative directed the artist's Donda listening events, and designed the official merch sold at them.
"There are very few people that I know, especially of Ye's caliber, who really understand my work so well," Demna told Vogue of their relationship. "He makes me come out of my comfort zone and be a better designer. There's no ego when we collaborate, just a mutual drive to evolve and do something great and new."
While we may not know what exactly the first drop — due in June — will look like, something great and new is damn well guaranteed. Get in line now, girlies!