Photos courtesy of Balmain, Loewe and by Joseph Okpako/WireImage
The new naked dress is sexy, confusing and here to stay
From Liza Keane and Sinead Gorey to Y/Project, the 'new naked dress' is not so naked at all.
Photos courtesy of Balmain, Loewe and by Joseph Okpako/WireImage
The year is 2022 and the red carpets — and the headlines — are saturated with sheer fabrics, strategically-placed crystals and hipbone-high slits. Megan Fox in sheer Mugler. Zendaya in flesh-toned leather. Bella Hadid or Kendall Jenner in any number of names. In its ever-growing ubiquity, today's naked dresses no longer turn the heads or elicit the excitement of yore (think Cher in Bob Mackie, Kate Moss in Liza Bruce, Rihanna at the 2014 CFDA Awards). In the absence of such frisson, however, a new naked dress has emerged. One perhaps more head-turning than its predecessor.
Designed to make its wearer look naked — or nearly so — a naked dress is always a contradiction. And this new iteration even more so. Seen this season on the runways of Y/Project, Liza Keane and Loewe, the trompe l'oeil naked dress offers the naked look — screen-printed nipples, digitally-rendered curves and even the errant photo-real penis — without revealing any skin at all.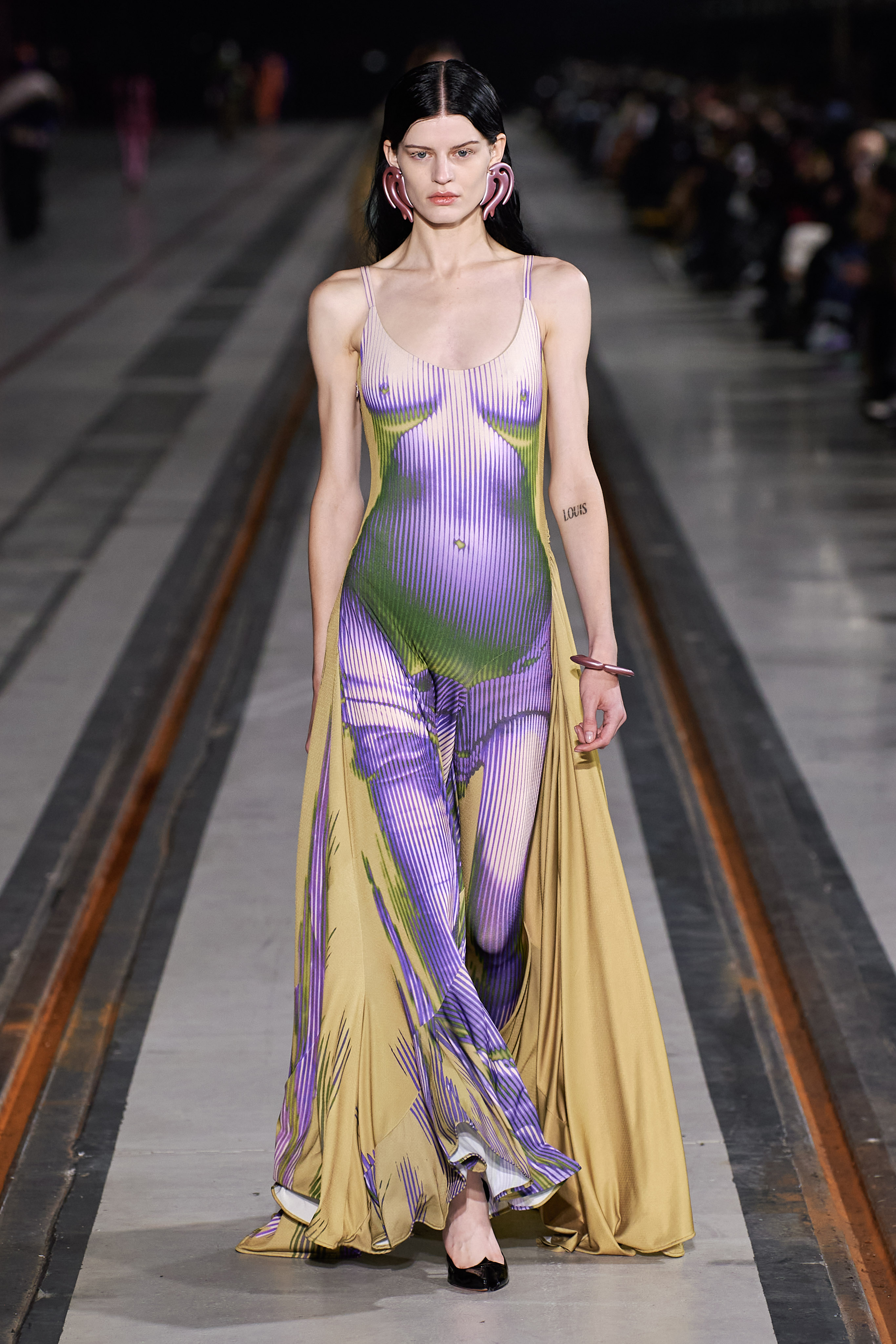 Faux-nakedness has been simmering at the surface of modern fashion for the last few seasons. For SS22, Sinead O'Dwyer and Tom Ford gave us the breast plate. Two years later, J.W. Anderson's Loewe and Nensi Dojaka were fully-obsessed with boobs.
Yet to trace the rise of the new naked dress, we must go back further still. In the 90s, Parisian designer Jean-Paul Gaultier brought trompe l'oeil to the fore of fashion with his historic SS96 collection. Titled 'Cyberbaba', the offering featured a series of garments — dresses, blazers and button-ups — overprinted, front and back, with life-sized nudes. The garments were ground-breaking, blurring the line between clothed and unclothed, offering a simulacra of nakedness, an illusion that aroused, confused and delighted.
For AW22 — more than 20 years after 'Cyberbaba' — Y/Project's Glenn Martens revisited Gaultier's infamous Op Art Body prints, adding new dimensions to the designer's many layered trompe l'oeil legacy. On the runway, models appeared in various states of dressed-undress, simulated cleavage peeked over the neck of a slip dress, the breast pockets of a denim jacket moonlit as the real thing, button-nipple and all. Elsewhere, a clever faux-nip slip moment.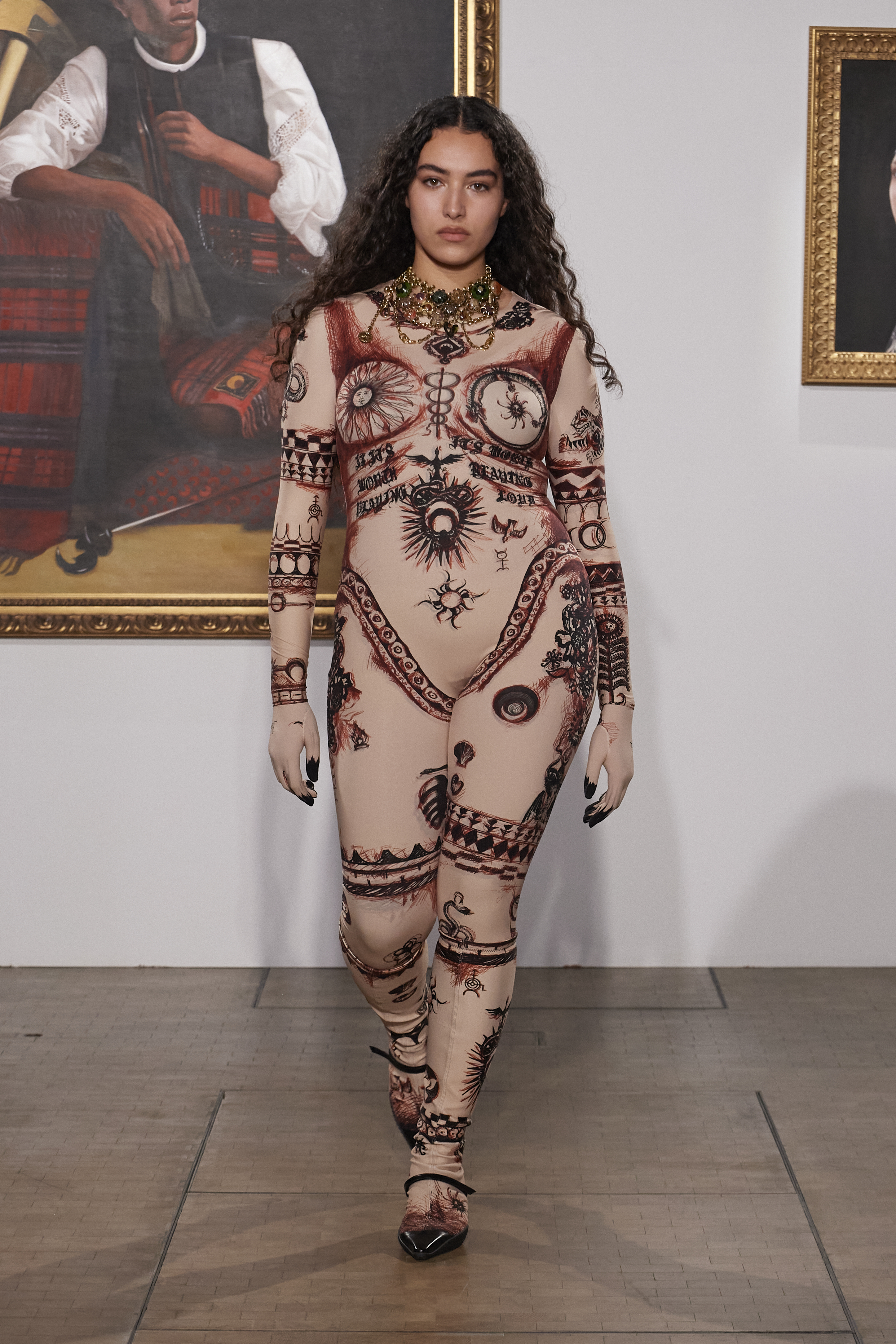 Glenn wasn't the only one to reference Gaultier's iconic trompe l'oeil this season. At Marine Serre's Paris Fashion Week show, both the door-crashing crowds and the clothes recalled the designer's underground pomp. In 1993, Gaultier's Les Tatouages collection meshed skin and fabric, creating transgressive faux-tattoo pieces. It was a look Marine revisited this season in full catsuit glory.
Like Gaultier, with his body-morphing dots and stripes, London designer Sinead Gorey harnesses the trick mirror energy of trompe l'oeil to sculpt, shape and augment the body. In part, inspired by the English capital's underground rave culture, Sinead creates technical party-wear engineered for "the perfect night out": slick catsuits and minidresses, body-conscious in more ways than one. As their name suggests, Sinead's SS22 Curve-Enhancing garments are digitally printed with a graduated pattern of dots, which swell around the peak of the breast, shrink at the small of the waist, "enhancing parts of the body and snatching other parts," Sinead explains, "Whilst really exaggerating the female form."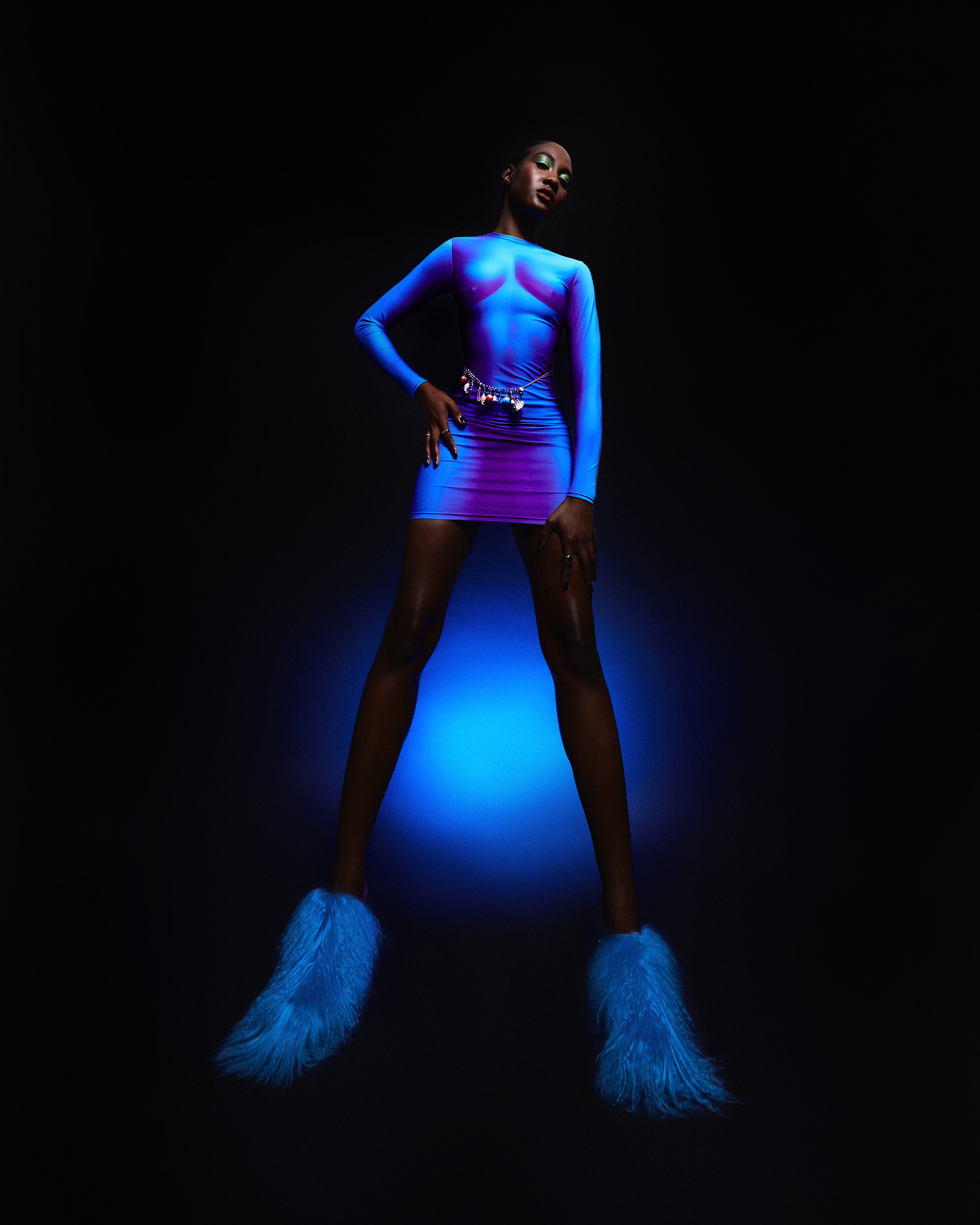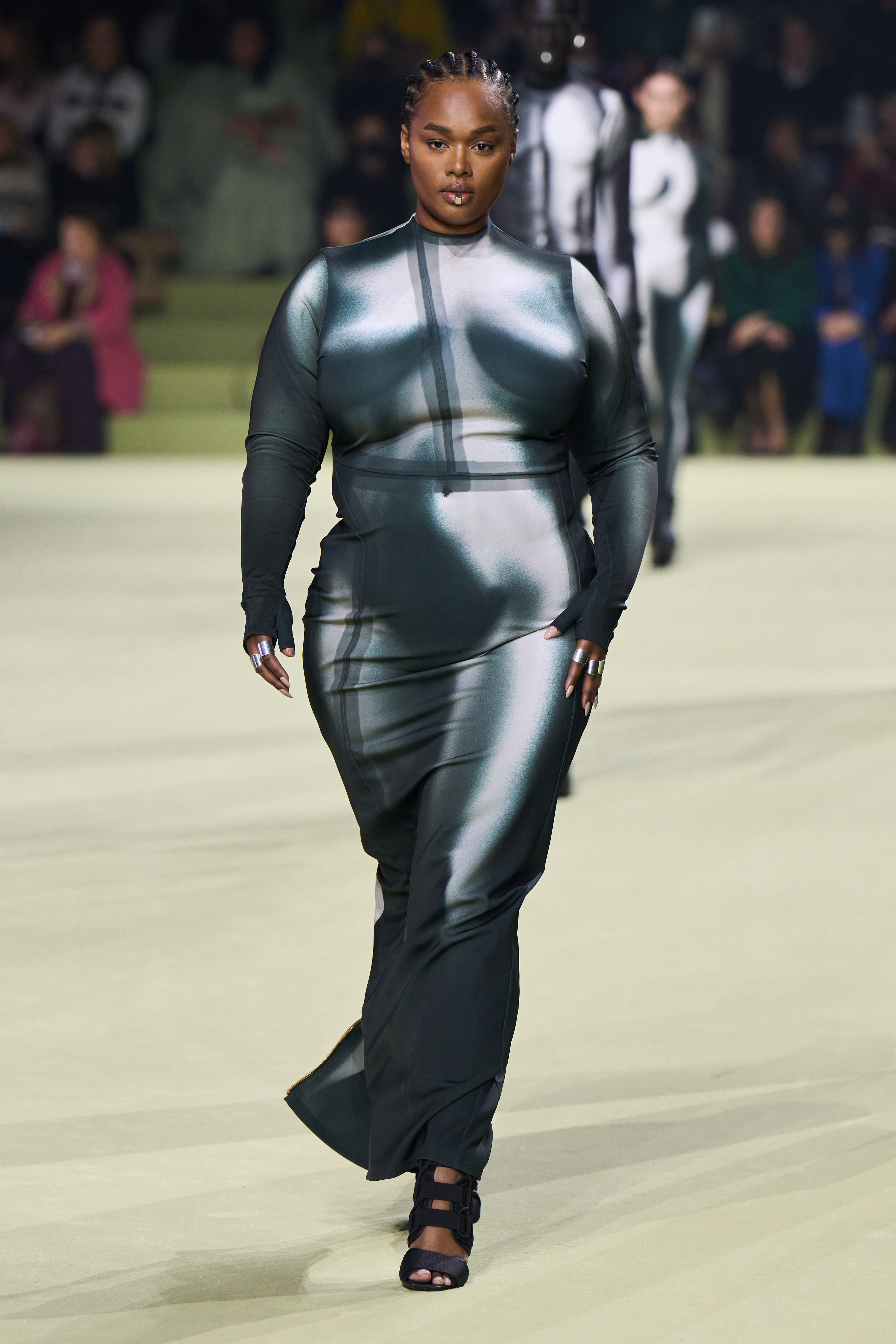 While Gaultier conceived his body-enhancing pieces during the decade of the 'waif' (Kate Moss, et al.), Sinead designs for — or perhaps against — the era of the BBL. As the ubiquitous body-modifying surgery has seemingly reached its zenith, Sinead's garments read in a more reactionary manner. In some ways, her garments seem to bolster the near-unattainable body ideals of the Kardashian age. In others, however, they are completely liberating, less permanent than a butt lift, less hassle than a Facetune touch-up. Less time in front of the screen — or under the knife — means more time raving. "We make clothes that are worn to empower and inspire," she says.
This season, Balmain's Olivier Rousteing sent a similar series of naked dresses down the runway. According to Vogue, the designs — which bore an uncanny resemblance to Sinead's Body-Mapping pieces — were intended as "an armour against online image dysmorphia."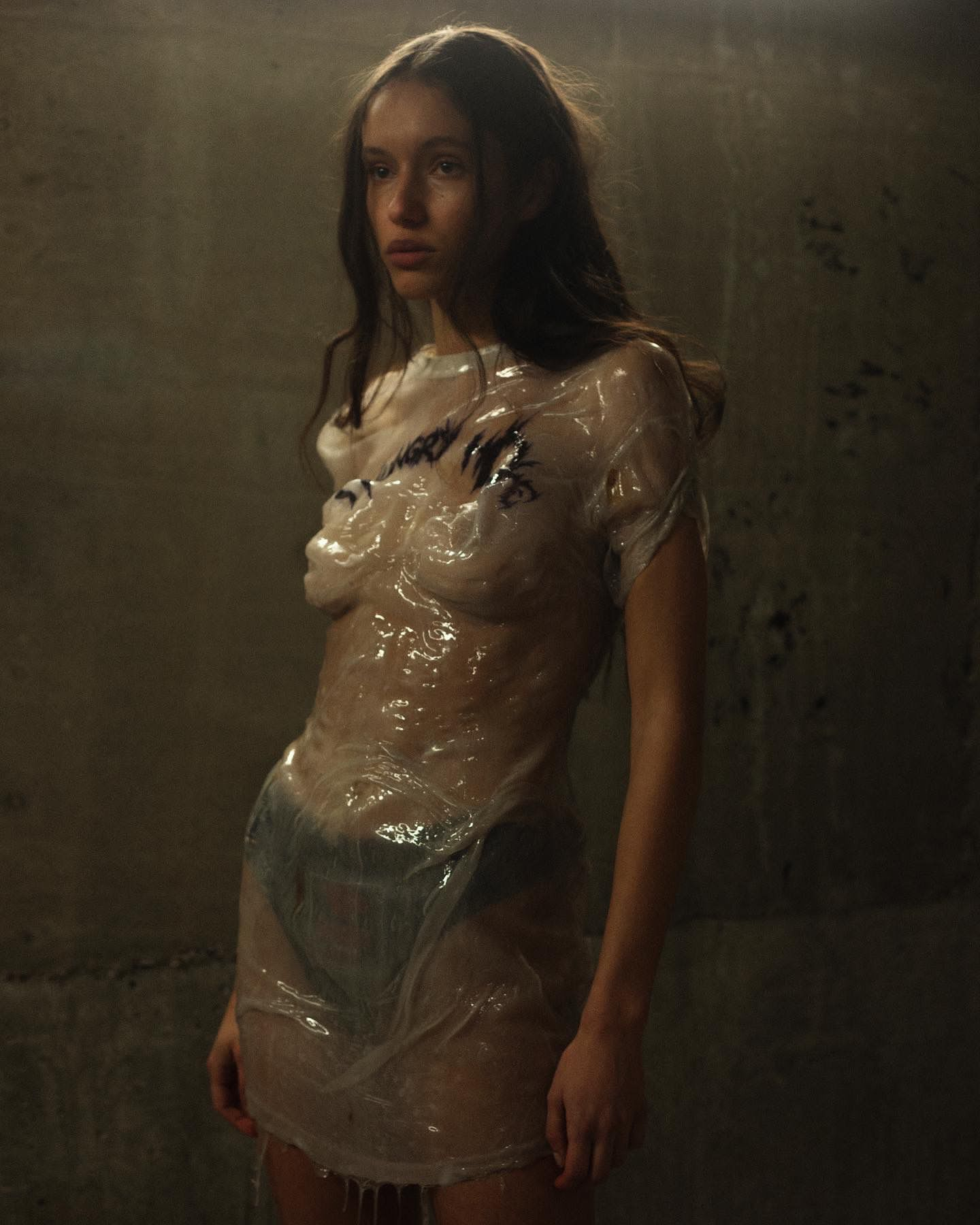 In her CSM graduate collection, designer Liza Keane also explored the idea of armour, albeit with a more psychological slant. Titled 'Beast', the six-look show walked viewers through Freud's ego theory and Jung's shadow-self, all while drawing upon the primal instincts of the animal kingdom. According to Liza, the collection's naked looks — the breasted 'Freudian Slip' or the full-frontal 'Negative' minidress, worn by FKA twigs to the NME Awards — serve as "armoured second skin," illusory veils or decoys for the affronted gaze. Donning one of them, the wearer, like the Freudian id, is able to shed her inhibitions, becoming the titular 'Beast.' "I love clothes that are 'enabling,'" Liza says. "The 'Beast' woman doesn't apologise for any part of who she is: her instinctive physicality, predatory authority or her primal erotic sensibility. But she also doesn't need to shout about it; there's a sense of elusiveness and privacy about her."
Whereas the traditional naked dress has become a symbol of the unfettered, unfiltered access of the social media age, this new naked dress, in its opaqueness, conceals; it's a shroud of privacy or, perhaps more relevant, a sartorial 'do not disturb.' Even with the invitation for her AW22 outing, Sinead pokes fun at the antagonistic relationship between Instagram and this kind of new naked dress: a trio of models stalk towards the camera, their dresses obscured by a mosaic of pixels.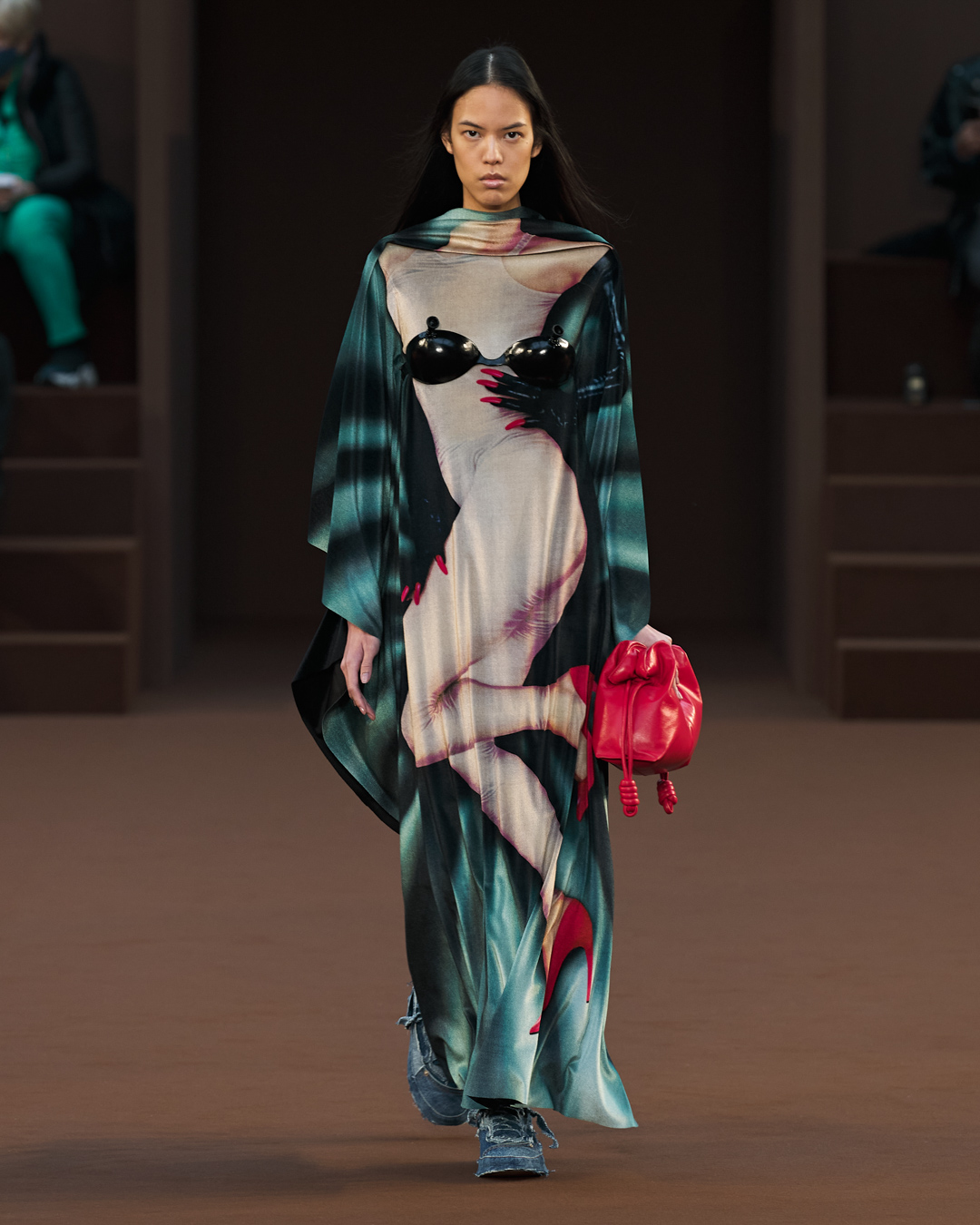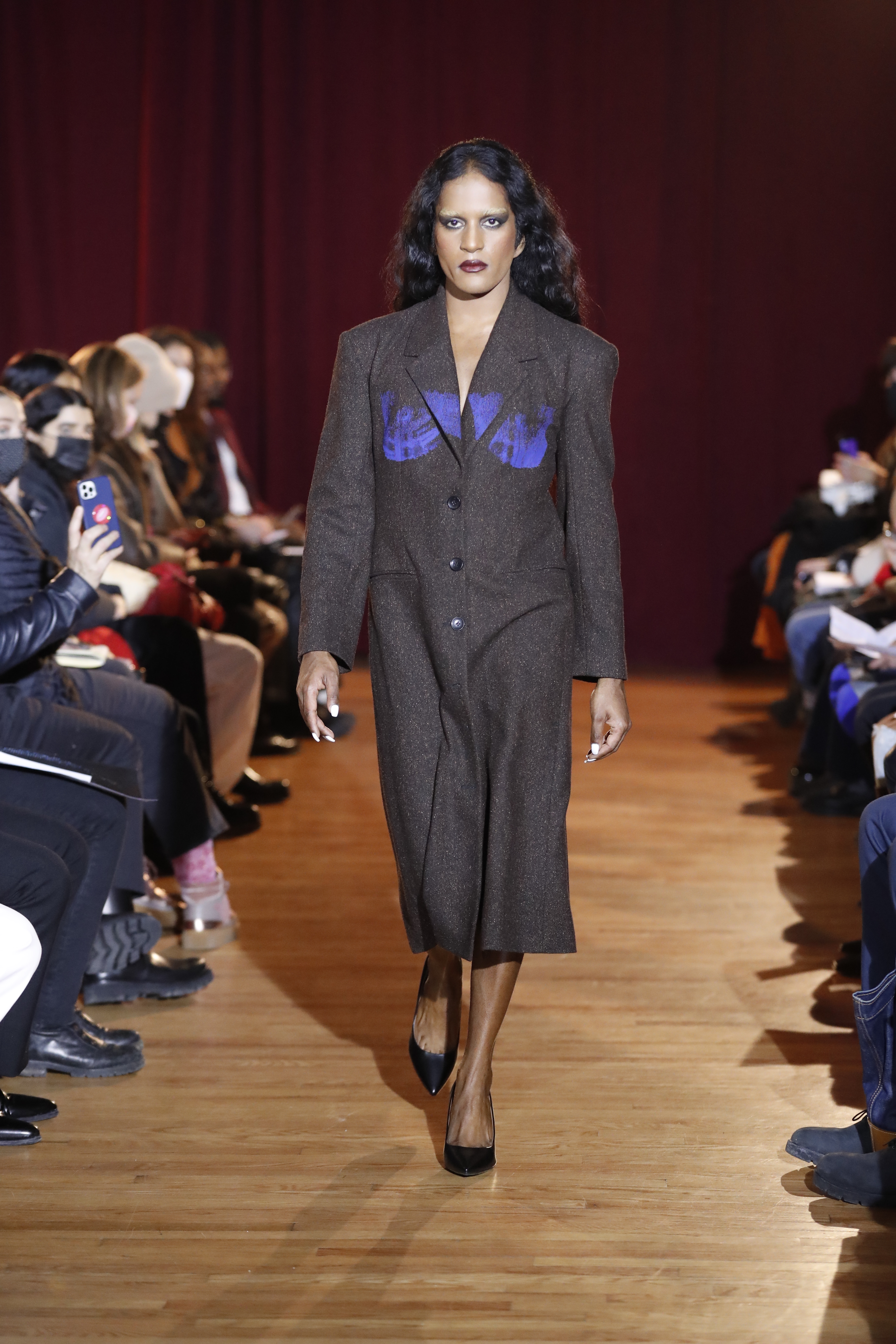 With her SS21 Trompe L'Oeil dress, Portuguese designer Constança Entrudo confronted the 'gaze', by turning it on its head — or inside out. According to the designer, the now-viral naked dress was created on a whim, during a lunch break in one of her knitting factories; its jacquard print sourced from a nude calendar belonging to one of the factory workers. The dress' source material was not lost on Constança. "I wanted to explore how femininity is represented through the female nude," she says. "This idea of who is the subject of the gaze and who is the object. In other words, who is looking at whom?" With its life-size nude printed on thick cotton jersey Constança's illusion dress swings back and forth, between states of dress and undress, its wearer slipping between the roles of object and subject, at will. Speaking to the dress' viral popularity — SZA is among one of its many fans — Constança says, "People wear it not only in a flirtatious way, but with a rebellious attitude. One that conveys a sort of 'fuck you' to the world. I guess women are tired of being told what to wear and not wear, what to hide and what to show."
Today, a naked dress on the red carpet no longer moves the needle. What excites, then, in lieu of plunging necklines and to-there hemlines? If you ask Loewe's J.W. Anderson and a legion of editors, the answer is — and will always be — the absurd, the bizarre and the utterly individualistic. For the past two seasons, designers like Jonathan Anderson and Carly Mark of Puppets & Puppets have elevated the naked dress to the realm of Dada. Following a défilé that included Duchampian pitcher purses and batty body chains, Richie Shazam closed Puppets & Puppets' AW22 show in a heavy wool coat, painted with two Yves Klein breasts. Across the pond, at Loewe, Jonathan sent out a pair of flowing kaftan looks, both printed — and sculpted — with two balloon-busted pin-ups. It was a refreshing, surrealist ode to one of the industry's most schematic garments, and one that captured the quixotic, absurdist legacy of Gaultier, himself.