Mary Janes for men are *officially* in for AW22
Strap on your school shoes! From Erdem to Fendi, JW Anderson to Comme des Garçons, the future for men's footwear is femme.
Images courtesy of Fendi
Menswear has been going through some growing pains of late. As brands waver between deciphering the future of streetwear and reinventing tailoring once more, they're now also tasked with keeping up with our evolving views on gender. While the SS22 collections were certainly less focused on conventional menswear norms, AW22 is shaping up to be the season where archetypes are shattered once and for all. Need proof? Just look down. Mary Janes, the iconic schoolgirl shoe, have become a recurring item across the collections we've seen so far, cropping up at Erdem, Fendi, JW Anderson, and Comme des Garçons Homme Plus. In a segment of the industry dominated by sneakers and endless iterations of the Chelsea boot, they've made for an unusual – though far from unwelcome – guest.
A familiar figure in fashion history, Mary Janes, named after a character in the American comic strip Buster Brown, started life as children's shoes. In the 1920s, however, they became a staple of flapper style – what was Silvia Venturini Fendi saying about the New Roaring Twenties, again? – and are now widely considered a womenswear classic.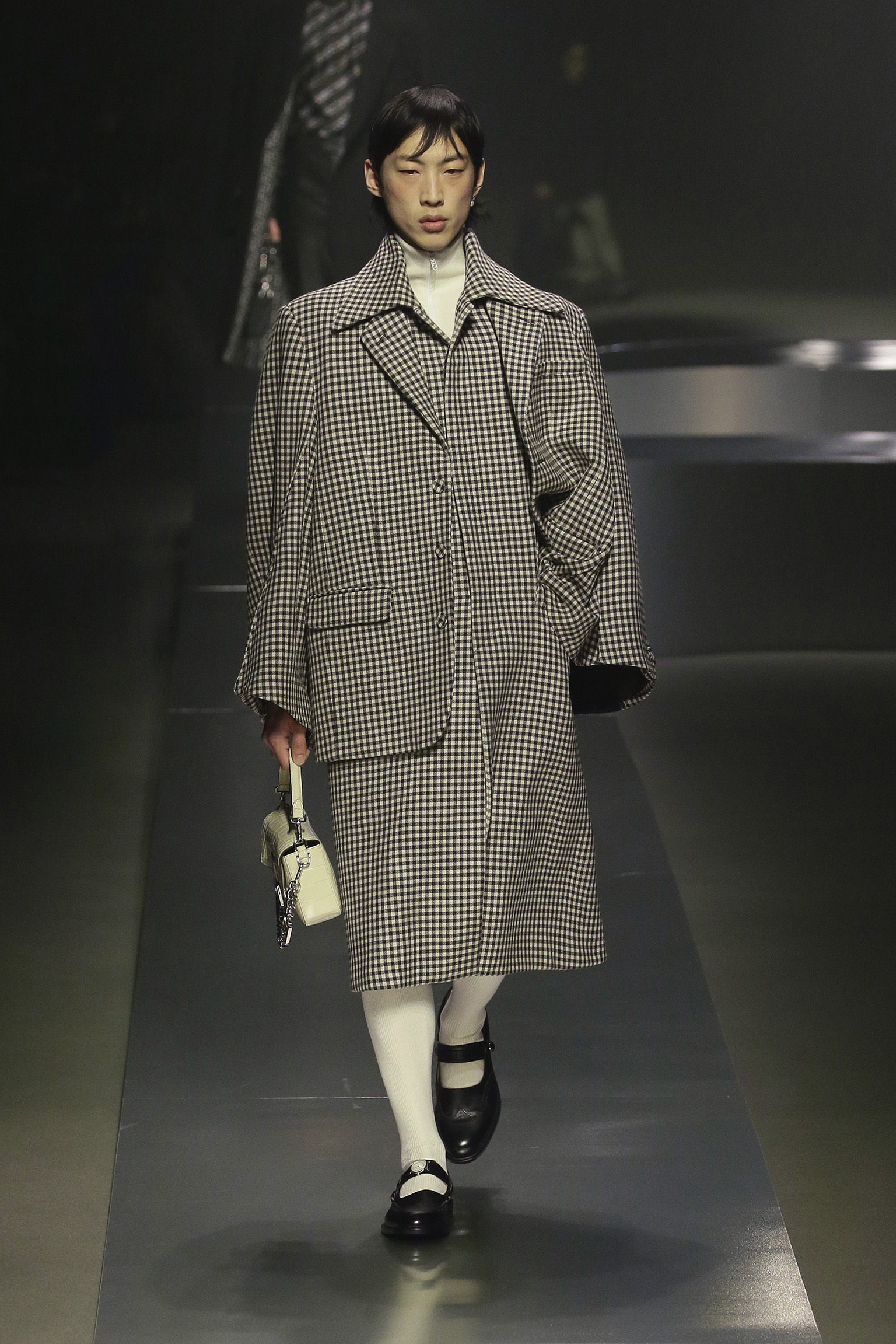 Granted, we've seen Mary Janes in menswear before. They were present in Riccardo Tisci's SS16 Givenchy collection, for AW19 at Galliano's Maison Margiela, at Bode and Telfar for SS20, in Gucci's AW20 (worn repeatedly by, of course, Harry Styles), and for SS22 at Molly Goddard and Ernest W. Baker. What's curious about their appearance this time around is how often we've seen them, and so early on in the season. The obvious justification here is that this is another attempt at genderbending 'menswear' collections, building on the foundation laid in during an inarguably SS22. A perhaps less obvious point, though, is that they are also part of a general interest for revising men's sartorial tropes. Put simply, as menswear evolves, its traditions are being challenged: stiff suits shrink with preppy tailoring and expand with relaxed cuts, trousers flare and widen, shorts become skirts, and dress shoes become… well, Mary Janes.
This season, Erdem and Fendi drew inspiration from prim, bourgeois menswear and gave its fundamental principles a good old twist. Looking to two 20th Century female photographers, Madame d'Ora and Madame Yevonde, Erdem created a wardrobe that occupied the grey zone between formality and informality – his t-strap Mary Janes with brogueing details, worn sockless, drove that point home. Brogueing was also present on Fendi's Mary Janes, together with wristwatch straps (talk about repositioning a wardrobe staple). These had an air of preppiness to them, fitting right into the wardrobe of the show notes called the 'neo-dandy,' a contemporary reimagining of the late Romantic figure of unabashedly flamboyant taste.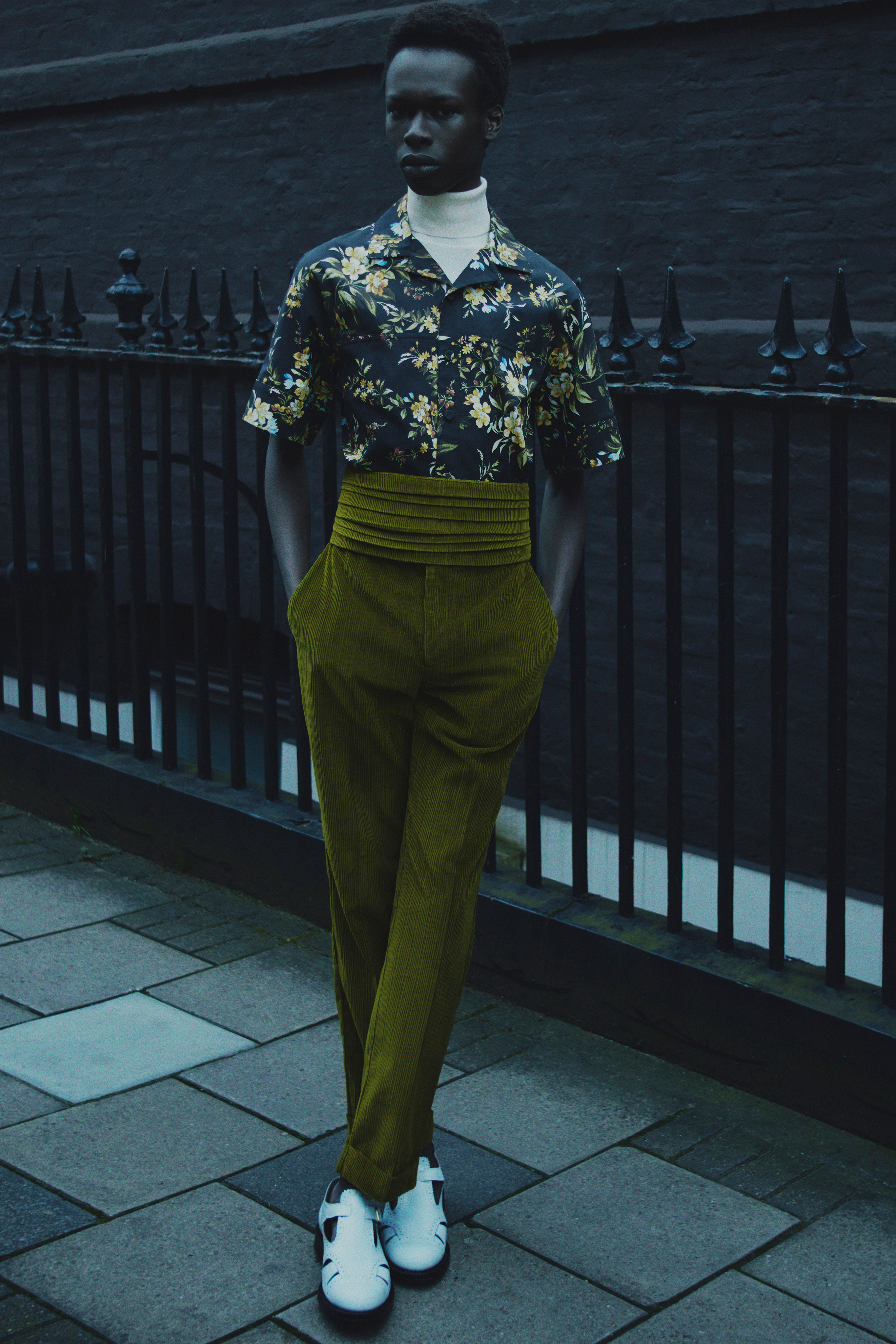 An attempt to blur gender barriers was also a prominent pillar of JW Anderson's "silly" fantasy, making itself felt in what the shown notes called "kindergarten shoes" – single-strap Mary Janes that conjured memories of innocent childhood playfulness. Their chunkier proportions and thick EVA soles – definitely more toddler than dandy – chimed well with fashion's nostalgia and the rise of kidcore. And somewhere in the middle of it all was Comme Des Garçons Homme Plus, whose double-strapped platform Mary Janes, worn with tailoring and shirting, were as playful as they were classic, though they looked subtle next to the pointy black patent kitten-heeled version they showed for AW21.
As menswear continues to embrace flamboyance and seeks to disrupt and update its own codes, the co-opting of the femme footwear classic makes sense, echoing what we've previously seen happen with skirts and pearl necklaces. And while people have never exactly stopped wearing Mary Janes, fashion loves to find symbols for new mindsets, with the strappy flats serving as the perfect cipher. This autumn, people will be wearing Mary Janes whether to reminisce on their childhood days, subvert gendered tropes, or embrace neo-dandy sartoriality. While the jury's still out on whether they'll become menswear's latest it-shoe, it feels safe to say that this is just the start of a wave of femme footwear to come marching down the menswear runways.