Hunter Schafer almost turned down the role of Jules in Euphoria
On the A24 podcast, the actress chatted to Lorde about co-writing with Sam Levinson, 'Solar Power', fashion and astrology.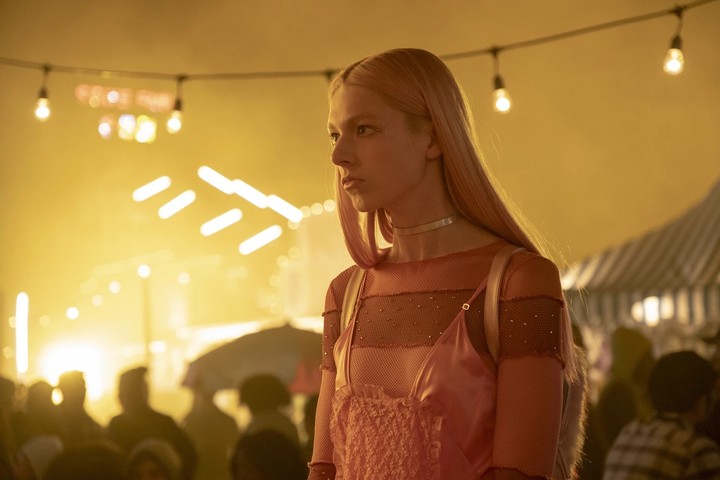 Still from Euphoria
Though it may have been her first acting role, we can't imagine anyone else but Hunter Schafer playing Jules in the HBO series about sex, drugs and high school hedonism, Euphoria. In fact, many fans felt as though the actress was robbed of a Golden Globe nomination after the first series, and particularly her role, was met with such acclaim. But in a newly released Divine Frequency podcast from A24 with Solar Power singer Lorde, Hunter shared that she almost turned down the role.
"I had never acted before Euphoria, and it was not in my plan at all," Hunter tells Lorde in response to her question about how she got the role of the teen who sparks up a sweet romance with Zendaya's Rue. "I had never been in an audition before. And my agency said that these casting people had reached out and asked me to come in and read for this role for this HBO show. I didn't know what to think of it. And initially I was like, 'I don't think I want to do it,' just because it wasn't my thing. I was supposed to go to school in a few months, in fashion. But they asked again and I think I ended up going in."
She went on to say that she often thinks about what Jules would have been like if another actress had taken on the role, a thought Lorde refuses to consider (same). "I don't think about any other versions of Jules," Lorde protests. "There are no other versions."
During the podcast Hunter also spoke about her first ever job as a contributor for Tavi Gevinson's fashion magazine, Rookie, co-writing the Jules special of Euphoria with showrunner Sam Levinson ("we just started talking about it and got into it. And eventually, he was just like, 'This kind of sounds like dialogue. Should we do this together?'"), and her love for Miu Miu and babydoll fashions growing up.
Meanwhile a vintage Prada wearing Lorde shared her own fashion favourites ("I was a big Commes-head. Obsessed with Commes. A huge Phoebe Philo Celine fan"), checking her friends dates' astrological compatibility and her love for artists SOPHIE and ANOHNI, and the show Succession. Hunter added she personally struggles to separate TV from work but loves Fleabag and I May Destroy You.
For those of you hoping Lorde's current album cycle isn't over yet, the artist also shared that she made six or seven music videos for her album Solar Power, all filmed over 10 days on the same beach from the video of the album's title track, and that more will be released in the coming weeks!
Follow i-D on Instagram and TikTok for more on Lorde and Euphoria.
Tagged: