Photo by Bettman/Getty Images and by Ron Galella/Ron Galella Collection via Getty Images
7 of Brooke Shields' most iconic outfits
The actress and Studio 54 alum wore some of the finest 80s party looks.
|
24 December 2021, 8:00am
Photo by Bettman/Getty Images and by Ron Galella/Ron Galella Collection via Getty Images
Brooke Shields is an American treasure. Beginning her career at 11 months, modelling for Ivory soap, the actress-slash-model ascended to the pages of Vogue and the screens of Hollywood, courting more than her share of critical acclaim and controversy along the way. At 12, she starred in Louis Malle's shocking flick Pretty Baby. At 14, she was dancing at Studio 54 with Andy Warhol. And by 15, she was the face of Calvin Klein Jeans and the infamous "You want to know what comes between me and my Calvins? Nothing" campaign, which launched the designer to mega-stardom. Beyond CK, Brooke's poise and intelligent demeanour endeared her to the fashion industry at large. She's a muse of Richard Avedon, Yves Saint Laurent and Valentino. She's covered Vogue — American and abroad — too many times to count. Off the pages of fashion glossies, Brooke's style was all-American, collegiate in button-downs and blazers, jeans and loafers. An alum of Studio 54, however, her party looks are where she shines. From 80s organza gowns and diamond headdresses, to disco-era looks and marabou coats, we look back at some of Brooke Shields' most iconic outfits of all time.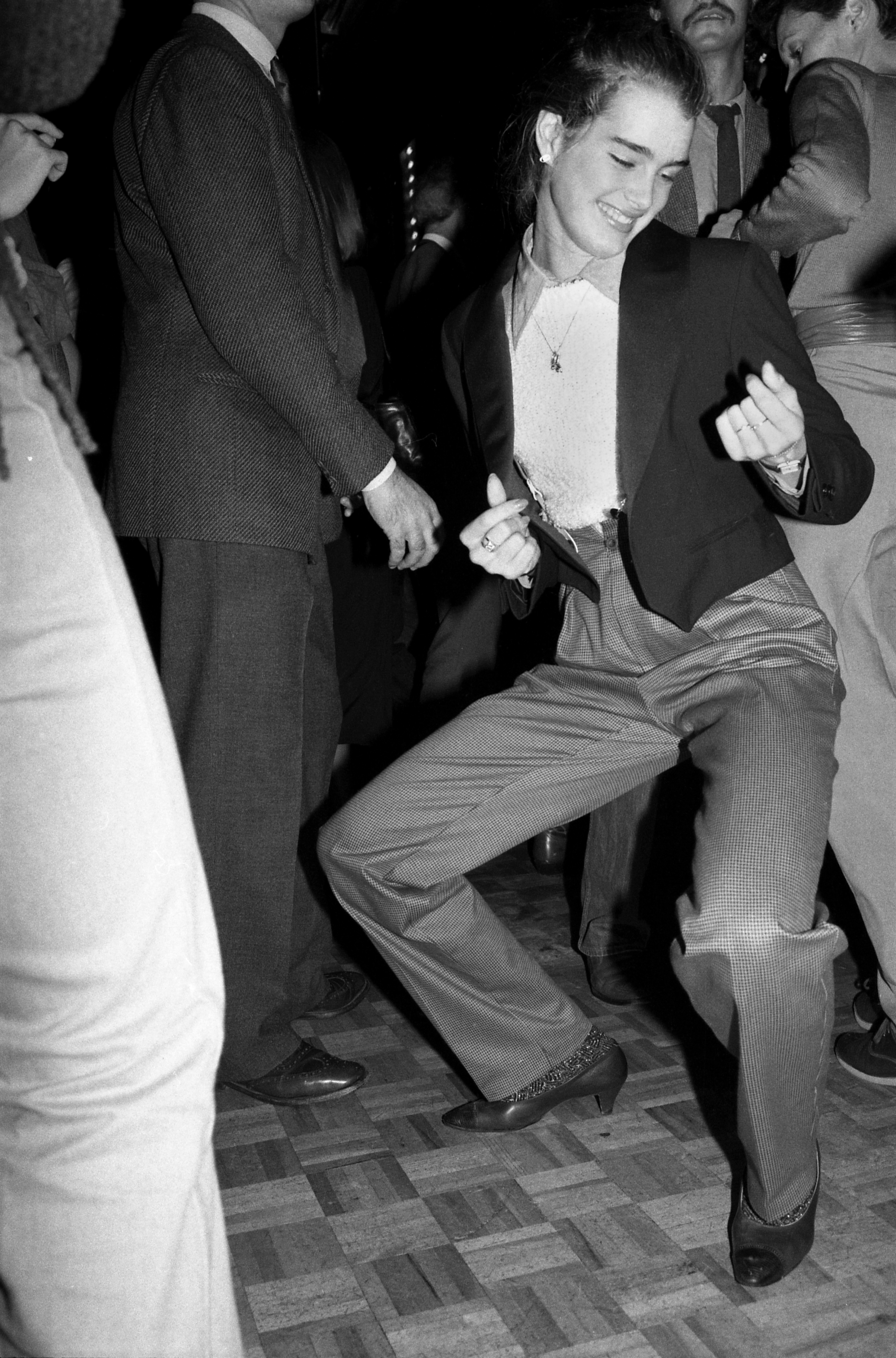 At Studio 54, 1979
Brooke began her career as a model, shooting her first campaign — for Ivory soap — before she was a year old. By 14, she was dancing at Studio 54 and on a first-name basis with the era's auteurs from Warhol and Haring to Saint Laurent and Valentino. Here, Brooke cuts the proverbial rug at the New York nightclub wearing an All-American shirt-and-sweater combo with a pair of her mother's pumps.
For Calvin Klein Jeans, 1980
In 1980, photographer Richard Avedon approached Brooke to star in a campaign for then up-and-coming American designer Calvin Klein. Meant to advertise Klein's new ultra-tight jeans, the now-infamous commercials featured Brooke posing in a variety of contorted poses while delivering lines, among them, one particular double entendre that would change the course of both Klein and Brooke's careers forever. The campaign's overtly sexual nature shocked the American public; the ads were banned from broadcast by both ABC and CBS in New York, and Brooke was sent on a country-wide press tour to do damage control. Decades later, however, Brooke admits that the controversy backfired. "[Calvin Klein] understood what sells and how to push the envelope. There's an appeal to it that is so undeniable, and they tapped right into it," she told Vogue earlier this year. Before Kate by Sorrenti and Mark Wahlberg in CK boxer briefs, there was Brooke, wearing that iconic pair of stovepipe jeans.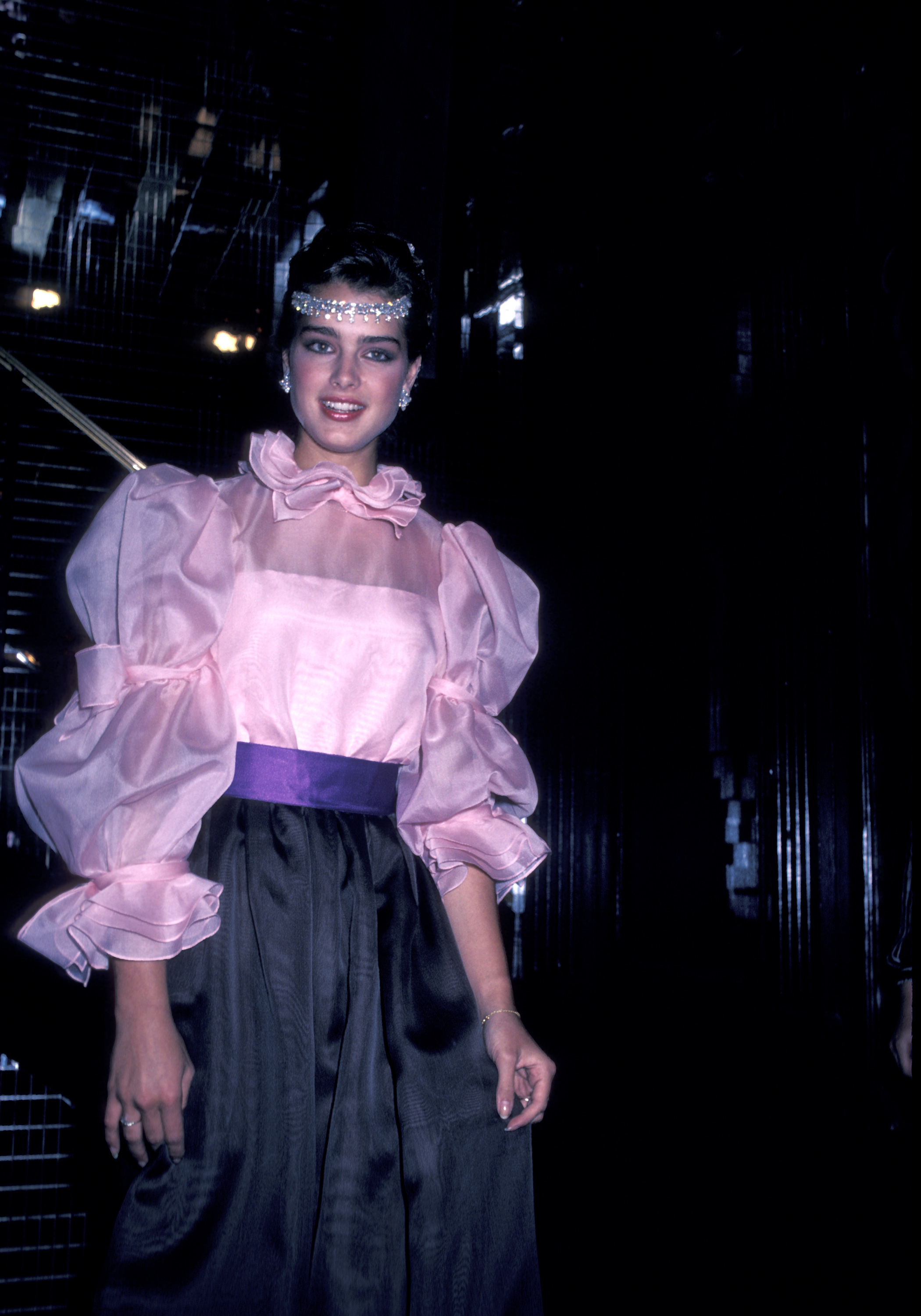 At an event for jeweller H. Stern, 1981
After making her Hollywood breakthrough with Louis Malle's Pretty Baby, Brooke became the spokesmodel — dubbed "The Million Dollar Baby" — for jeweller-to-the-stars, H. Stern. Here, attending an event for the jeweller, Brooke wears a dazzling party look: a ruffled organza gown with a diamond-laced updo.
At a fundraiser, 1981
Another aspirational party look, this time at the opposite end of the glamour spectrum. In place of 80s ruffles, Brooke's dressed in a shimmering wrap gown that calls to the 70s and Halston's disco-minimalism.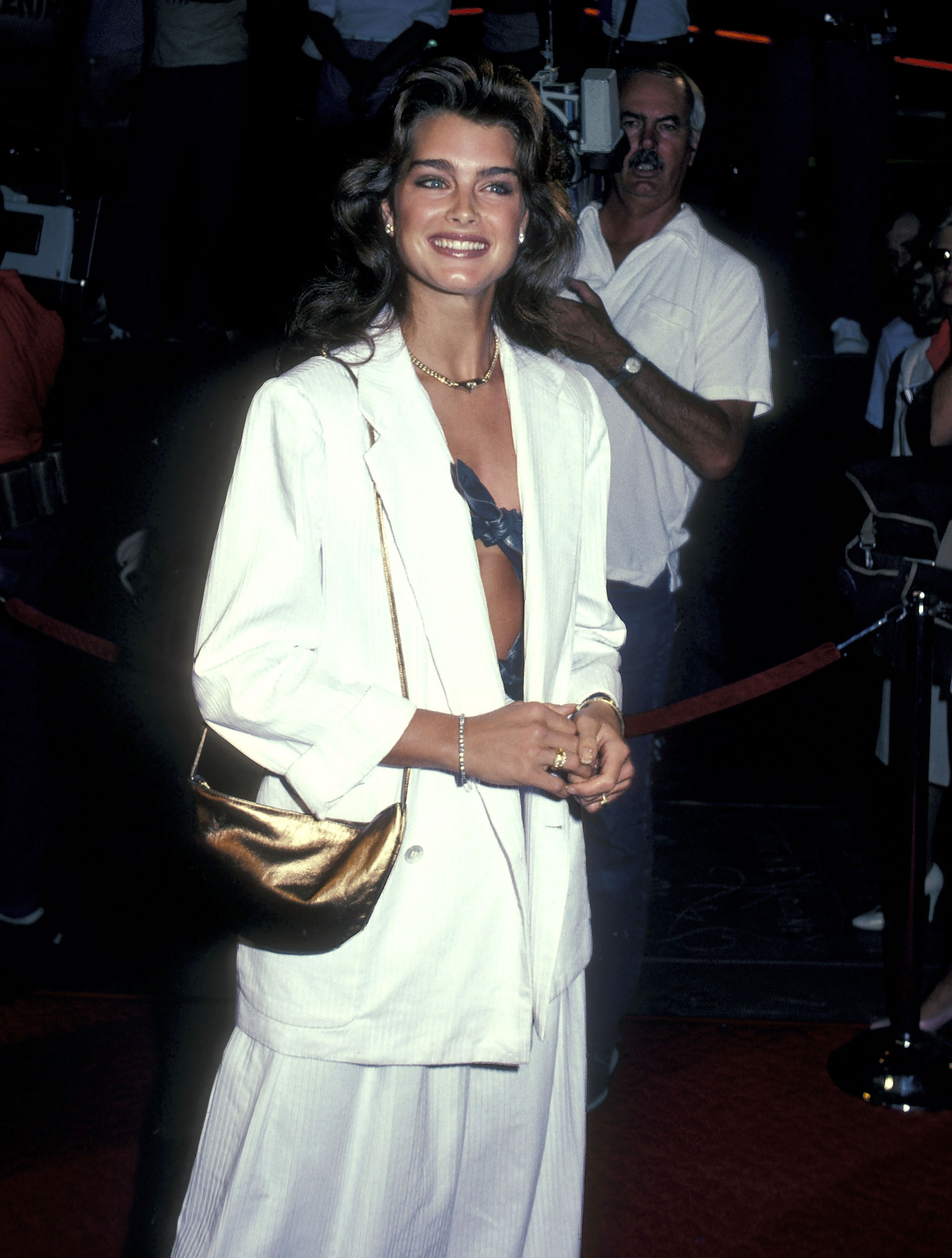 At the Staying Alive premiere, 1983
Chic! To the premiere of Staying Alive, Brooke forgoed disco-dazzle for a more casual glamour. At once very of-its-time and thoroughly modern, this eccentric bodysuit-and-tailoring combo wouldn't look out of place on, say, a Maryam Nassir Zadeh runway.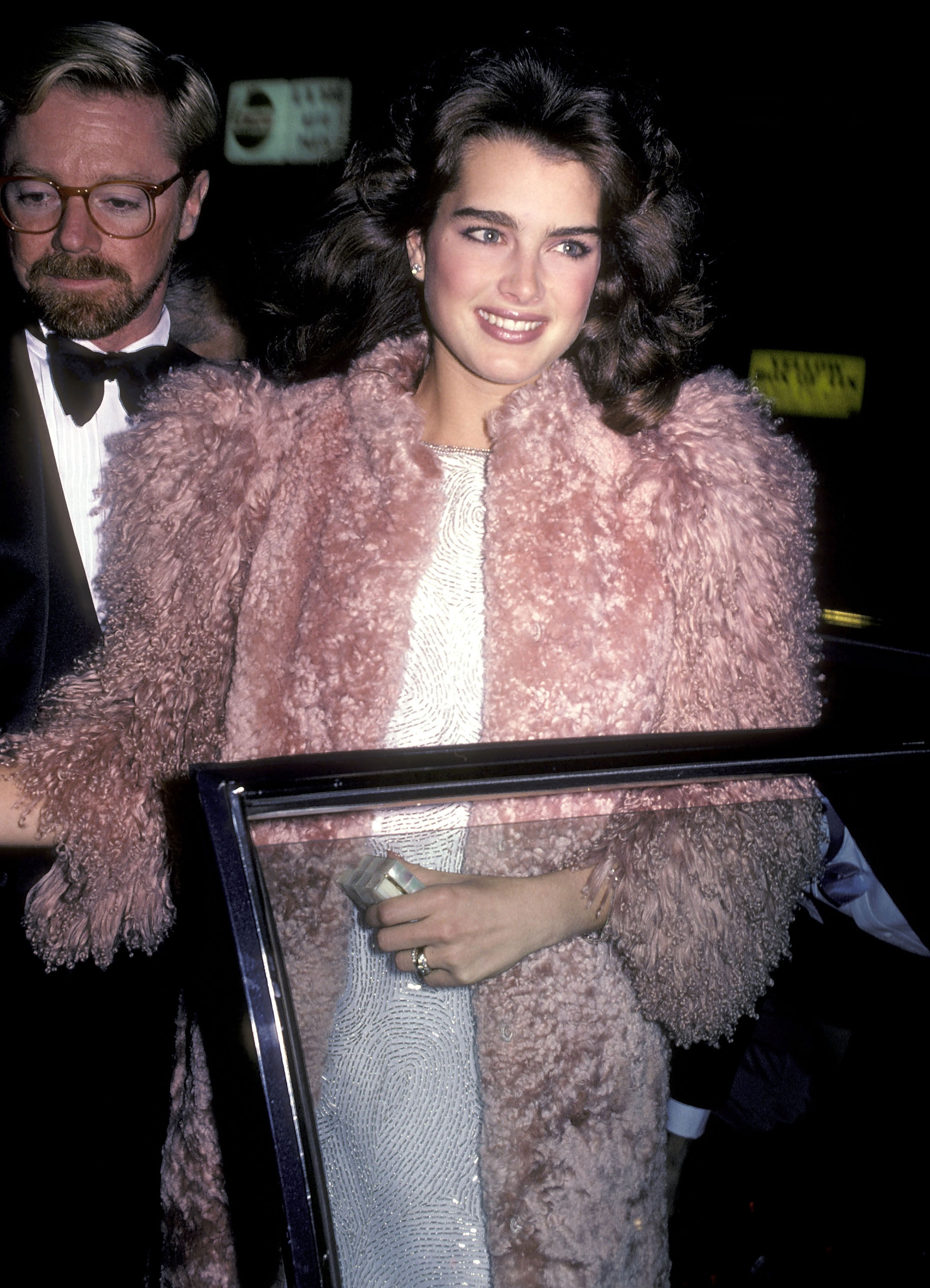 At a vernissage at New York's ICP, 1983
Brooke has been a patron of New York's art community since her teenage years. During her Studio 54 days, the actress-and-model was a friend and muse to artists and photographers alike. According to The New York Times, the Warhols and Harings that adorn Brooke's Greenwich townhouse are gifts from the artists themselves. One of her Harings is inscribed, "For Brooke … one of the sweetest (honestly) people I've met, with lots of love and respect.") A Warhol hangs, casually, in her laundry room. Here, attending a vernissage at NYC's International Center of Photography, the actress wears an outfit befitting a Warhol muse: a fluffy pink jacket and beaded dress that would feel at home next to Candy Darling at The Factory.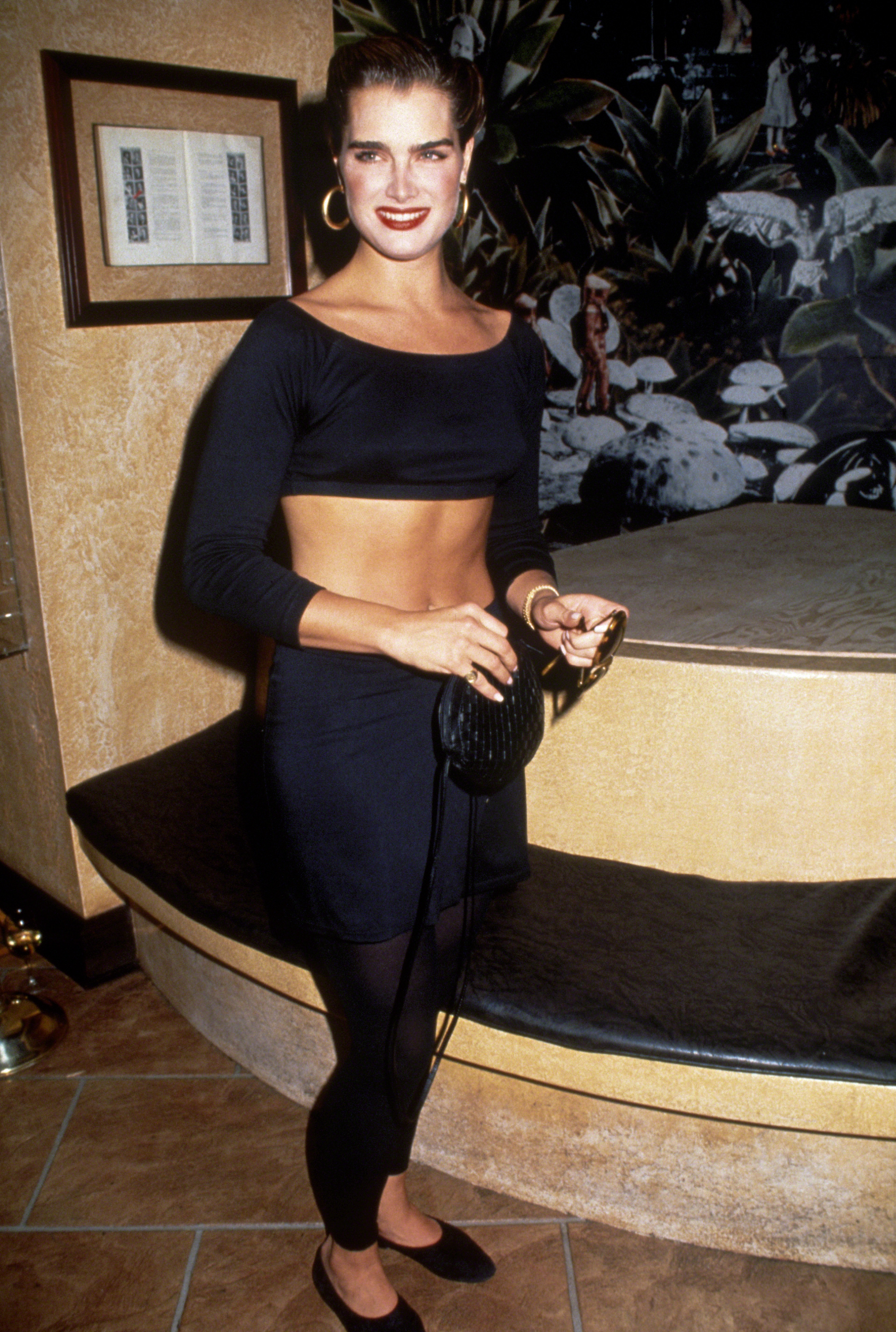 At the Death Becomes Her premiere, 1989
This is Brooke channeling the best-of-the-best of the 80s: Jazzercise-chic (in the crop top and Spandex) and Sade (with the hoop earrings and red lip). The actress wore this look to the premiere of Meryl Streep-and-Golden Hawn comedy Death Becomes Her. "I was a huge fan of Meryl Streep's. [I wore this] on the off-chance I was going to get to meet her," she told Vogue with a chuckle. "I thought she'd like this outfit."
Tagged: