7 of Willem Dafoe's most iconic outfits
Think of it less as a list of iconic ensembles, and more of a sustained commitment to one bulletproof look.
|
20 December 2021, 10:45am
It wasn't long ago that Jeff Goldblum, in all his Prada maximalism and campness, was crowned "Daddy" of the internet. Countless articles commending these wacky fashion choices, (alleged) lack of problematic behaviour and an Instagram of regular fit pics culminated in the frenzied coronation of Jeff as King Daddy. But while the moment quickly passed, as it is wont to do, it's worth noting that every single tweet and article about Jeff was wrong, as Jeff is sadly not, and never was, Daddy. Willem Dafoe, in all his understated Prada minimalism and lack of hubris, is Daddy.
The debate should really start and end with this tweet. But any further doubt on the point should be eliminated by the paparazzi shots from late last year of him striding through downtown New York with two obnoxiously large Prada bags flung across his shoulder like it ain't no thing, wearing a classic Dafoe navy blue get-up. While it's true that Willy D does not deviate far from these simple staple pieces -- black jeans, boots and scarf, and a nylon jacket -- as GQ notes, this classic fit is likely also Prada. Nor does he use Instagram, either, but should he really? No. Daddy doesn't have time to post zebra print trousers to the gram.
A Prada ambassador and an actor of range and versatility -- not to mention a man of huge politeness and grace -- the decision is final: Daddy Willem. As his re-emergence as Green Goblin in the Spider-Man universe spreads across the globe faster than our girl Omicron, here's seven of his most iconic looks.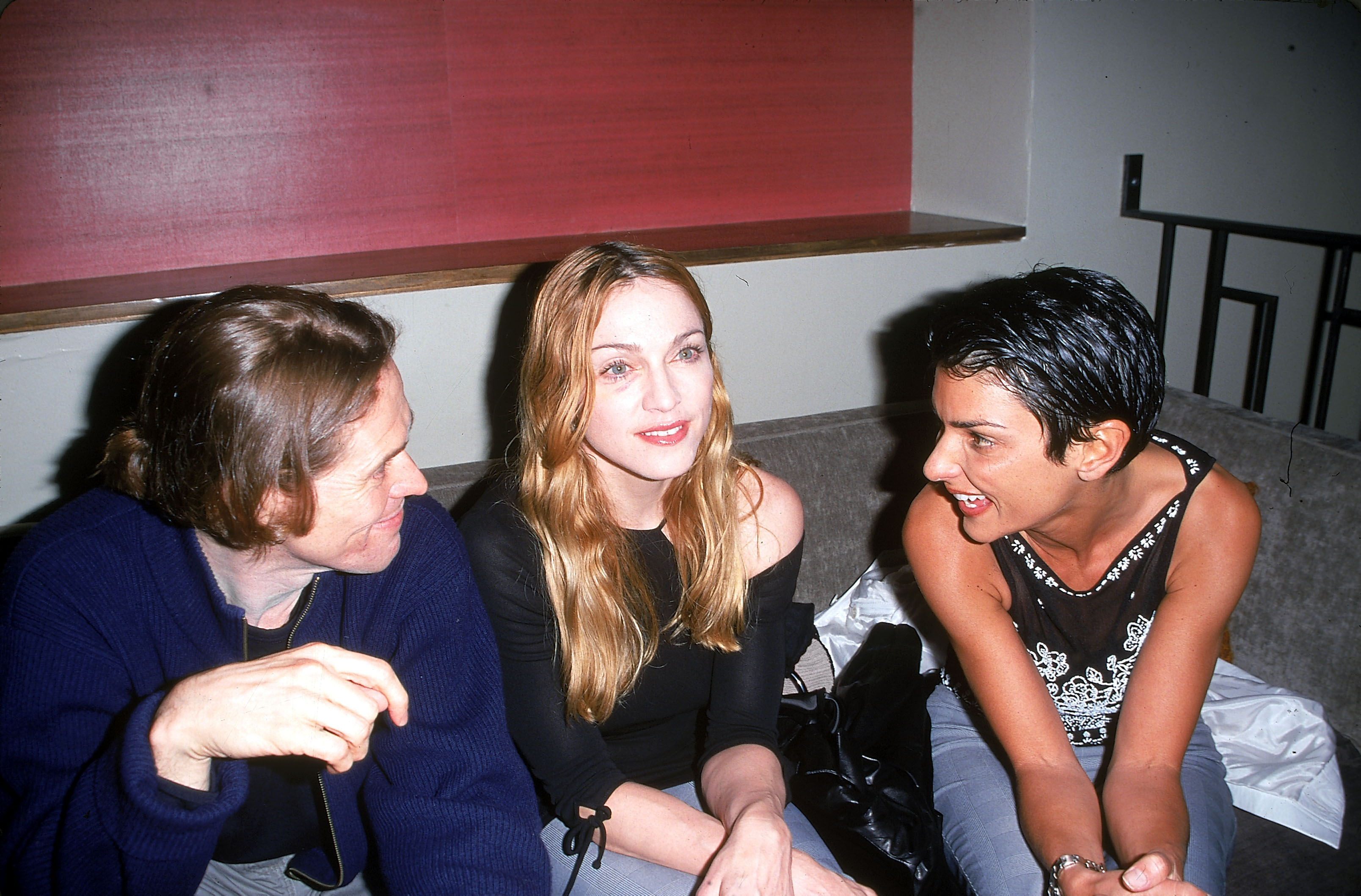 With Madonna at the film premiere for Two Guys and a Girl, 1997
This simple, elegant look from Willem has all the hallmarks of his signature style. Wearing a deep blue high-neck zip cardigan, black tee and grey jeans, it might not strike you as 'iconic' as such, but think of this less as a list of head-turning outfits, and more of a sustained commitment to one, defined look. Here for the tied-up hair, too.
Prada's AW96 campaign, 1996
This black-and-white Prada menswear campaign shot by Glen Luchford in 1996 was the campaign Willem was born to appear in. Around this time, Willem wasn't at the peak of his career -- shooting his role as the villain responsible for the titular knots rate of the boat in Speed 2: Cruise Control -- which won him a nomination for Worst Supporting Actor the Golden Raspberry Awards. Regardless, when Miuccia calls, you answer.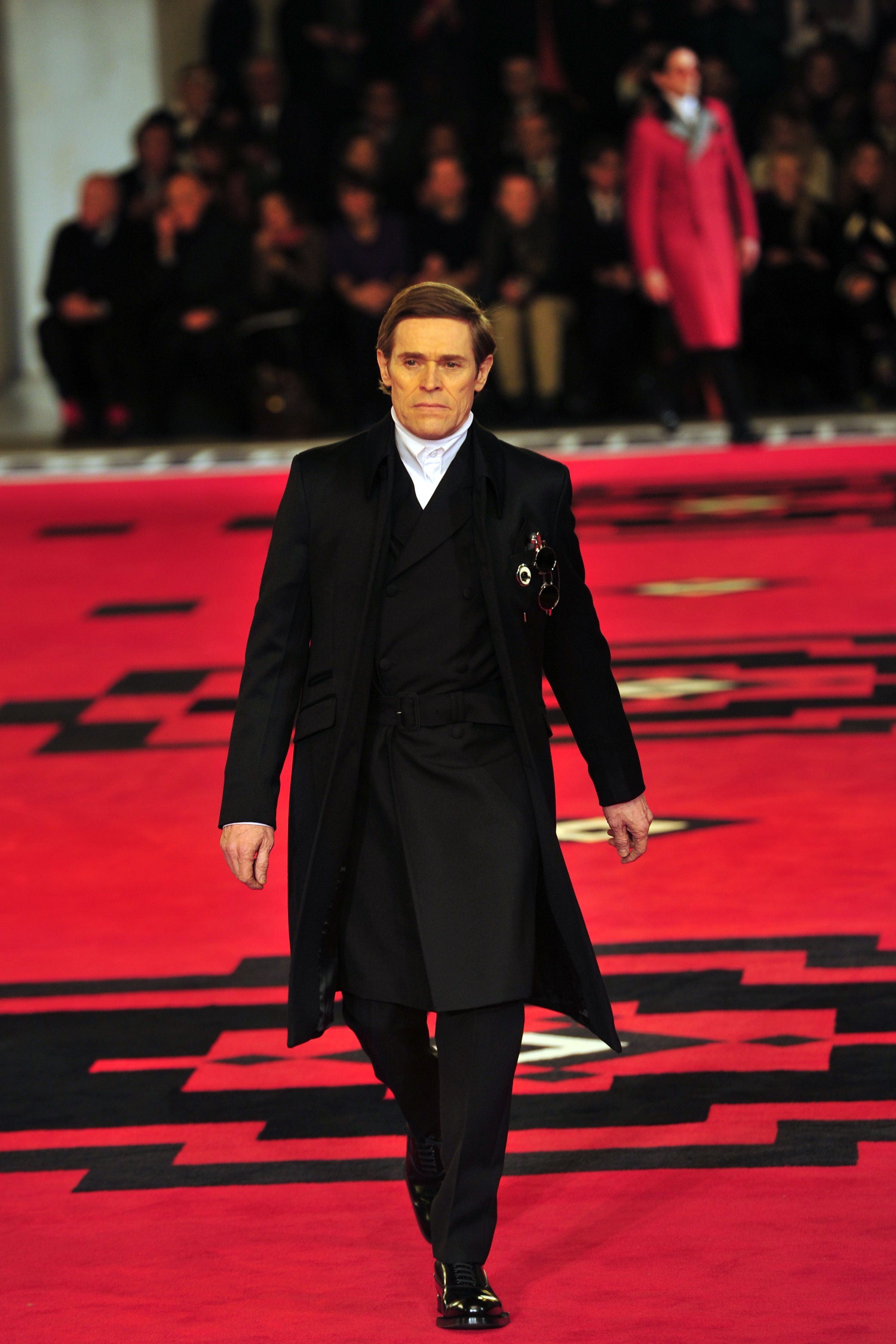 Prada's AW12 show
Mere mortals can only dream of tailoring that fits like this. As Willem knows all too well, a good fit matters. Alongside fellow actors Gary Oldman, Adrien Brody and Jamie Bell, Willem strutted the Milan Fashion Week catwalk looking resplendent in a double-coat, high-neck shirt look. He also starred in his second campaign following this appearance.
The Loveless, 1981
POV: Willem Dafoe is an outlaw biker wearing a leather jacket with his hair slicked back and gives you this look. WYD?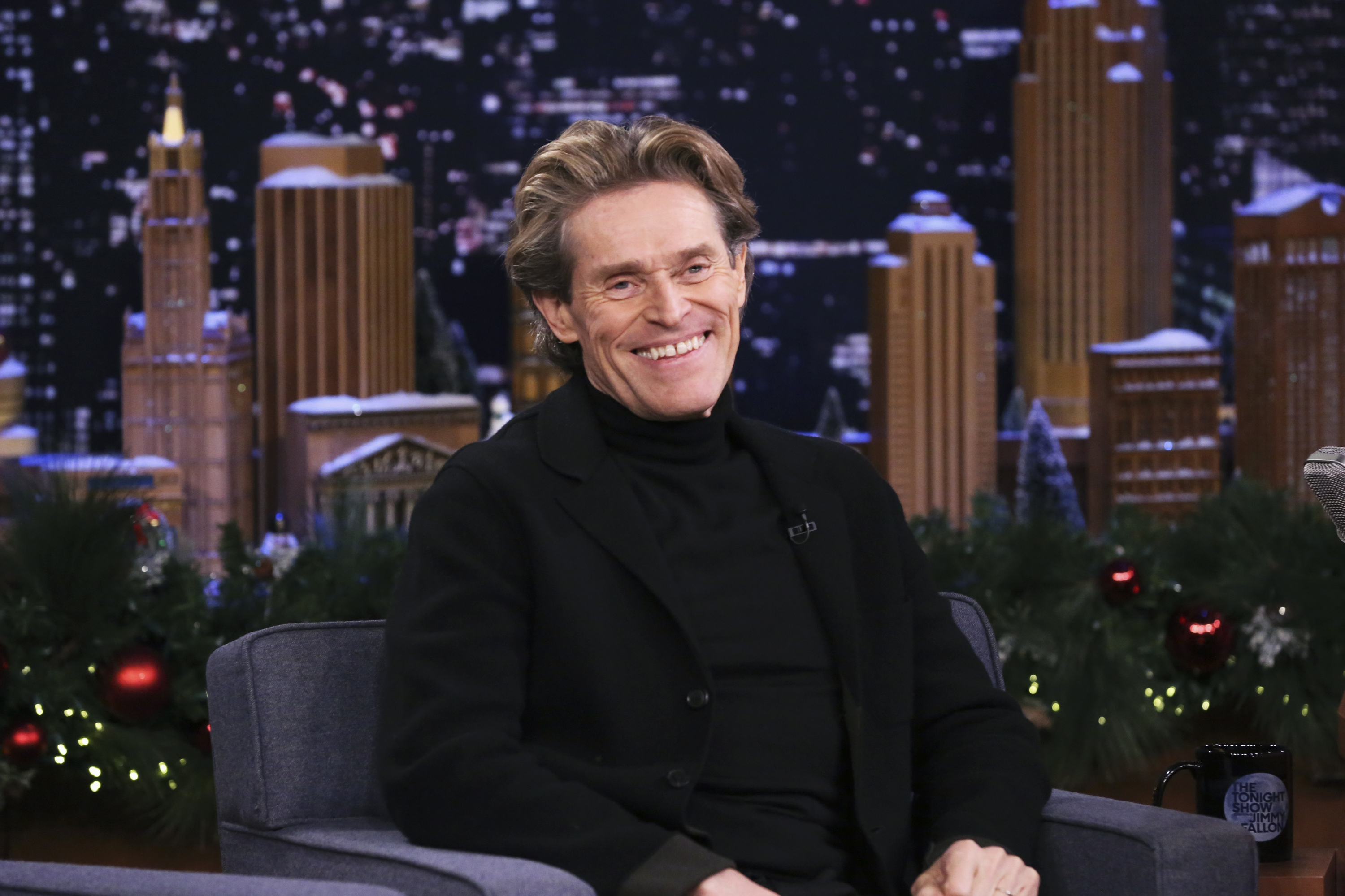 The Tonight Show Starring Jimmy Fallon, 2018
A classic all-black, blazer and turtleneck sweater combination. No frills, no fancy, just straight vibes and a thick, glossy head of perfectly arranged hair. A look we can all aspire to in our 60s. Your move, Timothée Chalamet.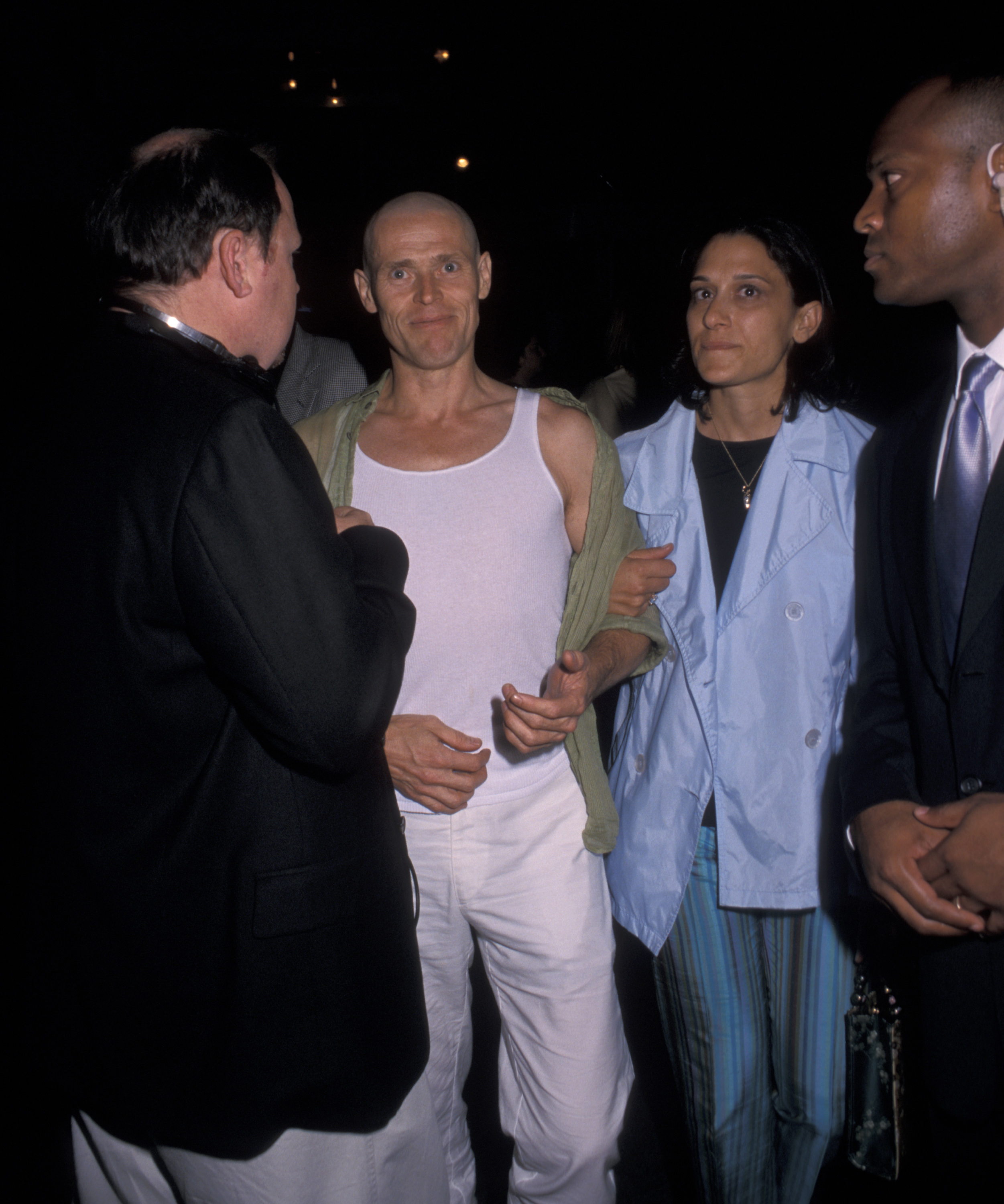 Talk Magazine Launch Party, 1999
Talk Magazine, a commercially unsuccessful joint venture between Hearst and Miramax that profiled illustrious celebrities, assembled the likes of Kate Moss, Salman Rushdie, Queen Latifah and the Clintons (plus Harvey Weinstein) on Liberty Island for its launch. Willem's look: shaven head (presumably fresh from the set of prison drama Animal Factory) with white linen trousers, a white vest and a sheer olive green shirt unbuttoned has panache.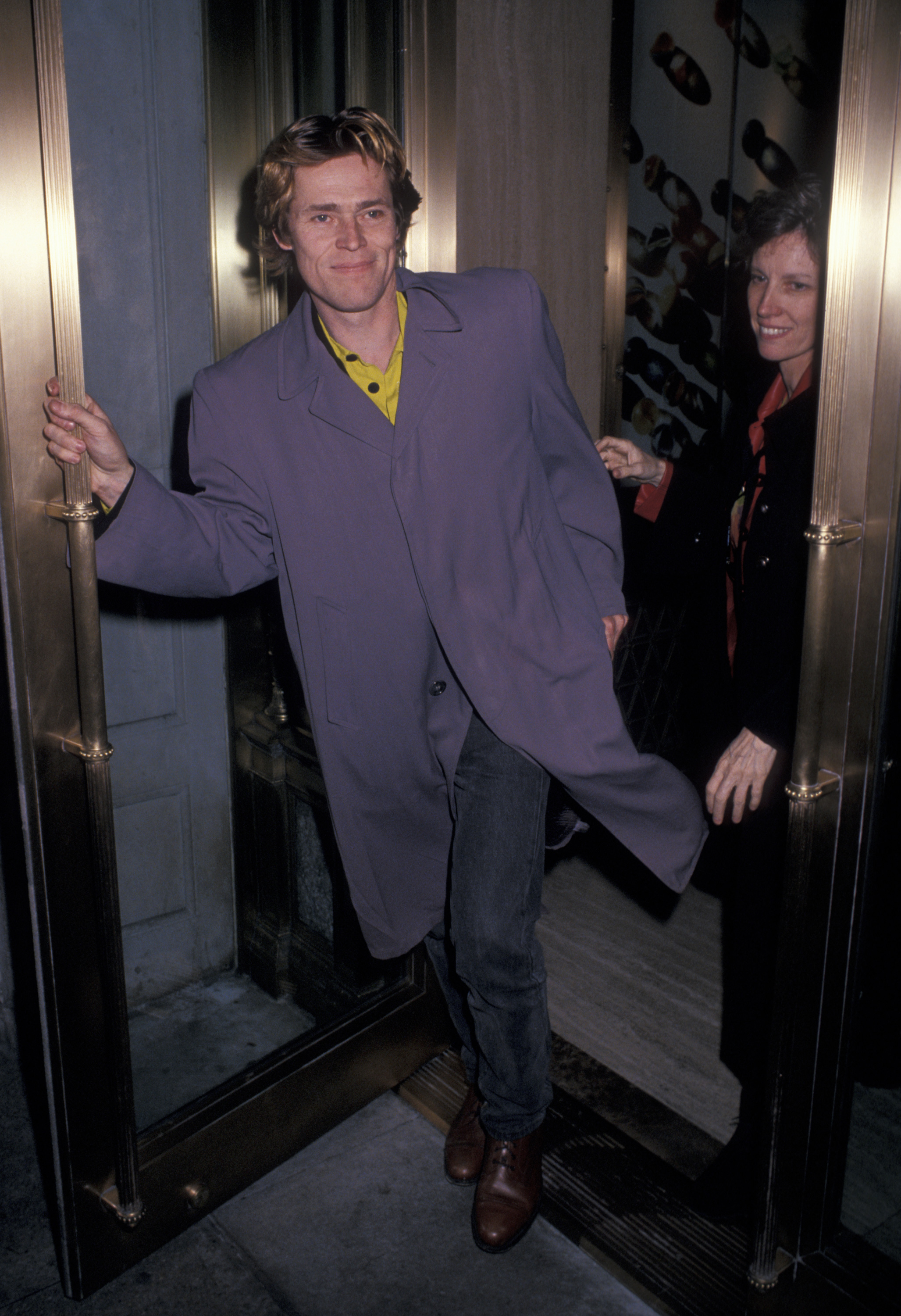 Serial Mom premiere after party, 1994
As seen on Willem as he leaves the New York after party for John Water's Serial Mom premiere, this Raf Simons-esque jacket is chef's kiss.