Images courtesy of MM6 Maison Margiela
MM6 Maison Margiela reveal a collaboration with The North Face for AW20
Leather and zebra-stripes featured, too, making sure you look as sharp in the club as you do when heading home.
|
17 February 2020, 12:11pm
Images courtesy of MM6 Maison Margiela
Martin Margiela was never one to abide by orthodox expectations of what fashion is or should be. From his shows to the clothes to the imagery that portrayed them, his enduring legacy is one of questioning how and why things are as they are, and turning assumptions inside out.
MM6 Maison Margiela AW20 was, then, a fitting tribute to this legacy, turning the runway format on its head. Attendees ambled down dim corridors that joined four rooms in the brutal, concrete-lined bowels of 180 Strand -- every now again a model would purposefully brush past, their stride carried along by coolly pulsing techno. Squint your eyes and imagine the reek of working bodies and you could almost have been wandering the lower reaches of Berghain.
The clothes, too, had a party-ready flair. Wipe-clean black leather pieces -- convex bustier tops, fringe-sleeved shirts, and panelled drainpipe trousers -- were darkroom-ready, the carnal spirit they suggested tempered by correlating garments in white. Bright lurex knits and zebra stripes decorating asymmetrically draped dresses, roll neck tops and a faux-fur coat leant a faded, rock-y glamour -- accented by 70s-inspired D-frame sunglasses. The shoes, sensible suede trainers, or chunky-heeled boots with a chain detail, were fit for hours of stomping on whichever dancefloor takes your fancy.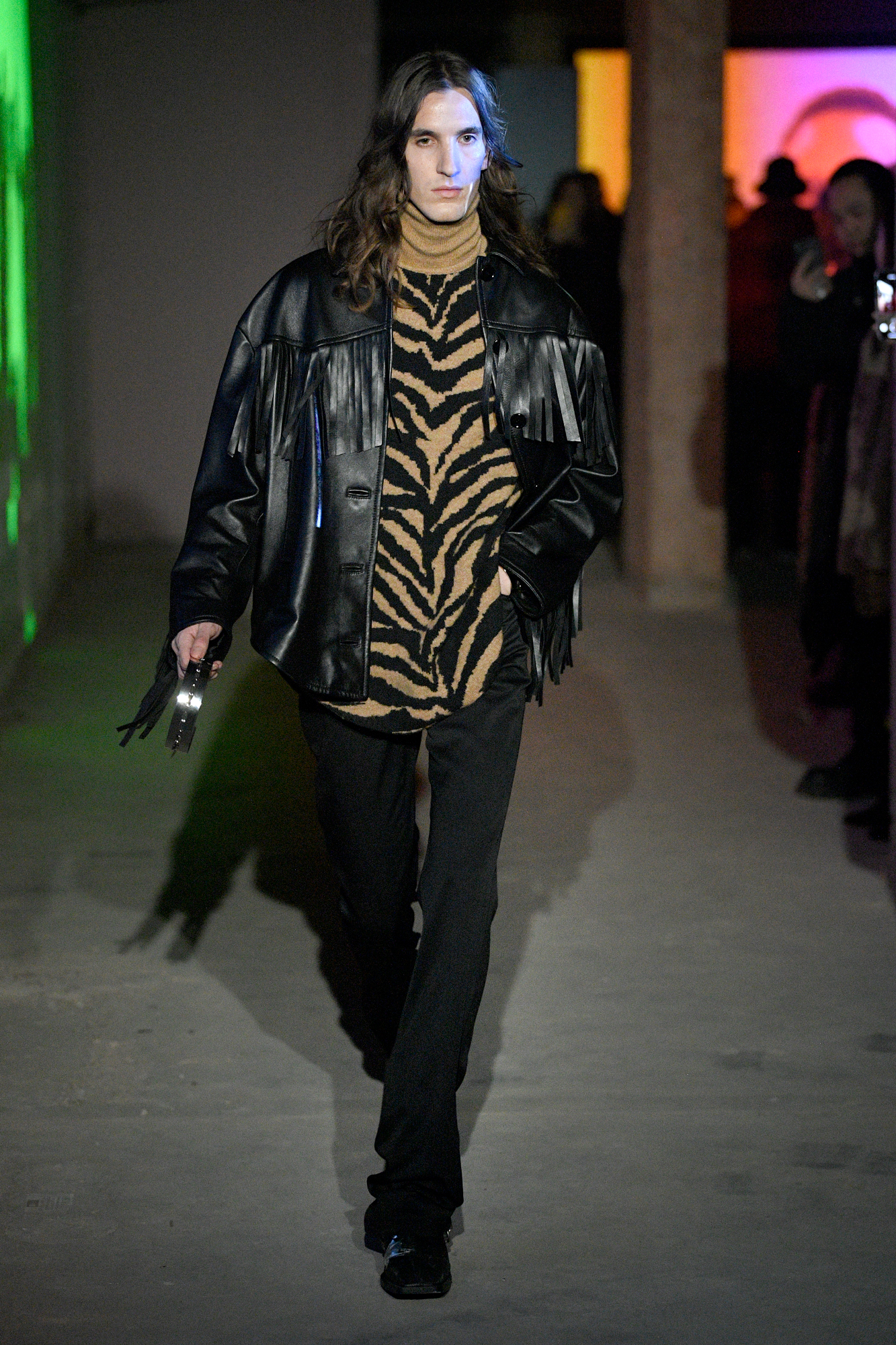 You were also covered for stepping out of the club, too. AW20 brings with it an outerwear collaboration with The North Face, offering idiosyncratically Margiela takes on the brand's best-loved silhouettes. Denali puffers and electric blue windbreakers had zips built into the sleeve seams, as did technical fleece dresses, allowing the wearer to switch between jacket and cape at the flick of a wrist. In the case of a cocoon coat in black nylon and purple fleece, sleeves were subbed out entirely in favour of zippers, creating a sort of customisable puffball gilet. If previous collaborations between the outerwear brand and fashion labels are anything to go by, expect to see queues of steeze-hungry hypebeasts building outside your nearest MM6 store soon.