10 queer films you need to see this year
Including a gay horror, a documentary about drag queen kids and Xavier Dolan's latest project.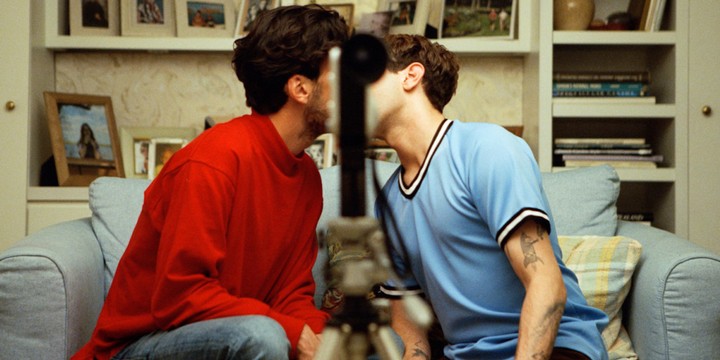 Matthias & Maxime
Since it was first staged over 30 years ago back in 1986, BFI Flare has continued to be one of the most important cultural events on London's queer calendar. This month, the LGBTIQ+ film festival is back to London's BFI Southbank in March, bringing with it a programme that's heavy on activism, rebellion and resistance. But it's not all politics; you can expect films that concern sex, romance, friendship and the body to make an appearance too.

Kicking off on the 18th, tickets are now on sale -- and they usually sell out pretty quickly. But we know trailing through brochures can be as stressful as it is entertaining, and so to help you navigate the large and varied programme, we've compiled a list of some of the excellent stuff on show that you might want to make time for.
Disclosure: Trans Lives on Screen
This documentary, helmed by Orange Is the New Black's Laverne Cox and featuring a number of high-profile celebrities -- including MJ Rodriguez (of Pose fame) and Chaz Bono (Cher's son) -- is an absolute must-see. It chronicles transgender representation in American film and television over the course of 100 years, from stigmatising films like Ace Ventura: Pet Detective (which, you may remember, culminates in a scene where a room full of police officers start retching after it's revealed that the villain, whom it's implied they've all slept with, is a transgender woman -- yikes!) to the present day, when trans people are the subject of far more nuanced and positive depictions.
Matthias & Maxime
One of the undisputed big hitters of queer cinema, Québécois director Xavier Dolan is back. Matthias (Gabriel D'Almeida Freitas) and Maxime (Dolan himself) are two lifelong platonic friends who end up kissing as part of a short film shot by a friend's younger sister. This seemingly inconsequential event ends up having a dramatic impact on their relationship. Matthias & Maxime received rave reviews at Cannes last year, with The Guardian's Peter Bradshaw praising its "tenderness and gentleness".
Lingua Franca
Another film exploring trans issues, this film tells the story of an undocumented trans woman from the Philippines who's living in New York and working as a carer for an elderly woman. Lingua Franca concerns the structural problems she faces, such as her struggle to acquire a green card, as well as her burgeoning, troubled relationship with an American man. Variety praised the film, describing it as "insightful without being heavy-handed."
Clementine
Starring Euphoria's Sydney Sweeney, this indie romance-cum-psychological drama premiered at the Tribeca Film Festival last year, with critics praising the two central performances in particular. It's about a young woman named Karen (Otmara Marrero) who, devastated by the one-sided nature of a relationship, retreats to an isolated lakehouse. As she's beginning to heal, she meets the mysterious Lana (Sweeney) and the two develop a complicated bond.
Pride and Protest
Taking in UK Black Pride, the anti-LGBT education protests in Birmingham, and mainstream Pride events, this documentary follows the day-to-day lives of queer POC activists in the UK. Thought-provoking and humane, it's sure to instigate complex and meaningful conversations afterwards.
Ask Any Buddy
This kaleidoscopic montage of footage from gay erotic films from 1968 to 1986 looks incredible. Mostly deploying clips filmed in gay meccas like New York and San Francisco, it offers an alternative vision of queer history, from the beginnings of gay liberation through the heady, anything-goes 1970s to the crashing comedown of the AIDS crisis. It's an elegy for a lost world of cruising on piers and gay bathhouses.
Drag Kids
Debate is currently raging over whether drag is an appropriate art form for children, either as audience members or participants. Is drag inherently sexual? Is it exploitative? (No, and no.) All of these questions are being twisted now more than ever, making this the perfect time to watch Drag Kids, a Canadian-American documentary which looks at the lives of four different drag queen kids as they rehearse for an important performance at Montreal Pride.
Spiral
The festival describes this horror film as "a gay variation on Get Out" which sounds... amazing, particularly if it manages to emulate the razor-sharp social satire of Jordan Peele's 2017 thriller about race relations in America. Spiral concerns an interracial gay couple who move to a small Canadian town in the mid 1990s, only to find themselves terrorised by their neighbours. Gay horror is still a somewhat under-explored genre (if you ignore all the memes about queer icons Pennywise and the Babadook anyway) so we're excited to see how the grim realities of homophobic violence might play out on the big screen.
Moffie
This South African film, directed by previous Cannes Queer Palme winner Oliver Hermanus, received rave reviews when it premiered in Venice last September. Set in 1981, at the height of the Apartheid era, the film tells the story of 16-year-old Nicholas who must undergo a compulsory two years of military service. His efforts to survive this brutal, homophobic climate (the film's title is a slur meaning 'gay') are complicated even further when he begins to develop feelings for a fellow conscript. File this one under: 'Not an easy watch, but glad you saw it'.
The Prince
"Sebastián Muñoz's directorial debut is a bold and erotically charged exploration of recent history which reveals an unexpected tenderness at its heart" -- this was the verdict of the Venice Film Festival Jury, when it awarded this Chilean film (also known as El Principe) the prestigious Queer Lion award for best LGBT film. Set in a prison in San Bernardo in the early 1970s, it's a story of jealousy, love and power, charting the life of a young prisoner convicted of a mysterious crime.
London LGBTIQ+ Film Festival in on 18 – 29 March at BFI Southbank. Buy tickets here.