Photos courtesy of Getty Images
7 of Kate Bush's most iconic outfits
The ethereal "Running Up That Hill" singer and latest Gen Z obsession paved the way for the popstars of today.
Photos courtesy of Getty Images
Otherworldly, ethereal and incandescent are three of the words most commonly used to describe the magic of Kate Bush. But even these seemingly precise descriptors offer only a grasping description of the British singer's legacy from her fantastical songwriting and her singular vocals to her dream-like visuals. The prodigious chanteuse began writing her own songs at age 11 and went on to become the first female artist to top the UK Singles Chart with a self-written song — as a 19-year-old, no less — and release ten studio albums, all of which have reached the UK Top Ten.
Now, her music is once again on the pop culture radar after an intense scene from Stranger Things season four was dramatically soundtracked to her iconic 1985 song "Running Up That Hill (A Deal With God)". With it, Kate got her first US top-ten hit and an onslaught of new Gen Z fans who weren't around for when her music was originally charting.
But Kate Bush has always been a genre of music unto herself with a strong lasting legacy; her expansive oeuvre has influenced artists from St. Vincent to Tricky and paved the way for the next generations of art pop stars from Madonna to Björk to Charli XCX. Here, we look back at the elusive songstress in the late 70s and 80s, through her most iconic outfits.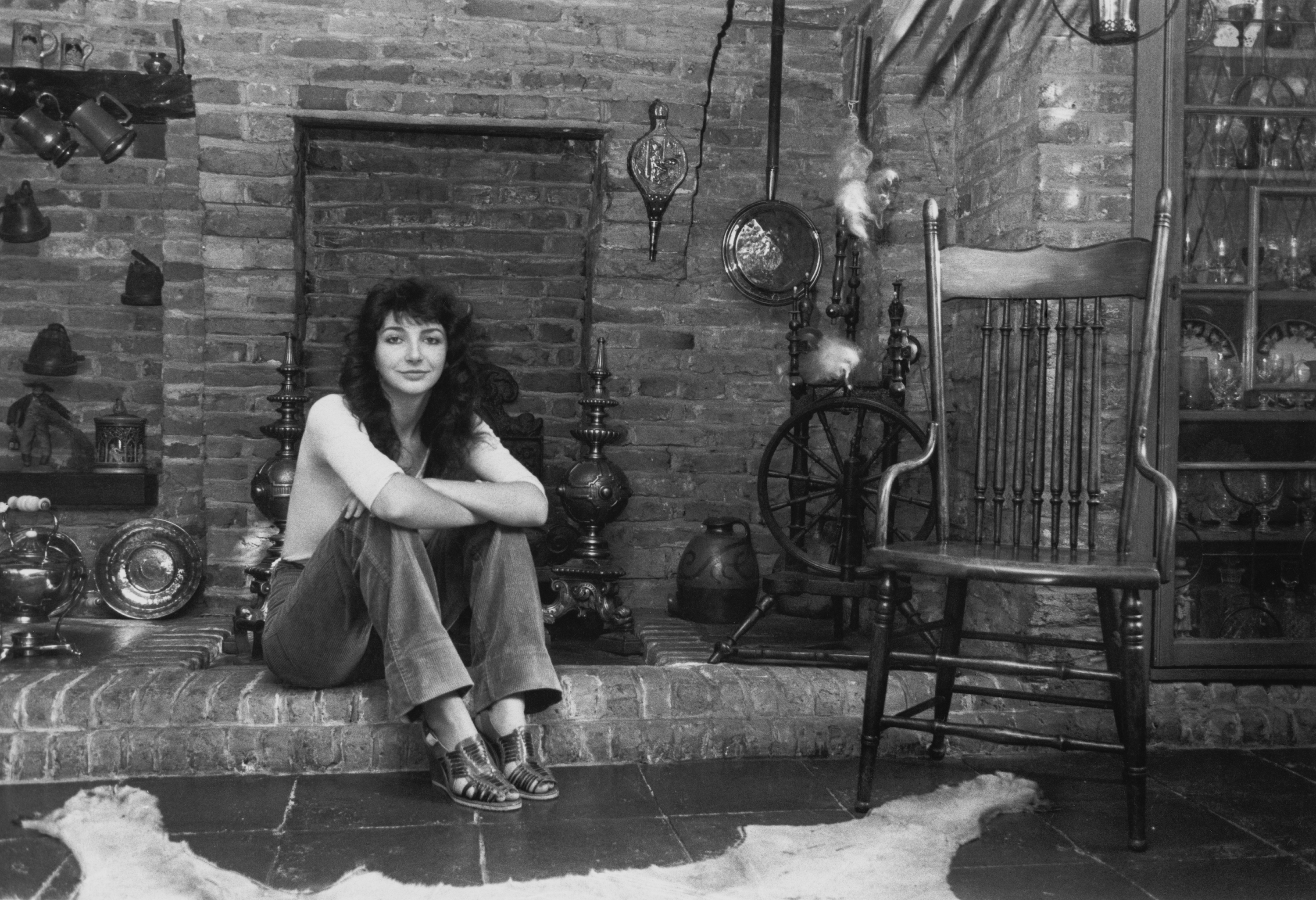 At her family home in London, 1978
Considering the mythic quality of Kate Bush, herself, it's easy to forget that the singer grew up in a fairly conventional family in Kent, England. Her mother was a nurse and her father, who was a doctor, played the piano. Her brothers were into alternative rock (Fleetwood Mac, Pink Floyd, et al.) and each played in a pub band. Her family's musical influence inspired Kate to teach herself the piano at age 11. By the time she was scouted by Pink Floyd's David Gilmour at age 15, she had written over 100 songs, including Top 10 single "The Man With the Child in his Eye." Pictured in her family's home, Kate wears one of her preferred casual looks: cozy sandals, jeans and a leotard in lieu of the typical T-shirt.
In the "Wuthering Heights" music video (UK version), 1978
At age 18, Kate Bush wrote her debut single "Wuthering Heights" within a few hours on the night of March 5, 1977. That evening, Kate had caught the final five minutes of the BBC's 1967 adaptation of Emily Brönte's novel of the same name. The song is written from the perspective of the film's heroine, Cathy Earnshaw, during these final moments; she appears as a ghost outside her lover Heathcliffe's window, begging him to let her inside. "Wuthering Heights" was a runaway hit. It was the first female artist-penned single to top the UK Singles Chart, where it stayed for four consecutive weeks, and it remains Kate's most successful single to date. The accompanying music video, released in the UK, is as haunting as the song itself. Kate embodies Cathy in a white chiffon dress which seems to emit an otherworldly glow.
Performing on The Tour of Life in Amsterdam, 1979
The Tour of Life, in 1919, was Kate Bush's first and only concert tour. A spectacular of the highest caliber, the show featured song, dance, mime, poetry readings and a magic show. Unprecedented in the grandeur of its production, Kate's singular tour has become the benchmark for performing artists from Florence Welch to Björk. It also spawned the invention of the wireless microphone, which was later made famous by Britney Spears and is standard for modern pop stars. Did we mention that the show featured 17 costume changes? Across the 24-song setlist Kate becomes a magician, a butterfly, a cowboy… the list goes on. Here, at the Amsterdam show, she wears one of her many glittered leotards and a pair of very 80s leg warmers.
In the "Babooshka" music video, 1980
Of Kate's ability to 'switch on' during performance, her longtime photographer-collaborator Guido Harari told The Guardian, "She seemed to be this shy girl then, suddenly, this wild beast came out." Others have shared similar words: "She was extremely shy, extremely timid," divulged her former dance instructor Lindsay Kemp. "[But] once Kate actually started dancing, she was a wild thing." Nowhere is this duality demonstrated more than the music video for "Babooshka." Author Katherine Angel, who was interviewed for BBC's The Kate Bush Story, describes the clip as "classic Kate Bush" — "when the chorus kicks in, she becomes this other version [of herself], [this] crazier version. She's performing this crazy, unhinged woman. And that's clearly a side to herself that she brings out in these songs." During the song's explosive refrain, Kate channels her alter-ego with a metal headpiece, chainmail bikini and a sword holder-garter — a costume inspired by the cover illustration of 1978 fantasy novel Raven - Swordmistress of Chaos.
On the Hounds of Love album cover, 1985
One of Kate's most iconic outfits isn't even an outfit, but rather, a swathe of purple fabric. The look in question covers Kate's 1985 album Hounds of Love, the singer's second number one LP and, arguably, her career's masterwork. The famed photograph, snapped by Kate's brother and frequent collaborator John Carder Bush, was notoriously difficult to shoot due to the fidgetiness of Kate's canine companions. After some sweet treats, the titular hounds quieted down long enough for John to capture the shot we all know and love: Kate in her signature kabuki-esque make-up, a wild purple streak in her hair, wrapped in a length of ethereal organza.
In the "Running Up That Hill (A Deal With God)" music video, 1985
The lead single from 1985's Hound of Love, "Running Up That Hill," was, and continues to be, Kate's most popular song globally. Currently, it's having a recent revival and dominating TikTok ever since it was featured in season four of Stranger Things. In the 18th issue of the Kate Bush Club newsletter, she writes, "This song is very much about two people who are in love, and how the power of love is almost too big for them. It leaves them very insecure and in fear of losing each other." The song's incredible emotionality — fear, desire, longing and back again — is portrayed through dance in its accompanying music video. The choreography, performed by Kate and dance partner Michael Hervieu, draws upon contemporary and interpretive dance, and features the repeated gesture of drawing a bow and arrow to symbolize love's pangs. The music's gravity is embodied by the duo's stoic costumes — two sweeping grey Japanese hakamas.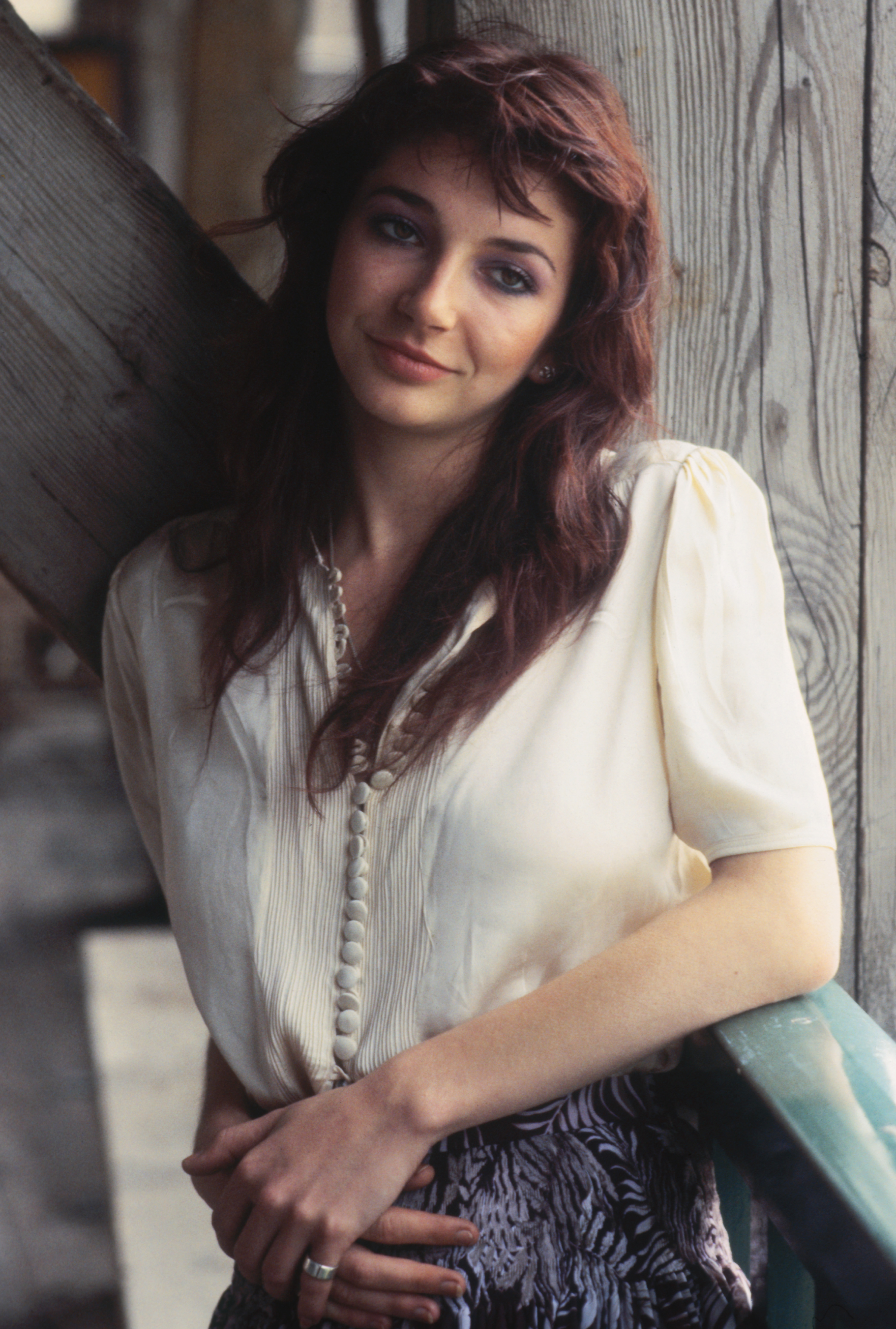 Off-stage style, 1985
While Kate's on-stage outfits were notoriously eccentric, her off-stage style represented a more low-key, albeit equally idiosyncratic, side of the singer. In the studio, she frequently wore brightly-colored kimono tops with jeans. To and from airports, she wore oversized blazers and her beloved red knee-high boots. During interviews she was photographed in patterned jumpers — very British. She often integrated dancewear — leotards and satin leggings — into her day-to-day outfits, perhaps by pairing a bodysuit and electric blue trousers with simple white trainers. Here, Kate wears her preferred bohemian-esque look: a dainty puff sleeve top with a long, patterned skirt.