Photography Isné Bobo Nuyent
Eric Nam on what it's like to be an American K-pop star
After cancelling the tour for his first all-English EP 'Before We Begin', the Atlanta native has been thinking about how to push the genre forward.
Photography Isné Bobo Nuyent
When Eric Nam got off the bus in Los Angeles, for the first of his last two U.S. stops on his "Before We Begin" tour, he had no idea the concert would be postponed mere hours before showtime. Just two days prior, he had successfully performed in San Francisco, and after playing over 30 shows across the States —the most extensive Stateside tour to date for an artist in the K-pop ecosystem — the Korean-American singer was excited to play LA. He had labels coming in to see him, singer-songwriter friends, and people who had helped him throughout his career. But on the day of the show, the Los Angeles mayor ordered the postponement or cancellation of all non-essential gatherings of 50 or more participants in an effort to slow the spread of COVID-19. Through social media, Nam announced the postponement of his last two LA shows for September. He later cancelled the Latin American leg of the tour and held off on announcing other regions.

Instead of gearing up for his show in Mexico City as originally scheduled, Nam talked to i-D over the phone as he was practicing self-isolation in an AirBnB in Los Angeles. "It felt like we never got closure on anything, so it feels kind of weird," the 31-year-old said with a laugh about the sudden halt of the tour. "But that's life, and obviously health is more important."
The Atlanta native embarked on the "Before We Begin" tour back in January after releasing his first all-English language EP by the same name last fall. The album was a melodic pop collection of love songs co-written by Nam based on his life experiences. The lyrical content — from celebrating a break-up on "Congratulations" to two lovers lusting over each other on "You're Sexy I'm Sexy" to not letting a relationship end on "Love Die Young" — was more forward and mature than what his music in Korean has been, showing off a new side that diverged from the prim image K-pop artists typically portray. Musically, the album breezes through R&B tinged tracks to ballads to ambient pop. Before We Begin was intended as a feeler album that bridged Nam's glossier pop material as a K-pop star to the pop artist he wants to be as he moves forward in his career, and the tour was the manifestation of this transition.
"I think overall this tour for me was a very meaningful experience and I hope I can look back one day and say that it was a very pivotal moment, where everything that I did reflects in ways that really builds my career as a musician in the future," Nam said.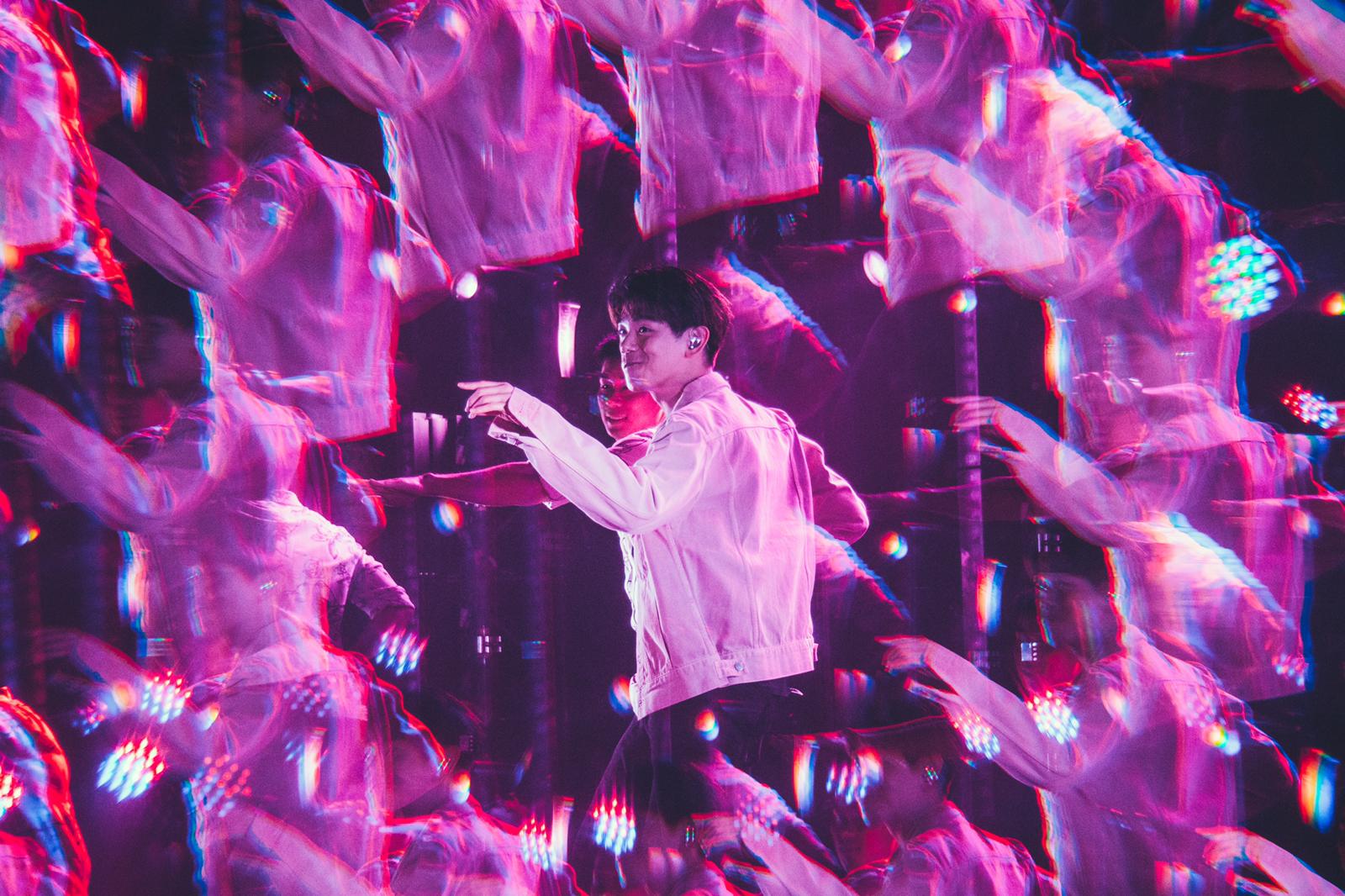 After building a successful career as a singer, interviewer, and TV show host in South Korea, Nam is finally trying to find his way back home, and Before We Begin was his first step in that direction. "My entire mission of being in Korea was to be able to come back to the States and do stuff in the States," he explained. "Because back when I started, there was no Asian face in music. There was no Asian face really on TV either. So my idea was, 'Let's go Korea, get big there, and then reverse engineer it so they can't ignore us when we're back."
To be an "Asian face" in music in America, the Atlantan gave up a lucrative job in the finance world to go to South Korea to compete on an American Idol-like TV show and chase his musical dreams. And though he didn't win, he signed with an entertainment label and began a career as a soloist. Throughout the years, Nam positioned himself as one of the most prominent K-pop artists for international audiences, given he was a fluent English speaker and his overall approachable demeanor.
Over the years, Nam crafted an experimental discography that ranged from ballads to EDM-pop bangers. He also collaborated with big names in both the K-pop world and the global music market, like "Spring Love" with Red Velvet's Wendy, "Cave Me In" with Tablo from Epik High and Gallant, and "Body" with Timbaland.
But after spending 10 years in Korea, Nam now wants to build his name in the States, and he feels that this is the perfect time culture-wise. "When we first started and we were trying to push the envelope of being like an Asian face in music five, six years ago, people were like, 'No, nobody thinks Asian people are cool. Nobody thinks Asian people are sexy. We don't need this in music,'" he recounted. "Now it has changed where labels are saying, 'Ok, let's actually talk. Clearly we've been late to the game.' And everybody is still late to the game because my point is still this: Where do you see an Asian face in Asian-American music? Who is there? There's barely anyone."
Though there's still a long way to go, Asian representation in music has become more visible in recent years. Joji and Rich Brian, together with the rest of the 88rising artists, have been spearheading an Asian movement in music on a global, mainstream scale. Different K-pop groups have been breaking all kinds of records, which in turn have caught the attention of American labels. But as Nam pointed out, Rich Brian is from Indonesia and Joji from Japan. In the case of K-pop groups, though the nationalities and backgrounds of individual members can vary, they're still developed in South Korea. The last couple of years have seen groups like NCT 127, Monsta X, Blackpink, TXT, and more sign global distribution deals with different American record companies, a trend that doesn't seem to be stopping soon.
In a moment of candidness, Nam expressed his frustration with record labels flocking towards K-pop just for its streaming and sales numbers. "That's what I don't like about this right now," he said. "Don't get me wrong, I'm excited that people are trying to do this with groups. But to be very blunt, what it looks like to me is like a numbers grab. Like, 'Oh these people have a couple million followers and they get these views, let's just sign them.'"
Despite K-pop's growing popularity, it is still othered in the U.S. by the media and public, and Nam thinks that ultimately hinders his career. The singer added that what he wants to see happen is to find a label partner who will put their A&R and marketing dollars behind him because they share his vision and stand for diversity and inclusion of Asian American artists —not just because he comes from the K-pop world. "I don't want to be an import. I am an American," he said, referencing not wanting to be boxed as a K-pop artist forever. "If I could choose, I would like to just say [I'm a] pop artist, because I would like to be seen and I would like to be treated in the same way as any other pop white, black, American artist is treated here. And I want my music and my performance and my personality to be taken and treated the same way."
COVID-19 may have stalled Nam's plans for an American takeover, but he's still working on new music, content-related projects with tech companies, and his various podcasts. He even launched a new podcast two weeks ago that plays with the idea that everyone's at home with nothing to do called "Commit or Quit," where him and his brothers, Eddie and Brian, watch the first two episodes of Korean dramas and movies and decide if they want to keep watching while contextualizing the cultural references for foreign audiences.
At the beginning of the call, Nam said he was feeling overwhelmed by the entire situation, but by the end, he was looking at the silver lining. "I feel like people have a little bit more time on their hands, so they've been able to get in touch with people they haven't been in touch with before. And we start to have conversations of what it means to be a part of a bigger community, of a global community. And how we tackle issues together. And while we're not all the same or we're not all alike, it's important that we're able to have these meaningful conversations, Nam said. He called this a time for people to take a step back and reevaluate what's important. "Not trying to make light of any horrible situation, but I think that if there's something that we can look to and learn from or like say 'Ok, this is still important,' those type of takeaways I think that are good right now in this moment."