Watch Inner Wave's new dreamy desert music video
The LA-based indie rockers premiere the surreal visual for Oof, shot by Phillip Youmans.
|
16 December 2019, 6:01pm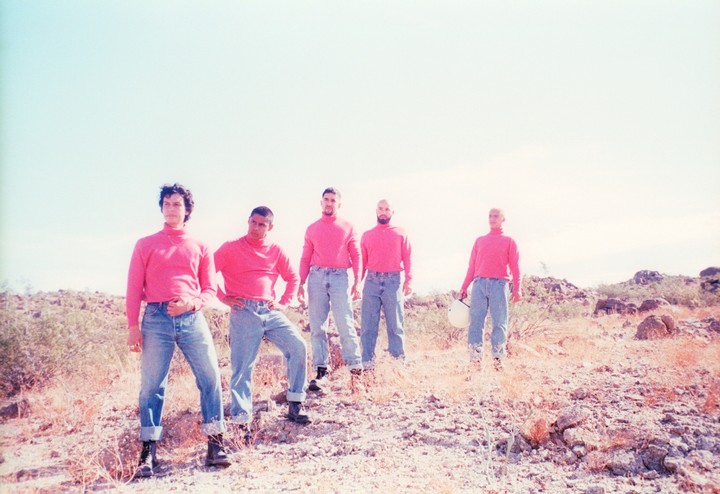 There's always been something cinematic about the sound of the LA-based indie rockers Inner Wave. So the stunning new visuals for the group's dreamy single "Oof" shouldn't be any surprise, especially considering it was directed by award-winning teen filmmaker Phillip Youmans.
The surrealistic video for the single from band's 2019 wya EP was filmed around a geodesic dome in the desert vistas of California's Joshua Tree, where the five-man band leads some kind of retrofuturist cult gathering. Chris Runners (keys/vox) rides one-handed on a motorcycle through winding desert roads, while singer Pablo Sotelo (guitar/vox), Jean Pierre Narvaez (bass/vox), Elijah Trujillo (guitar/keys), and Luis Portillo (drums) take part in a curious rites of passage that includes everything from drawing a bath in the sands of the Mojave to shadow boxing. The powerful and unconventional new video is a perfect representation of why Inner Wave is being hailed as leaders in a new movement of romantic stoner music, alongside LA artists like Bane's World and Cuco.
Formed in Inglewood, California when the bandmates were just teens, Inner Wave has spent the last decade honing their skills in a garage-turned-recording studio called the Swamp at the childhood home of Sotelo. Although they began as a Christian rock band, over the course of four studio albums, their sound has evolved into the perfect mix of the despondent poetry of Julian Casablancas and the psychedelic pop of Ariel Pink that it is today. This year they've been on a roll, not only dropping the stellar wya EP, but also the funky single "Rose."


i-D caught up with Inner Wave and Phillip Youmans to talk about the ideas behind the new video and how it all came together in the first place.
How did the song "Oof" first come together?
Pablo Sotelo: With the wya EP, I started experimenting by writing from a character's point of view. "Oof" came from this idea of fame and having strived for it but ultimately feeling trapped by it. The parts where my voice is auto-tuned is me in the future writing to myself in the present—almost like a guardian angel.
How did Inner Wave connect with Phillip ?
Chris Runners: Phillip was shooting a short film for Danny Cole and we were part of the cast. So we ended up spending a lot of time together. Eventually, I showed him a demo of "Oof" and asked if he wanted to direct the video for us. He was really excited about it and said "yes" immediately. He came back two days later with 90 percent of the concept done.
Phillip, what drew you to "Oof"?
PY: Those chords in the beginning hooked me, as did my fascination with digging into the depth of the meaning behind the lyrics. It's safe to say I had a visual experience with the music instantly. I was brought on a trip to a very ethereal, cosmic place. The first and primary word that came to my mind was "retrofuturism," which dictated my stylistic choices.
This video feels significantly different than the other visuals you've put to your songs.
CR: Many of our previous releases have been performance-based or narrative-based videos. But I think we have always wanted to do a completely conceptual music video like this with no rules. We just wanted to explore something we haven't done before.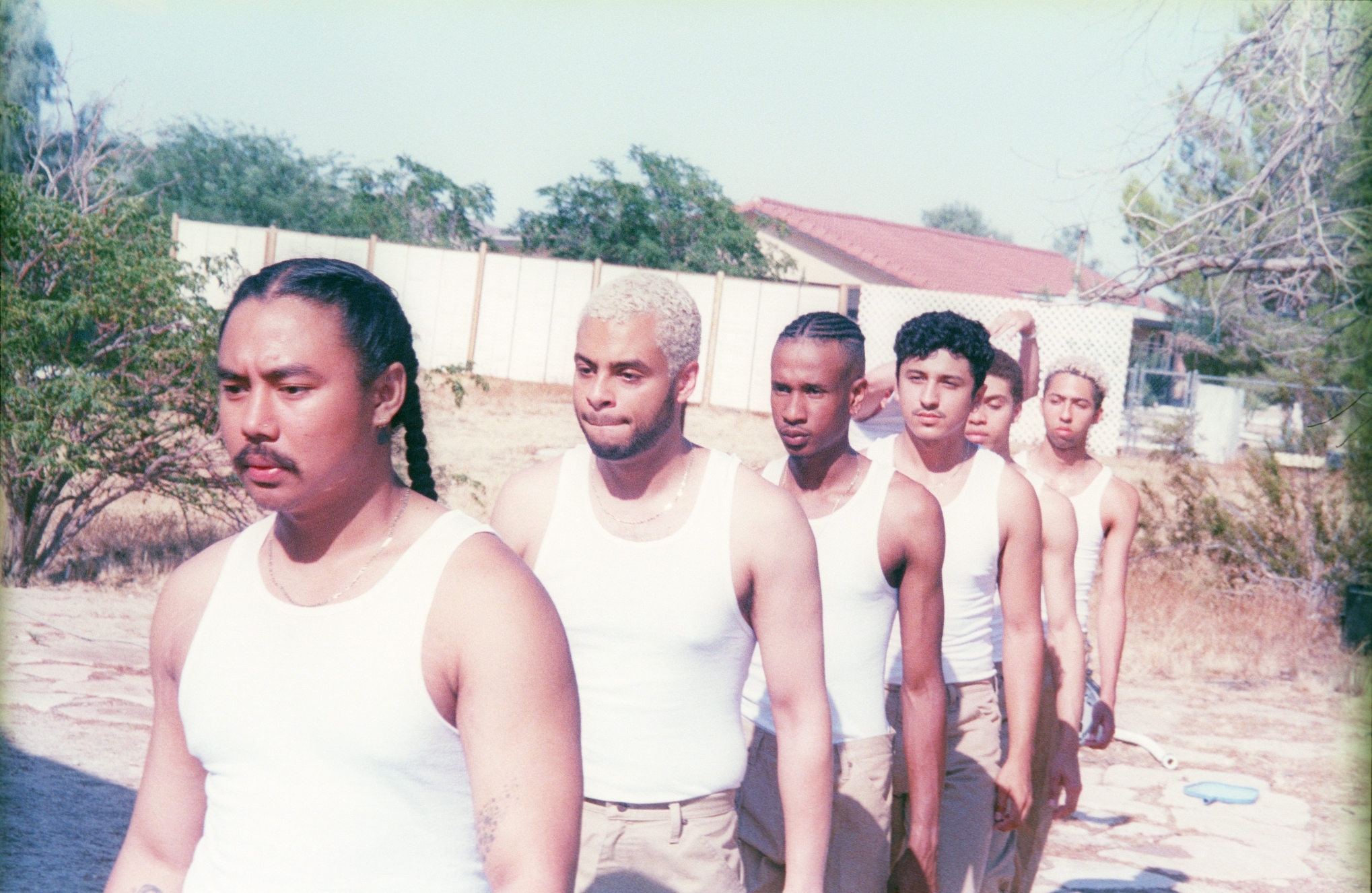 What were you trying to convey with the images in the video?
PY: I wanted to have a surrealist, dreamlike experience with an isolated group of young men who are running away from conformity. Although they remain individuals, their conformity is reengineered and reinforced. It's a video of overt contradictions and subtle masochistic [behavior]—wearing sweaters in the desert is one of them.
How'd you all settle on the location of Joshua Tree for the video?
CR: We both wanted to create a retro-futuristic vibe and the desert seemed like the perfect place. I wrecked my car two-months before we shot the video and ended up getting a motorcycle instead. Once I showed Phillip pictures of the bike, he wanted to put it in the video. So he ended up re-writing a lot of scenes.
What was it like shooting the video?
CR: It had its ups and downs. The location was gorgeous. But as soon as we arrived, I ended up getting into a motorcycle accident when my bike lost grip in the sand and I ate shit! I had a fractured rib, torn thigh muscle, and road rash all over. This was all before we even shot the first scene. By the second day of shooting I could barely walk, but it was all worth it.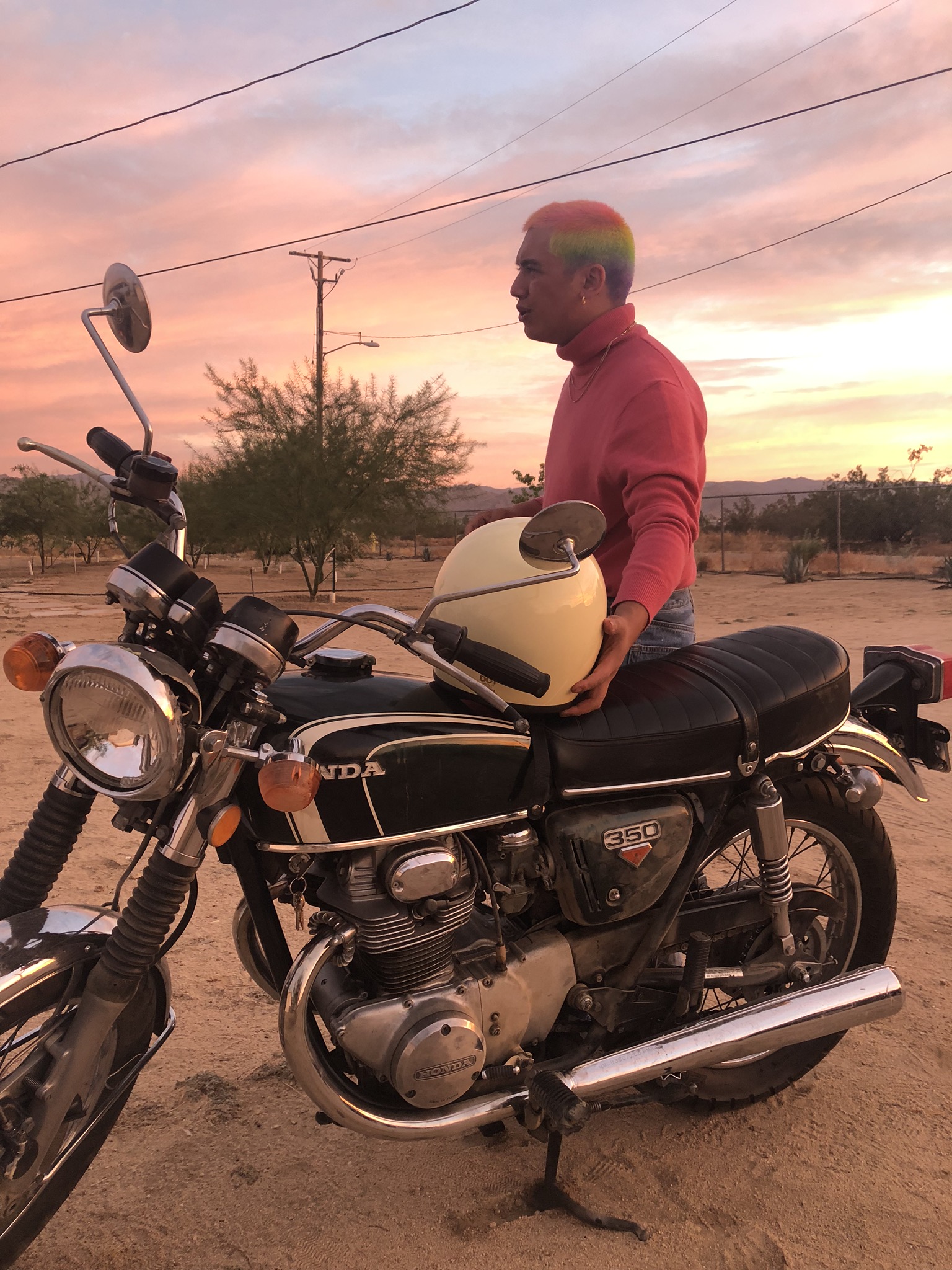 What are you all working on next?
PY: My primary focus is my next narrative feature about the New Orleans Panthers. I'm deep in development.
PS: We have a new EP coming out next year. We've been working meticulously to make it as cohesive as possible. It's nighttime driving music.