Photo by Ron Galella/Ron Galella Collection via Getty Images.
7 of Mary J. Blige's most iconic outfits
The Queen of Hip-Hop Soul is also the queen of coordinating outfits and sunglasses on the red carpet.
Photo by Ron Galella/Ron Galella Collection via Getty Images.
Mary J. Blige is the de facto Queen of Hip-Hop Soul. Since being signed as a backing vocalist to Uptown Records in 1989, the R&B-singer-slash-actress has carved out a legendary career for herself that has spanned the realms of music and film. With her soulful vocals and unique narrative-driven lyrics, Mary became the 90s break-out R&B artist, all while redefining the genre with a hip-hop edge. Along with myriad multi-platinum albums (What's the 411?, the iconic My Life and more), nine Grammys, twelve Billboard Music Awards and four AMAs, Mary is also an acclaimed actress, nominated for both the Oscar and Golden Globe for her breakthrough performance in 2017's Mudbound. In addition to the endless accolades, the songstress is a fashion and style icon, making her mark on the 90s and Y2K music scene with her trademark shades, coordinating outfits, knee-high boots and more. Here, on the event of Mary's 50th birthday, we chart her career with a look back on some of her most iconic looks.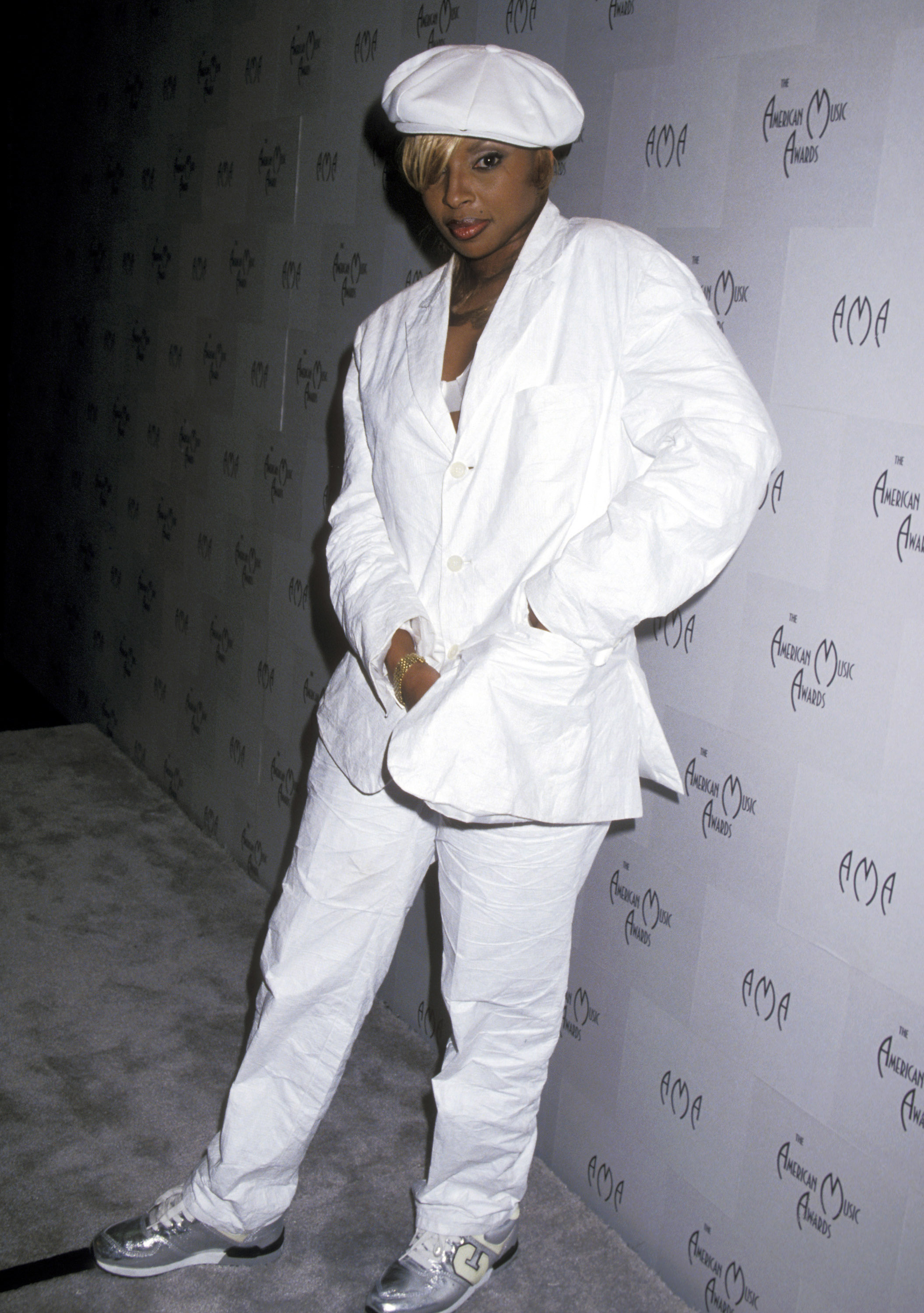 At the American Music Awards, 1995
Born in the Bronx and raised between Savannah and Yonkers, Mary got her first record deal as a backing vocalist at age 18. Three years into her contract, in 1992, she began work on her debut solo album with producer Sean Combs (aka Puff Daddy). What's the 411? — the album in question — went on to sell triple-platinum and poised Mary — both critically and commercially — as the 90s' breakthrough R&B artist. Off the massive success of her debut, the singer released her now-iconic sophomore record My Life in 1994. Unanimously regarded as Mary's masterwork — the album is listed on both Rolling Stones' and Times' "Greatest Albums of All Time" lists — My Life cemented Mary's unique take on the R&B, one that infused the genre with a hip-hop edge and the singer's unique narrative lyricism. Here, a few months after its release, Mary attends The American Music Awards in an all-white get-up: oversized cotton suit, newsboy cap and silver sneaks.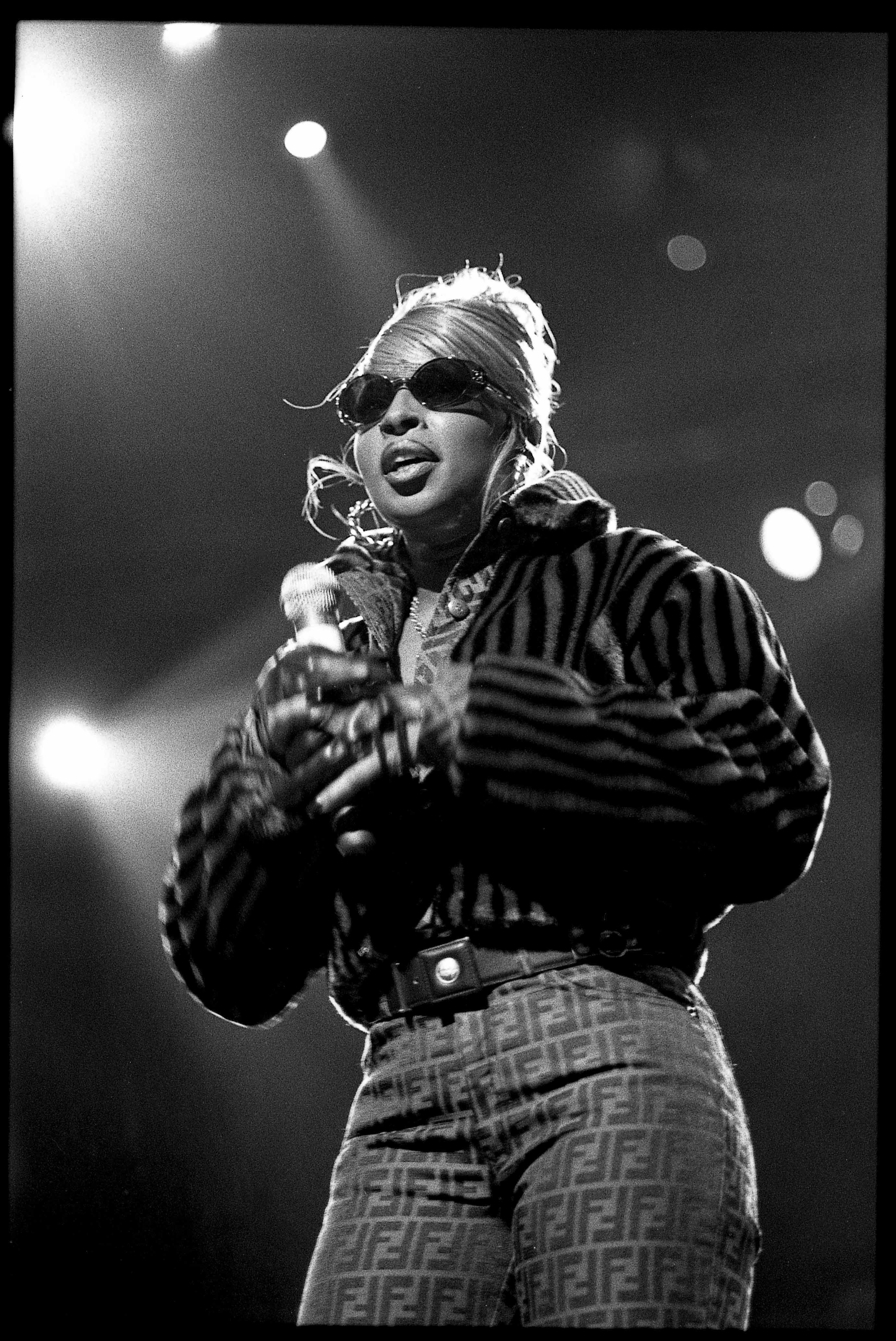 Performing in New York City, 1995
Logomania, as we know it today, actually originated in the late-80s, early-90s hip-hop scene. And as one of R&B's most stylish women, Mary was no exception to the trend. Here, performing at Madison Square Garden, Mary wears a coordinating Fendi look: the label's signature striped fur jacket and logo-emblazoned jeans. And the singer's devotion to the Italian house runs deep. Mary famously wore a pair of white Fendi shades on the cover of her third album, Share My World, and continues to wear the label's logoed-out garments on the red carpet to this day.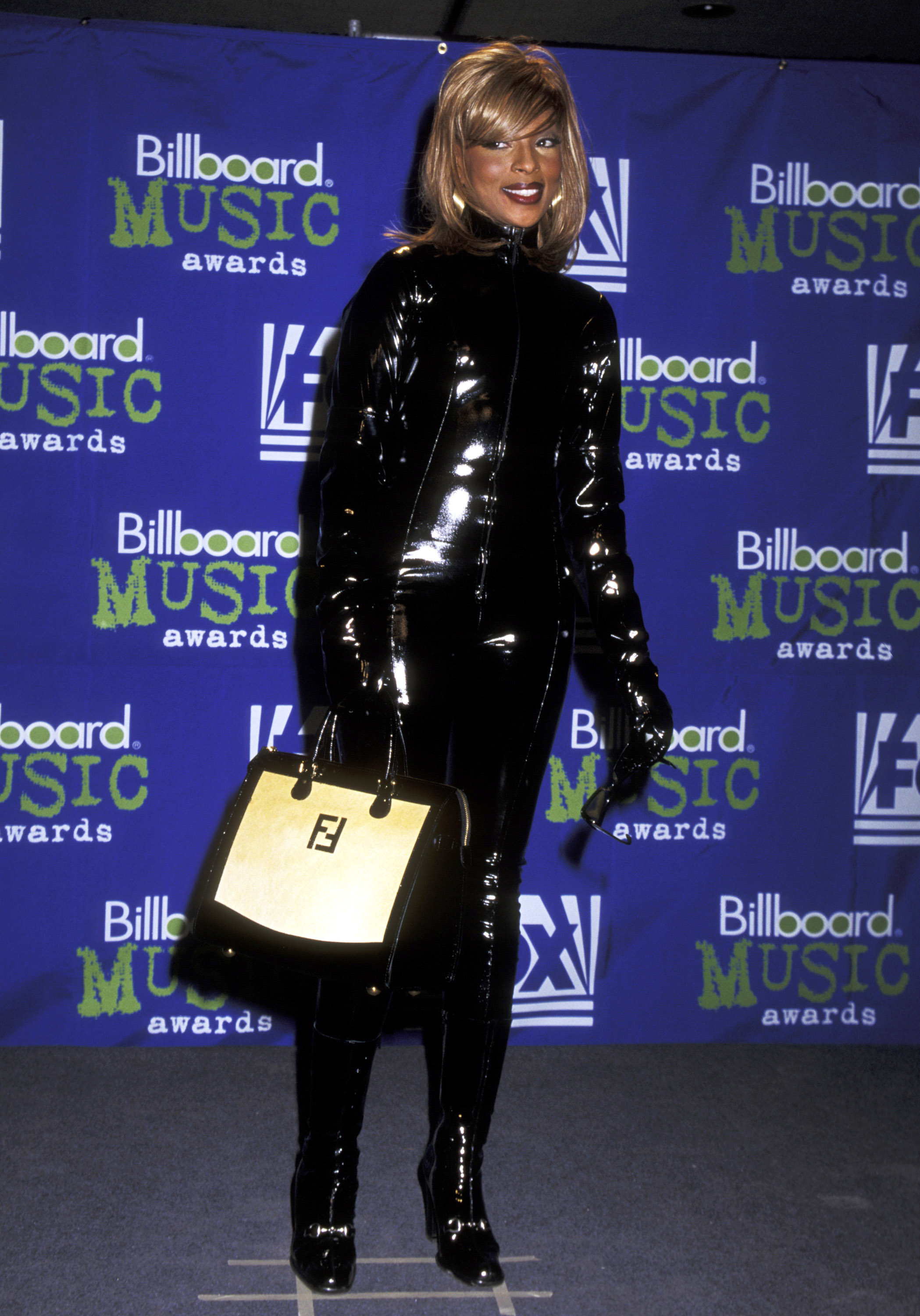 At the Billboard Music Awards, 1995
To collect her award for Best Hip-Hop/R&B Album for My Life, Mary pulled up to the Billboard Music Awards in what is, hands down, one of her most iconic looks of all time: a full latex suit, Gucci horsebit boots and Fendi tote, of course. Clearly a fan of this goth-y glam look, Mary arrived to the 1999 Billboard Awards, four years later, wearing a similar head-to-toe leather outfit.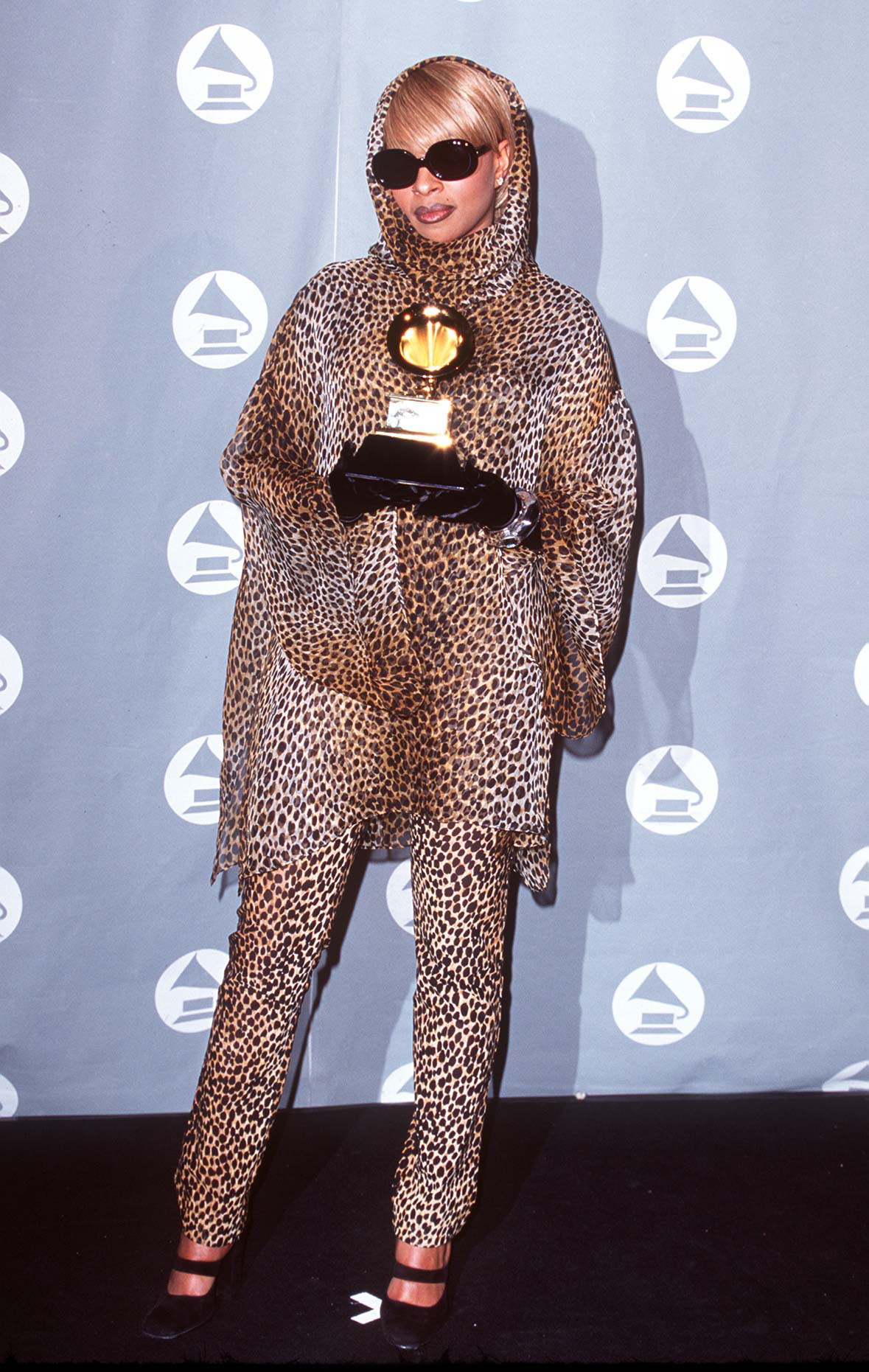 At the Grammys, 1996
No one wears shades like Mary J. Blige. Whether on the red carpet, performing at Madison Square Garden or even being photographed for her album cover, the R&B singer is likely wearing a pair of her signature sunglasses. Here, after accepting her Grammy for Best Rap Performance by a Duo or Group, with Method Man, she pairs a set of retro-leaning round shades with a head-to-toe hooded leopard look, Mary Jane heels and leather gloves. Fun fact: Mary even launched her own line of sunglasses in 2010.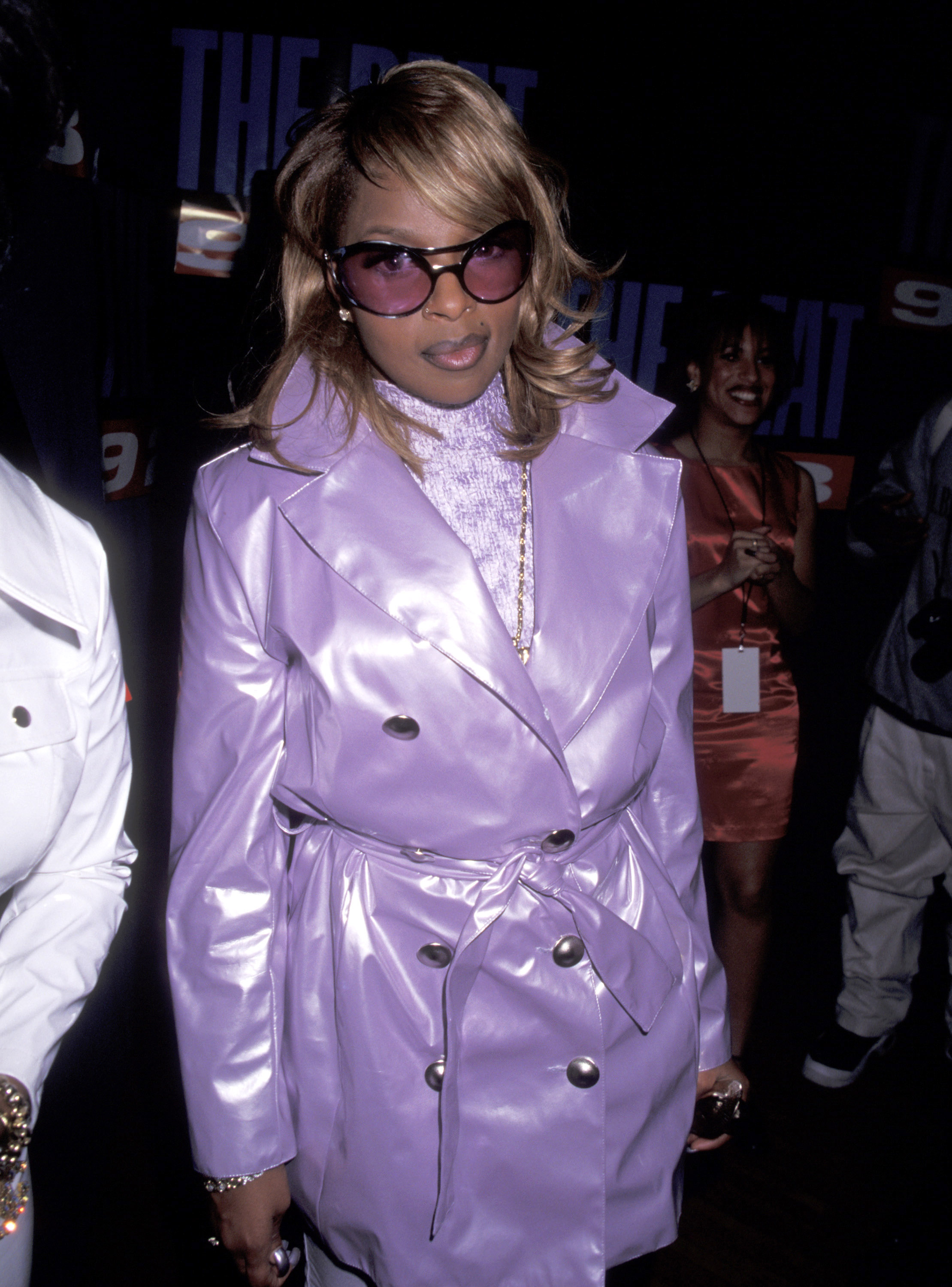 At the Soul Train Awards, 1996
Mary is queen of the coordinating outfit. From the stage to the red carpet, the R&B singer-songwriter has been photographed, more often than not, wearing full monochromatic looks, with accessories to match. She's done head-to-toe orange velvet, red leather, spangled dark-wash denim, pink sequins — the list goes on. Here, at the Soul Train Awards in 1996, she wears a full lavender fit, from leather jacket to turtleneck and — of course — her signature shades, lilac-tinted, to match.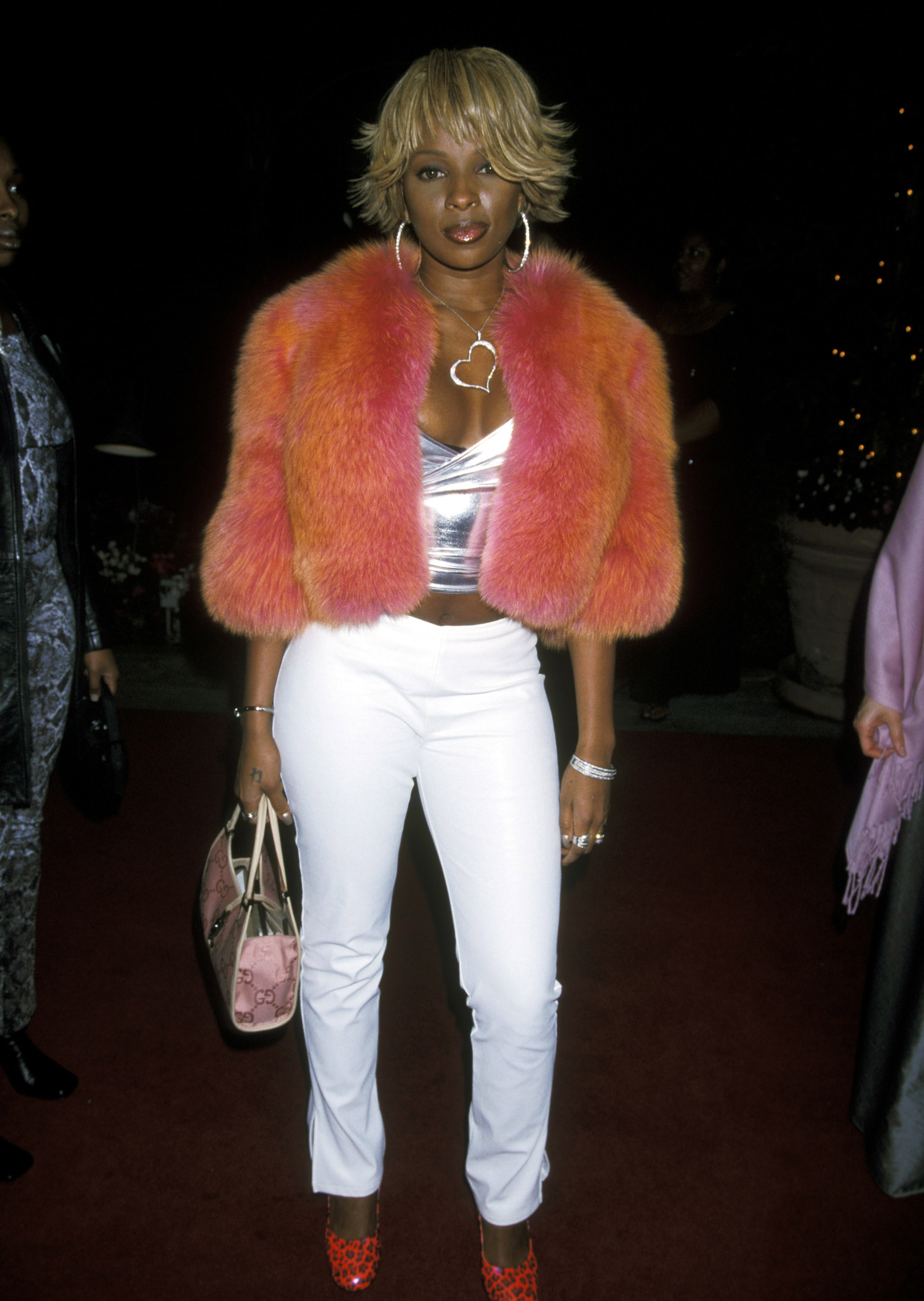 At the Grammys pre-party, 2000
A quintessential Y2K look. Worn by Mary to the Grammys pre-party in 2000, this outfit's got all the best turn-of-the-millennium trends: colourful fur chubby, metallic crop top, tiny Gucci bag, giant hoop earrings and pendant necklace, and bright leather pumps.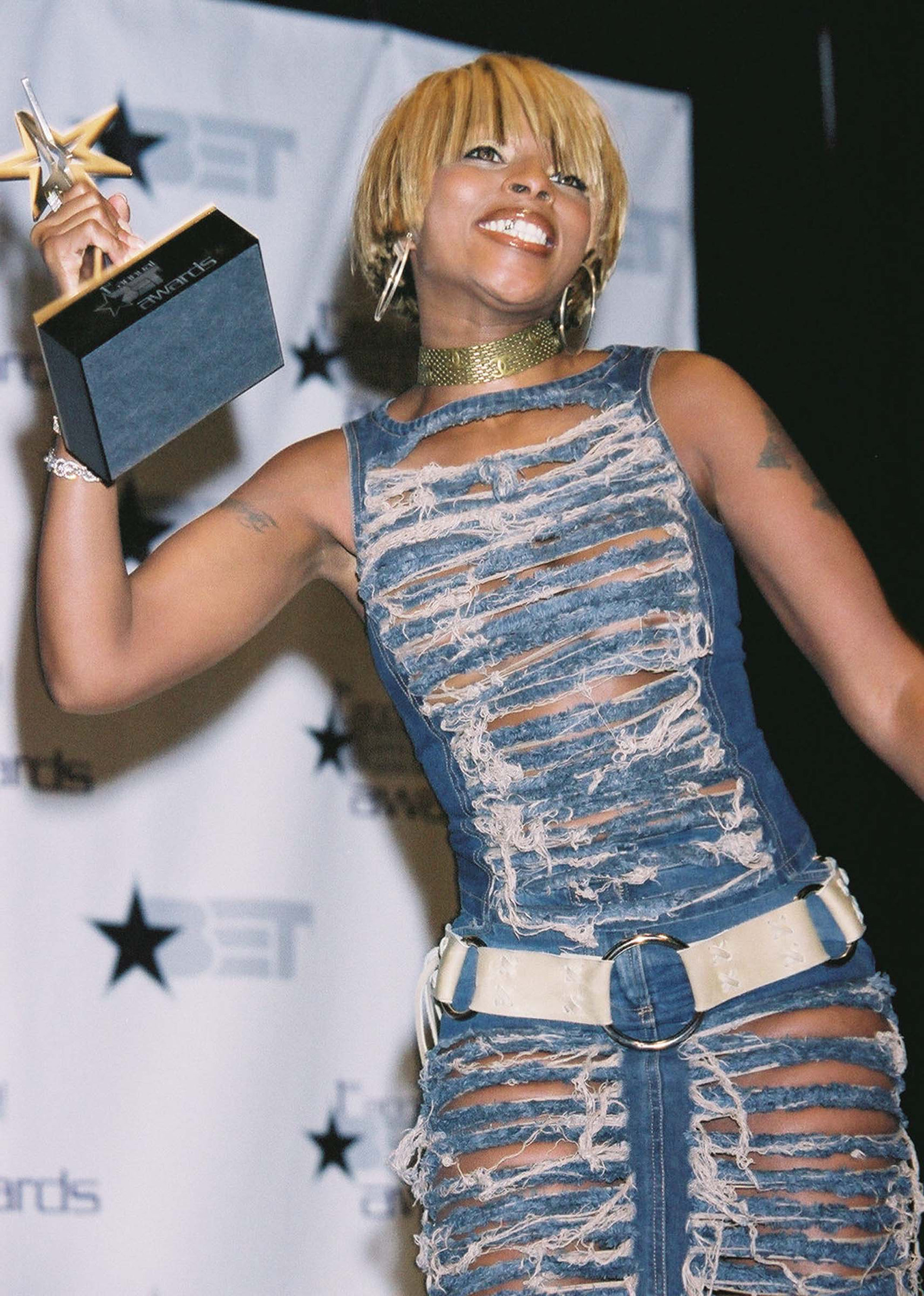 At the BET Awards, 2001
In 2001, at the inaugural BET Awards show, Mary won the first-ever BET Award for Best Female R&B Artist. Since, she's gone on to win five awards out of her whopping eighteen nominations to date. To scoop her first BET Award, the singer wore a very early-00s shredded denim dress, accessorized with suede belt and metal mesh choker.
Tagged: