The importance of Afrosurrealism in 2020
Photographer Adama Jalloh and artist Hamed Maiye examine Blackness and otherworldliness in their London exhibition 'An Ode to Afrosurrealism'.
|
10 November 2020, 4:04pm
"Discovering Afrosurrealism, I found a space of expression which highly resonated with me," says Hamed Maiye, interdisciplinary artist and co-creator — alongside photographer Adama Jalloh — of new photographic art exhibition An Ode to Afrosurrealism. "I could explore things I would like to see in my current reality."
The exhibition, currently on show at the Horniman Museum in south London, brings together themes of identity, spirituality and mythology, centring contemporary Black Britain. "That's why An Ode to Afrosurrealism became an important project, one which offers what Krista Franklin describes as 'imagination space'. An imagination space for now."
Some may be more familiar with the concept of Afrofuturism: the future of science and technology through a Black lens. Afrosurrealism instead deals with the present, bringing the abstract into reality. The term was coined by American writer and activist, Amiri Baraka, in an introduction for Ark of Bones and Other Stories by another renowned American author, Henry Dumas, whose writing focused on the poor African American experience and police brutality in the US. Both writers sought to shed light on the reality of Black life.
Amiri, formerly part of the Beat poet cohort of the 1950s and 60s alongside Allen Ginsberg and Jack Kerouac, became disillusioned with the predominantly white literary movement, which often appropriated and romanticised the African American experience without giving historical context of the transatlantic slave trade or the reality of Black life under Jim Crow segregation. "With a history of our stories being told for us, Afrosurrealism feels like another way to combat this," Adama says, "but also, in a broader sense, giving us freedom on how we choose to display our narratives."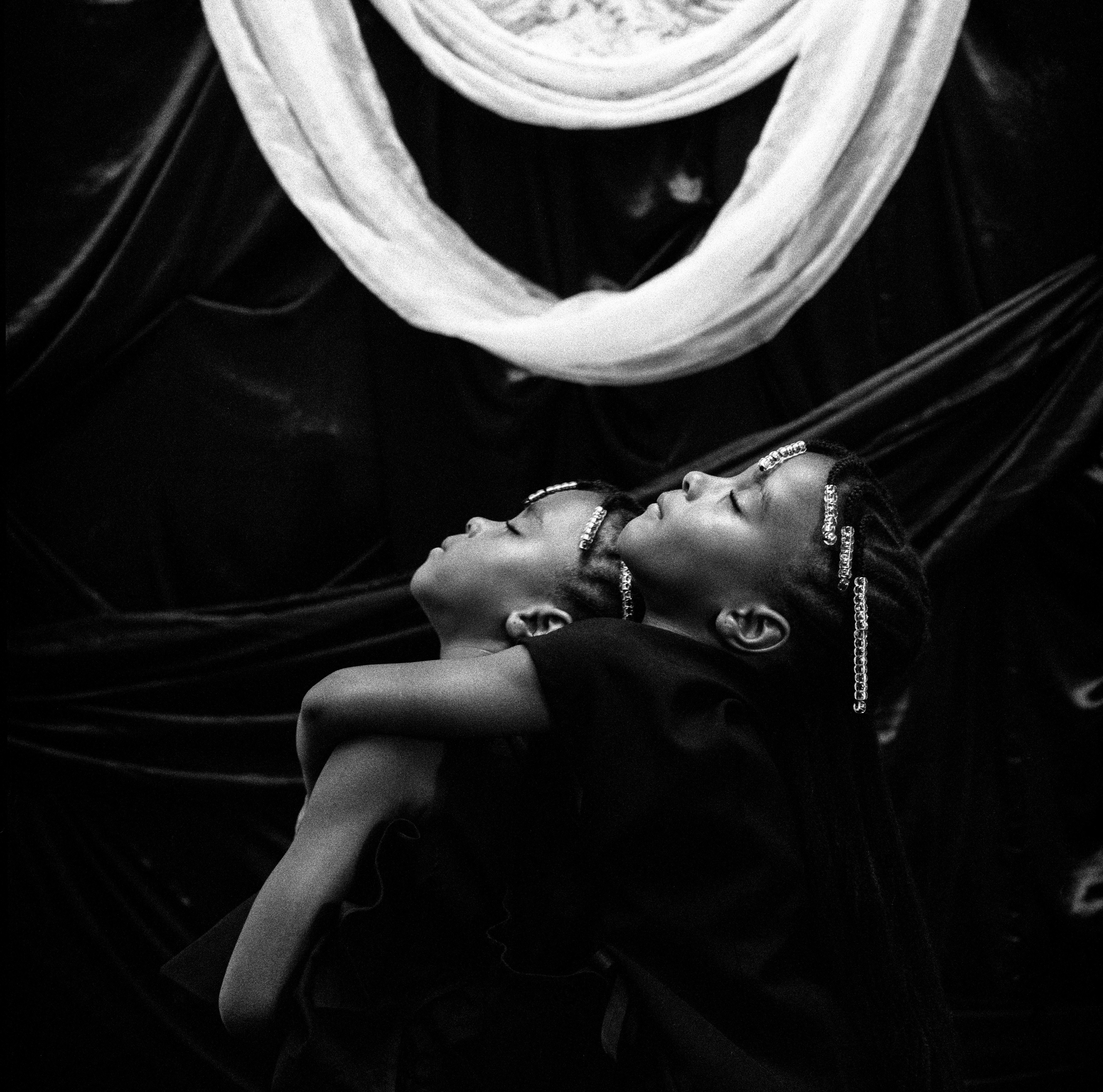 Afrosurrealism is about telling the narrative of the contemporary Black experience; these experiences being things that seem so absurd that they cannot be true, even though they very much are. As a movement it seeks to expose this 'absurd' life that Black people lead, with extra emphasis on the weirdness, to emphasise just how surreal Black life can be. Curator and Arts Editor D. Scot Miller wrote The AfroSurreal Manifesto in 2009 and stated that while Afrofuturism is "a diaspora intellectual and artistic movement that turns to science, technology, and science fiction to speculate on Black possibilities in the future", there was no need for this speculation about the future. "Concentration camps, bombed-out cities, famines, and enforced sterilisation have already happened… What is the future? The future has been around so long it is now the past."
Films like Jordan Peele's Get Out (2017), television shows like Donald Glover's Atlanta (2016) and novels like Toni Morrison's Beloved (1987) are all examples of works that use the strange to explore the reality of Blackness. In Boots Riley's 2018 satirical film Sorry to Bother You, protagonist Cassius Green (Lakeith Stanfield) adopts a 'white voice' to rise up the ranks at work at a call centre. While the scenario seems ridiculous, code switching at work and elsewhere is something many Black people have found themselves doing in order to be taken seriously. Afrosurrealism looks to reveal the hidden world of Black contemporary life and encourages Black people to take control of telling their own stories.
This feels particularly important at a time when the Black experience is often examined through a non-Black lens. The Black Lives Matter protests this summer saw displays of camaraderie, kinship and community, with protestors doling out hand sanitiser and masks to each other throughout. Yet the media frenzy surrounding the protests in some cases told a tale of random acts of violence and carelessness, using the pandemic to fuel unrest even though a study claimed that the protests did not cause a spike in coronavirus. Instagram and Twitter seemed to suppress mention of the protests even as they gained momentum. Herein lies the heart of Afrosurrealism, the goal being for Black people to present their own reality in a world that seeks to hide the truth of it. If the truth of contemporary Black life can be exposed today, there is hope to change tomorrow. A just future doesn't have to be imagined or hypothetical, it can be reality.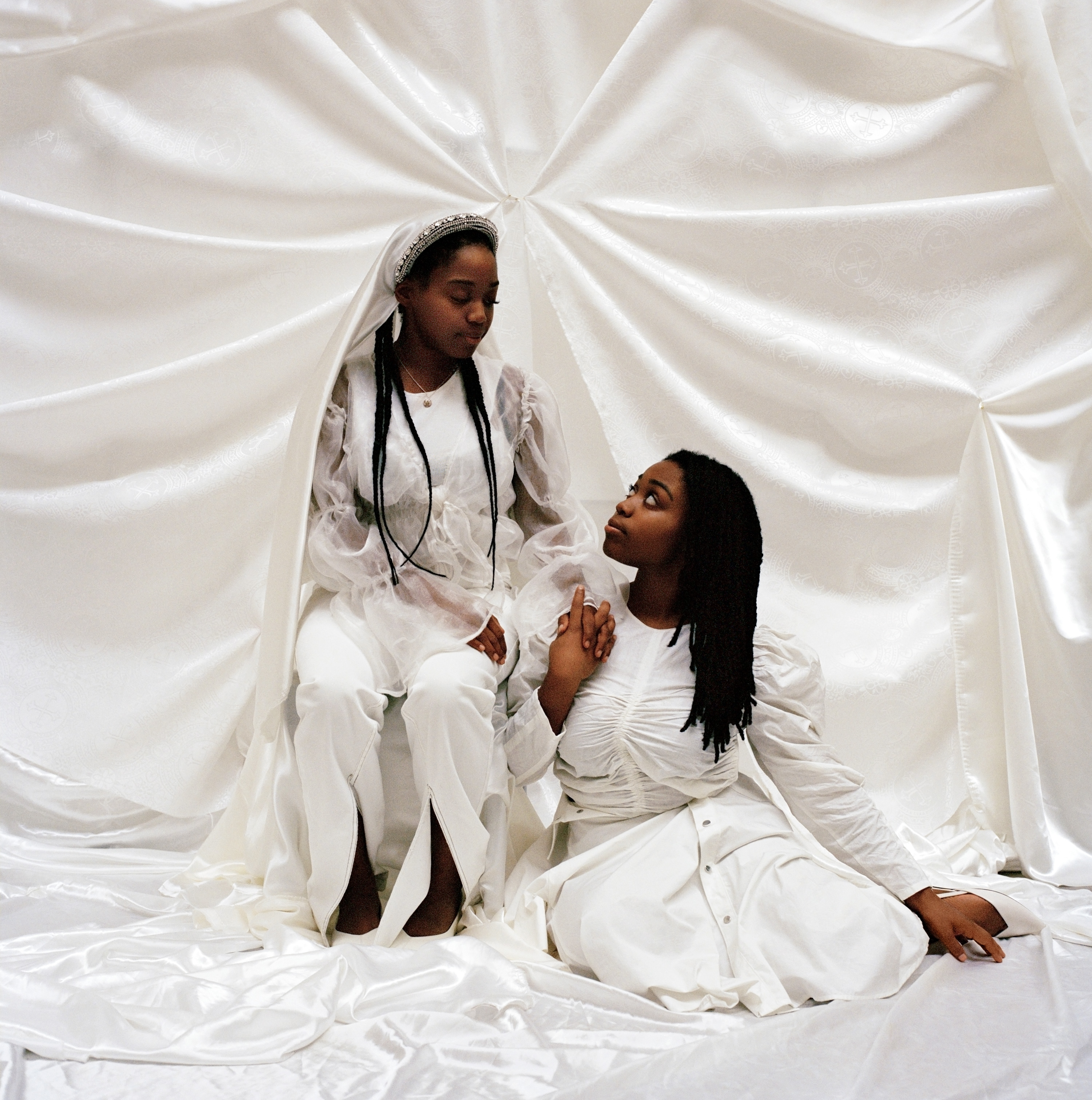 In the photo series on display at An Ode to Afrosurrealism, both artists seek to inspire younger artists to consider different ways of creating work, by looking outside the usual canon of spiritual iconography. Of the connection between Blackness and otherworldliness, Hamed draws from his own personal experience. "This world is otherworldly due to the things I've seen and experienced, Blackness obviously being a factor in this. At the same time, I can also say my experiences are exactly that of this world given our collective histories. I think when we imagine 'otherworldly' it can be romanticised, it can equally be a dark or light space… for many of us Blackness is what shapes this space."
For the exhibition, the pair decided to focus on images of twins. Often twins or doppelgängers, are used to represent something sinister in horror films. Take Jordan's Peele's Us (2019), for example, which used doubles to symbolise the divide in wealth and standards of those living in the USA. But in this exhibition, the pair veer away from this particular trope and settle into something more beatific and peaceful — finding balance and focusing on coming together rather than fracturing. "The use of twins or doubles comes from trying to find spaces of reflection," Hamed says. "More particularly, how reality reflects surrealism. It's also exploring duality and different sides of 'self'. In storytelling and mythology twins are a recurring theme, often embodying dark and light."
The images themselves feel tender and considered, the twins in question draped in white or black, serene faces pressed to each other, holding hands or embracing. Their focus is on themselves and the space that they inhabit, seemingly disregarding the viewer entirely. In some photographs, one twin holds a mirror up to the other, quite literally showing a reflection of themselves. Portraying Black youth in this way feels vital as British media, much like the US, either paints a portrait of Black youth as violent, or dismisses them completely.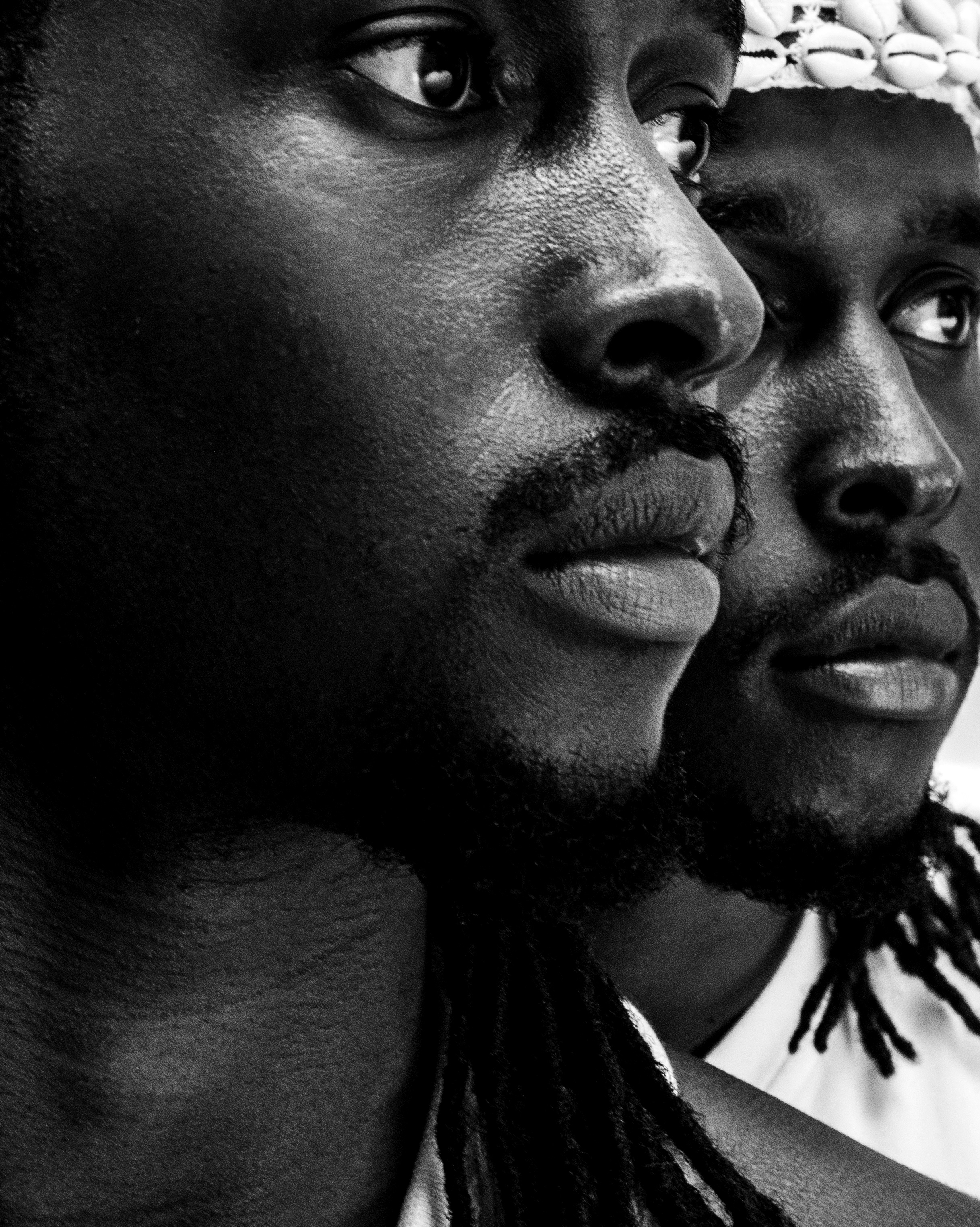 Afro-Caribbean writer Suzanne Césaire, wife of writer and politician Aimé Césaire, is considered one of the first Afrosurrealists. Much like Adama and Hamed, Césaire focused on duality in surrealism and how that could be used to dismantle oppressive systems. In her essay 1943: Surrealism and Us, in which she discusses Martinican politics and World War II, she wrote: "our surrealism will then deliver it the bread of its depths. Finally those sordid contemporary antinomies of black/white, European/African, civilised/savage will be transcended." Suzanne Césaire saw surrealism through a Black lens as "the tightrope of our hope", needed to fully see and change the now.
Much like the subjects in An Ode to Afrosurrealism, at times it feels like, as a Black person, you are both of the world and not of it, existing and yet not truly being seen. Both the exhibition and the ethos of Afrosurrealism as a whole, seek to place the narrative back into the hands of Black people, an integral message for both Black and non-Black people alike: we are here, we exist and our experiences are very, very real.
'An Ode to Afrosurrealism' is on show until Sun 19 September 2021 at the Horniman Museum.
Credits
---
All images courtesy Adama Jalloh and Hamed Maiye