Watch the chaotic trailer for Voyagers: a wild, drug-filled space mission
Lily-Rose Depp, Fionn Whitehead and Tye Sheridan are hedonistic cosmic explorers in the new sci-fi thriller.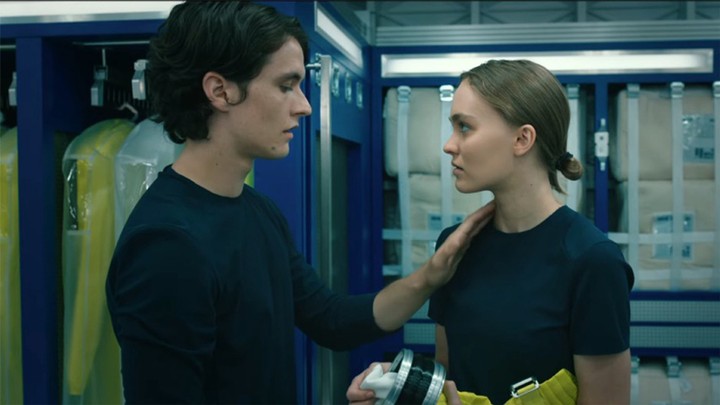 What do you get when you put psychedelic drugs and a bunch of hot people in space? Plus a suspiciously-motivated Colin Farrell? This is the question posed by Voyagers, a new sci-fi movie from Limitless director Neil Burger. The answer is probably something that looks like High Life (2018), crossed with Euphoria (2019), but on April 9, we'll find out for sure.
The upcoming film is set in a near (more) dystopian future, where the human race desperately needs to find a new planetary home. The explorers, a group of 30 young men and women, "bred for intelligence and obedience", are sent into deep space for this task. But, according to an official synopsis, "when they uncover disturbing secrets about the mission, they defy their training and begin to explore their most primitive natures."
"As life on the ship descends into chaos, they're consumed by fear, lust, and the insatiable hunger for power." I mean, sounds kind of lit? The cast includes Fionn Whitehead (of Dunkirk and Black Mirror: Bandersnatch fame), Ready Player One's Tye Sheridan, and the ever-chic Lily-Rose Depp, who all fall under the influence of a mysterious liquid substance, eerily referred to as "blue". The creepy drug looks a lot like something you would pay too little for at a Wetherspoons, but its effects seem to be, uh, a little more potent than alcohol.
Check out the new neon-glossed trailer, and the crew's crazy sexy antics, down below.
Tagged: