Kaia Gerber will make her TV debut in American Horror Story
With Ryan Murphy announcing the model's debut, here's everything you need to know about 'American Horror Story' season 10.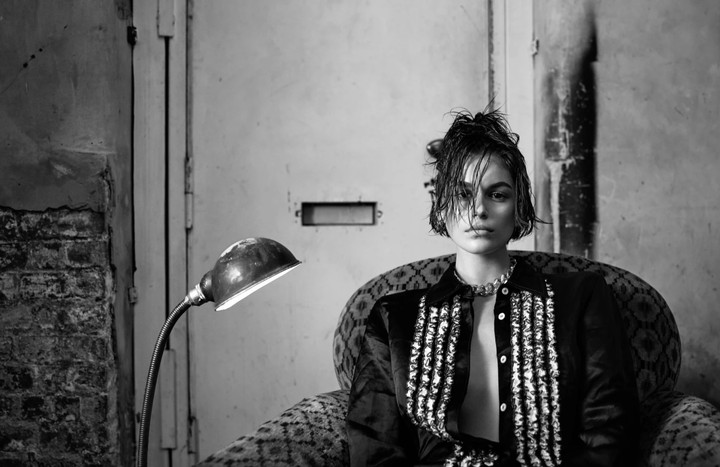 Kaia Gerber photographed by Willy Vanderperre for i-D 359 The Icons And Idols Issue
In an Instagram post last night, showrunner Ryan Murphy announced that model and recent i-D cover star Kaia Gerber would be joining the cast of the tenth season of his campy dark anthology series, American Horror Story. Although delayed from its usual airdate in the autumn due to the ongoing pandemic, AHS has now resumed production and will mark the first major acting role of Kaia whose only other credit so far is the lowkey 2016 film, Sister Cities.
As of yet we don't know who Kaia will be playing (although we would love to see her wearing all black, joining the Coven). Joining Kaia as newbie on set is Macaulay Culkin, who was apparently sold on the role upon finding out his character would have "crazy, erotic sex" with series regular Kathy Bates. Unfortunately the Titanic actor had to drop out of the show due to health issues and so Macaulay Culkin will now be having said sex with another seasoned horror thespian, Frances Conroy.
In other exciting news, internet obsession Sarah Paulson is returning to the show after a season off, as is Evan Peters — who will also be playing serial killer Jeffrey Dahmer in another of Ryan Murphy's Netflix projects. Joining them in AHS will be series alum Billie Lourd, Leslie Grossman, Lily Rabe, Adina Porter, Denis O'Hare, Finn Wittrock and Pose's Angelica Ross.
So what else do we know about American Horror Story season 10? Well, Ryan Murphy has suggested that it will take a different approach when it comes to its theme — previous seasons have revolved around a place (Roanoke, Hotel); a community (Coven, Cult); or event (Apocalypse). Entitled Double Feature, this season will tell two stories: "one by the sea and one by the sand", perhaps a switch-up in response to criticism that lately the show has lost steam mid-season. With production taking place in Provincetown, Massachusetts under the working name Pilgrim, it's believed one of the stories will present a horrifying twist on the landing of the 'new world'-seeking Pilgrims aboard the Mayflower in 1620.
Now that Disney has renewed the show for an additional three seasons, could this be a recurring role for Kaia? With filming well underway, it hopefully won't be too long before we're watching our favourite book club organiser slitting throats and hexing demons.