Here's everything we loved at Taiwan Fashion Week
Incorporating recycled tires and upcycled fish scales, the sustainability-themed festival gave a glimpse into the revolution revamping the local fashion scene.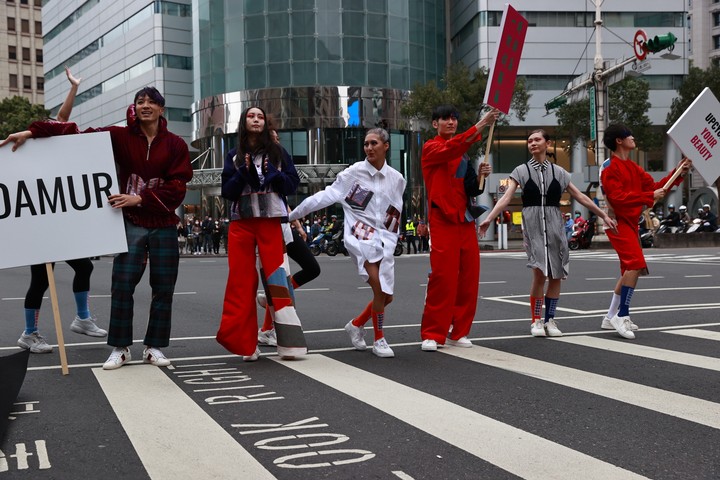 #Damur crosswalk show courtesy Taipei Fashion Week
Due to Taiwan's early, forward-thinking response to COVID-19, Taipei Fashion Week became the world's first open-to-the-public, physical runway show in 2021. It kicked off on March 11 with a sustainability-themed grand opening show, the first of its kind in Asia. For an island country constantly faced with challenges posed by climate change, like their approach to the pandemic, they had their eyes set on fashion's future. The 'Taipei Sustainable Collections' provided a glimpse into the sustainable revolution that has revamped the local fashion scene here and is ultimately reshaping the entire industry.
The opening show was a testament to a strong collaboration between Taiwan's fashion and textile industry, ranging from fabric technology to process innovation. The fact that the two of the biggest industry heavyweights, Chairman of Formosa Plastics Group William Wong and Chairman of Far Eastern Group Douglas Hsu, attended this fashion show marked an exciting milestone for Taipei Fashion Week.
It was the latest in a string of sustainability initiatives seen at Copenhagen, London and Milan fashion weeks. Six designer brands picked up the idea of post-pandemic dressing and recreated it with their own unique Taiwanese identity. Eco-friendly sustainable textile and fabric technologies such as recycled scrap tires, upcycled fish scales, and oyster shells were incorporated to link local textile industries and fashion designers in writing a new chapter in made-in-Taiwan style.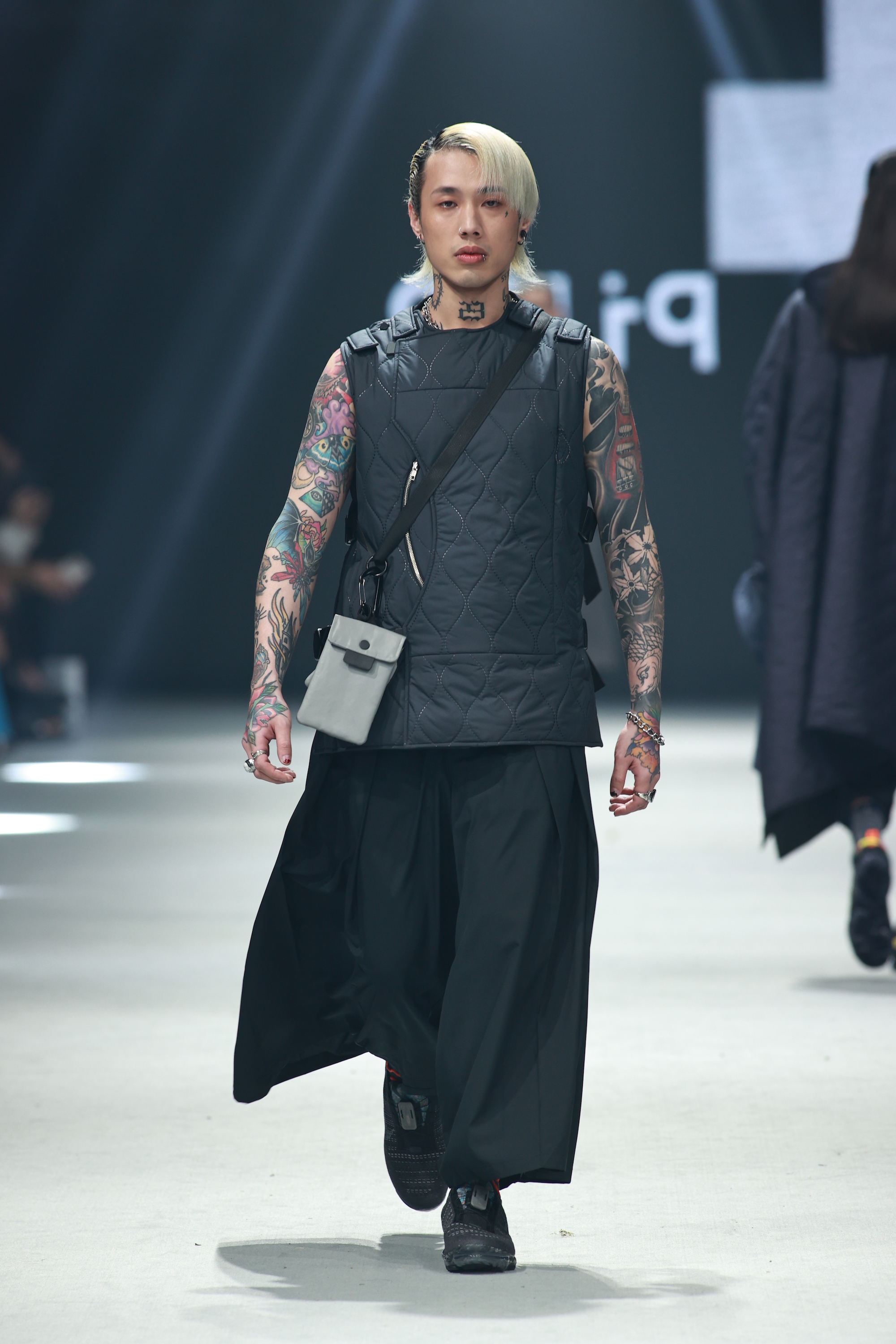 At the opening show, local hip-hop music was played in the background as high-end functional fashion brand oqLiq showed off its unique Taiwanese aesthetics, integrating oriental simplicity and street fashion to redefine outdoor functional clothing.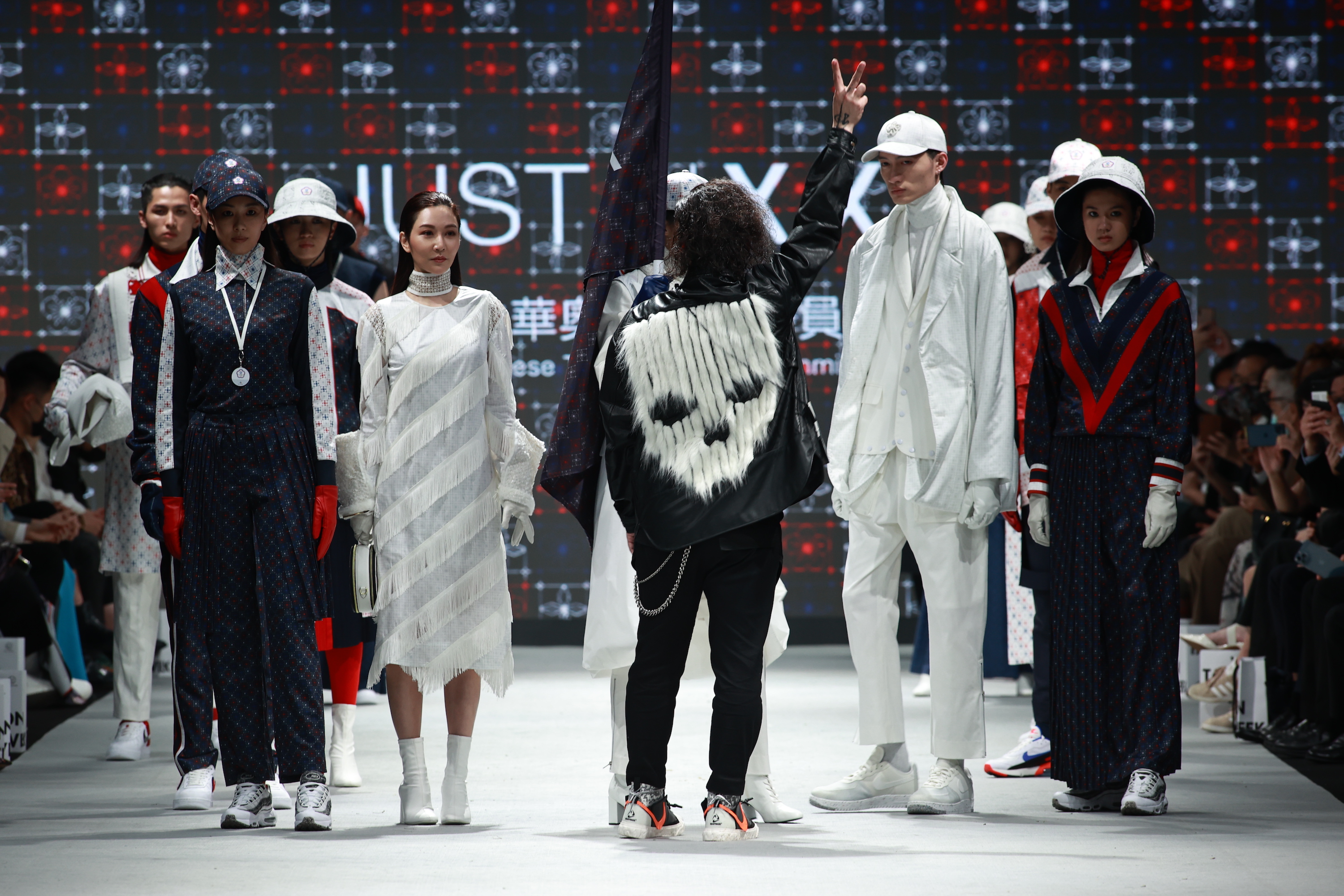 JUST IN XX designer Justin Chou took inspiration from the common memory of Taiwanese people, using 'window grating', and the emblem of the Taipei Tokyo Olympics uniform, 'plum flower' to design his latest A/W collection.
Designer brands, large and small, are now embracing functional wearing as a way to reconnect with consumers as people start to explore fashion from a more practical perspective. Functional streetwear label Weavism promised to deliver street fashion while remaining environmentally conscious with its "WE ARE NOT PLASTIC!" A/W 21 collection, using 100% natural materials to eliminate microplastic issues in the ocean.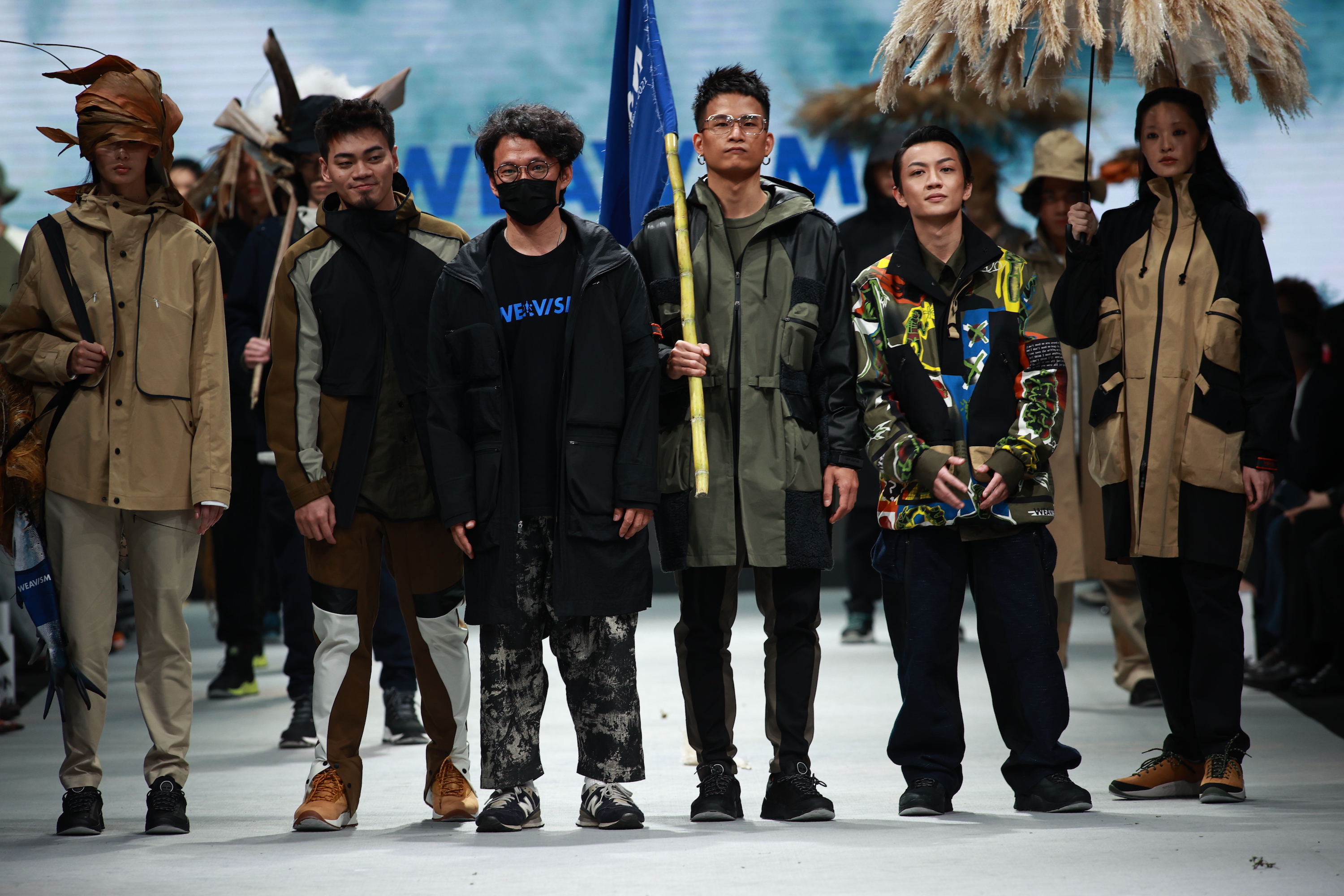 #Damur, a Berlin-based high end streetwear brand founded by Taiwanese designer Damur Huang, included pandemic travelling into its design. The #Travelwear 2.0 collection adopted Taiwan's latest metallic membrane and lamination technology to combine bold design with a realistic context of epidemic prevention.
On Mar 13, the brand transformed one of the busiest intersections in Taipei into an interactive runway. Three 110-second stoplights turned into a flash-mob style catwalk show where pedestrians, automobiles, and scooters at the red light unexpectedly took the front row seats. "We decided to present an outdoor show for our AW21 collection because we would like to hold onto our belief that life can't be fully digitalized," said Damur Huang.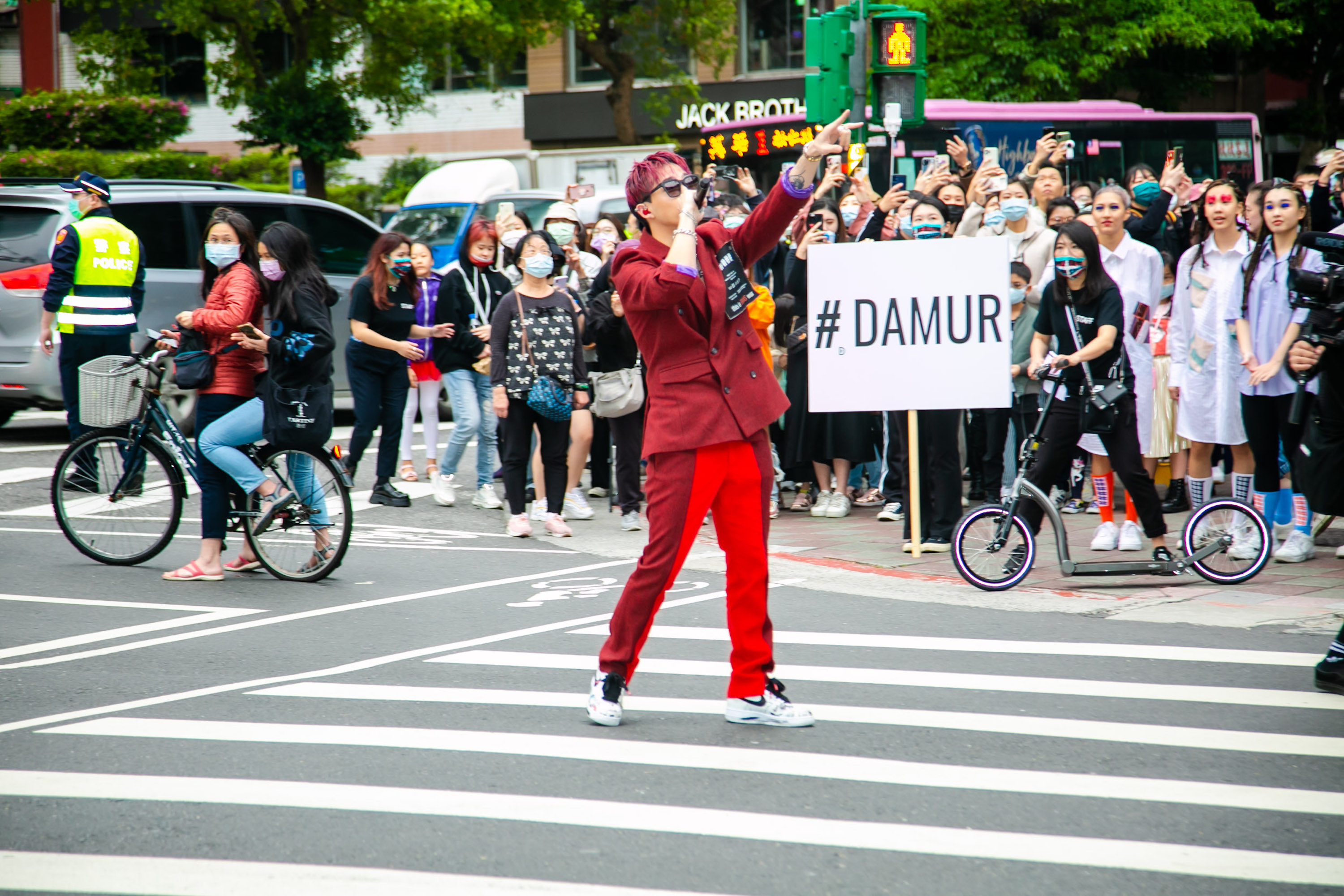 For DYCTEAM, their 're:form' collection explored Taipei's shared experience of living through a pandemic and how life can be rebuilt through symbiosis, living, and apparel.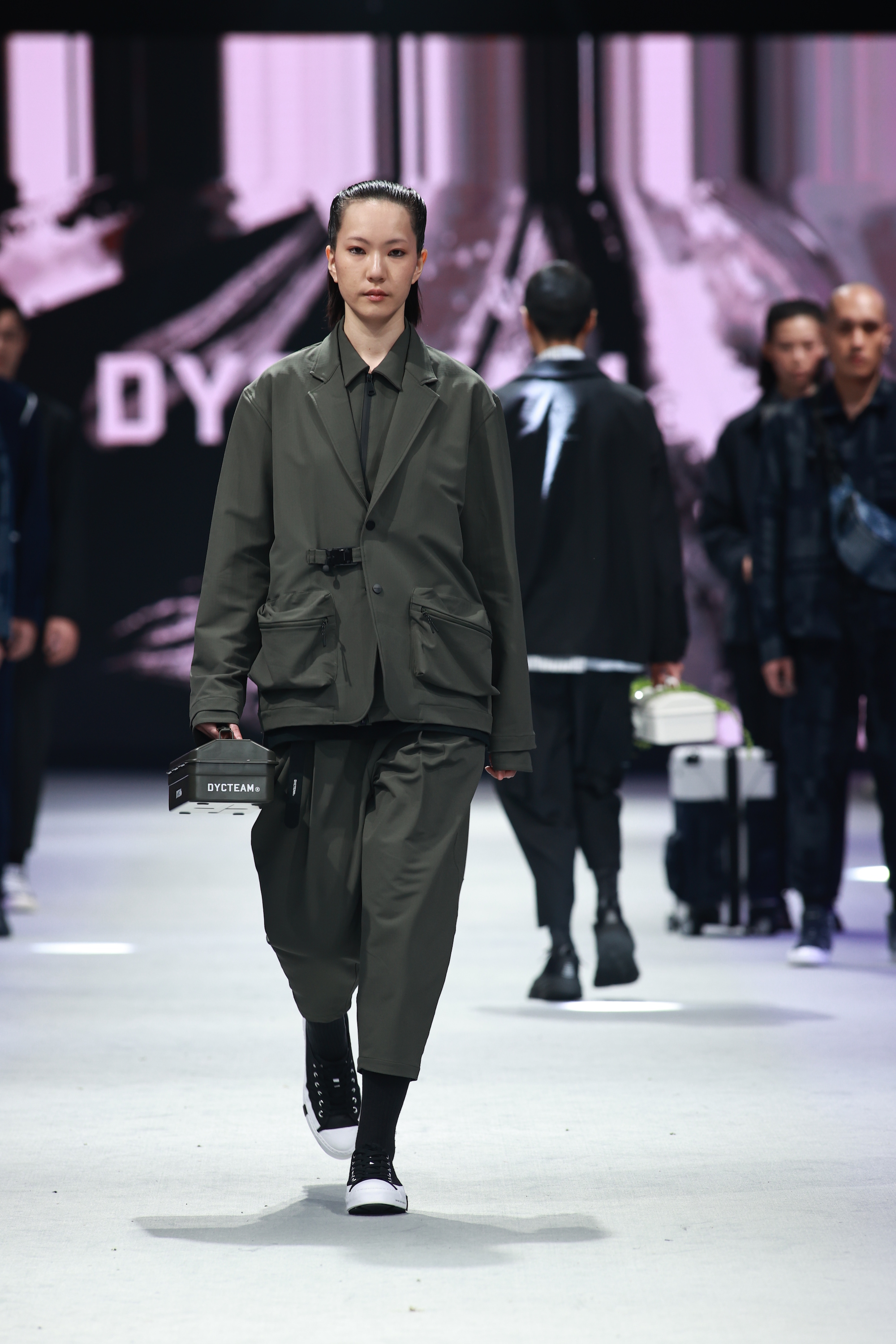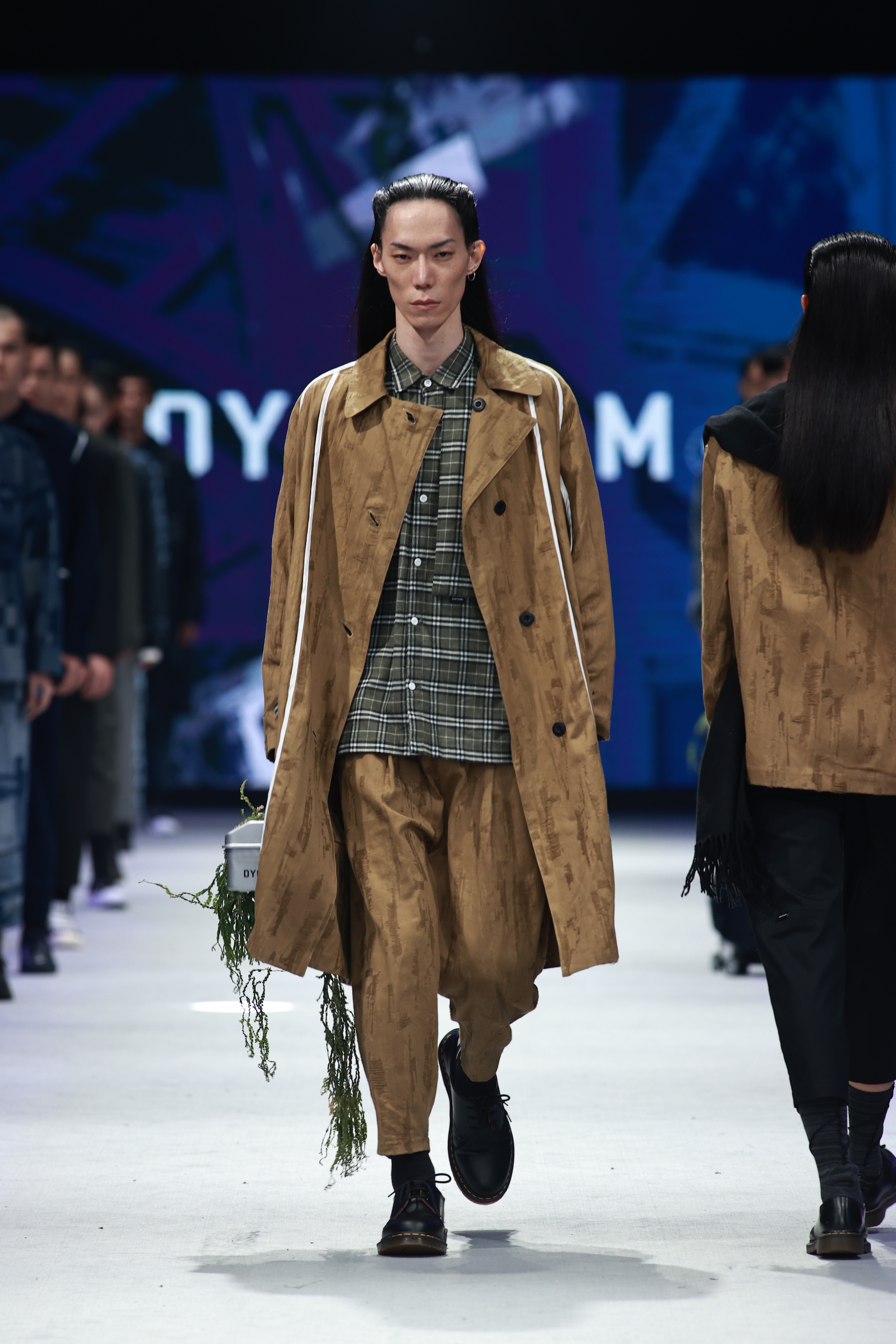 To minimize waste in the process, Claudia Wang continued to utilize 3D virtual technology and cooperated with leading textile manufacturers to create innovative apparel with eco-friendly designs in sustainable or recycled materials.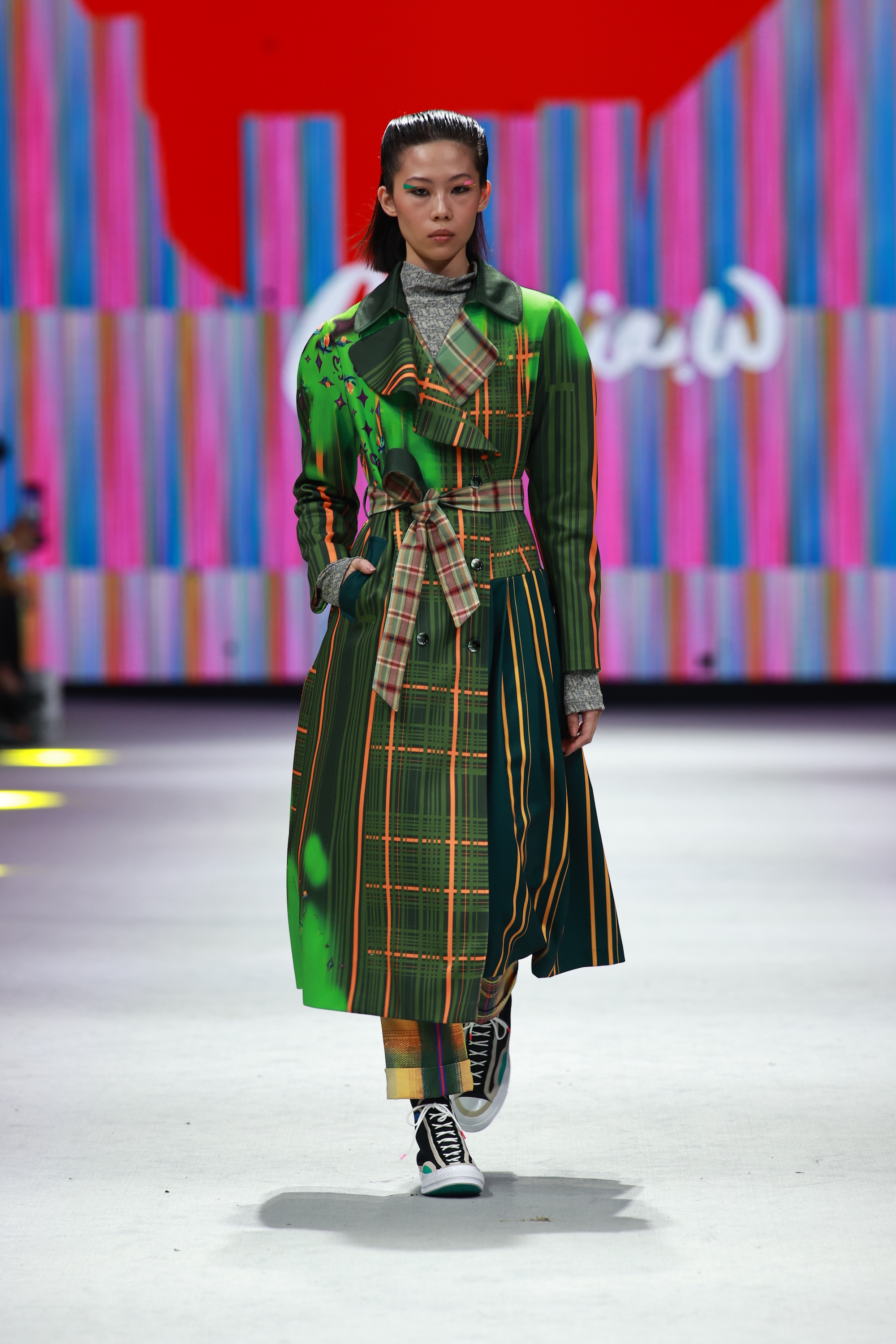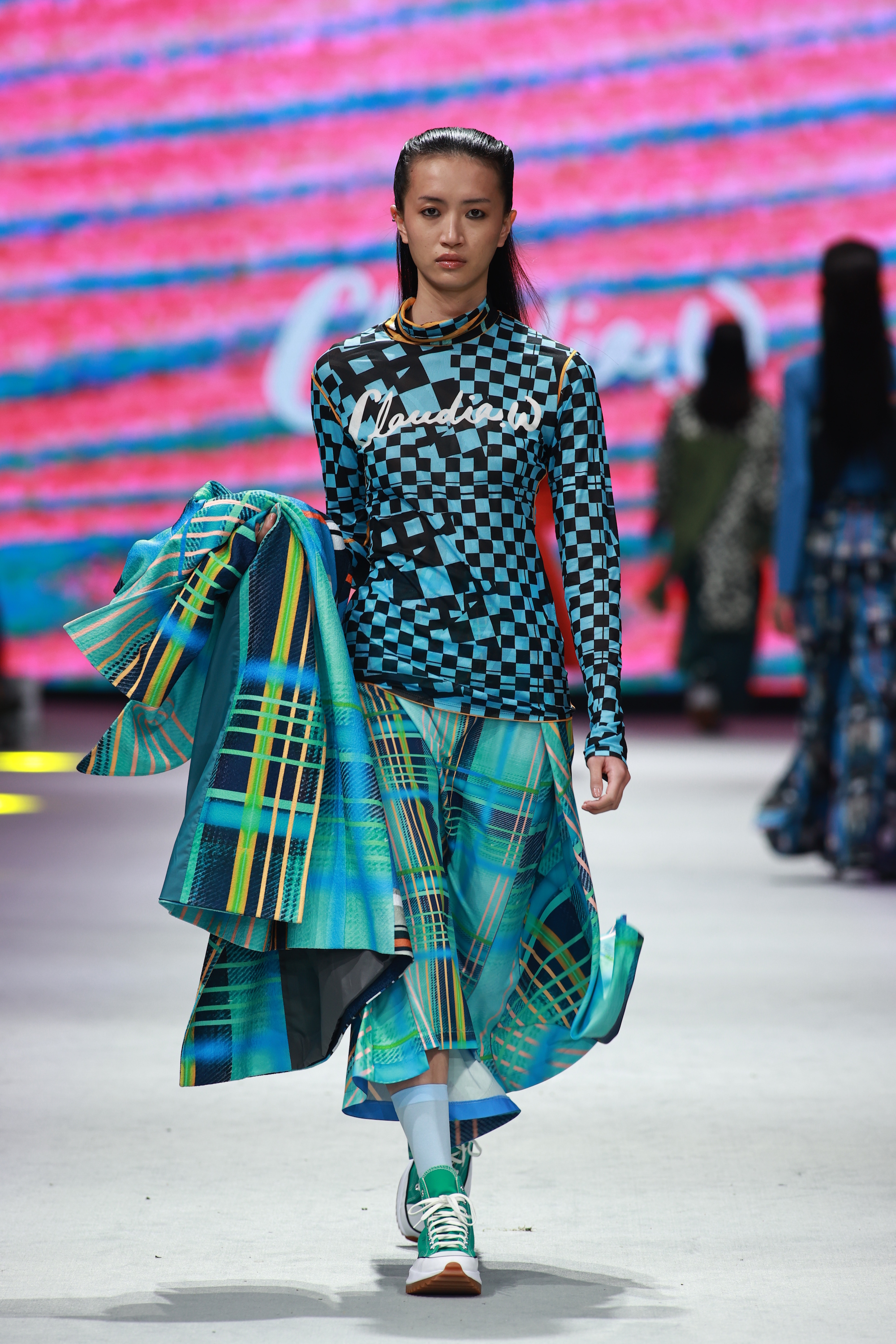 With face masks becoming part of our everyday fashion, Taipei Fashion Week teamed up with CSD, one of Taiwan's largest face mask manufacturers, to launch four unique face masks with design patterns symbolizing Taiwanese aesthetics including ethnic weaving, indigo dyeing, plum flower, and traditional window grill.
Inspired by the changing retail landscapes in Taiwan, from traditional Taiwan gama stores, to convenient stores and recently popular app delivery platforms, the 2021 A/W collection by INF created designs with patterns and embroidery that transformed cultural elements with plastic bags.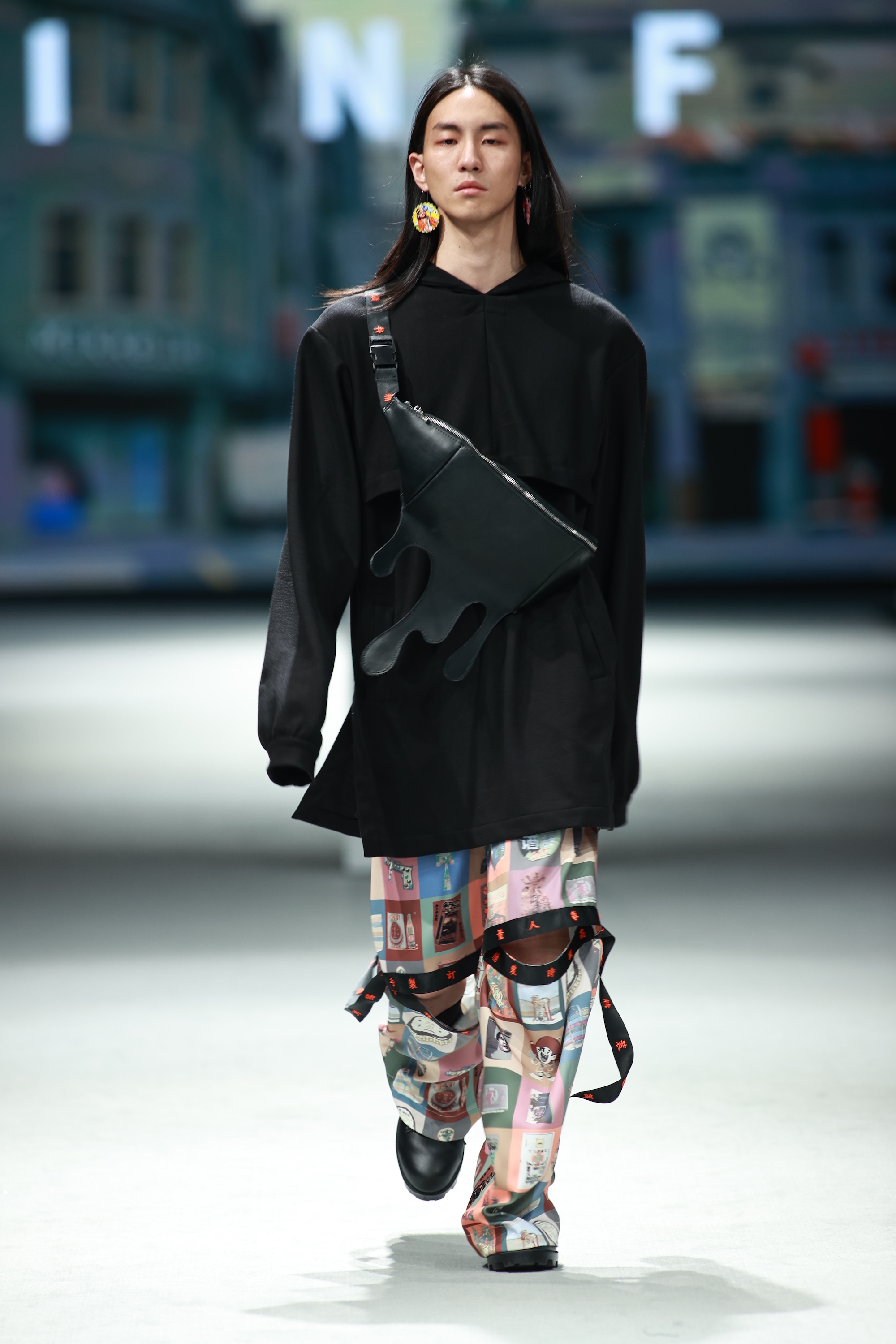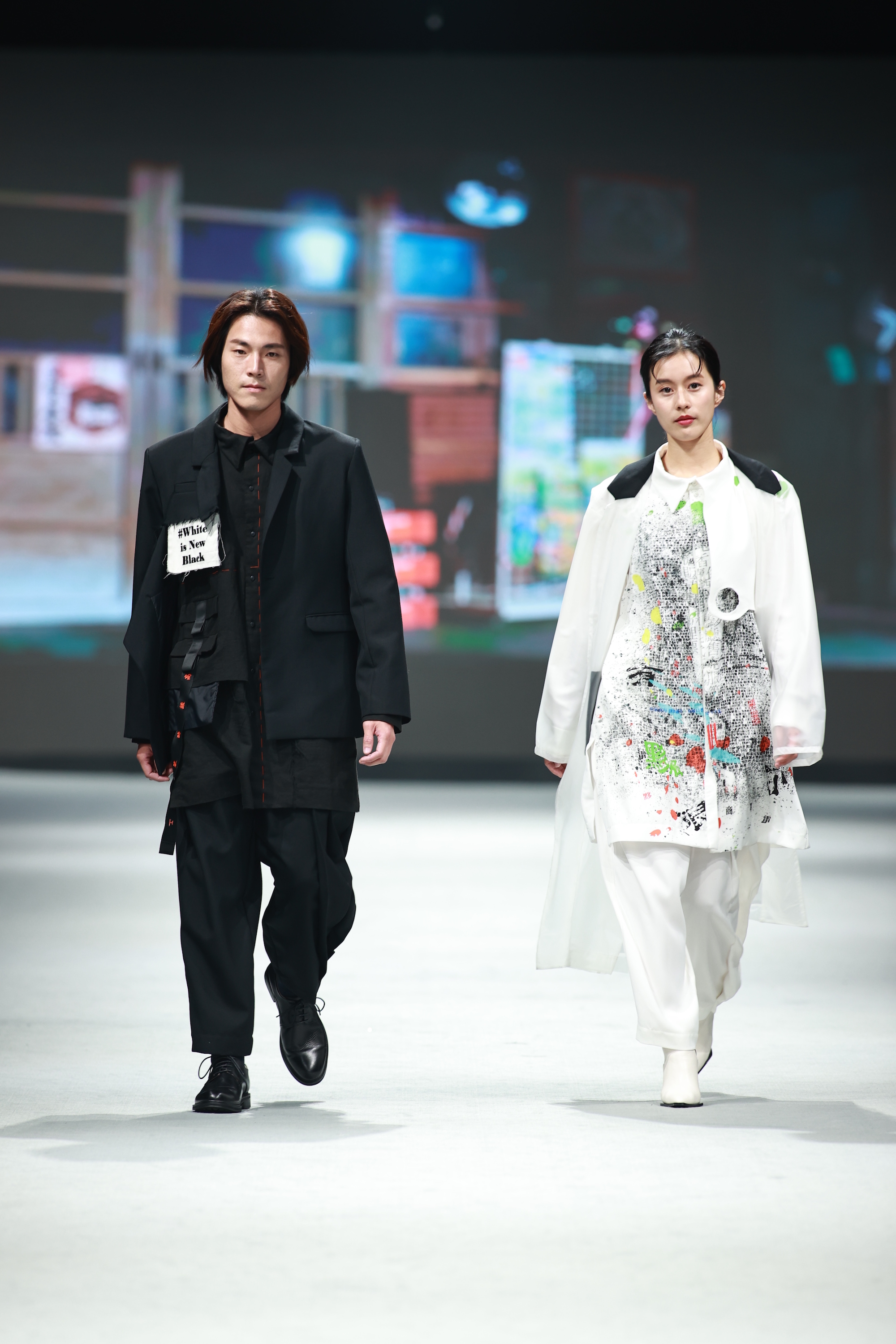 And on Mar 15, the last day of the event, BOB Jian took his 21 A/W collection back to the Songshan Cultural warehouse. Inspired by the designer's childhood memory of temple fairs, the latest collection was a modern transformation from traditional costumes with colorful combinations of oriental patterns, the masks of the eight religious advance guards plus an impressive three-meter-tall robot and laser show by light art team Luxy Boyz.