Images courtesy of Sterling Ruby
Sterling Ruby brings California couture to the Paris schedule
S.R. STUDIO. LA. CA's latest collection was a subversive reappraisal of Americana, and a meditation on the point where fashion ends and art begins. 
Images courtesy of Sterling Ruby
Though today may mark S.R. STUDIO. LA. CA.'s debut on the official SS21 haute couture schedule, it's certainly not the first time that the work of its founder Sterling Ruby has appeared on fashion's highest runway. That honour goes to Dior's AW12 couture collection — Raf's debut at the house — when the maison's esteemed petites mains transformed the American artist's vibrant spray-painted tableaux into some of the collection's most breathtaking gowns. The fact that those dresses are as fresh in our memories as if we'd seen them yesterday demonstrates an indisputable fact: that haute couture, fashion's highest form, is the perfect canvas for Sterling's work.
It's a point that the California artist has consistently proven since debuting his fashion venture, S.R. STUDIO. LA. CA., at Pitti Uomo in 2019. "I think that couture is a narrative that's been there from the very beginning — we've always been thinking what it means to make something by hand," Sterling says over Zoom, a couple days before the show. "I'm certainly not suggesting that we're creating traditional couture in terms of the volumes, the intricacies and embellishments — but thinking about the ways in which we do things by hand in the studio is very important."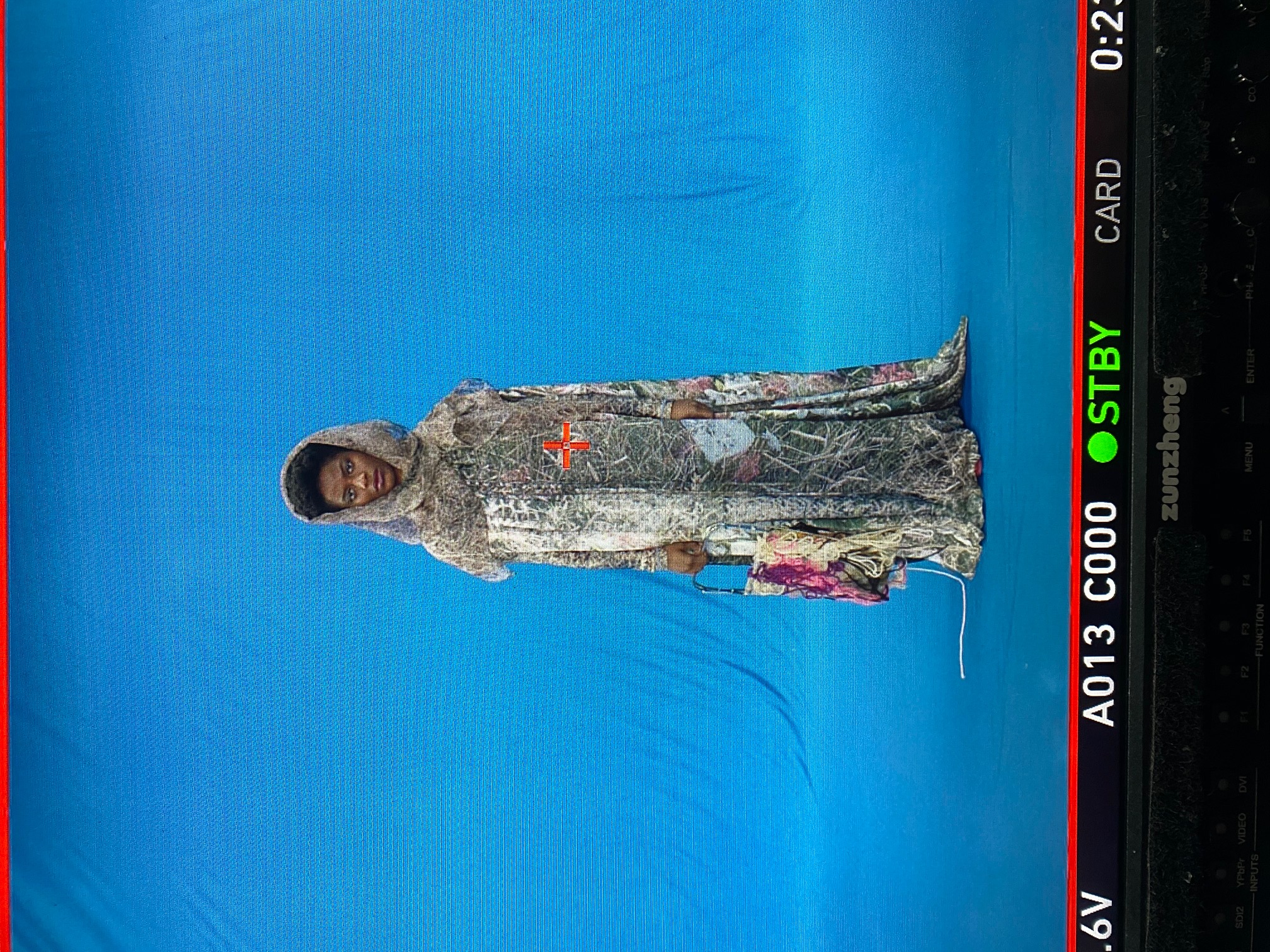 Indeed, Sterling's is a breezier, more iconoclastic approach than you're likely to find in most Parisian ateliers, but he and his nuclear studio team are no less committed to artisanal workmanship, and expressing the savoir-faire of their LA atelier. Call it California couture, if you like. That's exactly what you'll find in Apparitions, S.R. STUDIO. LA. CA's SS21 gift to the Chambre Syndicale de la Haute Couture — the French governing body that extended the invitation to Sterling to present on its fabled (virtual) runway.
Presented in a film that saw walking models green-screened onto archival footage of a desolate paintball park on the outskirts of LA, the collection was a reappraisal of the tropes Americana, with iconic silhouettes, motifs and textures distressed and subverted by the artist's own hand. The codes he explores here are ones that he was surrounded by, and rebelled against, during a youth spent in conservative rural southern Pennsylvania; codes "that were not meant to be broken, but which I could kind of fuck with, and that would eventually get me into situations where a debate or an argument would ensue about who I was and what I represented just because of the way that I looked within the context of this particular community," Sterling says.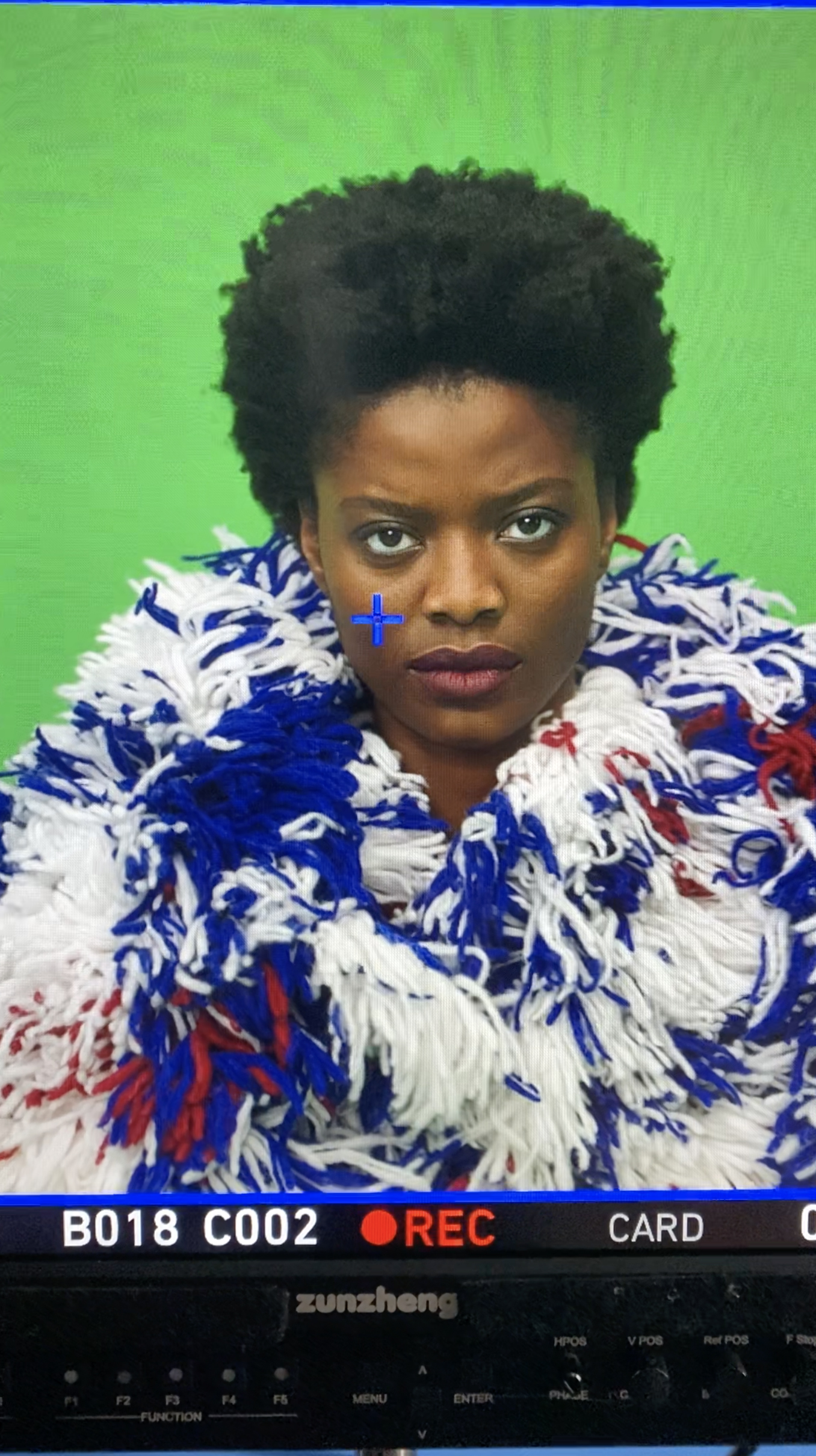 While it isn't intended as a direct, scathing critique of the American institution, you can't help but be struck by a sense of punkish gusto: breezy wide-legged denim trousers call modest ankle-skimming skirts to mind, and colonial-era bonnets are reimagined in enzyme-washed blue denims. A red-white-and-blue plaid check is blown up and printed onto the sea-anemone fronds of a shaggy wool coat, and diaphanous gowns that suggest a Gatsby-ish glamour are printed with Melanie Schiff's cold photographs of tangled branches and twigs.
Indeed, Sterling's vision reflects little of the preciousness so often associated with couture. "In art, as well as in fashion, sometimes when you have works that are made with the most skilled hands, it starts to feel like no one has touched it," Sterling reflects. With this collection, though, as the joyful squiggles of yarn that trail from toolbox bags and a mottled denim shawl readily imply, that's precisely what he was looking to avoid. In fact, many of the pieces seen here are "first samples; they'd be very handmade and very quick, and we'd then move on to the second, third, fourth, fifth, sixth try," he says, "but we'd wind up back at the first one. It was where you can feel the hand, you could feel the tactility of it — it had more soul." Indeed, if couture is to be considered the point at which fashion becomes art, and if the fundamental purpose of art is to touch the human soul, then Sterling Ruby qualifies as a couturier as well as any other.